Flat irons are becoming more progressive as time goes on and there are more and more to choose from.
Without having knowledge about the materials used for electric hair styling tools, choosing the best for your needs from such a large selection can be a difficult task, but hopefully, you'll soon have more of an idea of the difference between ceramic and titanium flat irons.
I decided to find out more about the two materials in order to realize the true differences by examining them in great detail.
For someone that isn't a professional hairstylist may not have any idea of the differences is between the various hair styling materials so when it comes to choosing the perfect tool, it can of in fact be mind-bobbling.
Titanium vs Ceramic Flat Iron: Main Differences
It's necessary to have a thorough understanding of the materials so that you know which the best option for you and the needs of your hair. Let's make some sense of the two most popular materials used in flat irons today.
Which heats the fastest?
Titanium is known to heat really fast, the fastest heating time of all metal in fact. Some ceramic models have been known to heat up as fast as 30 seconds but these are exceptional devices and when it comes to the heating of titanium, this is the norm. So, Titanium heats faster.
Which material provides the most uniform heat distribution?
Ceramic plates provide the most consistent heating throughout meaning there are no hot or cold spots on the element which ensures the straightening results are going to be the same throughout the strands without the need to go over the same section of hair several times.
Going over the same section of hair several times puts extra heat onto the hair, which leads to damage – the less heat applied the better! Hot and cold spots have been known to occur on heated plates of titanium. So, Ceramic provides the most consistent, evenly distributed heat.
Which is safest for the hair?
One of the most common questions I receive from my clients is 'Is titanium or ceramic better for hair?'. As the heat is more consistent with ceramic plate straighteners and it doesn't have such a forceful heat distribution as titanium does – ceramic is the safest for hair, especially for fine, damaged, or dyed types.
Which material is the most long-lasting?
Ceramic is a gentle material and needs to be treated this way to last. It treats the hair gently and provides even consistent heat that we have discovered in the best when it comes to protecting from heat damage.
If a ceramic tool happened to be dropped several times, it could result in cracks and then be uncomfortable and damaging to your hair to use. The cracks could pull and strands of the hair and cause breakage.
On the other hand, Titanium plates can handle being dropped as it's a light but very strong metal. Pure titanium plates in fact generally last longer than the body of a flat iron device which concludes the fact the Titanium is the most durable material.
Also Read: Best 1 Inch Flat Irons Reviewed
What is the difference in price?
The price ranges widely among all devices, depending on the brand and extra features the device may have not only taking into account the materials used for the plates although full ceramic plates tend to cost slightly more than titanium.
You should always opt for plates that are made of the full material, not just coated – because this can result in ineffective and disappointing results. So don't choose a flat iron with "ceramic coated" plates if you want it to provide consistent operation.
Titanium plates can also be expensive if you opt for professional, popular, branded models made of pure titanium and not just titanium coated.
Determining the cheapest variant is difficult because of many other factors that could be making a certain tool more expensive, so I believe there are cheap and expensive options for both ceramic and titanium plates.
Titanium vs Ceramic Hair Straightener For Your Hair Type
Who Needs Ceramic
People with fine-normal hair don't need to use something as powerful as titanium, ceramic is perfectly suitable. Also, for people with damaged hair or color-treated hair that required more moisture and a more careful straightening, ceramic plates are ideal. It heats the hair gently and is suitable for all hair types.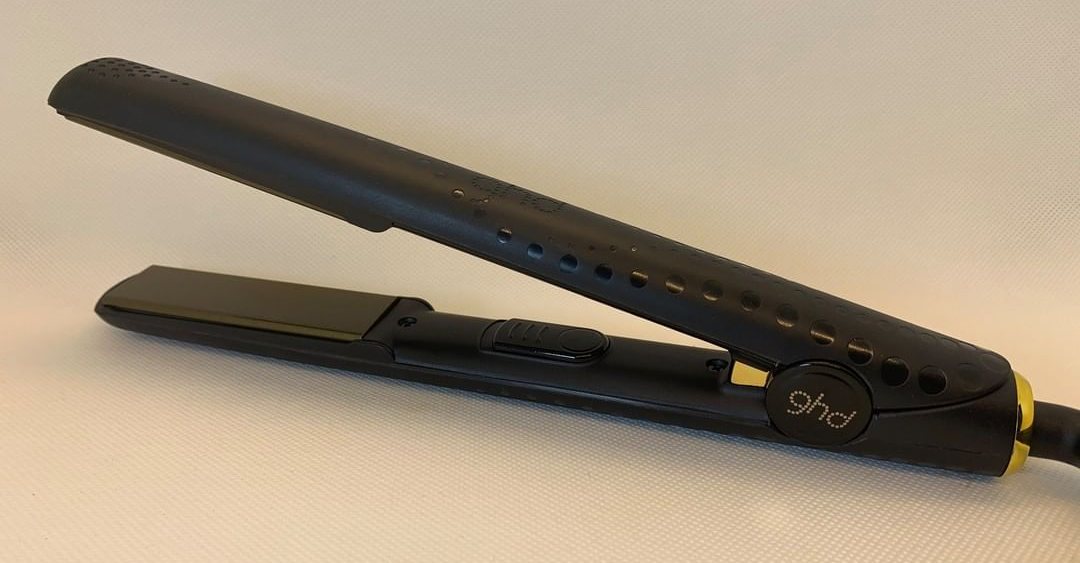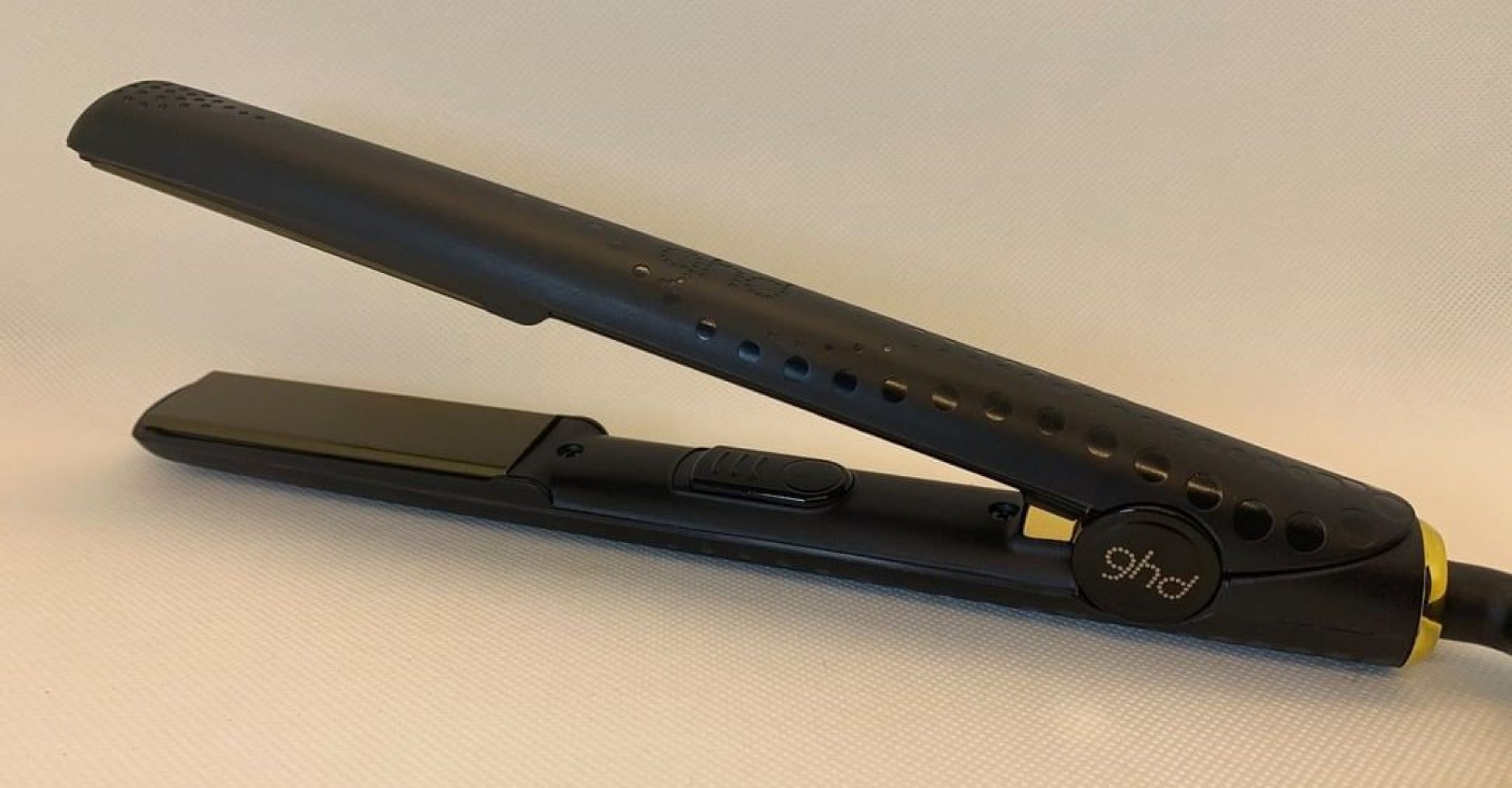 Who Needs Titanium
Thick hair types require more heat to achieve the best results so a titanium iron is the most effective. The super-fast heating of titanium plates makes it ideal for those with thick, coarse strands as their hair can be straightened faster and more easily.
Titanium plates release more negative ions than any other material which makes the hair shinier and healthier looking as it closes the hair cuticle and eliminates frizz. Titanium is not appropriate for straightening fine hair as it can easily burn it, even at a low temperature!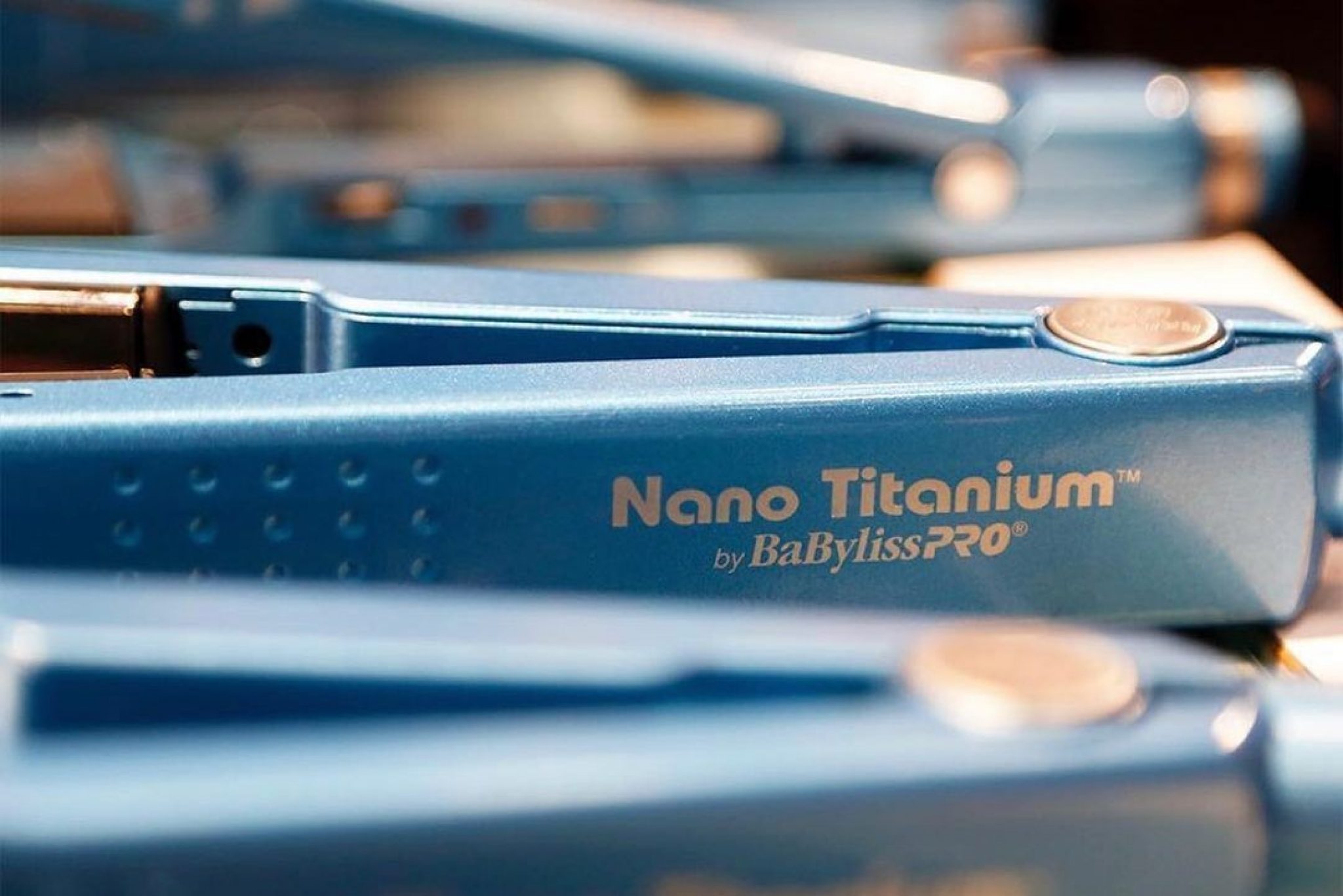 What Brands to Look For
If you feel like ceramic plates should be your pick, check out straighteners from Solano, professional flat iron from sutra, products from Rusk, and of course FHI. These are some of the best brands professionals all across the world trust and use regularly.
For those who want to try titanium tools, I highly recommend checking Babyliss straighteners, Croc, and classic Sutra models.
Other Important Features to Look for in Flat Iron Plates
In addition to titanium and ceramic plates, you should also have a brief understanding about what is ionization and tourmaline.
Brief Explanation on Ionization
If you aren't already aware of the ionization feature in most modern flat irons and straighteners this is something that contributes to restoring the moisture and health of the hair.
Hair that is positively charged has open follicles and this is what causes dry and brittle hair. With the feature of ionization, negatively charged ions, called anions are released, neutralizing the positively charged hair which closes the hair follicle making it smoother and healthier.
Why Tourmaline is Valuable in Flat Iron Plates
Another beneficial addition to flat iron plates that are quite often added for extra beneficial hair care is Tourmaline. It's a natural gemstone that is ground to a fine powder and infused in the plates of the flat iron.
When tourmaline is heated, it releases a colossal amount of negative ions, much more than titanium or ceramic.
Conclusion: What to Choose?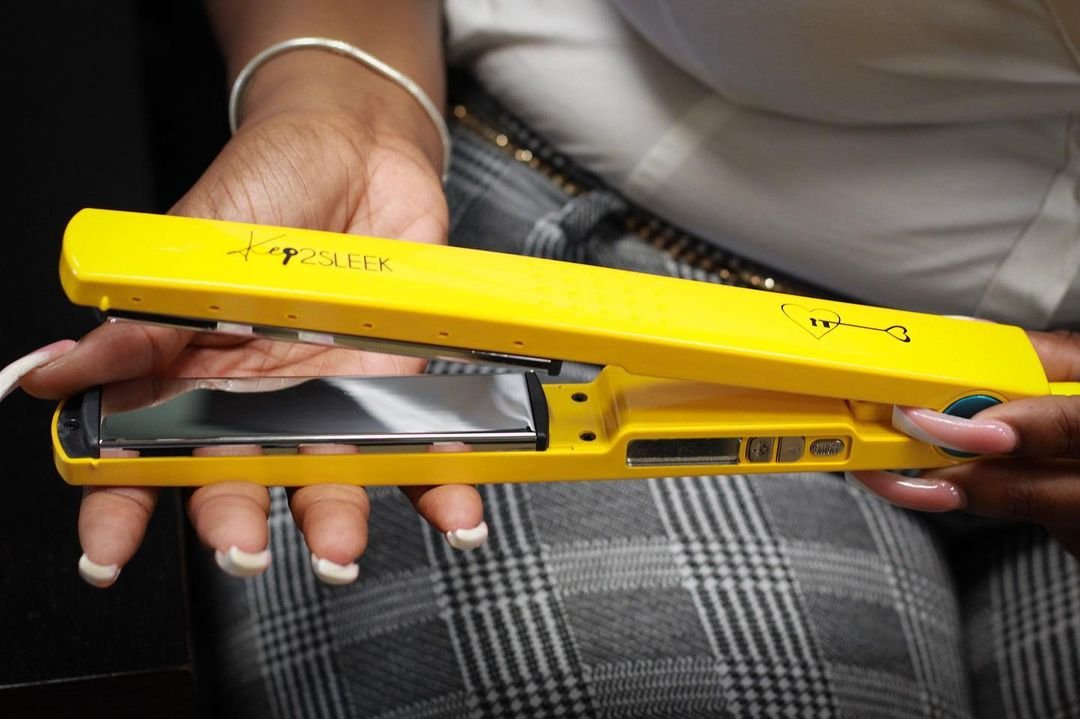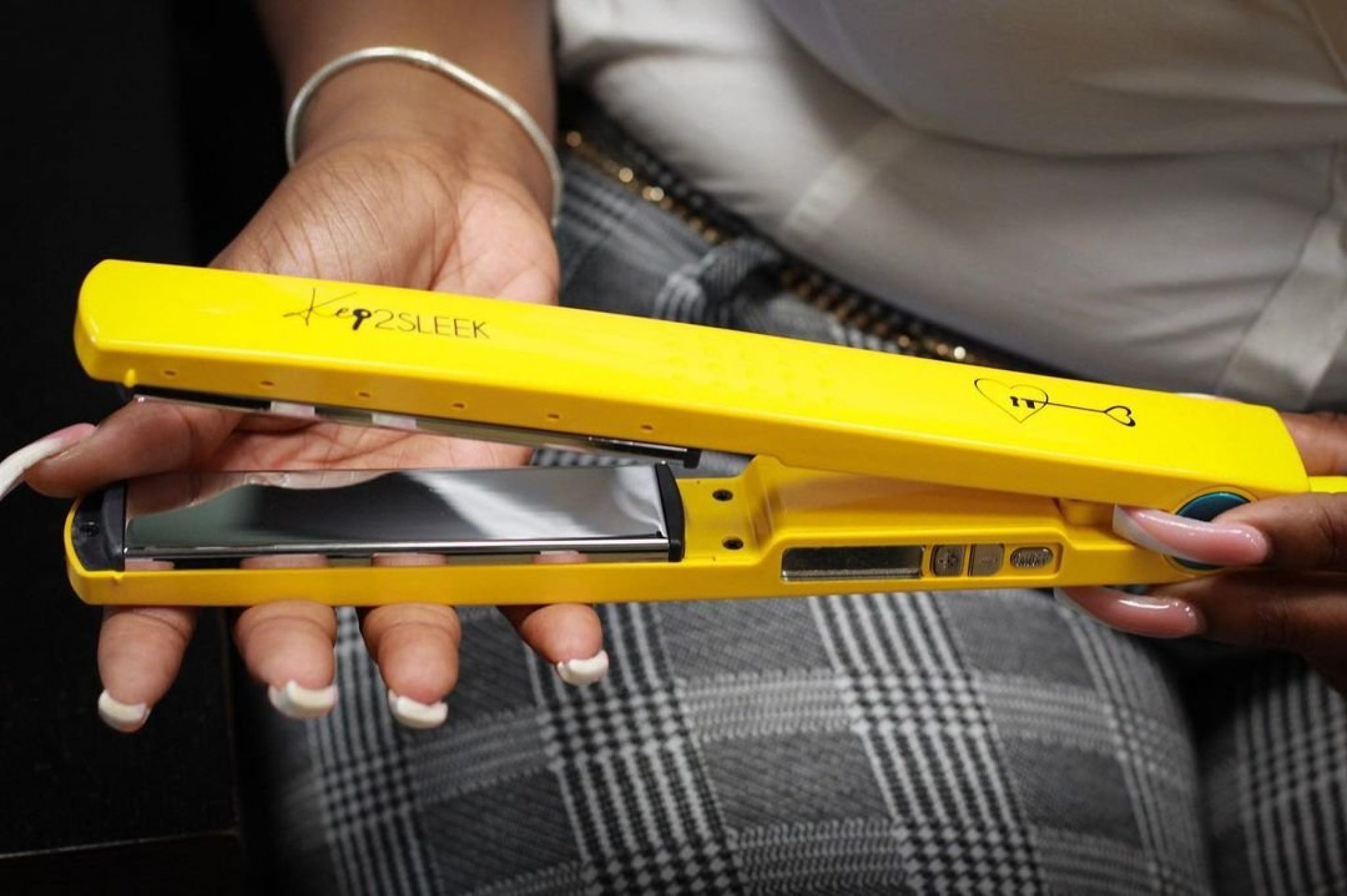 In conclusion of our titanium versus ceramic flat iron battle, it's fair to say that both materials have their pros and cons as everything does but I that each one has unique benefits to suit different hair types and purposes.
Titanium plates are the most durable and will last longer (usually the plate even outlives the device itself!). They can handle being dropped without breaking or cracking, unlike ceramic.
It's the ideal flat iron plate material for people that have thick and stubborn hair types, although it still should be used with care because of its extremely fast heat transfer rate, it's easy for someone without experience and caution to damage their hair.
Titanium plates are optimal for professional use as they'll be in the hands of someone that has the experience and can use the heated device safely while meeting a hairdresser or hairstylist's pushed time frame thanks to its fast heat transfer.
Ceramic plates are perfectly suitable for at-home and provide even heat distribution, making it the safer device. Most people can benefit from ceramic plates alone.
And finally, if you can't decide, there are in fact flat irons that combine both materials so you'll get the best of both worlds! – Durability, even heat distribution, and ultra-fast heating and heat transfer.
Also Read:
---
References:
Titanium description – https://www.britannica.com/science/titanium
The lowdown on whether ceramic straighteners are really bad for your hair – https://www.womanandhome.com/beauty/are-ceramic-straighteners-bad-for-hair/