Textured curly hair is beautiful and highly versatile. You can change up your hairstyle and look completely different according to your mood.
One of the most popular styles for textured hair is a silk press, which can be achieved at home with a flat iron.
I am here to review some of these hair tools and help you find the best flat iron for silk press. Of course, it would be better to pay a visit to your stylist for high-quality treatment.
But, if you can't make it to the salon, you can also do your silk press style at home with these flat irons!
Top 7 Best Flat Irons for Silk Press Reviewed
1. BaBylissPRO Nano Titanium Ultra-Thin Straightening Iron –
 Top Pick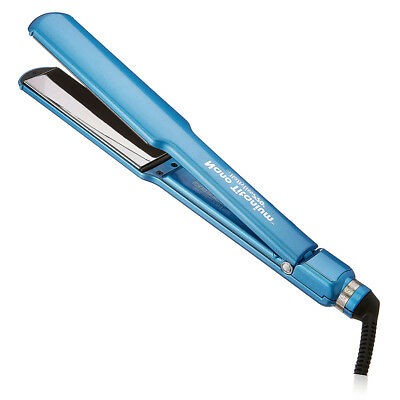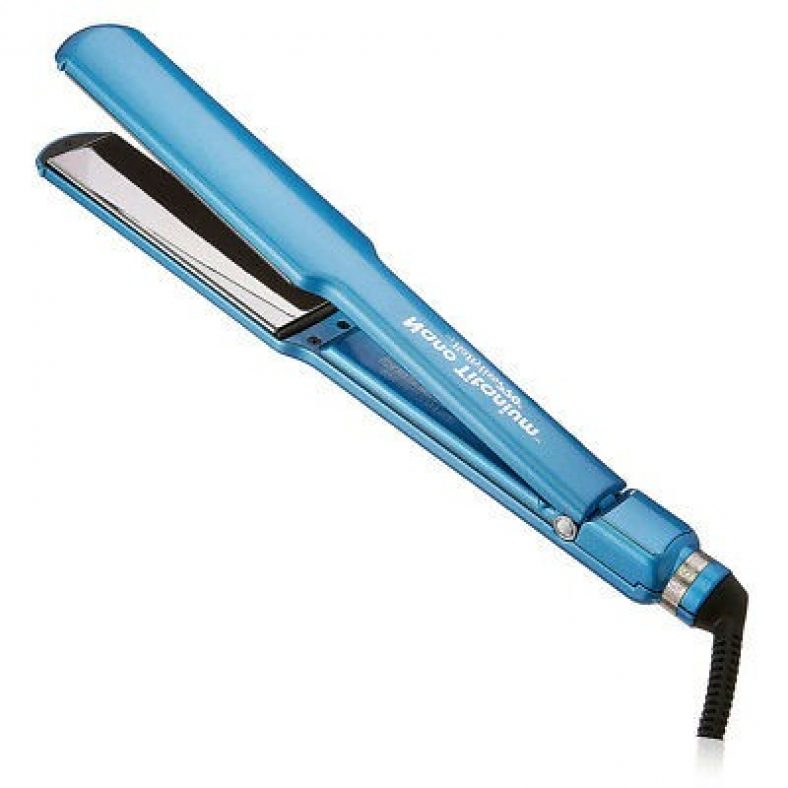 You can also find this product on Ulta, Bed Bath & Beyond.
BaByliss is a brand everyone has heard of even if you aren't in the beauty and style industry. They have become a household name for over 50 years now and it's no wonder one of their tools ended up in this hunt for the best silk press flat iron.
Plate Width: 1.5 inches
Plate Type: Titanium
Weight: 0.6 pounds
Color: Blue
Temperature settings: Up to 450F
This is definitely one of my favorite hair tools on the market. When you have thick hair or lots of hair, achieving a silk press can be tiring on the arms.
However, this flat iron is only 0.6 pounds so you won't have to worry about being uncomfortable while using it. I love that the titanium plates are so wide, as you can heat larger sections of hair meaning you are cutting your styling time by a lot.
I love a titanium flat iron for silk press, as titanium is one of the best materials for hair tools being a good conductor without being at risk of corrosion.
It's also very slim, so it's easy to carry around if you are constantly on the go. There are three versions of this straightener and they vary in plate width. The 1-inch flat iron is a great size for traveling and will fit into a small bag.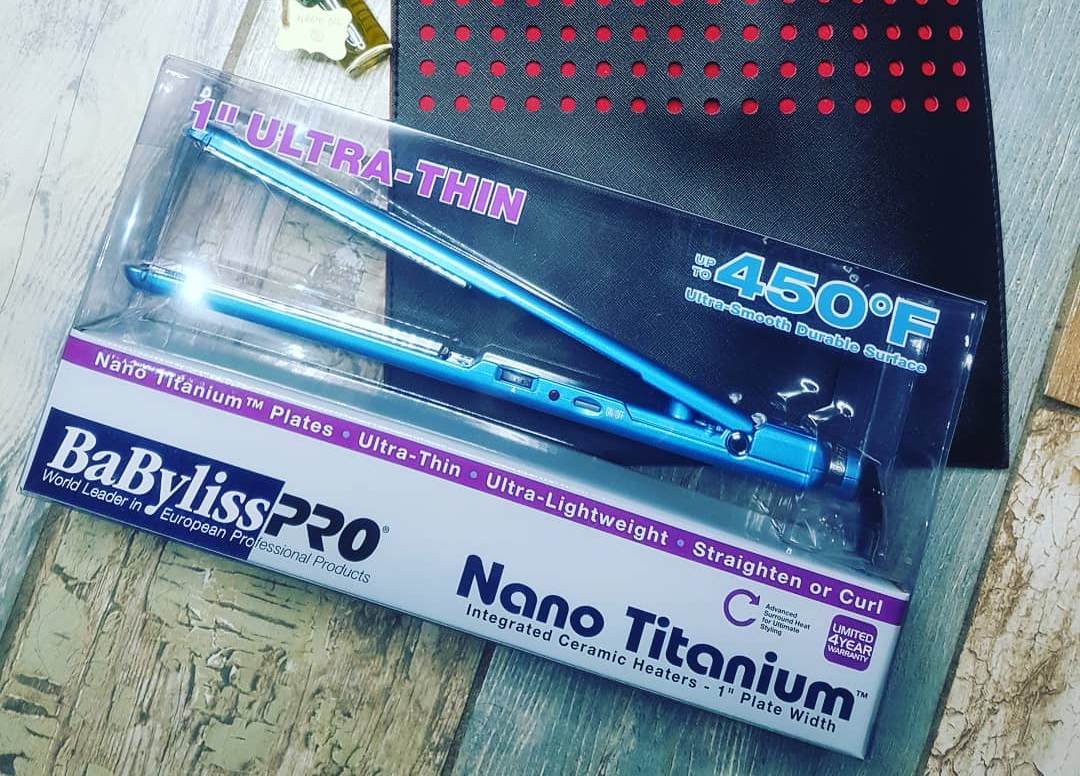 If you have thick curly hair, this is surely the silk press straightener for you. You can say goodbye to that nagging pain in your arms that you get when using clunkier flat irons. For its high quality and incredible design, the price is surely a worthy investment.
Love these features:
Three widths available
Super lightweight
Long plates for wider sections of hair
Could do better:
Plates sometimes don't completely touch
2. CROC Classic Silver Titanium Flat Iron –
 Runner Up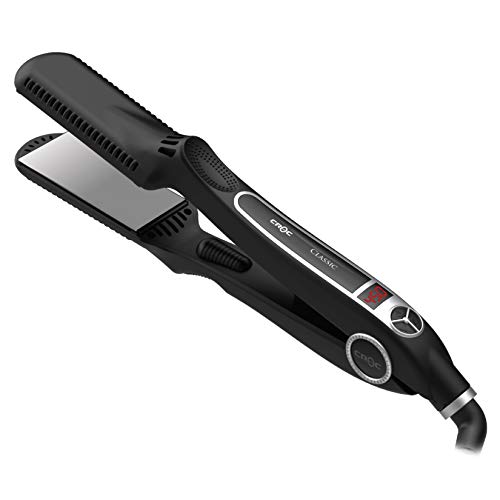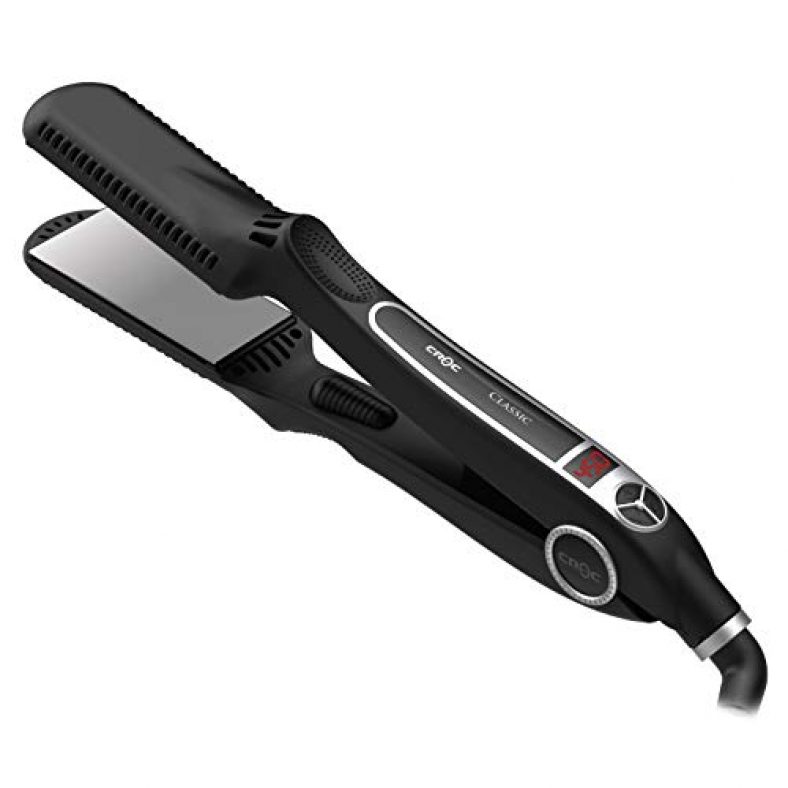 You can also find this product on Ulta, Walmart.
CROC is a lesser-known company that produces excellent products for all things hair. They are based in Southern California and I am always impressed with their hair tools.
This classic silver titanium flat iron is my runner-up on the search for the best flat iron for silk press.
Plate Width: 1.5 inches
Plate Type: Silver Titanium
Weight: 1 pounds
Voltage: 110V
Temperature settings: 280-450
The first thing you will surely notice is the unique crocodile-shaped design which stays true to the brand name. But, don't be fooled, this design is highly ergonomic and convenient when it's in your hands.
The silver titanium plates on this flat iron heat up very quickly and maintain this heat throughout the entire silk press process. These titanium plates are also great at reducing the overall frizz of hair.
Another great feature is this flat iron's ability to smoothen out clumps in hair, which usually arise from moving in your sleep.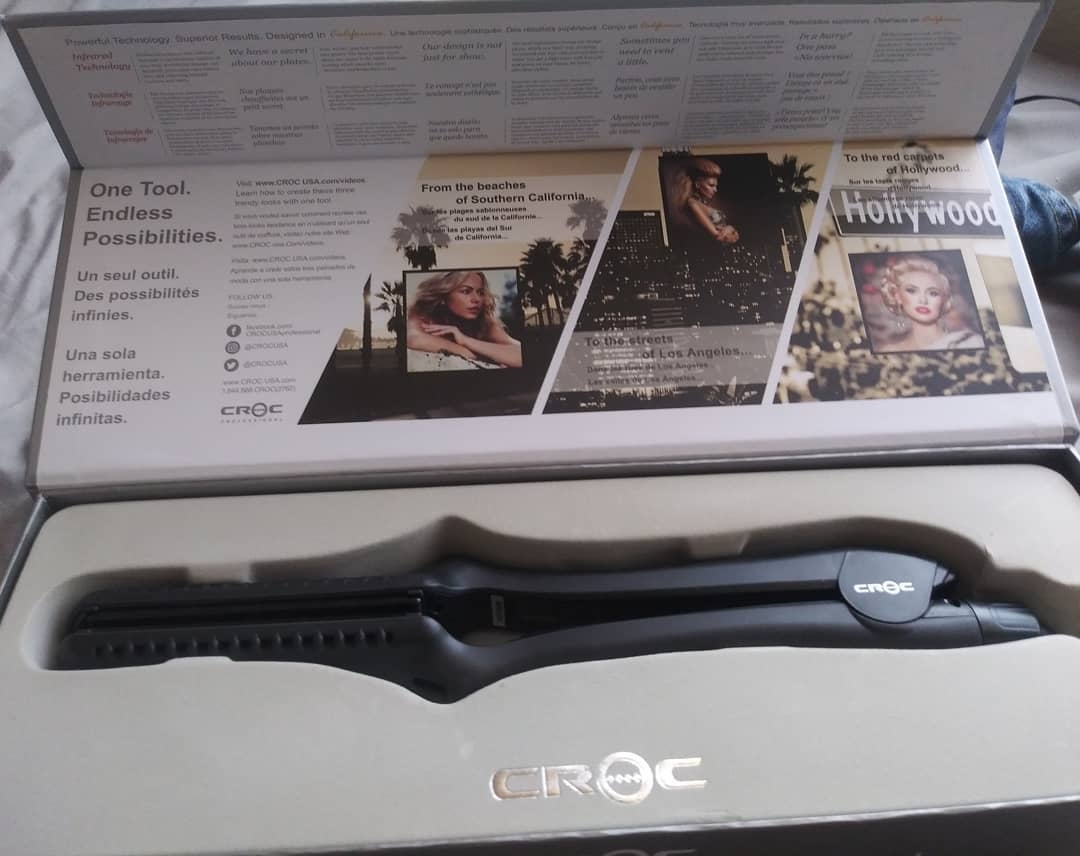 This silk press straightener works wonders on all types of hair, whether it's wavy or extremely curly. It's also great for thicker hair and one pass is really enough to straighten out the strands. One of my top choices of all time for sure!
Love these features:
Auto shut-off after 40 minutes
Comfortable grip and design
Heats up in a matter of seconds
Could do better:
Some clients have noticed a slight buzzing noise when turned on
3. ghd Platinum+ Silk Press Styler –
 Premium Pick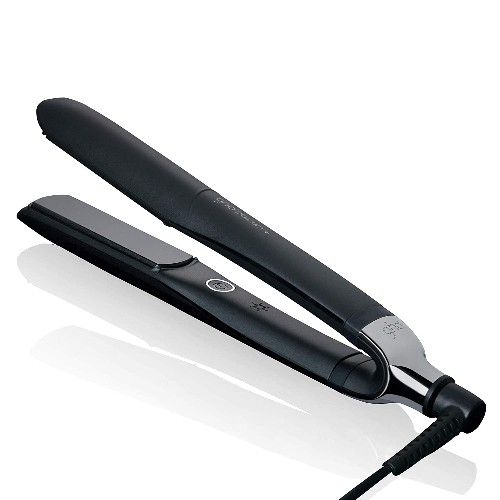 You can also find this product on Ulta, Sephora.
My premium picks always come at a price, but one that is always worth the investment. The ghd hair tools are known for being the best in all aspects, from heat maintenance to durability.
They have been in the industry for only about 21 years, but they certainly have a lot to show for it. The Platinum+ Styler is a straightener I use almost every day for a range of styles.
Plate Width: 1.5 inches
Plate Type: Ceramic
Weight: 1 pounds
Voltage: Universal
Temperature settings: 365F
This luxurious flat iron has only a single heat setting at 365F but it does the job. This temperature is the tested safest heat for hair, so you won't have to worry about heat damage using this tool.
A shiny silk press can be easily achieved with only a few passes using the Platinum+ styler. It glides smoothly over the hair and I have never experienced snagging with this tool, although it is a common problem with many others.
It heats up instantly and will sleep automatically after half an hour.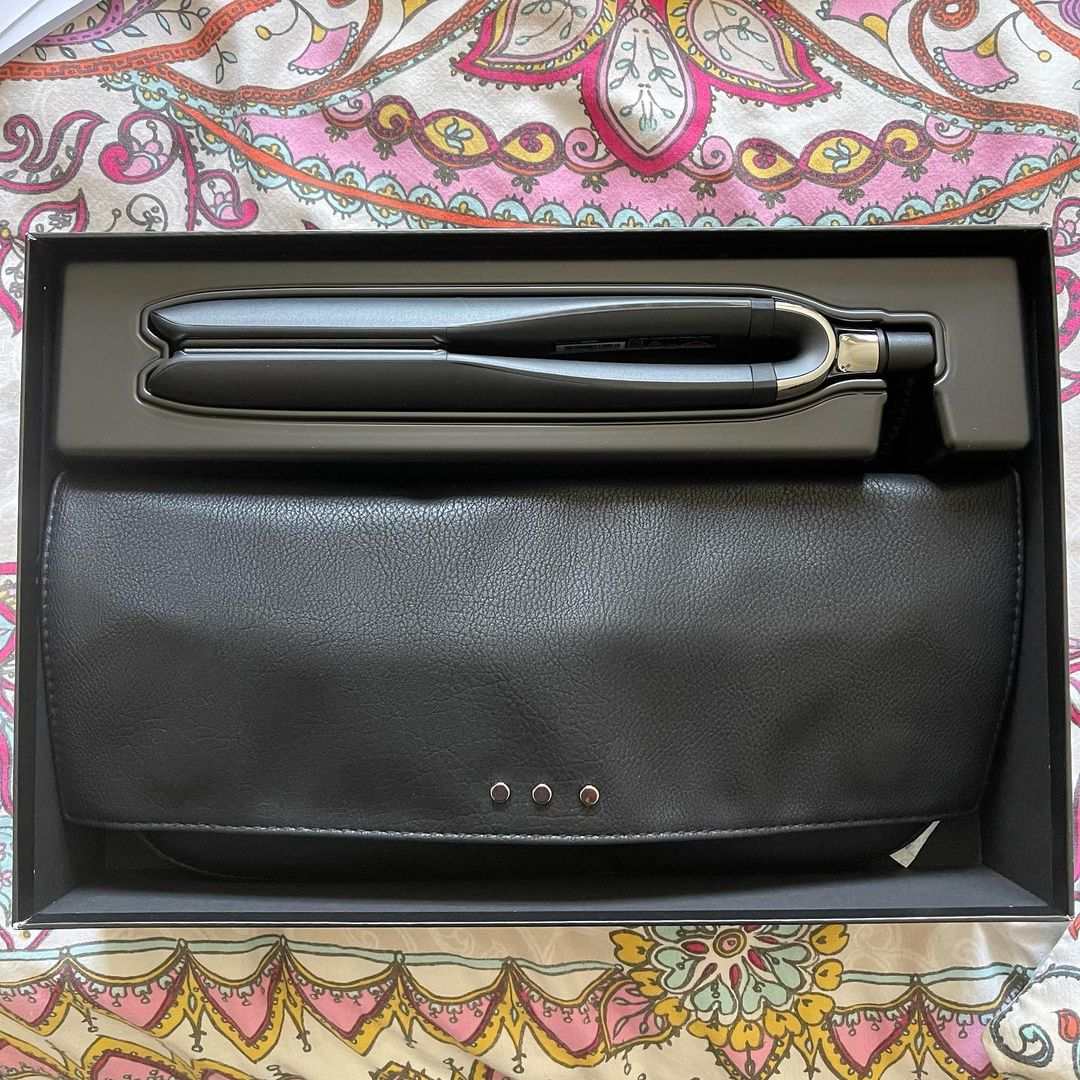 This premium flat iron is great for all types of hair, and especially for color-treated hair that is at a higher risk for heat damage. If you have previously dyed or bleached your curls, then this is the best silk press flat iron for you. These stylers are also highly durable, so invest once and you won't have to worry about replacing them for a long time.
Love these features:
Auto-off after 30 minutes
Convenient-to-hold design
Universal voltage (great for traveling)
Ultra-gloss plates for a smooth silk press
Could do better:
4. CHI PRO G2 Digital Titanium Infused Ceramic Straightening Iron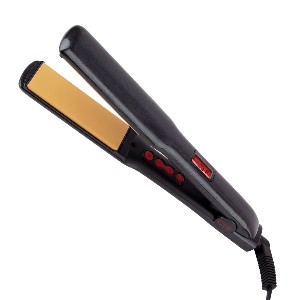 You can also find this product on Ulta, Bed Bath & Beyond.
Chi is a brand known for its affordable yet high-quality hair tools, so you can purchase a titanium flat iron without breaking the bank. Their hair products are designed with everyone and all hair types in mind.
Plate Width: 1 inches
Plate Type: Titanium Infused Ceramic
Weight: 1 pounds
Voltage: Dual
Temperature settings: up to 425F
This titanium-infused ceramic straightener is great for natural African American hair. It will help you to achieve that fresh silk press look without struggling too much.
The design allows you to reach your hair edges and scalp without burning yourself, and the 11-foot cord is an added bonus as well. I love the sleek design, it's not heavy or clunky like other straighteners I have tried.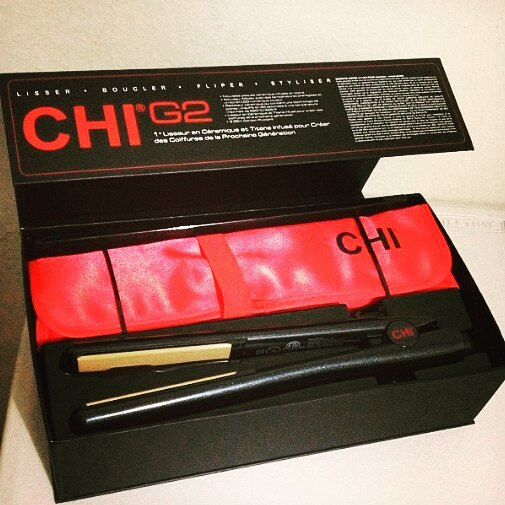 In my humble(but experienced) opinion this is a top contender for the best silk press flat iron for black hair.
Love these features:
Premium straightener at a more affordable price
2 Year Warranty
Heats up in 40 seconds
Could do better:
Sometimes difficult to press the plates together
5. FHI HEAT Platform Tourmaline Professional Flat Iron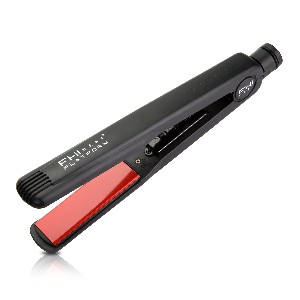 You can also find this product on Walmart.
FHI Heat has been becoming more and more popular in the beauty industry recently, and for good reason. You are always guaranteed good hair products at a good price, which is why one of their tools is a choice for the best flat iron for natural hair silk press.
Plate Type: Tourmaline Ceramic
Voltage:120-240V
Weight: 1 pounds
Temperature settings: 140-450F
Color: Black with red plates
This is a flat iron I recommend for my dry-hair girlies. If your hair tends to get dry and break after using heat, then this is the silk press option for you.
This hair tool has built-in technology that works to seal in moisture and reduce frizz by repelling humidity.
So you can achieve that shiny silk press look with no frizz or flyaways. The plate size wasn't indicated in the above-mentioned specs since it varies with the flat iron size.
I personally love this, since this convenient tool comes in three sizes with the smallest being great for traveling. It's also highly durable so you won't have to worry about it breaking for multiple years.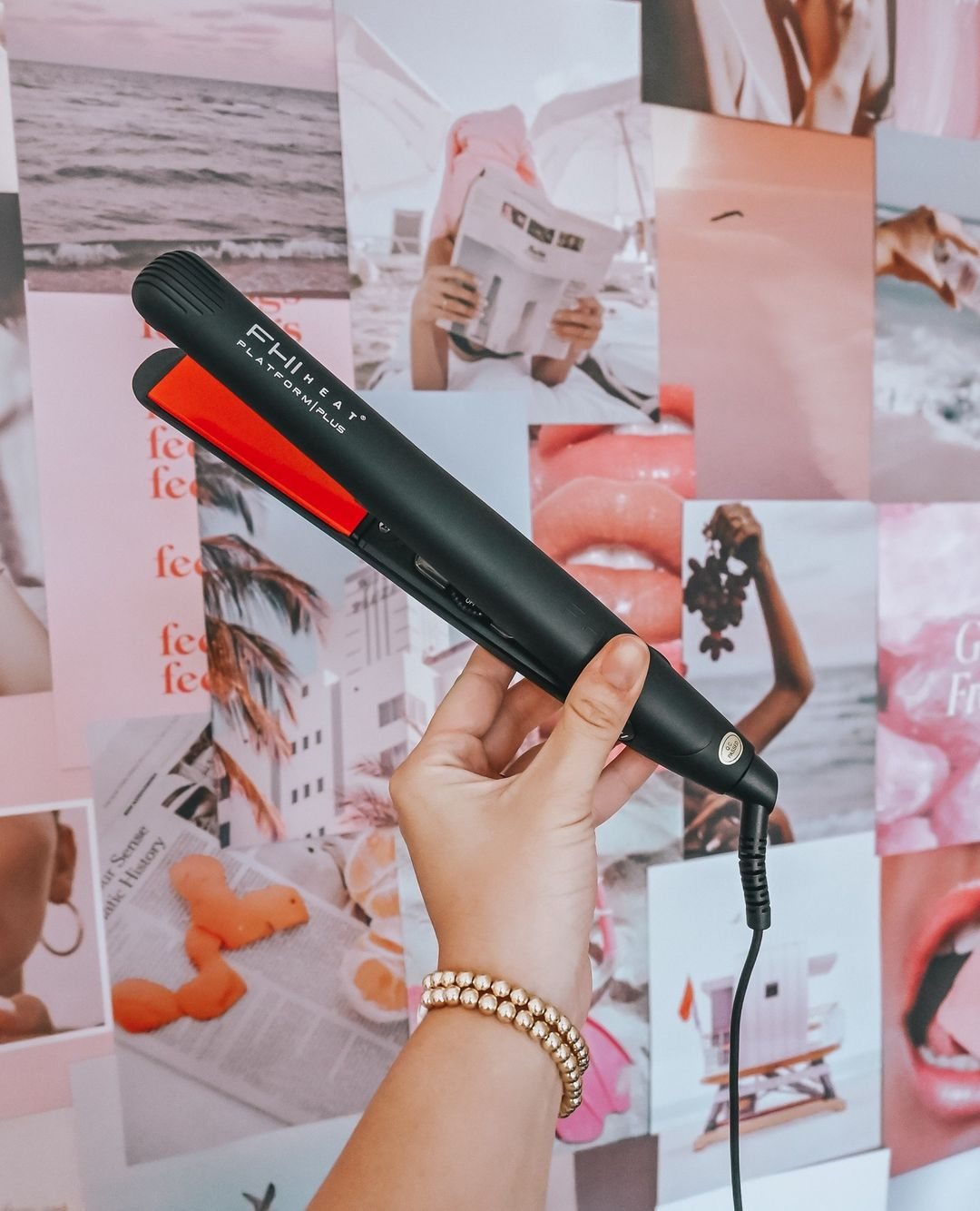 If you are having problems with dry hair, this flat iron will surely be your go-to once you get it. The sleek red-black design comes with incredible heat technology and is sure to give you the silk press of your dreams.
Love these features:
Floating plates for flexibility
A range of different sizing
Auto shut-off after one hour
Could do better:
Plates may snag hair sometimes
6. BIO IONIC 10x Pro Silk Press Styling Iron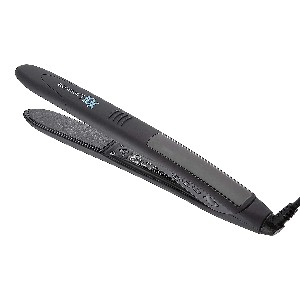 You can also find this product on Ulta, Walmart.
This is another option for the best flat iron for natural hair silk press that is more on the high-end yet is totally worth the investment.
Plate Width: 1 inches
Plate Type: Ceramic with Volcanic Rock Mineral Infused
Weight: 0.9 pounds
Voltage: Universal
Temperature settings: up to 450F
One of the features that make this flat iron so unique is the plates. These plates vibrate while you are straightening your hair, which cuts down the process time by a ton.
It takes me significantly less time to achieve a silk press when using this flat iron compared to others I have used. This vibrating technology is hard to find on the market right now and it's a design that guarantees a smooth finish.
The rounded tips on the straightener allow for flexibility, so you can easily style your hair from the roots all the way to the ends. It also comes with a 9-foot swivel cord which contributes to the flexibility as well.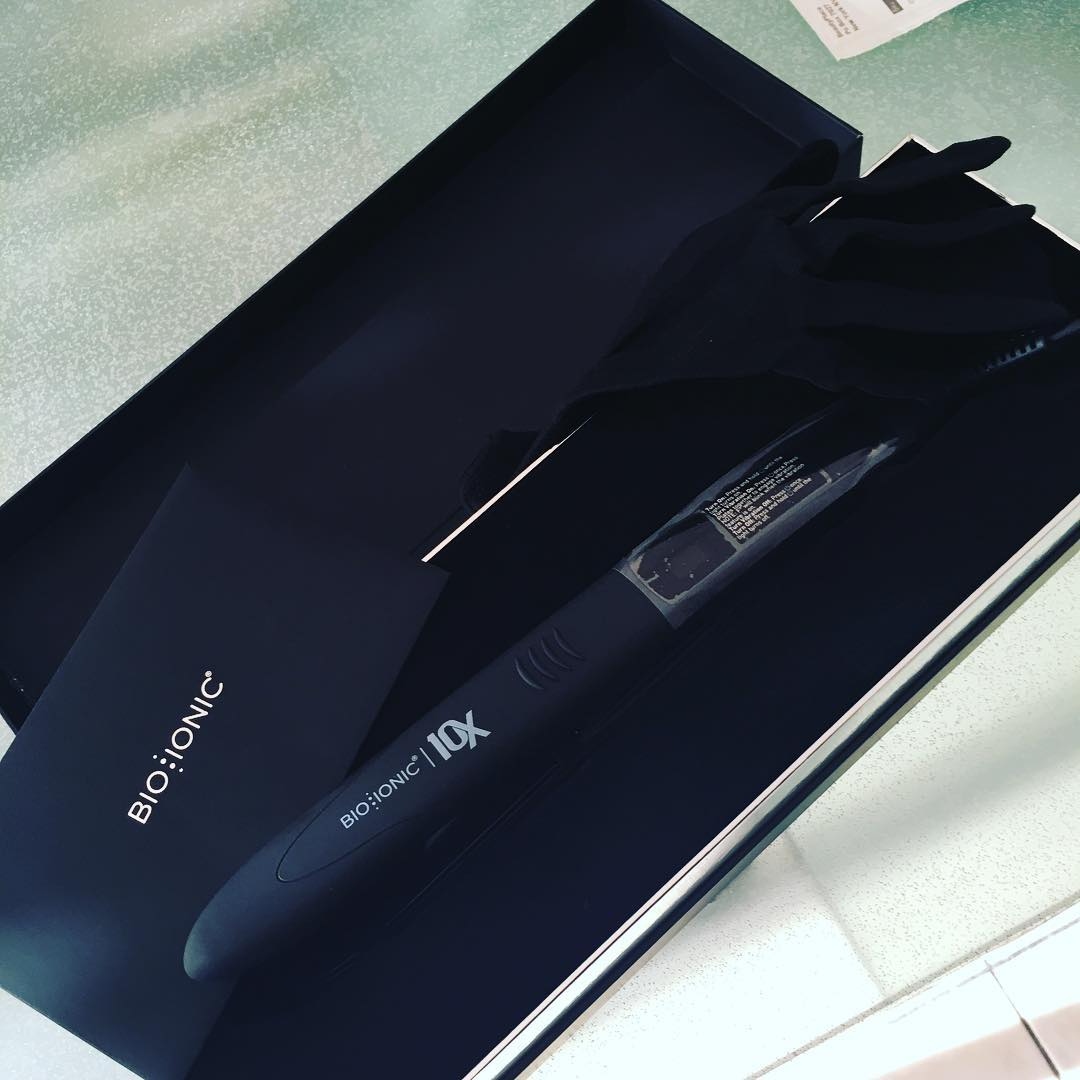 I love using this flat iron on all types of hair, ranging from thin wavy hair to thicker curlier hair. If you are willing to splurge and invest in a nice long-term hair tool, then I would surely say to go for this one.
Love these features:
Vibrating plates for a smoother silk press
Straightens hair very fast
Long swivel cord
Could do better:
Finer hair may slip out of the plates
7. HSI Professional Glider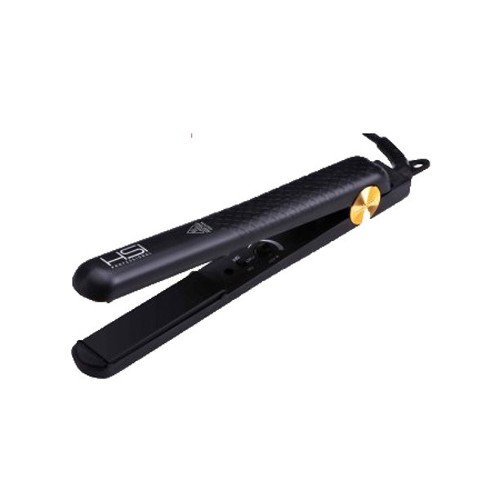 You can also find this product on Walmart.
Last but definitely not least is the HSI professional glider, another one of the more affordable options on this list. With HIS professional products, you can use salon-quality tools in the comfort of your own home.
Plate Width: 1 inches
Plate Type: Ceramic Tourmaline
Weight: 1 pounds
Voltage: Dual
Temperature settings: 140F-450F
This flat iron works wonders on thick African American hair, really. It maintains heat very well and achieves a silk press in a short amount of time with few passes.
The ceramic plates are very high quality and distribute heat evenly all over the hair. There are also micro-sensors in the plates to regulate heat so you won't have to worry about heat damage.
The tourmaline crystal ions in the plates also play a huge part in achieving a shiny and silky look. There is never any frizz when using this flat iron due to the adjustable temperature settings.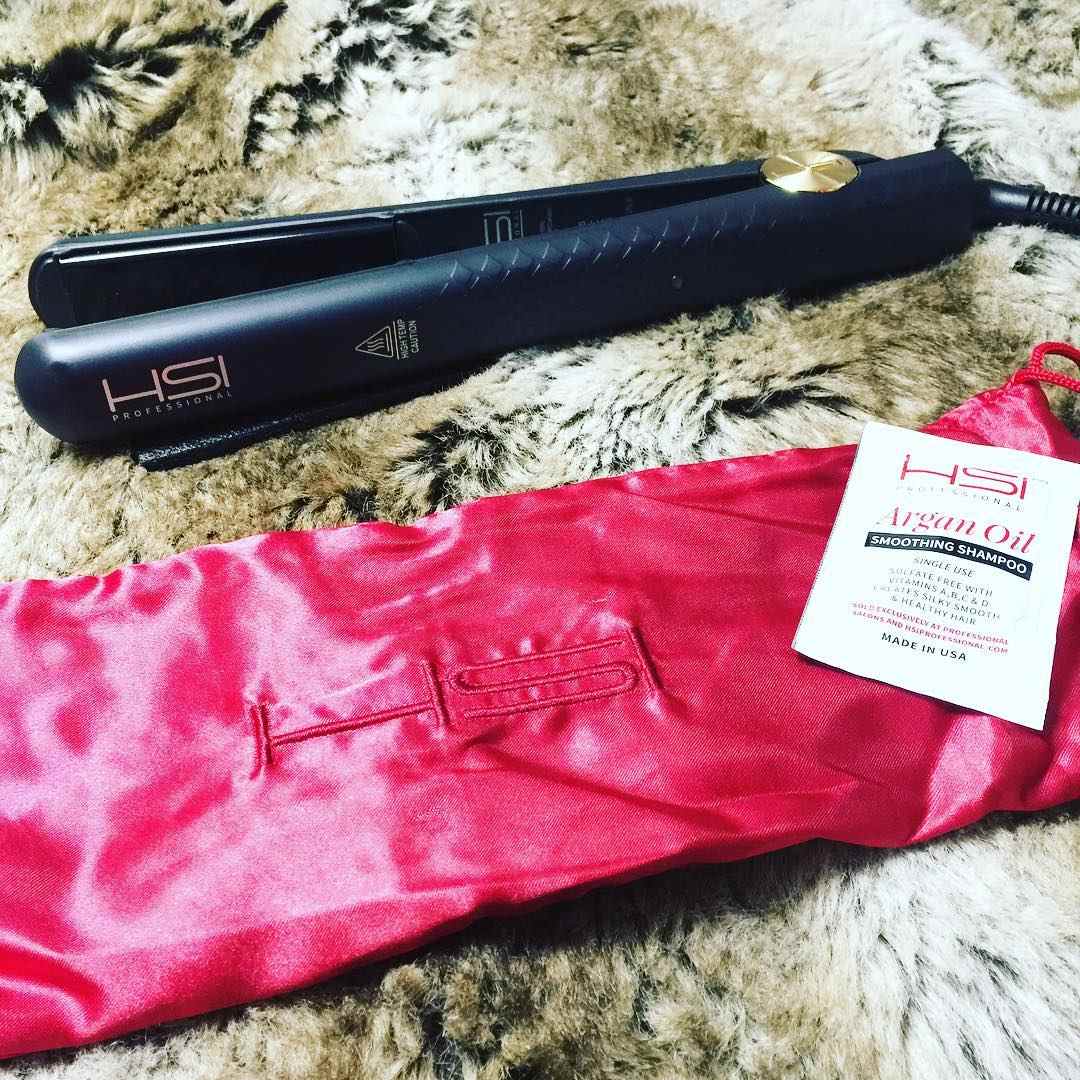 This flat iron works well on everyone, but I would say is designed with us curly girlies in mind. It works wonders on thicker natural black hair and doesn't require too many passes, so no heat damage. If you are thinking of purchasing this flat iron, then don't even hesitate!
Love these features:
Extendable swivel cord
Temperature control options
Comes with a cute travel bag
Could do better:
Silk Press Flat Iron Buyer's Guide
What to look for in a flat iron for silk press? When looking for a flat iron, specifically one you wish to do a silk press with, there are a few main factors look for.
Plate material
The main two plate materials for flat irons are ceramic and titanium. The main differences between the two lie in how fast they heat up and how this heat is distributed on the hair.
Ceramic usually takes longer to get hot, and these plates heat the hair from the inside out. On the other hand, titanium heats up much quicker and heats hair from the surface.
Heating hair from the inside out is much gentler on the hair shaft however heating it from the surface achieves a smoother look in only a few passes.
Ceramic is considered the safest option for plate material, especially if your hair is fine or damaged. However, titanium achieves a smoother and shinier silk press so if your hair is thick and stubborn, then titanium is the material you should look for.
Tourmaline
Tourmaline is another less common material used for flat iron plates. It tends to generate negative ions which are great for reducing hair frizz and closing the hair cuticle.
Tourmaline works effectively at lower temperatures compared to ceramic so you will expose your hair to less heat.
However, these plates are coated with ground gemstones, so they wear out much faster. I would recommend tourmaline plate flat irons if your hair gets very frizzy.
Plate size
The ideal width of the plates on a silk press flat iron for black hair is between 1 and 1.5 inches. Narrower plates would require you to pass over sections of hair multiple times which increases the process time and the risk of damage.
However, if you have short hair then narrow flat iron plates may be a great option for you.
Wider plates tend to be clunkier and make it harder to reach the roots of curly hair. With wider plates, you won't get that super straight silk press you desire.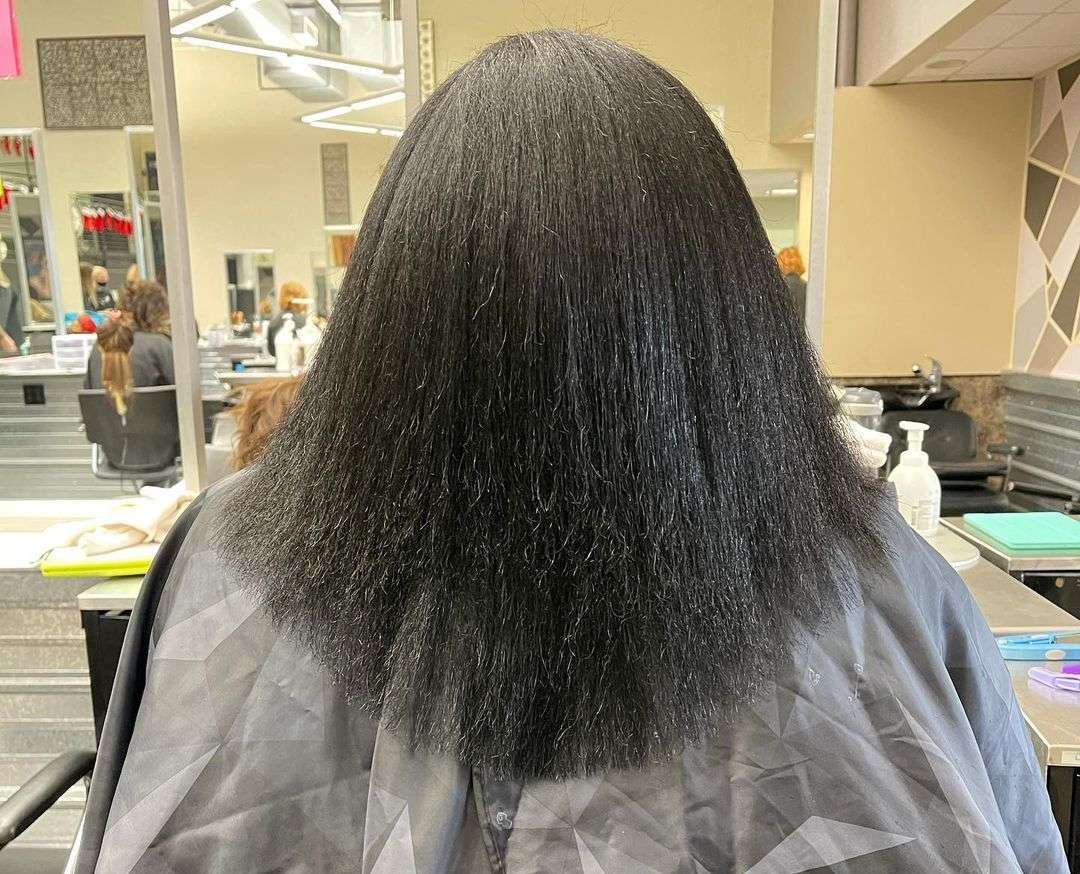 Auto Shut-Off
This is a feature that won't necessarily affect the results of your silk press however it may directly prevent your house from burning down.
Especially if you are generally a person who is forgetful or easily distracted, you have probably left a flat iron on once or twice.
When your flat iron has an auto shut-off function it will automatically turn off after some time, usually thirty minutes or an hour. The time depends on the flat iron, it's not a set number.
High-quality flat irons usually have this feature, so the presence of an auto shut-off feature can hint to you that this flat iron is a good choice.
It's not really a requirement for a flat iron, but it's a feature that can give you some peace of mind in case you aren't sure if you unplugged the tool when you left your place.
Swivel Cord
Another feature that doesn't really affect the outcome of your hairstyle is a swivel cord. However, it will make the flat ironing process a million times easier.
If your cord doesn't turn, then you will have to keep repositioning your hands and your head to be able to use the flat iron.
If you have long hair and your arms usually get tired when doing a silk press, then opt for a flat iron with a swivel (and preferably long) cord.
How to do silk press on natural hair (step by step guide)
Doing a silk press is pretty straightforward and I'm sure you'll be able to do it with this guide!
1. Shampooing
Start off with cleansing your hair in the shower preferably with a moisturizing shampoo. A good shampoo is an essential base for a smooth silk press. Make sure you rinse well since product buildup can ruin the process.
2. Deep Conditiong
After, use a nice deep-conditioning treatment with natural oils. You are going to need this extra hydration if you want to avoid frizz and breakage later.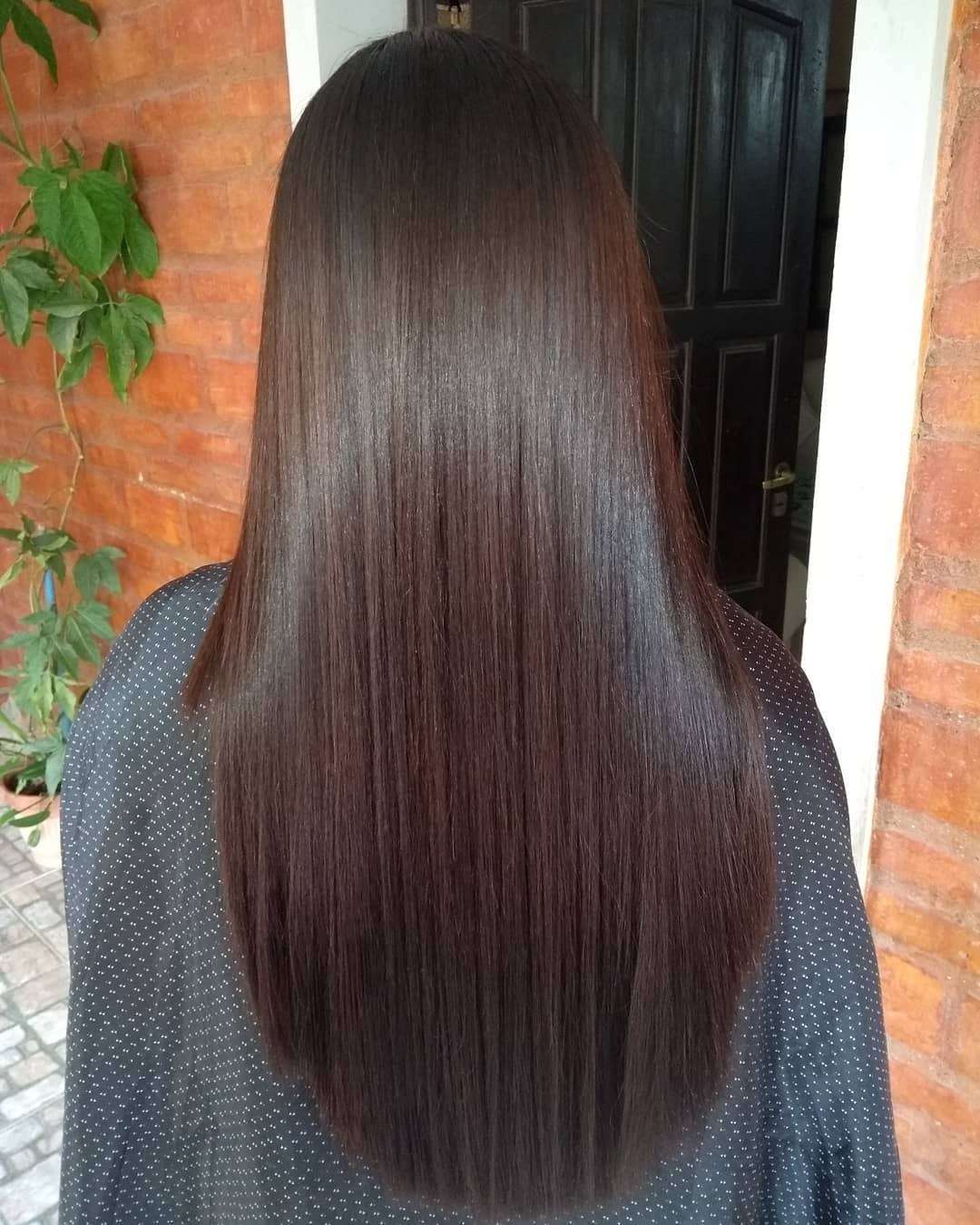 3. Heat Protectant
Once you step out of the shower, it's time for heat protectant. This step is crucial and should not be skipped ever.
A heat protectant spray is going to form a barrier between your hair and the heat from the flat iron which is a must unless you want to risk having dry hair or ruining your curl pattern.
4. Blow Drying and Serum
Next, it's time to start blow-drying your hair. You can use any blow drying method, as it doesn't really affect the end result. Once your hair is all dry, I would recommend using a light serum before flat-ironing.
This step isn't essential but it will help hydrate your hair for a smooth and silky finished look.
5. Flat Ironing
After this, it's the final step of straightening your hair. It's fairly straightforward, so just section and glide the flat iron from the root to the ends. And that's it for a silk press!
FAQ
Can a silk press damage your natural hair?
Any styling done with heat can do some damage to your hair, usually causing split ends or breakage. However, a silk press is one of the styles that is least likely to cause damage, so you don't have to worry too much.
What do I spray on my hair before I do a silk press?
I would recommend using some heat protectant spray, as you will be using a significant amount of heat to style the hair. A heat protectant spray with a smoothing element would also be good.
Is titanium or ceramic better for silk press?
Ceramic is a great flat iron material but I would say titanium is superior for a silk press as this material contributes to creating a shiny and smooth look with few passes.
How hot should flat iron be for silk press?
It depends on the thickness and texture of your hair, but 310-390F is usually a good temperature for most hair types. If you have especially thick hair, then 400-420F will be better.
Also read:
Conclusion
Post-pandemic many people have learned to do things for themselves, and this includes hairstyles. Of course, going to a stylist would be my first recommendation but a silk press can also be achieved at home with the right tools.
My top pick would be the BaBylissPRO Flat Iron and I would recommend opting for this one as well as any of the other six on this list for a salon-quality silk press.
Have you tried any of these flat irons or do you have others you recommend? Let me and the other readers know in the comments down below!
---
References:
Silk Press 101: What You Need to Know to Straighten Your Natural Hair – https://www.cosmopolitan.com/style-beauty/beauty/a33499527/silk-press/
How does heat damage hair? – https://www.dyson.com/knowledge/hair-care/how-does-heat-damage-hair/