Relaxed hair is beautiful when fresh, taming down curls and creating a sleek shine. To keep it in tip-top shape, you'll need to give it some TLC, and we're here to tell you how.
We set out on a mission for the best moisturizer for relaxed hair gathering up 8 of the best for all hair types. Not only will we introduce you to our top picks but provide you with all the details to help you choose the best one.
If you're trying to keep your hair "on fleek" for the summer, you've come to the right place, showing off silky, shiny, moisturized tresses.
Top 8 Best Moisturizers and Leave-In Conditioners for Relaxed Hair
1. MIZANI Miracle Milk – Best Leave-in Conditioner for Relaxed Hair
 Top Pick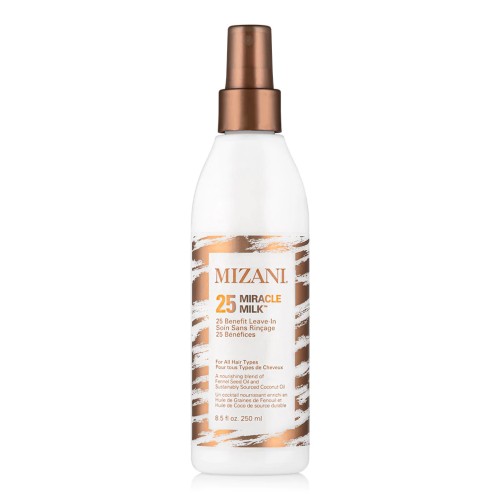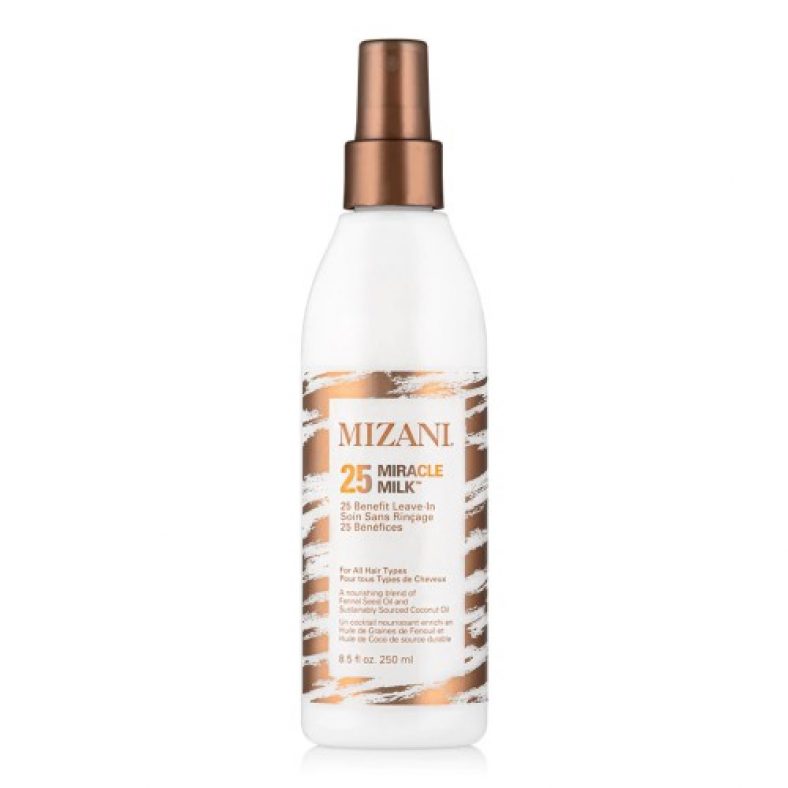 You can also find this product on Sephora, Walmart.
Active Ingredients: Oils
Hair Type: Curly
Size: 250 Milliliters
Scent: Coconut
If you've got natural frizzed locks, the Miracle Milk from MIZANI is for you. The formula penetrates the hair follicle, delivering lasting moisture and hydration to every single strand. It's powerful enough to protect relaxed hair against high heat and pollution yet gentle enough to care for hair.
The mixture has coconut oil and fennel seed oil, which you can spritz on locks for a sweet-smelling and gorgeous set of hair anytime it needs a little extra oomph.
Why we love it:
The formula is light, filled with hydrating oils;
The scent is heavenly, with hints of coconut;
It penetrates deep into the hair follicle for intense hydration;
Perfect to spray every day.
What we'd change:
Maybe just the size? We want more!
Not only is this moisturizing milk effective but, we cannot get enough of the smell! You'll have super gorgeous and luscious locks that resist heat, humidity, and dryness all day long. Just a few spritzes, a quick shake, and voila! You've got red carpet hair!
---
2. Redken Leave-In Conditioner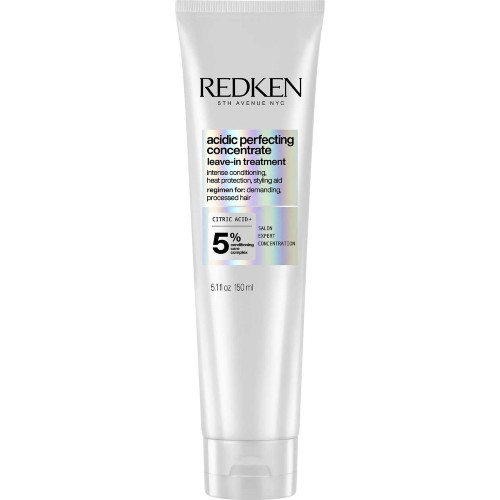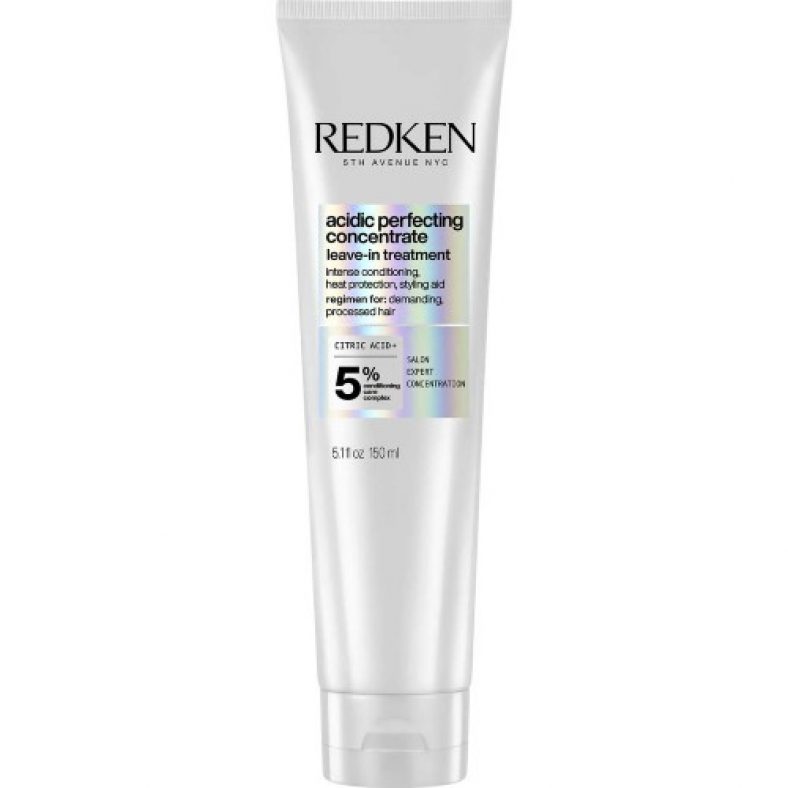 You can also find this product on Walmart.
Active Ingredients: Acidic bonding concentrate
Hair Type: Damaged
Size: 150 Milliliters
Scent: Citrus, Floral
Redken is one of the top names in haircare and professional products. They search far and wide for the best chemical combinations to create the perfect-looking hair for any hair type.
With their leave-in conditioner for relaxed hair, you can enjoy rapid repair of all kinds of damage thanks to their acidic concentrate.
There is a heavy dose of citric acid in the formula, which helps heal split ends and reduce dry, brittle strands. When using this leave-in on relaxed hairstyles, you'll notice less breakage, less frizz, and an overall healthier hair appearance from day one.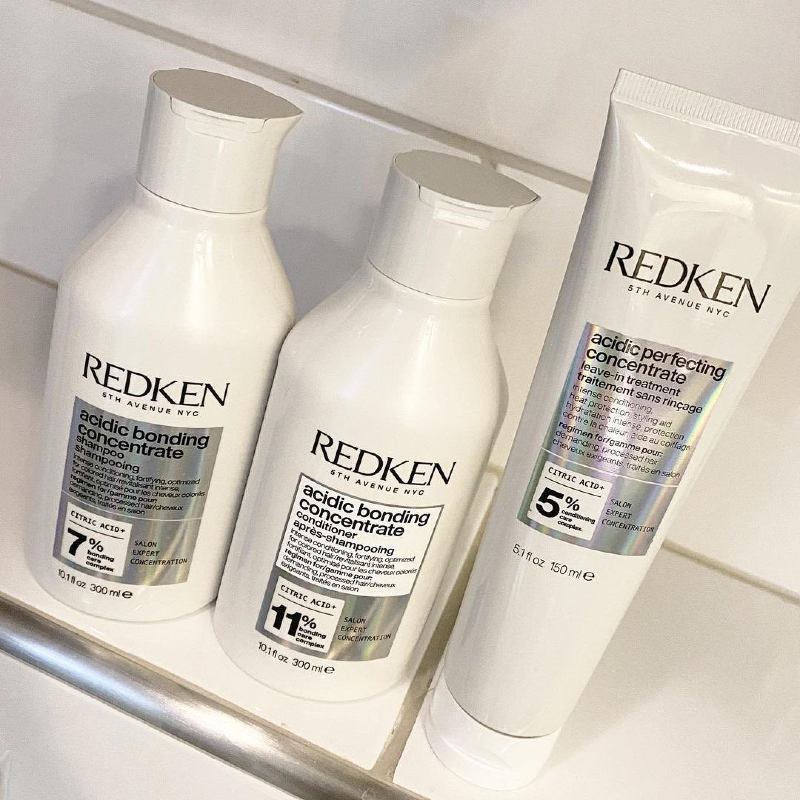 Why we love it:
Created by Redken, the professional product powerhouse;
Infused with citric acid and other concentrates to heal damaged hair;
Lovely scent;
Super lightweight feel while in hair.
What we'd change:
Could irritate sensitive scalps.
The acid formula in this leave-in conditioner from Redken is perfect for the hair. It's packed with products that will get your hair nice and smooth, keeping it calm under all types of conditions.
---
3. Davines Moisturizing Fluid –
 Moisturizer for Dry Relaxed Hair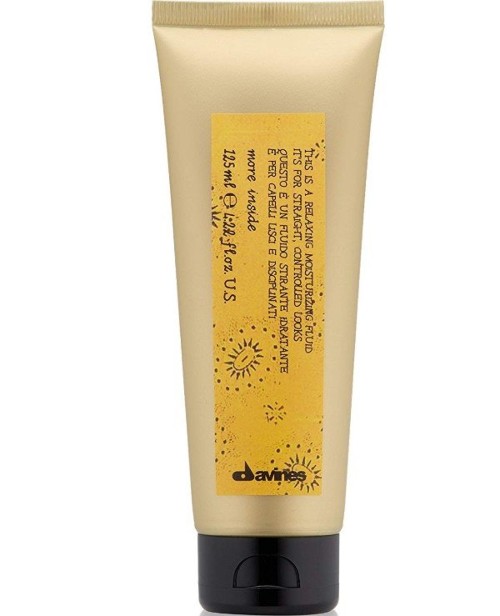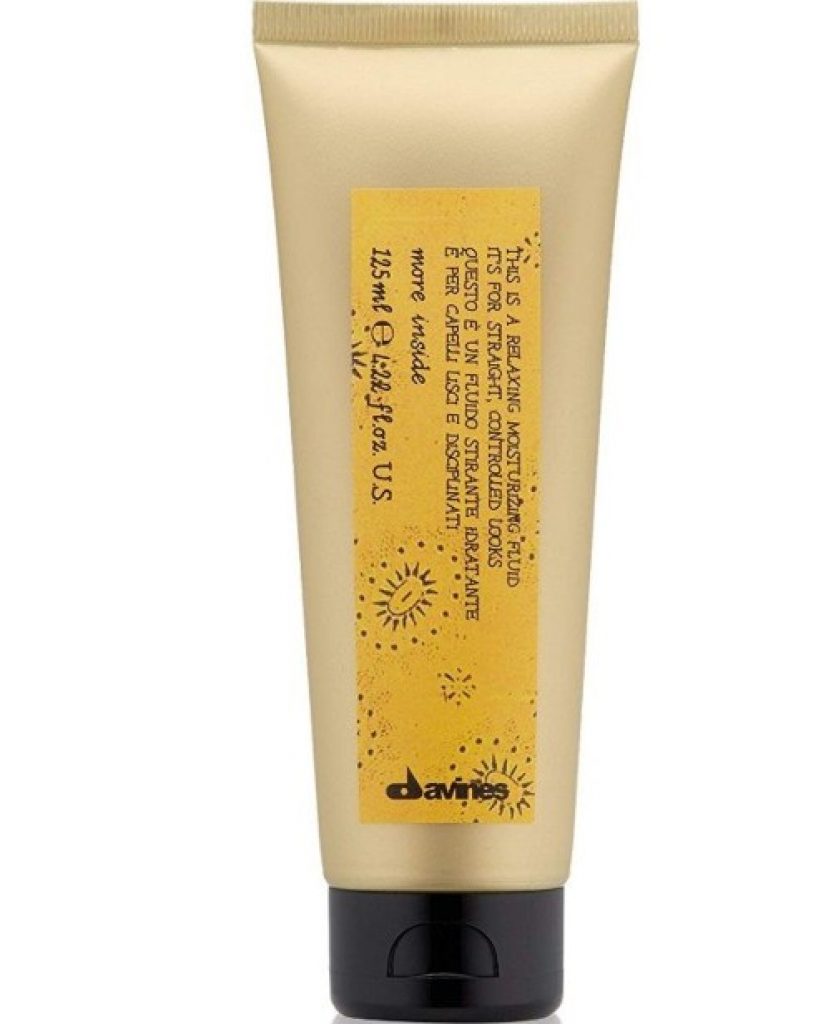 You can also find this product on Walmart.
Hair Type: All
Size: 4.22 fl.oz.
Produced in the foothills of Italy, this moisturizer has a bit of something for every hair type. Davines takes care to focus on the environment while creating its products, taking an environmentally friendly approach.
The formula not only moisturizes hair but relaxes it into a super-straight style. Once done, you'll have a frizz-free and smooth style that will last for days, standing up against heat and humidity. With just a small amount, work it into hair and watch as the magic unfolds, relaxing even the tightest and peskiest curls.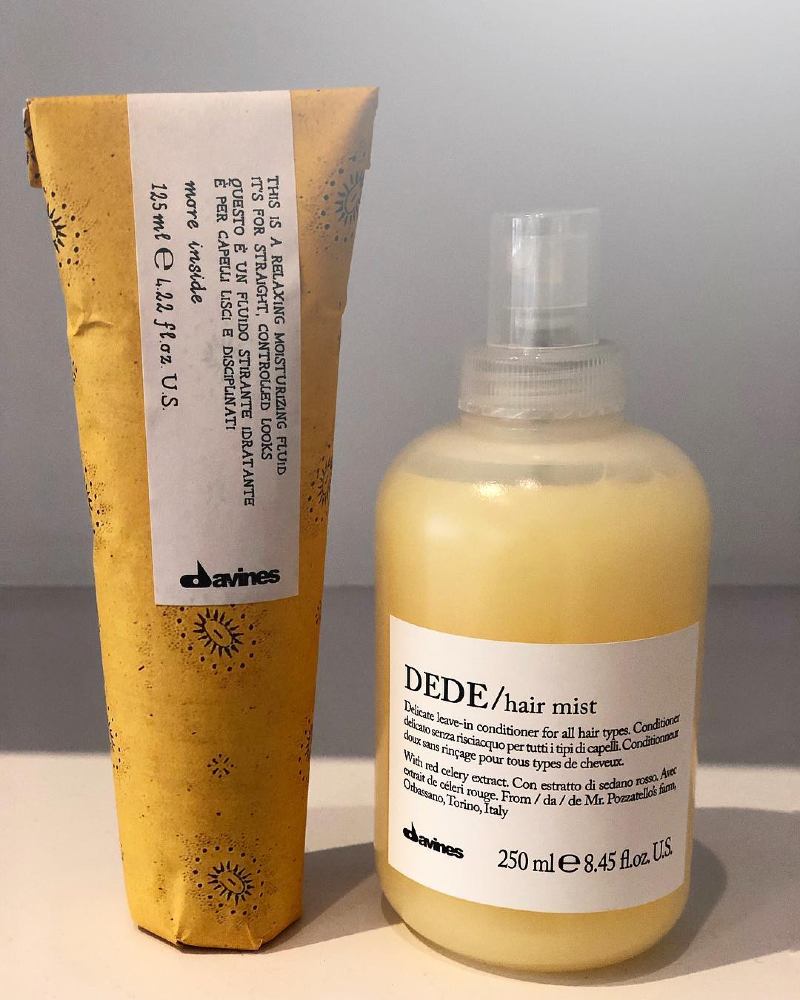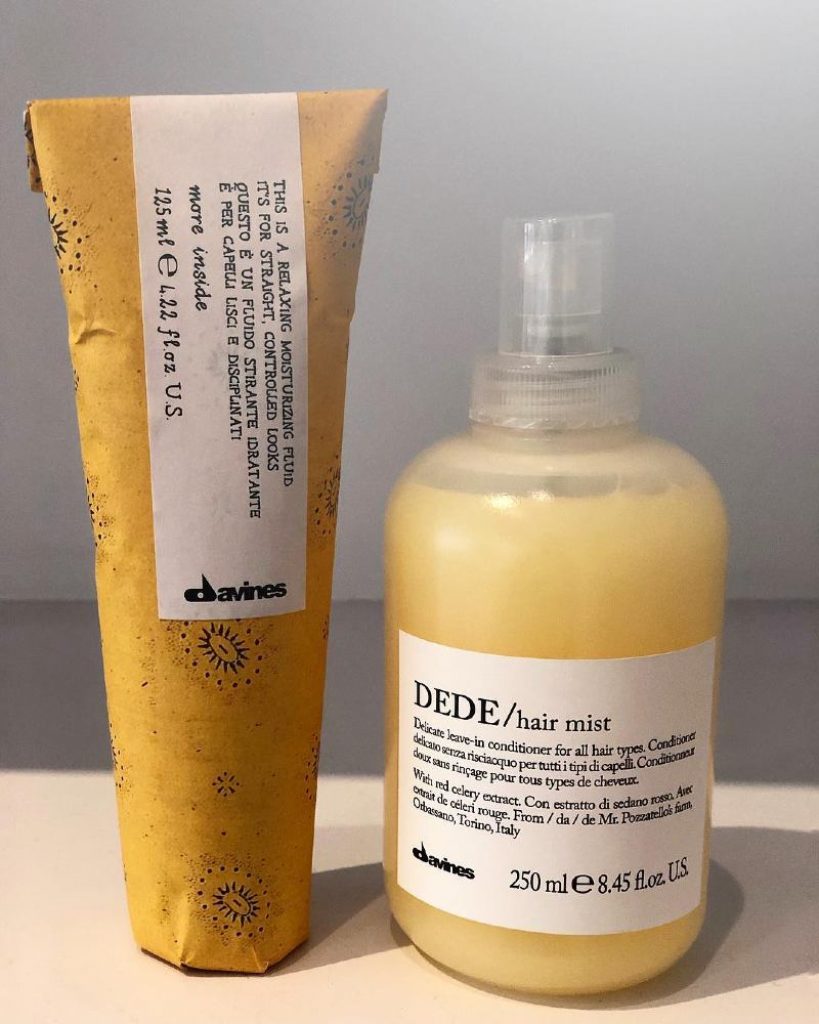 Why we love it:
The unique formula comes with love for the environment;
Keeps hair protected from humidity and high heat;
High concentrate formula (takes little product to do the trick!);
Cute packaging.
What we'd change:
Only available in 4.2 fl. oz.
There are a lot of great things to note about Davines hair products. Besides their green productions, their products are effective, creating the hair you want without any damage. A little of this product goes a long way, which is why we love it for all hair types.
---
4. MIZANI Moisturizing Mask –
 Moisturizer for Frizzy Locks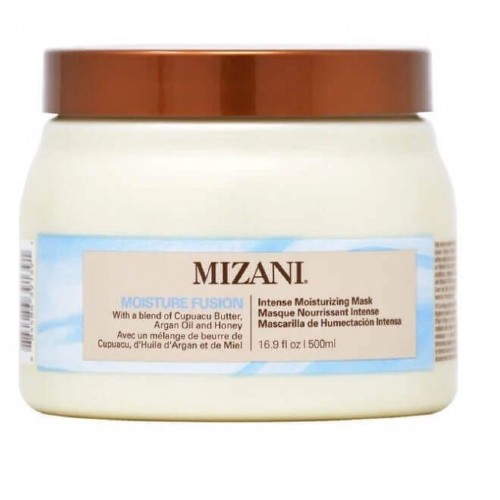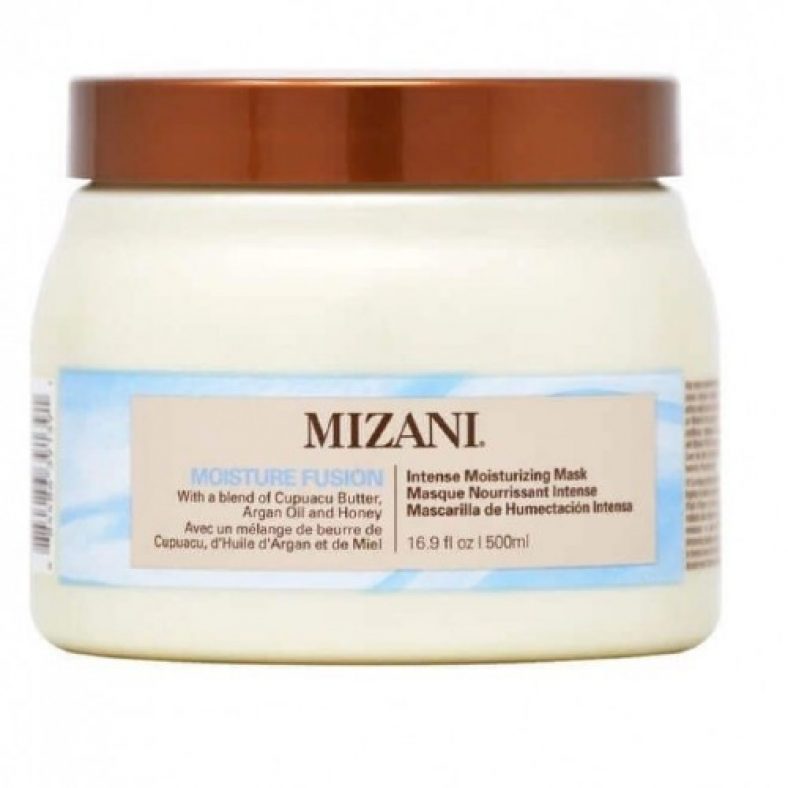 You can also find this product on Sephora, Walmart.
Active Ingredients: Honey and argan oil
Hair Type: Dry
Size: 16.9 Fl Oz
Scent: Honey
The MIZANI moisturizing mask is perhaps the best moisturizer for relaxed hair. The brand has been around for a while, creating products that care for all textures of hair. With this Fusion-Intense mask, hair is coated with Cupuaca butter, argan oil, and honey to provide intense hydration.
With just one use, relaxed hair will drip with shine, falling into soft and manageable tresses that look, feel, and move healthier. Plus, the texture has zero weight and leaves behind little to cause buildup and gunk for fresh locks that last. I'd also recommend checking the Mizani MF shampoo for relaxed hair.
Why we love it:
It's essentially weightless;
Infused with honey and argan oil;
Provides intense moisture for relaxed hair;
Perfect for all hair types.
What we'd change:
Doesn't' have the most pleasant smell.
It's a bummer that the smell is not great because, if it were, it would be the perfect product. The results are great for all hair types and textures, making it a go-to for any hairstyle.
---
5. Phyto Care Cream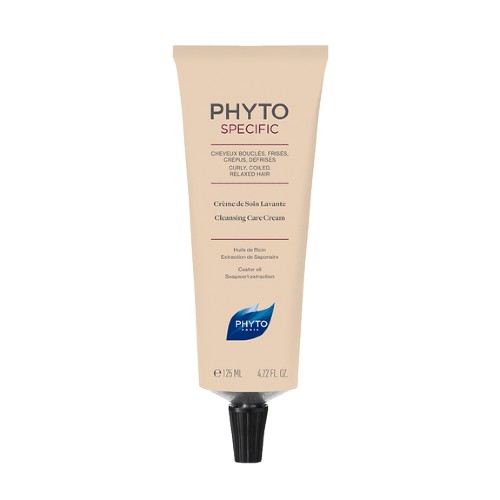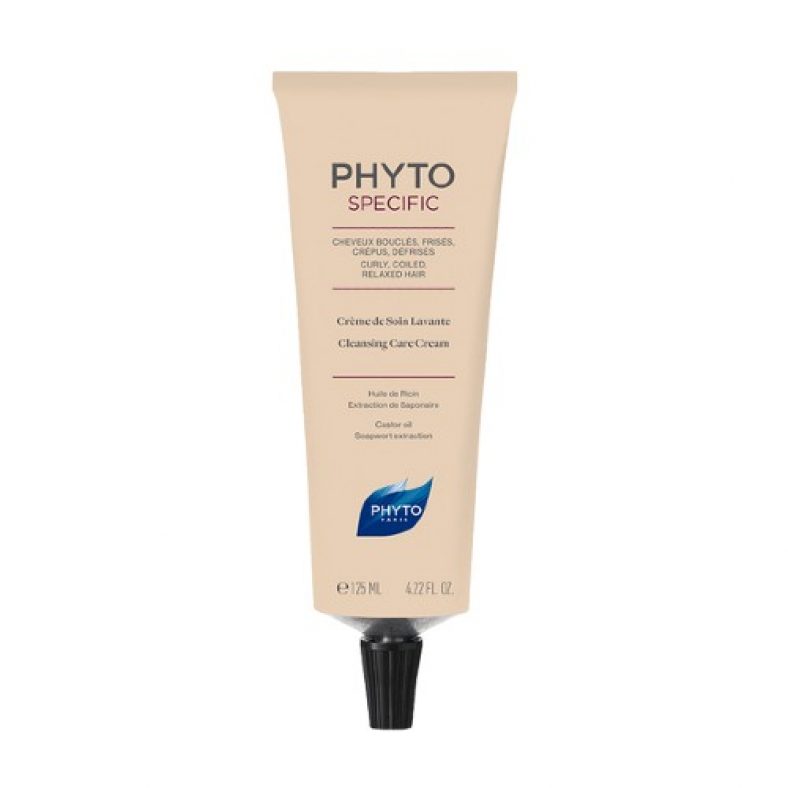 Active Ingredients: Natural ingredients
Hair Type: Curly, dry
Free Of: Paraben and sulfate-free
Size: 125 Milliliters
PHYTO is all about botanical hair care, looking to nature to create their Cleansing Hair Cream. Made specifically for dry and curly hair, this can be used as a daily moisturizer for relaxed hair, as it cleanses the hair and scalp and leaves soft and smooth locks.
It has mallow root, known to replenish lipids in the hair for stronger strands and a more brilliant shine. It's also got berries, hibiscus flower, and castor oil, all of which help to seal ends and keep relaxed hair full of moisture.
Why we love it:
Filled with natural hair-loving ingredients;
Cleanses as it moisturizes;
Enhanced with lipid-replenishing mallow root for stronger hair cuticles;
Paraben and sulfate-free.
What we'd change:
The formula needs rinsing after each use.
PHYTO is a brag-worthy brand that looks to mother nature to find the perfect hair-healing products. Though the formula is effective, you might not want to overdo it, as you'll have to rinse it out if you do. Stick to letting the hair bask in its goodness a few times a week, revealing goddess-like hydrated hair.
---
6. Kenra Nourishing Masque –
 Leave-In Conditioner for Relaxed Black Hair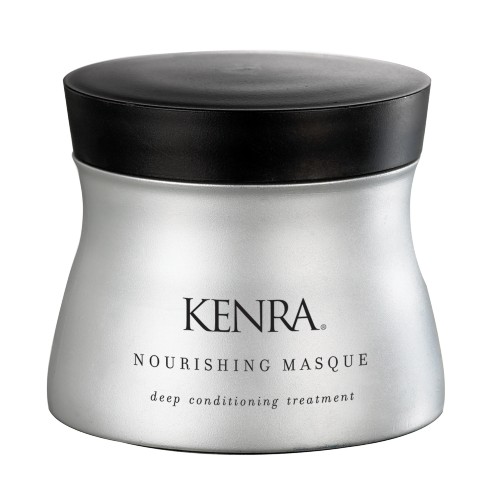 You can also find this product on Ulta, Walmart.
Hair Type: All
Size: 150 Milliliters
Kenra is all about innovation, striving to release some of the most cutting-edge styling products for all hair types. When it comes to relaxed hair, their nourishing mask works wonders, filled with all things that promote hair rejuvenation.
It works to deeply conditioner hair, repairing damage from products, heat, and breakage. You can use this hair mask twice a week for smoother, shinier, and stronger hair. Even from the first use, you'll see visible changes to the hair that make you say, wow!
Why we love it:
This conditioner goes deep, moisturizing and nourishing hair;
Use up to twice a week;
Use to rejuvenate hair as it repairs damage;
Created by the innovative brand, Kenra.
What we'd change:
We'd love a different smell, though it doesn't stick around after rinsing.
When you need intense repair for your hair, this nourishing mask will do the trick fast. Work it into the hair and scalp a few times a week, giving your hair a much-needed break while the formula works its way deep into the hair. When you rinse, you'll reveal beautifully nourished, repaired hair unlike you've ever seen before.
---
7. Tea Tree Hair Treatment –
 Lightweight Moisturizer for Relaxed Hair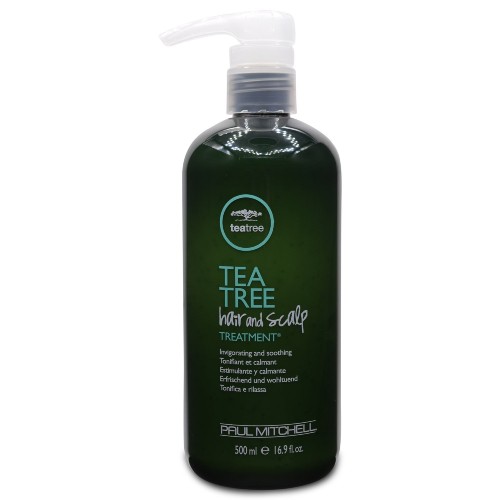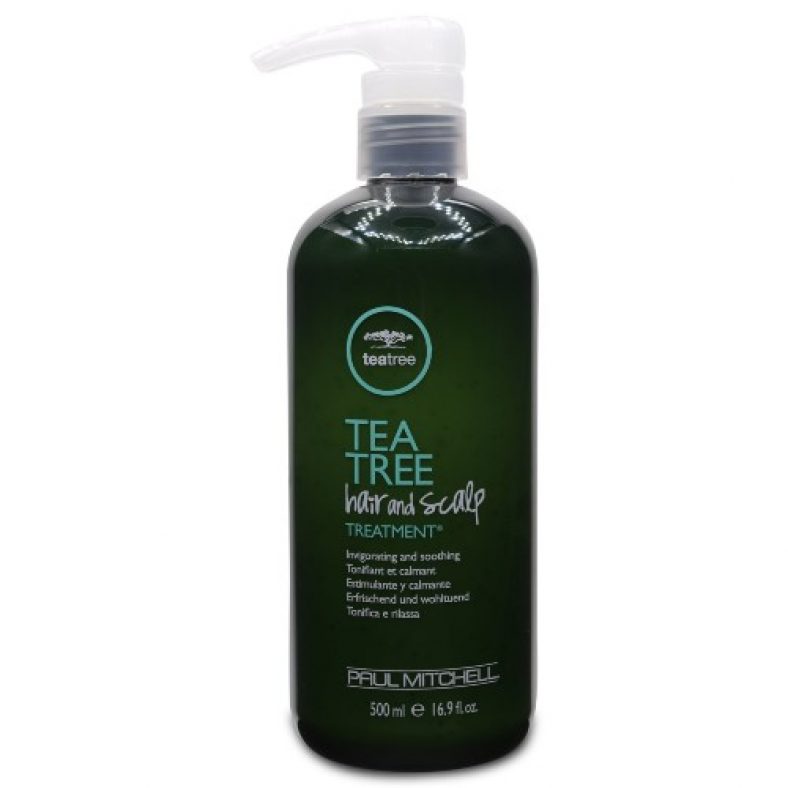 You can also find this product on Ulta.
Active Ingredients: Soy protein, panthenol, and shea butter
Hair Type: All
Free Of: Paraben Free, Gluten Free, Vegan
Size: 500 ml.
Scent: Tea Tree Oil, Peppermint and Lavender
From the experts at Paul Mitchell comes Tea Tree, the brand's botanical spin-off full of nature's gifts. From soy protein to tea tree, this scalp treatment is full of goodies. It's free from parabens and is 100% vegan.
For relaxed hair that needs a boost of moisture, this lightweight formula works perfectly, soothing the scalp and locks for a fresh and clean start after each rinse.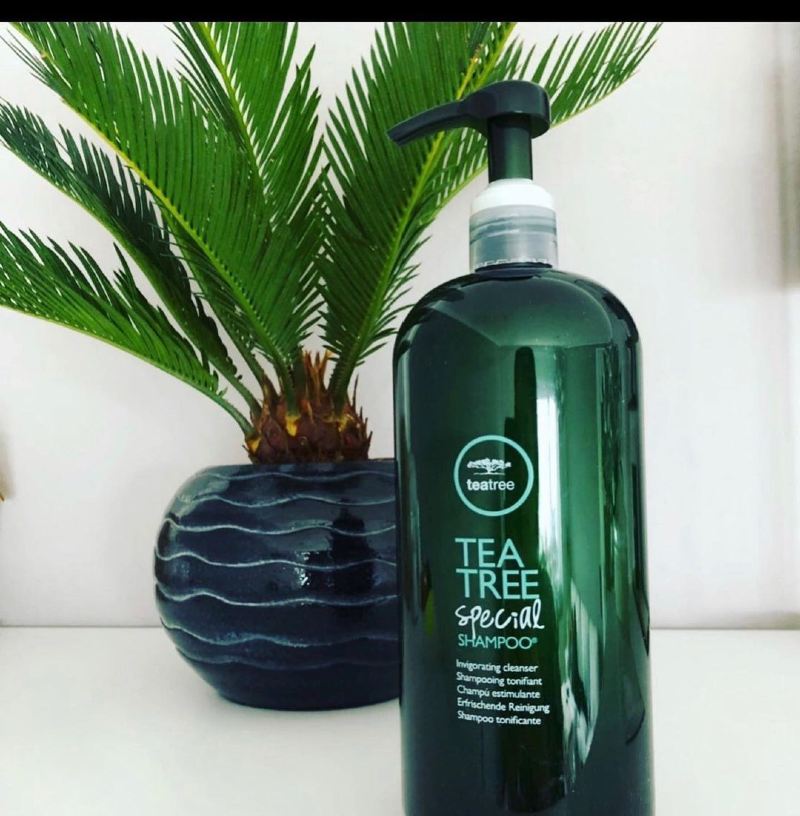 Why we love it:
The formula is gentle and perfect for sensitive scalps;
Filled with natural ingredients, including oils and proteins;
The smell is infectious, and the packaging is eye-catching;
Created from masters at Paul Mitchell.
What we'd change:
It has to be rinsed out with each use, making it difficult for everyday use.
The Tea Tree line from Paul Mitchell is one of our favorites, coming with ingredients inspired by nature. With this product, you'll get a 2-in-1 treatment, getting a moisturizer for the scalp, and nourishment for relaxed hair. Plus, enjoy a calming scent and soothing feels as you partake in a healthy self-care ritual.
---
8. Design Essentials Moisturizer –
 Essential Moisturizer for Relaxed Black Hair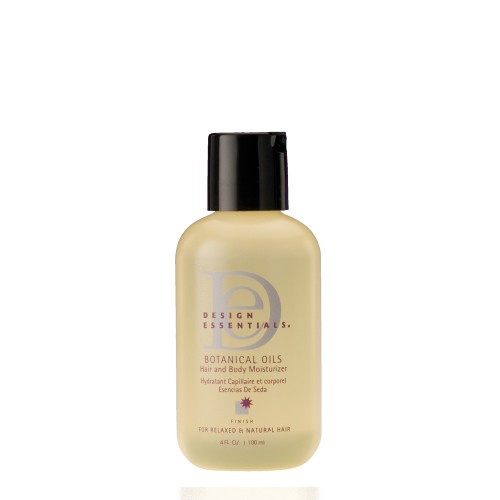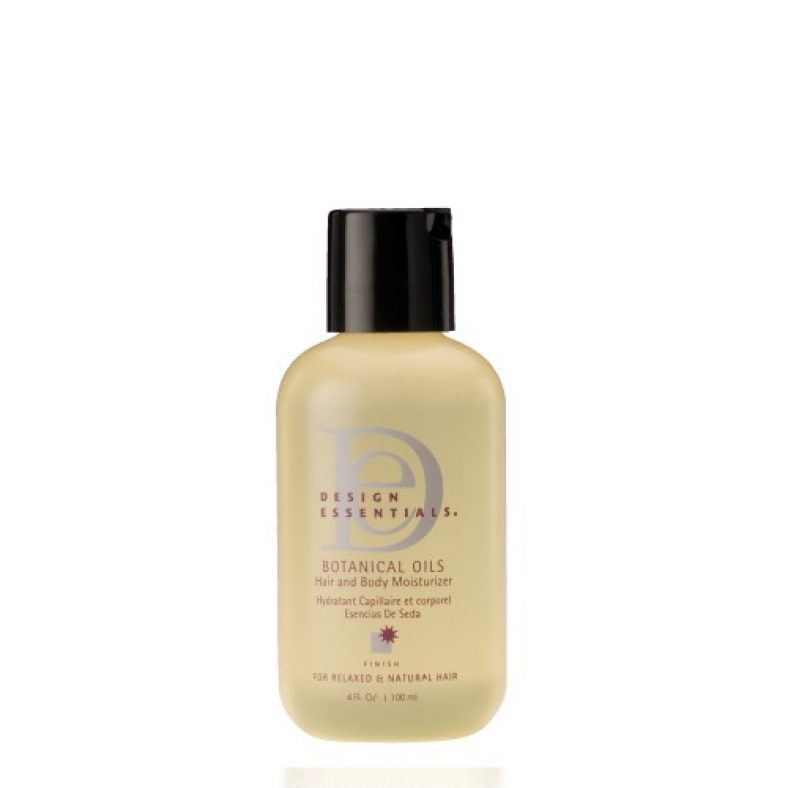 You can also find this product on Walmart.
Active Ingredients: Oils
Hair Type: All
Size: 118 ml.
Design Essential hit the scene with one goal, to give everyone the hair of their dreams! Their company has something for everyone, whether the hair is naturally straight, wavy, or curly. The formula for their Essential Moisturizer is packed with 17 minerals and extracts to provide deep conditioning.
You can use it wet or dry hair, taking advantage of a few extra drops of love to smooth out frizz and put a halt to damage. No matter your hair color or texture, once you relax your hair, keep it moisturized with this powerful product.
Why we love it:
Safe for use on hair and skin;
Filled with minerals and other extracts to create shine and hydration;
Perfect for daily use;
Smells wonderful.
What we'd change:
Not a deep condition, just something to keep hair moisturized day-to-day.
We like this formula for its versatile and light feel. With just a few drops, you could be on your way to smoother, shinier hair that's frizz-free and healthy. It's the perfect moisturizer for daily use and, no matter the texture of your hair leaves it soft and shiny.
---
Moisturizer Buyer's Guide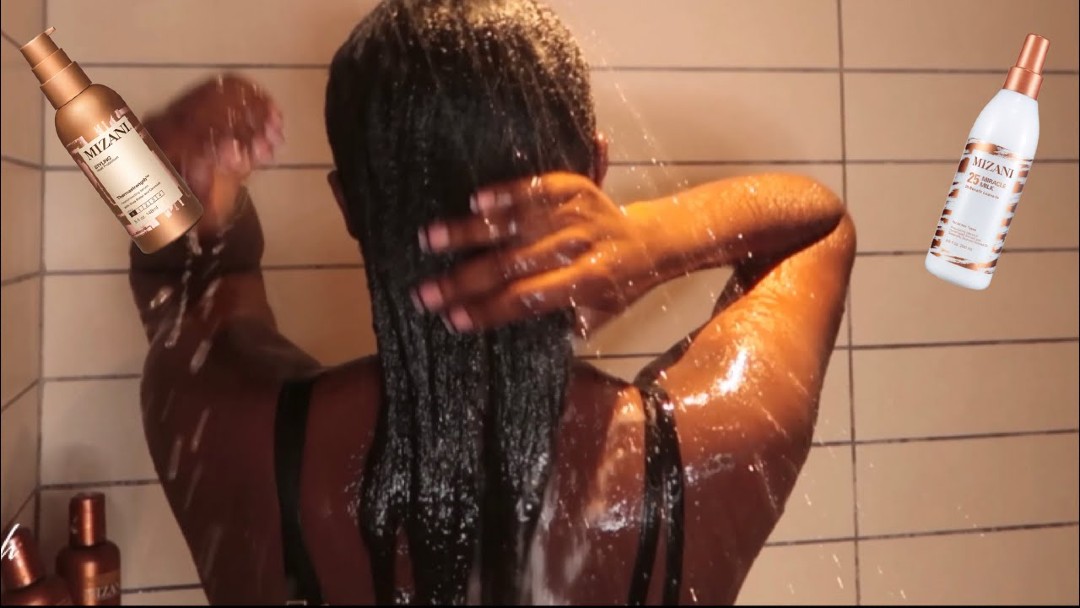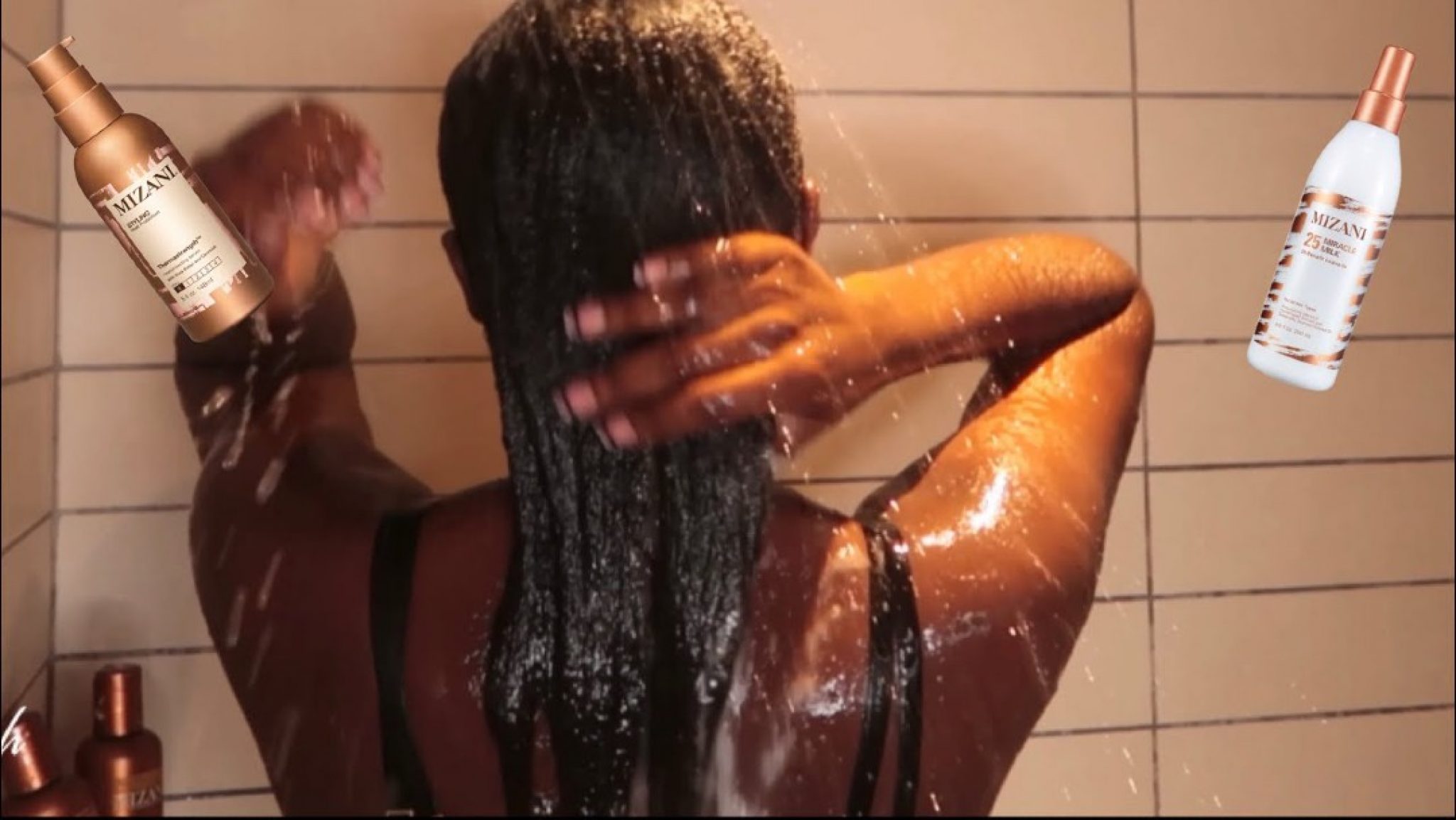 Why You Need to Moisturize Relaxed Hair
To get hair looking the way you want goes through a lot. If using a chemical relaxer, you'll likely have worn-out strands that are sensitive to additional heat and products.
That's why you should choose moisturizing conditioners for relaxed hair, going for those that add moisture and protect hair from damage.
Going from curly and coils to stick straight hair takes work, putting stress on the hair. That's why you should nourish your hair and scalp often, keeping them both in tip-top shape and ready for the next round.
What Are Different Types of Moisturizers for Relaxed Hair
When looking for ways to moisturize relaxed hair, you'll need products that suit your hair texture and health. There are different types of moisturizers for relaxed hair, all of which have several benefits.
The best way to get the best moisture for your hair is to grab a combination of moisturizers, using them at different points in your hair care regimen to keep the hair in its best and most hydrated state.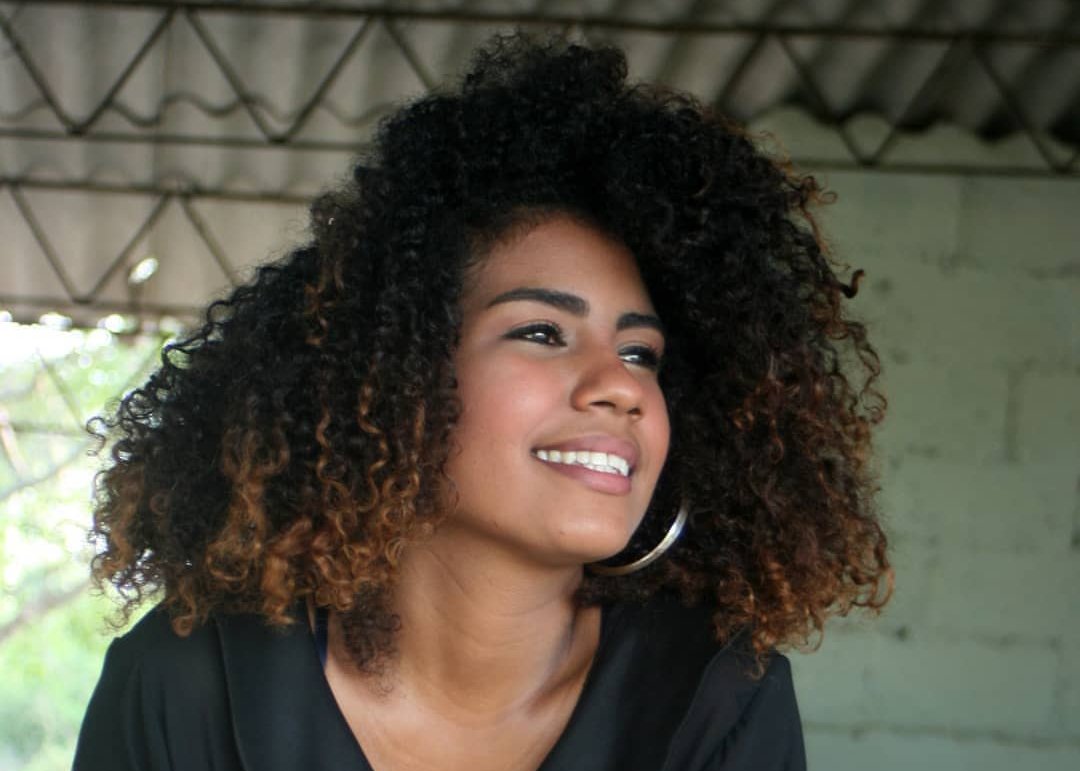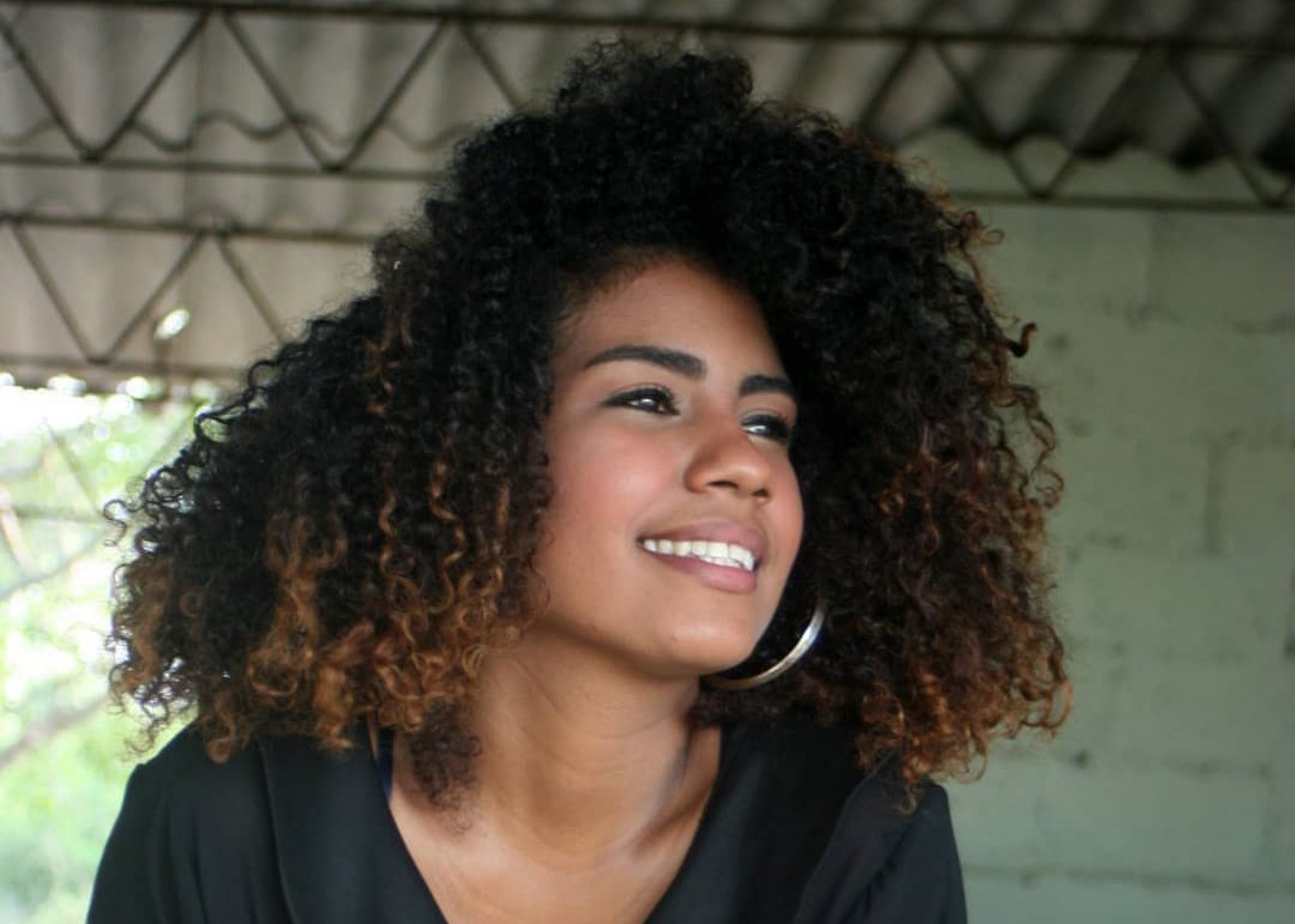 Leave-In Conditioner
A leave-in conditioner for black, relaxed hair is one that you can add to hair and leave it in, reaping the benefits for days. For relaxed hair, leave-ins work as a daily dose of nourishment for the hair, keeping it away from drying out throughout the day.
If using daily, you want to keep from overloading the hair, preventing buildup from several days without washing.
Moisturizer
A moisturizer is a little stronger than the leave-in, working to repair ends and damaged hair to keep it healthy and nourished. Using moisturizer on relaxed hair is a must, giving hair back some of the essential nutrients it lost in the chemical treatment.
You can use these only a few times a week, working well as part of a hair cleaning and moisturizing day.
Masks
Hair masks deeply hydrate hair, usually staying on for up to 20 minutes and rinsing out to reveal new, soft, and replenished hair. Hair masks are a part of a relaxed hair care regime that you should use a few times a month, working well on clean and freshly washed hair.
With hair clean, add the mask and let it sit until all of the goodness is soaked in. Then rinse it out to reveal luscious locks.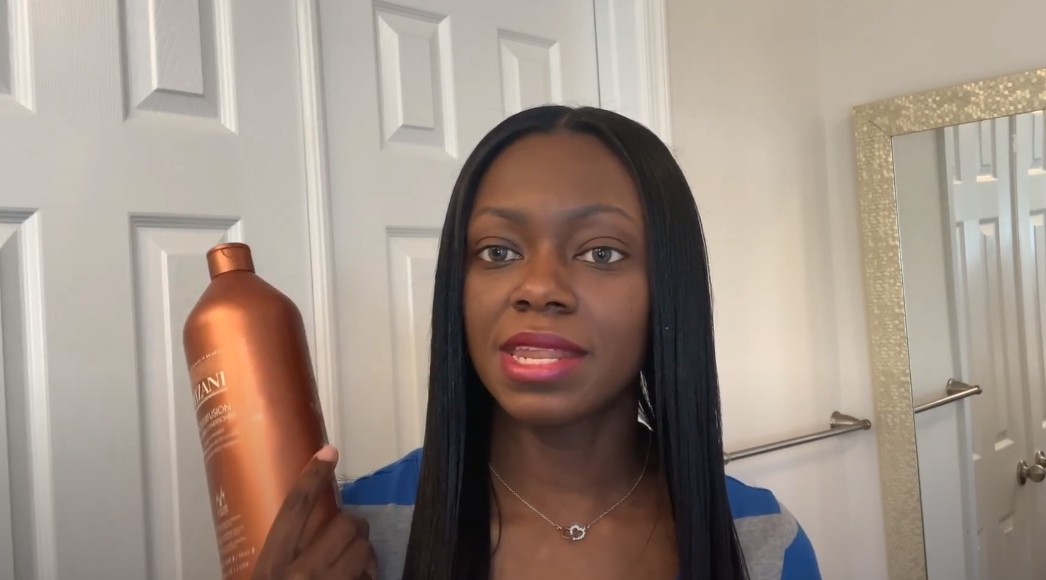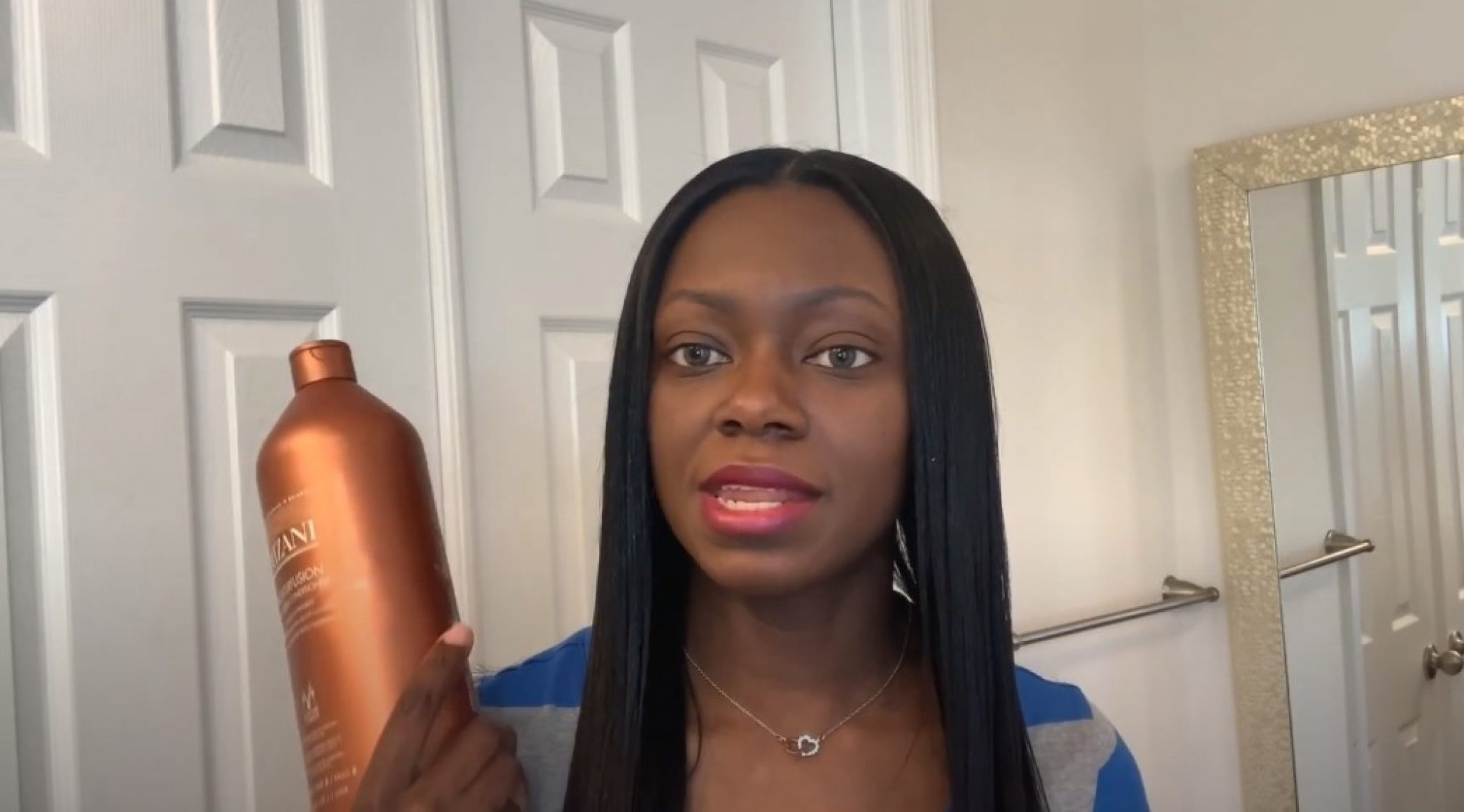 How to Moisturize Relaxed Hair
When moisturizing relaxed hair, it's recommended to go for a water-based moisturizer for relaxed African American hair. Once you have your preferred product, you should follow a three-step process to moisturize the hair.
1. Deep Condition
The first step is to deep condition. Some of the best deep conditioners for relaxed hair come with vitamins and minerals to replenish each strand.
You want to focus on getting the hair covered from the roots to the tips, leaving it on for at least 20 minutes.
You can wrap up your hair and add a shower cap to add a touch of heat to the hair, allowing it to soak deeper into the hair follicle.
2. Moisturize
With hair conditioned and dry, create sections in the hair to get the product on each part. Grab your preferred oil and add it to the hands, taking just enough that will cover the section you're working on.
Place the moisturizer on your hair and make sure you coat it well from root to tip before moving on to the next step.
3. Seal
After your moisturizer is on and done, you'll need to seal all the hydration into your hair. To do this, you can take an oil like jojoba, almond, or argan, working it into each section.
The oil will seal the hair and ensure that the relaxed style will remain smooth, shiny, and healthy with all of the moisture locked in.
Also read: Best Hair Relaxers for Men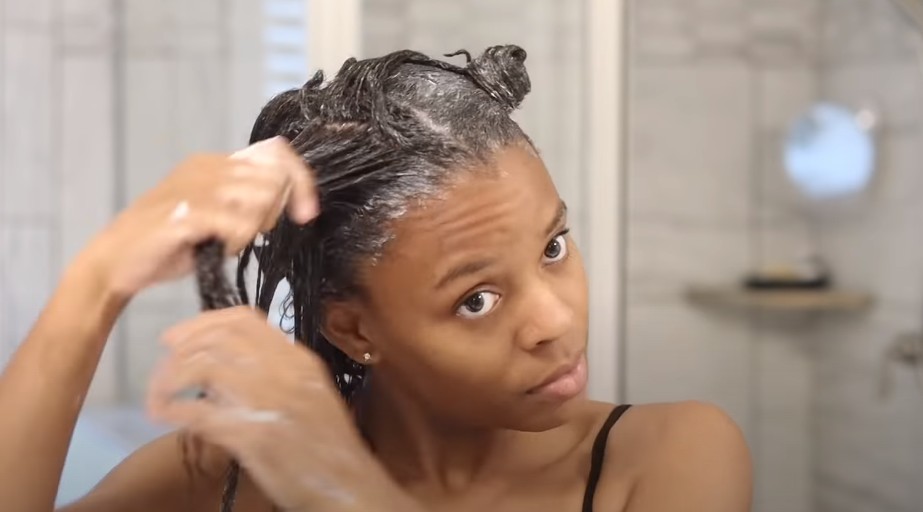 Hair Moisturizing FAQ
Can you moisturize and seal relaxed hair when wet?
Yes, you can moisturize and seal your hair when it's wet. It's preferred, giving you a lot of moisture to lock-in. So, start with adding a moisturizer, seal it, and then let your hair dry naturally for a super moist and hydrated hairdo.
How often to deep condition relaxed hair?
That depends on your hair. If you notice that it's dry and brittle, you should deep condition it twice a week. If your hair is normal, go for one to a few times a month. Whatever you do, don't skip conditioning; your hair will thank you!
How to know if you need to moisture relaxed hair?
You can tell by feeling hair, knowing that it needs some TLC if you feel dry, brittle, or rough hair. Also, if you notice frizz, it might be time to give your hair some love.
Also read: Avlon Affirm Relaxer Review
Conclusion
After checking out these relaxed hair moisturizer reviews, you're sure to have a preferred one in mind. Be sure to give us a shout if you have any questions or comments; you know we can't wait to get back to you! Happy Moisturizing!