How to flat iron natural hair? Should you flat iron your gorgeous locks? If you're worried that you'll damage your mane, you have a point.
Heat damage can transform your hairdo into dull, brittle, and dry, so using the proper technique and precautionary steps is crucial.
Take a look at the simple guide below that summarizes everything you need to do for straight natural hair with a flat iron. You'll also see a list of common mistakes to avoid and simple care tips you should follow.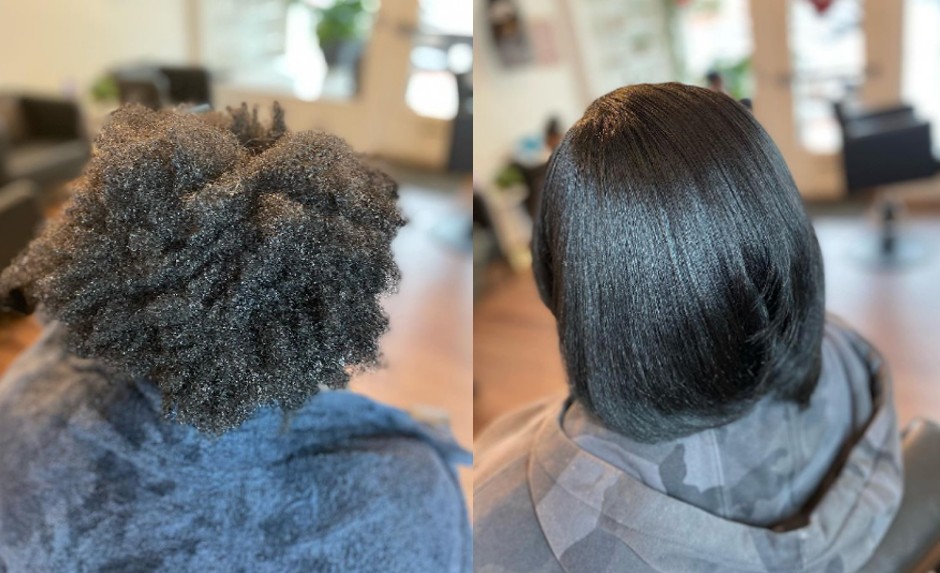 Flat Ironing Natural Hair
How to straighten natural hair with a flat iron? If you don't have any experience straightening your hair, or you want to learn how to do it the right way, here is a short guide to take you through the process.
Step 1: Wash Carefully
Wash and condition your hair before you reach for the flat iron. You need to have a clean surface to achieve the best result.
You can wash your hair with a cleansing shampoo then deep condition it once per week. Do this procedure before you plan on straightening your mane.
Step 2: Moisturize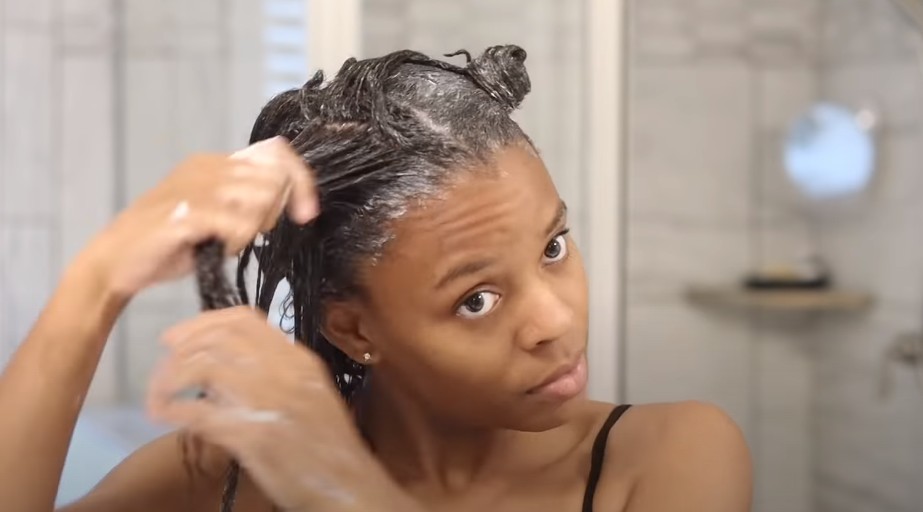 Dry hair is a huge no when it comes to flat ironing it. The heat will make it even duller, and your hair will appear quite brittle. So the next step is to moisturize it properly.
This means that you should consider switching your shampoo to a moisturizing one, get the rich leave-in conditioner and a nourishing hair mask.
All these products should bring back the moisture to your mane and prepare it for what's to come. As we mentioned before, deep conditioning is something you should do once a week, especially if your hair and scalp are dry and flaky.
Step 3: Protect From Heat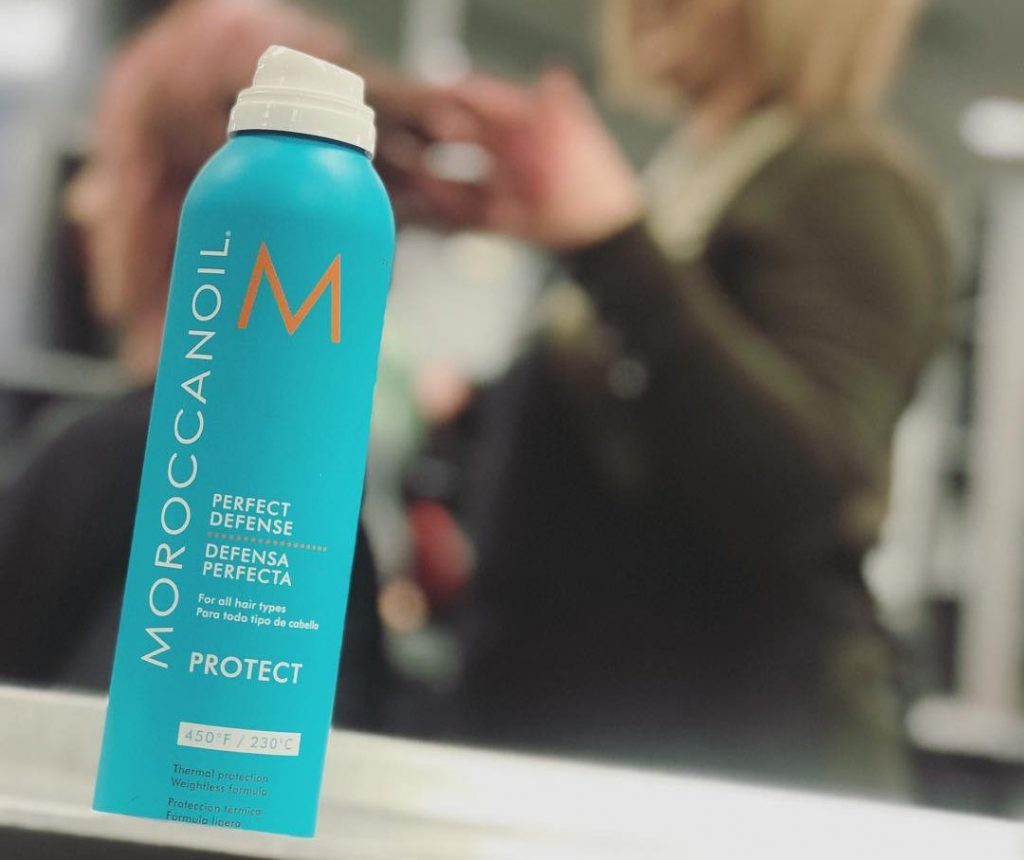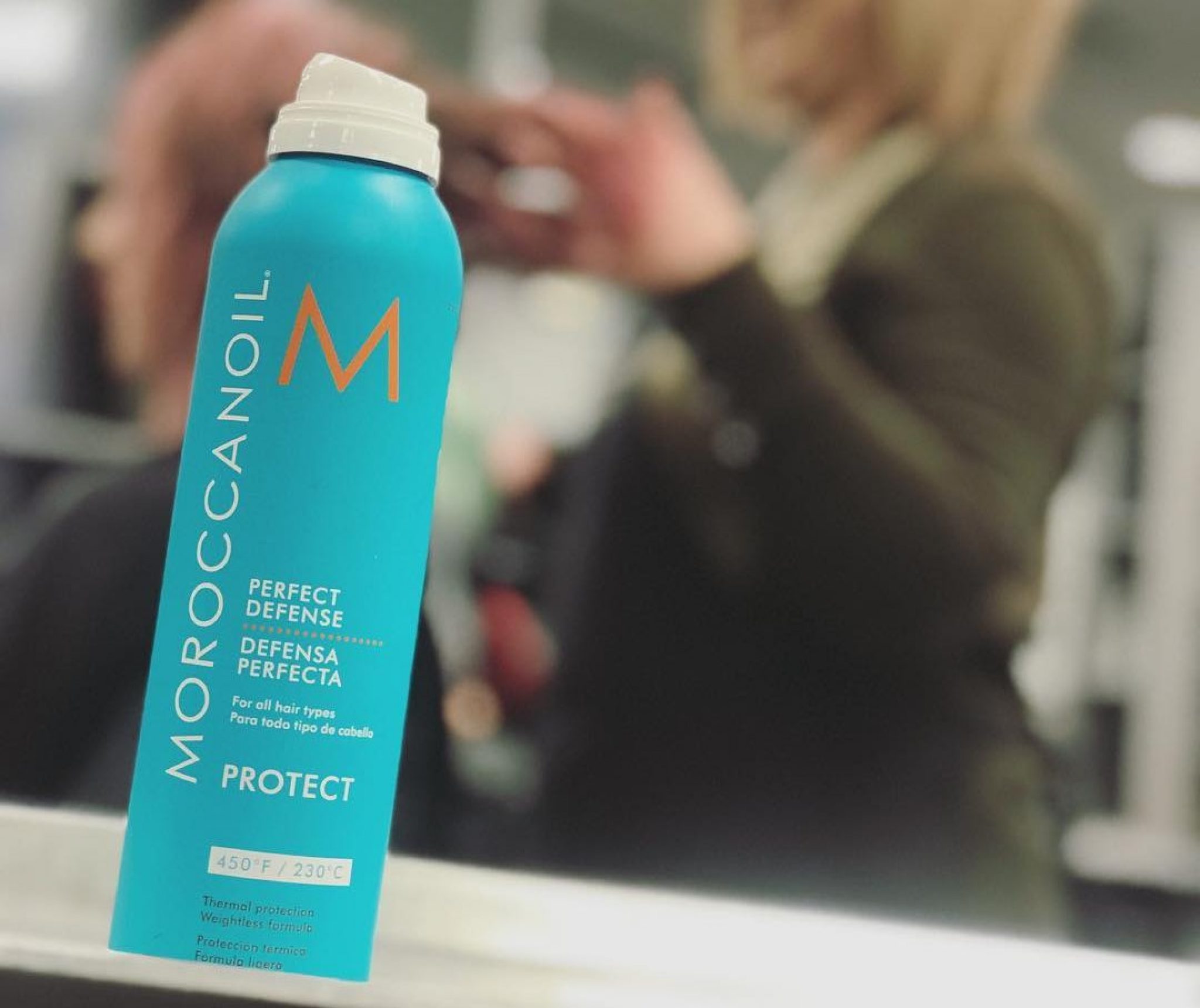 You can't flat iron African American hair without applying protection against heat. There are so many amazing sprays and products you can use, and they only take a few seconds to apply.
So, why risk damaging your hair when you can simply get a spray and apply it religiously before each straightening session? Heat-protecting products create a barrier between your hair and the heat, so they significantly lower the damage.
Keep in mind that you shouldn't set the temperature of your flat iron too high because nothing can prevent damage if the heat is above 450 F degrees.
Step 4: Prepare the Tool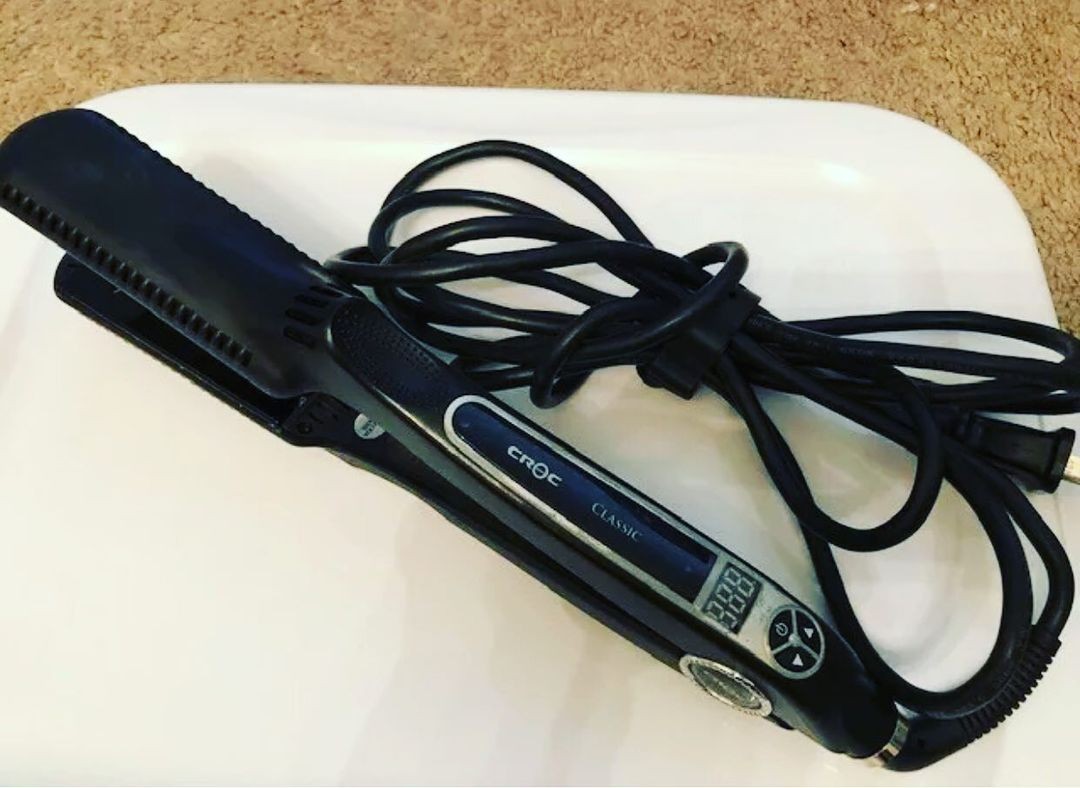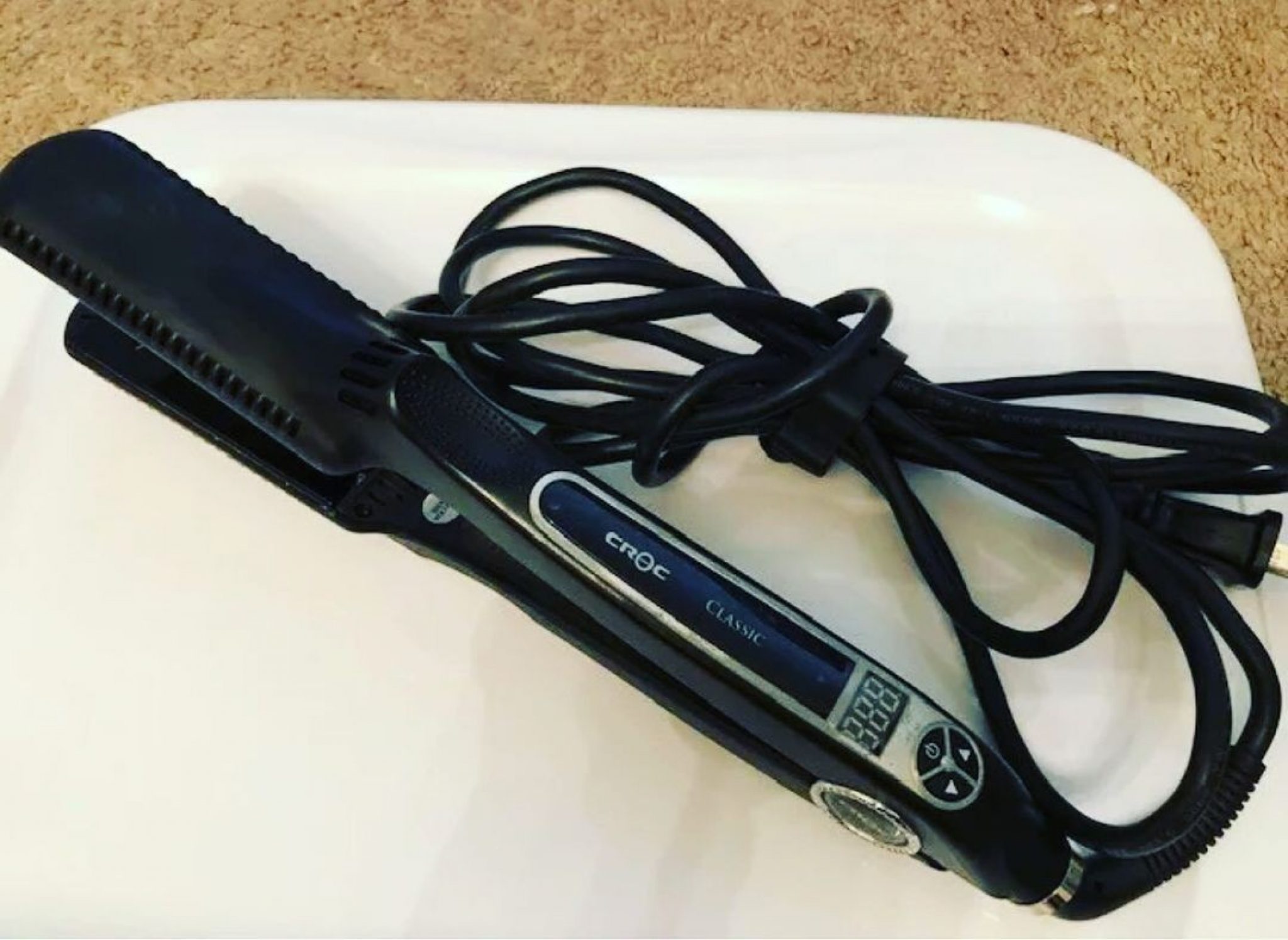 Get the right flat iron and set the temperature. Natural hair is more susceptible to damage, so your goal is to go lower with the temperature.
Don't set it higher than 400 F degrees, and if you can, always opt for 300 F degrees. If you have thin, fine hair or if your mane was previously chemically treated, colored, or treated with a relaxer, then you should stick to lower temperatures.
Another great tip is to adjust the setting according to how curly your hair is. Treat the curliest parts with higher heat, but lower it when you need to straighten the parts that are wavy.
Getting an excellent flat iron for natural hair will save you so much trouble, so don't hesitate to invest in one of these tools.
You shouldn't treat your hair with hair oil before straightening, but you can after you're done with the flat iron.
Step 5: Start Straightening
Wait for the hair to be completely dry. You should never apply heat to wet hair because you'll damage it significantly. You can either let it air dry, use a blow dryer, or a combination of the two. You can section it and turn the flat iron on now that it's completely dry.
Grab small sections, place the iron near the roots of the hair and slowly work your way down. Your movements should be slow, but you shouldn't stick too long to a section without moving the iron. Also, avoid straightening the same section twice.
When it comes to the plate size and material, there are a few tips we have to mention. Ceramic plates are a much better option for natural hair because ceramic heats up more evenly and is safer for curly hair types.
The size can vary depending on your length, but since it's preferable that you straighten smaller sections, 1-inch and 1 ½-inch plates will do a great job.
You shouldn't apply too much pressure when straightening and you can always use creaseless clips to separate the sections. When you're done, just get dressed and flaunt your new hairstyle.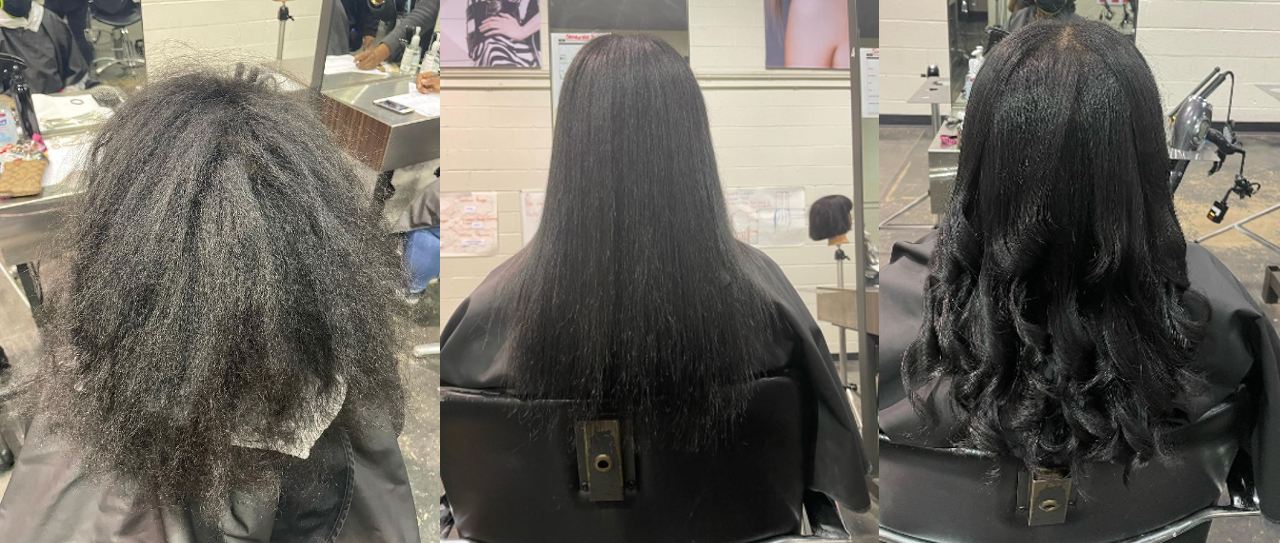 Common Black Hair Straightening Mistakes
What are the common mistakes you can make and how to straighten natural hair without heat damage?
Since a healthy mane is the ultimate goal, you should do your best to protect it and avoid all the mishaps along the way.
Not Using A Heat Protectant
One of the holy grails you should never forget before using any hot tool is a good heat-protectant. It doesn't matter if you get it as a spray, a serum, or a cream; as long as it's meant to protect your hair from heat damage, you're doing the right thing.
Going For High Temperature
Your flat iron might have heat settings that go up to 500 F degrees, but that doesn't mean you should use them.
Instead, as we discussed, you should stick to lower temperatures and invest in a salon-grade flat iron from a trusted brand.
Doing It It Too Often
Flat ironing 4c hair several times a week can cause serious damage. Instead, you should flat iron it once a month and no more than two times.
Applying high heat can lead to dry, brittle hair and alter the appearance of your gorgeous locks. This rule applies to all other curly and wavy hair types.
Skipping Deep Conditioning
Deep conditioning once a week will keep your hair moisturized, healthy, and ready for straightening. If you flat iron dry hair you can cause even more damage and leave your hair brittle and lifeless.
Choosing The Wrong Hairstyles
Go for flat iron styles for black hair that won't be damaging. Avoid pulling your hair too much, tying it too tight, or using too many accessories that can pull or tug it.
Using Hair Oils Before Straightening
Applying oil after straightening your mane is a yes if you want to know how to flat iron natural hair silky straight. But, you should never practice this step before ironing. It will fry your hair and cause significant damage.
Oils are nourishing and will help you achieve a healthy shine, but only if you apply them after the straightening session. Also, remember not to add too much because it can weigh down the hair and make it greasy.
How To Care For Your Straightened Hair
Freshen It Up With Oil
A lightweight oil should do the job! Add a few drops to your palms, rub it, then apply it to the hair. This will make the surface smoother and will save you from flyaways. Don't apply the oil too close to the roots.
Use A Hair Wrap
If you want your hairstyle to last longer, then you can wrap it in a silk hair wrap before going to bed. Silk is a gentle material that prevents frizz and protects your hair from friction while you sleep at night. It also keeps your hair hydrated, and it's breathable.
Avoid Water-Based Products
Water-based products aren't a good choice for a straightened natural mane because they can cause your hair to curl again. In addition, they are also responsible for flyaways.
FAQ
What To Put On Natural Hair Before Flat Ironing?
Although straightening natural black hair with a flat iron seems like an easy task, that's not quite the case.
You have to prepare your mane correctly to avoid heat damage and to achieve a longer-lasting result. Start with an anti-residue shampoo, apply a rich conditioner, dry your hair, and apply a heat-protectant.
What Temperature Should You Flat Iron Natural Hair?
This mostly depends on the type of your hair and the condition. If you have fine hair, you should opt for lower settings at around 300 F degrees and never go over 360 F degrees.
Normal natural hair can be treated with temperatures between 360 and 390 F degrees, while thick, coarse hair can withstand temperatures between 390 and 410 F degrees.
Is It Better To Flat Iron Wet Or Dry Natural Hair?
You should never flat iron your natural hair while it's wet. Instead, you should always wait for your hair to completely dry, apply a heat-protecting spray, and then straighten it with a flat iron. If you do this while the hair is wet you can cause permanent damage and breakage.
How Often Can I Flat Iron My Natural Hair?
It's recommended that you only flat iron your natural hair once a month. Exposure to heat can cause significant damage, so don't do it more than twice per month. No products can protect it from high heat, and you'll end up with extra dry, brittle, lifeless hair.
Conclusion
Now that you know all about flat ironing your natural hair, are you still convinced that you should grab the iron? Curly hairstyles are beautiful as they are, and there's no need to go through all the trouble to change them.
Of course, you can straighten your hair for special events, but doing it every week can lead to severe damage and change the pattern of your locks.
Also read: