Going from curly to silky smooth and shiny hair in only minutes sounds like a dream! Well, it can become a reality because steam flat irons are here to save the day.
Straightening your hair with ease, these tools provide long-lasting results with minimal to no damage. Read about the best steam hair straightener below, followed by budget and premium alternatives.
What Is a Steam Flat Iron, and How It Works?
Steam flat irons are hair tools that release steam to straighten your hair. They feature a built-in water tank that the user has to fill; then, the iron transforms it into steam that passes through steam vents and provides a soft, silky, straight mane.
The great thing about this kind of tool is that it won't dehydrate your hair, make it dry or brittle. Thanks to the advanced steam technology, it actually hydrates the hair, eliminates frizz, and prevents damage.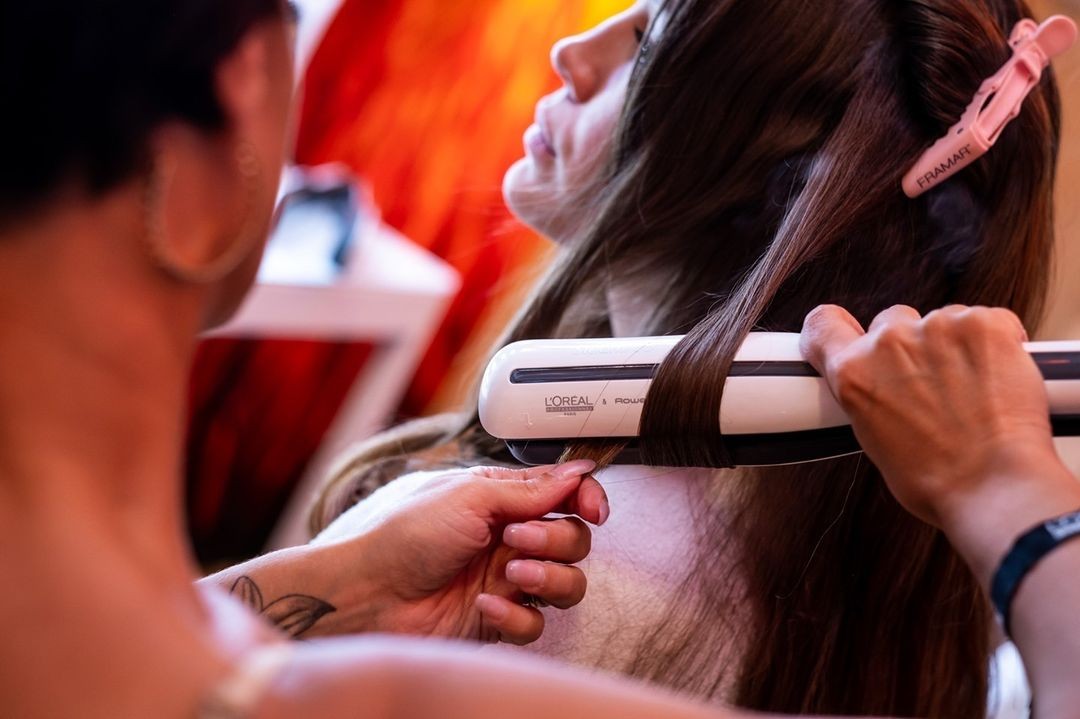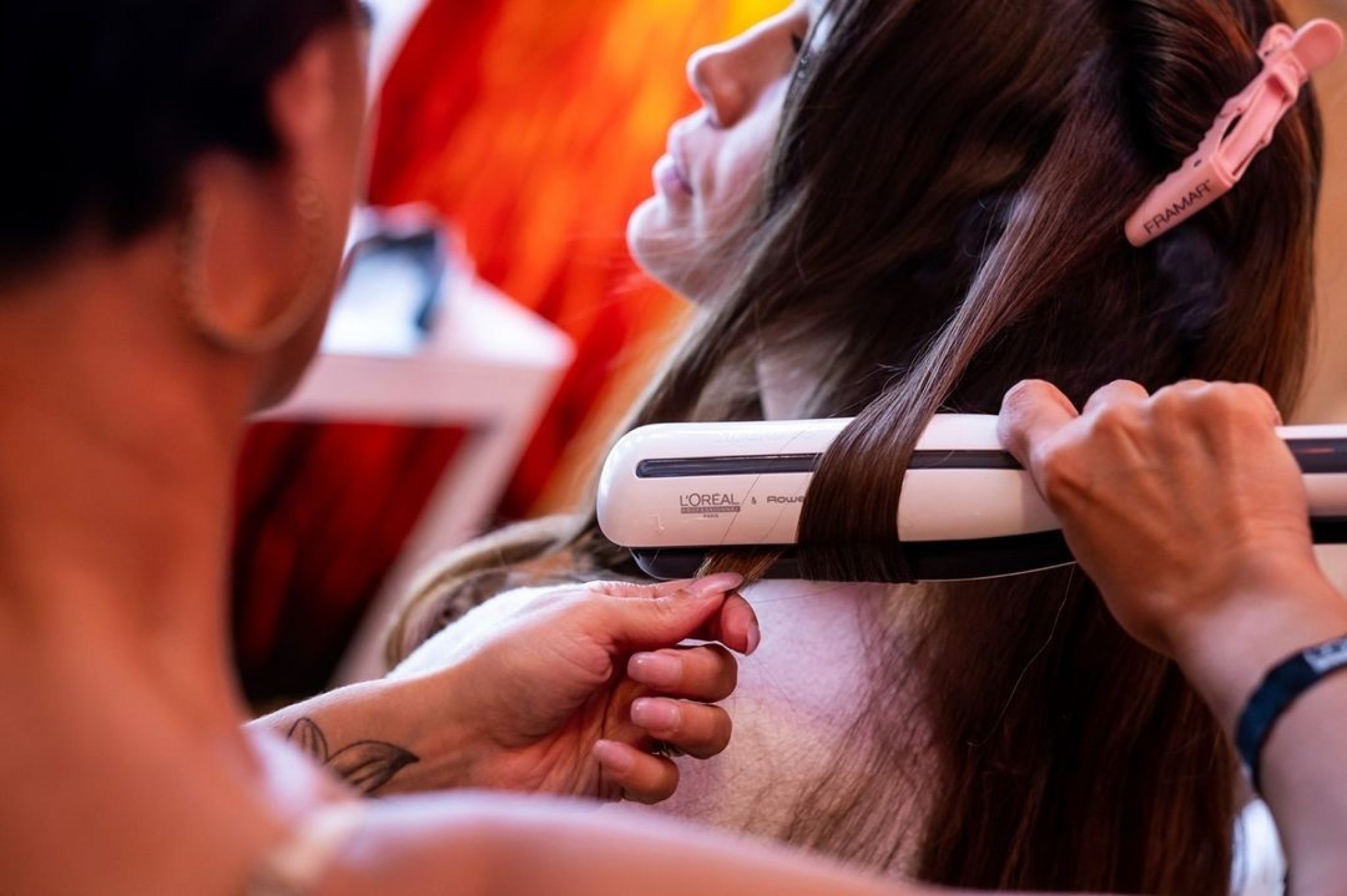 Top 6 Steam Hair Straighteners Reviewed
MKBOO Hair Straightener With Steam –

 Top Pick 

L'Oreal Professionnel Steampod Steam Straightener –

 Premium Pick 

DORISILK Steam Straightener –

 Budget Choice 

L'ANGE HAIR Le Vapour Infrared Steam Flat Iron for Hair
1. MKBOO Hair Straightener With Steam –
 Top Pick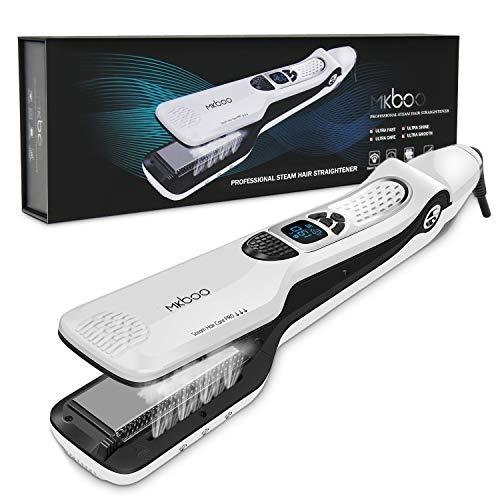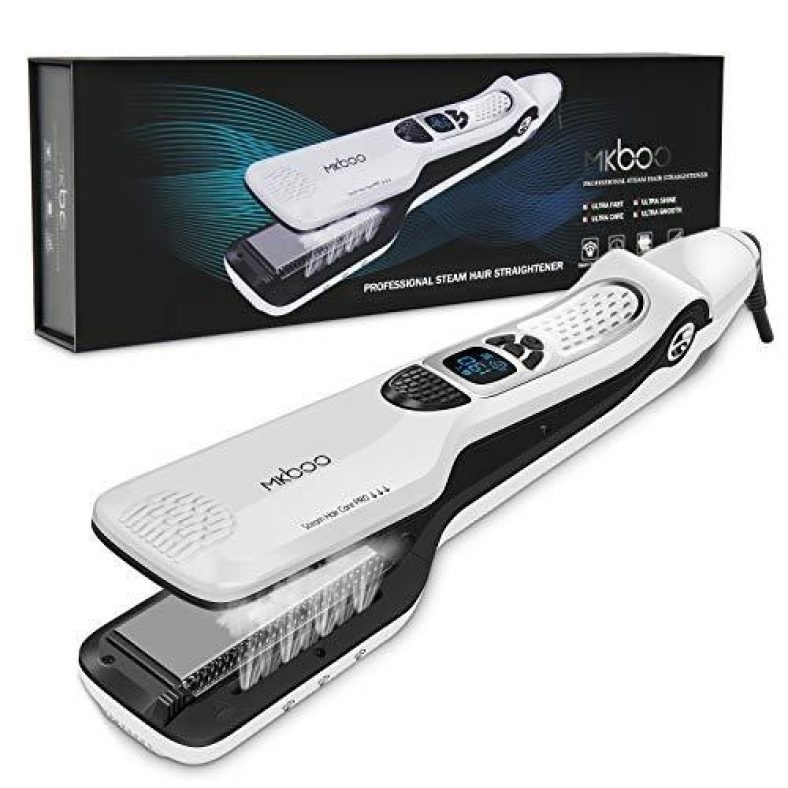 Plate Width: 1 1/4 Inch
Plate Type: Titanium, Ceramic
Warranty: 2 year
Voltage: 110-240V
Temperature settings: 450F
MKBOO might not be the first brand you turn to when you need hair tools, but this review might change your mind. This brand produces innovative hair tools, including straighteners and curlers. Their technologies are unique, and the final result is durable tools.
Let's start with the biggest pro of this steam flat iron. The MKBOO straightener is built with special floating nano ceramic-titanium plates, which, together with the fantastic 3D combs, will leave your hair silky smooth. So forget about a frizzy mane that is a mess to look at.
The hair straightener features a water reservoir that fits 40 ml of water, making it easy for you to straighten your hair for around half an hour before you need to refill it. There's no need to worry about safety because it will shut off if you haven't used it in 60 minutes.
The 1.250-inch size of the plates is perfect to work on long, short, medium-length hair and even bangs. Since it offers even heat distribution and hydrating effects, it's safe to say that it won't damage your hair.
What We Love:
Large water tank that allows users to style their hair for up to half an hour;
High-quality nano-titanium ceramic plates to prevent hair damage;
Auto shut-off feature;
Five adjustable levels of heat.
What We'd Change:
If you're looking for a high-quality flat iron that uses steam, the MKBOO Hair Straightener provides a salon-like experience. Thanks to the five adjustable levels of heat that range from 300 F degrees to 450 F degrees, people with fine, thick, straight, and curly hair can use it with ease.
Straightening Performance
9.7
2. L'Oreal Professionnel Steampod Steam Straightener –
 Premium Pick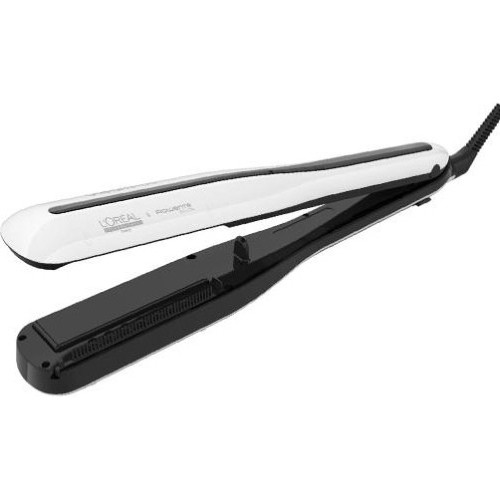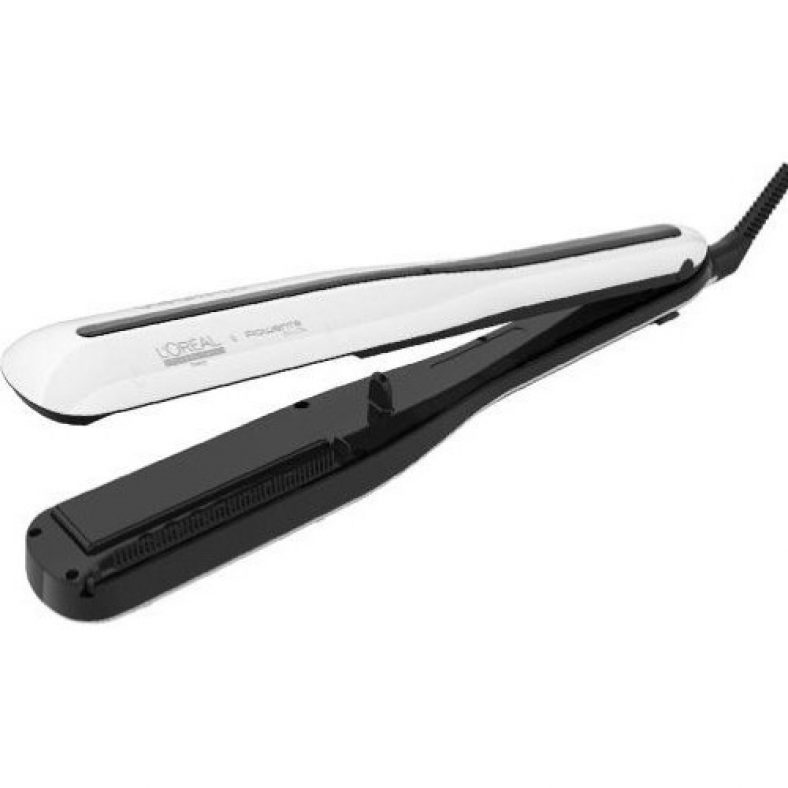 You can also find this product on Ulta, Sephora.
Plate Width: 1-2 Inch
Plate Type: Aluminum
Warranty: 1 year
Voltage: 120V
Temperature settings: 410F
Is there anyone in the world that hasn't heard of L'Oreal? The beauty and hair products giant makes some of the best hair tools that are a favorite of professional hair artists and are even used on runways.
The brand's Steampod steam straightener with a comb is so stunning to look at and use; however, it comes at a cost. The iron's plates are nano-titanium ceramic, and the tool comes with an extra-long 360-degree rotating cord for an elevated user experience.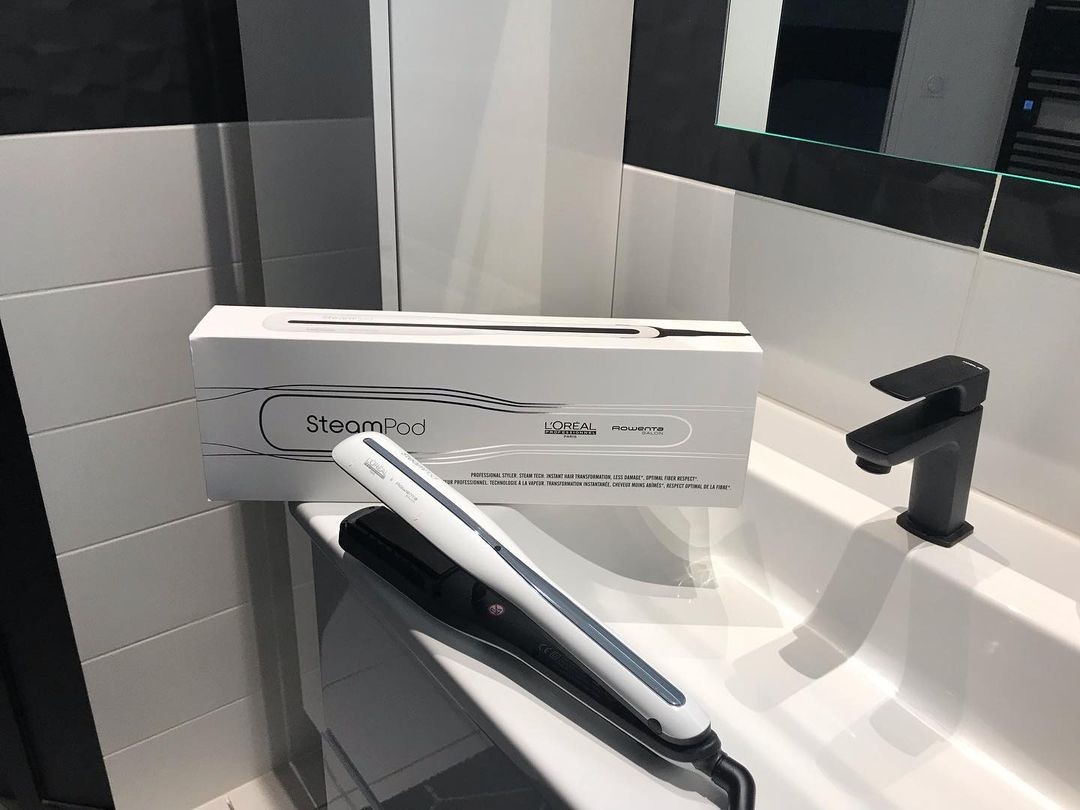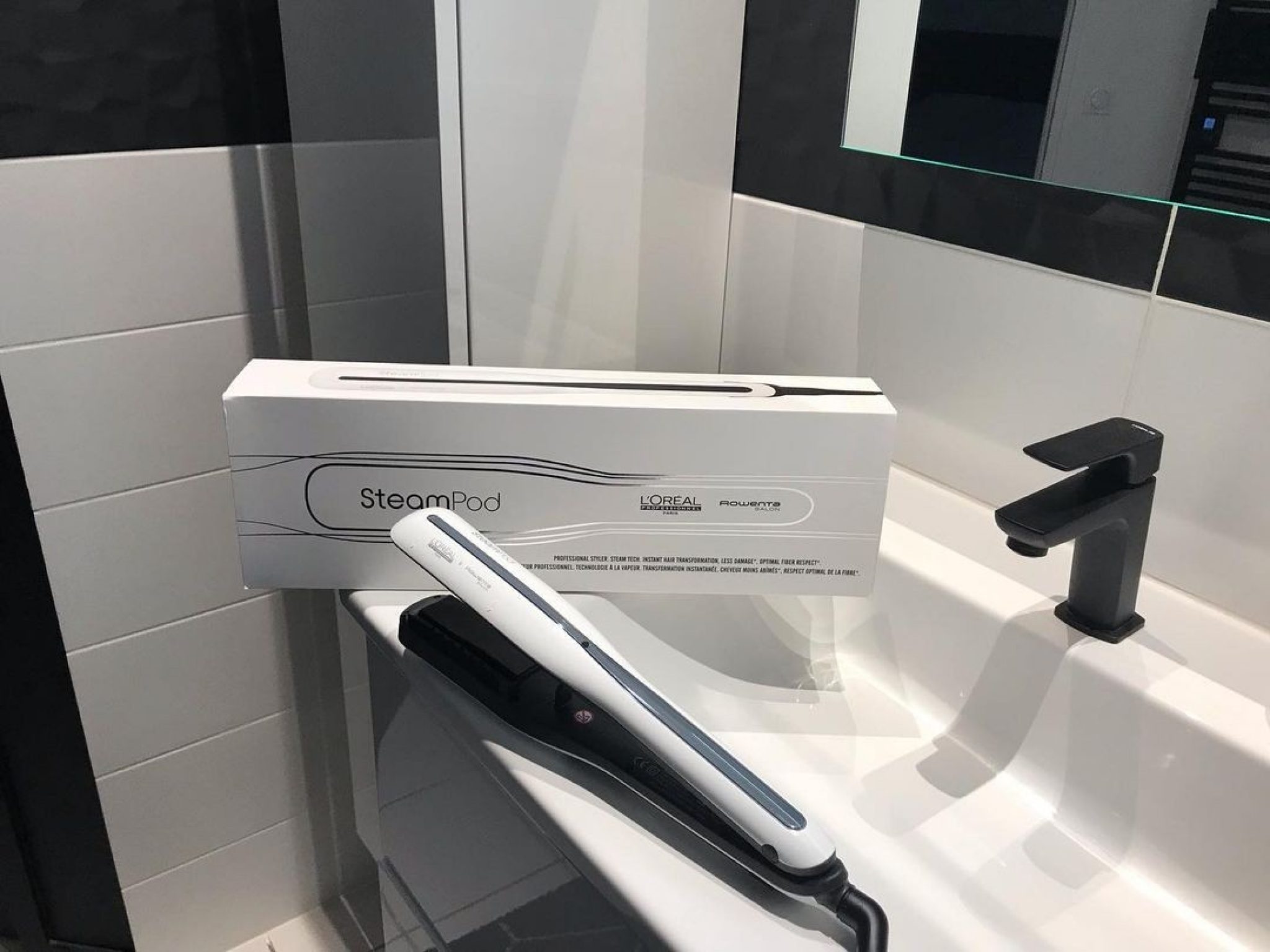 This version of the Steampod is lightweight, very compact, and ideal for everyone who's always on the go. You'll find it easy to pack, thanks to the thin, aesthetically pleasing design.
When it comes to the heat settings, there are three to choose from, and they vary from 350 F to 410 F degrees.
This steam iron also uses a patented steam technology that will keep your hair smooth for a long time. The size of the water container is decent, meaning that you won't have to refill it several times while you're getting your hair ready.
What We Love:
Features a compact, lightweight design that's perfect for traveling;
Smooth and shiny hair within a minute;
Long-lasting effects;
Large water container to prevent common refills.
What We'd Change:
If you want to opt for a trusted brand and you don't mind splurging a little more for a professional hair steaming tool, look no further than the L'Oreal Professionnel Steampod straightener. Even though the straightener has three heat settings, it's still meant for various hair types.
Straightening Performance
9.8
3. DORISILK Steam Straightener –
 Budget Choice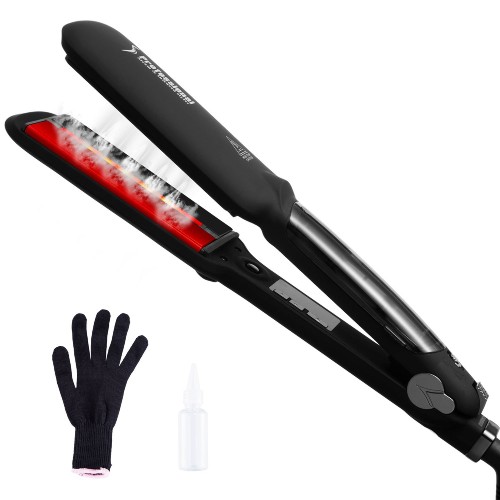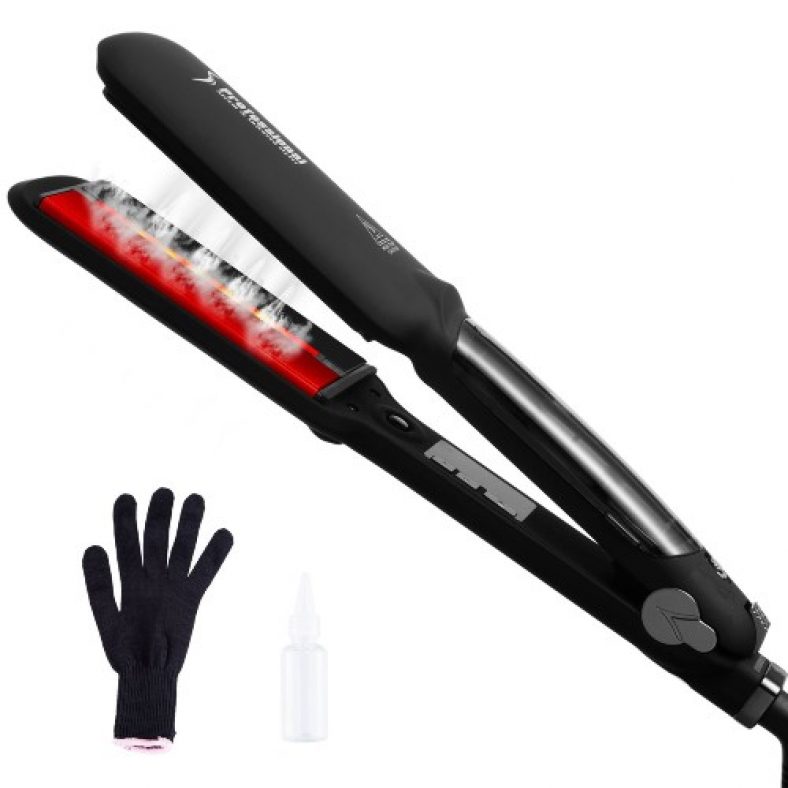 You can also find this product on Walmart.
Plate Width: 1 1/4 Inch
Plate Type: Ceramic
Warranty: 1 year
Voltage: 110-240V
Temperature settings: 455F
DORISILK is a trusted brand for unique beauty and personal care products. Their range includes various hair tools, including curling irons, straighteners, steam irons, etc.
The DORISILK Steam Straightener is the most affordable pick on this list. The budget character doesn't make it lower quality than the others; on the contrary, it's a great product that will last you a very long time.
It comes with five steam vents and is packed in a black, sleek, stylish exterior.
Once you turn it on, it takes around 60 seconds for the straightener to be ready for use. Thanks to the floating 3D 1 ¼-inch tourmaline ceramic plates, this hair tool is quite versatile and leaves the hair glossy and smooth.
You can use it to straighten your hair, create luscious curls, and even use it as a standard flat iron when you turn the steam off. Everyone who's obsessed with checking whether they turned off their flat iron not to burn their house will be happy to hear that this product has an auto shut-off feature.
According to steam hair straightener reviews, this is the best steam straightener for various hair types. It comes with six different temperature settings that make it perfect for thick, thin, coarse, straight, curly hair.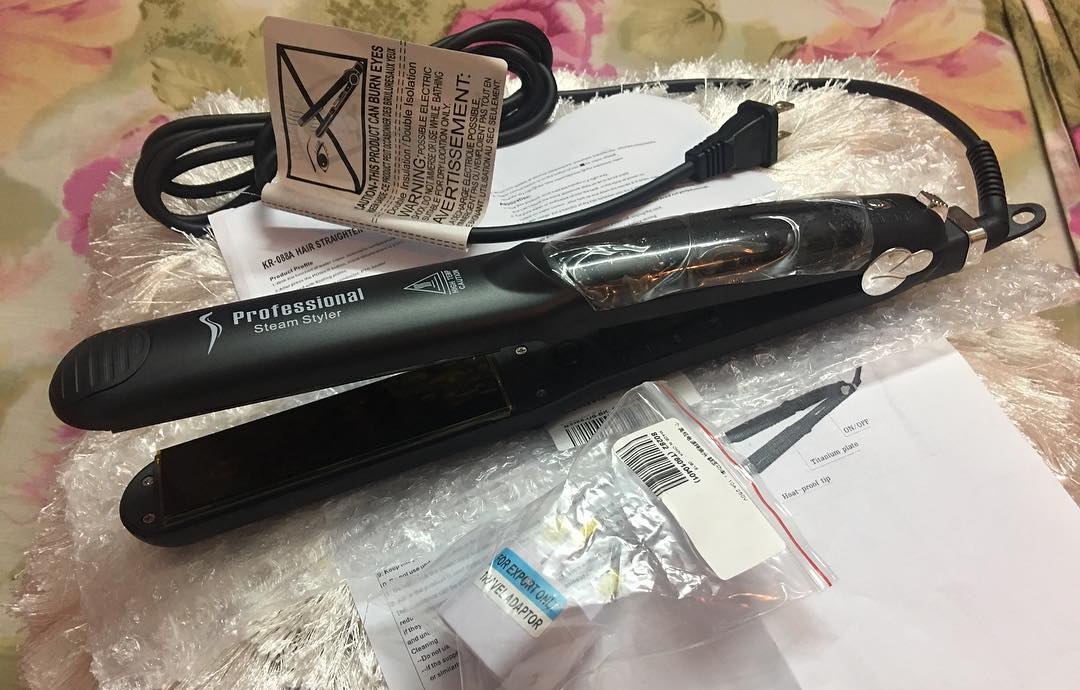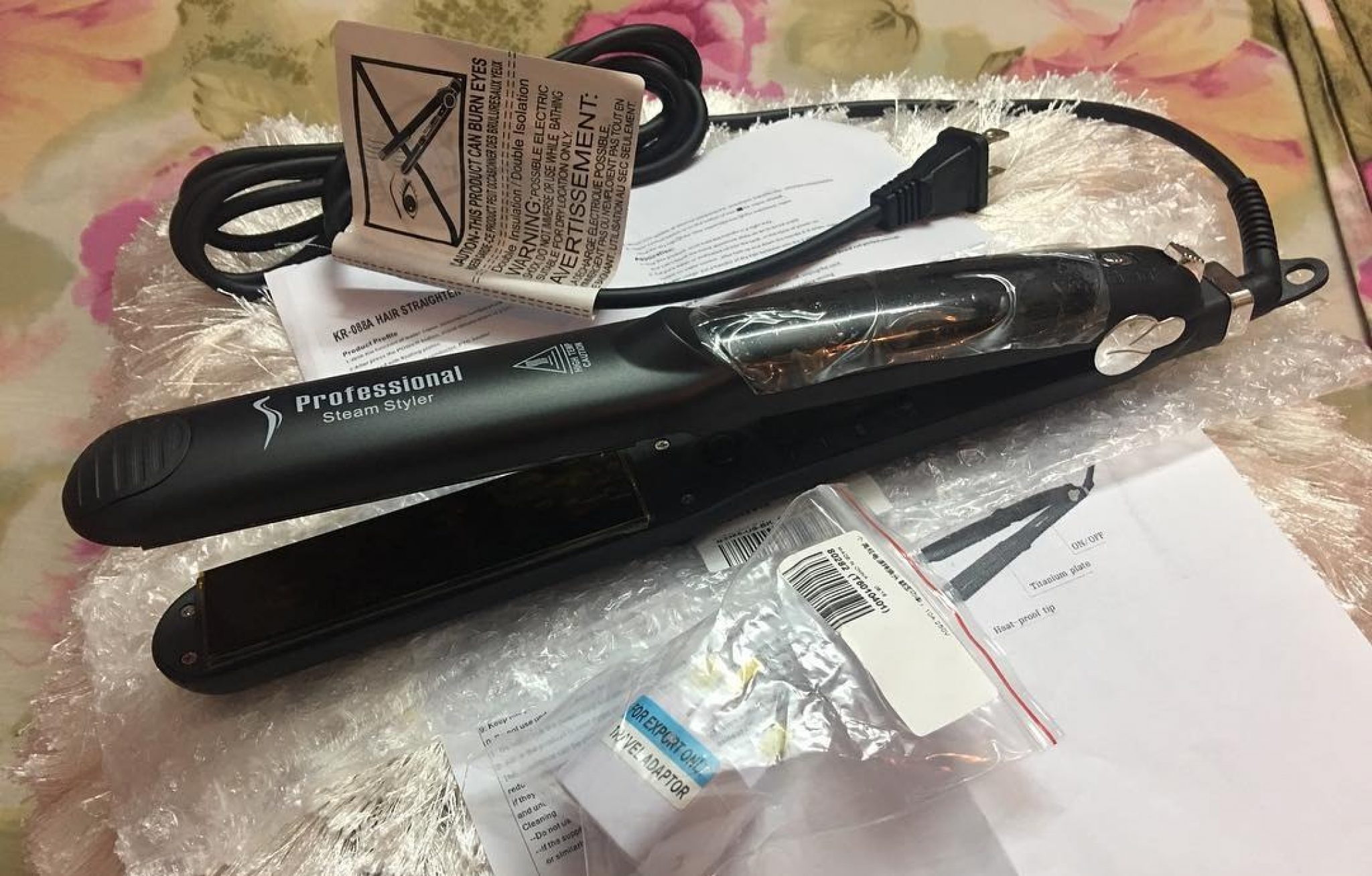 What We Love:
Has six different temperature settings;
It's very affordable;
Fast heating function;
Has an auto shut-off feature.
What We'd Change:
Size of the water container can be improved.
If you don't want to spend a fortune on a steam hair straightener, or if you're just trying to see whether you'll like this type of tool, the DORISILK straightener is one of the best options.
Straightening Performance
9.2
4. L'ANGE HAIR Le Vapour Infrared Steam Flat Iron for Hair
You can also find this product on Ulta.
Plate Type: Ceramic
Voltage: 110-240V
Temperature settings: 250F-410F
The L'ANGE Flat Iron quickly and easily straightens all hair types. It comes with a water reservoir, heat glove, and tips so you can get salon-quality results without any of the hassle.
This flat iron heats up fast so you can achieve your desired look within minutes! It also has steam-releasing tourmaline plates that safeguard your locks from harm while taming even the most unruly curls and flyaways.
Although the L'ANGE Flat Iron is beneficial in many ways, there are a few potential drawbacks that must be considered. For instance, its tiny water reservoir can make it difficult to accurately fill and may snag thin hair.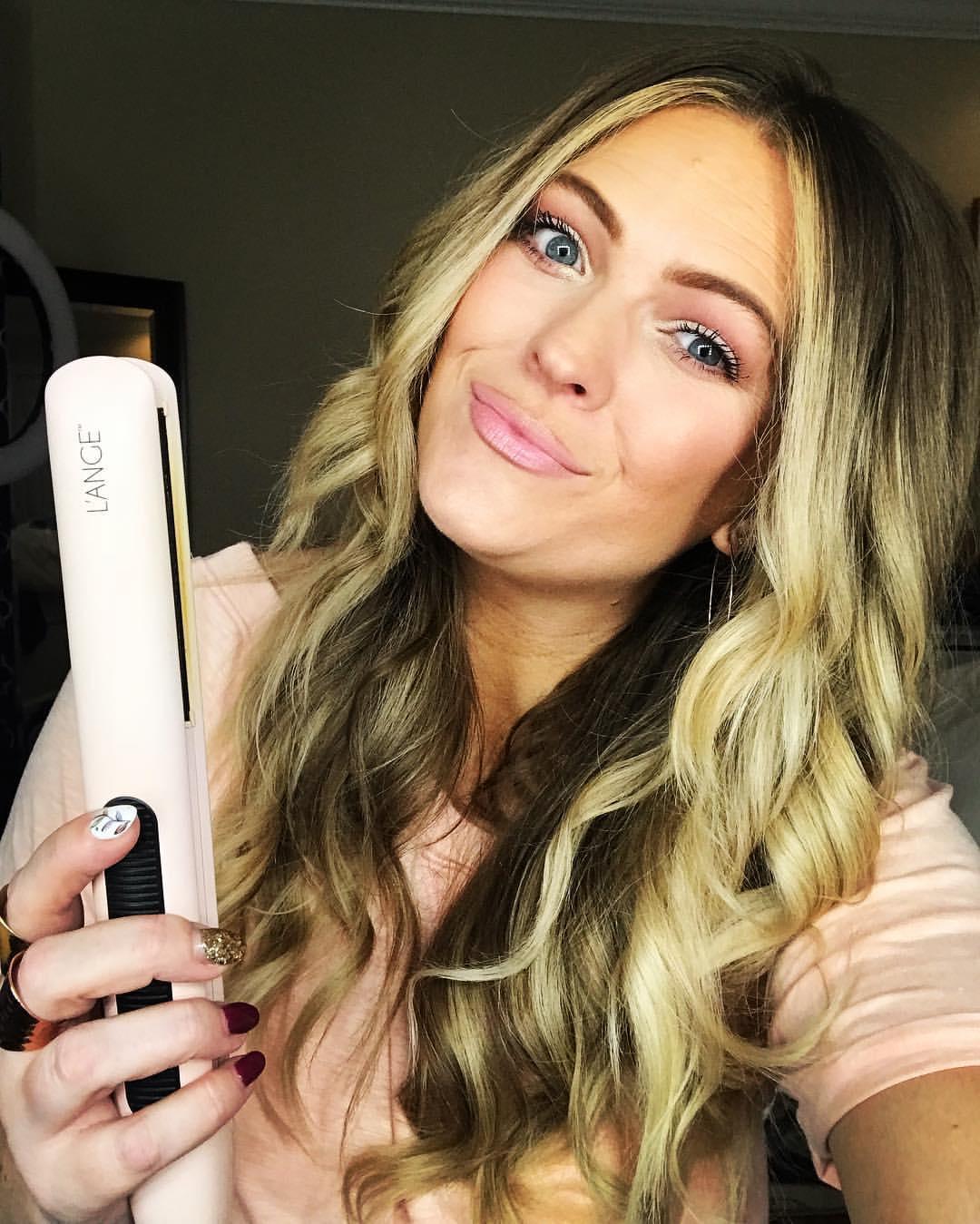 Additionally, due to the slow steam release rate within this device, those with thicker or longer locks may find their styling sessions less than ideal.
What We Love:
Quick and easy straightening
Heats up quickly
Tourmaline plates help protect your hair from damage
As an extra layer of security and protection, a replacement button lid is included in the case that your original one becomes lost or misplaced
Affordable price
What We'd Change:
Difficult to accurately fill tiny water reservoir.
Water leakage when flat iron is placed in an upright position or tilted side to side
Ultimately, this proved to be an excellent investment for anyone seeking salon-quality results without breaking the bank or sacrificing hours. Its distinguishing characteristics make it a sensible choice and unquestionably provide great value for your money.
Straightening Performance
9
5. Infiniti Pro by Conair Steam Flat Iron – Best Steam Flat Iron For 4c Hair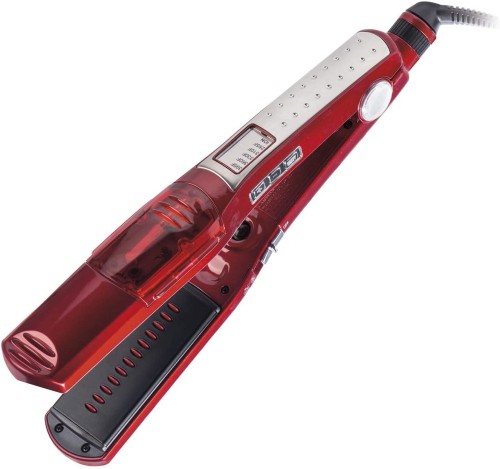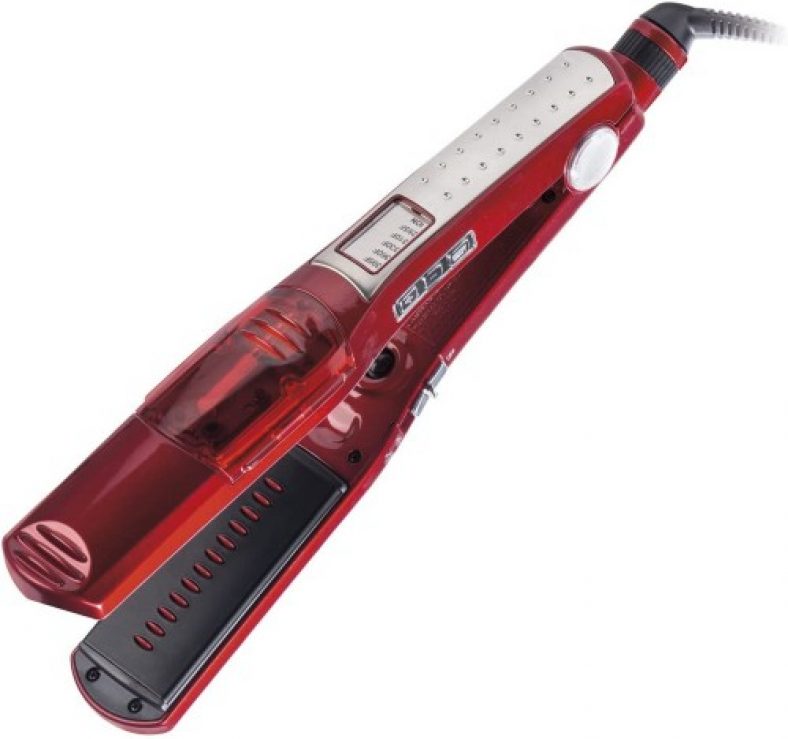 Plate Width: 1 1/2 Inch
Plate Type: Ceramic
Warranty: 3 year
Voltage: 110V
Temperature settings: 455F
Conair is a leader in hair tools and a brand that has been on the market since 1959. Their range of products is diverse, and the Infiniti Pro Steam Flat Iron is an absolute success, highly rated by thousands of customers.
Conair enriched their Infiniti Pro steam iron with a 2-stage styling system that first infuses the hair with steam, then locks the moisture in so that your hair is well hydrated, healthy, and smooth. Thanks to this innovation, your straight mane can last up to 60 hours.
This Conair flat iron is perfect for people with 4c hair because it's powerful, provides long-term results without damage, and reduces frizz significantly.
The only con worth mentioning is the small water reservoir that will require a more frequent refill while you're taking care of your hair.
This is one of the fastest heating steam irons because it's ready for use in around 30 seconds. If you ever forget to turn it off, it's equipped with an auto shut-off feature that will turn it off automatically after 60 minutes.
Although the brand recommends using it when your hair is wet, this can cause more extensive damage, so to be on the safe side, always use it on dry hair.
What We Love:
2-stage styling system for long-lasting effects;
Heats up within 30 seconds;
Auto shut-off feature;
Five different temperature settings.
What We'd Change:
If you have curly hair and you want to reduce the potential damage from straightening it with a flat iron, you should consider the Infinity Pro steam flat iron by Conair. Their 2-stage styling system will straighten even the curliest of curls, leaving the hair silky-smooth and shiny.
Straightening Performance
9
6. YL Salon-Grade Steam Straightener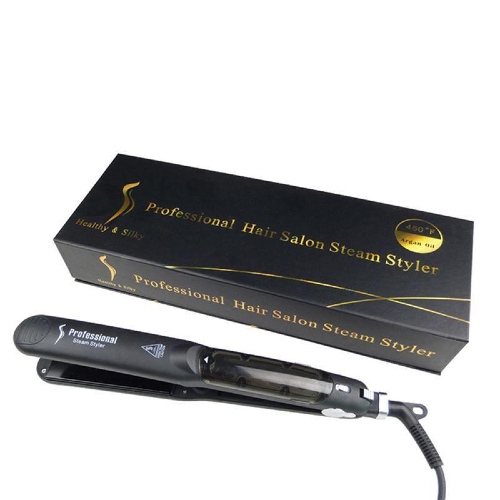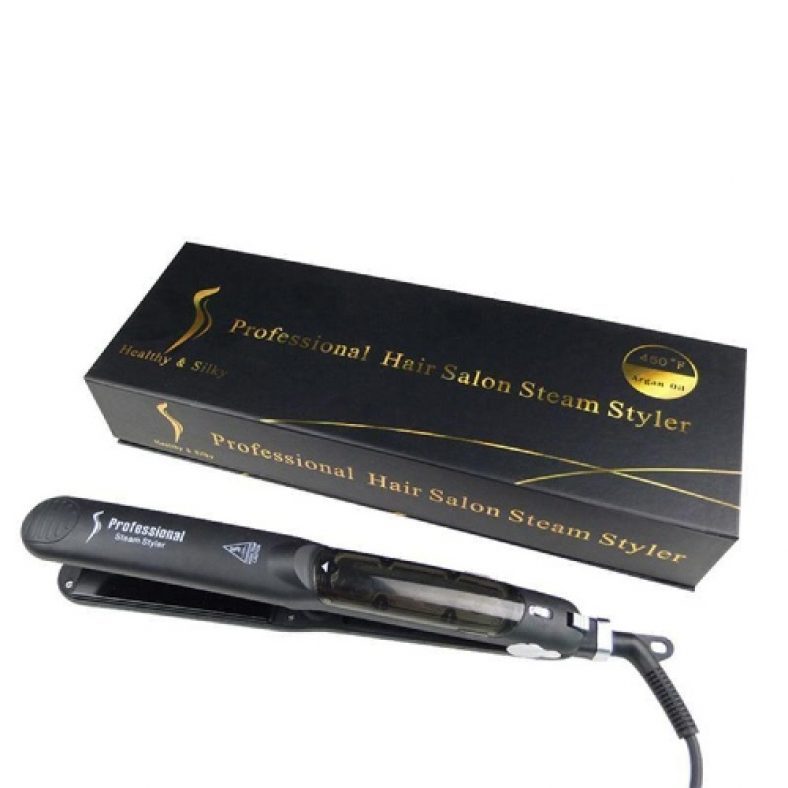 You can also find this product on Walmart.
Plate Width: 1 Inch
Plate Type: Ceramic
Warranty: 18 month
Voltage: 110V
Temperature settings: 450F
Solofish isn't a brand as popular as L'Oreal or Conair; however, everyone who owns their tools can attest to their quality.
The YL Salon-Grade Steam Straightener is an excellent steam flat iron for African American hair. Since it has various heat settings and two steam levels, you can adapt it to your needs and find the perfect setting for your hair. As a result, you can now feel safe applying a steam flat iron on natural hair without fearing that the heat is too high.
This is the tool with the highest number of temperature settings on the list. It comes with six options that start at 300 F degrees and go up to 450 F degrees.
The ceramic tourmaline ion floating plates heat up in only 15 seconds, and there is also a 60-minute auto shut-off feature. The steam is also adjustable, and you can turn it off, turn it to medium and high.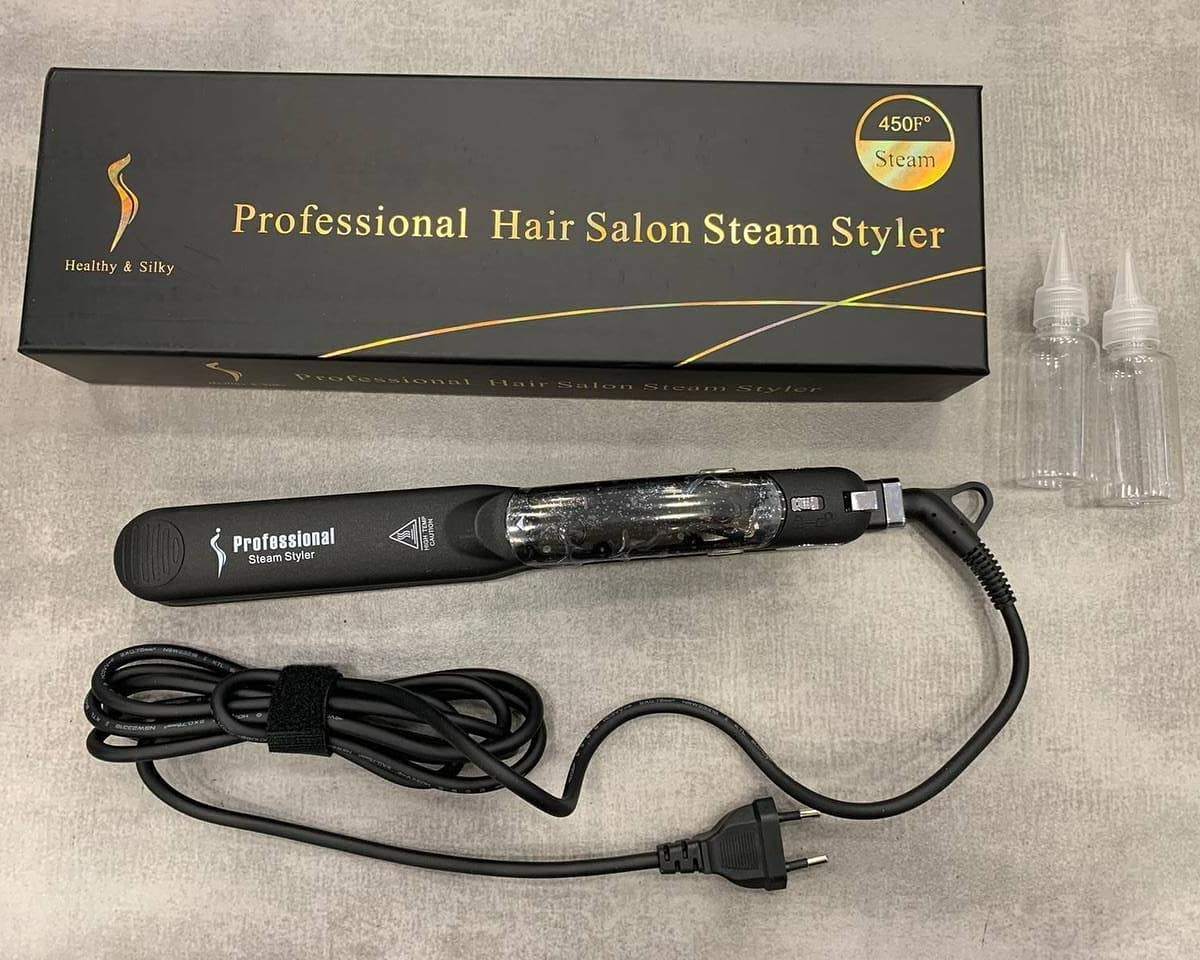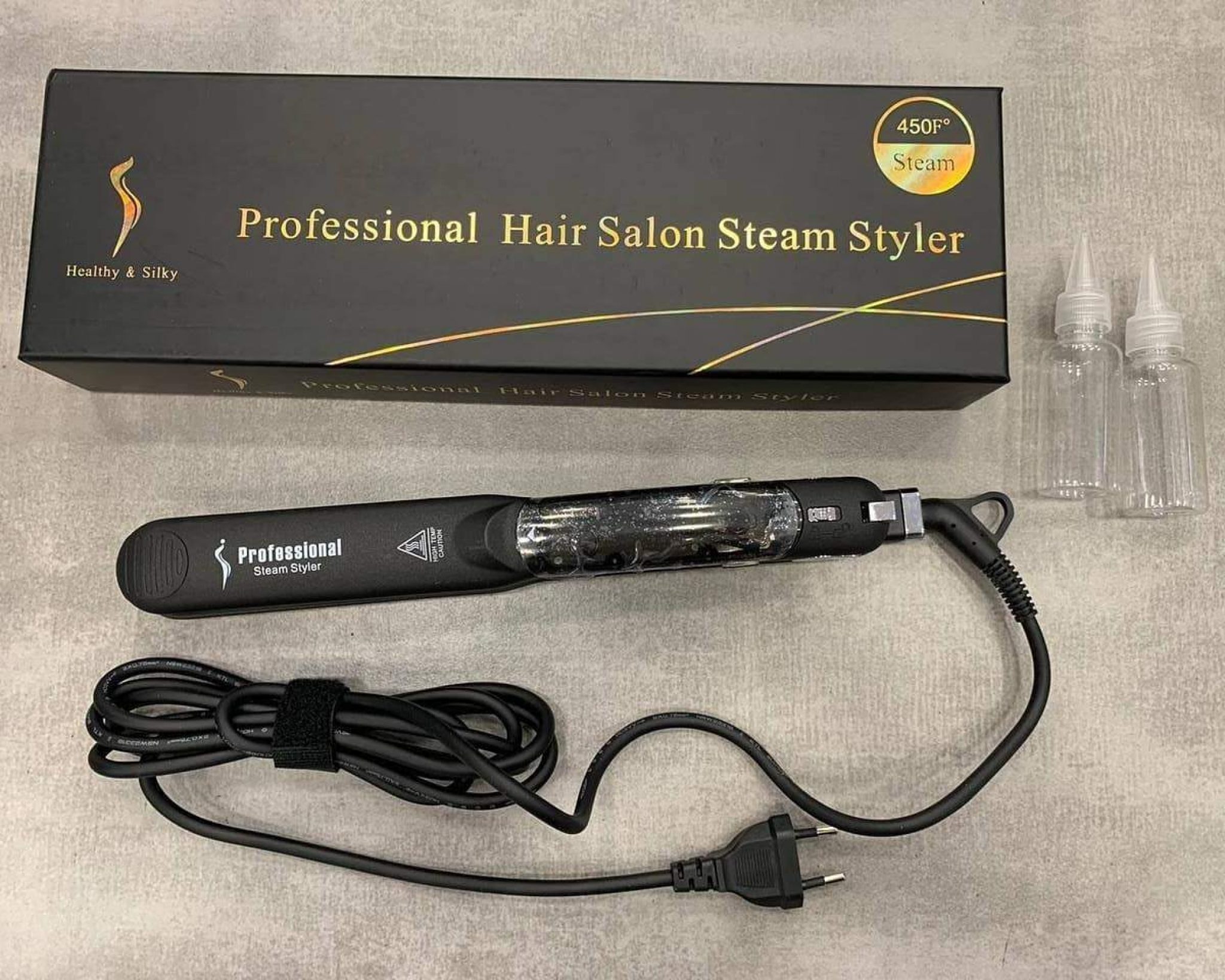 What We Love:
Six temperature settings;
Two types of steam;
Auto shut-off feature;
Comes with an 18-month warranty;
Heats up within 15 seconds.
What We'd Change:
Has to be refilled more frequently.
If you want to stop spending on expensive visits to the hair salon and bring them home, this YL Salon-Grade straightener will be your best investment. It's a powerful tool that heats up in only seconds, provides salon-like results, and is perfect for stubborn hair types.
Straightening Performance
8.8
Features to Look For in Steam Straightener
Are there any features that a professional steam straightener has to have? Here are the top six features to keep in mind when looking at products:
Plate Size
Not all steam straightening irons come with the same plate size. If you have short, thin hair, you can opt for smaller, narrower plates (1/2 inch). However, if you have long, thick hair that requires a long time to be done, your choice should be a straightener with large, wide plates (2 inches). It will shorten the straightening time and make things easier for you.
Water Container
This might not be the feature that will help you make up your; however, you have to consider it. Finding a tool with a large water container will significantly improve your experience. If you have short hair, you might be able to straighten it with a single fill of the container, but medium and long hairstyles will require multiple refills.
The liquid container should be easy to put on and remove. If you have a hard time figure out where a container goes, how to take it out to refill it and put it back in, you need to find the simplest design.
Fast Heating
If you invest in a vapor hair straightener, you should find one with a fast-heating option. It means that the straightener will heat up within seconds, and you can use it right away.
It's very useful for busy ladies who are always on the go and don't have too much time to wait around.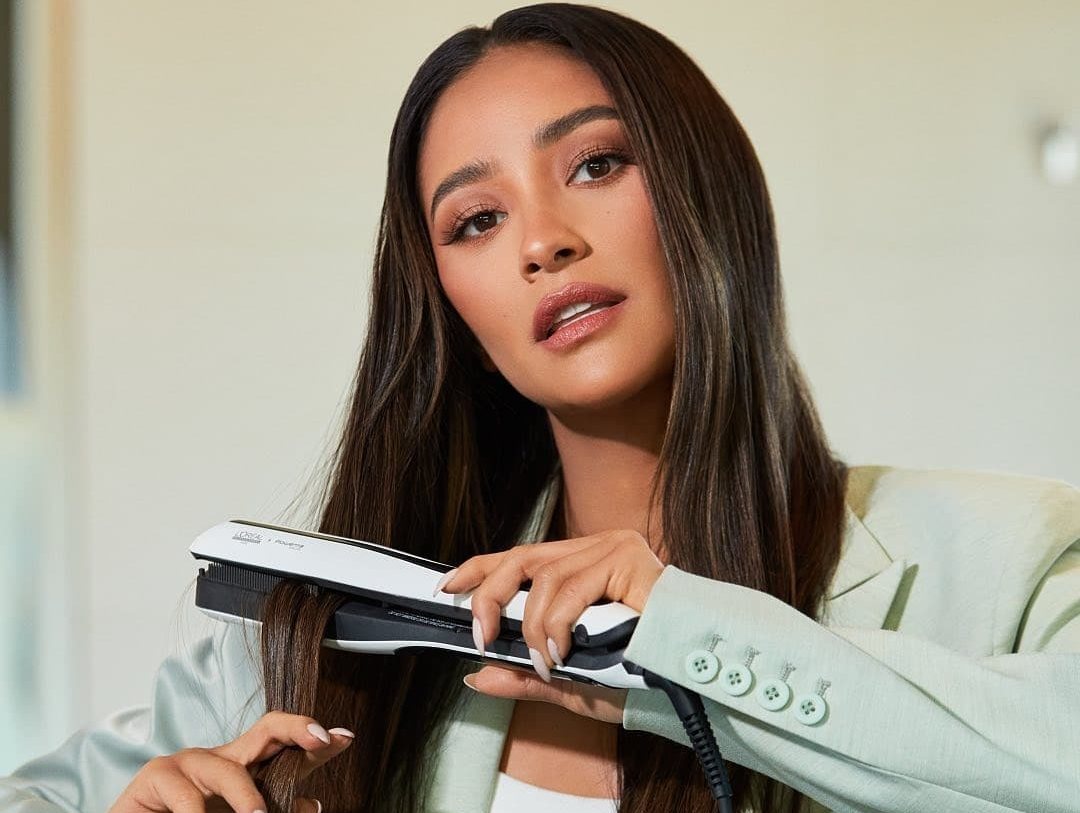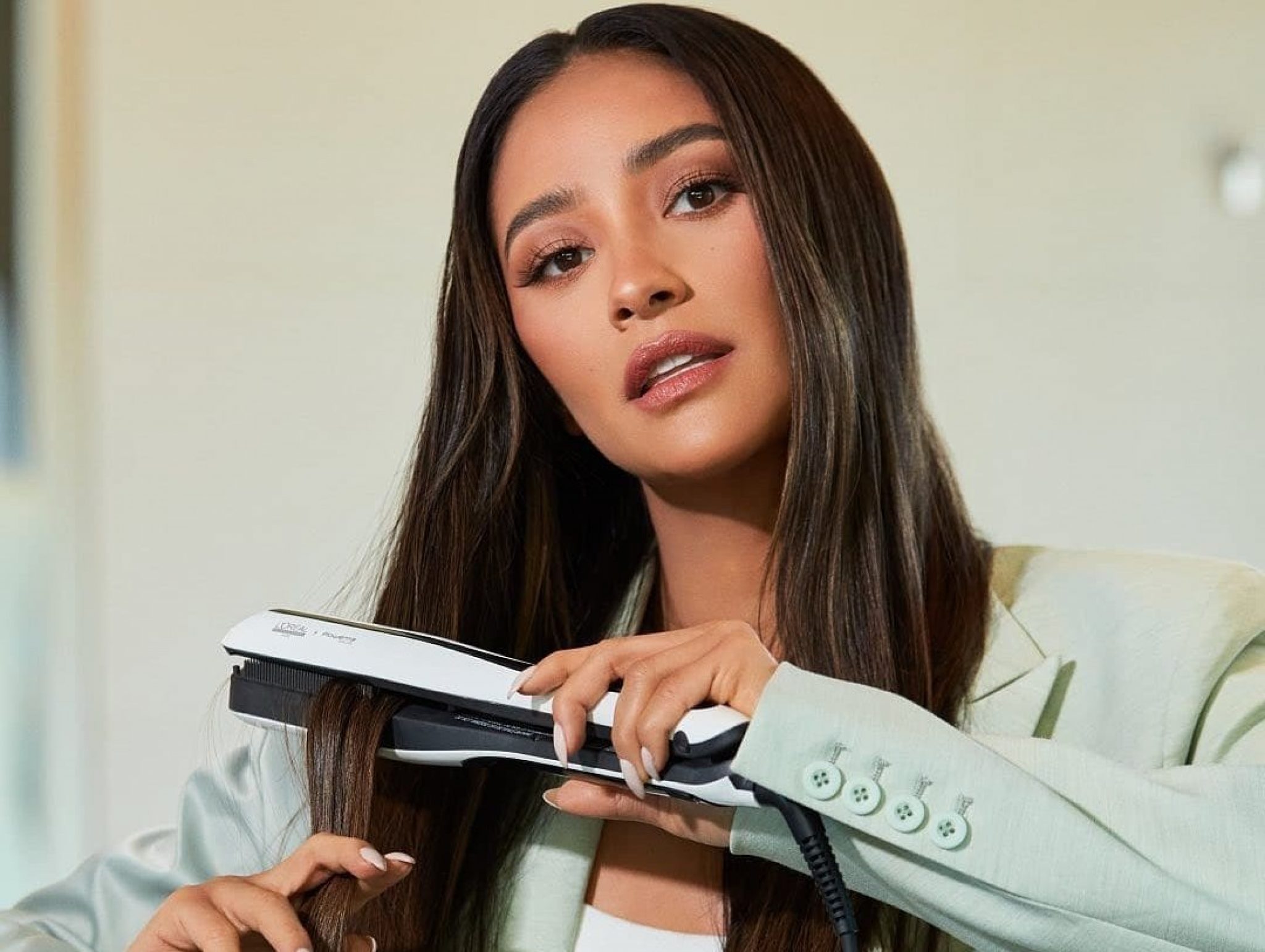 Adjustable Heat Options
This is a great feature most steam straighteners already have, but the higher the number of adjustments, the better. It's beneficial because every person can set the heat to an option that works best for their hair.
For example, stubborn, thick hair might require higher heat, while thin short hair can be straightened with ease when set on a lower heat setting.
Number Of Steam Vents
If your new straightener has numerous steam vents, it will straighten the hair quickly and will be more efficient. Multiple steam vents are perfect for very curly, thick hair types.
Price
These tools come at different prices, so you should set up a budget and decide how much you're willing to spend. The affordable options on this list are high-quality products that will last you a long time, but if you're eager to get that hair salon experience, you should look at the more expensive alternatives.
Using Steam Flat Iron vs Regular One
Just like any other product, a steam iron has its pros and cons. You can't expect these straighteners to be perfect, but they sure do an amazing at reducing the level of damage as much as possible, compared to traditional irons.
Advantages
Less damage – steam is less damaging to the hair compared to heat.
Moisturized hair – the plates of steam straighteners hydrate and moisturize the hair, preventing it from looking dry and lifeless. If you hate how flat irons make your hairstyle feel and look, this type of tool is a much better alternative.
Silky, soft, straight hair, no frizz – the final result is impressive. You'll achieve silky soft straight hair without any frizz.
Long-lasting results – the results of a steam-straightened mane last much longer than when you straighten your hair with a flat iron.
Disadvantages
The process takes longer – although a steam straightener provides better results than a traditional flat iron, the entire process takes a little longer.
You have to refill the water container – the water won't last you through the entire process, so you'll have to refill the container in most cases.
How to Use Steam Straightener Correctly?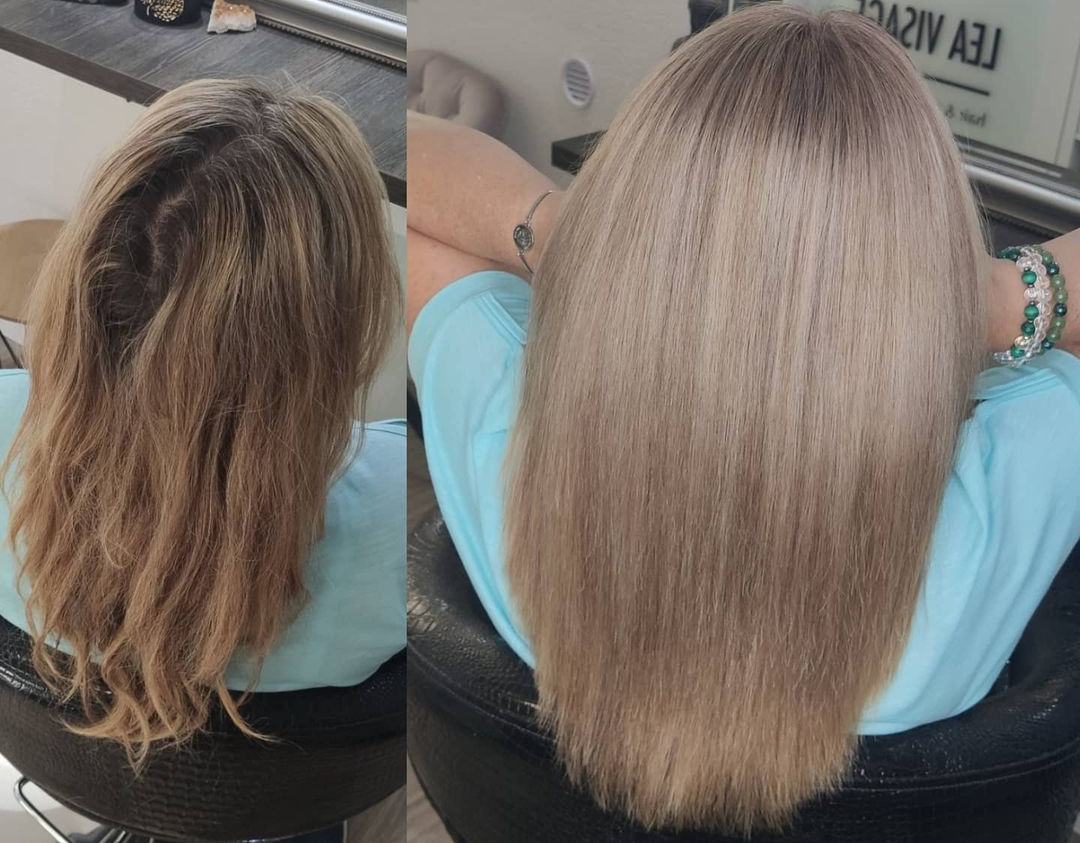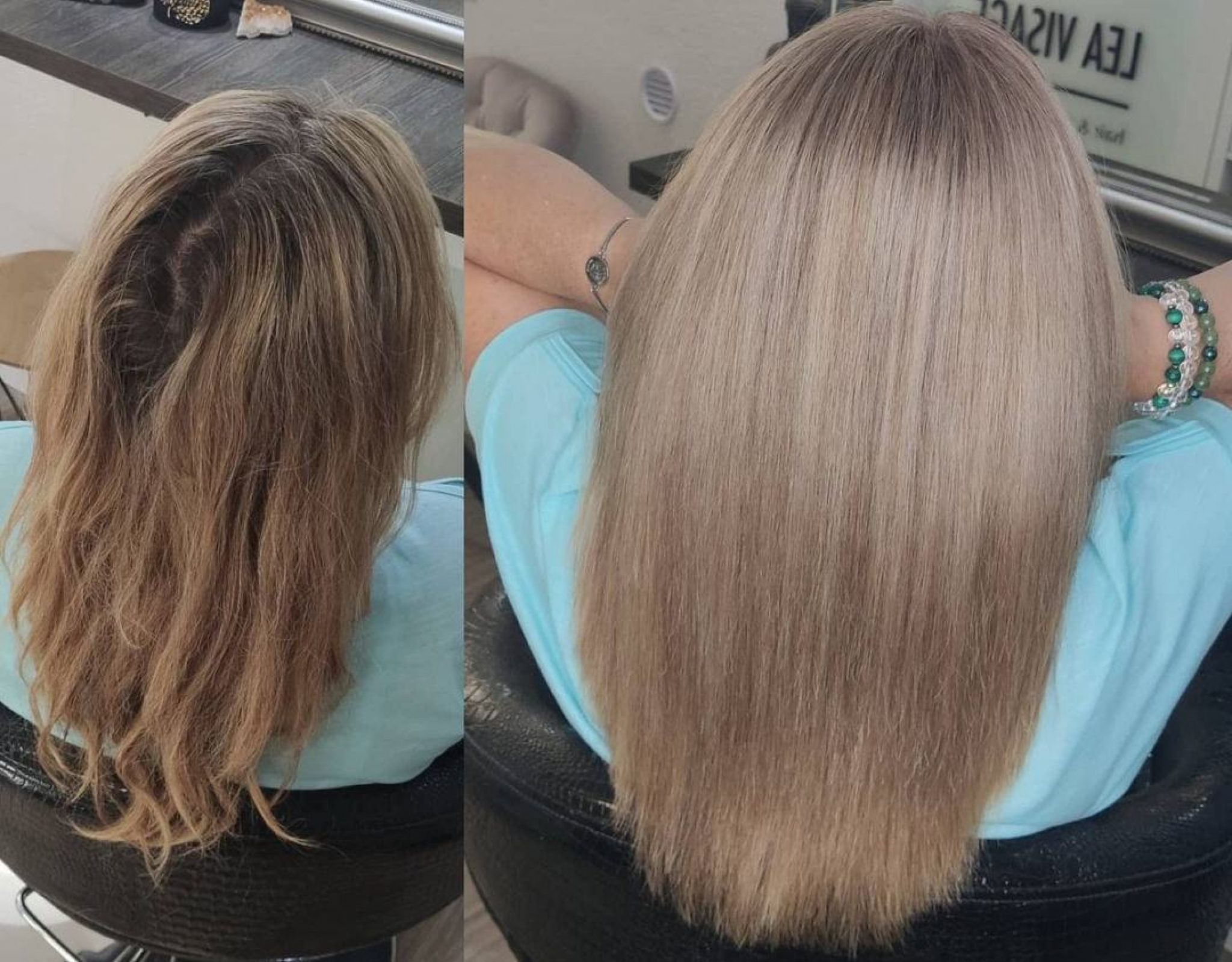 Have you been looking at steam straighteners, but you're not sure how to use them correctly? After reading this short guide, things will become much simpler.
Before you start using a steam straightener, your hair should be completely dry and combed. Add a heat-protecting product, and you can turn on the straightener.
Take a look at the heat settings and choose the one you prefer for your hair type.
Wait for the tool to heat up, then divide your hair into sections. Remember to turn on the vapor so that the tool can create steam and release it.
Start with one strand from the first section, putting it in between the iron plates. Slowly move the iron down the hair strand without staying too long on one spot.
Keep on repeating the previous step until you're done with all the hair sections.
As you can see, using this tool is very straightforward, doesn't require special skills, and is very similar to using classic straighteners.
Tips for Using a Steam Straightener on Different Hair Types
When using a steam straightener on different hair types, it's important to understand that each hair type requires different levels of heat and attention.
For thick hair, you'll want to use a higher heat setting and take extra care to ensure that each section of hair is properly straightened. A steam straightener can be especially helpful for thick hair as the steam helps to open up the hair cuticle, allowing for better penetration of the heat and a smoother finish.
For curly hair, you'll want to use a lower heat setting and take extra care not to over-straighten. It's best to work in smaller sections and use a comb to gently guide the hair through the plates while straightening.
A steam straightener can be beneficial for curly hair as it helps to loosen and relax the curls, while also adding moisture to help prevent frizz. Coarse hair can be challenging to work with, but a steam straightener can be a great tool to help smooth and tame it.
As with thick hair, you'll want to use a higher heat setting and take extra care to ensure that each section is properly straightened. Be sure to use a heat protectant spray and take extra care to not over-straighten, as this can lead to damage.
Ultimately, the key to using a steam straightener on different hair types is to take the time to understand your hair's unique needs and adjust your heat and technique accordingly. With a bit of practice and patience, you'll be able to achieve salon-worthy results at home with a steam straightener.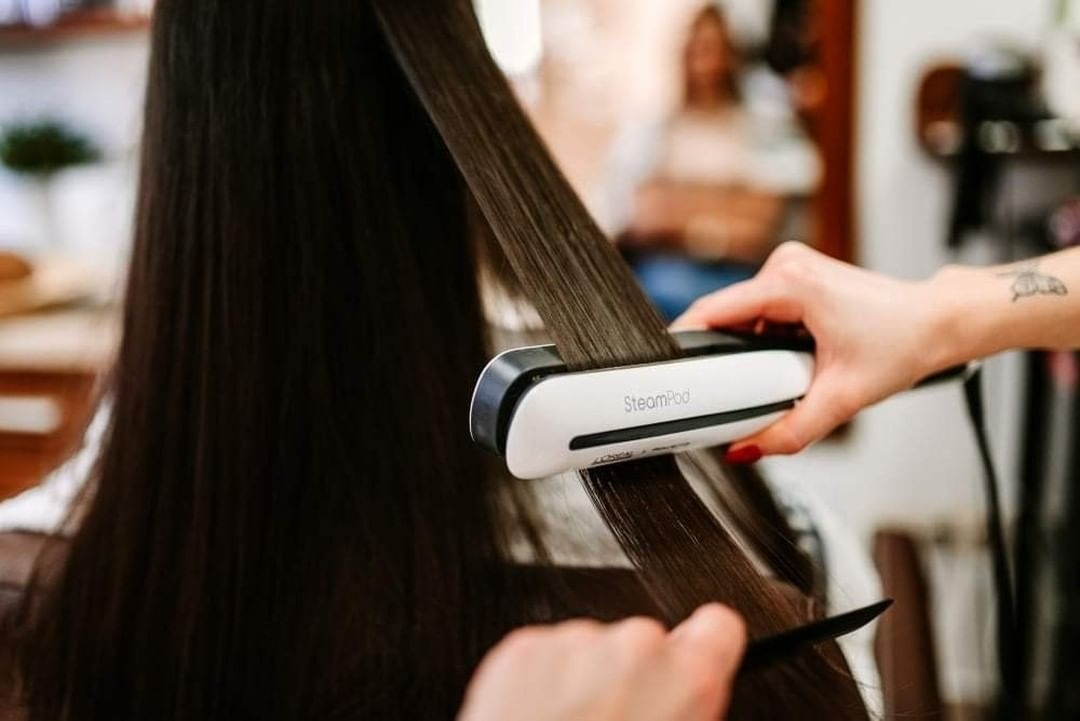 How to protect hair from heat damage while using hair straightener with steam
Protecting your hair from heat damage is crucial when using any styling tool, and a steam straightener is no exception. The good news is that there are a few simple steps you can take to ensure your hair stays healthy and strong, even with regular use of a steam straightener.
First and foremost, always use a heat protectant spray before styling. This will create a barrier between your hair and the heat, helping to prevent damage. Look for a product that is specifically formulated for use with heat styling tools.
Second, make sure that you're using the right heat setting for your hair type. Always start with the lowest heat setting possible and work your way up if needed.
Third, don't over-style. Avoid using a steam straightener on the same section of hair multiple times, and try to limit your overall styling time. Over-styling can lead to damage and breakage, so it's best to use the tool only when necessary.
Lastly, maintain your hair's health and moisture by using hair treatments and deep conditioning, specially formulated for heat damaged hair, once or twice a week.
By following these tips, you can help protect your hair from heat damage while still achieving salon-worthy results with your steam straightener. Remember, healthy hair is the key to great styling.
FAQ
Can you use a steam flat iron on wet hair?
Using a steam flat iron on wet hair is not a smart idea. Unfortunately, if you decide to apply this tool on wet or damp hair, it can significantly damage the hair, fry it and lead to a frizzy mane. Adding heat to wet hair leads to a condition named bubble hair, with actual bubbles of air located inside the hair shaft.
Is it good to steam 4c hair?
Do steam straighteners work on black hair, and will they successfully straighten 4c hair types? Yes, and yes. Steaming straighteners are potent tools that use steam to straighten even the curliest hair types.
What's even more important, these tools provide results that can last up to 60 hours.
Can you curl your hair with a steam flat iron?
Yes, you can curl your hair with most hair straighteners with steam unless the brand advises otherwise. Most of these tools are 2-in-1 and can be used just like classic flat irons.
Also read:
Conclusion
Getting a steam hair straightener is one of the best investments you can make if you love silky smooth, frizz-free hair and a tool that delivers long-lasting results with almost no damage.
The MKBOO is the best steam flat iron for natural hair and works wonders on all hair types, lengths, thicknesses, and hairstyles. You should definitely consider it as your next purchase, not only because of the high quality but also because of the affordable price.
Don't forget to let us know which is your favorite tool from the list, and feel free to send pictures of your new silky smooth mane treated with a steam hair straightener.
---
References:
Straight to the Point: What Do We Know So Far on Hair Straightening? – https://www.karger.com/Article/FullText/514367
Bubble Hair and Other Acquired Hair Shaft Anomalies due to Hot Ironing on Wet Hair – https://www.ncbi.nlm.nih.gov/pmc/articles/PMC3250009/