Relaxed hair is sleek and shiny when it's first styled and takes work to keep fresh. Adding condition and protecting hair from heat are essential to long-lasting relaxed hair.
That's why we're here to help you find the best heat protectant for relaxed hair to keep your locks safe while you create chic and sleek styles.
Picking Heat Protectants for Relaxed Hair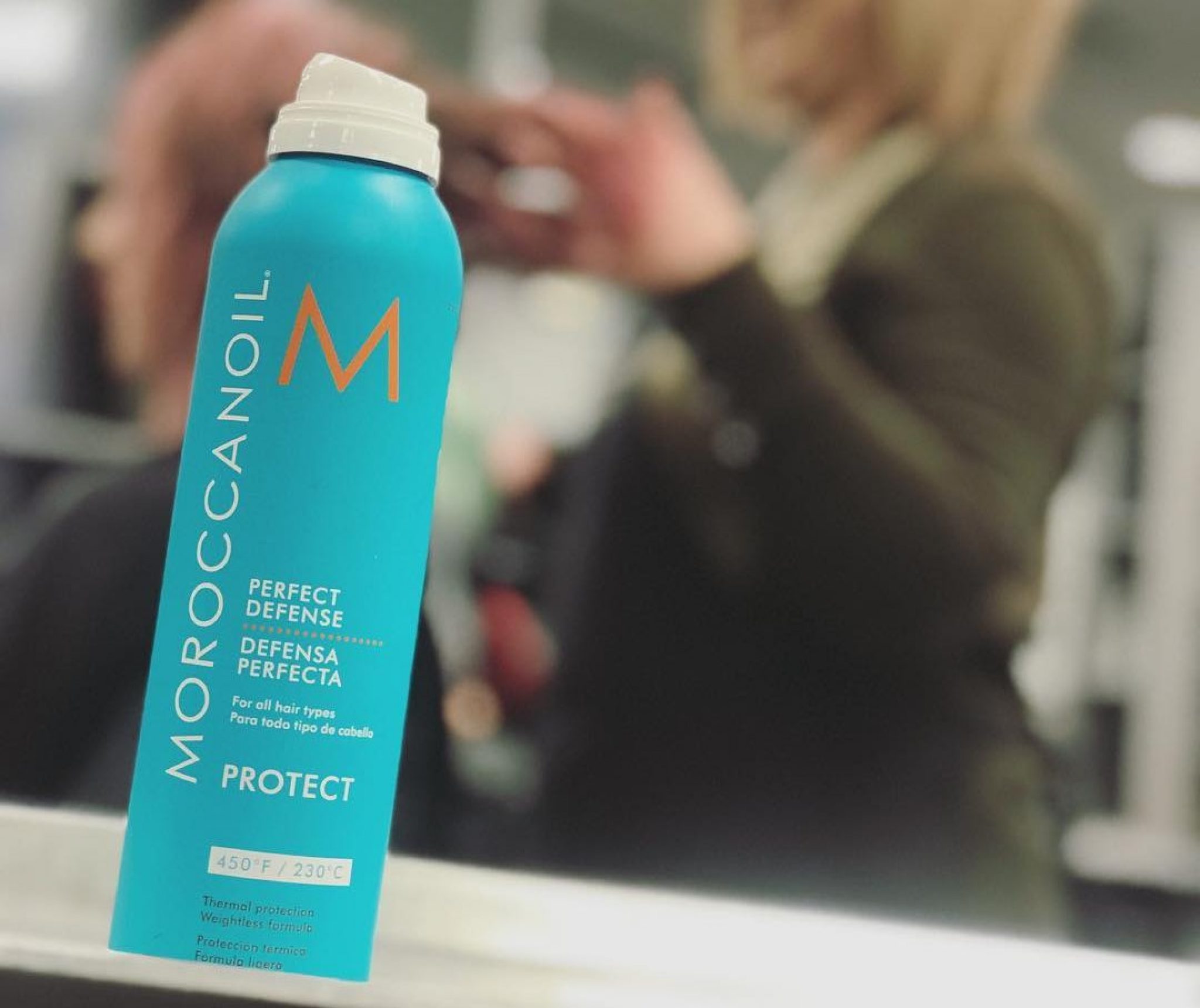 When searching for a heat protectant for your hair, there are a few things to look out for. These include:
Ingredients
Most heat protectants come with either Cyclomethicone or dimethicone. These are types of silicones that wrap the hair in a protective barrier that is resistant to heat.
Both of these are approved to keep hair safe against heat and generally come accompanied by other ingredients.
Look for those that nourish hair and prevent frizz and humidity from taking over your smooth style and ruining it for the day.
Type
Heat protectants come in all types, including spray, serum, and cream. Depending on your hair type and the desired style, you'll want to go for a different formula. To choose better for your hair type, try:
Spray for Oily Hair
Serum for Dry Hair
Cream for Damaged Hair
Heat Range
Each heat protectant has a heat range that it can resist. Before trusting that your chosen product can do the trick, check for its heat barriers and only apply heat that it can handle. Ceramic irons are one of the hottest tools we use on our hair, some of which get over 450⁰F.
Top 6 Best Heat Protectants for Relaxed Hair Reviewed
MIZANI Protecting Serum –

 Top Pick 

Paul Mitchell Thermal Spray –

 Runner Up 

Moroccanoil Heat Protector –

 Premium Pick 

Joico Heat Protection Crème –

 Thermal Protectant for Frizzy Hair 

Mielle Organics Mongongo Oil Thermal & Heat Protectant Spray
1. MIZANI Protecting Serum –
 Top Pick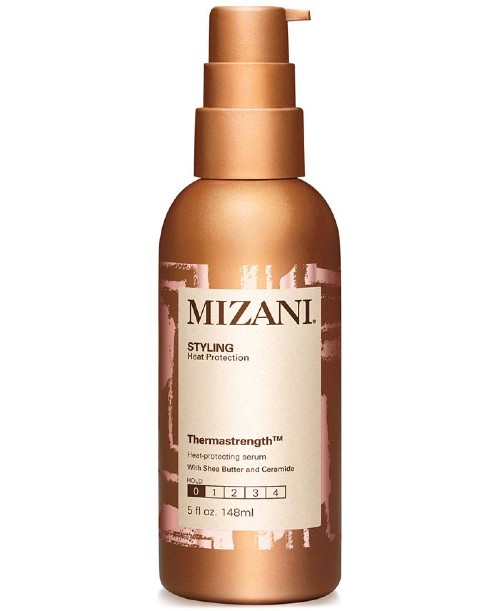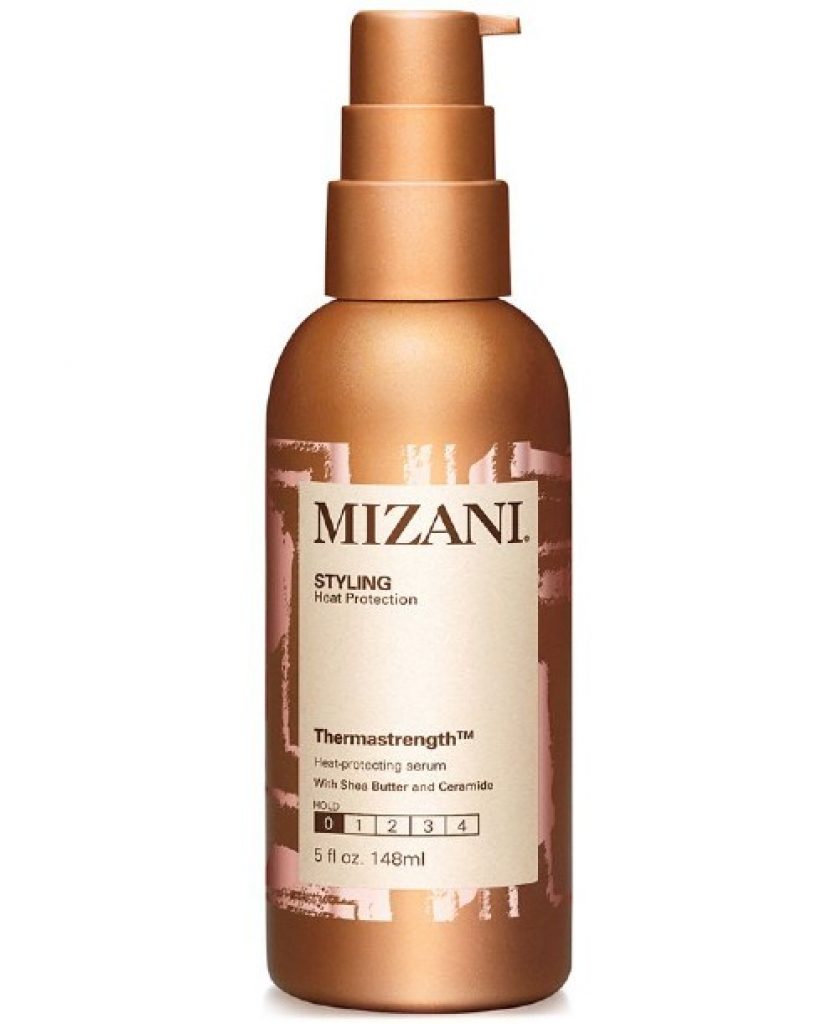 You can also find this product on Walmart.
Hair Type: Coiled
Size: 5 Fl. Oz.
Coming in as the best heat protectant for relaxed black hair is the MIZANI Thermastrength Serum. As a brand, they've gained the reputation as one of the most diverse producers of styling products, coming with a little something for every texture.
In the Thermastrength serum, you'll find shea butter and innovative anti-breakage technology that contains ceramide. Smoothing this serum on hair before styling helps protect the hair, coating it with protection that can withstand high heats and hold styles all day.
No matter if it's a blow dryer, flat iron, or crimper, this serum will keep the hair ready, preparing it for whatever comes its way.
Why we love it:
Infused with innovative ingredients;
Packed with shea butter for condition and protection;
Helps prevent breakage and frizz;
Created from MIZANI, a world-renowned brand for all hair textures and types.
What we'd change:
The smell could be better.
If you like to apply heat to your hair to change up your style, giving it protection is key. With this serum, you'll have the perfect combination of condition and protection for damage-free hair.
---
2. Paul Mitchell Thermal Spray –
 Runner Up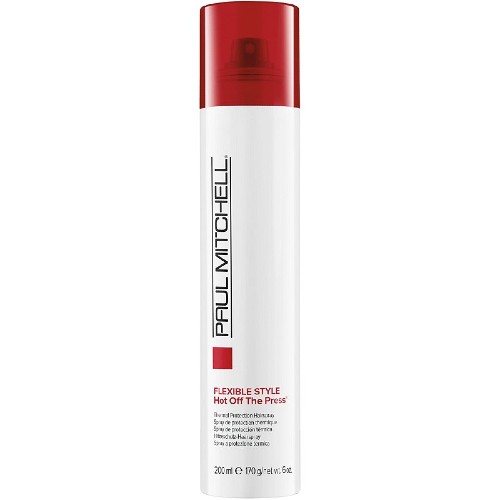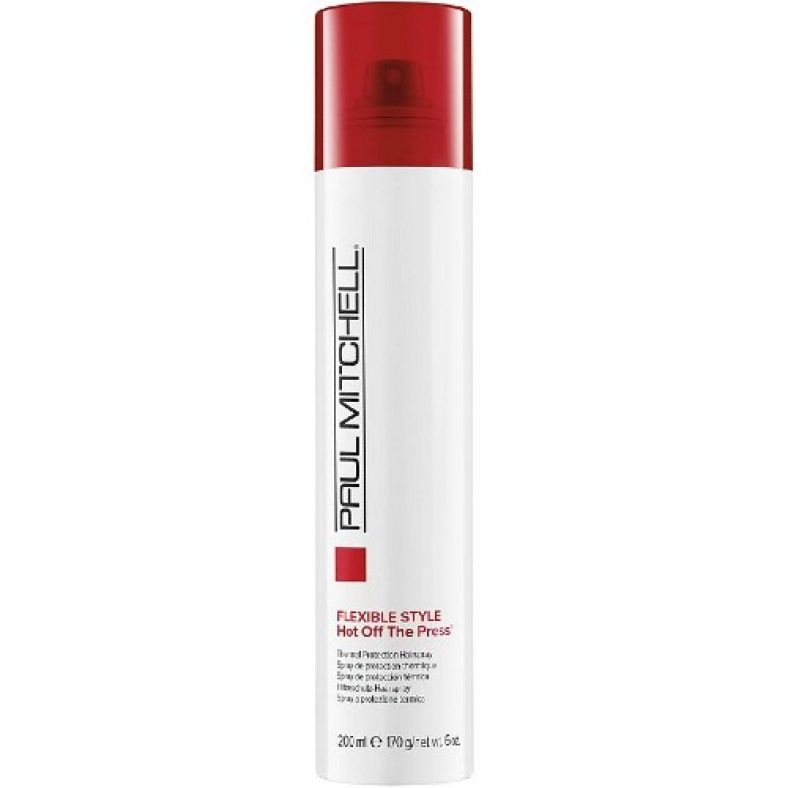 You can also find this product on Ulta, Walmart.
Hair Type: All
Size: 6 Fl. Oz.
Paul Mitchell is a huge name in the haircare industry, known for their salon-quality products for all hairstyles and types. Their Hot Off The Press thermal protectant is the best heat protectant spray for relaxed hair, filled with rice hull extract that creates a physical barrier to protect against heat and breakage.
It's got ingredients that protect from humidity and fight frizz. Plus, the smell comes packed with citrus notes that make it a pleasure to use.
For hair of all textures, this thermal spray is the perfect protectant, shielding the hair while creating a flexible and moveable style.
Why we love it:
The smell is scrumptious;
Hold is flexible;
Protects against heat, humidity, and breakage;
Comes with proteins that boost hair's strength.
What we'd change:
The feel is sticky at first, needing time to dry before ironing or drying.
Paul Mitchel products are known around the world, getting a reputation as one of the best haircare lines out there. This protectant spray is another hit, filled with juicy ingredients that protect hair without weighing it down.
---
3. Moroccanoil Heat Protector –
 Premium Pick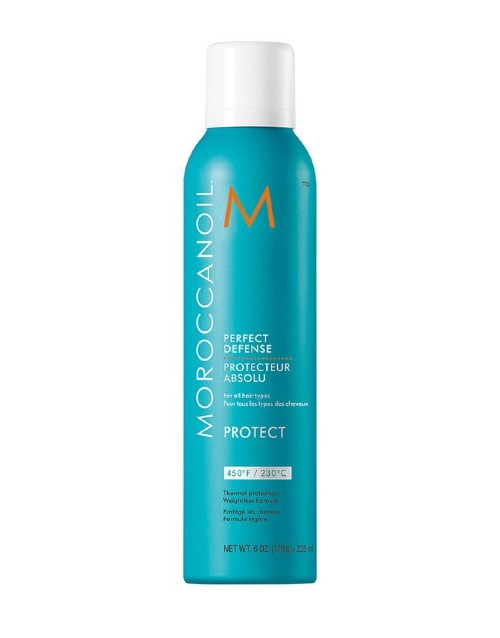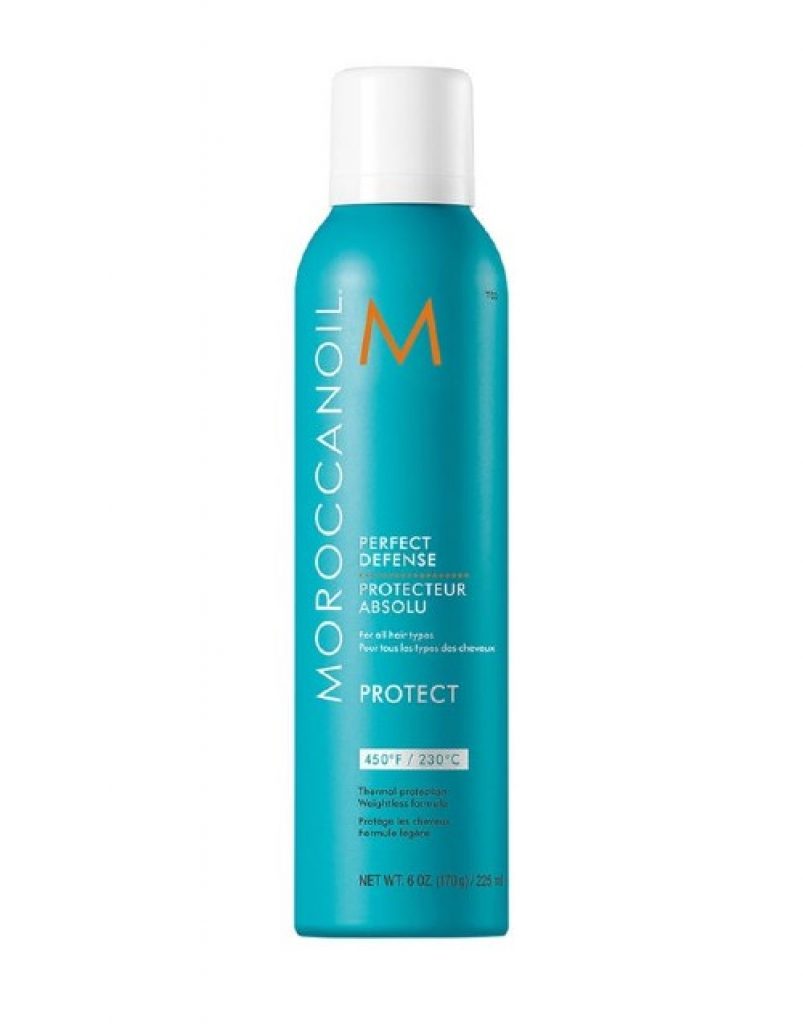 You can also find this product on Sephora.
Hair Type: All
Size: 6 Fl. Oz.
Moroccanoil got its fame from fusing argan oil into its products. Argan is known for its fragrance and protection of the hair and skin, used as a traditional beauty treatment for centuries.
Their Perfect Defense hair oil is powerful, protecting the hair from heat all the way up to 450⁰F. The formula is lightweight and spays right onto hair, creating a shield that prevents damage and allows for any hairstyle.
All you need to do is spritz, wrapping the hair in an aroma of goodness infused with panthenol to strengthen your strands.
Why we love it:
Moroccanoil's use of argan oil in all of its products;
A strong defense against heat and damage;
Infused with panthenol that helps strengthen hair.
What we'd change:
Goes on a bit sticky when adding to damp hair.
Morroccanoil uses the help of argan oil to create products that are strong and healthy for hair. With this spray, all textures can enjoy any and all styles, knowing that their locks are protected from heat and damage. Plus, the smell is exotic, enhanced with other oils to create a healthy sheen for styled hair.
---
4. Joico Heat Protection Crème –
 Thermal Protectant for Frizzy Hair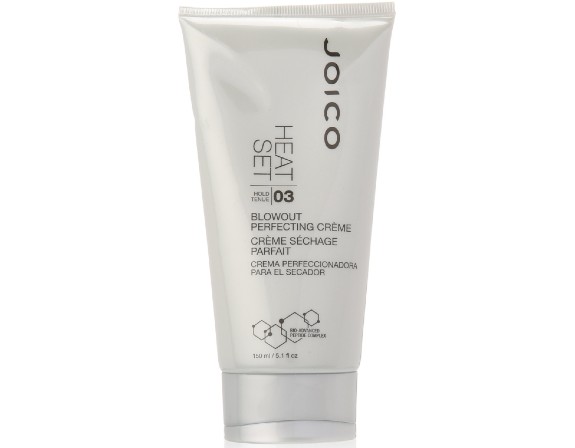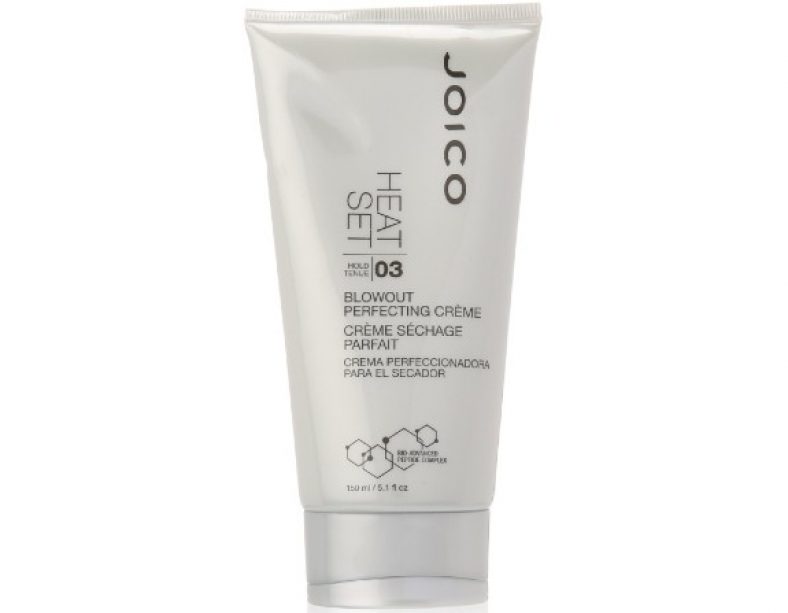 You can also find this product on Ulta, Walmart.
Hair Type: Frizz
Size: 6.7 Fl. Oz.
Joico is behind some of the hair industry's most ground-breaking products. They search far and wide when choosing ingredients for their products, creating a little something for everyone.
With this Blowout Perfecting Cream, you'll have the perfect sidekick to creating daring styles on your relaxed hair. It's weightless, fights frizz protects from humidity, and creates a shield over each strand that can withstand high heat.
With help from a patented peptide complex, this formula helps create strong stands and lasting shine for healthy, never over-styled hair that's worth flipping back and forth.
Why we love it:
Advanced formula to protect against damage;
Fights frizz and damage;
Works with all hair types and textures.
What we'd change:
Doesn't come with herbal ingredients.
Creating bouncy and voluminous locks takes the help of heat. With this Joico Blowout Protecting Cream, you'll have the perfect formula for creating salon-worthy hair right from home without the worry of damage or over-drying.
---
5. Design Essentials Heat Protecting Serum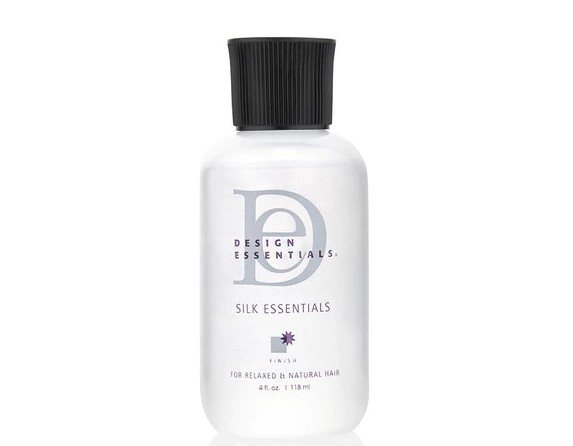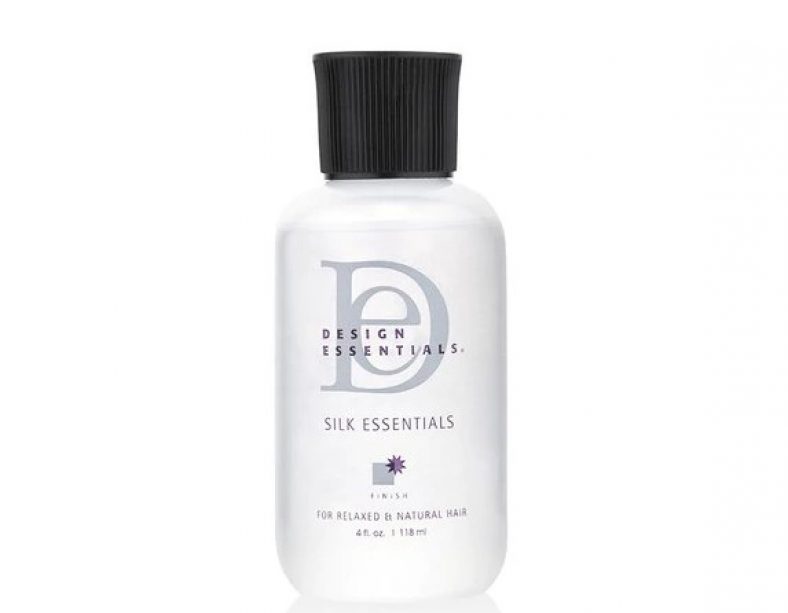 You can also find this product on Walmart.
Hair Type: Damaged
Size: 4 Fl. Oz.
Design Essentials is an American-made formula that's created the perfect line for every type of hair. Their products feature vitamins and minerals that work together to add strength to relaxed hair.
The Silk Essentials Heat Protectant Serum is specifically for relaxed hair, coming with conditioning ingredients that protect and nourish hair. Plus, you'll find 17 different amino acids that help to strengthen hair, prevent frizz, and keep it from damage, letting you style your hair however you want. Just a few drops go a long way, helping you achieve the hair you're looking for.
Why we love it:
Infused with silk and amino acids that create a barrier around the hair;
Provides moisture for relaxed hair;
Works with all heating tools, preventing frizz and static all-day.
What we'd change:
No specially patented ingredients;
The smell isn't so nice.
For an all-in-one product, this Silk Essentials Heat Protectant Serum is perfect. It keeps hair strong and frizz-free all day long, complimenting each and every style no matter how much heat you have to apply to it.
---
6. Mielle Organics Mongongo Oil Thermal & Heat Protectant Spray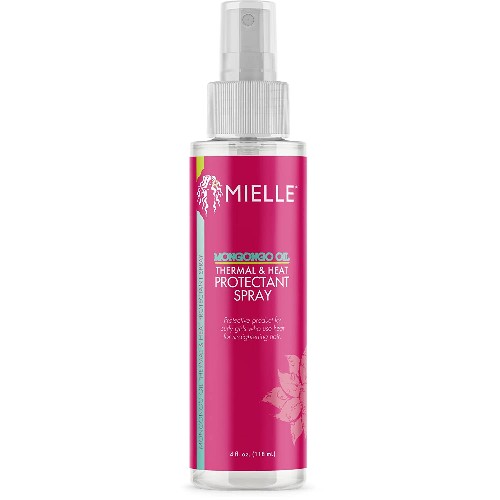 Hair Type: Curly
Size: 4 Fl. Oz.
Mielle heat protectant spray is the perfect solution to keep your hair from damage. It provides maximum protection against heat and helps preserve curl patterns.
All-natural ingredients nourish and strengthen your locks during styling processes as well! With reduced frizz, you can enjoy beautiful tresses that are healthier than ever before.
Mielle's Heat Protectant Spray is a good choice for people with different hair types and porosity levels. It will help keep your hair from getting damaged by heat from blow dryers and flat irons.
This spray also helps keep your hair hydrated and healthy! You might notice that your hair feels heavy or oily after using this product, but these effects are only temporary.
Why we love it:
Provides intense heat defense
Helps reduce frizz
Suitable for all hair types
Natural ingredients
Made by women for women
What we'd change:
May be heavy on hair
Expensive compared to other heat protectants on the market
As I ventured out on my journey to find a heat protectant for black relaxed hair that would keep my natural hair hydrated while trying different styles, I stumbled upon Mielle Organics. Out of all the reviews, this product seemed to be the best fit for me. After using it myself, I found that spritzing from far away was key in order to get adequate coverage without over-saturating my locks with too much product! If you're on the hunt for a heat protectant that both defends hair against intense temperatures and nourishes it, then this product is an absolute must-have. It may be more costly than other brands out there, but it's worth every penny spent!
How to Use Heat Protectants Correctly
Apart from picking a good formula for your hair, it's good to know how to use a heat protectant. There are some tricks of the trade that allow the product to absorb better and fully protect strands.
To use your products effectively, try:
Using on damp hair;
Letting set for at least 15 minutes;
Blow drying hair fully and applying again if using a hot iron or curling iron.
Applying oil or leave-in onto styles when you're done.
Also read: Shampoos for Relaxed Hair
Tips for Maximizing the Effectiveness of Heat Protectant for Black Relaxed Hair
When it comes to using heat protectants, it's important to keep in mind that there are a few tips and tricks that can help you maximize the effectiveness of the product.
One of the most important things to keep in mind is that you should always prepare your hair before applying the heat protectant. This means that you should cleanse and condition your hair, and make sure it is completely dry before applying the product.
Another important step is to apply the heat protectant evenly throughout your hair. This means using enough product to fully coat each strand, but not so much that your hair becomes greasy or weighed down.
You should also make sure to comb or brush through your hair after applying the product, to ensure that it is distributed evenly. Additionally, it's important to remember that heat protectants work best when used in combination with other hair products.
For example, if you're planning to use a flat iron, you should also use a straightening serum or cream in conjunction with the heat protectant. This will help to lock in the hair's natural moisture and provide additional protection against heat damage.
It's also important to remember that heat protectants are not a one-time solution. You should reapply the product each time you use heat on your hair, and be sure to maintain your hair regularly to keep it healthy and strong.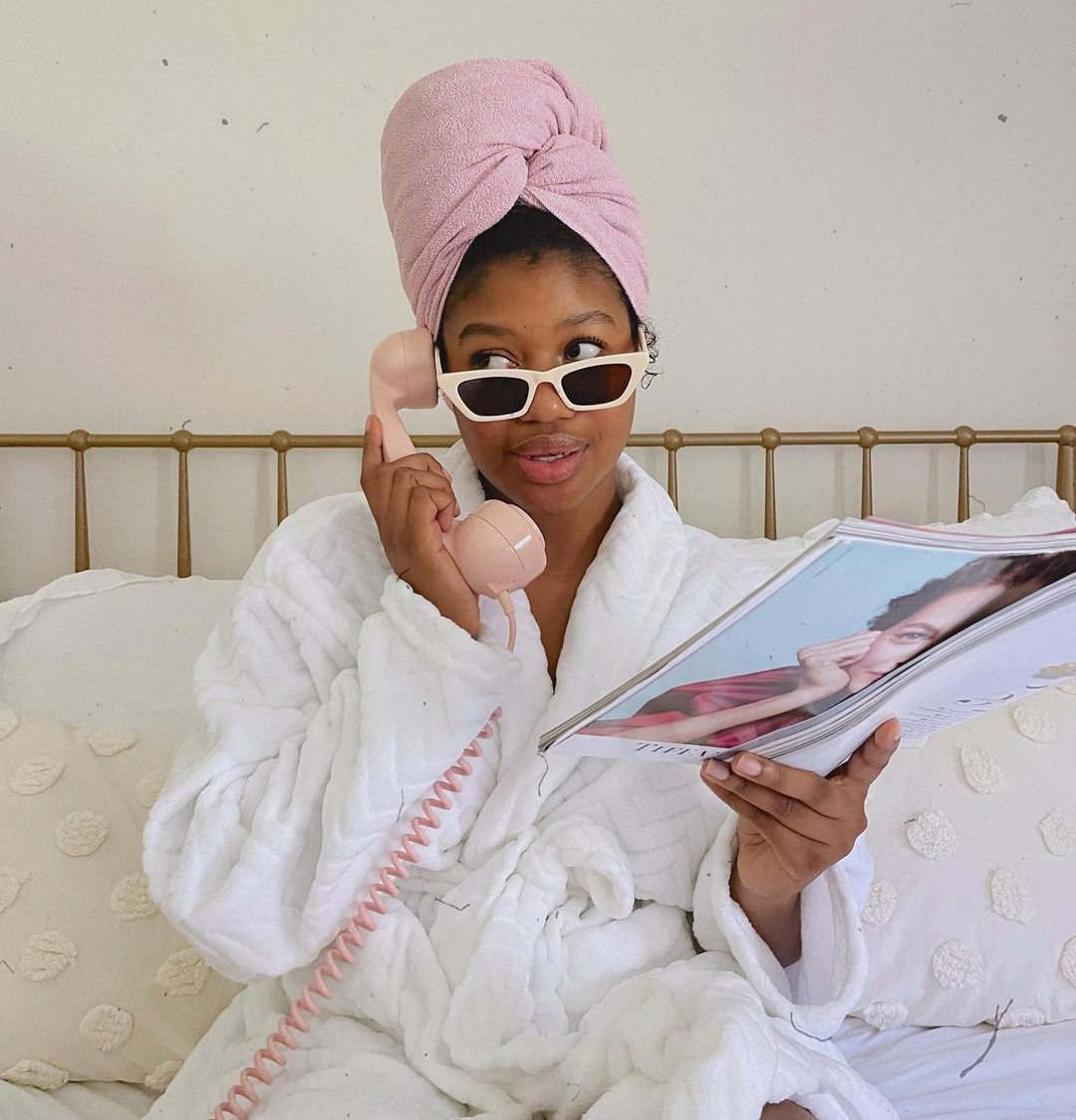 This may include regular trims, deep conditioning treatments, and staying away from harsh chemicals and other damaging hairstyles. Finally, a pro tip is to use a low heat setting on your styling tools, so the heat is not too high that it causes damage to your hair.
In summary, using heat protectant is an essential step when it comes to protecting your relaxed hair, but it's important to remember that it's just one part of the equation.
By preparing your hair before applying the product, you can help to maximize the effectiveness of your heat protectant and keep your relaxed hair looking healthy and beautiful.
Preparing the Hair Before Applying Heat Protectant
Preparing your hair before applying heat protectant is an essential step in ensuring that your hair stays healthy and protected from heat damage.
The first step in preparing your hair is to cleanse it thoroughly with a gentle, sulfate-free shampoo. This will remove any dirt, oil, or styling product buildup that may be present on your hair.
After cleansing and conditioning, make sure your hair is completely dry before applying the heat protectant. Do not towel dry it as this can cause breakage, instead use a T-shirt or a microfiber towel to remove the excess water.
Applying heat protectant to wet hair can dilute the product and decrease its effectiveness. Finally, it's a good idea to detangle your hair before applying the heat protectant.
This can help ensure that the product is distributed evenly throughout your hair, and can also help to minimize the risk of breakage. Use a wide-tooth comb or a detangling brush to gently work through any tangles or knots in your hair.
Heat Protectant FAQ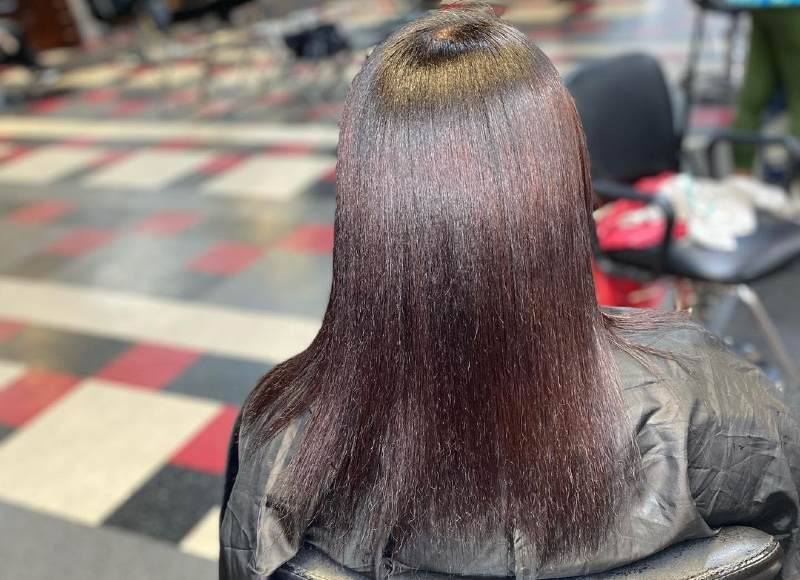 Can I heat straighten relaxed hair?
Of course, you can! However, use extra care, spraying it with some heat protectant to keep it from heat or damage.
What if I don't use heat protectant on relaxed hair?
Without a heat protectant, the hair will be at risk for damage. Relaxed hair needs extra love and could dry out and become brittle without something to keep it safe.
How to make DIY heat protectant for relaxed hair?
There are several DIY heat protectants out there, some of which use household ingredients or foods. The best heat protectant for relaxed African American hair you can make at home is with rice, soaking it in water and draining for a liquid you can spritz on locks.
Also read: Clarifying Shampoos for Curly Hair
Conclusion
Relaxed hair needs all the love it can get, especially when styling with heat. Keep your locks looking luscious and silky with a serum that wraps the strand and keeps it from damage and dryness.
After reading up on our top five picks, it shouldn't be hard to choose, taking your pick of spray, serum, or cream. As always, for questions or comments, give us a shout. We can't wait to see your sleek new hairdos!