Are you looking for the best hair straightener and curler combo? This 2-in-1 tool is a life-saver on so many levels. Imagine not having to take out, plug in, turn on, and wait on two hair tools instead of using just one.
Well, your wish just came true. Go over the comprehensive reviews of these fantastic six choices to see which one best fits your needs.
How Does 2-in-1 Hair Straightener and Curler Work?
Two-in-one straightening and curling tools are designed so they can do both things. Although there are various designs, most tools are made of two plates which you use for straightening.
The top outside part of the plates is rounded, so when you put them together, they create a barrel-like tool that's ideal for curling.
Although you can use a classic 2-inch flat iron or a 1-inch flat iron, curls created with these tools can be more voluminous and look more luxurious. Also, some people prefer curling their hair with this tool because they find flat irons hard to work with.
6 Best Flat Iron And Curling Iron Combos Reviewed
1. SUTRA Professional Styling Wand –
 Top Pick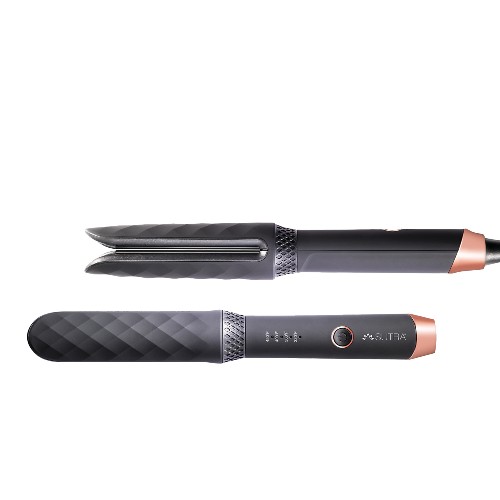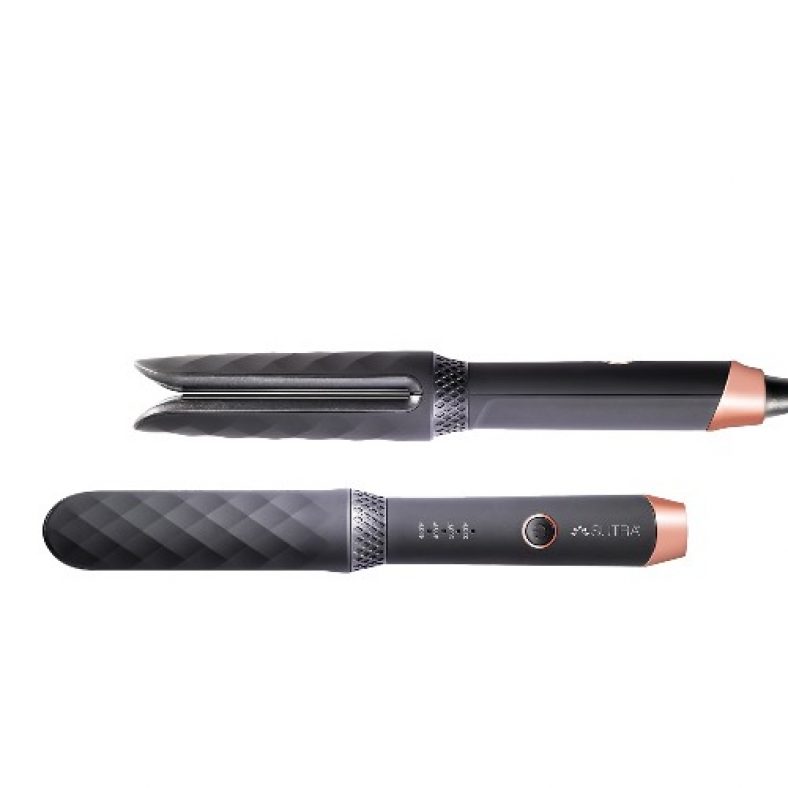 You can also find this product on Walmart.
Plate Width: 2 Inch
Plate Type: Tourmaline
Warranty: Lifetime
Voltage: 110-220V
Temperature settings: 450°F
SUTRA's mission is to create the most innovative hair tools with high-quality that come at a reasonable price. This is a reliable brand that produces numerous tools and has thousands of happy customers globally.
One of the brand's top sellers is the Professional Styling Wand. This is a fantastic curling iron straightener combo worth all your attention. It comes with four different heat settings that are suitable for all hair types.
You can set the iron/curling combo to 320, 360, 400, or 450 F degrees. The lower settings are perfect for thin hair, while the high heat settings will do wonders on thick, coarse hair types. The premium floating plates are made of tourmaline and are 2 inches in size.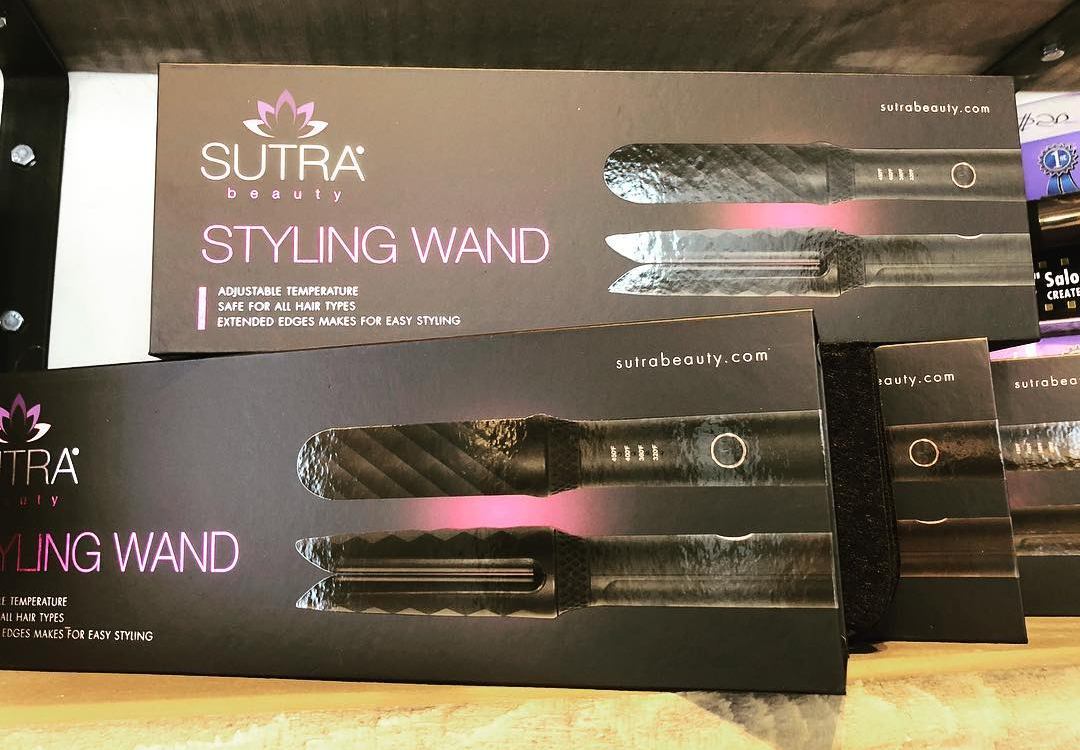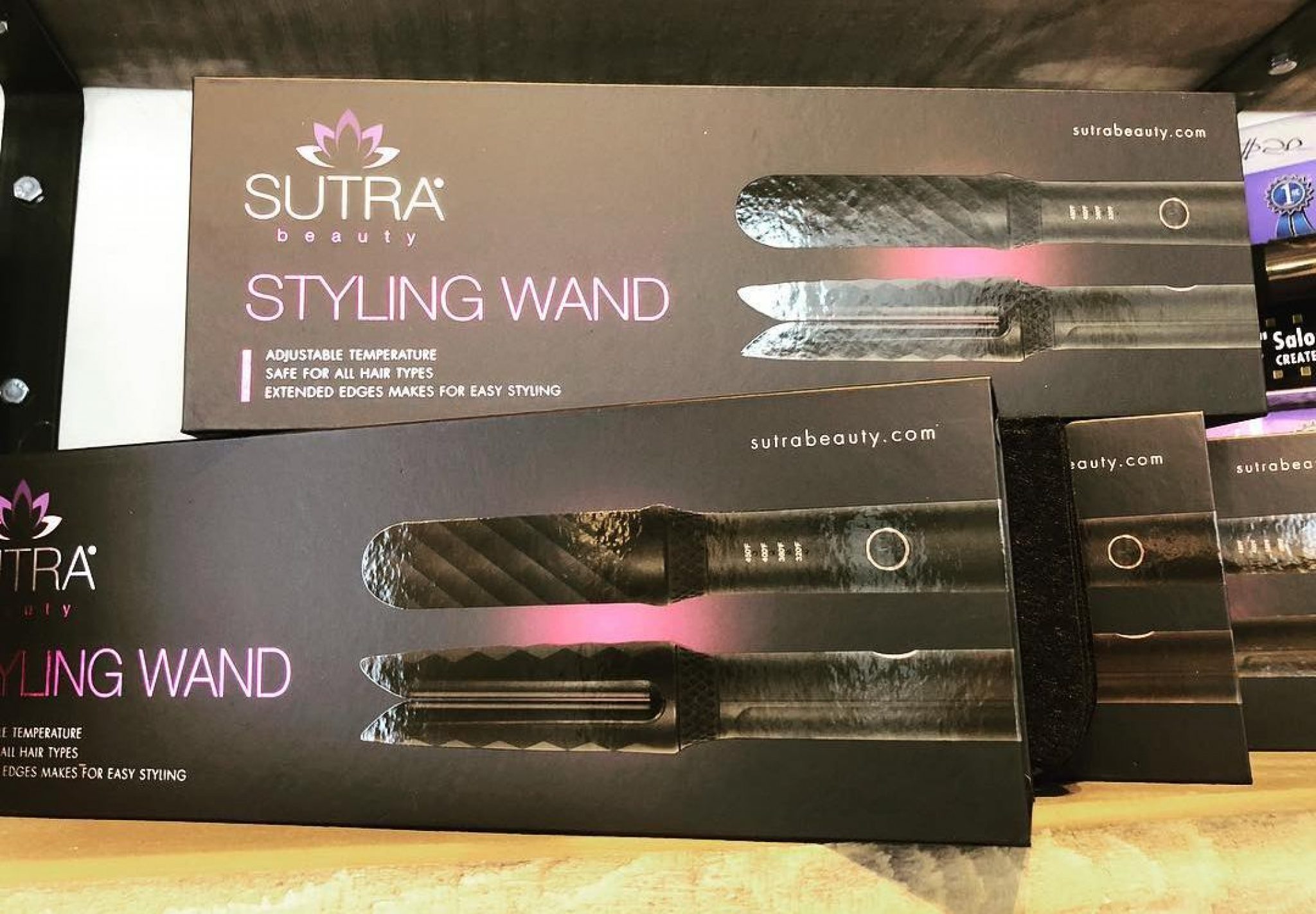 Tourmaline is actually the perfect plate material for dry and frizzy hair. Paired with infrared heating technology, these plates will create perfectly smooth and straight hair or luscious curls. Also, the brand uses a technology that evenly applies heat to prevent damage and remove hair frizz.
When it comes to safety, both your hair and hands are protected. The tips of the tool will always be cool, so you can feel free to touch them while using it. The auto shut-off feature will turn off the straightener if you forget, saving you from ruining your house.
If you're a person who loves moving around while styling your hair, that won't be a problem with the 9-foot power cord, which also rotates 360 degrees.
What We Love:
Auto shut-off feature;
Four heat settings;
Dual voltage;
Cool tip feature;
Long, 360-degree rotating cord.
What We'd Change:
Button placement could be improved.
The SUTRA Professional Styling Wand is the best 2-in-1 hair straightener and curler because of the high-quality and affordable price. Although it's not the cheapest tool on the list, it's exceptionally well made and suitable for all hair types because of the adjustable heat settings.
Straightening Performance
9.7
2. TYME 2-in-1 Hair Curler and Straightener – Straightener And Curling Iron With Superior Features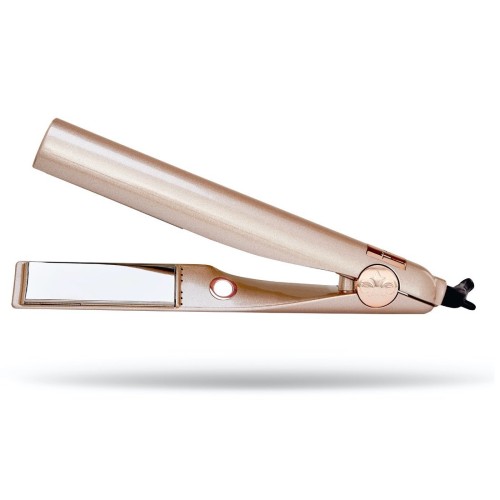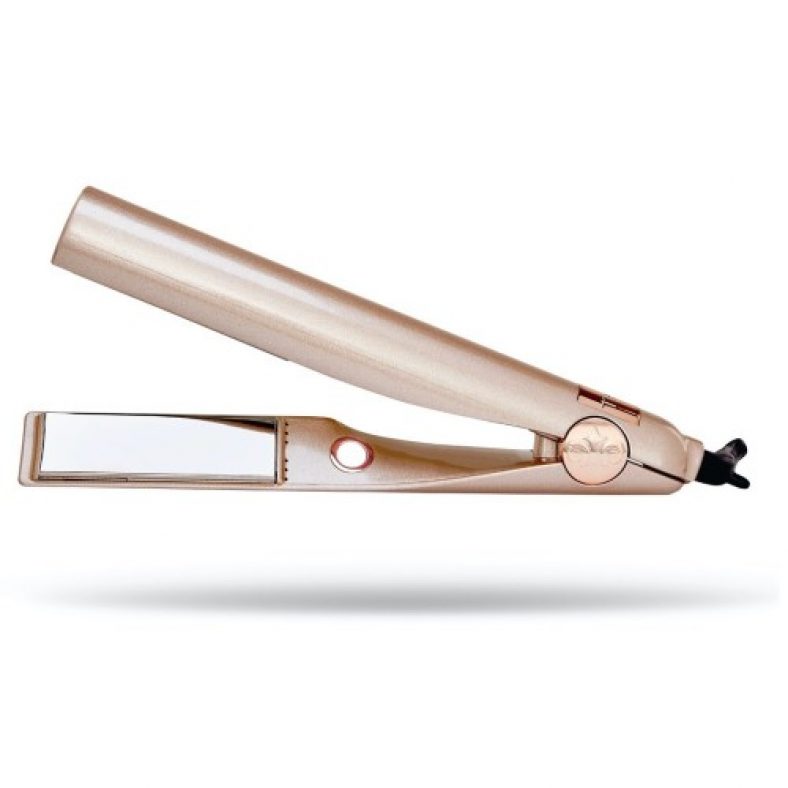 You can also find this product on Walmart.
Plate Width: 2.5 Inch
Plate Type: Titanium
Warranty: 1 year
Voltage: 110V
Temperature settings: 400°F
TYME is a highly-praised female-founded brand that creates some of the most beautiful hair tools in the industry. Just click on the link to this 2-in-1 curler and straightener, and you'll be surprised by how stunning it is.
The brand included their new, patented technology that sets the titanium plates at an angle so that users will find it easier to twist the tool and create effortless waves and curls. The curler/straightener is also equipped with an auto shut-off feature that turns the tool off after 30 minutes.
The five adjustable heat settings are 300 F, 325 F, 350 F, 375 F, and 400 F degrees. Ladies with thick and curly hair can go higher, while the ones with thinner and straighter hair can go lower. When you turn the tool on, it will be set to the last used setting.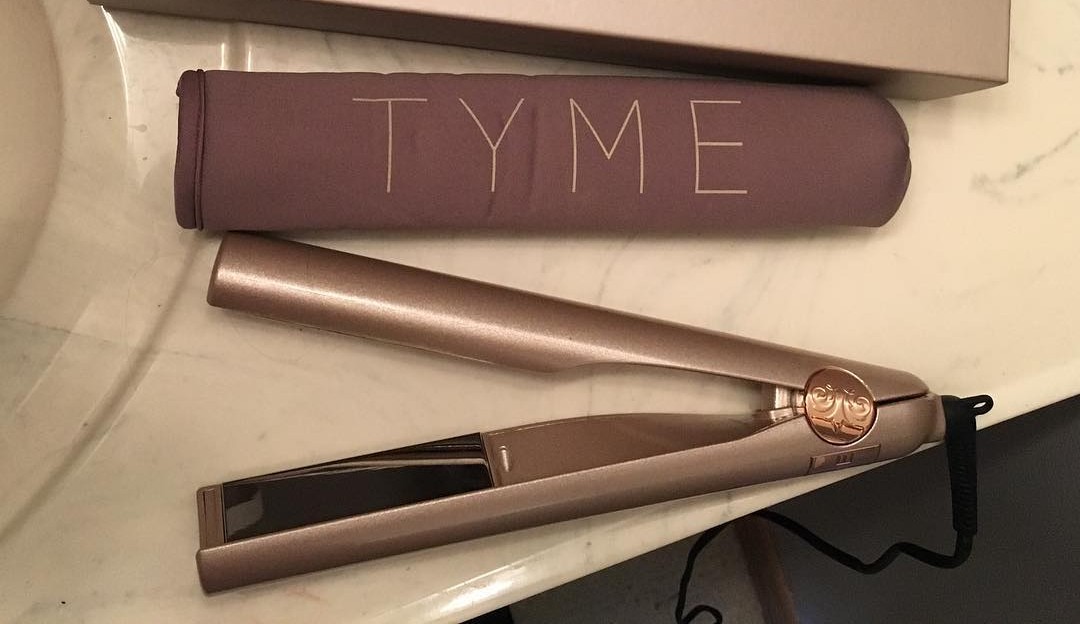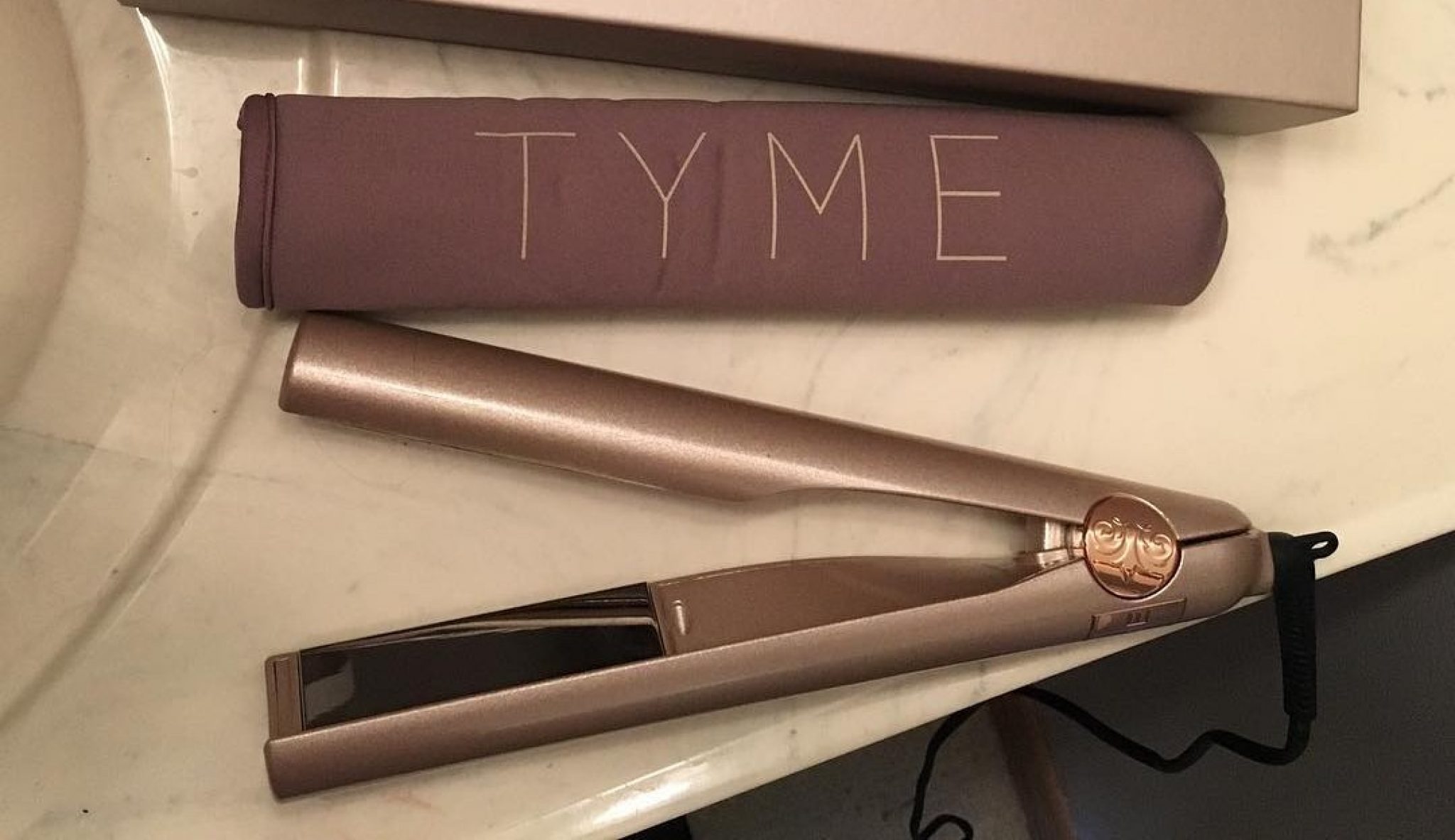 What We Love:
Aesthetically pleasing exterior;
Five heat settings to choose from;
Last heat setting memory;
Auto shut-off feature in 30 minutes;
Patented angled design for ease of use.
What We'd Change:
If you're obsessed with high-quality tools that look gorgeous and come with a multitude of useful features, then you have to consider the TYME 2-in-1 straightener and curler. It's a little costlier than other alternatives, but it's superior in features.
Straightening Performance
9.5
3. INFINITIPRO 2-in-1 Stainless Styler –
 Budget Choice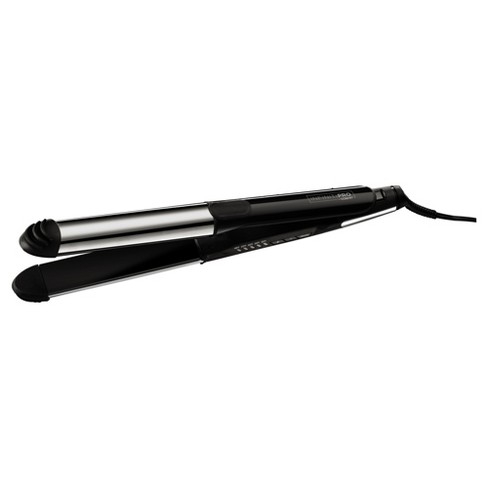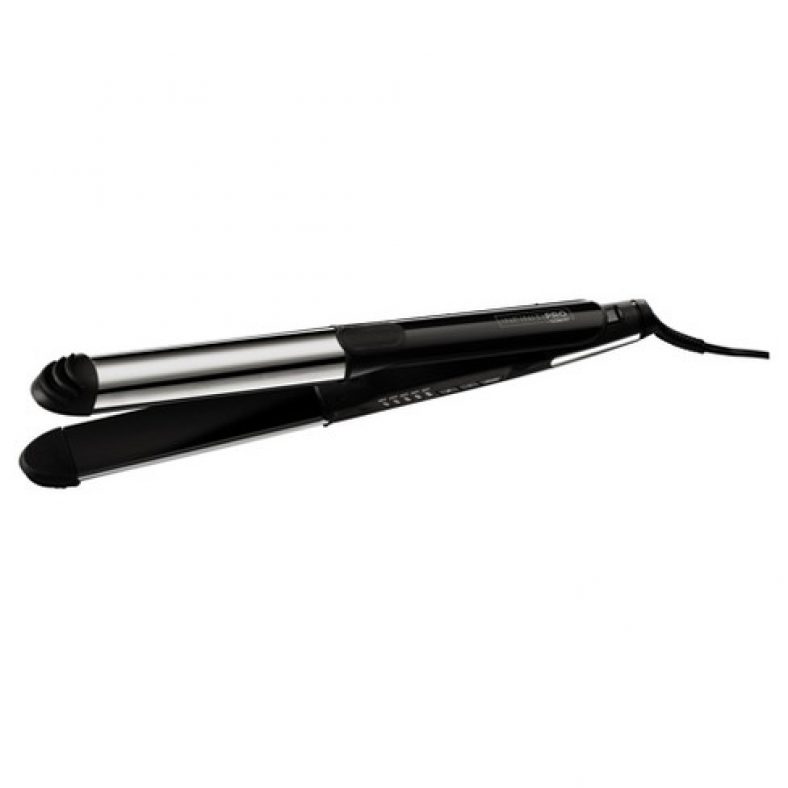 You can also find this product on Ulta, Bed Bath & Beyond.
Plate Width: 1 Inch
Plate Type: Ceramic
Warranty: 2 year
Voltage: 110V
Temperature settings: 400°F
If you haven't heard of Conair before, you're missing out on a lot. This is one of the best-known brands in the industry, with decades of experience in creating high-quality hair tools.
The INFINITIPRO curling iron straightener combo might be a budget choice, but that doesn't mean you won't be happy with its performance. In some cases, splurging a lot of money on a tool isn't a must, and this Conair product is here to prove that.
It's one of the best models available because it has five heat settings, tourmaline ceramic plates, and a quick heat feature.
The five heat settings mean that this tool is an excellent choice for various hair types. The outer barrel heats up to 265 F degrees and is ideal for creating soft curls, while the iron plates can heat up to 400 F degrees.
As you can see, this is quite a versatile tool that is suitable for thick, thin, long, and short hairstyles. The size of the plates is 1 inch, and it will be a great fit for ladies with bangs.
This is another tool with a 360-degree rotating cord.
However, it's 3 feet shorter compared to the cord of the top pick. If you prefer tools with long cords, then you might want to research some of the other options. The curler and straightener comes with a safety auto shut-off feature, with two removable silicone cool tips and a warp-resistant stainless housing.
What We Love:
Heats up in 30 seconds;
Five heat settings;
Auto shut-off feature;
Comes with removable silicone cool tips.
What We'd Change:
The cord could be longer.
The INFINITIPRO Stainless Styler by Conair is worth every single dollar. The tool glides on your hair effortlessly, leaving it well-styled, sleek, and frizz-free. If you want a two-in-one tool on a budget with great settings, this is the one.
Straightening Performance
9.6
4. Elchim Professional Flat Iron –
 Premium Pick 
You can also find this product on Walmart.
Plate Width: 1 Inch
Plate Type: Titanium, Ceramic
Warranty: Lifetime
Voltage: 110-220V
Temperature settings: 455°F
Elchim is a renowned Italian brand that has been delivering premium hair tools for over 75 years. Their stylish tools are not only stunning to look at but offer premium quality that you'll rarely find in other manufacturers.
The temperature range of the tool starts at 203 and goes up to 455 F degrees. You can set it on 11 different levels, which means that it's suitable for all hair types you can think of.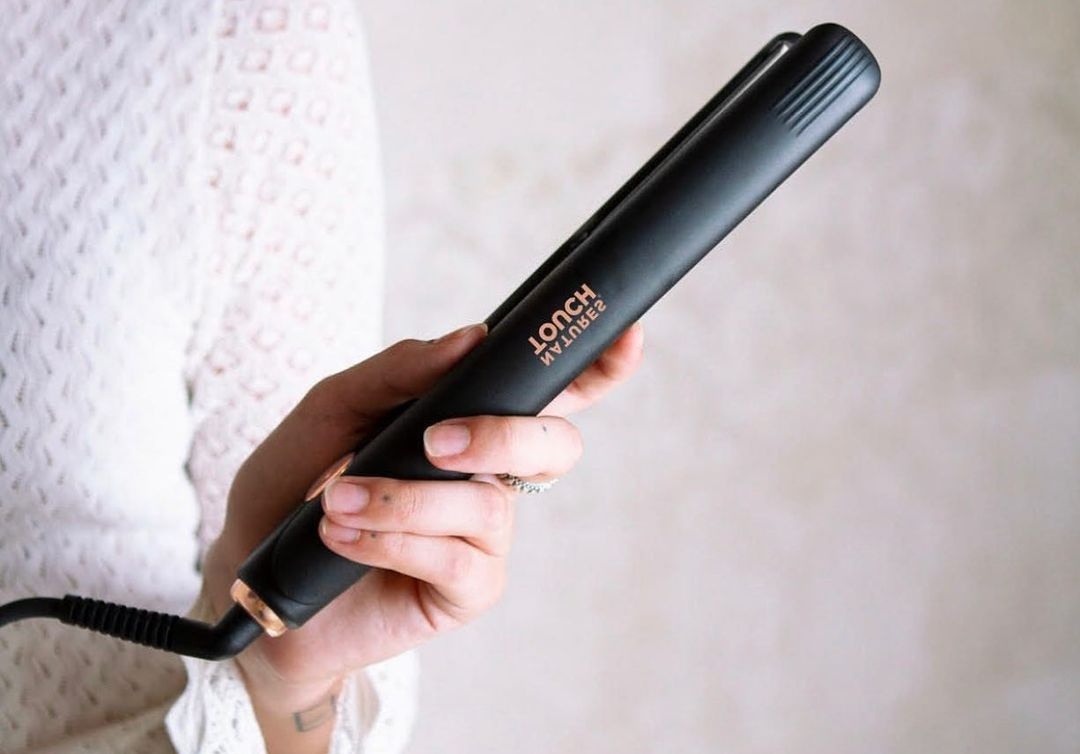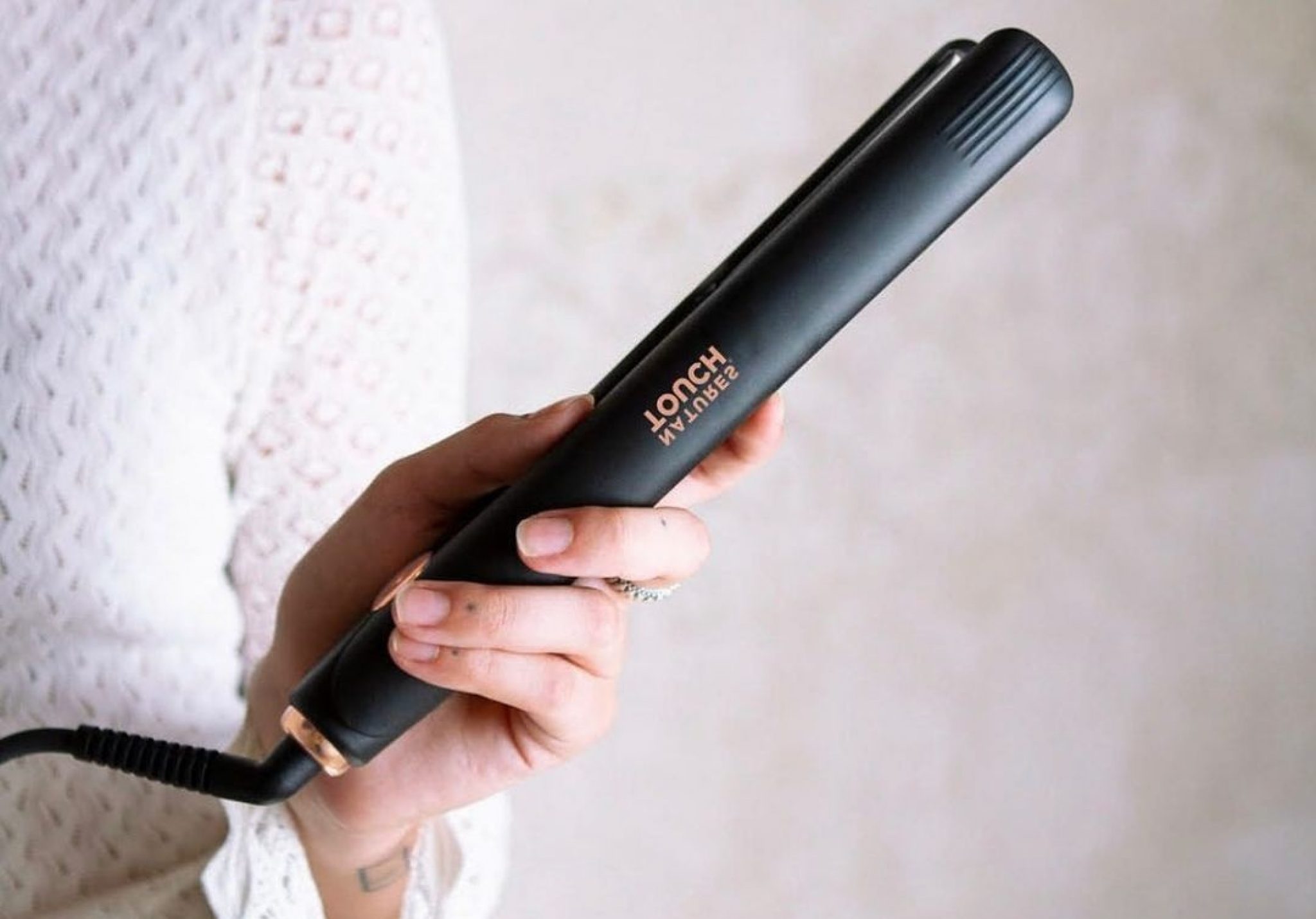 The iron and curler combo is equipped with high-quality ceramic and titanium oxide plates and an LED display where you can see the settings. If you travel often, the tool has a universal voltage system that makes it suitable for anywhere in the world.
This is the fastest heating iron and curler because it only takes 17 seconds to be ready for use. There's no need to wait around for it; you just go right to your business.
You can use it to straighten the hair, curl it, create waves, etc. It glides smoothly; it will never pull on your hair. The final result is a salon-like mane that would cost you almost as much as the tool.
What We Love:
11 different adjustable temperatures;
Heats up in only 17 seconds;
Auto shut-off feature;
Universal voltage.
What We'd Change:
Premium hair tools come at a price, but they also offer fantastic, unique features. If you're ready to pay a little more to enjoy high-end quality, then you should look at the Elchim Professional iron.
Straightening Performance
9.4
5. L'ANGE HAIR Le Duo 360° Flat Iron Curling Iron Combo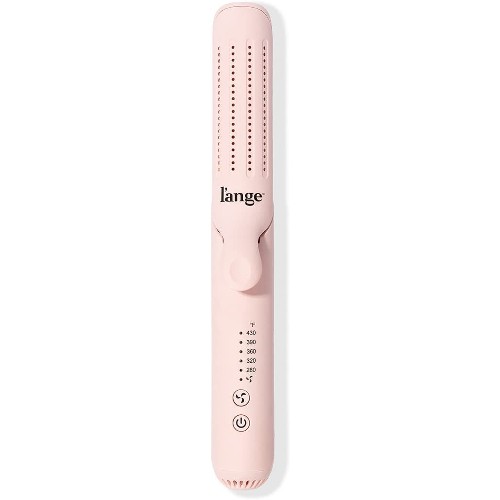 You can also find this product on Ulta.
Plate Type: Titanium
Voltage: 200-240 V
Temperature settings: 280°F-430°F
The L'ange Le Duo hair styler is a professional styling tool that allows you to curl or straighten your hair. It has titanium plates and rounded edges that allow for smooth gliding on your strands.
You can customize its temperature settings from 280°F to 430°F in only one easy-to-use device. This hair straightener is perfect for traveling. It is lightweight and easy to hold. The cord can be turned in any direction.
Plus, it has clips to keep your hair in place and vents to help keep your hair looking shiny and healthy. The L'ange Le Duo is a popular styling tool, even though it has some downsides.
These downsides include not curling at the root, snagging hair, and needing sectioning for optimal results. The cord weight is also heavier than other similar products, which increases the risk of accidentally pressing the heat/power button.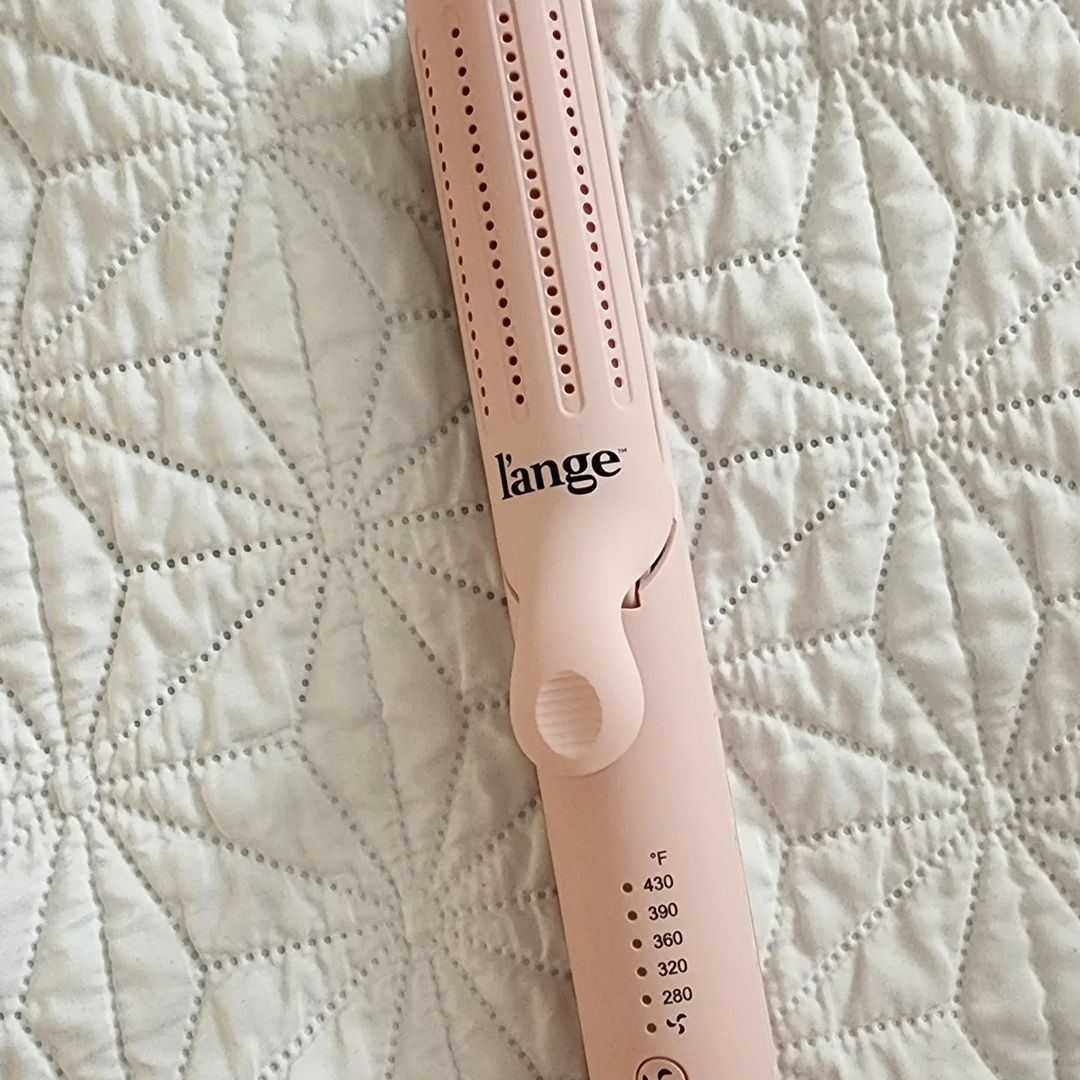 What We Love:
Lightweight construction and ergonomic design
Titanium plates
Adjustable temperature setting
360° power swivel cord
Money back guarantee ensures risk free performance
What We'd Change:
Heavy cord weight
Price point may be higher than other options on the market
Not suitable for highly damaged hair types, could cause further damage
No auto shut off feature, must manually turn off after use.
I decided to upgrade my styling tools and got the L'ange Le Duo flat iron for curling hair. When I opened it, I could tell that it was a high-quality product. It looked modern and sleek with titanium plates and rounded edges. My first experience using it was amazing! This tool is worth trying if you want to create different hairstyles without going to the salon. You can also get your money back if you're not happy with it, so there's nothing to lose. You can achieve professional results from home using just this one device!
Straightening Performance
9
6. LANDOT Hair Straightener and Curler – Best Curling And Straightening Iron With Twisted Plates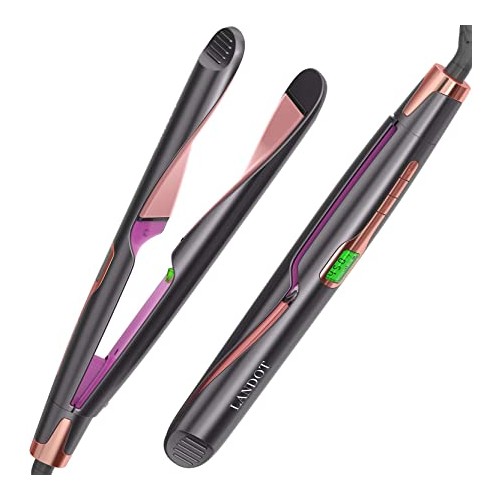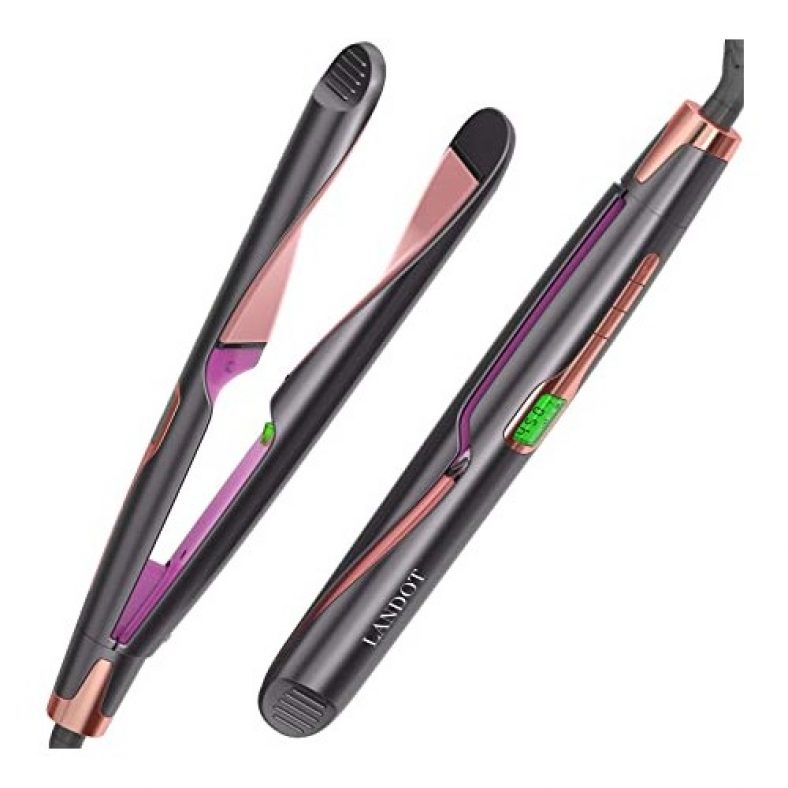 You can also find this product on Walmart.
Plate Width: 1/2 Inch
Plate Type: Ceramic
Warranty: 1 year
Voltage: 110-240V
Temperature settings: 450°F
LANDOT's innovative approach to hair tools is well recognized and praised by customers. The brand is a go-to choice for people when they want something unique, with amazing features that make the user experience much better.
Its Twist 009 hair straightener and curler comes with special twisted tourmaline ceramic plates that leave the hair frizz-free, glide effortlessly and amp up the protection. If you forget the tool on, it will turn off in 60 minutes. It's also very quick to heat up!
The most surprising thing about the tool is that it has 11 different heat settings. In other words, it's literally the perfect straightener and curler in one for all hair types.
What We Love:
Auto shut-off feature;
11 different heat settings;
Quick heat up in only 30 seconds;
Comes with a plate lock and heat-resistant sleeve;
Dual voltage.
What We'd Change:
The cord could be longer.
This LANDOT tool is the ideal choice for everyone who prefers twisted plates over flat ones. It's also a universal alternative because of the highly adjustable heat setting that has 11 different varieties. In other words, all hair types will find a temperature setting that works for them.
Straightening Performance
9
What Options to Look For in a Flat Iron Curler?
Now that you've decided to get a new tool, what features should you pay attention to? Here's a list of the top three to keep in mind.
Plate Size & Type
There are so many curling and straightening iron variations that it's hard to choose a single one. If you're unsure what kind and size of plate you need, you'll find your answers here.
There are different plate sizes, and the choice depends on your hair thickness and length. Thick long hair is better and faster styled with larger plates.
When it comes to shape, it's all about personal preferences. Most people love round curlers or a hair straightener and curler with round edges. Flat designs make it a little harder for the tool to move, and you'll need to put more effort into twisting your hand. Also, the curls look better with fully round and round-edged tools.
Temperature Settings
The more temperature settings a tool has, the easier it will be to adapt it to your hair needs. Straighteners and curlers with several settings are ideal for all hair types because it's easy to adjust the heat in only seconds.
If the curler and straightener combo you're eyeing has only two settings, then you should be careful which one you'll choose.
Price
How much you're willing to pay also matters. Some ladies opt for professional tools that will save them money on salon visits, while others prefer budget tools with excellent quality.
It all depends on your budget and whether you're ready to splurge big dollars on a hair tool. These more expensive options are definitely superior, but if you go over the list again, you'll see many affordable choices produced to last long and provide great results.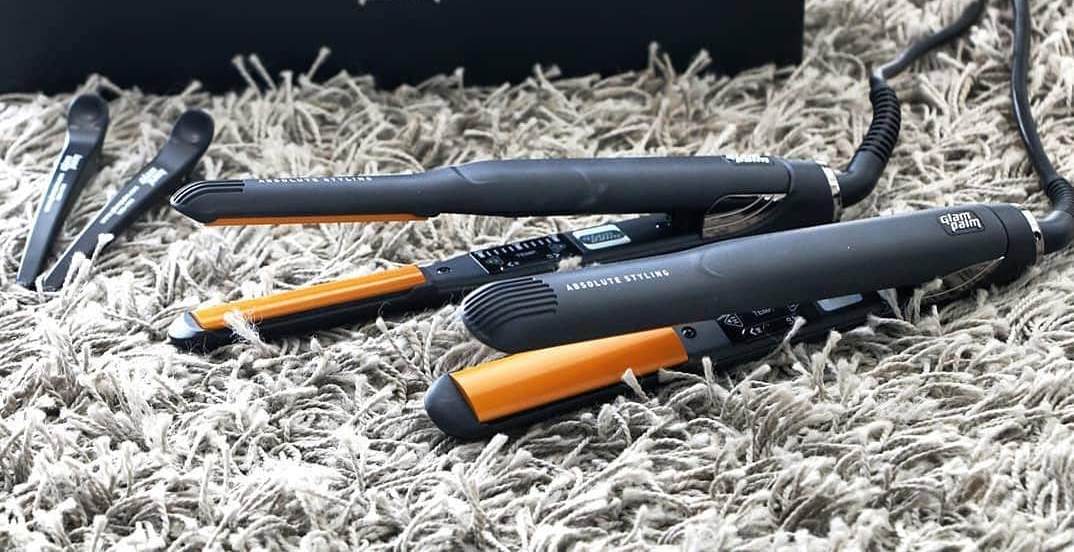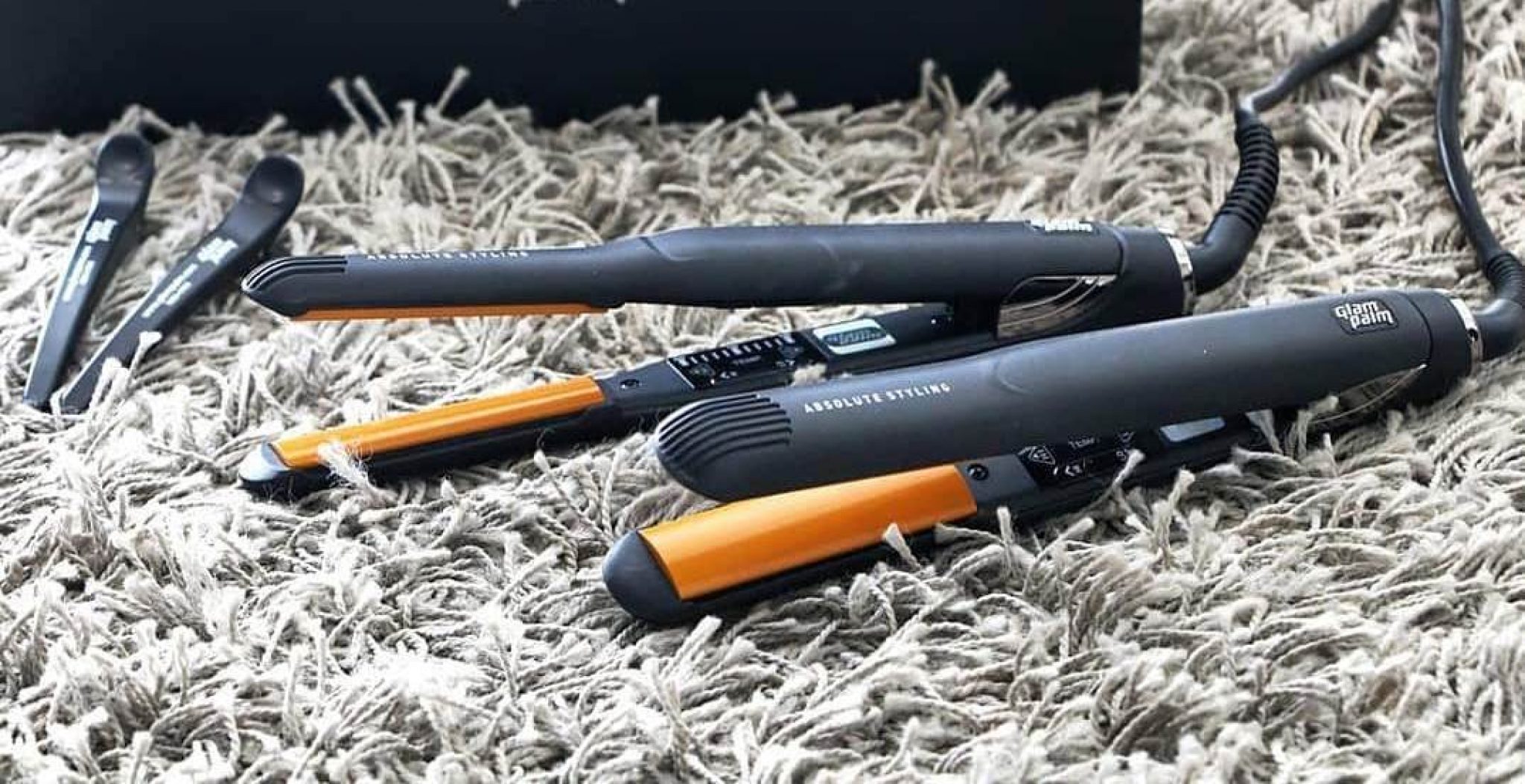 Curved Plates
Flat irons with rounded plates provide a smoother surface for hair to glide across, which can help reduce frizz and minimize damage. Additionally, the rounded edges help to create a curl pattern in the hair, rather than just straightening it out.
Do I need a heat-resistant glove?
It is highly recommended you purchase a heat-resistant glove if your skin is sensitive to temperature, however, some people find it more difficult to curl with a glove. The best option for curling with a flat iron is to try one without a heat-resistant glove first and then decide whether or not you want one after trying it both ways.
Preparing Your Hair for Curling
When preparing your hair for curling with a flat iron, it's important to start with clean, dry hair. If your hair is dirty or oily, the curls won't hold as well. I recommend using a good clarifying shampoo to remove any product buildup and dirt from your hair.
Next, it's essential to use a heat protectant to shield your hair from the high heat of the flat iron. This will help prevent damage and keep your hair looking healthy. You can use a spray-on heat protectant or a product that you apply to your hair before styling.
Another important step before curling your hair is to detangle it. This will help prevent any tangling or snagging while you're styling. Use a wide-toothed comb or a brush to gently detangle your hair from roots to ends.
Lastly, it's recommended to dry your hair thoroughly before curling with a flat iron. If your hair is even slightly damp, it will take longer to curl and the curls may not hold as well.
If your hair is naturally curly or wavy, you may want to straighten it before curling to achieve a more defined look. By following these steps, you'll be well on your way to achieving beautiful, long-lasting curls with your flat iron curler.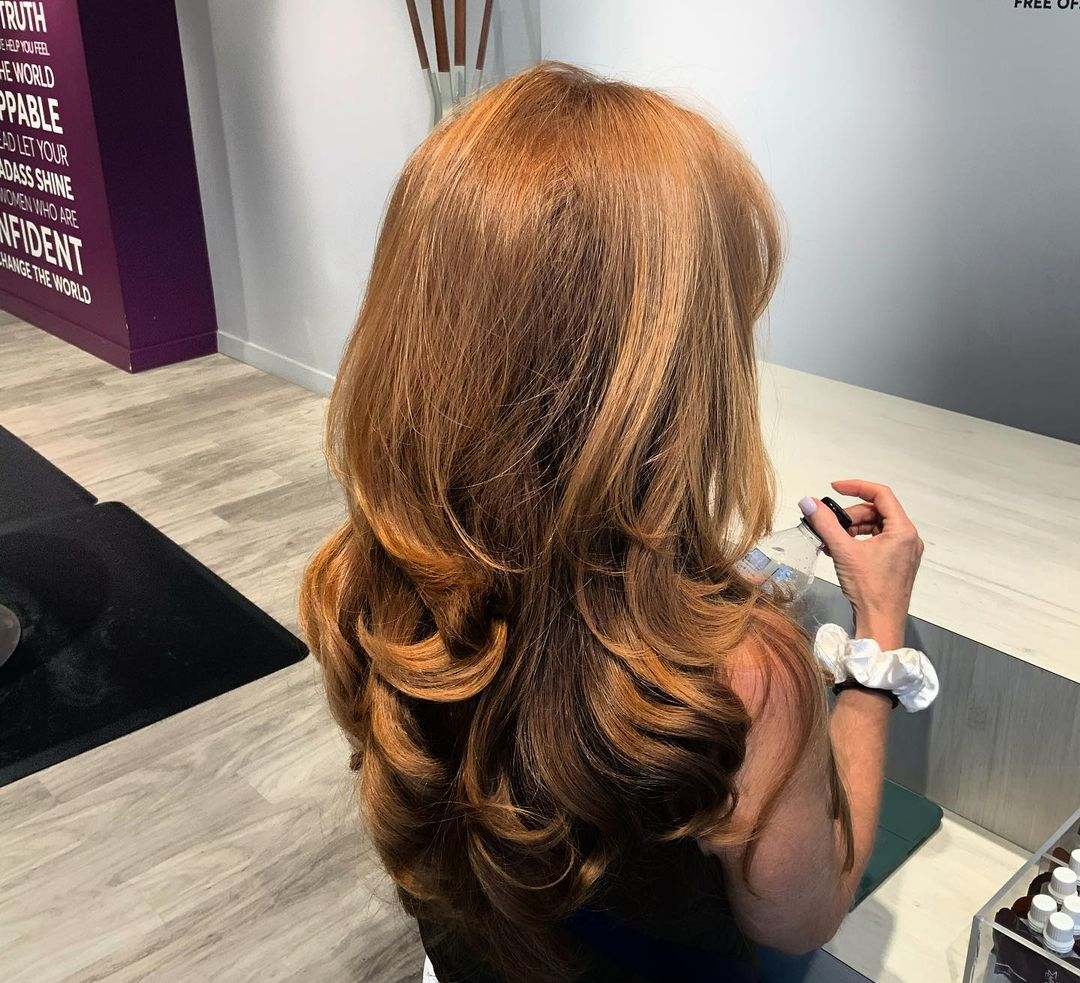 Clamping and Twisting Technique
When using a flat iron and curler in one, the clamping and twisting technique is key to achieving beautiful, defined curls. The technique is simple but it does take some practice to master.
The first step is to section your hair. Take a small section of hair, about 1-2 inches wide, and clamp the flat iron at the base of the section, near your scalp. Then, twist the flat iron as you pull it down through the length of your hair, from roots to ends.
Make sure you clamp the flat iron tightly at the base of your hair section, this will ensure that the hair is held securely in place while you twist it. Keep your hand steady and move the flat iron down in a slow, controlled motion.
As you reach the end of the section, release the clamp and let the curl fall. Repeat this process until you have curled all of your hair. It's important to note that the size of the sections you take and the amount of time you leave the flat iron clamped on each section will affect the size and shape of the curls you achieve.
You can experiment with different section sizes and clamping times to find what works best for your hair type and desired look. Another key point to keep in mind is the temperature setting, if you have fine hair you should use a low setting, if you have thick hair you can use a higher temperature.
Also, make sure to use heat resistant gloves to protect your hand from the heat. With a little bit of practice, you'll be able to master the clamping and twisting technique and achieve the perfect curls for your hair type.
How to Curl Hair With a Flat Iron?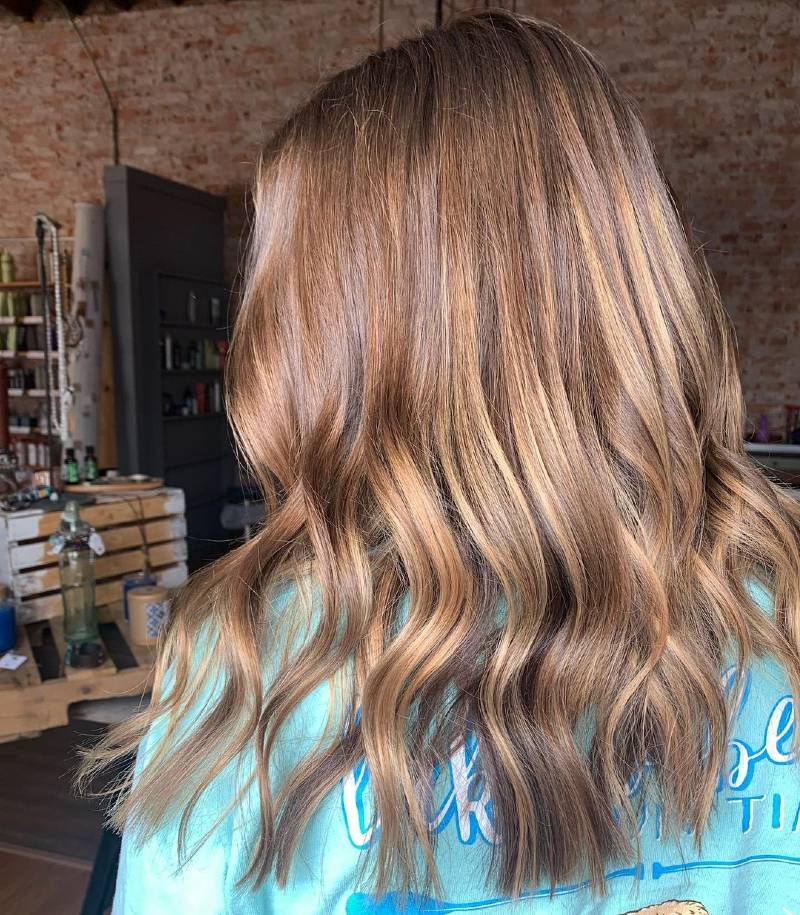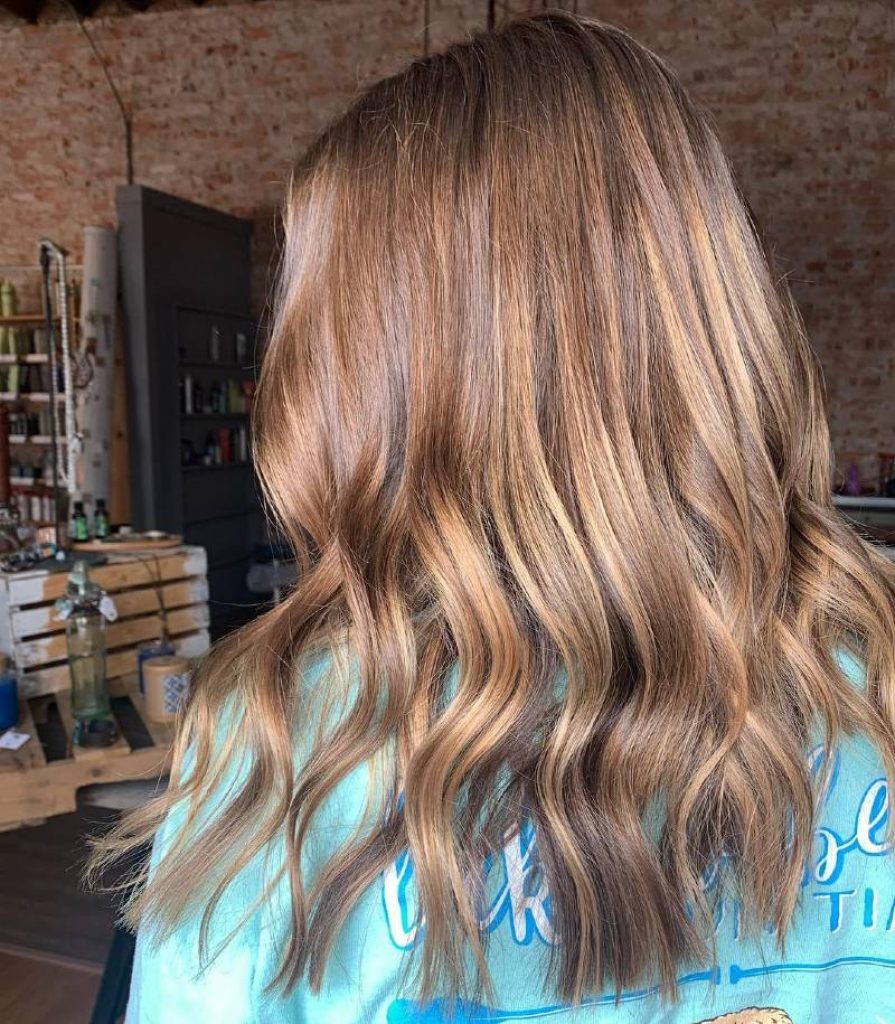 Curling your hair with a flat iron is simple, but you might require some practice if you haven't done it before. You can pull off many hairstyles with a flat iron, including beachy waves, fuller curls, polished waves, etc.
It all depends on how you'll move the iron and the size of the hair sections you'll curl.
Here are some basic steps to guide you through the process of curling your hair:
Prep your hair with a heat protection product.
Separate it into sections, and decide how big you want the curls to be. If you want bigger curls, you'll need a flat iron with bigger plates and bigger hair sections. For smaller curls, you can use an iron with smaller plates and small hair sections.
Place the hair section in between the plates, a few inches from your roots. You can start curling at any length that you prefer; there is no rule.
Once you clamp the tool, start moving it down the hair section, and while you do, rotate your flat iron away from the face.
Once again, there is no rule when you should start rotating. It's usually at the point where you want the curl to start.
The iron should be facing away from your face, and try to keep an angle of around 180 or 200 degrees.
When you've twisted the tool, you can start pulling it down so that the hair glides in between the plates.
When you're done with the first hair strand, repeat the same process with the rest of the hair.
Best Straightener and Curler – FAQ
Is it bad to curl your hair with a straightener?
The latest hair straighteners available on the market are made to reduce heat hair damage to a minimum. Although there is no way to completely prevent damage, if you invest in a high-quality tool and use heat-protecting products, you shouldn't worry.
Why does my hair not curl with a straightener?
One of the main reasons why your hair won't curl with a straightener is because it's either damp or wet. You should never use heat tools on wet hair (unless it's a specific wet-to-straight straightener). First, they can cause significant damage. Second, the curling won't be successful. Instead, ensure that your hair is completely dry, then turn on the tool and start using it.
Do curls with a flat iron last longer?
In general, curls created with a flat iron last longer than those created with a curling wand. The reason behind this is because the heat distribution with iron is more even, while with a curling wand is not.
The hairs that won't get directly in touch with the wand will become loose first. With an iron, the entire strand goes in between the two plates, and heat is evenly distributed.
Can all flat irons curl hair?
Yes, you can use any flat iron to curl your hair. All you need to do is practice the technique, and soon you'll be able to do your new hairstyle with your eyes closed.
If you want to save up on money and don't want to buy separate straightening and curling tools, a flat iron and curling iron combo is your best bet.
Can you curl short hair with a flat iron?
You can curl short hair with a flat iron, but it's much easier to do if your hair is at least shoulder-length. Hair that is longer than your shoulders will be able to hold the curl better. Short hair, on the other hand, might not be able to hold a curl for more than a day.
Conclusion
Finding a fantastic hair straightener with curler just got easier. These five reviews are meant to make your life easier and help you make an educated decision according to your needs. This type of 2-in-1 tool is very useful and will prevent you from splurging on two separate tools.
The SUTRA Professional Styling Wand is the best hair straightener and curler because of its high-quality, affordable nature, and helpful features such as adjustable heat, long rotating cord, auto shut-off, cold tips, etc. If you need a curler and straightener that you'll use every day, this is the tool you should get.
Let us know about your favorite option, and we're waiting for your photos of the gorgeous hairstyles you created with these hair tools!
---
References:
Everything You Need to Know About Curling Your Hair With a Flat Iron – https://www.samvilla.com/blog/everything-you-need-to-know-about-curling-your-hair-with-a-flat-iron
Flat Iron Tips: How To Not Let Your Straightener Ruin Your Hair – https://www.huffpost.com/entry/flat-iron-tips-hair-damage_n_5024242