Curling iron vs flat iron, which one should you choose?
If you've been wondering which hot tool should be your next purchase, you first have to learn the type of hairstyles you can create, which one delivers more long-lasting results, their pros and cons. So start reading now to get all the answers.
Curling Iron
Curling iron vs straightener – what's the difference when it comes to creating locks? Although these two hot tools are a go-to for many ladies when they want to achieve bouncy curls, beach waves, or messy curls, they are pretty different.
A curling iron is a tool every gal recognizes. It's made of a barrel attached to a handle and also comes with a clamp. The barrels that don't feature a clamp are called curling wands and are different from irons. You'll find different buttons on the handle that you can use to turn the tool on and off and also regulate the temperature.
Now that you have a better idea of what a curling iron looks like, let's see the type of curls you can expect to get. This tool comes in many different sizes, and it's always in a round shape.
Depending on the barrel's diameter and the technique you'll use, you can achieve various types of locks. In general, curling irons are best for bouncy curls, tight curls, big loose curls, etc. The locks are uniform, polished, and curling your hair is fast and simple.
Pros
Easy to use;
Comes in various sizes that produce different types of curls;
It's a useful tool for all hair types and lengths;
Curls are polished and uniform.
Cons
The curls usually last shorter than ones created with a flat iron;
You need to buy several curling irons to create different curl types or get one with various barrels;
The curls can be too uniform for some ladies.
Tips From Hairstylist
After you grab your curling iron, plug it in and divide your hair into sections. One of the most important tips you should know while curling is not to get the barrel too close to your scalp because you can burn yourself.
Another thing to keep in mind is that you can use a curling iron like a wand; all you need to do is wrap your hair around it without lifting the clamp. This tool is best for beginners who prefer a more polished look and want to experiment with different types of curls.
Flat Iron
Flat irons are another familiar group of hair tools that have been around for a while. Although their primary purpose is straightening your hair, they've been queened as a must-have device for hair curling.
In other words, a flat iron is a two-in-one tool that clamps the hair between two plates. The iron also has a handle that you use to move the tool and to adjust the settings. There are different plate sizes to choose from, starting with ½ inch and going over 2 inches.
The type of locks you can expect to achieve include loose waves, classy waves, and curls of various sizes that aren't as perfect, polished, and clean as the ones with a curler. Another feature to keep in mind is the material of the plates, should you go for ceramic, titanium, or tourmaline?
Pros
Flat irons apply heat equally to all the parts of the hair so the curls last longer;
You can create various types of curls with this tool;
Works great for all hair types and lengths;
You can straighten and curl the hair with the same tool.
Cons
Not all flat irons are suitable for hair curling;
It's slightly more difficult to use than a curling iron, especially for beginners.
Tips From Hairstylist
Although all flat irons will do the job, you should stay away from tools with large plates. They're not the best option because you can only use them for loose curls or waves and aren't suitable for short hair.
Instead, you should go for flat irons with plates between 1 inch and 1.5 inches. Remember to apply the iron to dry hair, and after you've protected your mane with a heat protectant.
Curling hair with flat iron vs curling iron is quite different, so you'll need some practice with your hands before you score the right technique. When it comes to the curling wand vs flat iron battle, the winner once again depends on what you want to achieve.
Curling wands don't have a clamp and are a better option for more experienced people. If you only have a wand and you're not skilled, you should educate yourself on the barrel size, how to hold the wand and which technique to use.
Flat Iron Vs Curling Iron FAQ
Can you use a curling iron to straighten hair?
Unlike straightening irons, curling irons have a single purpose, to create gorgeous curls. Therefore, a curling iron is not the tool you should reach for when you want to straighten your hair.
You can only use it in cases when you want to tame messy strands by carefully going over the section with the iron; however, that won't straighten the hair.
Do curls with a flat iron last longer?
Flat iron curls vs curling iron curls, which ones last longer? One of the significant pros of using a flat iron over a curling iron is that the curls will stay longer. This happens because the hair is exposed to heat evenly.
Can you curl with any flat iron?
Yes, you can curl your hair with any flat iron you have. Generally, it's best to have a medium-sized iron because the ones with big plates will be too bulky and create loose curls. You should opt for plates between 1 inch and 1.5 inches.
Is a curling iron or flat iron better for beach waves?
You can create beach waves with both tools; however, a flat iron is a superior choice if you want messy, effortless waves.
Also read: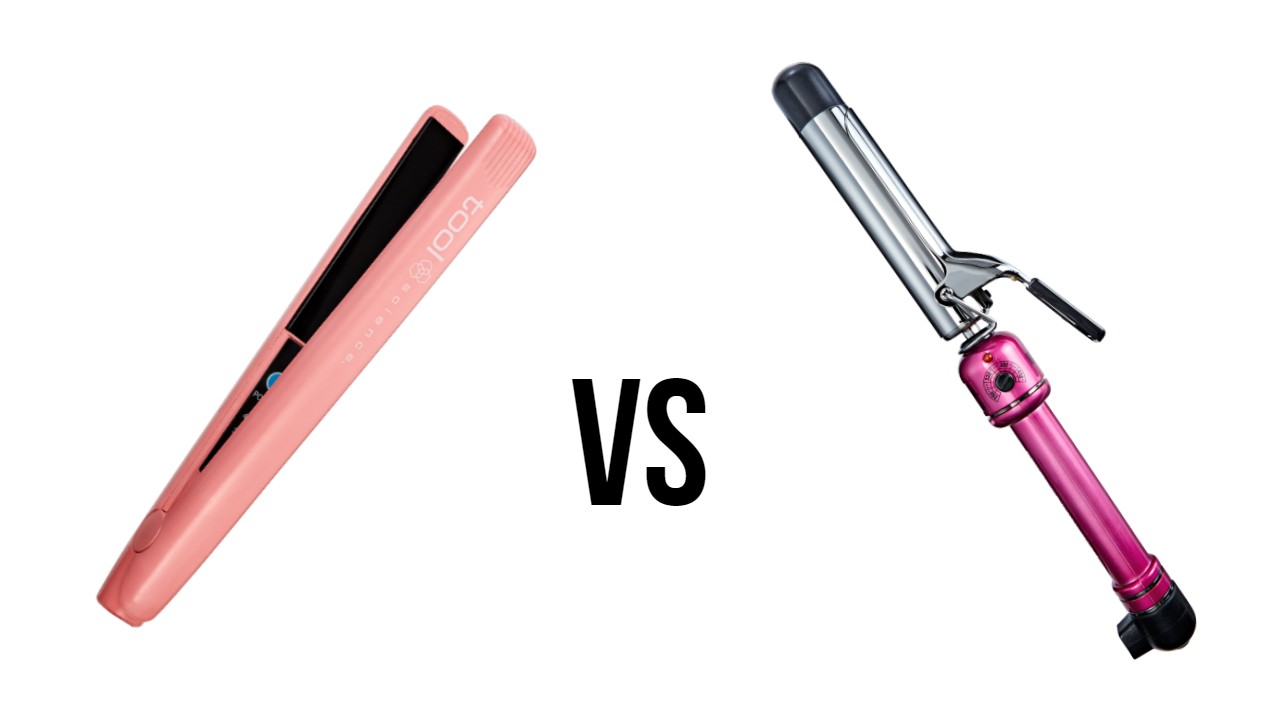 Conclusion
Hair straightener or curler, which one should you choose for your curls? Both irons and curlers can do a great job creating the locks of your dreams; however, you should first decide the look you want to go for.
Curlers create uniform curls of various sizes, while straighteners are ideal for messier hairstyles. We can't wait to hear which tool you used, so don't hesitate to send us pictures of the final result.