If you've combed through BaByliss flat iron reviews, it's not hard to notice that they've got great quality products. If you're looking for the best BaByliss flat iron for you and your hair, you've come to the right place!
We'll take a look at the brand and showcase the hottest irons they have to offer, helping you find the one.
About the brand
If you've ever skimmed through BaByliss hair straightener reviews, you'll notice one thing; everyone seems to rave about them! In the 1960s, this iron was created in Paris by Lelievre, a well-known and influential hairstylist.
After years on the market, they've become a global brand backed by innovative products and quality styling tools that suit hair of all types and lengths. Heating tools that dry, straighten, curl, wave, and crimp hair are all part of their menu, made to fit a wide range of budgets and styling needs.


Unique Babyliss flat iron features
BaByliss hair irons have a solid reputation in the beauty industry thanks to several unique features that make each styling product unique.
Apart from the well-known logo added to every single styling tool, you can find other things across the brand that are unique to only them. Some of these include:
Titanium infused plates with IonMulitplier Technology
Extra-long swivel cords for easier styling;
Lightweight irons that keep hands from fatigue;
Several cool colors make the design pop.
Top 6 Best Babyliss Flat Irons Reviewed
BaByliss Pro Nano Titanium –

 Top Pick 

BaByliss Pro Porcelain –

 Runner Up 

BaByliss Pro Nano Titanium Prima Ionic –

 Best Premium BaByliss Choice 

BaByliss Pro Titanium Mini –

 Best BaByliss Iron for Travel 

BaBylissPRO Nano Titanium Styler
1. BaByliss Pro Nano Titanium –
 Top Pick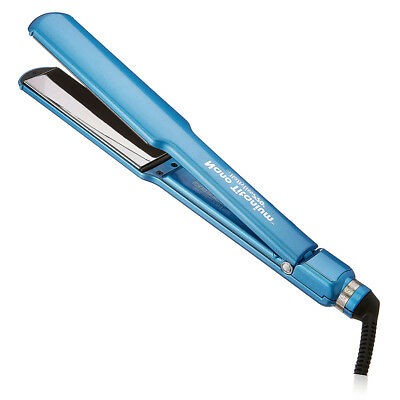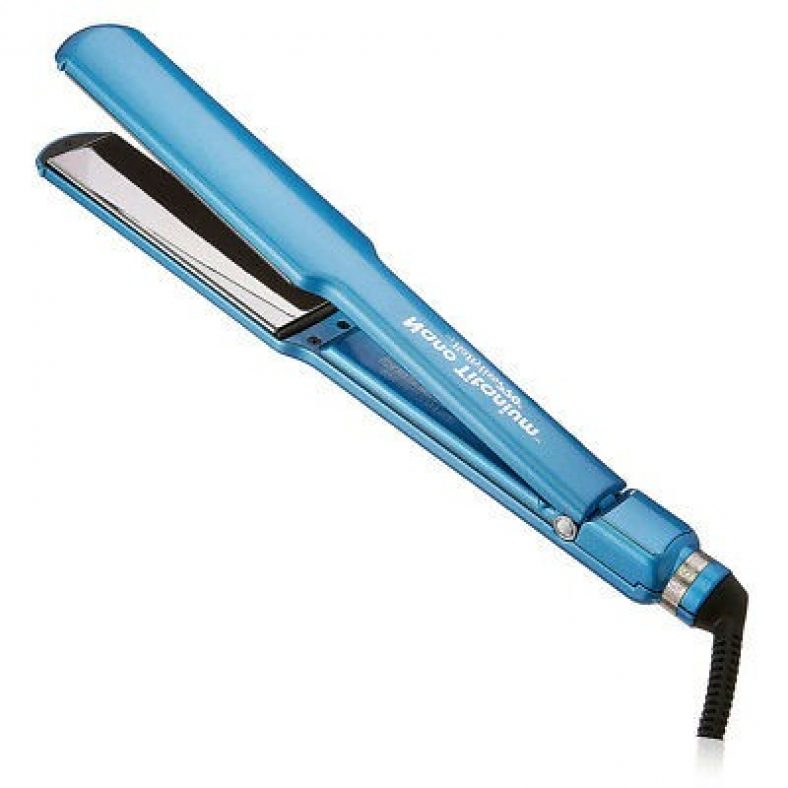 You can also find this product on Ulta, Bed Bath & Beyond.
Plate Width: 1-1/2 Inch
Plate Type: Titanium
Warranty: 1 year
Voltage: 110V
Temperature settings: 50 heat settings up to 450
The Babyliss Pro Nano is the best BaByliss straightener for short hair, coming with a thin design that gets super close to the scalp. The lightness helps keep the hands from getting tired. The swivel cord accompanies the wrist as it twists and turns to create super-sexy curls.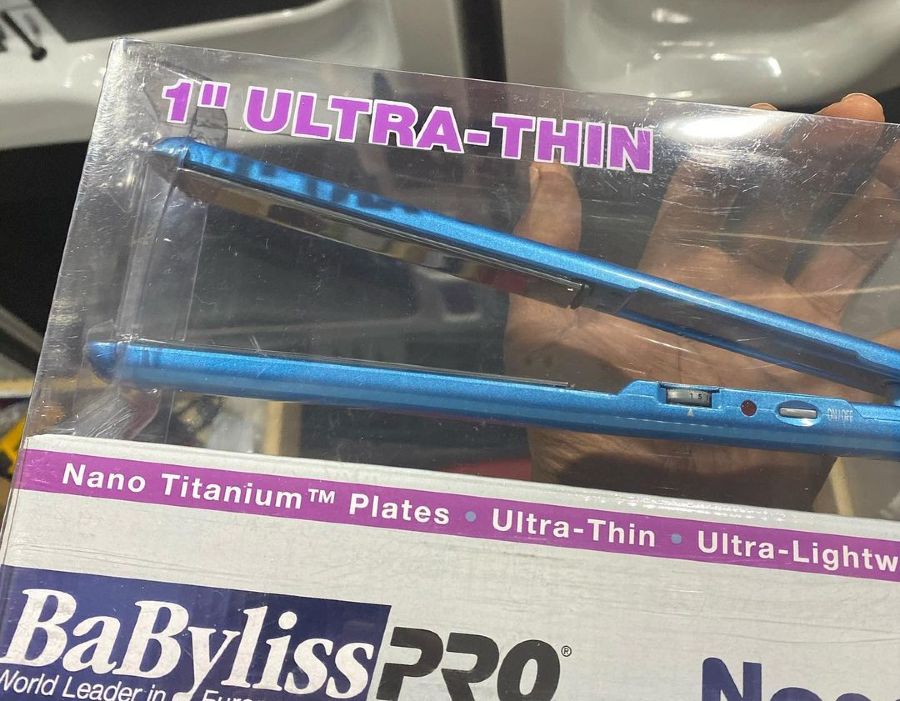 The Pro Nano from BaByliss is made with titanium plates to create an even heat along the surface for more structured styles. It's got 50 heat settings that go up to 450⁰F, covered by heat-resistant study plastic to keep hands safe.
Plates extend 5″ so that you can grab more hair and come covered from base to tip to keep fingers free from harm.
Why we love it:
It's friendly for all budgets without sacrificing quality
The slim design is great for short hair
Titanium plates distribute heat evenly
Choose from 50 heat settings
What we'd change:
It lacks automatic shut off
Not only is the BaByliss Pro Nano great for short hair but, all hair types and lengths. Plus, it's super affordable, long-lasting, and high-quality. What more can you ask for, especially when looking for a tool that creates brag-worthy locks. Use it as a way to achieve waves, flips, and more, even if you decided to go with a super short haircut for the summer.
Straightening Performance
10
---
2. BaByliss Pro Porcelain –
 Runner Up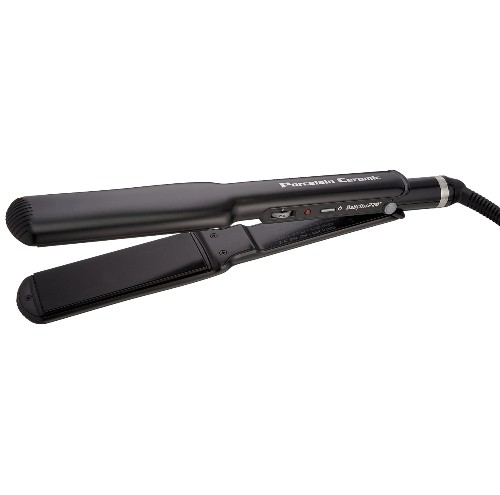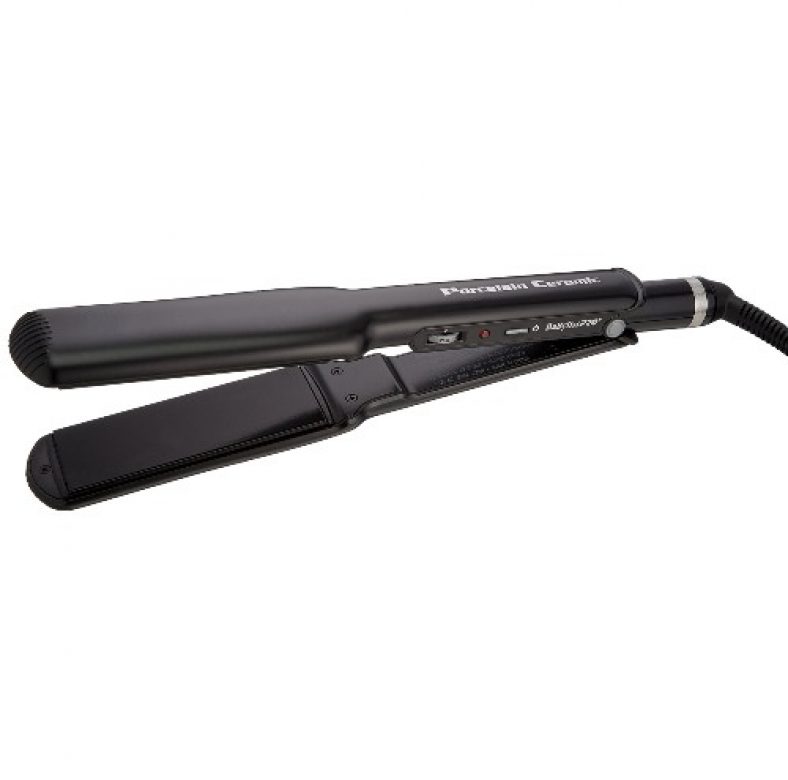 Plate Width: 1-1/2 Inch
Plate Type: Ceramic
Warranty: 1 year
Voltage: 110V
Temperature settings: 450°F
The Babyliss Pro Straightener with porcelain ceramic is a solid pick if waves are your thing. Plates range from 1″ to 2″ so you have control over your styles. The porcelain ceramic helps spread heat across the iron generation far-infrared heat, keeping hair protected from damage.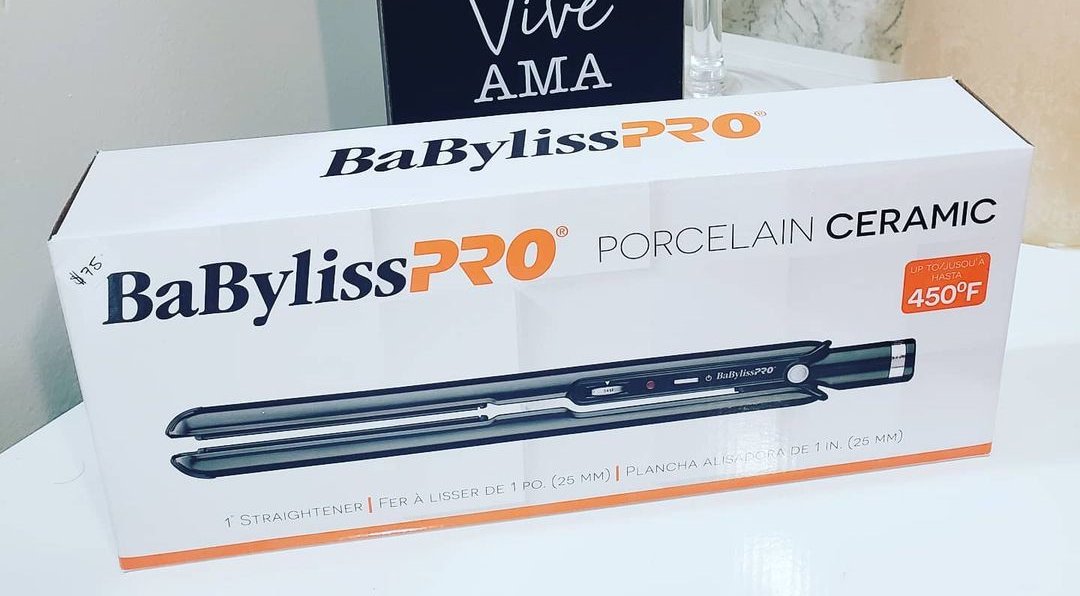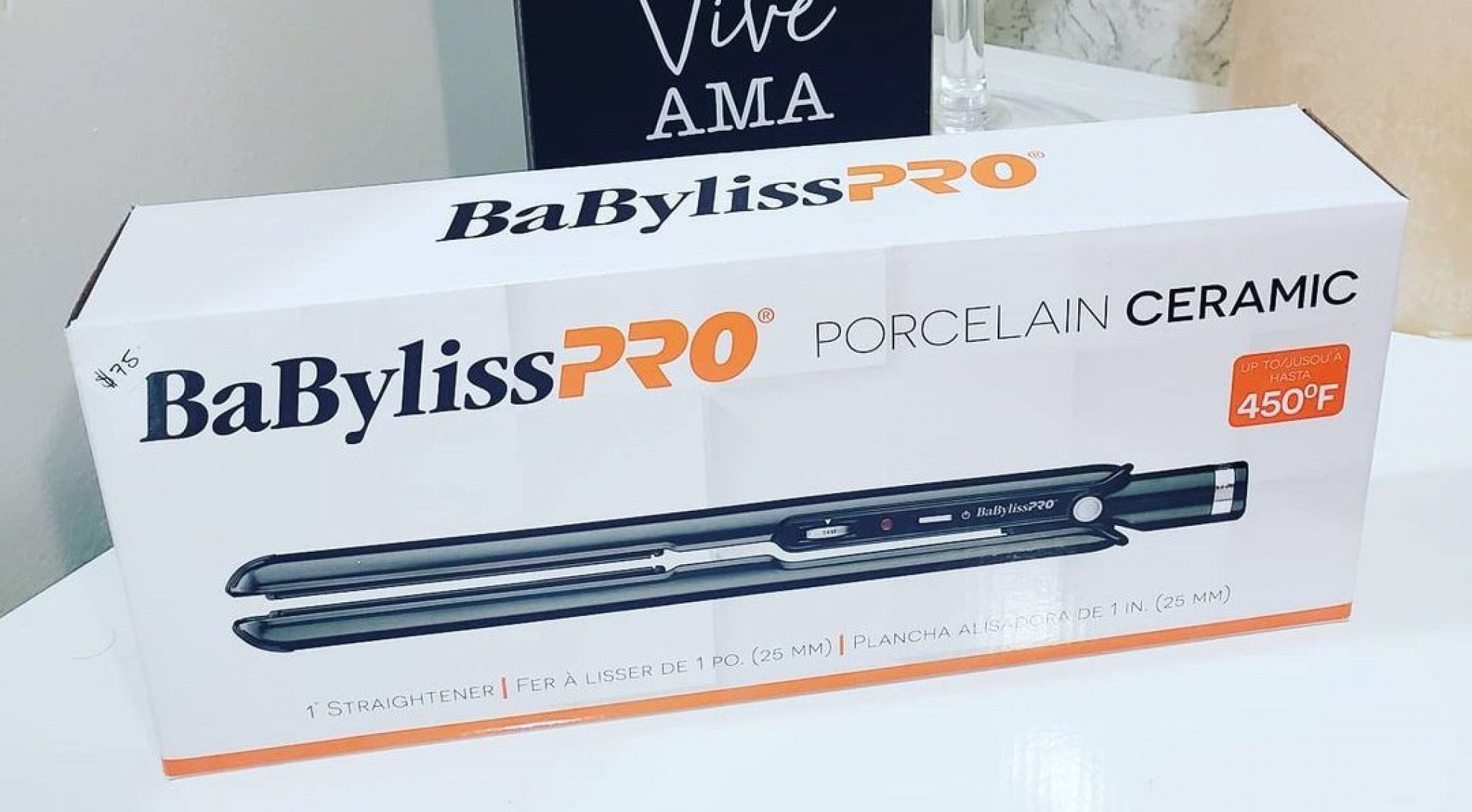 Ions help the hair maintain shine and keep locks conditioned, even if you're using the highest heating options. You can select the heat you want by twisting the dial with options from 135⁰F to 450⁰F.
Longer plates help create looks faster and work with you as you twirl your hair to get bouncy waves. You won't have to wait around thanks to fast heat-up times and cord swivel action, working with you even if you're in a hurry.
Why we love it:
Choose from 3 widths for your preferred hairstyle;
Far-infrared helps to reduce the potential for damage;
Quick heat up for fast styling;
Great for making waves.
What we'd change:
Has no automatic shut off;
No hooks for hanging while styling.
While the iron is great for waves, that doesn't mean you can't go straight! This iron can do it all and heats up fast so you can get going. So, choose your width and pick your style, creating it with this versatile flat iron. You don't have to fret over fried hair or worry about dull or brittle looks. This iron achieves silky hair each and every time.
Straightening Performance
9.7
---
3. BaByliss Pro Nano Titanium Prima Ionic –
 Best Premium BaByliss Choice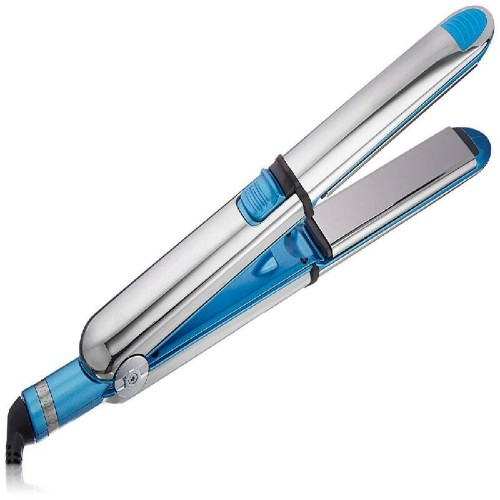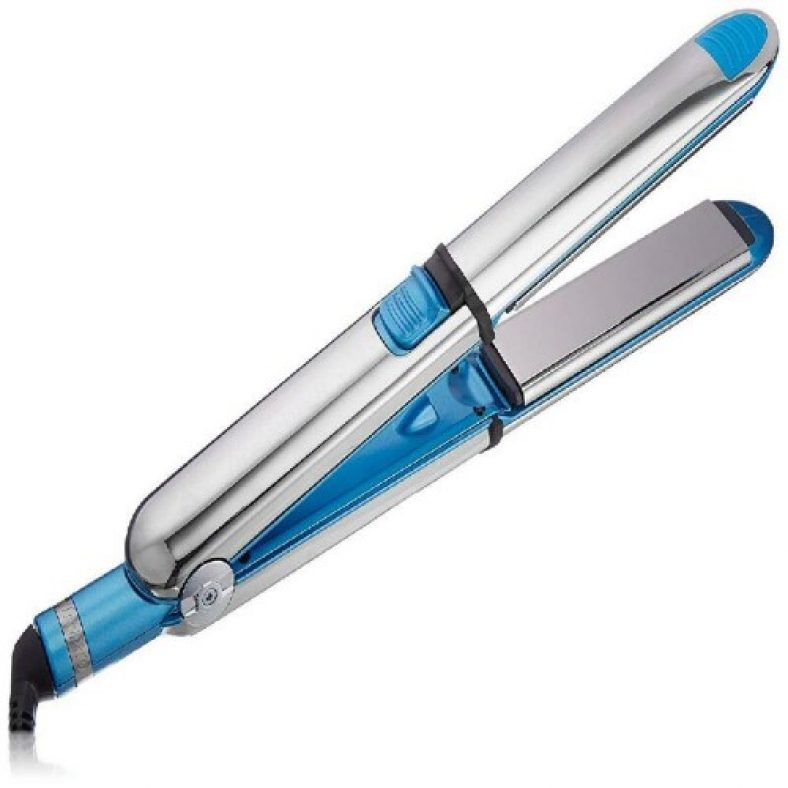 You can also find this product on Ulta, Walmart.
Plate Width: 1 Inch
Plate Type: Titanium
Warranty: 1 year
Voltage: 110V
Color: Silver and Blue
If you're looking for a top-of-the-line high-tech flat iron, the BaByliss Pro Nano Titanium is the one. Thanks to aircraft-grade titanium, this iron can take on high heat without the risk of corrosion or melting.
Plates feature IonMultiplier Technology, which not only keeps heat even but helps keep the hair smooth, silky, and conditioned. The iron has an elongated cord that swivels as you style and silicone enforced points for your fingers and thumb.
These cool zones will protect your hands and keep your styling without any risk of burning your fingertips. Temperature goes up to 465⁰F, making it the perfect pick for the peskiest hair, no matter if it's straight, curls, crimped, or wavy. Plus, fingers are safe with silicone "cool tips" at the ends and thumb rest for safe styling.
Why we love it:
Enhanced with latest IonMultiplier Tech;
Features silicone tips to keep fingers safe;
Fast heat up;
Aircraft-grade titanium plates.
What we'd change:
Add in an automatic shut-off for safety.
If luxury is what you're after, this iron is steel. From innovative technology to super study materials, this iron has it all, even coming with little extras that make it more comfortable during use. With small additions that make the iron super comfortable to use, you'll be surprised at the styles that you can create while keeping the hands and fingers comfy the whole way.
Straightening Performance
9.6
---
4. BaByliss Pro Nano Titanium Wet-to-Dry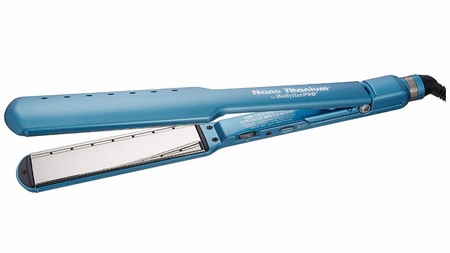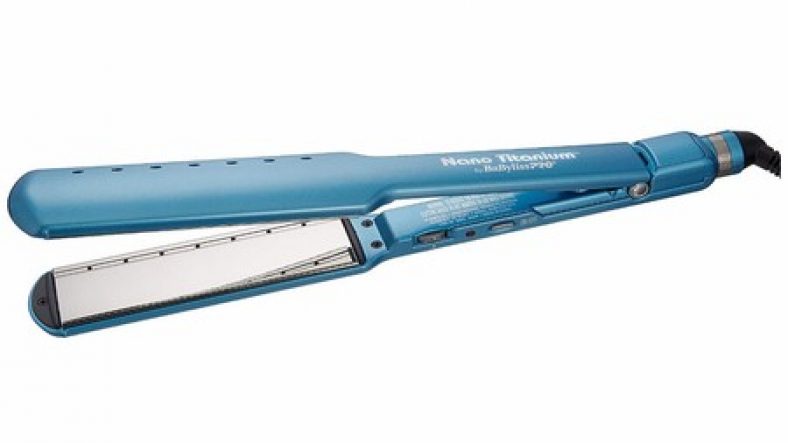 You can also find this product on Walmart.
Plate Width: 1.5 Inch
Plate Type: Titanium
Warranty: 1 year
Voltage: 110V
Temperature settings: 450°F
Titanium plates are safe for wet to dry styling, keeping heat across them evenly and hair protected throughout styling. This wet-to-straight iron features 50 different heat settings-which cap off at 450⁰F and longer plates (5") for faster styling and smoother waves.
And, to keep from buckling under the heat, the outer casing is enforced with Ryton, keeping it from melting burning the skin. It's smaller than other irons and weighs a lot less but, that doesn't mean you'll sacrifice quality, as it will help you create any style you want.
Why we love it:
It's small, compact, and lightweight;
50 heat settings help to find the best temp;
Ryton casing resistant to high heat;
Safe for use on wet hair.
What we'd change:
No automatic shut off;
It lacks a few extras found in other BaByliss products.
When you like to move around, your hair shouldn't suffer. Bring this flat iron along with you and enjoy great styling no matter where your heart takes you. It packs up nice with its compact design and has 50 settings so you can choose the heat you desire. You can create any look, any time, and anywhere using this flat iron.
Straightening Performance
9.6
---
5. BaByliss Pro Titanium Mini –
 Best BaByliss Iron for Travel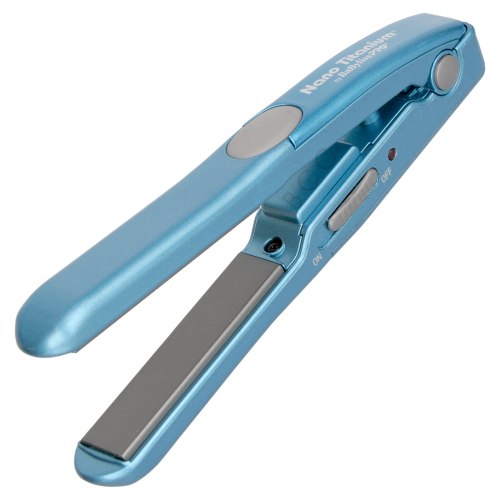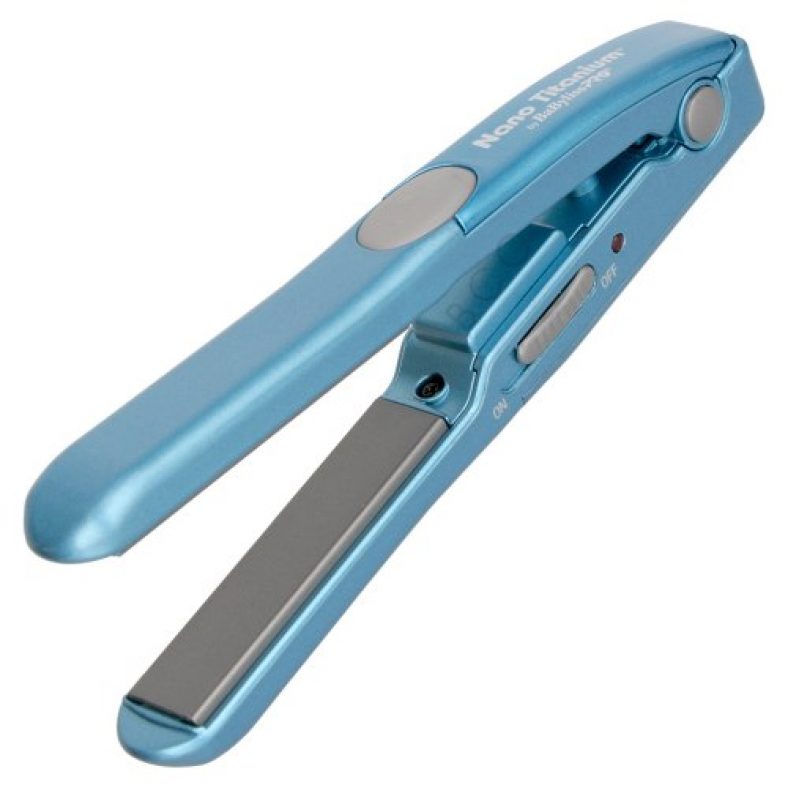 You can also find this product on Ulta, Walmart.
Plate Width: 1 inch
Plate Type: Titanium
Warranty: 1 year
Voltage: 110-220V
Temperature settings: 440F
If you're always on the go, the Babyliss Pro Nano Titanium Mini Straightener is a perfect companion. Its ultra-thin and slim design is compact and weighs little to nothing, packing up and taking off when you need to.
This mini titanium flat iron from BaByliss is a no-fuss flat iron that works for styles from stick straight to flowing curls. It's only 6″ in length with 1″ plates, fitting into luggage or gym bags for on-the-go styling.
Plates are made from titanium and coated with ceramic for even heating and protection. Its dual voltage and swivel cord work to distribute up to 440⁰ of heat to style hair quickly. The price is low, the quality is high, and the features are just enough to make the most of a bad hair day.
You'll never suffer from untamed strands with this powerhouse of an iron, packed with heat and flexibility to create the styles you've been dreaming about.
Why we love it:
Compact design;
Perfect for beauty seekers on a budget;
Long plates for faster styling;
Ceramic coating to keep hair protected.
What we'd change:
Only heats to 440⁰F;
Does not have a quick heat-up option.
Small, compact, thin, and budget-friendly, this iron is the jack of all trades. No matter how your hair is or what style you're going for, this iron can get it done. You'll be surprised by the feel as it grips lightly in the hands and glides along with the locks for smooth and silky strands.
Straightening Performance
8
---
6. BaBylissPRO Nano Titanium Styler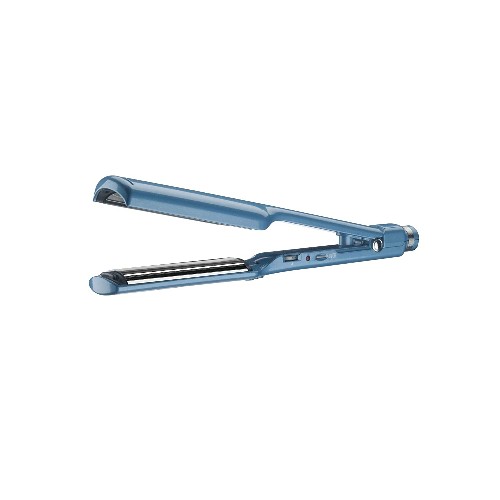 Plate Width: 1 inch
Plate Type: Titanium
Warranty: 4 year
Voltage: 120-240V
Temperature settings: 450F
Get ready for a whole new level of hair styling with the BaBylissPRO Nano Titanium! Combining titanium and nano technology, you'll be able to produce stunningly straight styles, luscious curls or beachy waves in no time – all thanks to its speedy heating system.
Not to mention, the extra long plates make it ideal for those with thick and coarse hair. It's also equipped with adjustable temperature settings so that you can customize your look according to whatever works best for you.
While BaBylissPRO does have a small handle, making it difficult to maneuver, its features still remain useful in helping tame locks quickly!
Why we love it:
Durable construction
Quickly and efficiently
Extra long plates
Adjustable temperature settings
Heats up quickly
Lightweight
What we'd change:
Small handle
Price point may be high for some users
I recently invested in the BaBylissPRO Nano Titanium and it was worth every penny! My thick, kinky hair can be unmanageable but this tool made my life a lot easier. Not only did it straighten my mane quickly without causing any damage, but I was also left with smooth, shiny locks that make me smile each time I use it!
Straightening Performance
8
Babyliss Flat Iron Buyer's Guide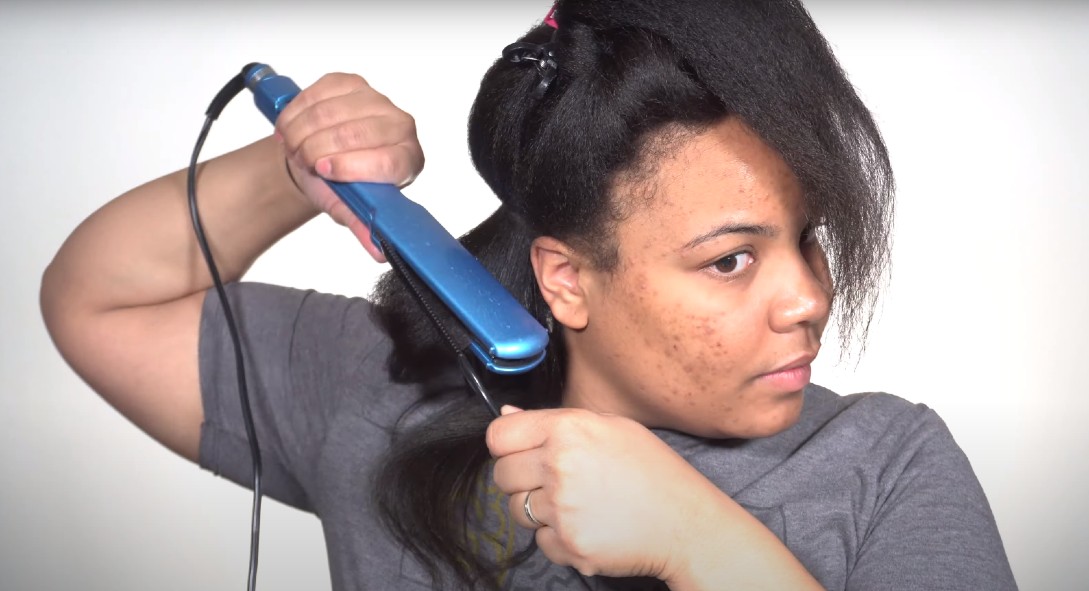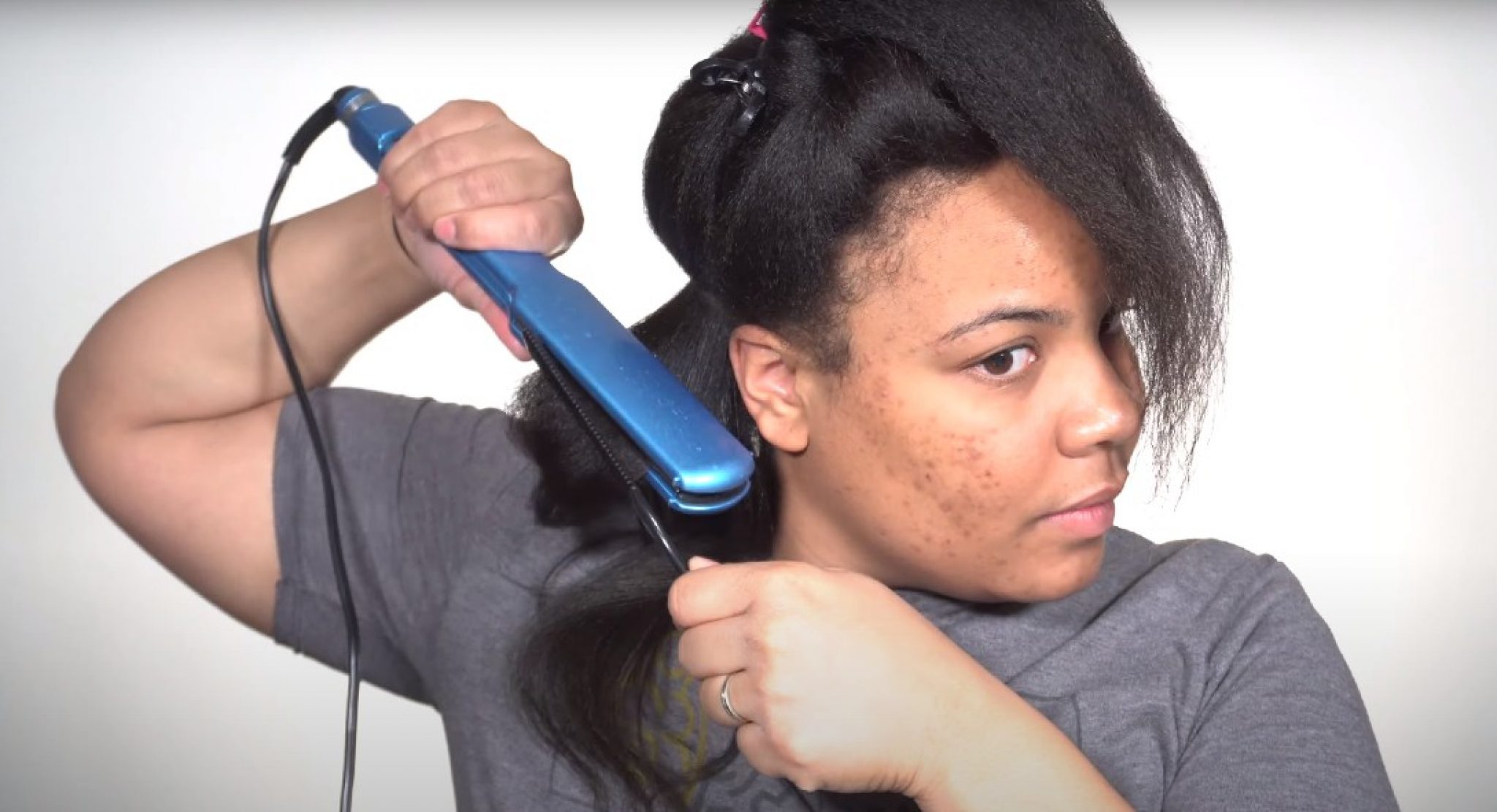 What things to look for when picking a flat iron
When choosing a flat iron, the first thing you should go for is quality. With BaByliss, you'll get a quality product with each and every iron plus a 30-day money-back guarantee. Apart from quality, look for:
Size
Plate sizes work better for different haircuts, lengths, and textures. For example, if you have shorter hair, you should choose ultra-thin plates, like the BaByliss Pro Nano, that help you get close to the scalp.
If it's big and bold waves you're going for, think of going bigger (2 inches) and longer (up to 6″) for easier and faster styling.
Heating Options
Apart from the size, keep a lookout for the heating options. Some BaByliss irons come with dials to turn and others with pressable buttons to choose your heat. Hotter temperatures are better for coarse hair and lower for fine hair.
Consider your hair type and your style goals before choosing an iron. In this way, you have what you need to create the looks you want.
Materials
For flat irons, plates come from all types of materials. When searching for a flat iron, consider the materials that make up the plates, choosing those which allow even heat distribution and protection to reduce the possibility of damaging the hair.
Also Read: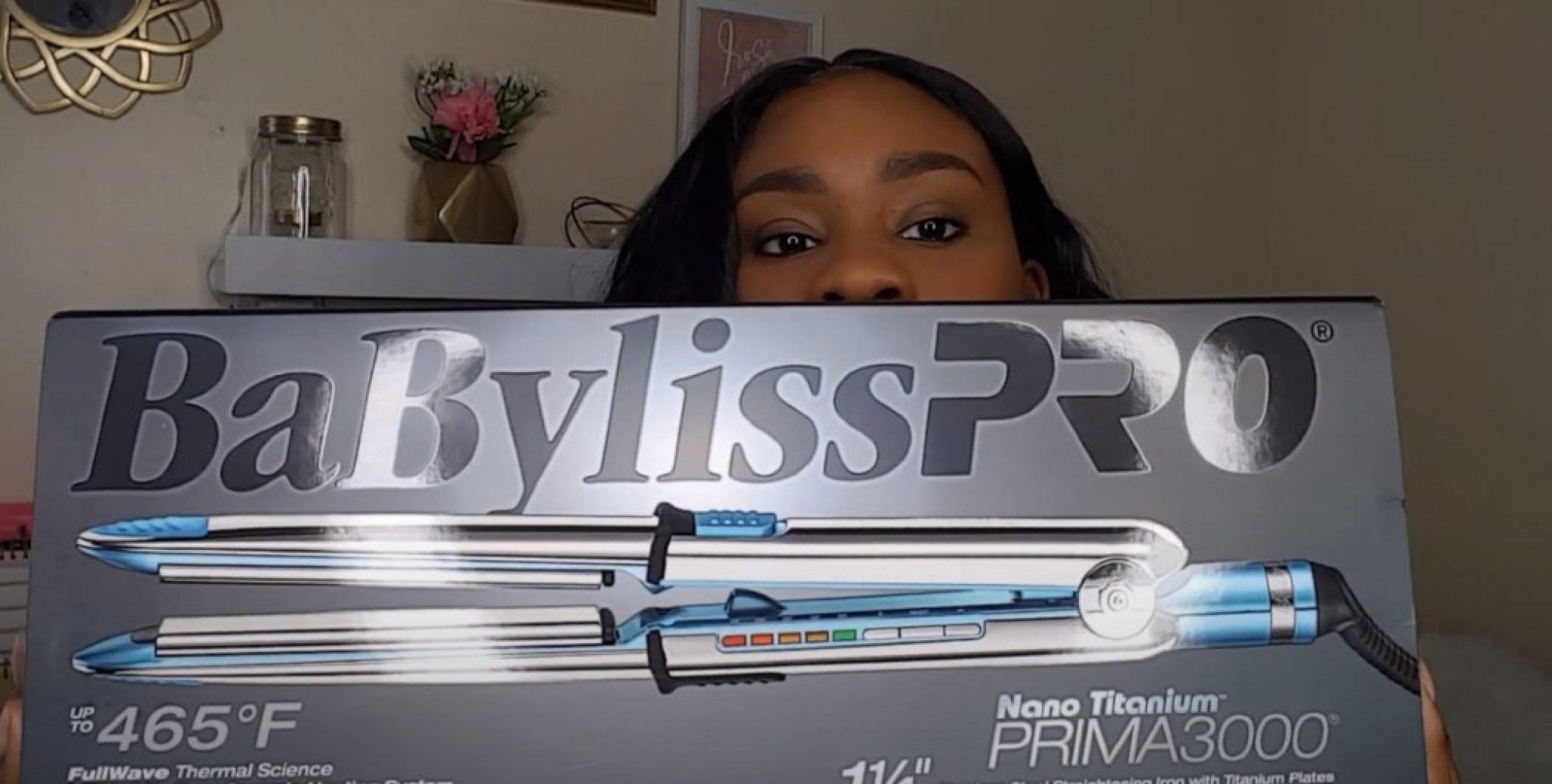 Additional features (dual voltage, automatic shut-off, etc)
When choosing a flat iron from Babyliss Pro, it's important to consider the additional features that it offers. Some flat irons come with features such as dual voltage and automatic shut-off that can make your styling experience more convenient and safe.
Dual voltage is a feature that allows you to use your flat iron while traveling internationally. It means the flat iron can automatically adjust to the voltage of the country you are in, so you don't have to worry about damaging your device or frying your hair.
This feature is especially useful if you travel frequently or plan to use your flat iron while on vacation. Automatic shut-off is a safety feature that turns off the flat iron after a certain period of time, usually after 60 minutes.
This is a great feature if you are forgetful or have a tendency to leave your flat iron on. It also prevents any accidents that might occur if you leave your flat iron on, such as a fire hazard.
This feature can give you peace of mind and added safety when you're styling your hair. When looking for a flat iron, it's always a good idea to check the product's features. The Babyliss flat iron is a great option for those who want added convenience and safety.
How to use and maintain your Babyliss flat iron
Using and maintaining your Babyliss flat iron is crucial for getting the best results and prolonging the life of the device. Here are some tips on how to use and maintain your Babyliss flat iron to get the most out of it.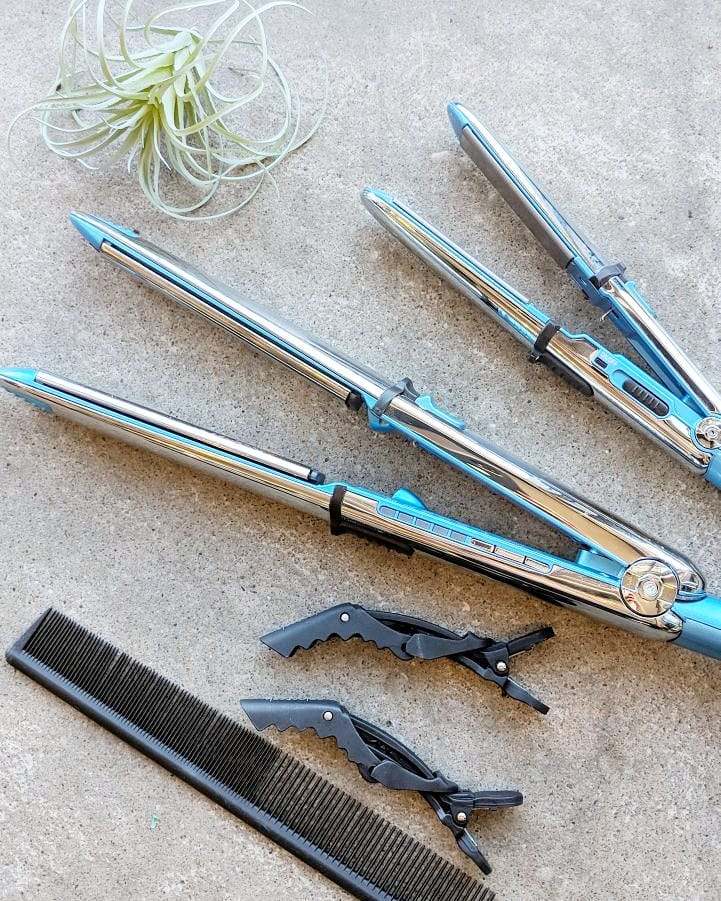 First, make sure your hair is clean and dry before using your flat iron. Applying heat to dirty or damp hair can cause damage and create a less than desirable finish. Use a heat protectant spray or serum on your hair before using the flat iron.
Next, adjust the temperature to suit your hair type. If you have fine or damaged hair, use a lower setting. If you have thick or coarse hair, use a higher setting. The Babyliss flat iron has adjustable temperature settings, so you can customize the heat to your hair type.
When using the flat iron, start at the roots and work your way down, slowly and gently. Be sure to use a steady, consistent pressure as you move the flat iron through your hair. Avoid clamping the flat iron too tightly, as this can cause damage to your hair.
After you're finished styling your hair, turn off the flat iron and let it cool completely before storing it. Clean the plates of your flat iron with a damp cloth and mild detergent. Avoid using abrasive materials as this can scratch the plates.
It's also a good idea to check the cord and plug for any damage before each use. If you notice any fraying or damage, discontinue use and have it repaired or replaced.
By following these tips, you'll be able to use and maintain your Babyliss flat iron in the best way possible. And always use a heat protectant to avoid heat damage. Happy styling!
Flat Iron FAQ
What size Babyliss flat iron should I buy?
Well, the size you should buy depends on your hair type, length, and desired style. For straight hair, waves, and curls, 1/2-inch irons work best. Shorter hair may need thinner plates, so you may need to drop down to a 1″ iron.
What is the warranty on Babyliss flat irons?
If there are any defects, BaByliss will repair them without charge for up to 2-years after purchase.
How to spot a fake Babyliss flat iron?
You can spot a fake by first looking at the iron. You should see the BaByliss logo and all parts (switch, cord, extras) that come with your model. When clamping, plates should touch and not have a gap in between.
After testing these, plugin and test for the heat, testing that it reaches the temperature you wanted.
Can you curl with Babyliss straightener?
Yes, you can! To curls with a Babyliss straightener, you'll have to do some twisting with your wrists as you move along stands. There are several techniques that styling pros use, each one working well for them for different reasons.
Also read:
Conclusion
BaByliss has been in the beauty business for years, perfecting the art of making new and innovative hair tools. When it comes to flat irons, you really can't go wrong, especially if you choose any of these 5.
From the fashionable streets of Paris to today's hottest catwalks, you can find hair styled by BaByliss all across the globe. For questions or comments about this review, leave us a comment. We can' wait to read what you think!