Picking a flat iron in the sea of many sounds like an impossible task. If Rusk has been a brand on your radar for hair straighteners, you'll love this article!
To make your life easier, we looked into their best straighteners, and below we deliver our Rusk flat iron reviews.
Top 3 Best Rusk Flat Irons Reviewed
Rusk Heat Freak Professional Str8 Iron —

 Top Pick 

Rusk W8less Professional Straightener —

 Runner Up 
Now it's time to look into the distinct features, pros, and cons of the top three picks, so you can get a better idea of which one would work best for your hair type, length, and needs.
1. Rusk Heat Freak Straightener —
 Top Pick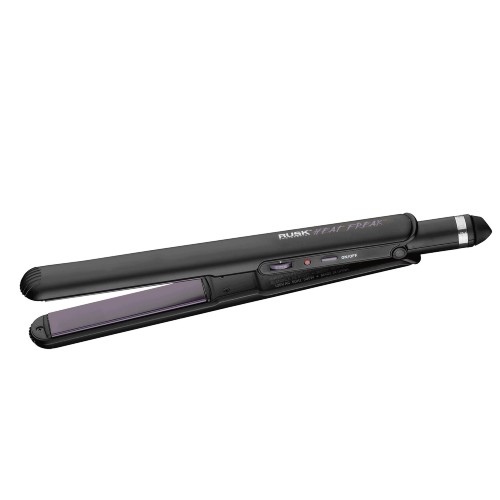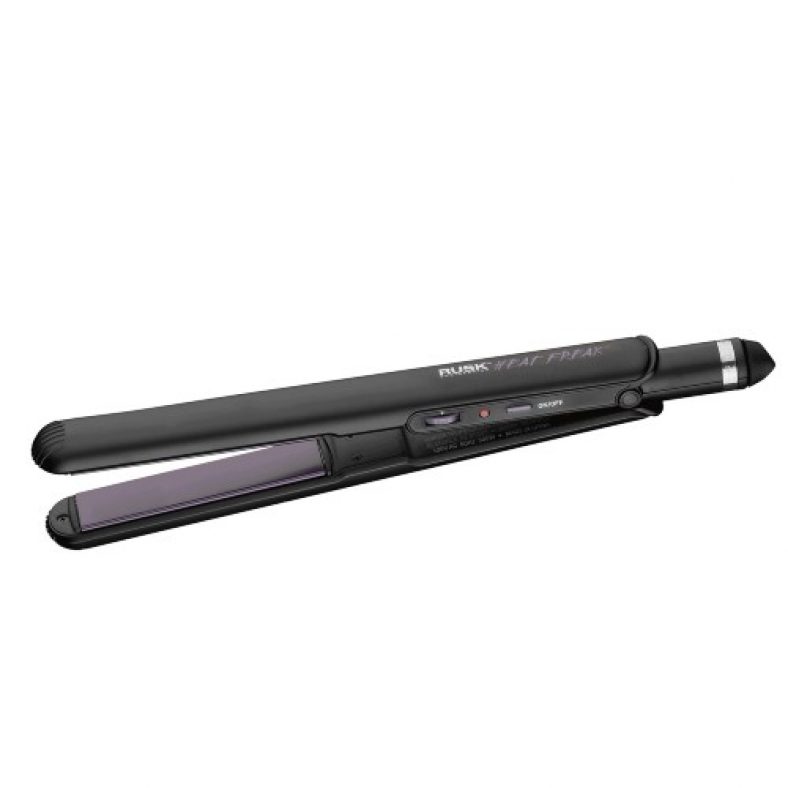 Plate Width: 1-1/2″Inch
Plate Type: Ceramic
Warranty: 2 year
Voltage: 110V
Temperature settings: 450°F
If you've been looking for a quality hair straightener that will provide that hair salon experience without going to the hairdressers, this one's it!
The Rusk Heat Freak Professional Iron features plates infused with ceramic and tourmaline technology for straight, shiny hair. There are two plate sizes to choose from- 1 inch and 1.5".
The tourmaline and ceramic plates use far-infrared heat and even distribution of natural ions to achieve smooth, silky hair without any frizz. According to Rusk Heat Freak flat iron reviews, customers also love the 8-foot swivel cord.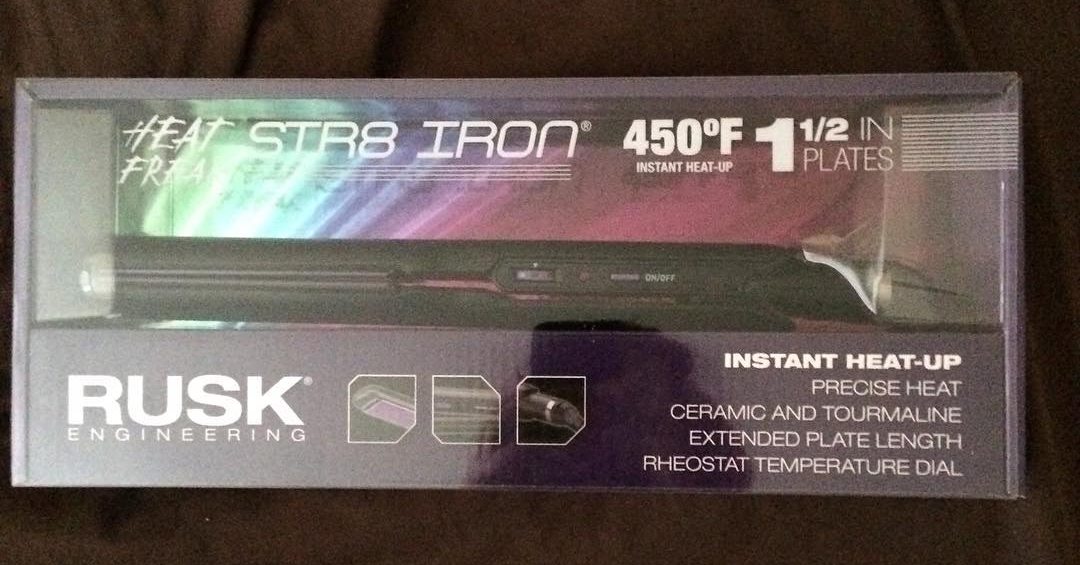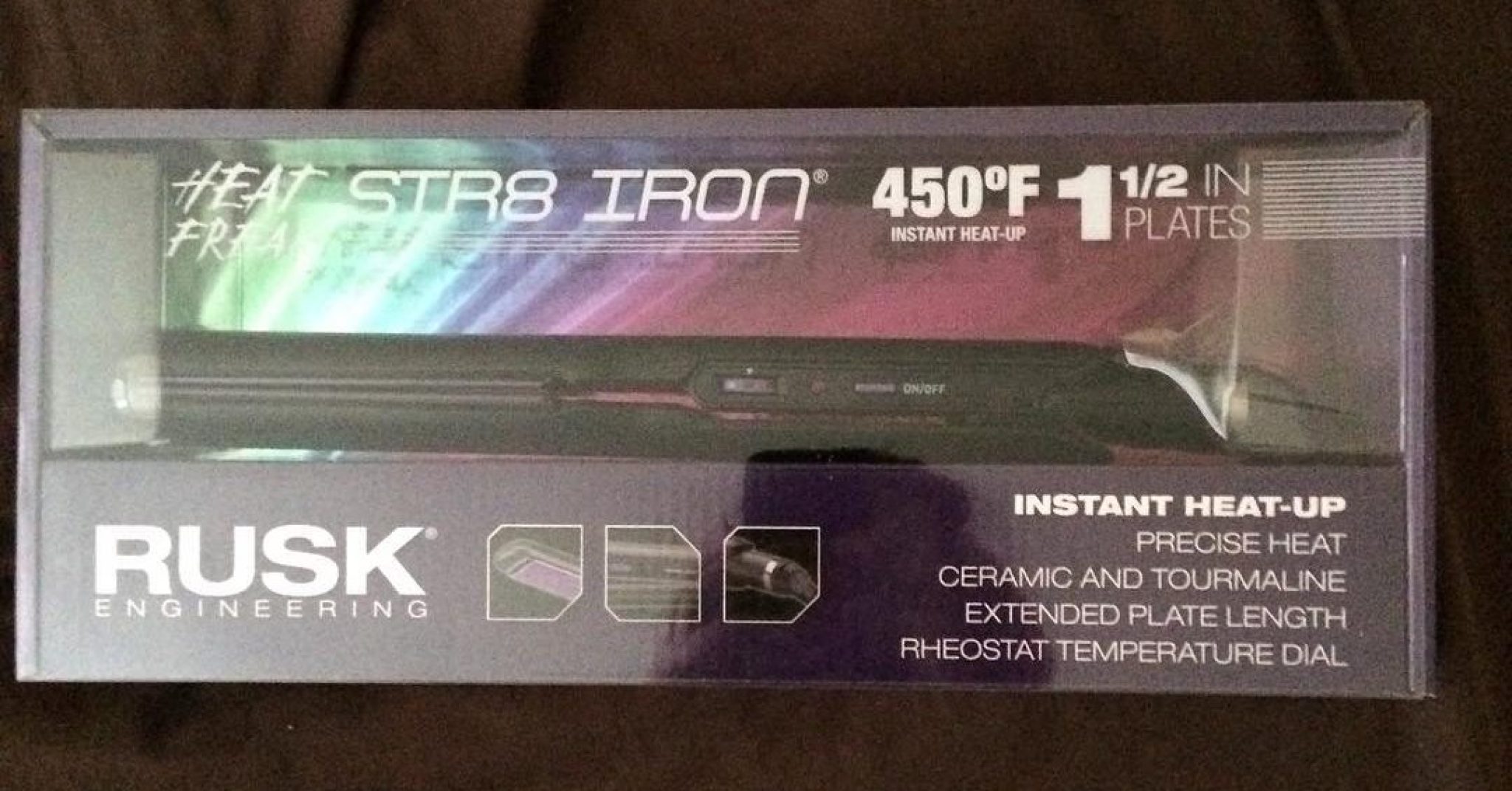 Thanks to the iron's ergonomic design, you can easily reach the control buttons on the side. You'll see a heat dial that goes up to 450F degrees, and you can set it to the desired temperature.
Use the lower temperatures for fine hair, and go high up if your hair is thick. There's also an on/off button located right next to the rheostat.
The Heat Freak straightener weighs only 1.1 pounds, making it lightweight, easy to carry and pack whenever you need to.
What we like:
Heats up to 450F degrees quickly to straighten all hair types and lengths;
Comes with a 2-year warranty;
Design includes a temperature display for control.
Take note:
The Rusk Heat Freak Straightener is a salon-grade product worth owning at home if you don't want to pay for expensive hair salon visits. Because it heats up to 450F degrees, you can use it for fine, thick, curly, wavy, straight hair types.
Straightening Performance
9.8
---
2. Rusk Engineering W8less Professional Iron —
 Runner Up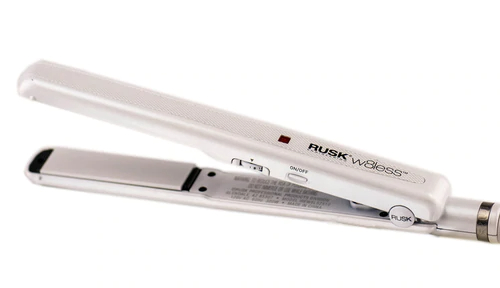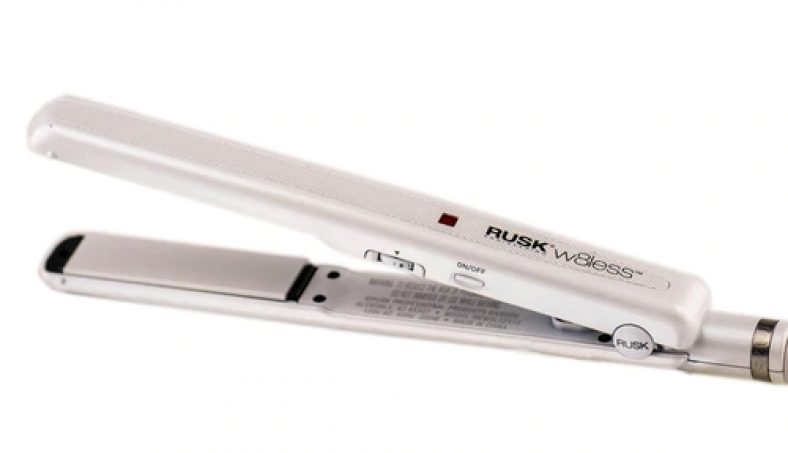 You can also find this product on Bed Bath & Beyond, Walmart.
Plate Width: 1 Inch
Plate Type: Ceramic
Warranty: 2 year
Voltage: 110V
Temperature settings: 450°F
Have you heard of a flat iron that only weighs 12 ounces? Well, the Rusk W8less flat iron is so lightweight that you can use it for hours without your hands aching.
Although Rusk professional tools were made with hairstylists in mind, everyone can own them at home for a salon-like experience.
The 1 inch plates of the straightener combine ceramic and tourmaline to achieve a straight, smooth, and frizz-free result while also getting rid of cowlicks and kinks.
Let's not forget about the plates' Sol-Gel technology that protects them from corrosion, chips, and cracks. This technology also helps the iron go smoothly over the hair without tugging or pulling it.
The Rusk W8less flat iron reviews online are mostly positive and confirm the brands' statement that this straightener heats up fast to 450F degrees.
This means you can set the temperature to your liking using a dial located on the side, marked with the temperature numbers for control.
This straightener comes with a 9-foot swivel cord, perfect for everyone who needs that extra length. The sleek design and ergonomic handles make this tool even more desirable among customers.
What we like:
Super-lightweight design;
Ceramic tourmaline plates infused with Sol-Gel technology;
Great value for a high-quality product;
Comes with a 2-year warranty.
Take note:
Could use an auto shut-off feature;
The outside of the plates heats a little after prolonged use.
The Rusk Engineering W8less Professional Iron is excellent for all hair lengths and types. The ceramic and tourmaline plates, together with the Sol-Gel technology, will straighten even the curliest hair. It might not be as high-end as our top pick, but it firmly takes over the second spot thanks to the lightweight character.
Straightening Performance
9.6
---
3. Rusk CTC Str8 Flat Iron — Best Rusk Iron For Coarse Hair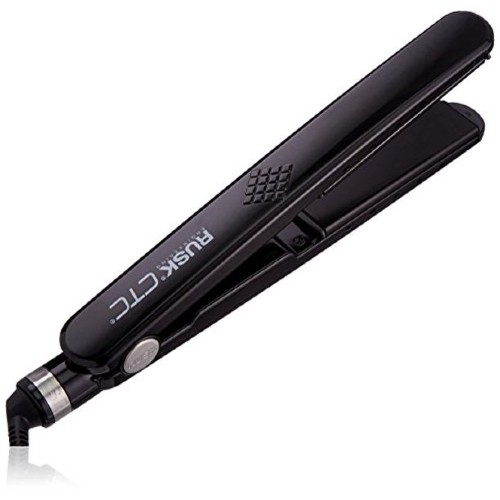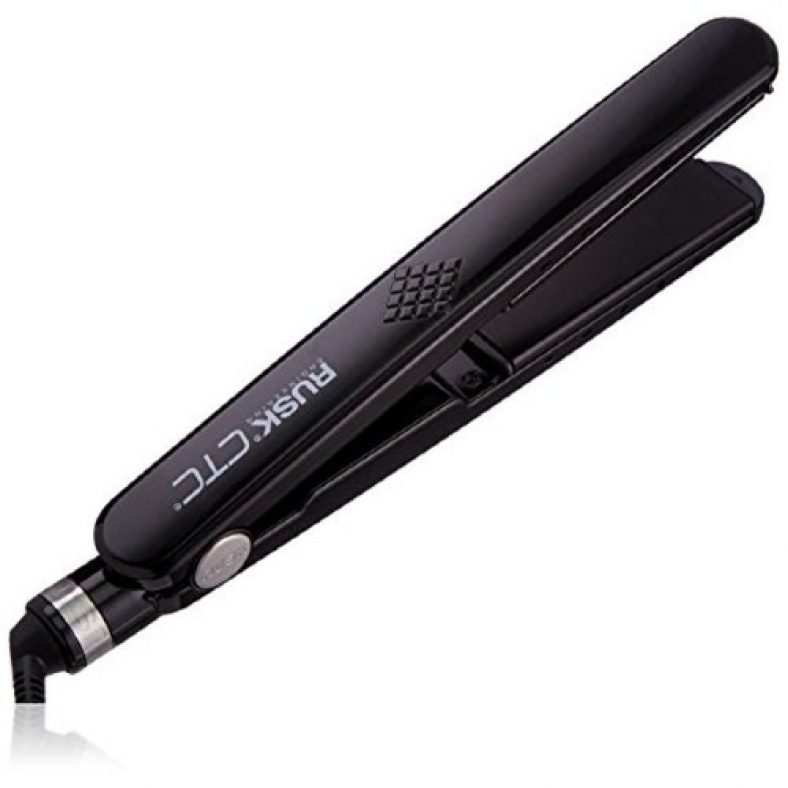 Plate Width: 1 1/4 Inch
Plate Type: Ceramic, Titanium
Warranty: 2 year
Voltage: 110V
Temperature settings: 450°F
The Rusk CTC Technology Professional Str8 iron is one of the brands Rusk straighteners and a top-selling tool. This straightener is often compared to the most expensive high-end tools on the market thanks to the high quality and great performance.
The plates of this straightener are also made of ceramic but are infused with titanium and feature the Sol-Gel technology. Titanium is one of the most durable materials that is known for a high transfer of heat.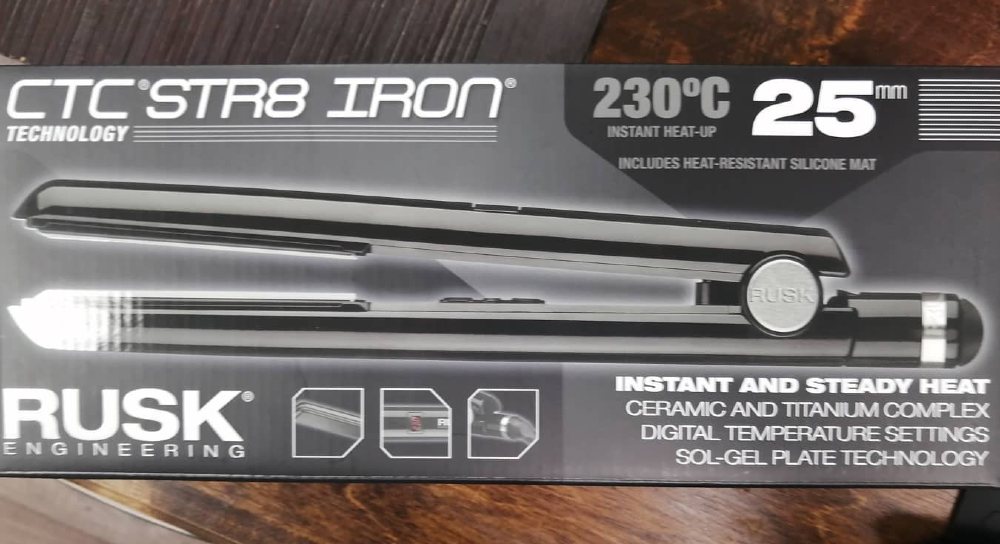 What separates this flat iron from the other two on the list is the location of the setting buttons. You won't find them on the side of the Ryton housing; instead, they're placed in between the handles, right behind the bottom plate.
Most people prefer the buttons to be located on the side for easier use and to prevent burns. However, it's not something that should keep you away from buying a product that you like.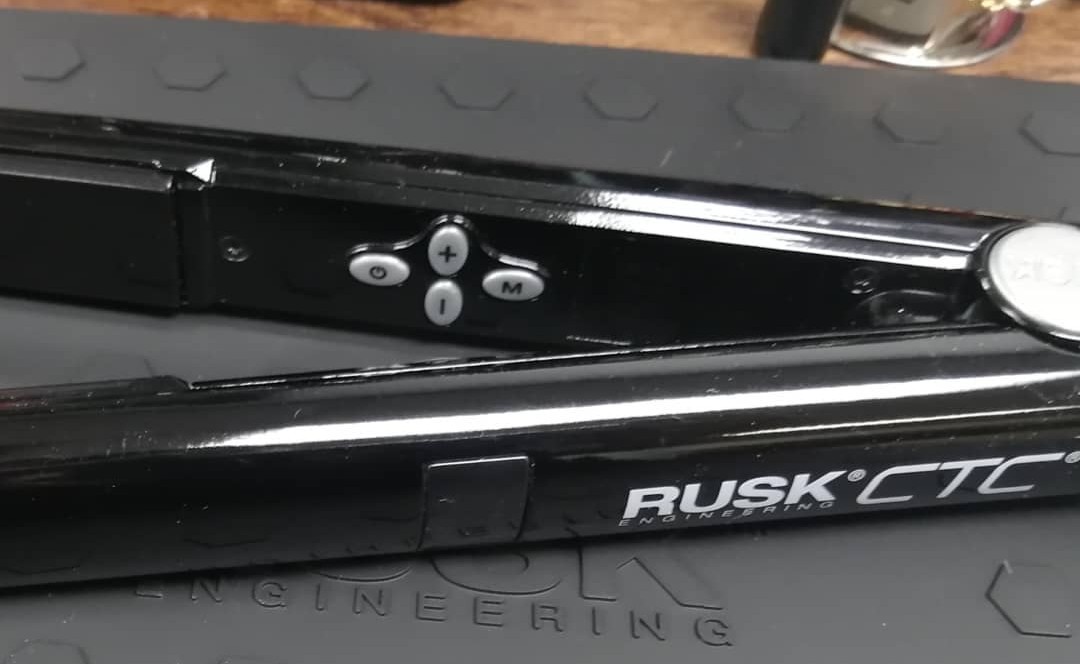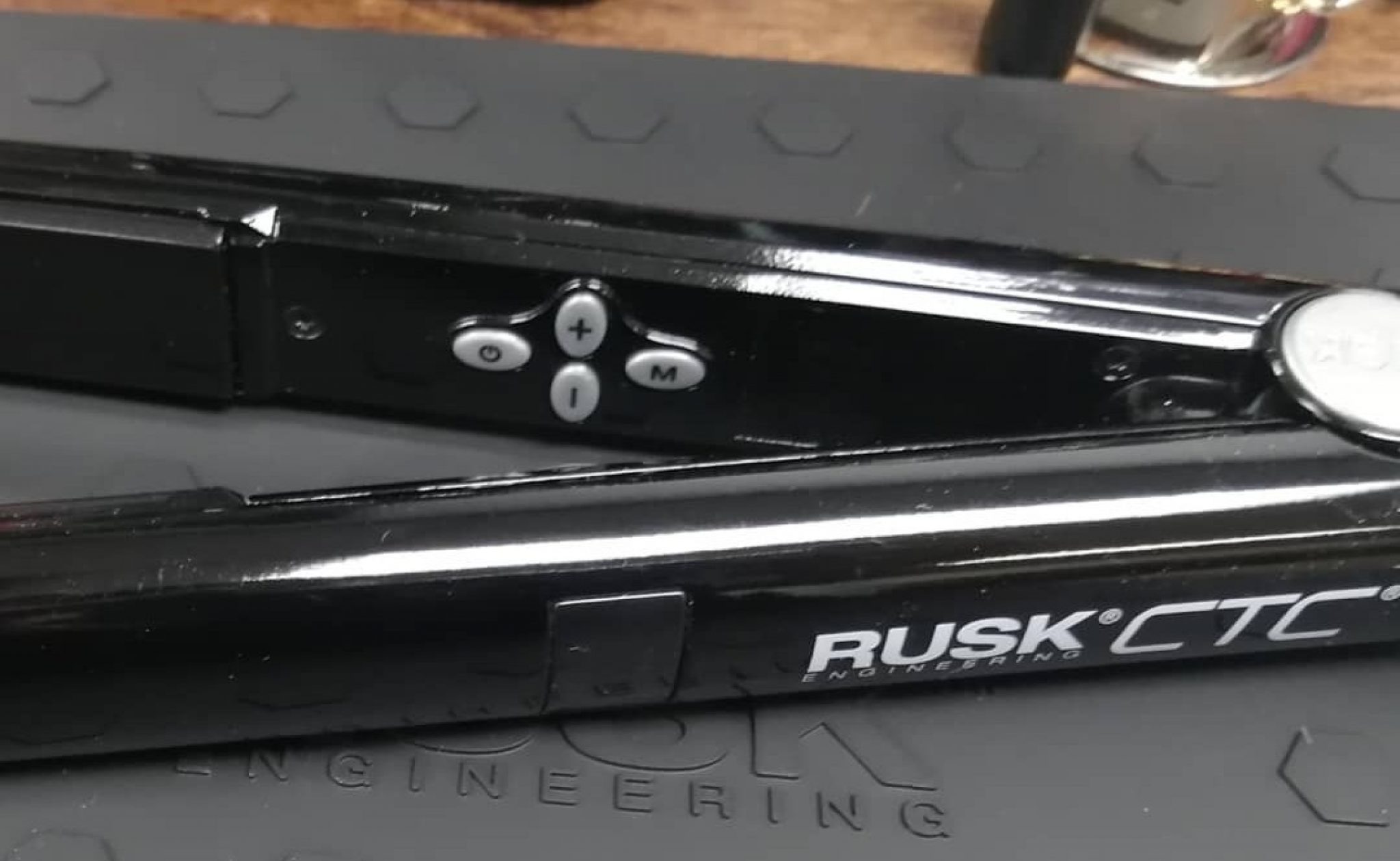 This design doesn't come with a rotating temperature dial, but there are two buttons labeled with a "+" and "-" to regulate the five temperature settings.
Most importantly, the iron heats up to 450F degrees within a minute. There's also an on/off button and an "M" button that you can use to save your preferred settings.
What we like:
Has a temperature memory button to save your preferred settings;
Titanium infused plates that work excellent on coarse hair types;
Comes with a heat pad to protect your counters.
Take note:
Could use an auto shut-off feature;
The placement of the control buttons could be improved for more straightforward use.
The Rusk CTC Str8 Flat Iron is a professional straightener that works best for people with long, thick, coarse hair. Since it has five different heat settings, people with thin hair can use the lower settings and get perfect results without damaging their hair.
Straightening Performance
9.7
---
Buyer's Guide: Best Rusk Straighteners
Before you decide which Rusk hair straightener review caught your attention the most, you should learn a little more about the brand and the features that make these tools so popular.
Also read: Croc Flat Irons
Why Choose Rusk
Rusk is a brand that started as a vision of the iconic hairstylist Irvine Rusk. When he moved to the USA from Glasgow, Irvine met his now-wife Louise, and they founded the company together. Irvine is one of the most innovative, edge-cutting hairstylists, colorists, and hair artists of all times.
He and his wife consider Rusk to be their family and have put a lot of effort into creating the best tools and products for professional hair artists. In 2003 Rusk was purchased by the Conair Corporation.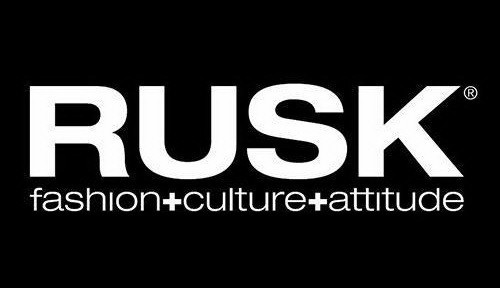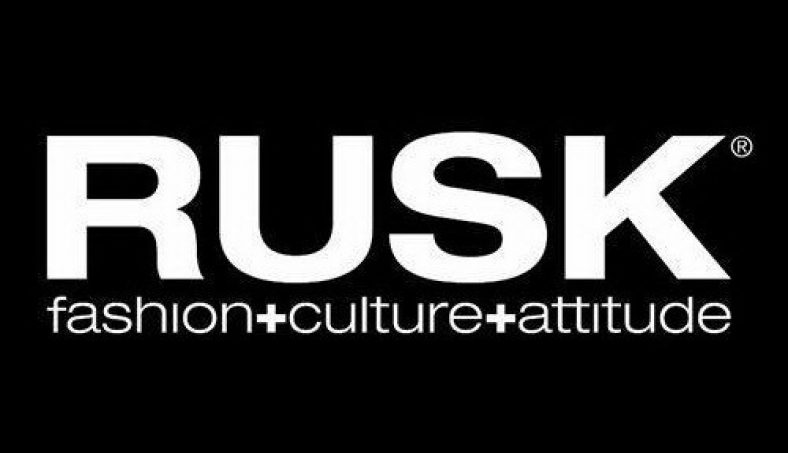 Unique Rusk Flat Iron Features
Material
Rusk uses different materials for the plates of their straighteners. The Rusk Heat Freak and W8less are made with ceramic plates infused with tourmaline, a material that works great for all hair types.
The CTC Str8 flat iron, on the other hand, is made with ceramic plates infused with titanium, which is most suitable for coarse hair types, especially ones that are hard to tame.
The plates of the W8less and CTC irons are straightened with the Sol-Gel technology that allows the tool to glide over the hair and protects it from chips, cracks, corrosion.
Temperature
All three of the flat irons on the list heat up quickly to 450F degrees. If you have fine hair, it's better to use a lower setting. People with thick hair can use the higher temperature settings. Don't forget to apply heat protecting products before using any heat tool, no matter the temperature.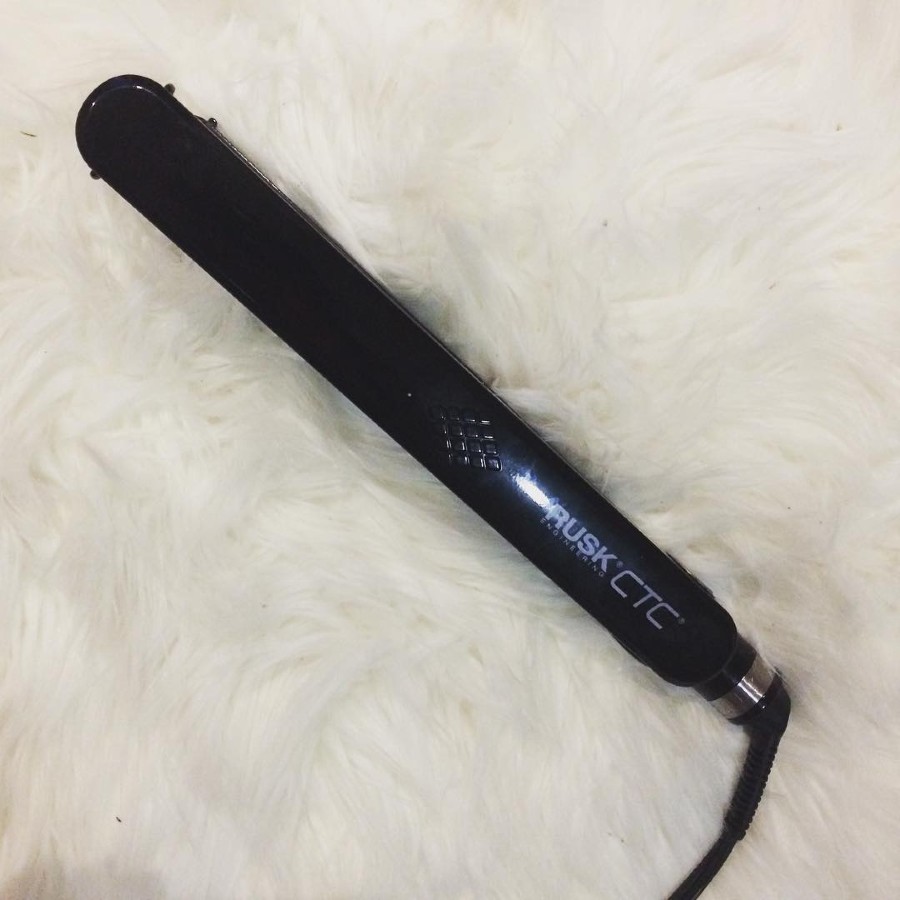 Weight
The Heat Freak and CTC flat irons weigh 1.1 pounds, while the W8less design weighs only 12 ounces. If you want the most lightweight product, you know which one to choose.
Voltage
If you're looking to buy a Rusk Professional flat iron, be aware that it's not a dual voltage product. All the straighteners on this list will require a converter if you want to use them outside of the USA.
These converters are pretty inexpensive, so make sure to have one with you when you travel.
Also read: FHI Flat Irons
Rusk Flat Iron FAQ
Where are Rusk flat irons made?
Rusk is a brand founded by the popular hair styling master Irvine Rusk in Glasgow, Scotland. They create and sell hair care products and appliances meant for hair salons and now for individuals who want to get professional care at home.
Today, this brand is a part of the Conair Corporation. They manufacture their products in China, the USA, and India.
Can I get curls with Rusk flat iron?
Yes, you can use any Rusk Professional flat iron to create curls. These tools are meant for various hairstyles, including soft curls, beachy waves, straight and sleek hair, and so on.
Although the Rusk flat irons are primarily made to straighten hair, they serve several purposes.
What is the warranty on Rusk flat irons?
All of the Rusk hair straighteners come with a limited 2-year warranty. If you received a faulty flat iron, the brand will either repair or replace it for free. This warranty lasts for 24 months, starting from the day of your purchase. Make sure that you save the receipt just in case something happens to your iron.
Babyliss vs. Rusk flat irons
It's tough to pick favorites when different people like different things. In general, the Babyliss flat irons are a tad more expensive than the ones from Rusk.
The quality is quite similar, so is it worth splurging more when you can get almost the same product for a lower price?
Also read:
Chi vs. Rusk flat irons
Chi is another mega-popular brand for hair tools. Their flat irons cost less, but they are not as high grade as the irons from Rusk. If you're looking for a tool that will replace going to the salon, Rusk should be your choice.
Conclusion
Now that you went over the reviews of these Rusk flat irons, do you have a favorite? The Rusk Heat Freak Professional Ceramic and Tourmaline Streightening Iron is our absolute must-have tool, without a doubt. Go over the features once again to pick the best one for you.
If you have any questions about the Rusk straighteners, feel free to let us know in the comment section below! We'll be waiting!