While you can achieve taming that frizzy or unruly hair using various hair products or tools at home, there's nothing like having sleek and shiny locks that comes from getting the best 1-inch flat iron.
If you are considering buying a flat iron better check this practical guide and choose what suits you best.
Top 4 Best 1 Inch Flat Irons Reviewed
1. BaBylissPRO Nano 1 Inch Straightening Iron —
 My Top Pick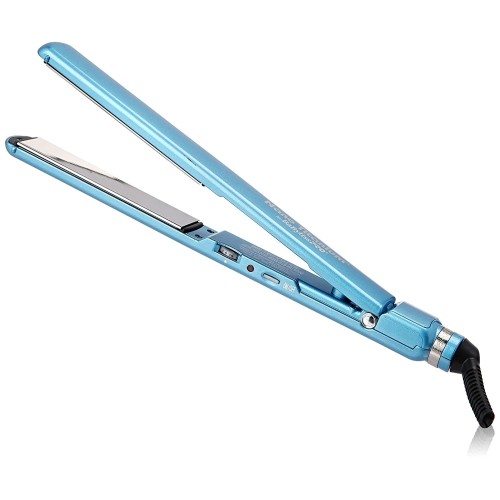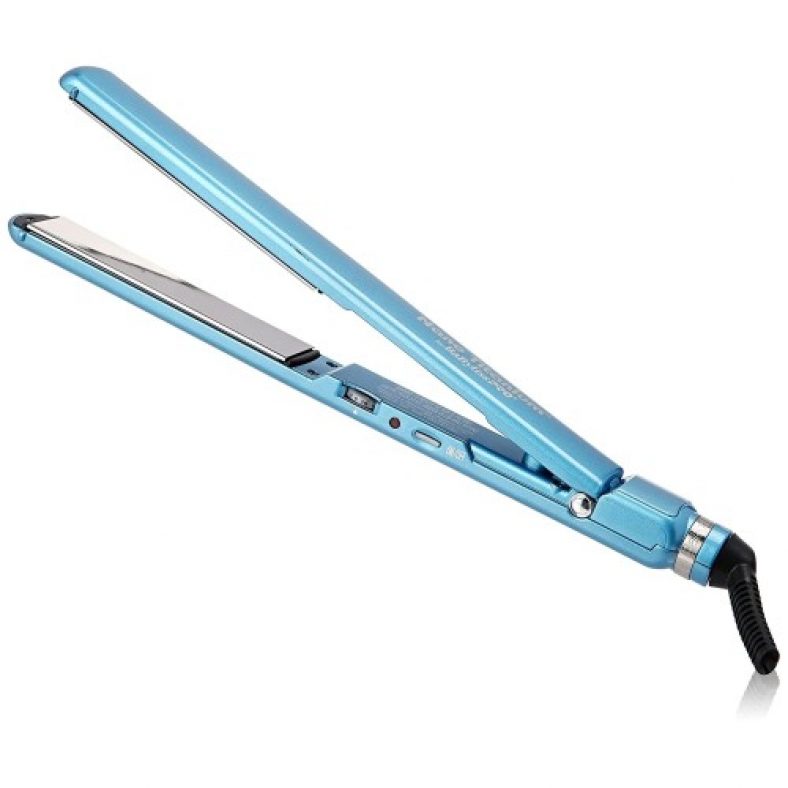 You can also find this product on Ulta, Bed Bath & Beyond.
Plate Width: 1 Inch
Plate Type: Titanium
Warranty: 1 year
Voltage: 110V
Temperature settings: 450°F
Coming from a reputable brand when it comes to hair styling tools, the BaBylissPRO Nano 1 inch titanium flat iron tops our list. With 50 heat settings, it heats up easily to the desired temperature of up 450°F providing brilliant results in less time.
The innovative Nano Titanium technology protects the hair even on high heat. The results are simply impressive with pin-straight hair and an option to create loose bouncy waves. The lightweight slim design is an amazing feature that makes this easier to use and has a comfortable grip.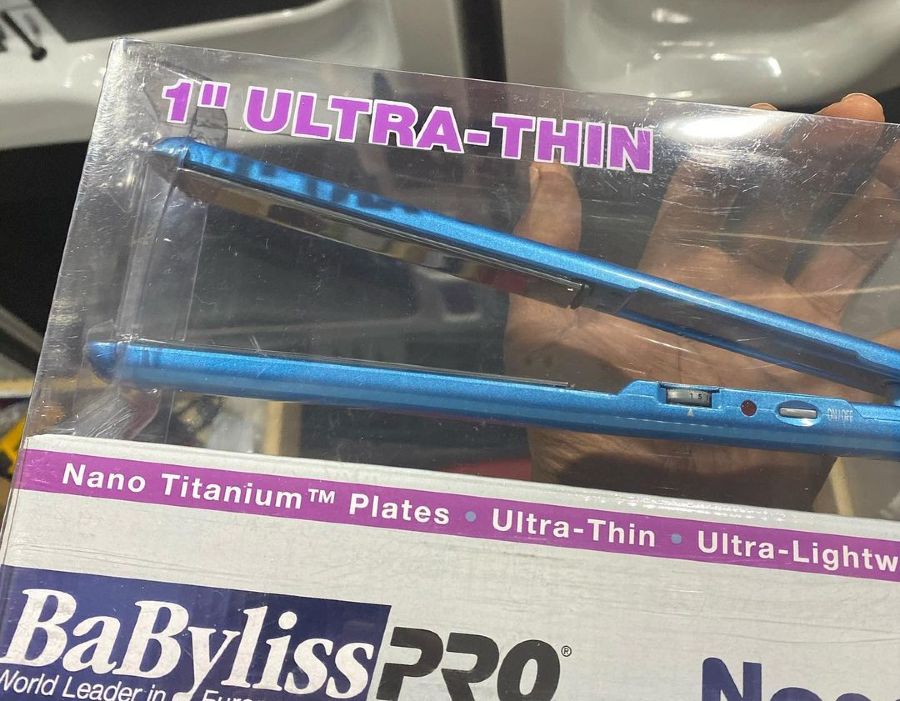 What we like:
Easy to use slim lightweight design;
50 settings that quickly heats up great for almost all hair types;
Nano Titanium Technology protects hair from damage and keeps it shiny;
Dual functionality works on providing a pin-straight hair or wavy style.
Take note:
Comes only in one color;
A bit pricey.
This 1-inch flat hair iron works on delivering what it promises- sleek straighter hair without the fear of damages even on high heat. It heats up quickly with 50 settings making it suitable for either thick or fine-textured hair. BaBylissPRO Nano flat iron provides a frizz-free hairstyle with shine and a smoother feel.
Straightening Performance
9.8
---
2. Rusk Heat Freak STR8 Flat Iron —
 Runner Up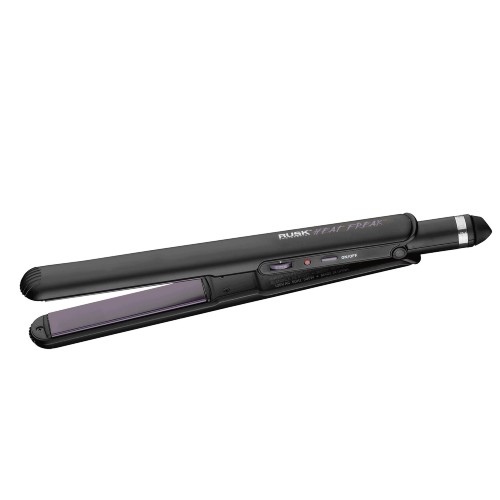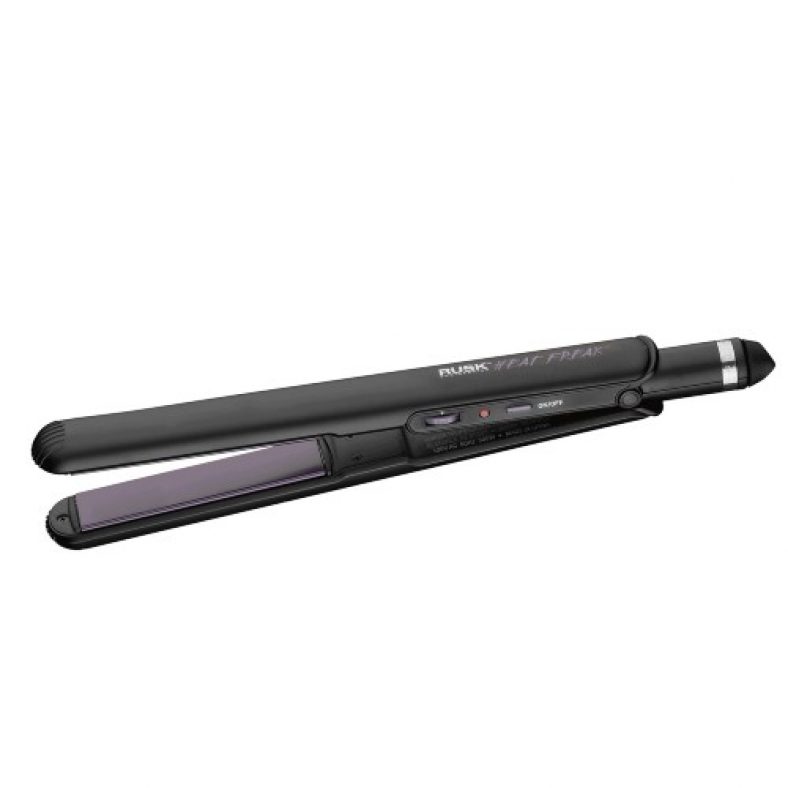 Plate Width: 1 Inch
Plate Type: Ceramic
Warranty: 2 year
Voltage: 110V
Temperature settings: 450°F
RUSK Heat Freak has been making waves in the hair straightening scene that is why this is one of the best 1-inch hair straighteners on our list. The one-inch iron plate is enhanced with tourmaline and ceramic which makes it quicker and easier to make hair straighter.
It provides instant and more precise heat through its adjustable dial suitable for fine to thick hair textures. With innovative far-infrared heat technology, it can penetrate strands for shiny frizz-free hair.
What we like:
Easy to adjust temperature settings suitable for thick or fine hair;
Infrared technology penetrates hair to eliminate frizz and adds shine;
Heavy-duty great for professional salon use.
Take note:
No automatic shut-off;
Poor customer service.
Professional quality flat straightening iron that can easily turn frizzy hair into a sleeker style with added shine. Easy to operate with temperature settings. The RUSK flat iron heats up quickly and is suitable for almost all hair texture.
Straightening Performance
9.7
---
3. ghd Gold Hair Ceramic Flat Iron —
 Premium Pick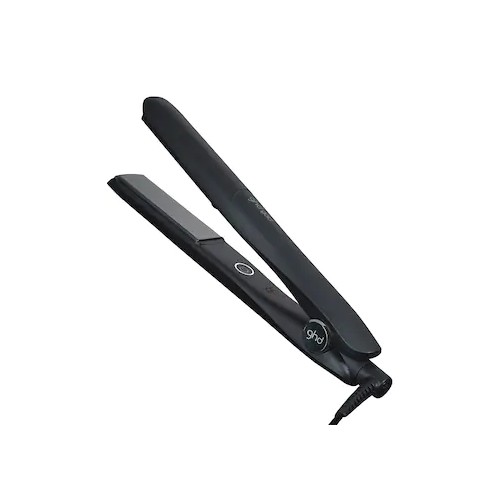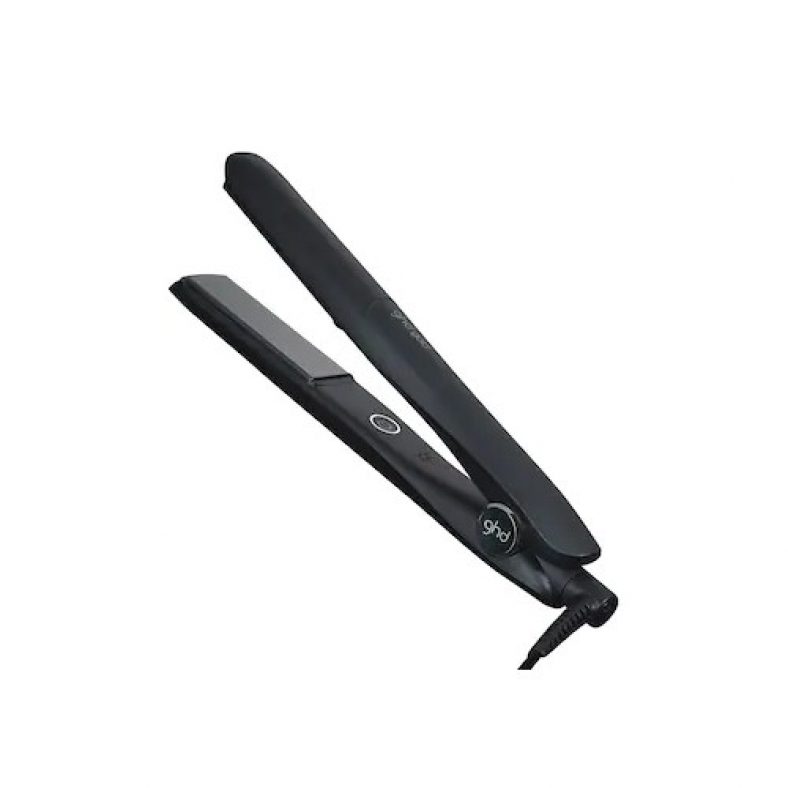 You can also find this product on Ulta, Sephora.
Plate Width: 1 Inch
Plate Type: Ceramic
Warranty: 2 year
Voltage: 110-220V
Temperature settings: 365°F
Advanced professional straightener iron, the ghd Gold Hair flat iron is a good choice when it comes to delivering smoother and healthy-looking hair. The unique feature dual-zone flat iron technology maintains optimum temperature providing uniform heat of 365ºF from hair root to tip.
The streamlined design makes it easier to use and can quickly transform unruly locks into sleek hair or into lovely curls when desired. Comes with automatic sleep mode when left unused for 30 mins and has a universal voltage.
What we like:
Provides even temperature from roots to tips to quickly straighten hair in one stroke;
Has a unique technology that automatically monitors heat to prevent breakage and hair damage.
Take note:
It has only one heat setting;
Pricey.
This uniquely engineered flat iron can provide professional results in no time. The ghd Gold hair ceramic iron maintains an even temperature and has an automatic shut-off device for safety. It can add shine which makes hair look healthy and frizz-free with straighter strands. It is easy to use and perfect to take when traveling with its universal voltage.
Straightening Performance
9.5
---
4. FHI Heat Platform Styling Flat Iron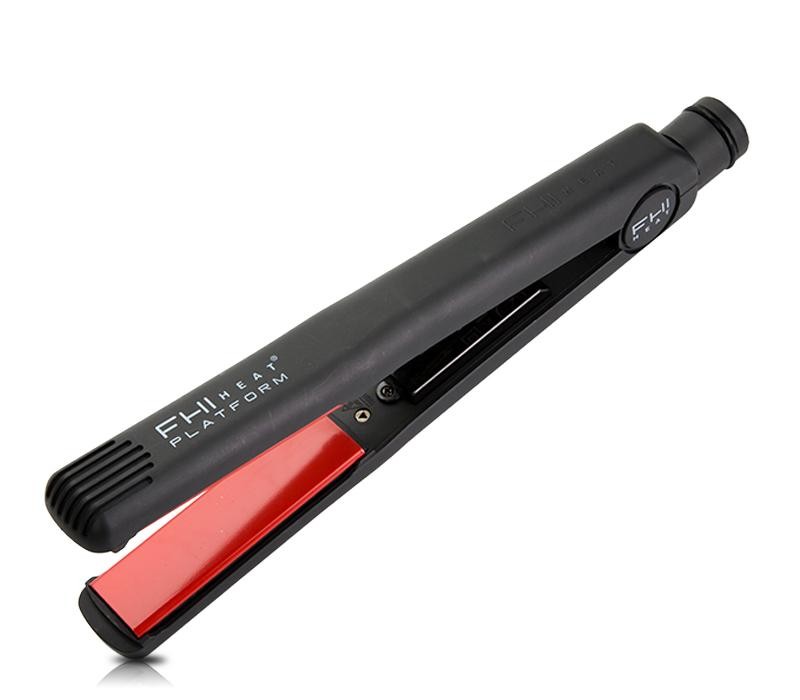 You can also find this product on Walmart.
Plate Width: 1 Inch
Plate Type: Ceramic
Warranty: 1 year
Voltage: 110V
Temperature settings: 450°F
We include the FHI Heat Platform flat iron as one of the best one-inch flat irons on our list. It offers versatility when it comes to hairstyling from smooth sleek hair to glamorous curls in just a fraction of time.
The durable construction features the famous red ceramic plates known to this brand that provides constant temperature and optimum performance on every usage. Infused with tourmaline that produces negative ions, this ceramic flat iron seals in moisture eliminates static while reducing frizz.
What we like:
Durable design;
Red ceramic plates provide even temperature;
Locks in moisture while reducing frizz.
Take note:
Product warranty applies to products bought from authorized retailers.
The brand is well known for its red ceramic plates which produce even heat taming frizz and providing a sleeker look. With a durable design, the FHI Platform flat iron can easily and quickly make hair straighter while maintaining moisture. It is non-drying and repels humidity well in keeping a sleek straight hairstyle throughout the day.
Straightening Performance
8
---
Main Features to Look for in Flat Iron
Searching for a 1" flat iron is like finding a needle on a haystack. With so many brands available in the market there should be careful considerations. Take note also of 1-inch flat iron reviews for reference. Here are some things you need to ponder on before deciding to get a new flat iron.
A straightener flat iron is an essential beauty tool to tame those frizzes and have a sleeker look. It comes in different sizes, heating technology, and price range with varying unique features per brand.
Also Read: Best 1/2 Inch flat Irons Reviewed
Heating Technology
First thing to consider when choosing a good flat iron is the heating element on the iron plates. The most popular brands have plates made from titanium, ceramic or tourmaline.
These are the best heating materials which eventually provide a gentler way to straighten the hair since they maintain heat on the surface providing a smoother hair texture with tamed frizz while reducing hair damage.
Technology-wise, through negative ions these one-inch flat irons balance and neutralize frizzy hair by tightening hair's cuticle.
Plate Size Matters
Flat irons come in different plate sizes and there are reasons that go with it. Plate size ranges from the thinnest half-inch to the wider ones at 2 ¼" width. In this case, 'bigger' isn't better.
A larger plate provides more heat and covers a wider section, but it would do no good when it comes to a small section and it cannot get near the roots. While using the best one-inch flat iron will provide easy maneuvering on hair and an easy glide through each strand.
Design Structure
Another thing to look for is the design. Consider the shape, weight, and feel of the flat iron since you will be using this more often. It best to choose a flat iron that you can easily and comfortably grip. By having a flat iron that you can use with ease, you are able to maneuver through your locks effectively with comfort.
Temperature Control
Different brands of flat irons have a unique heating mechanism and some only have one temperature setting. Put in mind that hair texture varies, there are sections mostly on the front and sides that are finer and fragile while the hair on the innermost section appears to be thicker.
This is due to exposure to various treatments including hair dyes, rebonding, and not to mention exposure to elements.
Also Read: Best 2 Inch flat Irons Reviewed
Brand and Price
Lastly, think about brand reputation and price points. Some flat irons have a high tag on them while others are more affordable. Consider value for money when purchasing beauty tools after all it's an investment.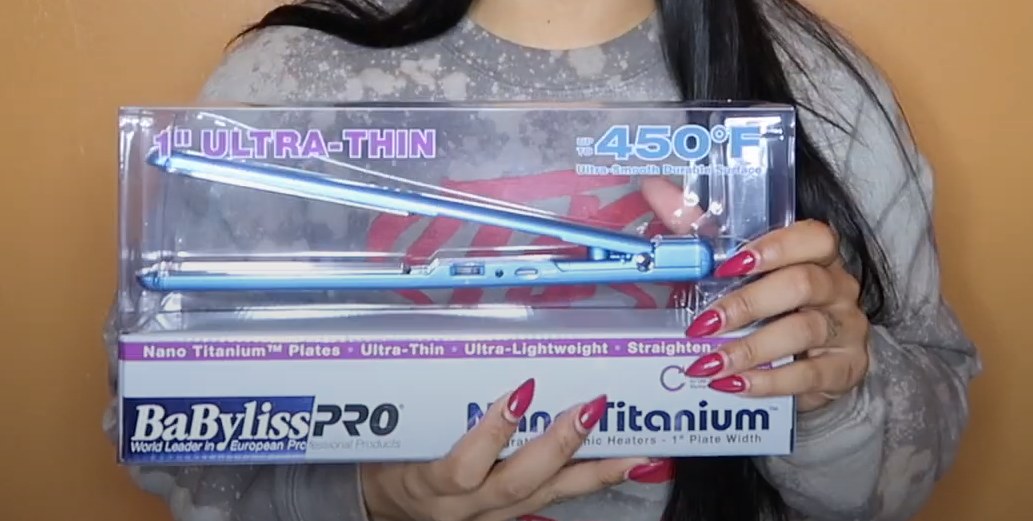 Why choose to buy a 1-inch flat iron?
Flat irons with narrower plates come in handy when you need to deal with smaller sections. There are hairstyles such as the layered bob that require minimal handling with gentle strides. Aside from this, a 1-inch straightener is ideal for fine, brittle, dry, over-treated, or damaged hair.
It will give a precise control than using a wider plate hair iron. Thin plated flat irons can easily pass through sections providing heat close to the roots for a more natural straight hair look.
Another plus with a 1-inch flat iron is that you can easily change your look from having pin-straight locks to having bubbly waves and soft curls. It provides an easier grip without having a hard time handling it. It's more versatile and easier to maneuver. Also, with its sleeker design, it comes in handy when traveling.
What hair types are suitable to use with 1 inch hair straighteners?
Most hair types will benefit from using a 1" flat iron. Ideally good to use with short, layered, and medium-length hair. Recommended also for chemically treated, damaged, fine, and brittle hair.
Can you curl with a one-inch flat iron?
Absolutely yes.
Can you use it on wet hair?
Ideally, not recommended. Hair is extremely fragile when wet.
Also Read:
Conclusion
Unruly, frizzy, and unmanageable hair is now a thing of the past. Through technology, we have ways to look and feel good about ourselves. If you are searching for the best 1 inch flat iron, consider getting the BaBylissPRO Nano 1 Inch Straightening Iron. We have enough reasons as to why it tops our list.
With the exclusive nano titanium technology, it is efficient in making hair look straighter while keeping it protected through its innovatively designed iron plates. It also enhances the hair with brilliant shine.
The 50 settings option provides you with the right kind of temperature that your hair needs since not all hair strands are the same. You can also have versatile hairstyles from sleek to waves in a jiffy. It glides smoothly and very user-friendly.