With so many different hair irons out there, selecting the right one for your hair type and needs can be a little overwhelming.
We don't just want a fuss-free hair iron that looks sleek and is easy to use, we need to make sure our hair stays healthy, strong, and protected from damage too.
We've tried and tested the most reliable hair irons from CROC so you can achieve covetable catwalk-worthy glass hair one day and effortless beach waves the next.
Top 4 Best Croc Flat Irons Reviewed
These CROC flat iron reviews below will decode the different options, helping you make an informed decision depending on your lifestyle and hair type.
back to menu ↑
1. CROC Classic Silver Titanium Flat Iron —
Top Pick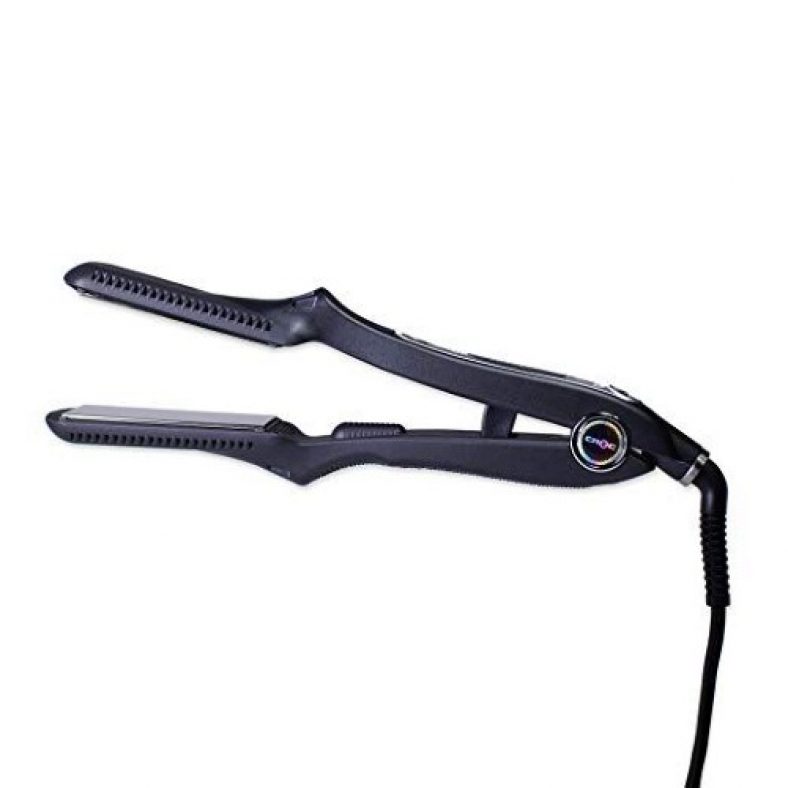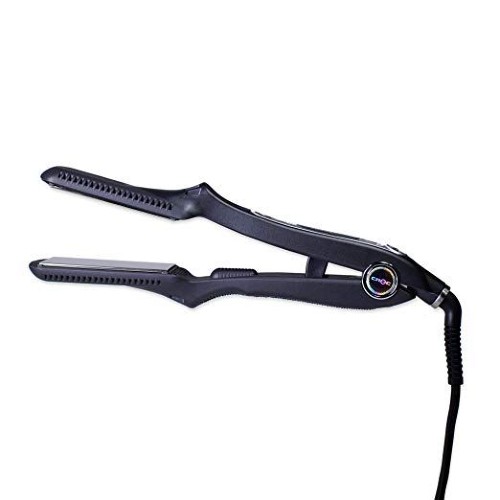 This luxurious salon-quality flat iron is perfect for those of you who are comfortable with styling and love to experiment with different looks. With smooth titanium plates and a sleek ergonomic design, you can style away with comfort and ease.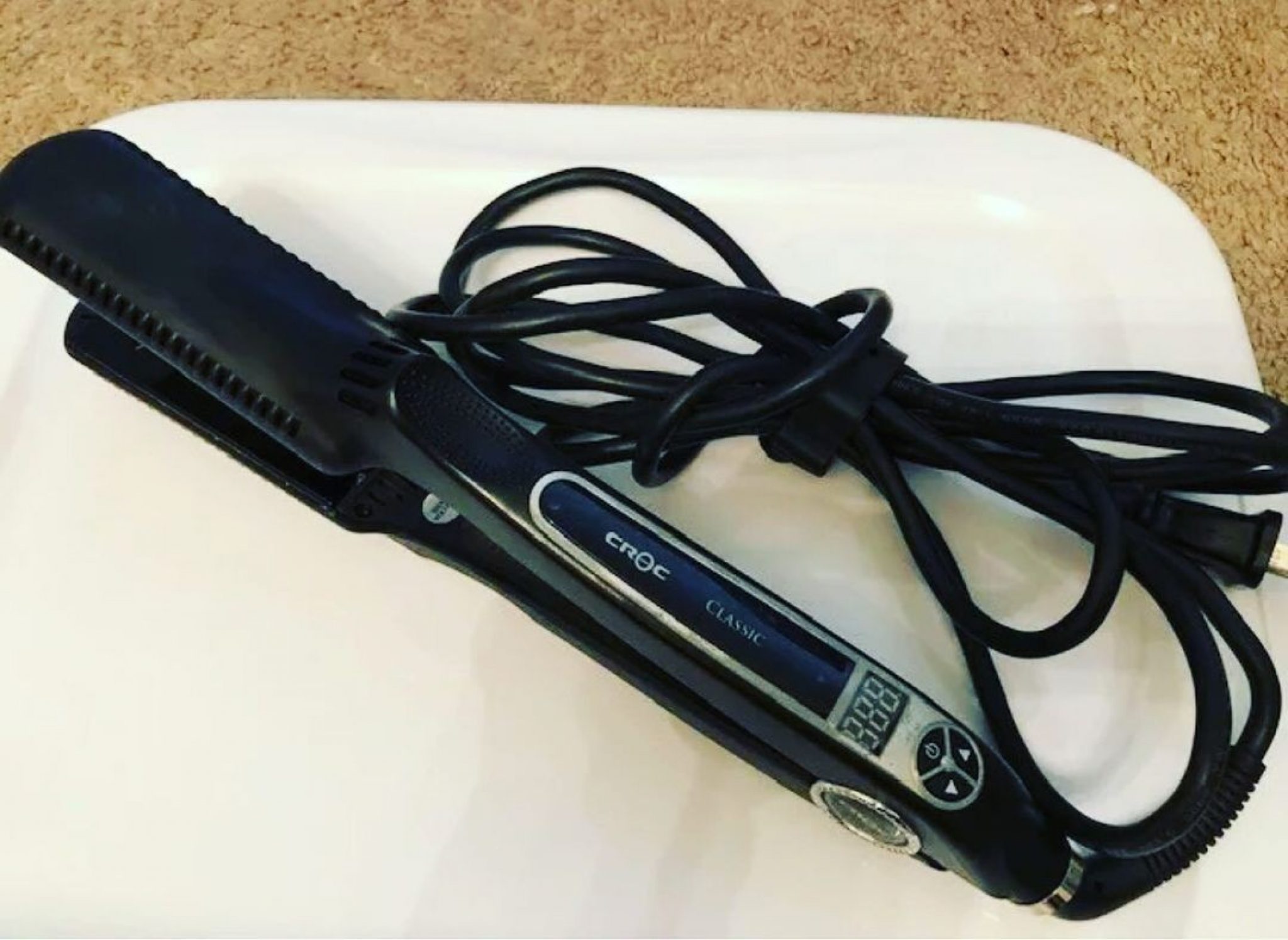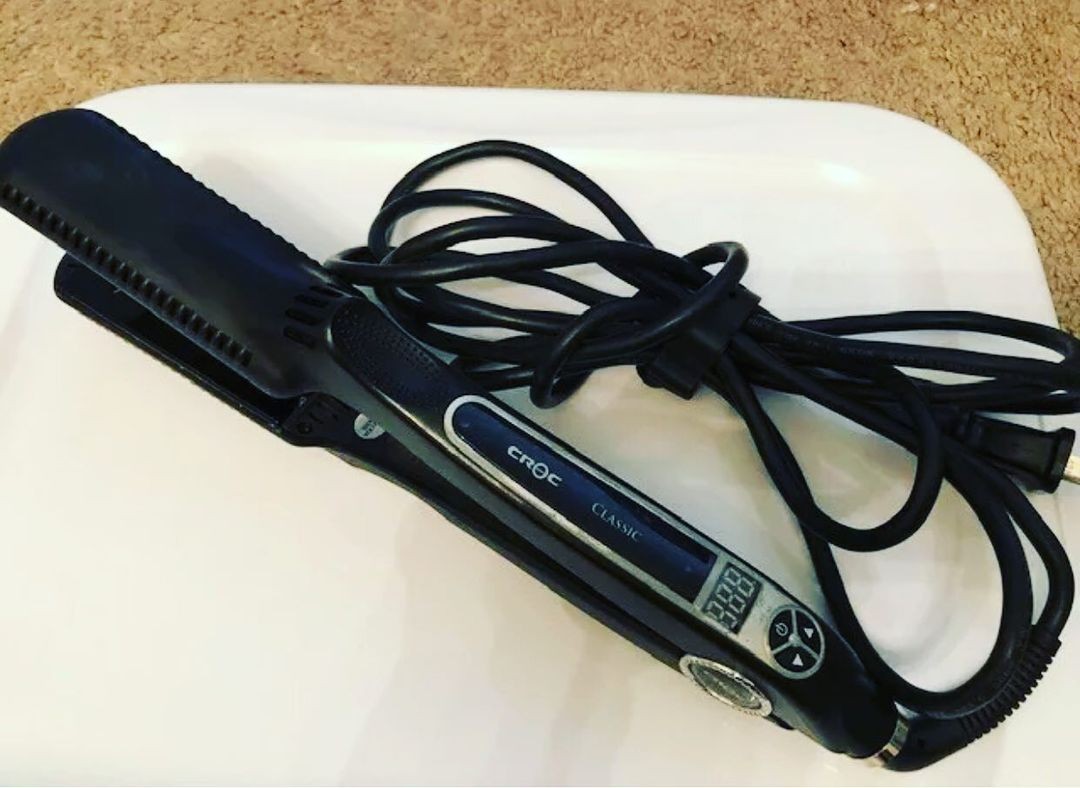 The 17 temperature options and innovative ventilation system in this croc straightener guarantee healthy hair and safe heat styling. Suitable for any hair type, the titanium plates glide effortlessly over your hair with ease to seal the cuticle gently with heat. Frizz and flyaways are eliminated, allowing the hair to gleam with a beautiful shine and feel silky-smooth to touch.
What we like:
Gives salon-quality, professional results;
Easy to use with its sleek, ergonomic design;
Protects the hair's health against heat damage with 17 temperature modes;
Safe to use every day;
Includes a 30-minute automatic shut-off mode for safety.
Take note:
With its different temperature modes, this professional styler may be more suitable for those who are comfortable styling their hair into different looks.
Summary
This flat iron glides effortlessly over the hair with its titanium plates and is easy to use with its ergonomic design. With its 17 temperature options, the CROC Classic Silver Titanium Flat Iron is ideal for all hair types and to protect the hair's health day after day.
---
back to menu ↑
2. CROC Classic Infrared Flat Iron — Premium Choice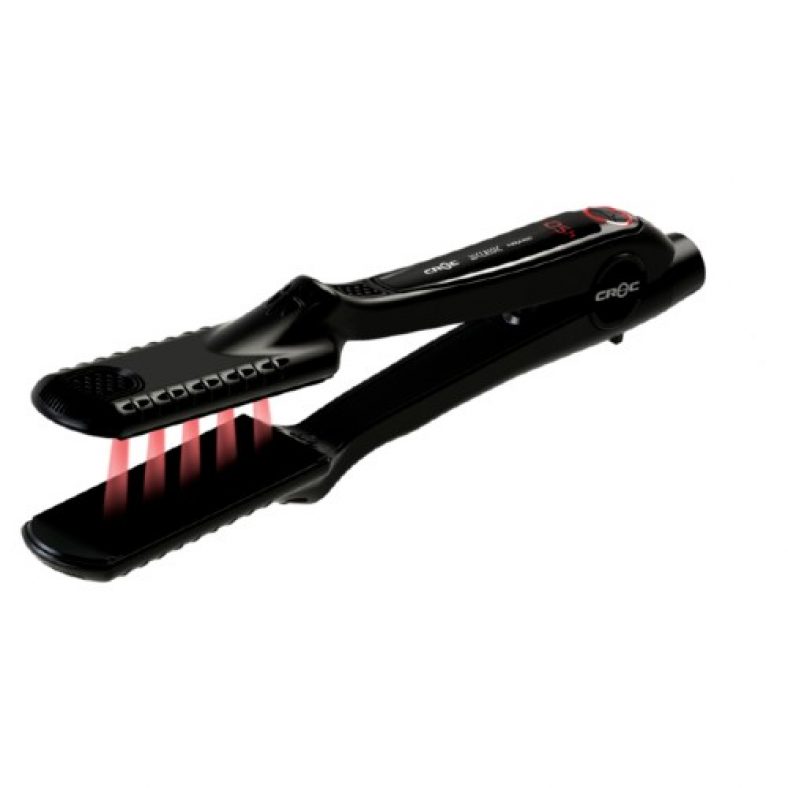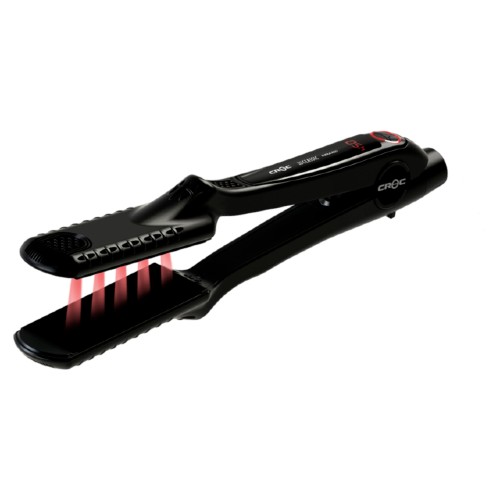 Have color-treated or coarse hair? Look no further than this infrared croc professional iron targeted to increase blood flow in the scalp, stimulate hair growth, detoxify the hair, and reduce heat damage.
This multi-tasking flat iron with titanium plates, a clever ventilation system, and an ergonomic thumb design is comfortable to use, gliding effortlessly over all hair types. The advanced technology allows moisture to be retained whilst the negative ions seal the hair's cuticle, bringing a beautiful shine.
The fully digital temperature settings allow you to be fully in control, repairing your hair whilst you style without static in sight! I didn't have a chance to use this tool myself but going through dozens of Croc infrared flat iron reviews from verified users, I can say it's definitely worth your attention.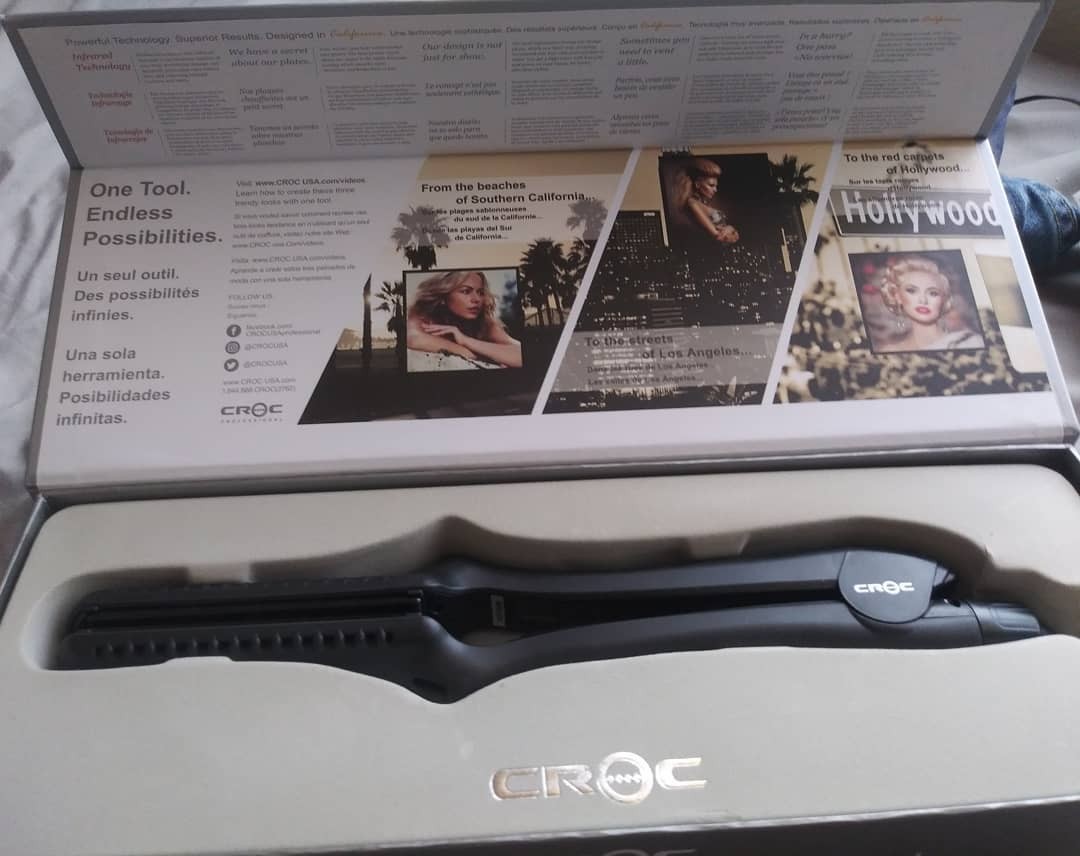 What we like:
Infrared technology to reduce heat damage and stimulate hair growth, especially in coarse and color-treated hair;
Easy to use with its ergonomic design and thumb grip;
Titanium plates with negative ions to help the hair's health and lock in moisture;
Ventilation system reduces heat to protect hair;
Includes a 30-minute automatic shut off mode for safety.
Take note:
Ideal for coarse and color-treated hair types.
Summary
This flat iron has incredibly advanced technology to protect your hair and even stimulate hair growth in coarse or color-treated hair. With this flat iron, you can be assured your hair is in the best hands and won't suffer from damage as you style to your heart's content.
---
back to menu ↑
3. CROC Baby Flat Iron — Great Travel-Size Straightener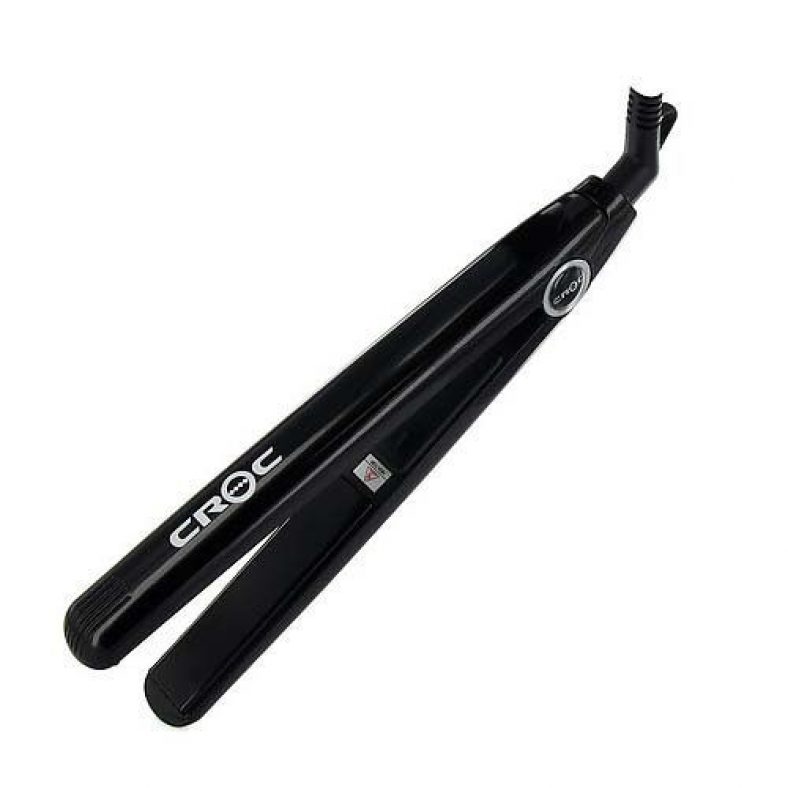 This compact croc iron with dual voltage capability is perfect to style on the move so you can have salon-worthy locks in every destination!
The ceramic plates contain negatively charged ions that contribute to your hair's health – preventing breakage, speeding up hair's drying time, and boosting shine.
Available in six eye-catching colors, you can choose a design to suit every mood with the confidence you'll have great hair wherever you go!
What we like:
Compact, travel-size, and dual voltage capability;
Ceramic plates with negatively charged ions;
Static temperature of 410F;
Six different color options.
Take note:
For those with more fragile hair types, the heat is not adjustable;
Perfect for hair touch-ups on the go and traveling but a more advanced flat iron is suitable for more professional results.
Summary
This travel-friendly flat iron is your answer to frizz-free, beautifully smooth hair wherever you are. Available in six eye-catching colors and a lightweight design, it's easy to pack for a quick touch-up to take you from the beach to dinner.
---
back to menu ↑
4. Croc Classic Wet To Dry Flat Iron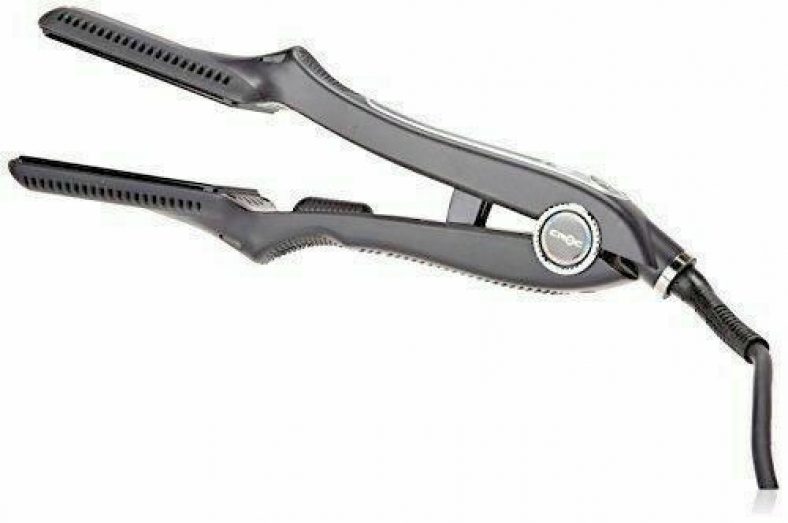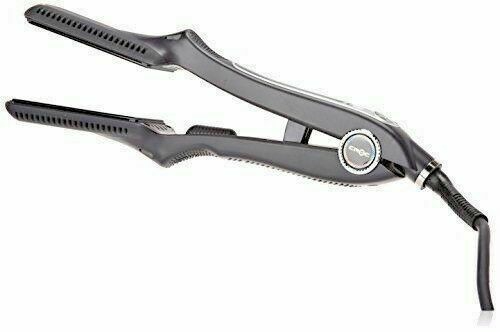 This innovative 1-inch flat iron is able to style hair from damp to dry, speeding up styling to save you precious time!
The titanium plates absorb frizz and static, reducing negative ions to protect against heat damage whilst locking in moisture. This wet-to-dry flat iron will be your go-to flat iron for gorgeously sleek locks and tousled waves.
What we like:
Dries and styles simultaneously;
Speeds up drying time able to be used on damp hair;
Easy to use with its ergonomic design and thumb grip;
Titanium plates with negative ions to help the hair's health and lock in moisture;
Ventilation system reduces heat to protect hair.
Take note:
May not be as effective on thicker, curly hair types;
Best to be used on damp rather than wet hair.
back to menu ↑
What to Look for When Picking a Flat Iron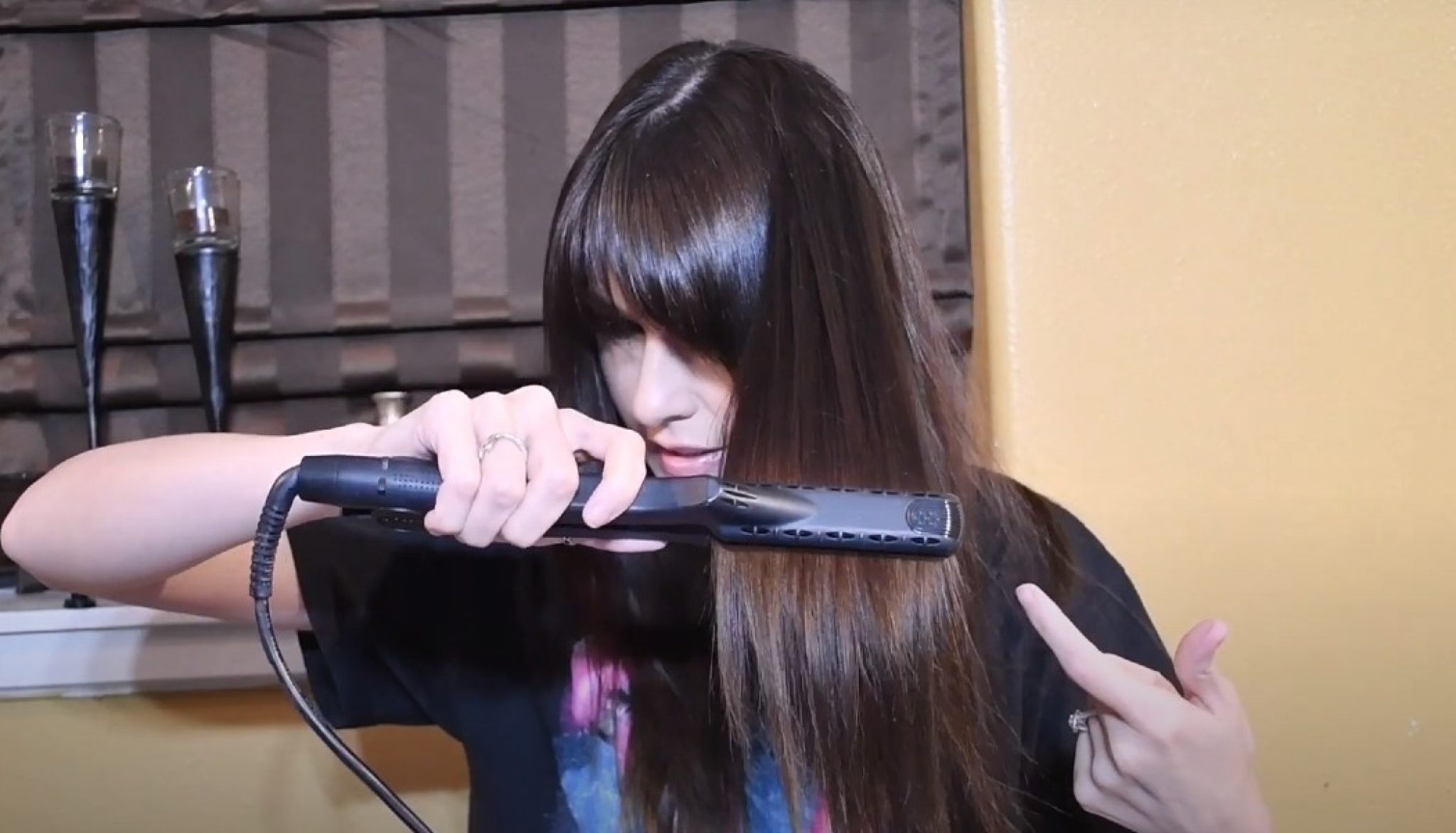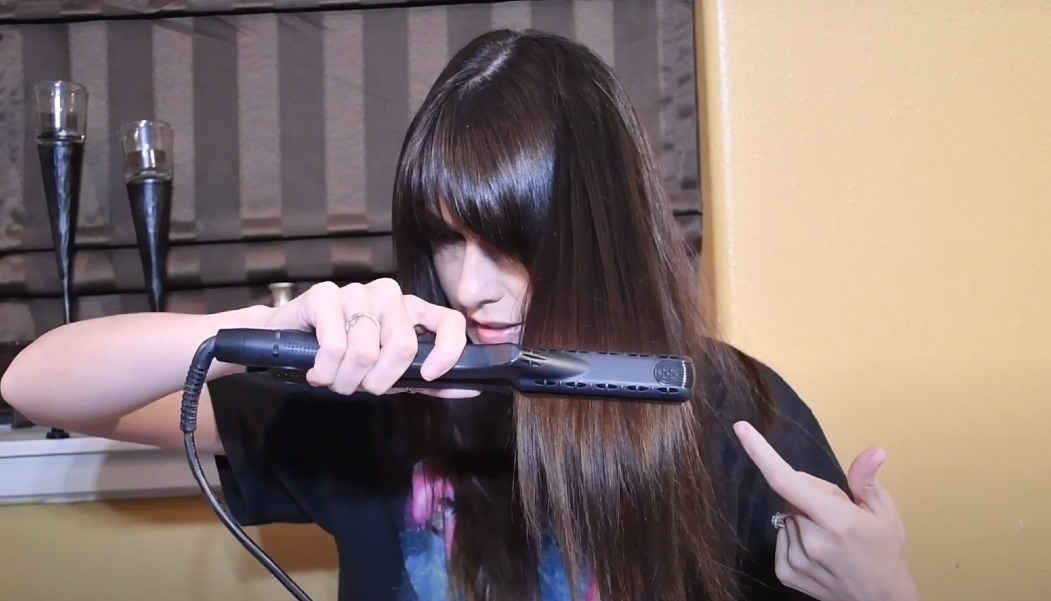 When choosing a flat iron, really look at your hair type and individual needs to maximize your daily routine.
The most expensive flat iron doesn't always mean that it's the best for you and with so many options available it helps to know a little bit about how different plates or heat settings could benefit your individual hair type.
Finding 'the one' can be tricky, so we've picked out some key benefits for you when choosing a flat iron.
If your hair is fragile, coarse, or color-treated, consider a flat iron with adjustable heat settings or advanced technology like infrared heat to give maximum protection.
Plates are important too – for those with curly or thicker hair types titanium plates are better as they heat more quickly at a higher temperature, whilst ceramic plates may be more gentle for fragile or fine hair.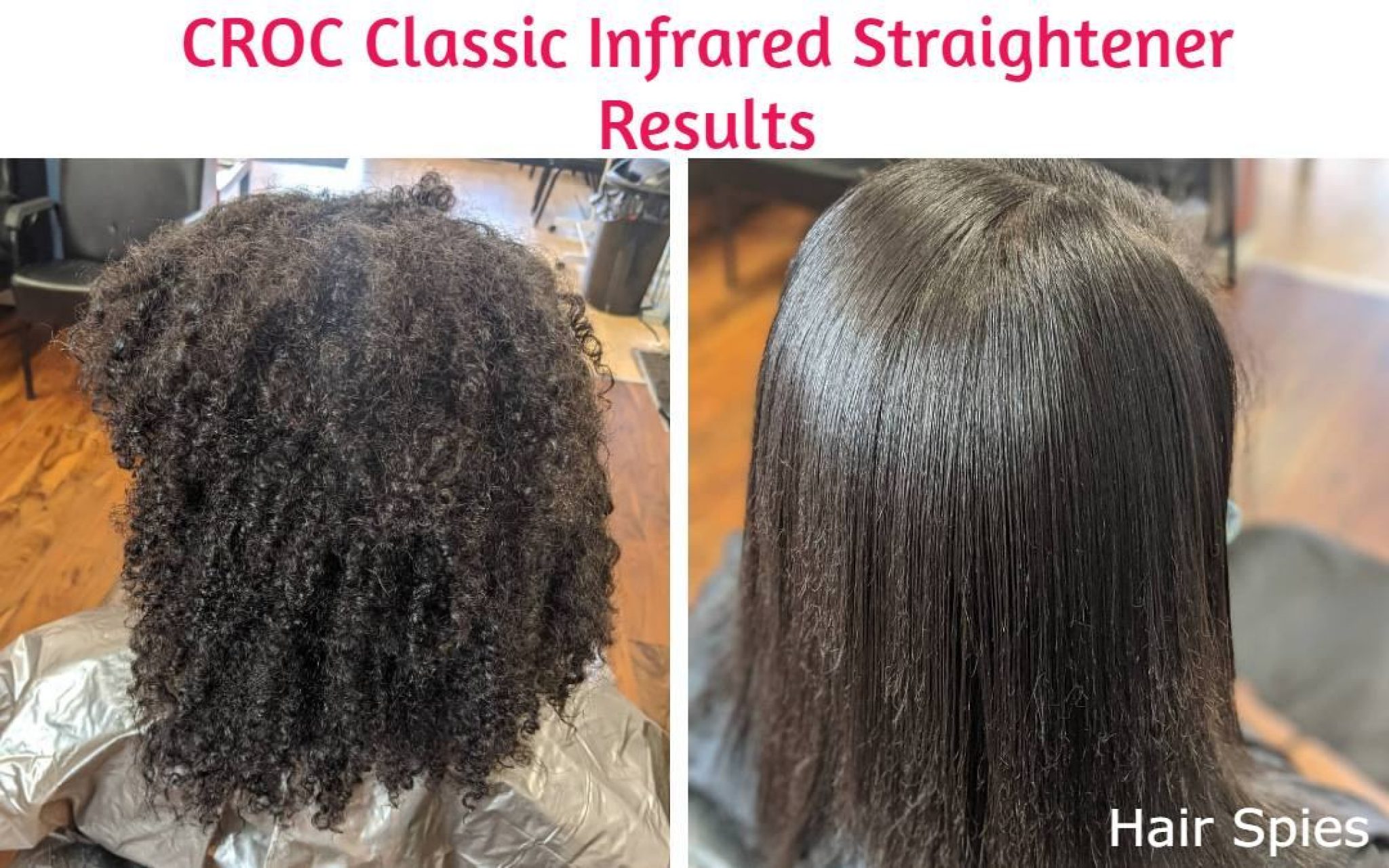 Titanium is more lightweight too so your arms won't tire. Consider the size of the plate when looking at your hair's length and texture. If you regularly create waves and curls, a rounded shaped end with a more narrow design may be better, whereas for daily straightening this is not as important.
Try before you buy and pick a flat iron that feels comfortable to use in your grip so it's easy for you to style with more possibilities. It sounds obvious, but you need a flat iron that is lightweight and easy to glide effortlessly over the hair, especially if you like to create curls or waves.
Look at your lifestyle and how much you'd like to use your flat iron. If you find yourself traveling a lot or going on business trips, you may need to invest in a travel-sized flat iron.
If your hair is damaged or you're concerned about keeping your hair in the best condition possible, a flat iron with infrared technology and adjustable heat settings would be favorable.
back to menu ↑
About CROC


Inspired by its unique, sleek, and ergonomic designs CROC produces leading hair tools. With a range of technically advanced, professional quality, and innovative hair tools, they are made using the highest quality materials.
CROC has the most innovative design features and uses the highest quality materials for salon professional results.
back to menu ↑
Croc Flat Iron FAQ's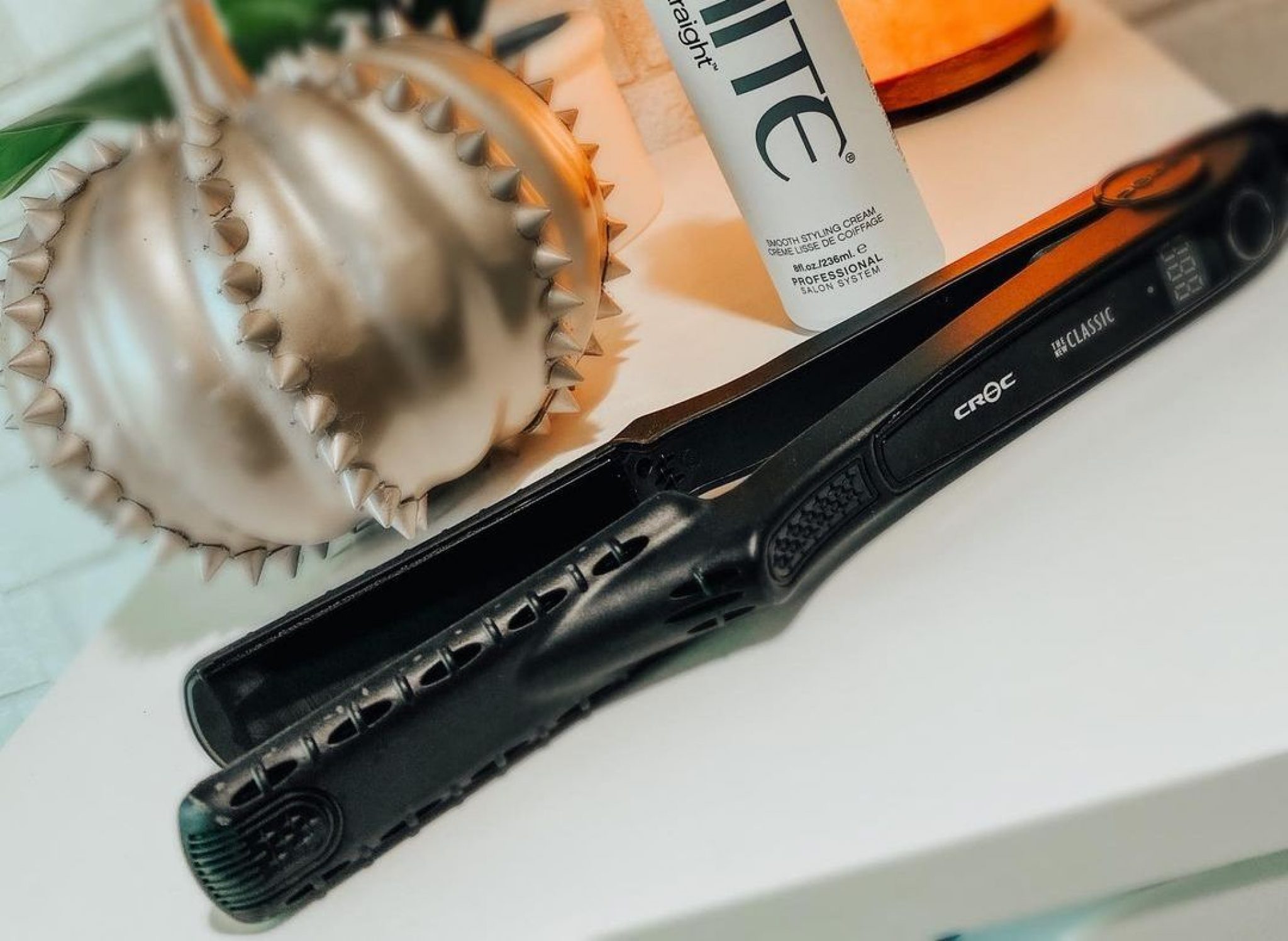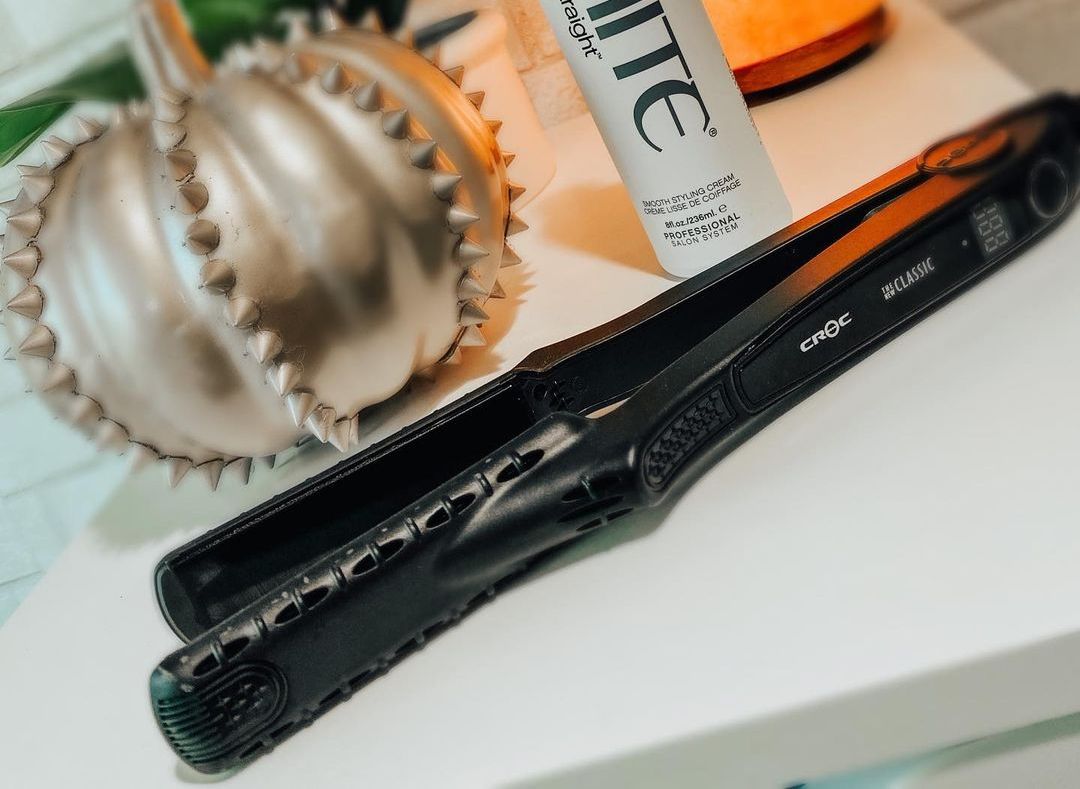 back to menu ↑
What size Croc flat iron should I buy?
Flat irons vary from 1/2 to 2 inches. Consider the texture, thickness, and length of your hair when deciding. Also, look at your lifestyle needs – if you like to travel light a compact 1/2 inch version may be best.
back to menu ↑
How to clean Croc hair iron plates?
Wipe them regularly with a smooth, dry cloth to prevent build-up or residue. For the infrared flat iron, it is best to use a Q Tip on the infrared strip which is more delicate.
back to menu ↑
What is the warranty on Croc flat irons?
One year from the date of purchase from an authorized vendor.
back to menu ↑
How to spot a fake Croc flat iron?
Always buy from a certified, authorized seller which gives a warranty certificate.
Also read:
back to menu ↑
Conclusion of My Croc Hair Straightener Reviews
With the amazing range of salon professional flat irons available at CROC there is something to suit your every need and you really can't go wrong!
Always consider your hair type and texture, along with your lifestyle habits when choosing your preferred flat iron.
We've whittled down some of the best for you for a range of concerns but for the best all-rounder, our top pick is the Classic Silver Titanium Flat Iron.
Its truly beautiful ergonomic design with titanium plates and advanced heat technology with 17 modes gives you salon-quality results whilst offering maximum protection.