Finding the best mini flat iron for short hair can be a time-consuming task. There's a sea of products out there to choose from, so how would you know which one is the right fit?
Go over the reviews of these best-selling flat irons from renowned brands and you'll immediately know when to hit 'Add to Cart.'
Top 6 Mini Flat Irons for Short Hair Reviewed
back to menu ↑
1. BaBylissPRO Nano Titanium Straightener –
Top Pick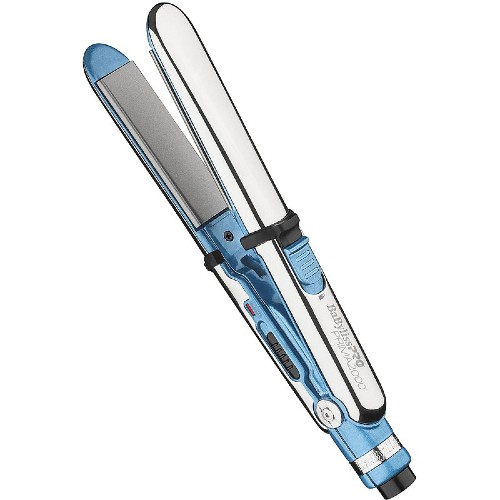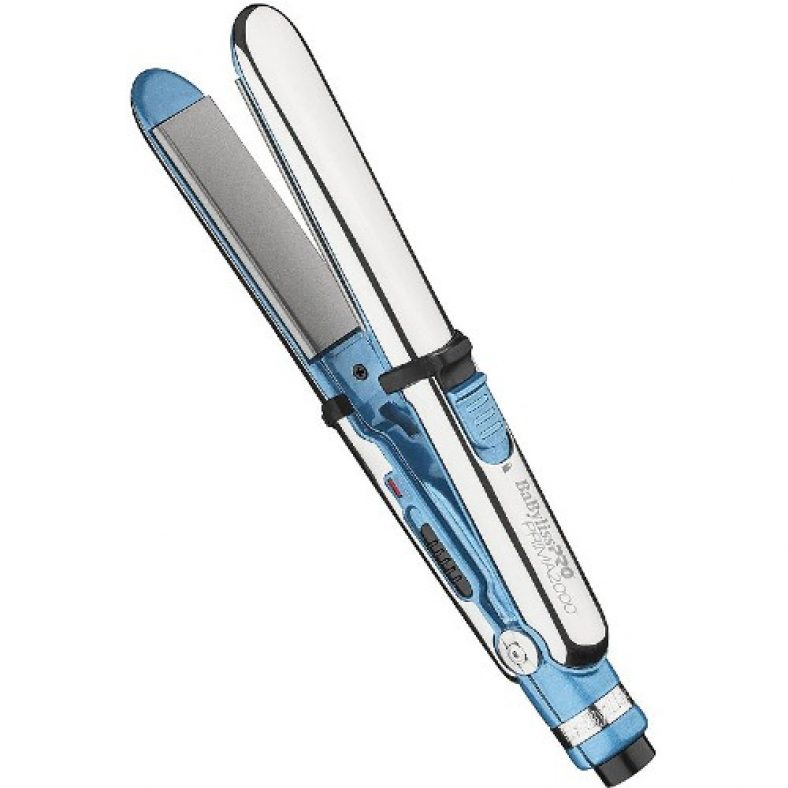 Plate Width: 0.75 Inch
Plate Type: Titanium
Warranty: 1 year
Voltage: 110-240V
Temperature settings: 420F
BaByliss is a European hair tool brand that has been on the market for over 50 years. Founded by the popular hairstylist Lelievre, then acquired by Conair, this brand is a go-to for everyone who needs high-quality styling or treatment tools that will last for a long time.
Thanks to the convex housing and curved edges of the BaByliss straightener, you can straighten and curl short hair with ease. This will help you get close to the hairline without burning yourself. It's an excellent solution for straightening baby hair, bangs, and those frizzy hairs that are all over the place.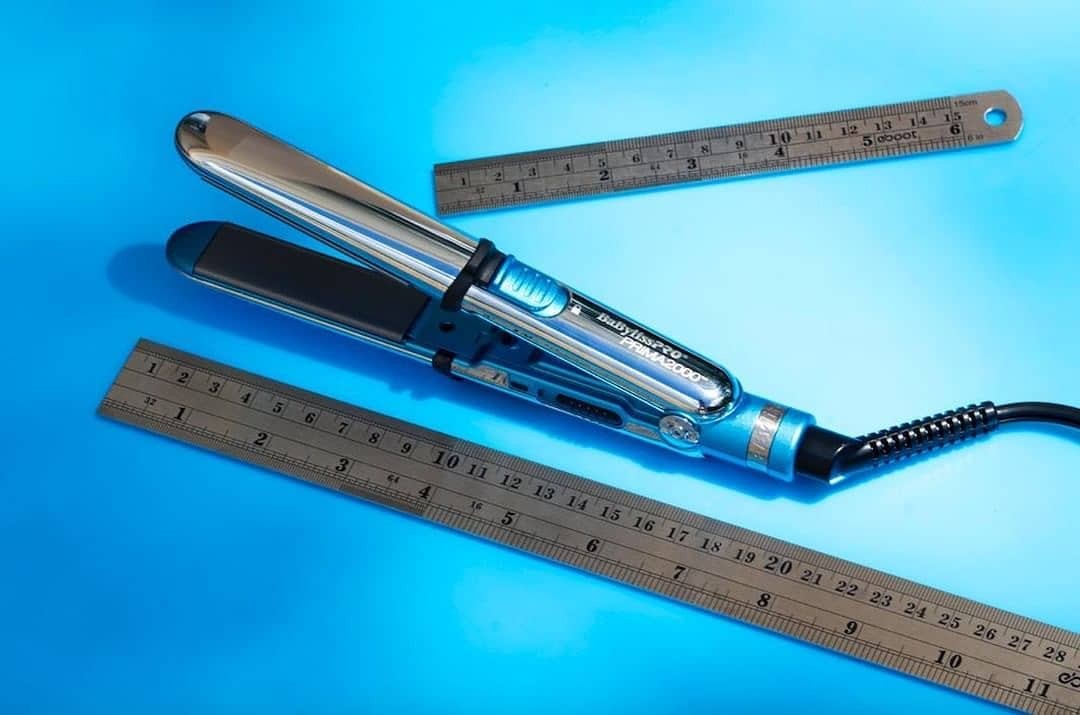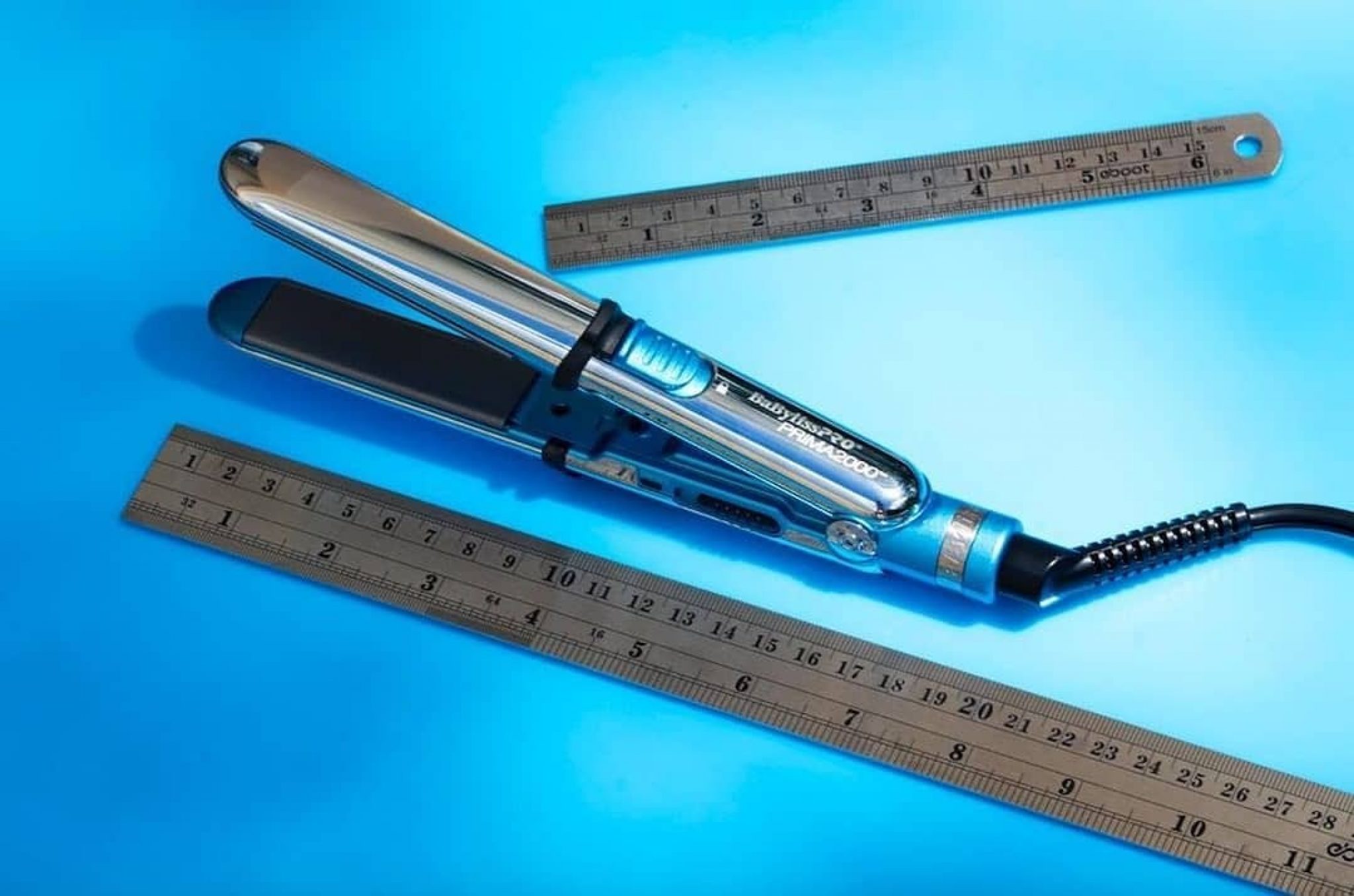 The temperature setting is adjustable; however, the BaBylissPro Nano Titanium straightener doesn't have a digital screen where you can check the temperature. It goes up to 420 F degrees, which means it will straighten or curl even the most stubborn hair.
This tool is dual voltage, therefore it's perfect for traveling. So, if you're a frequent traveler with short, medium, or even long hair, you might want to consider this flat iron.
Thanks to the locking function, the iron will take even less space in your luggage. Let's not forget to mention that the packaging also includes a travel pouch and a thermal styling glove that will help you stay safe.
What We Love:
Dual voltage, which is perfect for traveling;
Locking function;
Protective stainless steel housing;
Comes with a travel pouch and thermal styling glove.
What We'd Change:
It's missing an instant heat feature.
The BaBylissPro Nano Titanium is the best mini flat iron for short hair because it's powerful, lightweight, dual voltage, and comes packed in a high-quality stainless steel housing. In addition, the locking function and travel pouch make it perfect for traveling.
Straightening Performance
9.7
back to menu ↑
2. Baby CROC Mini Travel Iron – Runner Up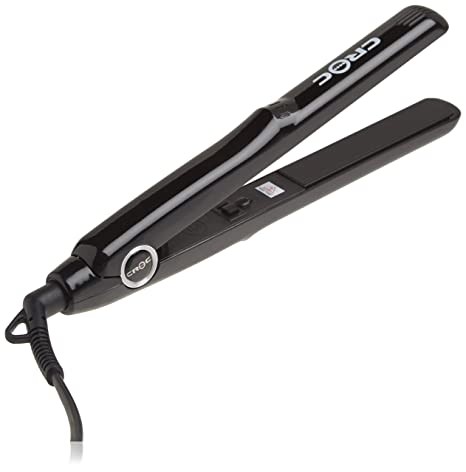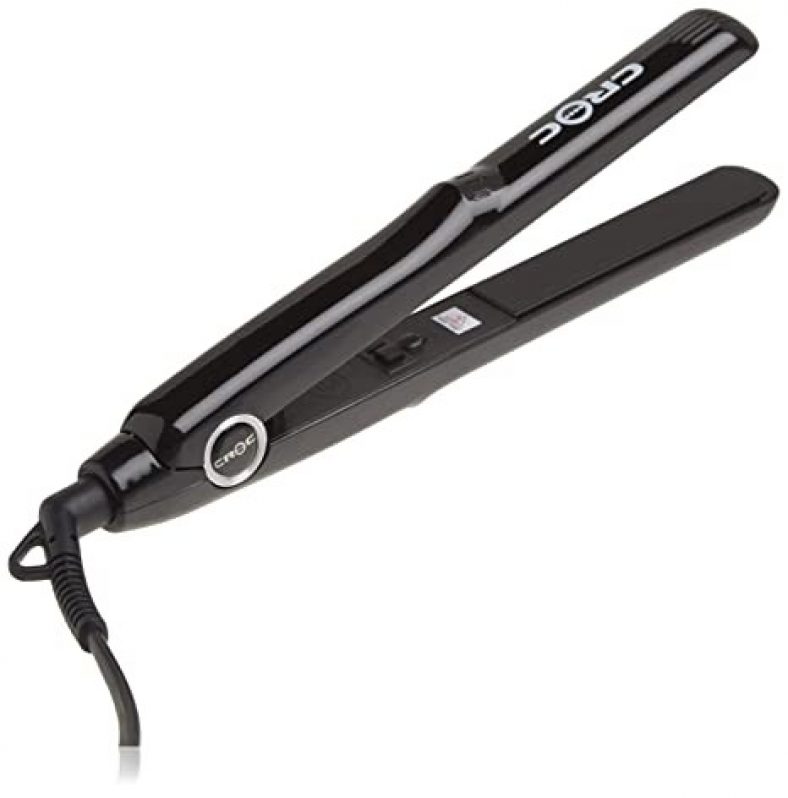 Plate Width: 3/4 Inch
Plate Type: Ceramic
Warranty: 5 year
Voltage: 110-240V
Temperature settings: 430F
CROC is another company founded by a hairstyle professional. It all started back in 2005, when the founder paired up with scientists to introduce their tools that look great, are technologically advanced, and do the job! The brand uses only the best materials out there to ensure that its customers get what they deserve.
The ¾-inch flat iron floating plates of the Baby CROC straightener are made of ceramic. This material reduces hair damage to a minimum and leaves the new hairstyle smooth, frizz-free. Thanks to the floating ceramic plates, users can also curl their short hair with ease.
One of the best things about this mini ceramic flat iron is that it comes in several colors. It's so cute and lightweight, but what makes it even unique is the selection of bold colors.
Since the tool is dual voltage, you can easily pack it and take it anywhere with you.
What We Love:
Dual voltage;
Available in several colors;
Heat-proof carrying case;
Instant heat feature.
What We'd Change:
Missing a locking feature.
The Baby CROC Mini Travel Iron is the best budget product on the list, but to be honest, it's one of the highly-praised mini hair tools among customers. The fact that it doesn't cost as much as premium choices doesn't make it inferior.
Straightening Performance
9.6
back to menu ↑
3. ghd Gold Hair Straightener – Premium Pick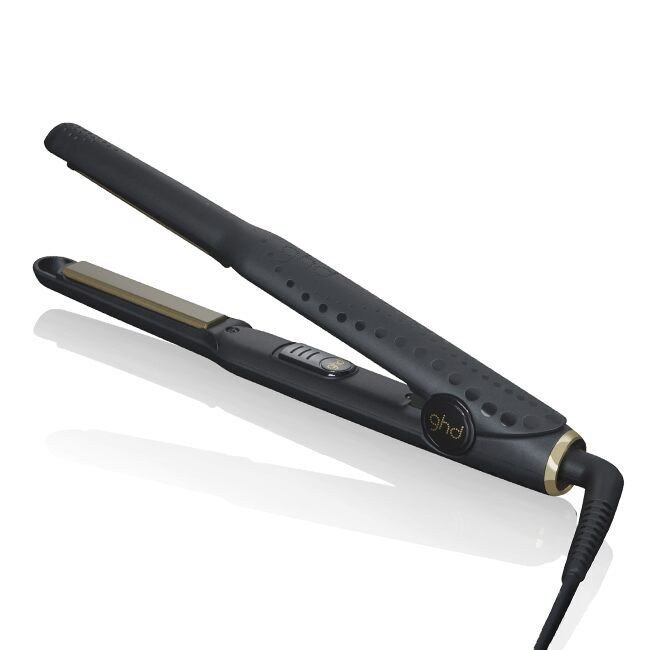 Plate Width: 1/2 Inch
Plate Type: Ceramic
Warranty: 2 year
Voltage: 110-240V
Temperature settings: 365F
It all started back in 2001 when three hairstylists found an innovative hair straightener in South Korea. Gary Douglas, Martin Penny, and Susan Powls bring the straightener to Europe, buy the rights from the inventor and start a company named ghd or good hair days.
Since then, ghd managed to become one of the most popular hair styling tool brands with famous supporters and ambassadors.
This Gold mini hair straightener for short hair is a work of art. First of all, it looks so good and is packed in the most stylish black matte housing with gold plates. The size of the plates is ½ -inch, and they're perfect for even the shortest hairstyles.
According to the brand, the ultimate temperature for straightening or curling your hair is 356 F degrees. Unfortunately, their mini flat iron doesn't come with an adjustable heat feature; instead, it only heats up to 365 F because this temperature minimizes hair damage and breakage.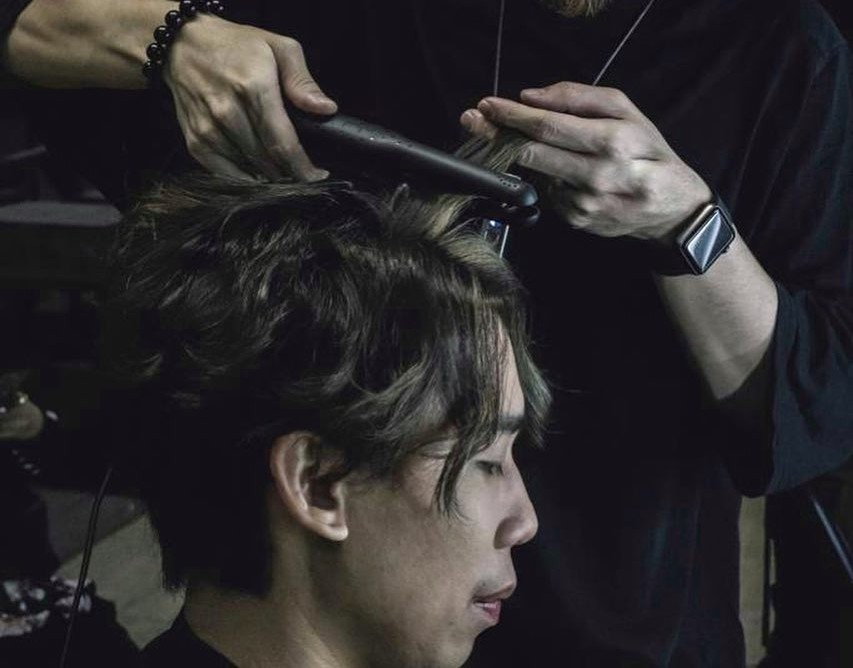 What We Love:
Rapid heat-up in only 30 seconds;
Auto shut-off after 30 minutes;
Comes with a heat resistant protective plate guard;
Universal voltage;
Extra-long cord.
What We'd Change:
Heats up only to a single temperature of 365 F degrees.
This ghd Gold Hair Straightener might cost several times more than other tools on this list, but there's no doubt that it's superior when it comes to packaging and includes a few unique features. Most customers love how fast it heats, the auto shut-off feature, the long cord, and how smooth it makes their hair look.
Straightening Performance
9.6
back to menu ↑
4. FHI Tourmaline Ceramic Pro Styler – Professional Mini Flat Iron With Temperature Control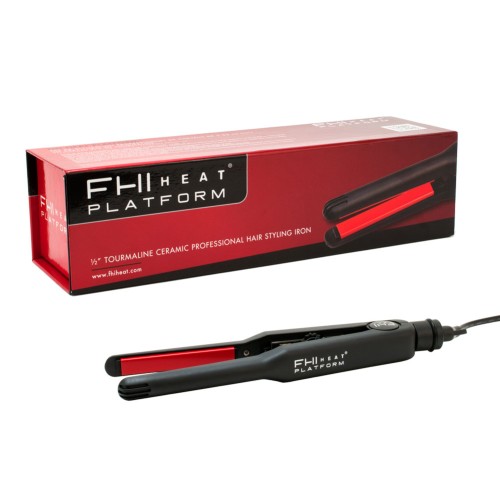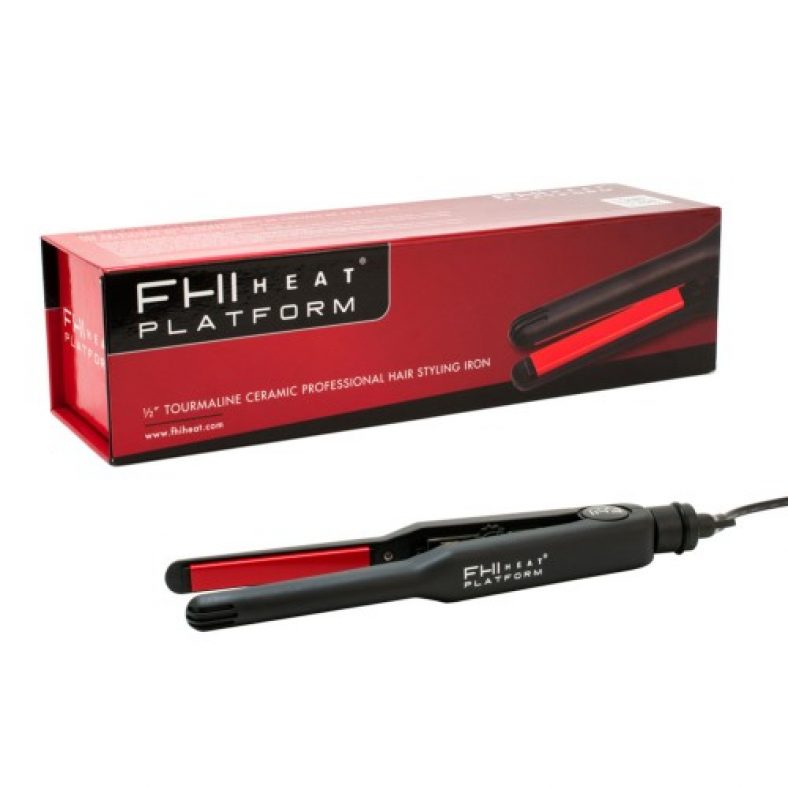 Plate Width: 1/2 Inch
Plate Type: Ceramic
Warranty: 2 year
Voltage: 110-240V
Temperature settings: 450F
FHI is a brand that offers a full range of hair tools and hair products at a professional hair salon level. The company's creators love supporting hairstylists and salons, so they do their best to include innovative technologies to make everyone happy with their new tools. They also cater to their customers by producing tools that preserve hair health and deliver excellent results.
The mini Pro Styler is made with advanced tourmaline ceramic plates that promise equal heat distribution and gentle treatment of the hair. After curling or straightening your hair with this tool, it will be smooth and glowing. If you're wondering about the plate size, it's ½-inch, meaning that it's one of the best sizes for working with short hair.
This mini iron has adjustable heat settings. Its temperature starts at 140 F degrees and can go up to 450 F degrees. This feature makes it perfect for thin, thick, and hair with a medium thickness. If you have thin hair, stick to the lower temperatures, while thick, coarse hair can deal with high temperatures.
The plates are lined with heaters from edge to edge to deliver equal heat to all parts. They're also floating and beveled, which makes them great for curling without tugging. Thankfully, this fantastic find is universal voltage, and you can take it anywhere with you.
What We Love:
Adjustable temperature that starts at 140 F and goes up to 450 F degrees;
Extra-long cord;
Auto shut-off after an hour;
Universal voltage.
What We'd Change:
The FHI Tourmaline Ceramic Pro Styler is an exceptional flat iron with adjustable temperature control for all hair types. It has a very long cord that makes it easier for you to move around the house, and it's universal voltage.
Straightening Performance
9.4
back to menu ↑
5. BaBylissPRO Mini Straightening Iron – Best Flat Iron For Short Natural Hair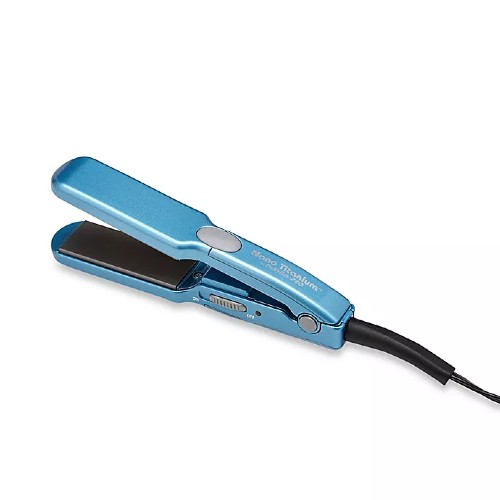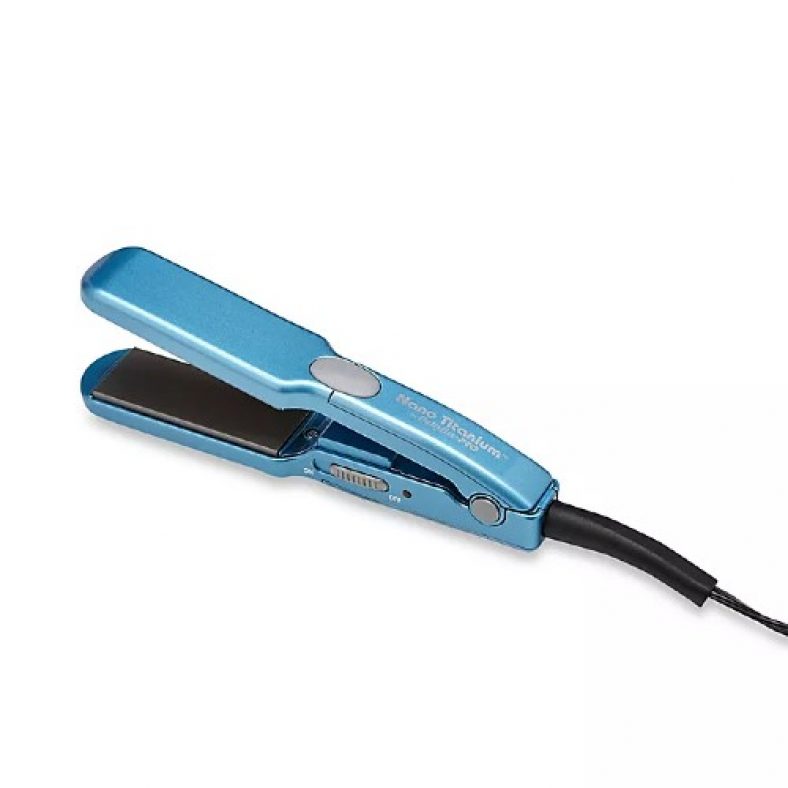 Plate Width: 1 Inch
Plate Type: Titanium
Warranty: 1 year
Voltage: 110-240V
Temperature settings: 440F
Another BaByliss product made its way to the list. This one has slightly bigger plates; that's why it's the best option for straightening short natural hair. It's a very effective product with 1-inch nano titanium plates that are packed in a Ryton housing.
The tool is small, compact, very easy to take with you when traveling. Since the plates are a little wider compared to other products on the list, this flat iron is also suitable for medium-length hairstyles.
In addition, it's a dual voltage product, meaning that you can take it on a trip around the world without worrying. If you're in a rush, this BaBylissPro iron comes with a fast heat-up feature, with a maximum heat of 430 F degrees.
What We Love:
Dual voltage;
Fast heat-up feature.
What We'd Change:
Not ideal for curling;
No auto shut-off.
The BaBylissPRO Mini iron is the best purchase for people with short natural hair because it straightens even the most stubborn curls with ease. Other users find the dual voltage and rapid heat features very beneficial.
Straightening Performance
8.8
back to menu ↑
6. T3 Micro Compact Styling Iron – Best Flat Iron For Curling Short Hair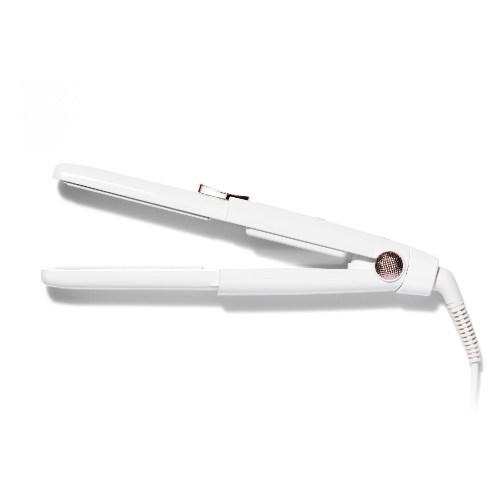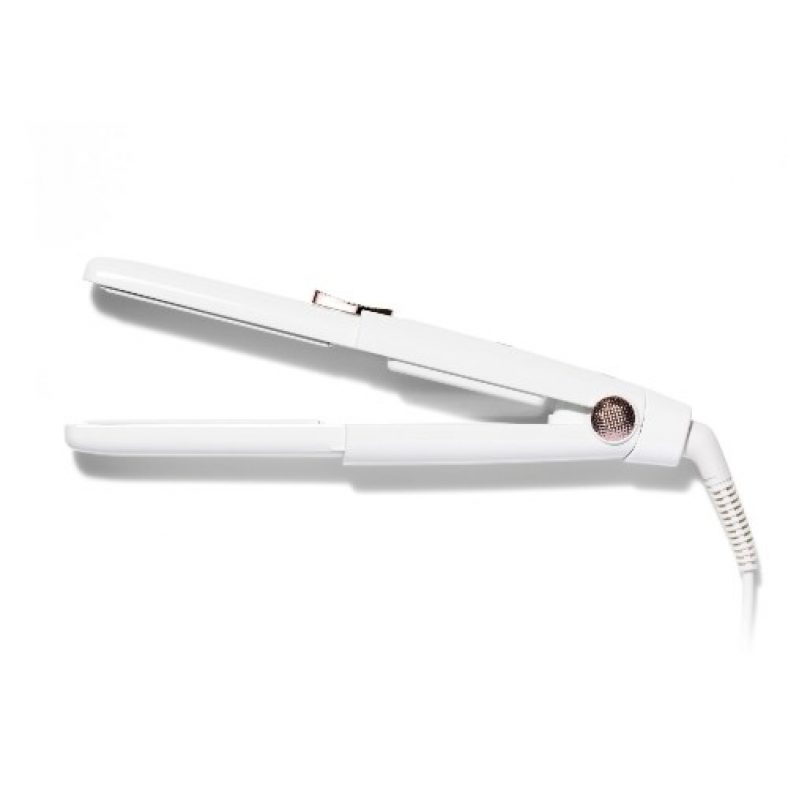 Plate Width: 1 Inch
Plate Type: Ceramic
Warranty: 2 year
Voltage: 110-240V
Temperature settings: 410F
T3 designs some of the most beautiful hair tools on the market. The brand's journey started back in 2003 when the founders decided to blend a tech start-up with a beauty brand.
This is when they decided to produce high-quality tools that will promote the latest technological advancements and healthy, gorgeous hair.
One of their cutest releases is the T3 Micro Compact Styling Iron. It features 0.8" ceramic plates that can heat up to 410 F degrees. In addition, the iron is enriched with a special digital SinglePass technology that maintains a constant temperature inside the plates and prevents hair damage.
The styling iron is excellent for traveling. It has an auto world voltage feature, comes with a heat-resistant cap, and it's small enough to fit anywhere in your luggage.
What We Love:
You can use it for straightening, curling, creating waves;
2-year warranty;
Auto shut-off after an hour;
Long, 360-degree swivel cord;
Auto world voltage.
What We'd Change:
It's a little on the expensive side.
This is one of the best thin flat irons for short hair, and it's very aesthetically pleasing. If you want to curl your short hair, this is one of the options you should keep in mind.
Straightening Performance
9.4
back to menu ↑
What to Look For in a Mini Flat Iron?
If you decided to invest in a mini straightener but don't know which features matter, this buyer's guide is here to help. Mini flat irons are very useful for people with short hair or people who travel very often.
That's why these tools should be small, lightweight, easy to pack, able to reach the hair roots with their plates.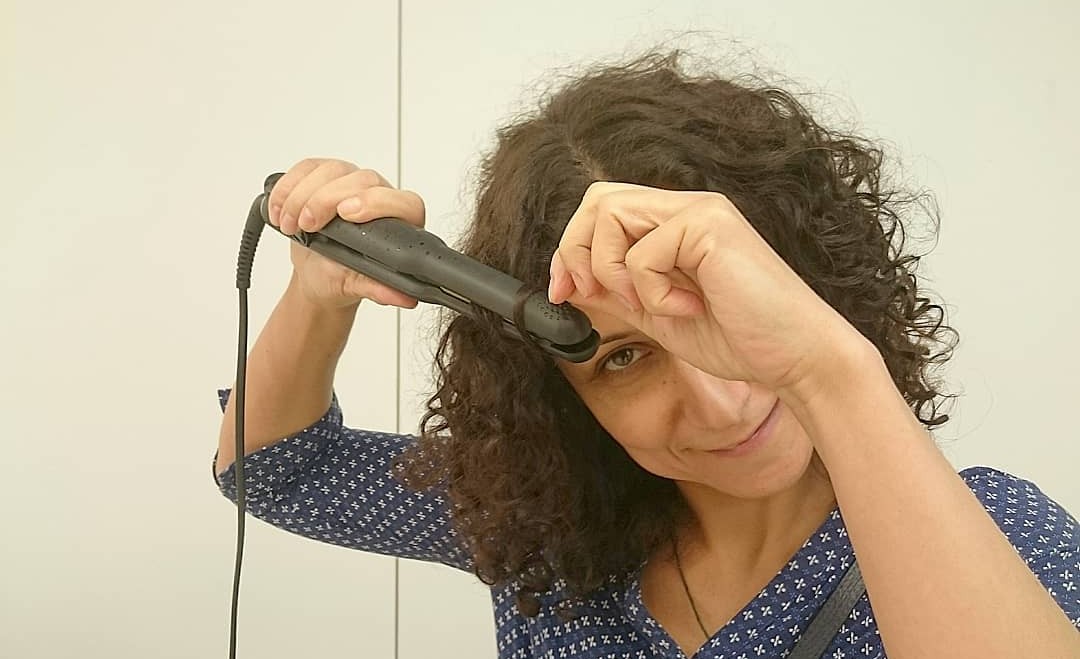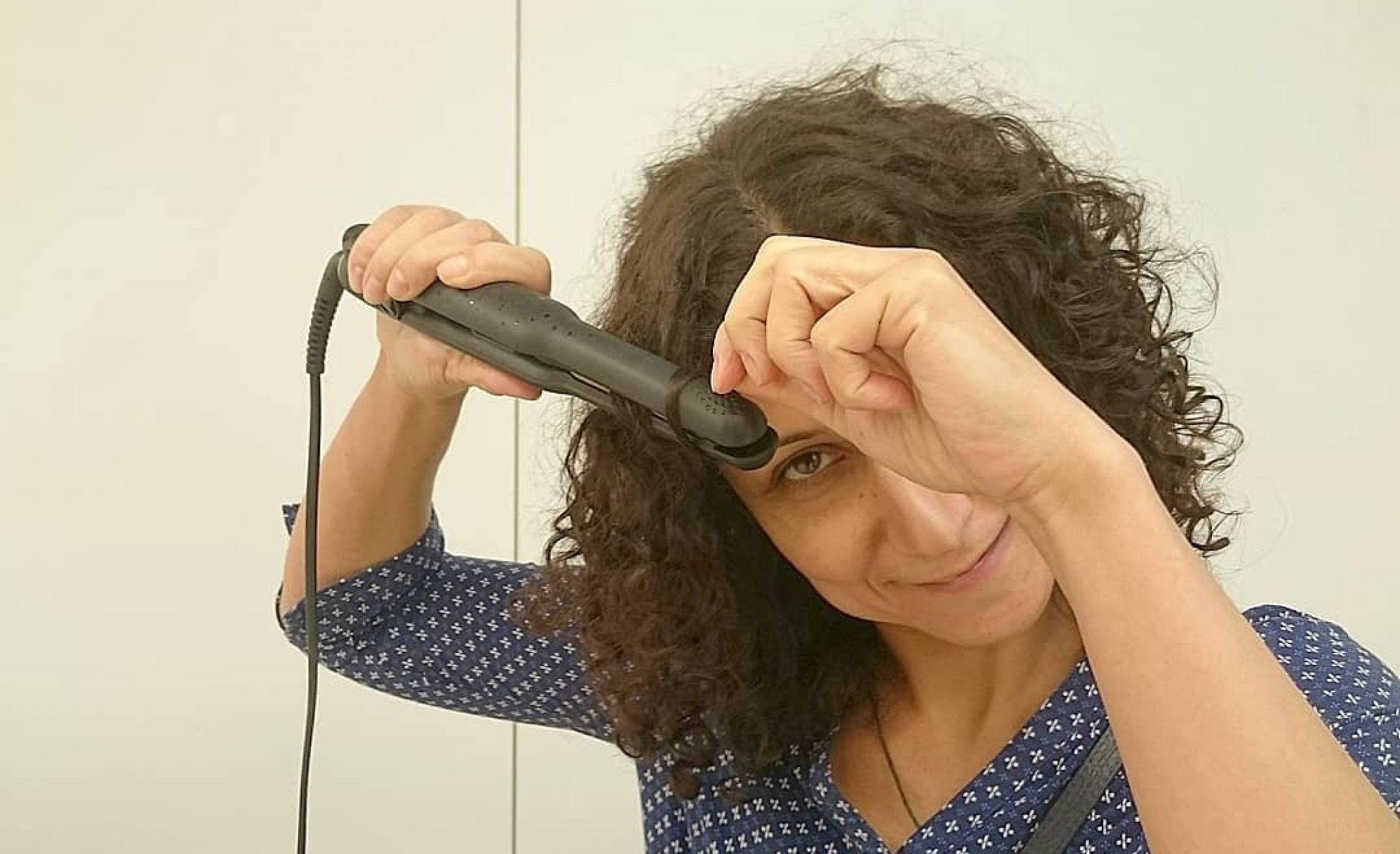 back to menu ↑
Plate Size
Small flat irons for short hair come with smaller plates. The larger the plate is, the more difficult it will be for you to reach the roots of the hair and straighten it properly. That's why smaller plates can save the day and make your life much easier.
These mini irons come with shorter and slimmer plates, usually between half an inch and one inch. People with mid-length hairstyles can opt for one inch. If any of your friends already own a mini flat iron, you can ask them to try it out and see if it works on your hair length.
back to menu ↑
Plate Material
Mini tools also feature plates in various materials. Titanium is a common one; it's lightweight and works great on all hair types. Titanium plates are an excellent choice for stubborn, short hair.
Ceramic is the second material that you'll often see mentioned. It's also a high-quality choice and can handle well thick coarse hair. Finally, tourmaline technology is excellent for people who want their hair to be smooth and straight.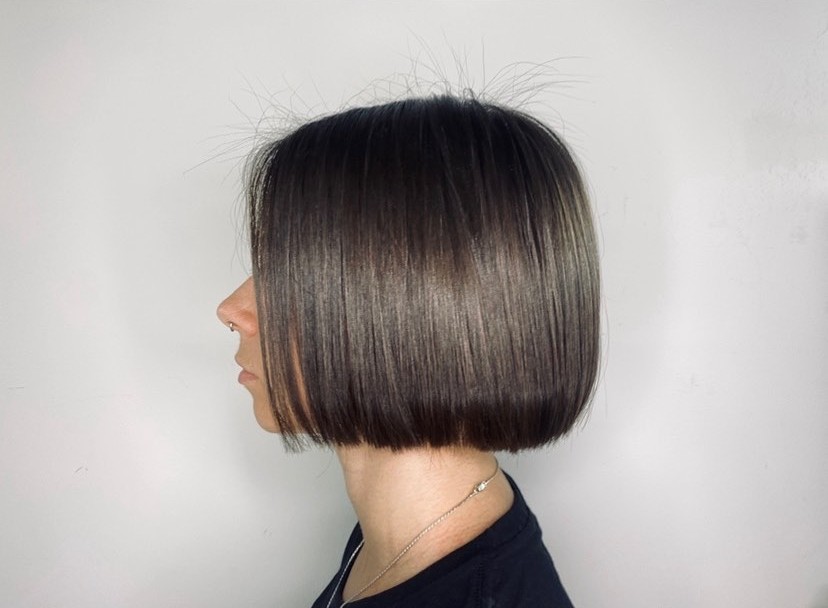 back to menu ↑
Weight
Smaller irons generally weigh less than full-sized flat irons. However, not all designs will weigh the same, and if you plan on traveling, often this is a factor to consider. The more lightweight this tool is, the easier it will be to use it without tiring your hand.
Also, it will take less space and weight when in your luggage. Titanium is a lightweight material; that's why so many brands use it in the production of their hair tools.
back to menu ↑
Temperature
Regardless of the flat iron size, having multiple temperature settings is an essential feature. This means that you can select the heat that works best on your hair type.
For example, if you have thin, fragile short hair, the highest heat setting of over 400 F degrees can be very damaging.
Thick, coarse hair types can withstand high temperatures. Some mini hair straighteners won't be as powerful when it comes to temperature. In that case, people with very curly, thick hair should look for other alternatives.
back to menu ↑
Dual Voltage
Traveling internationally comes with the risk of burning your hair tools. If you don't want to experience that unpleasant moment, but you love traveling, then you need a dual-voltage tool.
Small flat irons are perfect for adventurers that are always on the go, and on this list, you'll find several dual voltage picks. In other words, you can use these irons anywhere in the world, and they won't explode in your hotel room.
Dual voltage hair tools are universal, so they will work perfectly in your country as well as globally. Even if you don't travel often, investing in one of these irons is a very smart idea. It will save you money on repurchasing your favorite straightener that burned down just because it wasn't dual voltage.
back to menu ↑
How to Straighten Short Hair With a Flat Iron?
After you wash and dry your short hairdo, here are the steps to follow to straighten it with a flat iron:
Brush your hair very well and make sure it's dry all over.
Turn the flat iron on.
Apply a heat-protecting spray or product to keep your hair healthy and minimize damage.
Divide your hair into sections to make it easier for you to straighten it without mixing strands. The most convenient way is to start with the bottom layers first, then continue with the top layers.
However, there is no rule, and you can do what's easier for you. Use silk scrunchies to prevent hair damage.
When the iron is hot, start with the first section.
Grab small strands that fit the size of the iron and place them in between the plates.
Press the plates and add a little extra pressure.
Start sliding the iron slowly, going from the root of the hair strand to the tip.
Check if the hair strand is straight or if you need to repeat the process again.
Do the same thing section by section.
When you're done, brush the hair again, and you're ready to go.
back to menu ↑
How do you flat iron a short pixie?
Short pixies can be a little tricky to flat iron because of all the layers and angles. First, divide your hair into four sections: two in the front, and two in the back.
Start with the section in the back and take one-inch horizontal parts. Flat iron each part going from root to end, making sure to move quickly so that you don't over-heat your hair. Then, do the same thing with the sections in the front. Finally, style as desired.
back to menu ↑
FAQ on Mini Flat Irons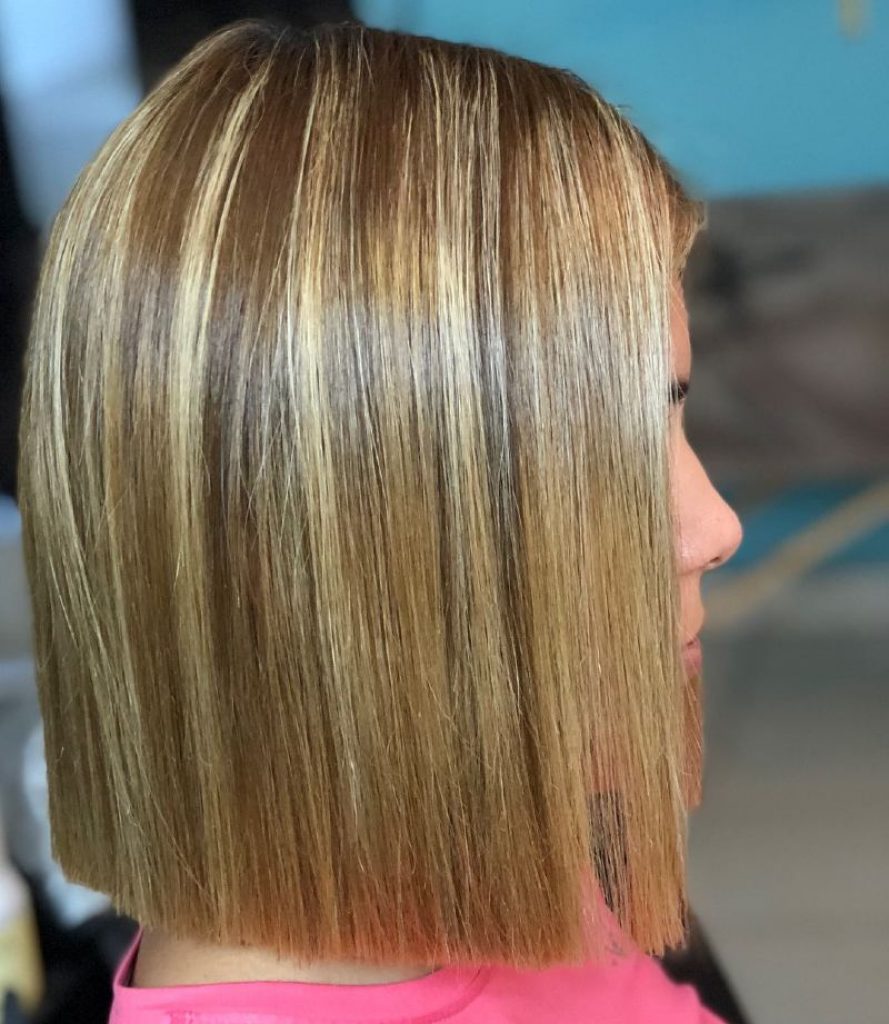 back to menu ↑
What size flat iron is good for short hair?
Flat ironing short hair is best done with a mini iron with plates that range between half an inch and one inch. These tools should also be lightweight so that you can easily pack them and carry them when traveling.
back to menu ↑
What is the smallest flat iron?
The smallest flat iron has 3/10-inch plates. The average plate size for short hair is between ½-inch and 1 inch. A flat iron with 3/10-inch plates might not be enough to straighten short hair and might be only suitable for baby hair and bangs.
back to menu ↑
Can you curl short hair with a flat iron?
Yes, small flat irons can also curl your short hair. If you have a very short haircut, no iron will be able to curl your hair; however, if the length allows you to turn the iron and slide it towards the tip, you can create waves or curls.
back to menu ↑
Can I use an American hair straightener in Europe?
Yes, you may use an American hair straightener in Europe. European voltage is 220-240 volts, while American voltage is 110 volts. Therefore, you will need to use a converter to convert the voltage from 220-240 volts to 110 volts. Additionally, most hair straighteners come with a built-in converter, so you may not need to purchase one separately.
back to menu ↑
Conclusion
After reading the reviews on the best straighteners for short hair, do you think that any of these products will make it to your shopping cart? The BaBylissPRO Nano Titanium is small and lightweight but powerful.
You can use it for straightening, curling, and even traveling because it's dual voltage and comes with a protective travel pouch.
Don't forget to let us know which flat iron you'll choose for your short hair and send us photos of you trying it!
---
References:
HOW TO CURL SHORT HAIR WITH A STRAIGHTENER – https://www.ghdhair.com/au/hairstyles/curly/how-to-hairstyles-curl-short-hair-with-straightener
What Is Ceramic and Tourmaline Technology? – https://www.liveabout.com/ceramic-and-tourmaline-technology-348464
How to Straighten Short, Curly Hair – https://www.lorealparisusa.com/beauty-magazine/hair-style/short-hairstyles/straighten-short-curly-hair