Finding a good flat iron is not an easy task, and the first step to picking a heat tool is to pick the material you are searching for. One of the most widely-used materials in heat tools is titanium.
But, just why is this material so popular and what is the best titanium flat iron available for purchase? Find these answers and more in the article below!
Top 7 Best Titanium Flat Irons Reviewed
1. BaBylissPRO Nano Titanium Ultra-Thin Straightening Iron —
 Top Pick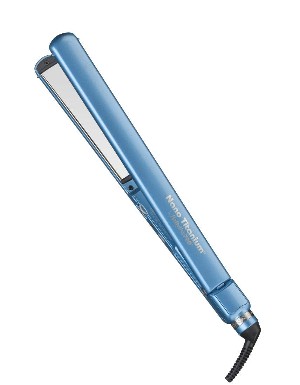 You can also find this product on Bed Bath & Beyond, Walmart.
Babyliss is a hair brand that has been producing high-quality salon-level tools and products for over 50 years. They are now a household name in the beauty industry and all the stylists I know own at least one product from their different lines.
Plate Width: 1.5 inches
Plate Type: Titanium
Weight: 0.6 pounds
Color: Blue
Temperature settings: Up to 450F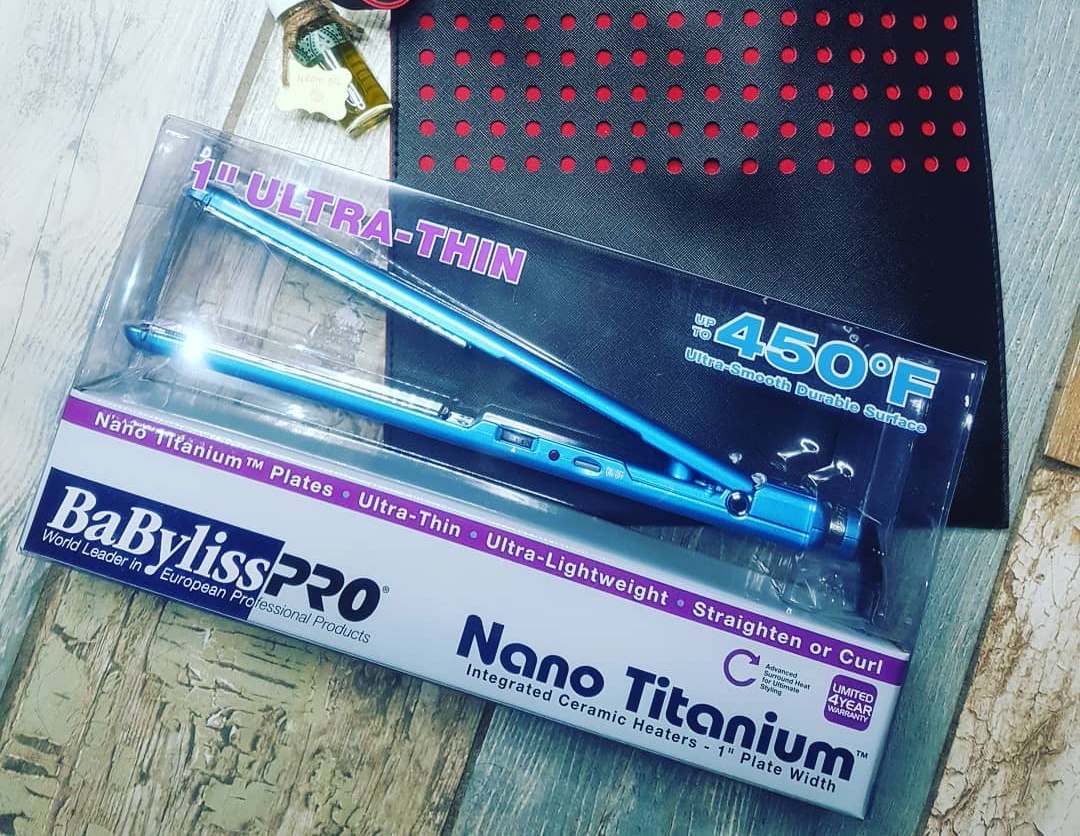 It is no surprise that this is on top of the list for the most popular titanium flat irons. This is a tool I always have on hand at the salon, since it works on even the thickest of hair that other flat irons wouldn't be able to tackle.
The feature I love the most is the titanium plates that allow me to straighten large sections of hair at once while also being one of the lightest straighteners I've tried.
This is also great if you're always on the go and don't want to carry around a thick and clunky tool to style your hair. If you don't think this size is for you, this is one of the titanium plate flat irons that comes in a variety of sizes so you can find one that works for you.
Love these features:
Different plate sizes available
Easy-to-hold and light
Heats up very quickly
Could do better:
Plates may not completely touch
For my girlies(and guys) with thick and curly hair, I would say this is the best model for you. Although the price may seem steep for some, it's worth the investment for not only the straightening performance but also the size and overall design of this sleek flat iron.
Straightening Performance
9.9
2. CROC Classic Silver Titanium Flat Iron —
 Runner Up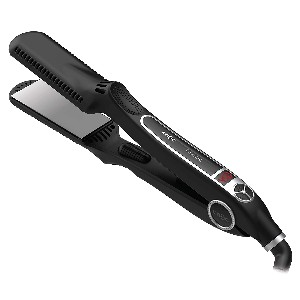 You can also find this product on Ulta, Walmart.
Although there is a chance that you may have not heard of CROC, I can assure you it's time you learn about their products. It's a mystery to me why this Southern California-based brand is not more popular since its products are always of such high quality. This classic silver titanium flat iron is the runner-up on my search for the best titanium hair straightener.
Plate Width: 1.5 inches
Plate Type: Silver Titanium
Weight: 1 pound
Voltage: 110V
Temperature settings: 280-450F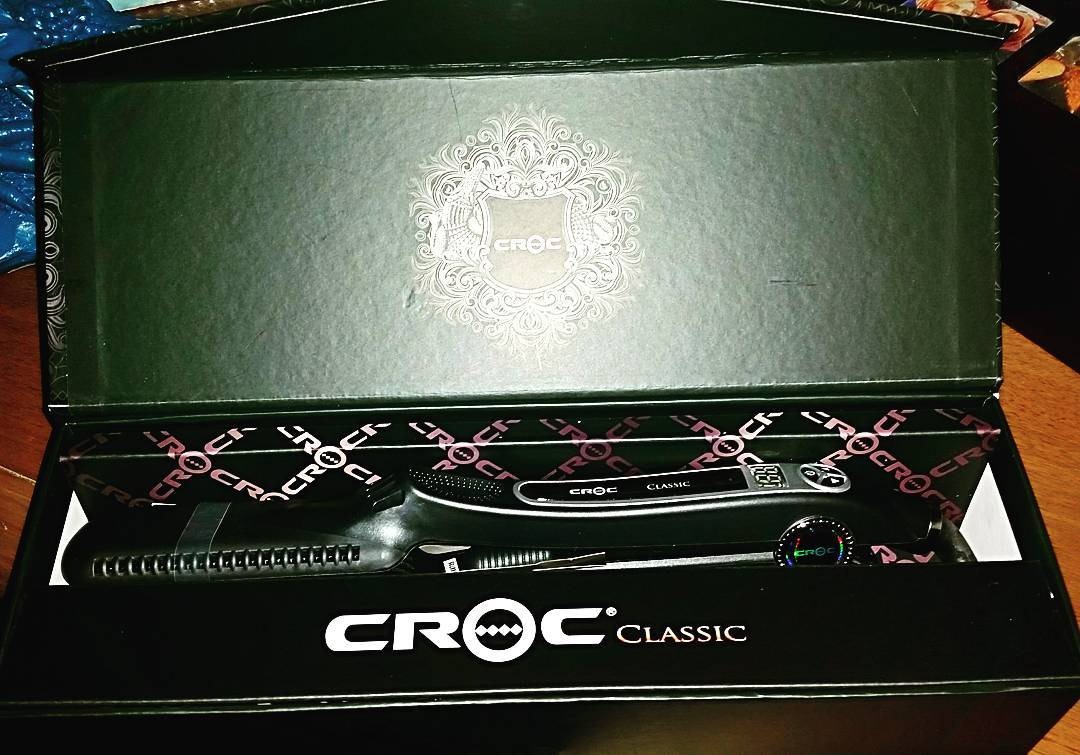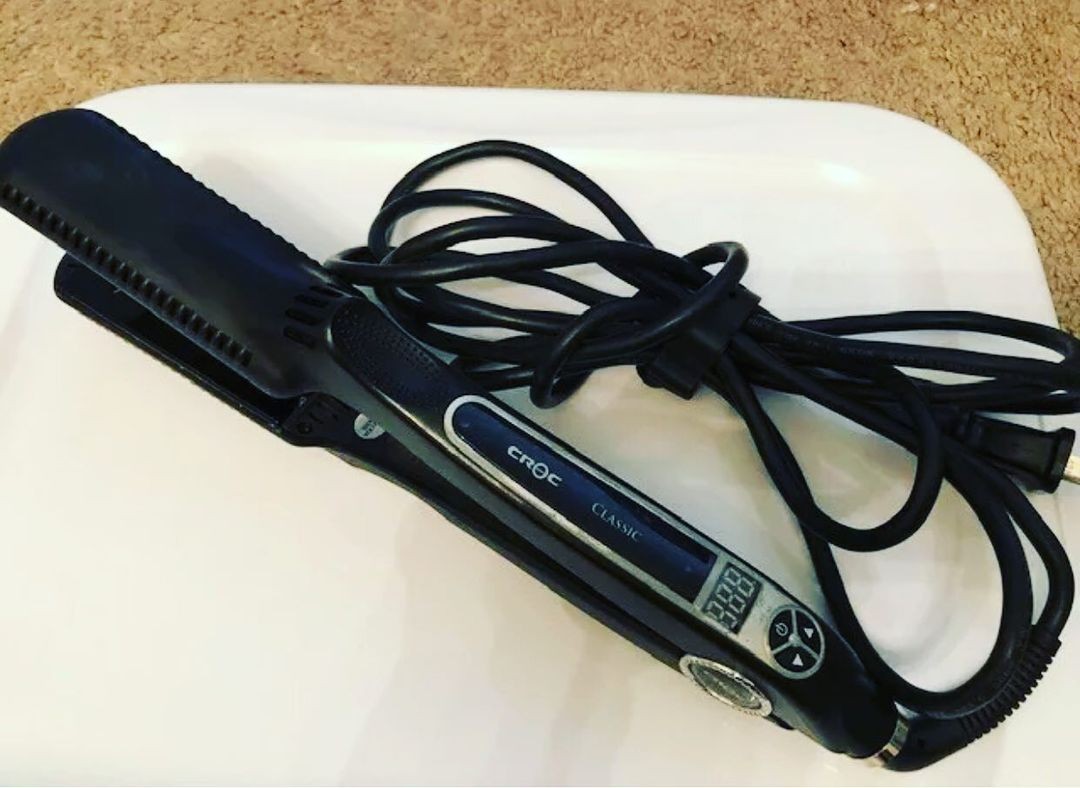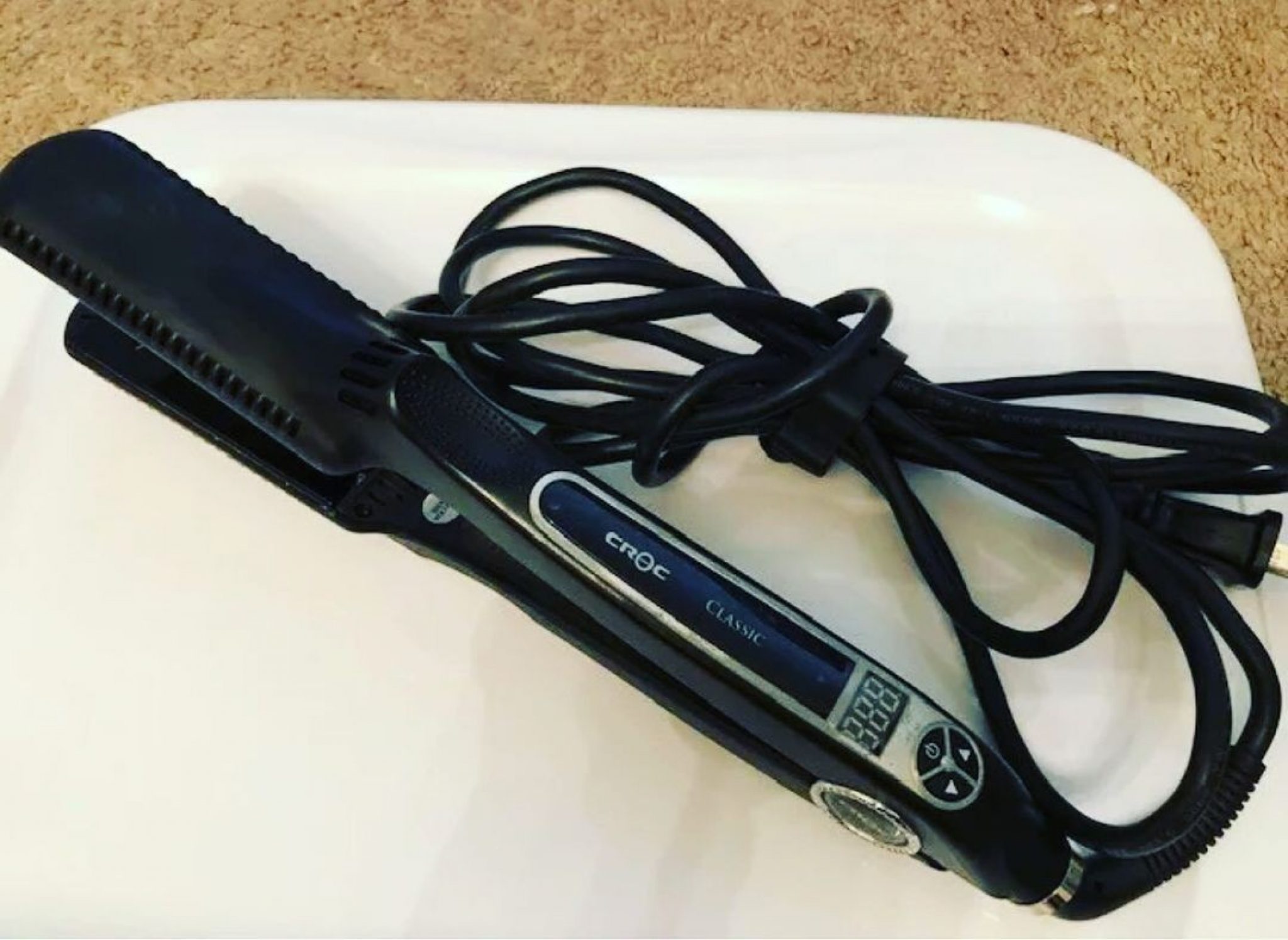 If you are a person who turns a lot in their sleep and wakes up with clusters of hair strands that are hard to untangle, this crocodile-shaped flat iron is for you.
With a single glide, you will be able to smooth out any unevenness and clumps in your hair. Don't let the slightly silly design of this flat iron fool you, the crocodile design is very ergonomic and easy to hold.
The professional silver titanium plates on this flat iron heat up in a few seconds and stay evenly heated during the straightening process. The plate design is also great at reducing frizz and flyaways.
Love these features:
40-minute auto shut-off
Comfortable light-weight design
Maintains heat well
Could do better:
Some reviews mention a low buzzing sound while straightening
This flat iron is the runner-up on my list of finding the best titanium flat iron and for good reason. If you have hair that knots and tangles easily, or is frizzy and thick, then this is the tool for you. Try it out and I am sure you won't regret this purchase.
Straightening Performance
9.8
3. CROC Premium Infrared 1.5 inch Flat Iron —
 Premium Pick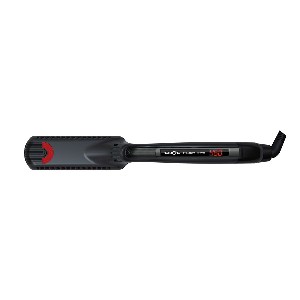 You can also find this product on Walmart.
I don't think there is any need to go on about how much I love CROC products since I already mentioned this above, however, the presence of two of their products on my list should let you know that they are worth the hype. My premium pick on this list is this titanium flat iron for thick hair that's worth the price tag.
Plate Width: 1.5 inches
Plate Type: Ceramic Titanium
Weight: 1.07 pounds
Voltage: Dual
Temperature settings: 280-450F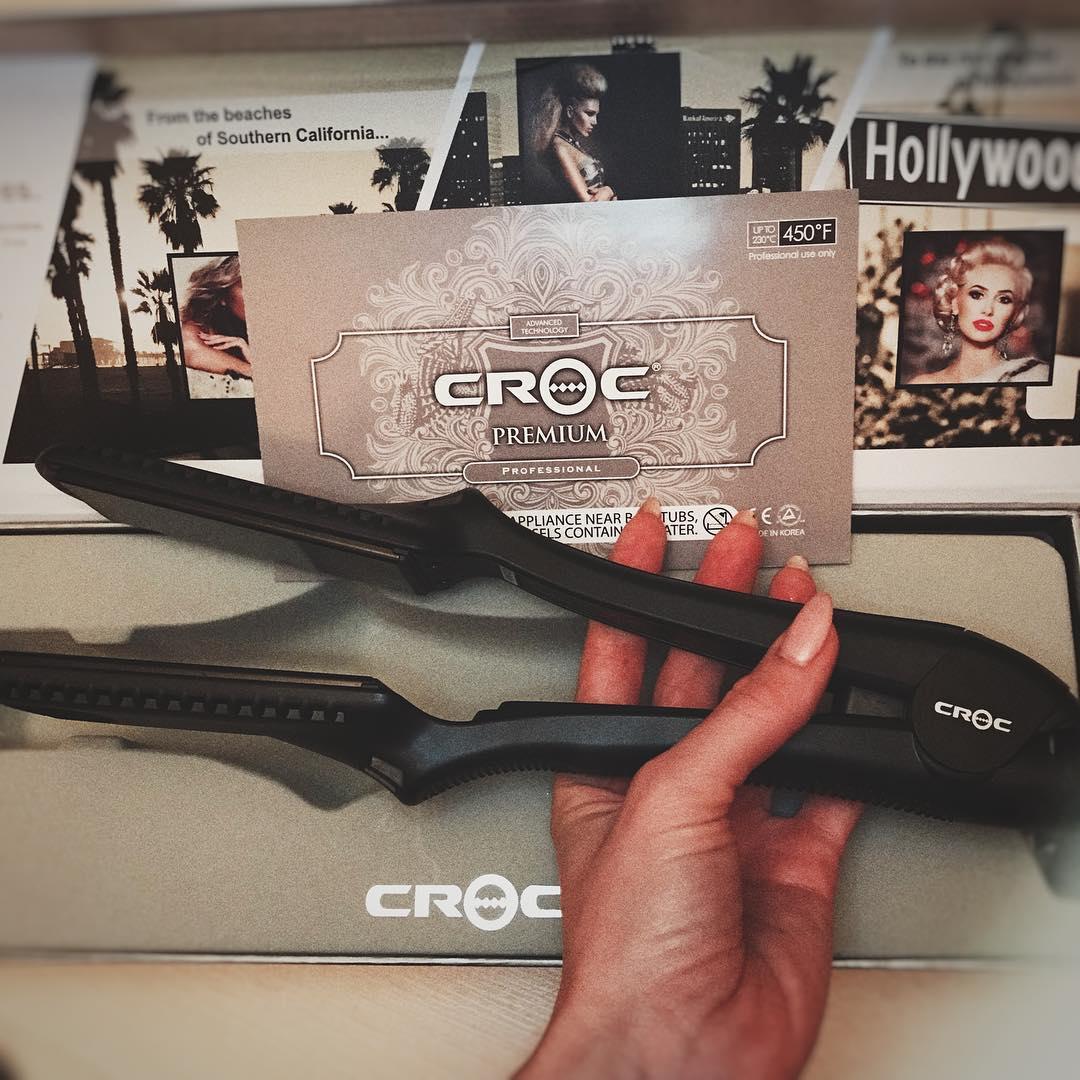 This premium pick flat iron is truly amazing at distributing heat evenly. It gets the straightening job done in a matter of minutes, so you don't have to spend hours straightening your hair, even if it's long or thick.
This flat iron also has an integrated ventilation system, so you know you won't be burning your hair and your flat iron won't be at risk for corrosion, which makes it much more durable. The floating plates will also absorb static electricity so you won't notice any frizz or flyaways after straightening.
Love these features:
18 temperature settings
Color-changing heat indicators
Consistent heat distribution
Could do better:
Plates may be too large for very short hair
This CROC flat iron has everything you would need in a straightener, titanium plates, a long swivel cord, auto shut-off, and a lightweight design. It works well on all types of hair, especially longer thicker hair. The plates may be too wide and the design may be slightly uncomfortable if you have shorter hair, but you will never know for sure until you try it out!
Straightening Performance
9.7
4. Sam Villa TEXTUR Professional Texturizing Hair Iron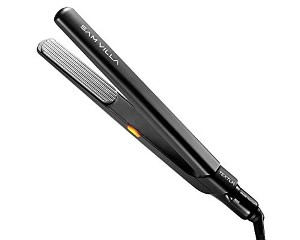 Next on the journey to finding the best professional titanium flat iron is the TEXTUR straightener from Sam Villa. You may have heard of the professional stylist Sam Villa and his company makes products tested and approved by him, so you know they can be trusted.
Plate Type: Titanium
Plate Width: 1.63 inches
Weight: 1.24 pounds
Temperature settings: 375-410F
Color: Black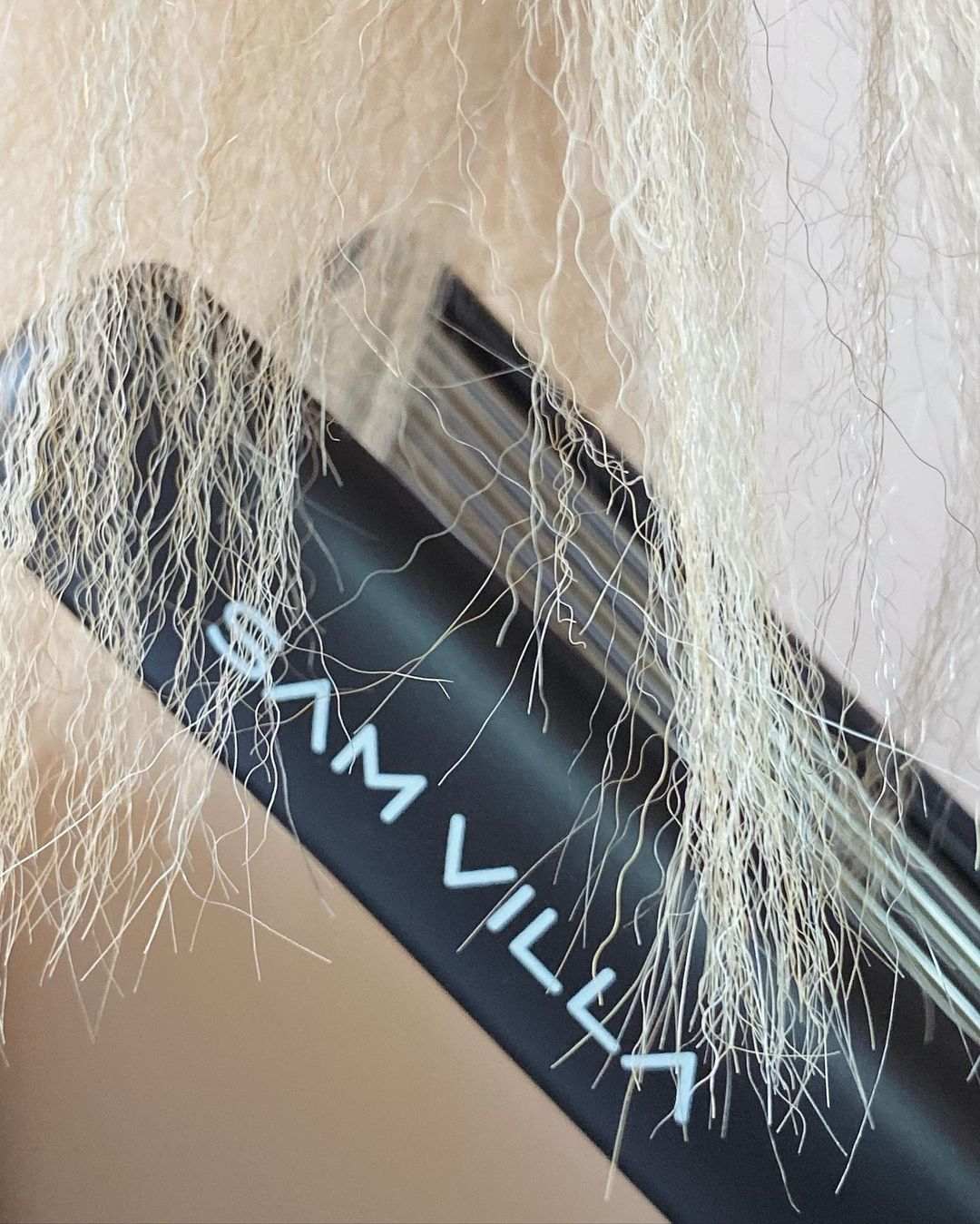 This flat iron is unique and different from the others on the list due to its plate design. In fact, this tool is probably different from all the other flat irons with titanium plates you are used to seeing.
The plates on this straightener have small ridges and are textured, which can increase the volume of your hair up to three times. The ridges really compress the hair and give it a texture and shine that other straighteners may not be able to. This straightener is also great for texturizing hair before you go in to curl it with another tool.
Love these features:
Textured plates for volume
Three convenient temperature settings
1-hour automatic shutoff
Could do better:
The temperature LED indicator may be inaccurate
This unique flat iron is great for my readers with dull hair that's a little on the flat size. It will give you extra texture and volume so your hair will look shiny and full. You will be happy you splurged on this product once it gives your hair a completely new look.
Straightening Performance
9.6
5. Paul Mitchell Neuro Style Titanium Flat Iron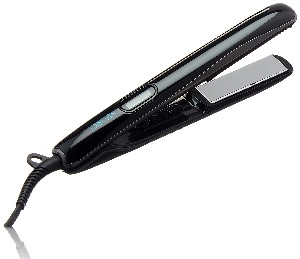 Now we move on to a product from Paul Mitchell, a company founded 22 years ago by hairstylist Paul Mitchell himself. He describes his products as a love letter to hair, and you can tell he has a passion for what he does from the quality of his hair products and tools.
Plate Type: Titanium
Plate Width: 1 inch
Weight: 1.6 pounds
Temperature settings: up to 450F
Color: Black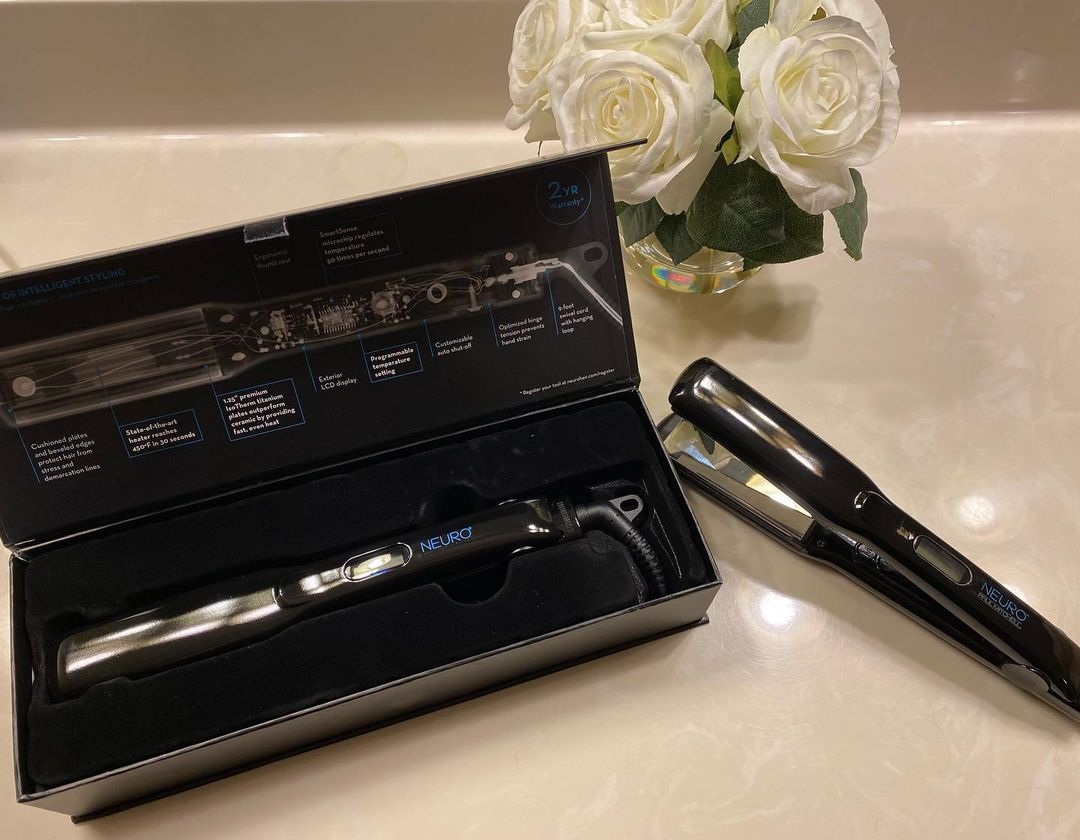 This Paul Mitchell flat iron is loved by many of my clients since it's great on all types of hair. It's a small lightweight straightener that quickly straightens hair in a few passes.
It has an integrated SmartSense microchip that regulates temperature multiple times per second to make sure it distributes heat evenly and your hair isn't at risk of burning. You really can't go wrong with this straightener, you will achieve that sleek and shiny straight hair look that you are dreaming of.
Love these features:
Great price for high quality
Heats up very quickly
Small and easy to store
Could do better:
If you don't want to splurge on a hair straightener but are still looking for a high-quality tool for everyday use, then this Paul Mitchell professional titanium flat iron is the one for you. It's convenient to carry around and works on all types of hair, especially finer hair that's at risk for damage. So, try it out and you won't regret making this purchase.
Straightening Performance
9.4
6. Moroccanoil Perfectly Polished Titanium Flat Iron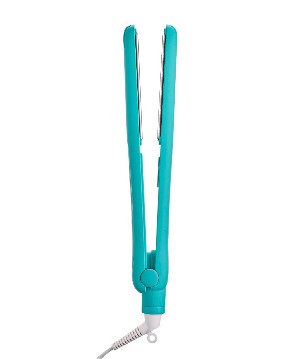 You can also find this product on Sephora.
Moroccan Oil is a brand known for producing different hair products like oils, serums, shampoos, and conditioners, but I bet you probably didn't know they make tools for styling hair as well. As you can expect, their heat tools are just as good as their beloved products.
Plate Type: Titanium
Plate Width: 2 inches
Weight: 1 pound
Temperature settings: up to 430F
Color: Turquoise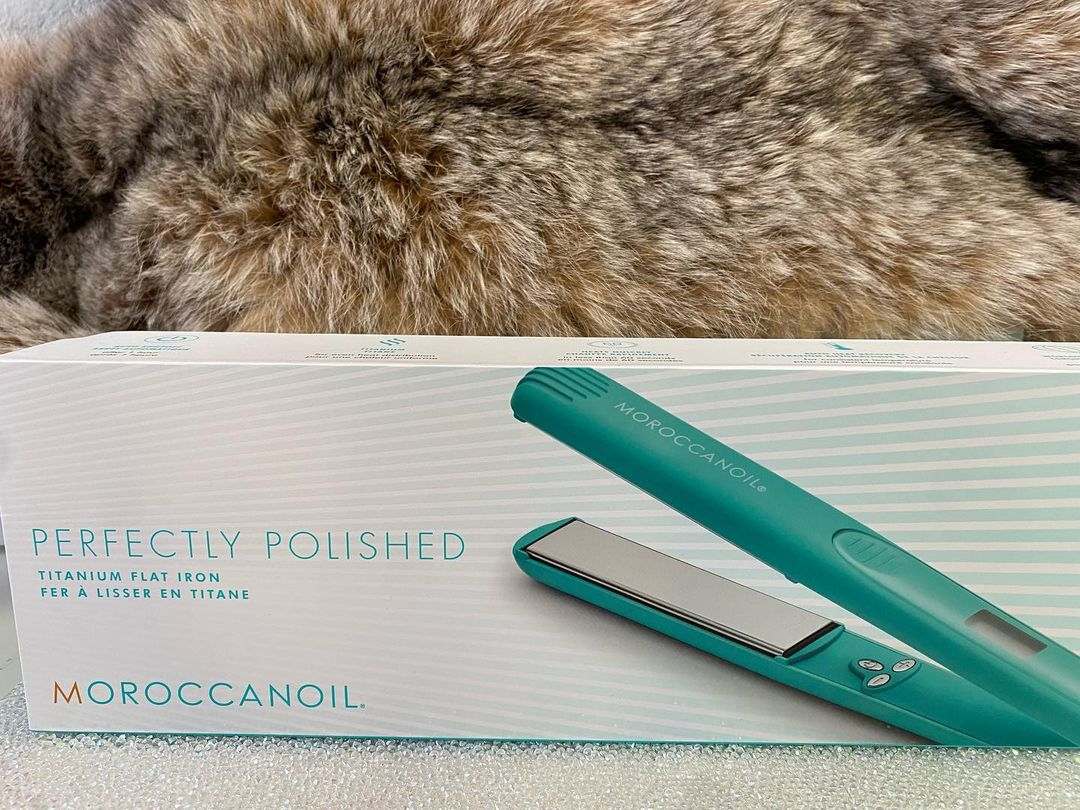 Aside from the iconic turquoise color of this flat iron, the four-inch long plates are another feature I love. These are perfect for straightening large sections of hair and smoothing them out with a single pass.
The flat iron has a high-performance rate and only requires a few minutes to finish straightening your hair, no matter the length. The adjustable temperatures allow you to change the temperature according to your hair type, lower for fine hair and higher for thicker hair.
Love these features:
Adjustable heat settings
Long cord for easier styling
Convenient placing of buttons
Could do better:
This is another one of the flat irons with titanium plates that I have tried that I ended up loving. The 4-inch plates are perfect for those with long hair who otherwise spend hours straightening and styling. And the bright tropical design of the straightener will surely add a special pop of color of your bathroom or salon.
Straightening Performance
9
7. BRAZILIAN BLOWOUT Titanium Flat Iron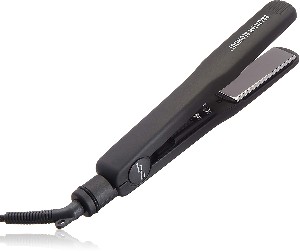 You can also find this product on Walmart.
Last but not least on the list is this styling tool from Brazilian Blowout. They are more known for their aftercare and styling products, however, their titanium flat iron reviews are also overwhelmingly positive.
Plate Type: Titanium
Plate Width: 1.25 inches
Weight: 1 pound
Temperature settings: up to 450F
Voltage: Dual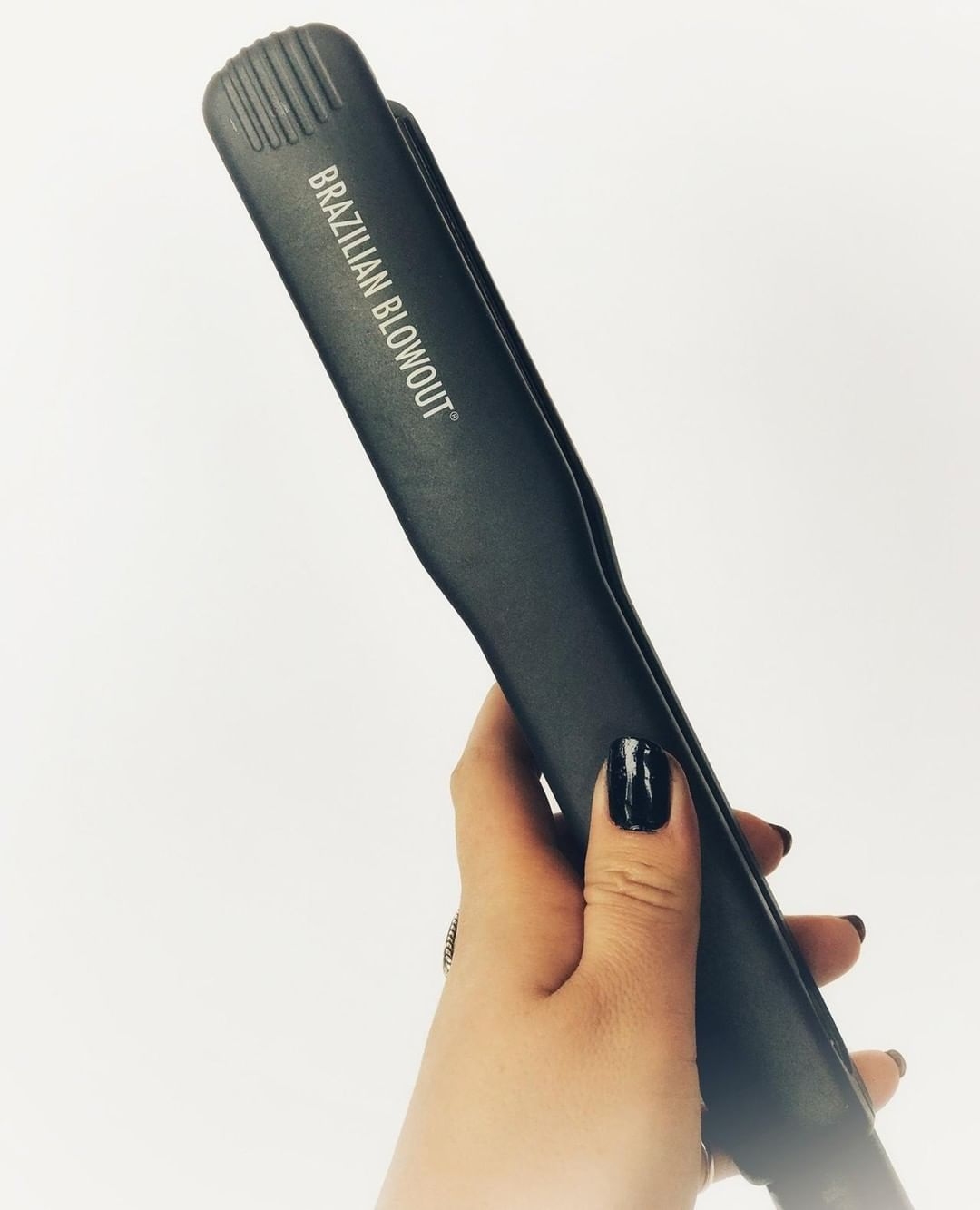 This super light-weight straightener is great for people with frizzy hair who have a hard time getting their hair to settle down. The 100% titanium plates glide smoothly over hair sections and will help you get that silky look. The long cord and protective silicon gaskets also ensure that this straightener is highly durable and you will be able to enjoy it for a long time.
Love these features:
Highly durable
Stylists receive a lifetime warranty
Adjustable temperature settings
Could do better:
May shut off on its own while using it
If you have read this far into the list and still haven't found a straightener you like, then this may be the one for you. It's very diverse as it works on all hair types and is lightweight so it's easy to carry around with you. There aren't many complicated settings or features, it's just an all-around amazing flat iron.
Straightening Performance
8.8
What is a titanium hair straightener?
Titanium hair straighteners are unique from other straighteners in the method they heat the hair.
While ceramic flat irons usually heat the hair from the inside out, the titanium material is used to warm up hair from the hair shaft surface.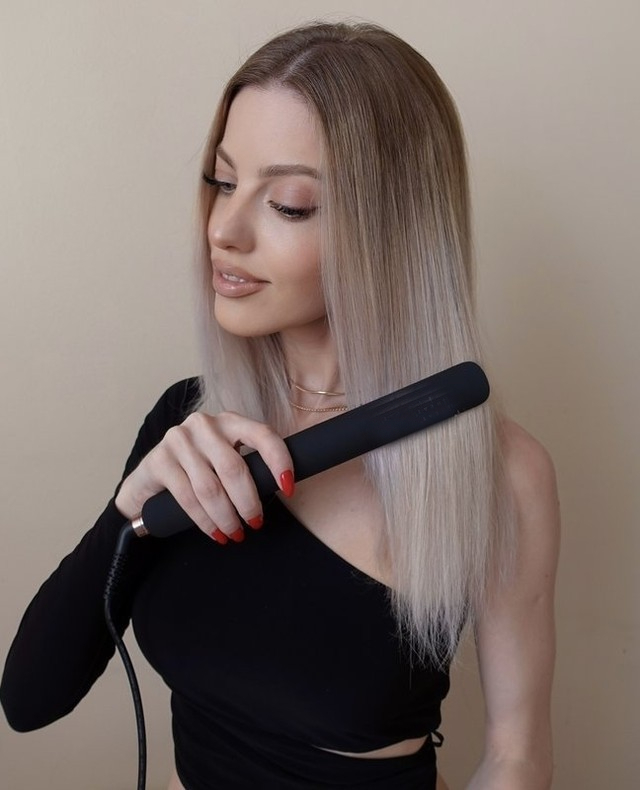 Titanium flat irons heat up very quickly and maintain this heat for a long time, so they are a good tool material for people who have thick hair.
However, there isn't necessarily a "best" plate material, since all the materials have their own unique benefits. It's just up to you to choose what works best for you.
Who needs a titanium flat iron?
Titanium flat irons are ideal for people with thick, curly, and coarse hair. These hair types can be difficult to straighten using tools that are made from other materials.
Titanium heats up very quickly and maintains this heat well throughout the styling process, meaning it's going to take you fewer passes to get through all your hair.
Flat irons with other materials like ceramic that aren't as good at generating and maintaining even heat would require many more passes to straighten a section of hair compared to a titanium straightener.
So, this material is for curlier and thicker hair, since other materials will work just as well on fine hair.
Benefits of using titanium straighteners
Lightweight
You probably noticed that the flat irons in this review list are lighter than what you are used to. This is because, compared to other materials like ceramic, titanium is a heat tool material that is relatively light.
Because these straighteners are lighter, your arms won't get as tired while you are styling your hair.
This is a huge advantage for people who have long or ultra-thick hair since it takes them longer than usual to style hair.
Heats up quickly
Another one of the top benefits of titanium flat irons is their ability to heat up very quickly. In fact, this is the factor that makes this material one of the best for styling tools.
You only have to wait a few seconds after turning on your straightener to start styling. Since it heats up so quickly, it will also consistently maintain heat very well, so you will just have to go over your hair with a few passes and you are done!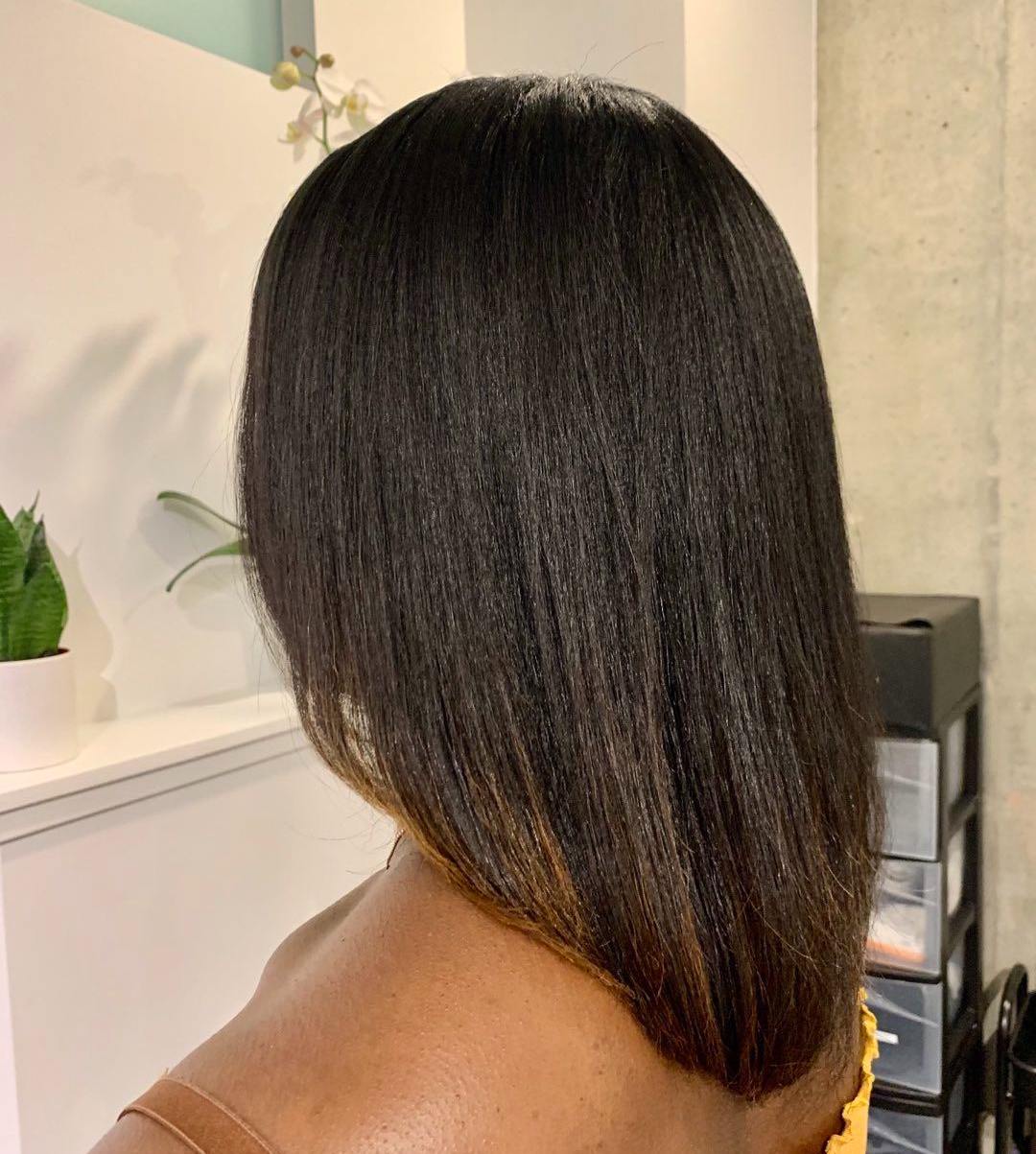 Minimizes Frizz
When using a titanium flat iron, you can say goodbye to frizz for good. Titanium is a high-quality material that doesn't damage hair too much and locks in moisture, so there is no risk of frizz or flyaways.
It's also great for people who already have frizzy hair since it will minimize the frizz and help you achieve a silky smooth final look.
Durable
Titanium is generally a material that is highly resistant to rust and also tarnishes, so you know that once you splurge on a titanium flat iron, it's going to last you a long time.
Not only does this make them durable, but it also makes them snag-free so you can forget about plates pulling on your hair as you straighten.
Most titanium flat iron plates are fully titanium and not titanium-coated, this only adds to their durability factor.
What to look for in titanium flat irons
Plate size
Aside from the material, plate size also plays a big role in straightener styling. The ideal plate size for average hair is about 1 and 1.2 inches. Plates that are more narrow usually don't heat up very well and will require you to go over hair sections multiple times which puts your hair at risk for damage.
Narrow plates are a good option for people with shorter hair, who don't need many passes to straighten their hair in any case. Plates that are wider making it more difficult to reach the roots of curly hair which also increases process time.
Long Cord
This won't affect how a straightener works on your hair, but it's important for making the process of styling easier. It's annoying to have to sit near a plug with no mirror and it can be difficult to see what you are doing without one.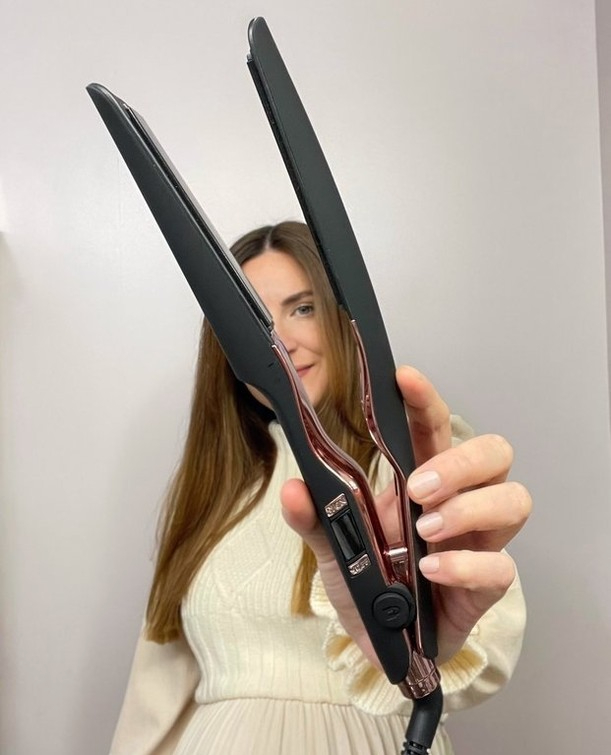 This is usually what happens when you purchase a heat tool with a short cord. So, try to look for straighteners with long, preferably swivel cords, just to make your styling experience easier and more comfortable.
Warranty
Although this applies to any tools you purchase, it's also very important for titanium flat irons since these are on the pricier side. Try to look for titanium straighteners that come with a warranty, especially if you are a stylist.
I know that as a stylist, I use heat tools every day, and sometimes they will stop working prematurely, which can put me and my salon in a sticky situation. So, I always look for tools that come with at least a year warranty so that they can be replaced in case of malfunctions.
FAQ
Are titanium flat irons damaging?
Overusing any tools with heat can be damaging to hair, however, titanium is a material that is considerably less damaging. However, it's recommended to always use heat protectant when styling with heat.
Which is better for hair titanium or tourmaline?
Titanium heats up more quickly and evenly so it's great for quickly styling hair, however, tourmaline flat iron is better at maintaining hair moisture and is more gentle on the hair.
Is ceramic or titanium better for frizzy hair?
Titanium is better at retaining moisture in hair and is also better at heat distribution. Ceramic is a great material, but titanium tools are usually better at minimizing frizz.
Conclusion
It's up to you whether you choose to try out the top pick BaBylissPRO Nano Titanium Flat Iron or any of the others on the list, but I can guarantee that your next favorite flat iron will be on this list.
Choose whichever benefits you think suit your hair and needs the most, treat yourself to a new straightener and conquer the world with sleek hair!
Also read:
---
References:
Titanium – https://en.wikipedia.org/wiki/Titanium