An off-duty model style is all the rage right now, and besides the simple wardrobe, a specific hairstyle is required to achieve this look. I can't really say beach waves are "back", because they never left but I see it being the trendiest look of summer 2022.
Finding the best flat iron for beach waves can be a daunting task, so I have compiled a list of my favorite picks and why I love them. Let's dive (beach pun) into it.
Top 7 Best Flat Irons for Beach Waves Reviewed
BaBylissPRO Prima Ionic Straightener
T3 LUCEA 1″ Professional Straightening Iron
ghd Platinum+ Styler
BaBylissPRO Nano Titanium Styler
FHI HEAT Platform Tourmaline Flat Iron
Paul Mitchell Neuro Style Flat Iron
INFINITI PRO BY CONAIR
1. BaBylissPRO Nano Titanium Prima Ionic Straightener –
Top Pick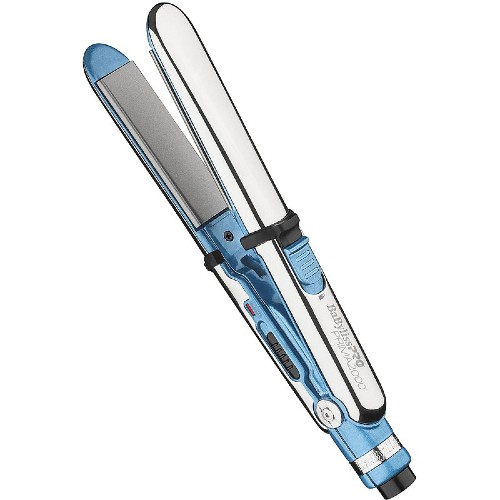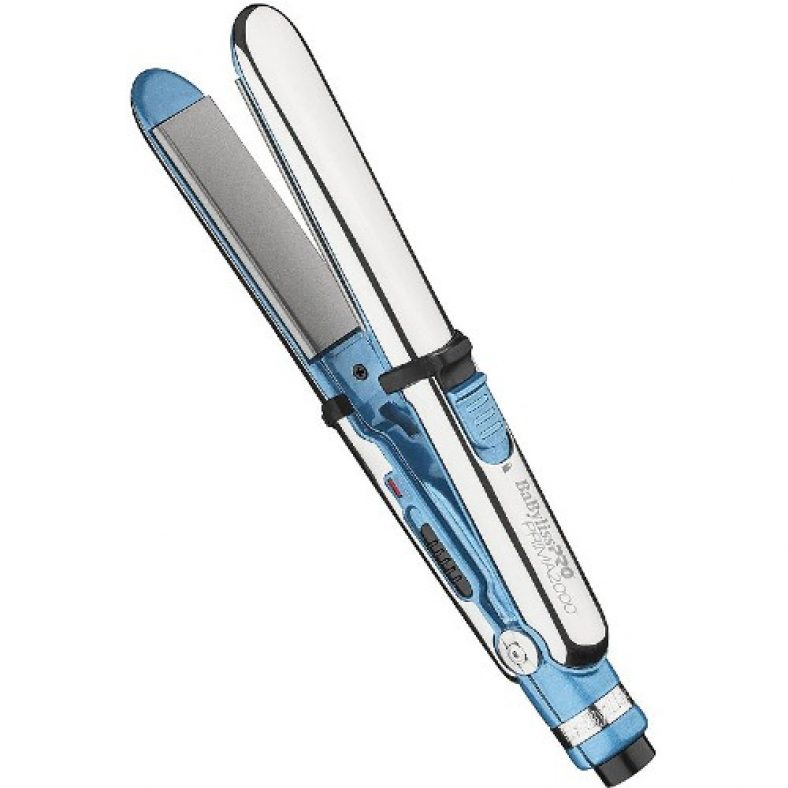 It's hard to go wrong with BaBylissPro, they have been frontrunners in the industry for over 50 years. Every stylist I have talked to has at least one favorite BaByliss product that they use every day and they also make my top pick of best flat iron for waves.
Plate Width: 1.5 inches
Plate Type: Titanium
Weight: 1.5 pounds
Voltage: 120V
Temperature settings: Up to 465F
If your hair is hard to tame and takes a lot of heat to style, then this is the straightener for you. What makes this straightener so special is the titanium on the plates.
It is a metal that is good for conducting heat and keeping it steady, meaning your hair won't burn while you form your waves. So, you can use high heat for the perfect beach wave look without worrying about damaging the hair shaft.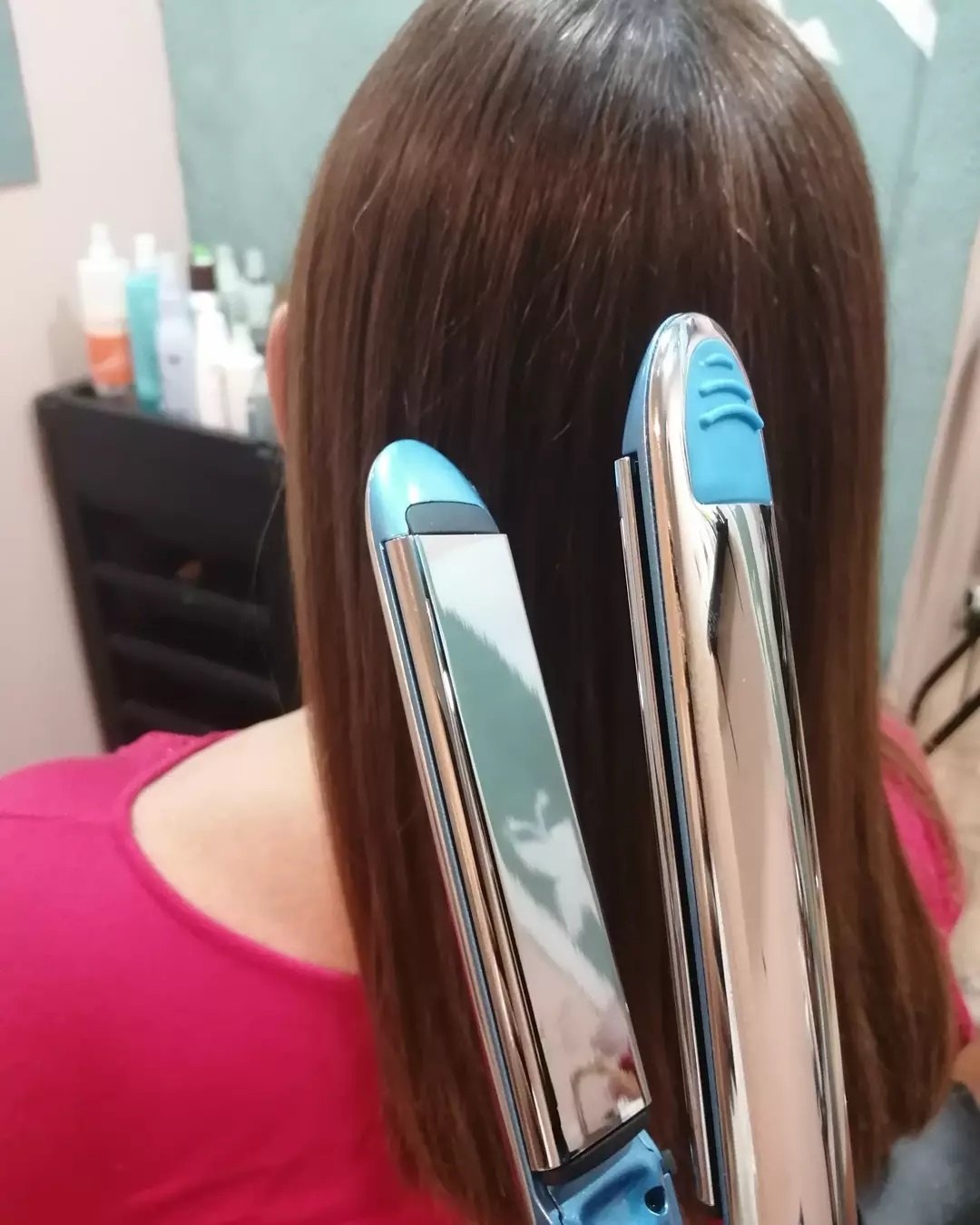 There are three versions of this straightener and they vary in size. The smallest size is great for storing in a backpack when traveling and is also great for those on a tight budget. However, for its complex technology, this straightener is surprisingly affordable.
Love these features:
Designed for loose curls and not only straightening hair
Heats up very fast
High-quality design
Could do better:
Plates don't completely touch over the hair (loose strands may get stuck)
Many hair products made by BaByliss are great, but this straightener has to be some of their best work. The sleek design is not only visually pleasing but also easy to use. Titanium plates will maintain high temperatures safely so you won't have to worry about damaging your hair. These are a few of the reasons why this is the best flat iron for making waves.
2. T3 LUCEA 1″ Professional Straightening & Wave Styling Iron –
Runner Up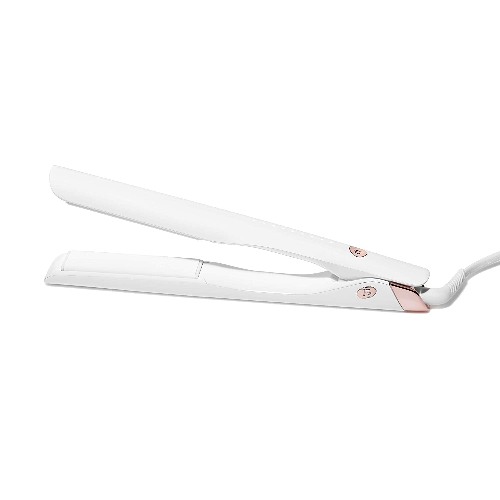 Not too far behind from the top pick is the T3 LUCEA. T3, which started as a passion project and later became a start-up is a company with many innovative hair styling tools. Their products are instantly recognizable with the overall white look and rose gold highlights.
Plate Width: 1.2 inches
Plate Type: Ceramic
Weight: 0.9 pounds
Voltage: 100-240V
Temperature settings: 260-410F
Aside from being visually very beautiful, this straightener works great on all types of hair. Especially if you have thicker hair and struggle to find a straightener that doesn't make your hair frizzy, then you will love this tool.
There are nine heat settings, which is a great range you won't find on most straighteners and this makes it the perfect tool to achieve loose beachy waves.
You will also notice that the entire ceramic plate heats up evenly, so a single swipe over the hair is enough to do the trick. It is in a higher budget range but is definitely worth the investment.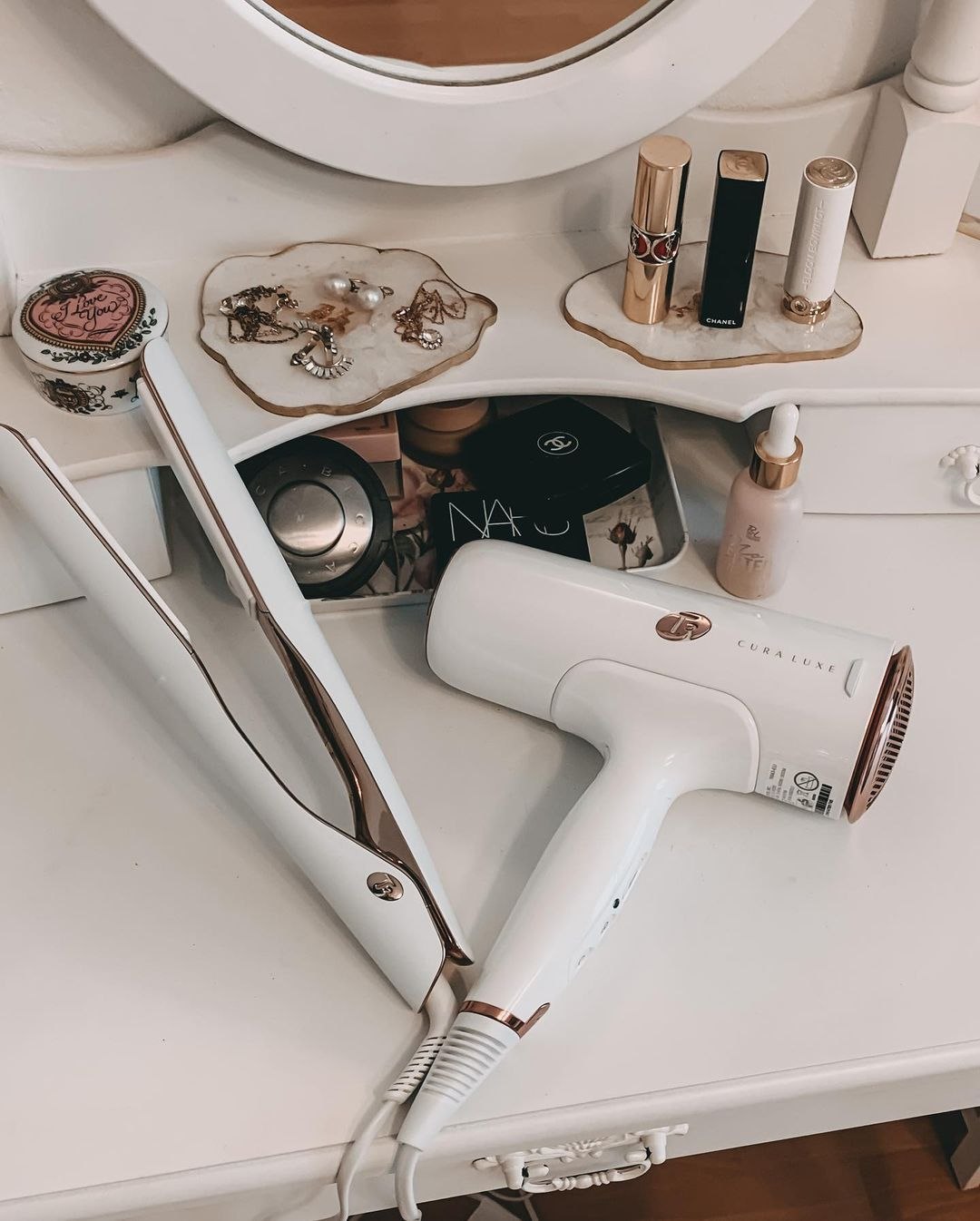 Love these features:
Auto-off after one hour
Stylish and trendy design
Super lightweight
Could do better:
Sometimes doesn't lay flat when set on a surface
People tend to think that if you have wavy thick hair, you don't want loose waves. However, if your natural waves just aren't the look you are going for, the T3 Lucea straightener can help you smooth out your natural frizzy hair and get that perfect curl pattern.
3. Premium Pick: ghd Platinum+ Beach Wave Styler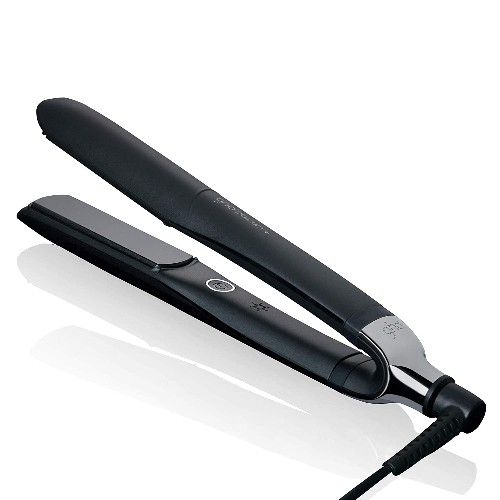 The hair tools made by ghd are known for being high quality and extremely durable. If you are looking to really splurge on a straightener for waves, then the ghd Platinum+ Styler is what I would recommend you purchase.
Plate Width: 1.5 inches
Plate Type: Ceramic
Weight: 1 pounds
Voltage: Universal
Temperature settings: 365F
This straightener leaves your hair looking and feeling incredibly smooth, I am amazed after each use. There is only one 365F heat setting, but trust me when I say that it's enough.
It glides over hair smoothly and I haven't ever experienced snagging with this tool. The smart design is easy to use when you want that silky beach wave style. Not to mention that it heats up in a matter of seconds.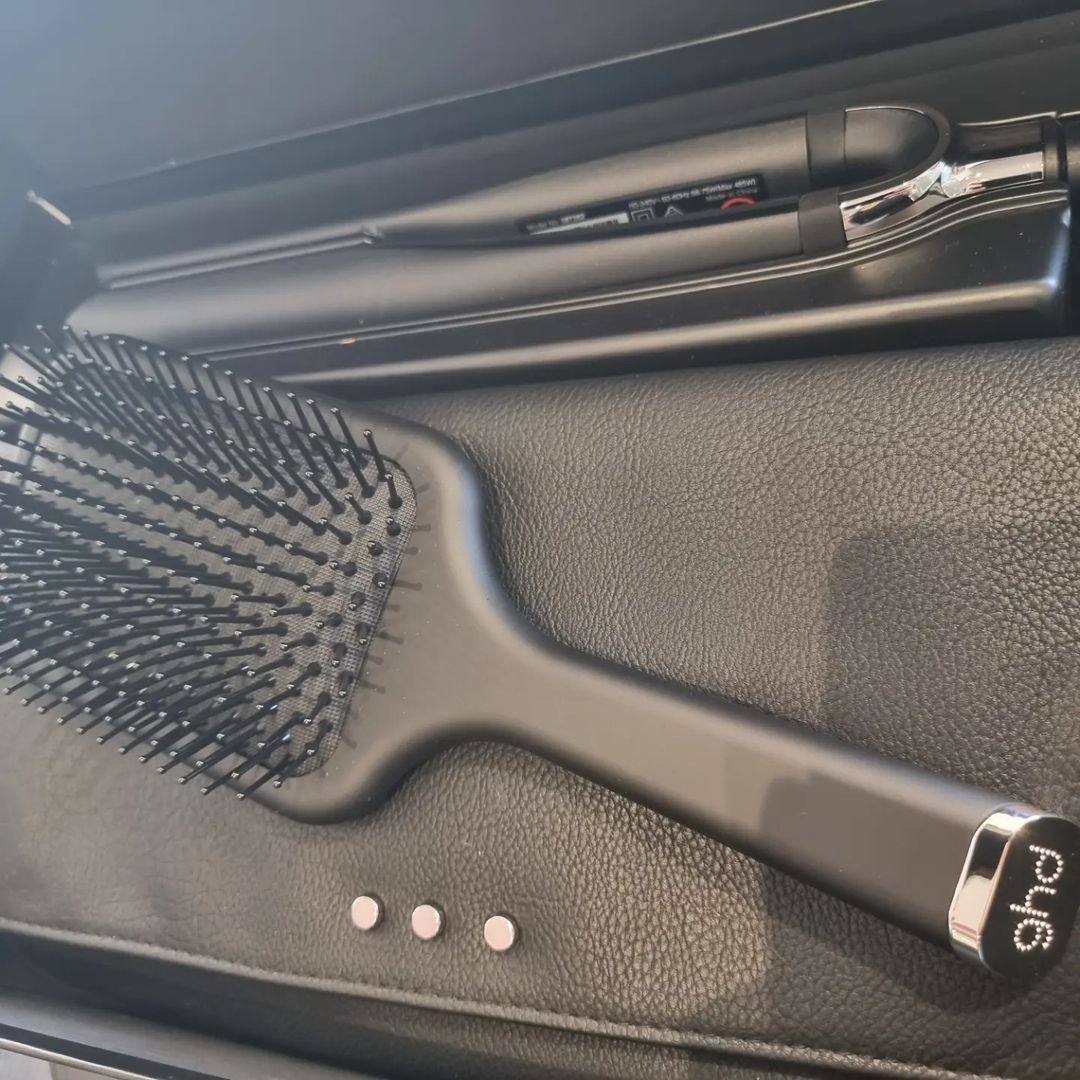 Love these features:
Auto-off after 30 minutes
Leaves waves looking glossy and bouncy
Universal voltage (great for travel)
Could do better:
If you have color-treated or damaged hair and looking for a little self-care treat, I would say to opt for this straightener. The single heat setting ensures you will get your desired look with no risk of damage to your strands. As I said above, the achieved silky look is hard to replicate with another tool. Once you make the purchase, you won't have to worry about getting a new straightening tool for many years.
4. BaBylissPRO Nano Titanium Styler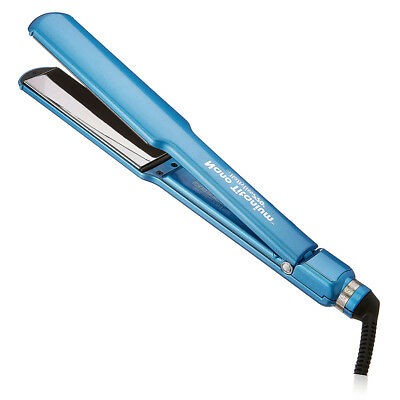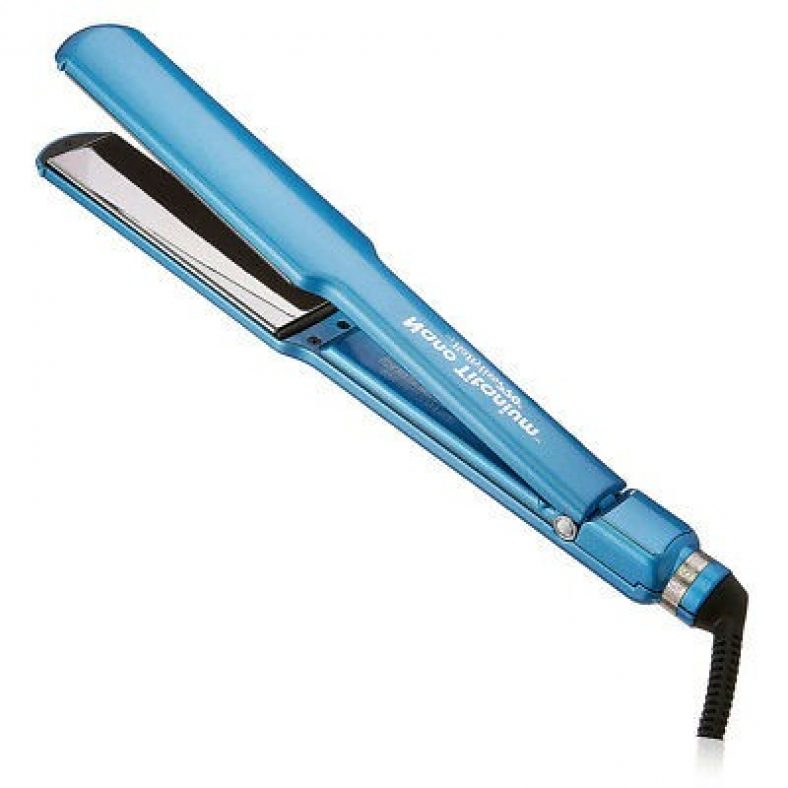 Next up on the hunt to find the best hair iron for waves is another BaByliss flat iron. Their 50+ years of experience with hair tools speaks for itself. This titanium styler can be used to straighten hair but is designed specifically for creating waves and curls.
Plate Width: 1.5 inches
Plate Type: Titanium
Weight: 0.6 pounds
Temperature settings: Up to 450F
Color: Bright blue
As mentioned above titanium is the ideal conductor material for maintaining a steady temperature. If you have thicker hair that doesn't settle easily, these titanium plates will surely do the job.
As you can tell from the specs, it's one of the lightest tools on this list so you won't have to worry about your arm getting tired while styling beach waves. This tool is also designed to prevent finger burns, as the edges of the plates are closed off.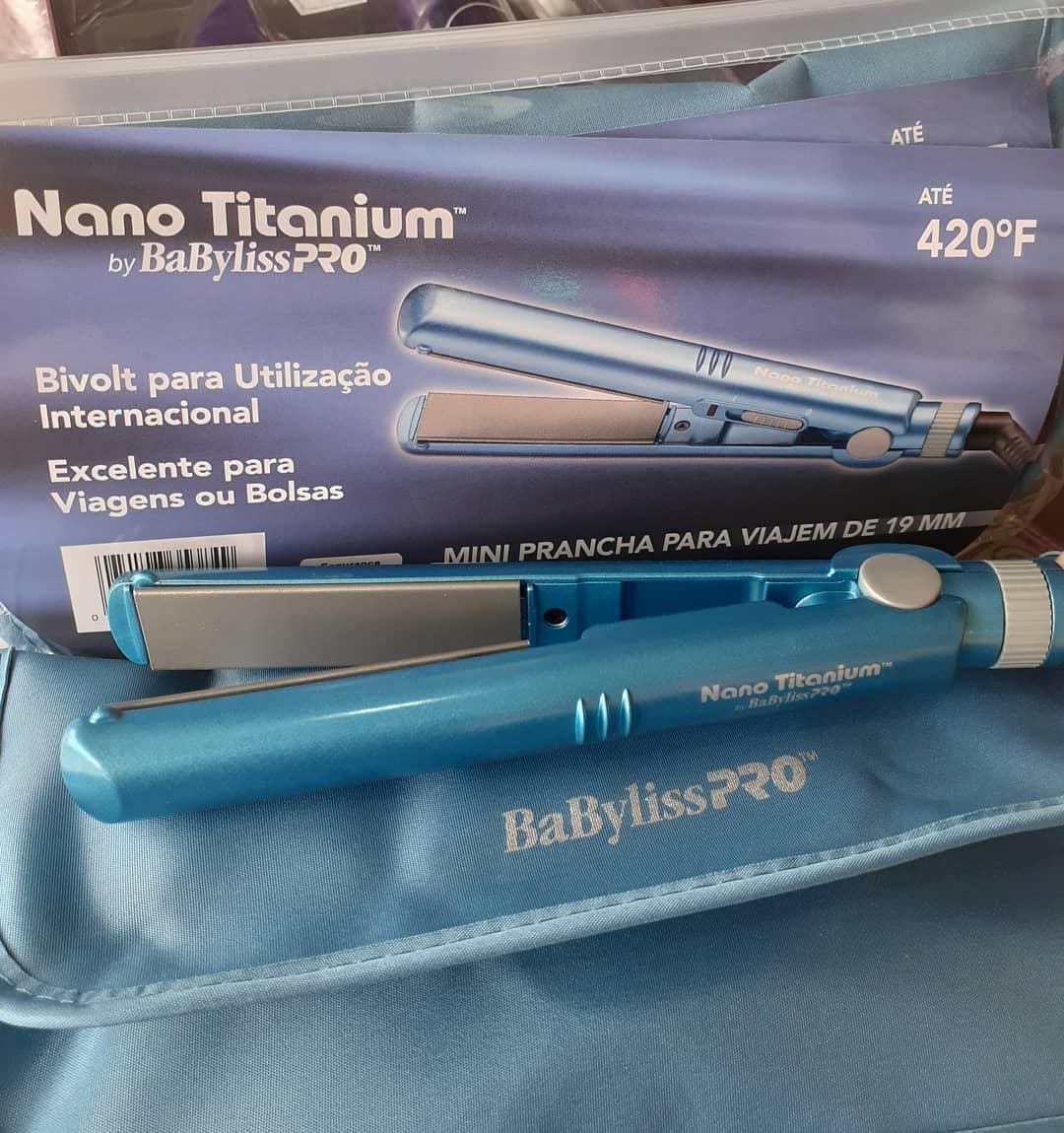 Love these features:
Slim and light design
Creates the perfect waves with little effort
Works well on kinky, coarse hair
Could do better:
People with kinky natural hair usually have a hard time finding a tool that will style their hair in a shorter amount of time. I guarantee that this BaByliss product will give you your desired look without all the extra frizz. So, if your natural locks are hard to control, this flat iron will be a great addition to your hair toolbox. However, it is on the higher end in terms of prices, so if you are on a tight budget, check out more affordable alternatives on this list!
5. FHI HEAT Platform Tourmaline Professional Flat Iron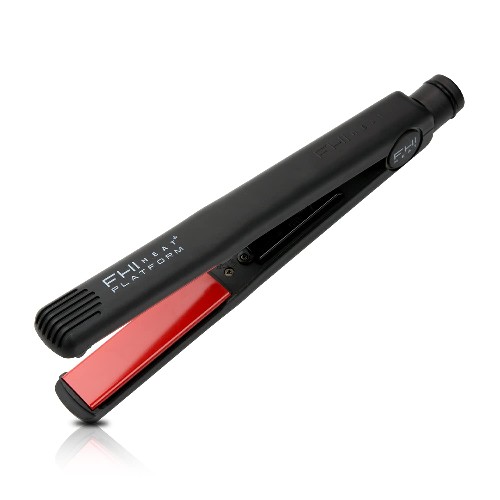 FHI Heat isn't a very well-known brand, but I have been loving their products recently. They have been in the industry for over 18 years and all their styling tools are designed to perfection.
Plate Type: Tourmaline Ceramic
Voltage:120-240V
Weight: 1 pounds
Temperature settings: 140-450F
Color: Black with red plates
If your hair is dry and tends to get even drier after styling, then this flat iron is the choice for you. It is designed with a technology that works to seal in moisture and reduce frizz by repelling humidity.
So, it won't strip your hair of all the moisture but it will also produce a beach wave look without frizz.
The plate size wasn't indicated in the above-mentioned specs since it varies with the flat iron size. This is another feature that is great, this convenient flat iron comes in four sizes so there is a size for all needs.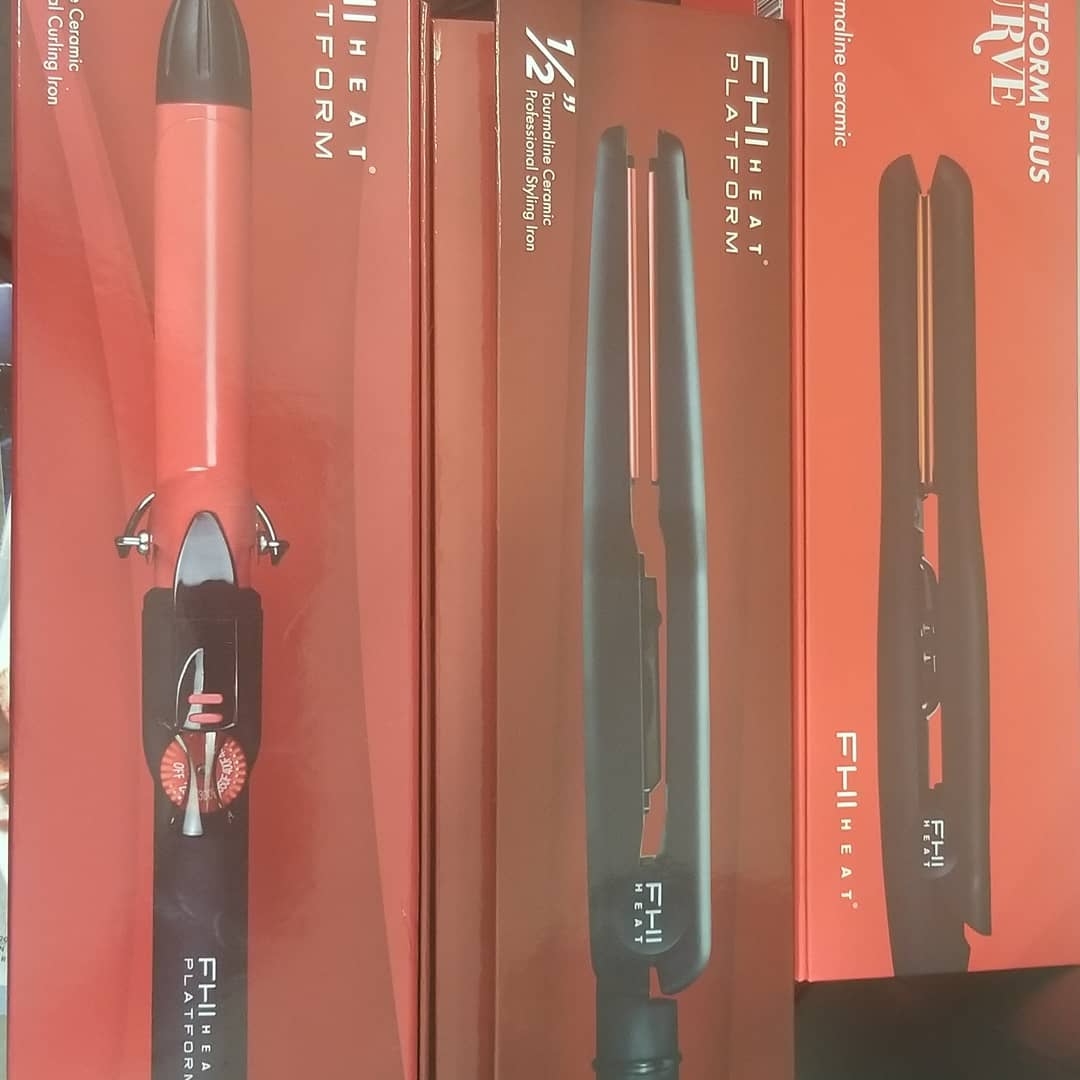 Love these features:
Floating plates for more flexibility
Works well on all types of hair, including dry and damaged
A range of sizing
Auto shut-off after one hour
Could do better:
May snag hair while curling
If you having problems with dry hair, this flat iron will become your holy grail. I would totally recommend trying it out and I am sure you will get frizz-free beach waves. And the sleek and easy-to-hold design is just an added bonus!
6. Paul Mitchell Neuro Style Titanium Flat Iron for Waves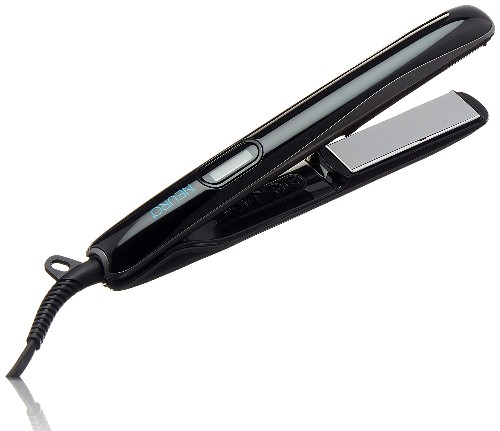 Since 1980, Paul Mitchell has strived to offer luxury hair care and tools at affordable prices and they are committed to its mission. No wonder their Neuro Style flat iron is a top contender for the best straightener for beach waves.
Plate Width: 1 inch
Plate Type: Titanium
Weight: 1.6 Pounds
Temperature settings: Up to 450F
Color: Black
Although this tool is a flat iron and is usually used for straightening hair, the design team also considered waves and curls when creating this product.
You can tell, because the edges around the plates are rounded which makes styling the perfect beach waves that much easier. The temperature control technology also protects hair from heat damage while styling it as fast as possible.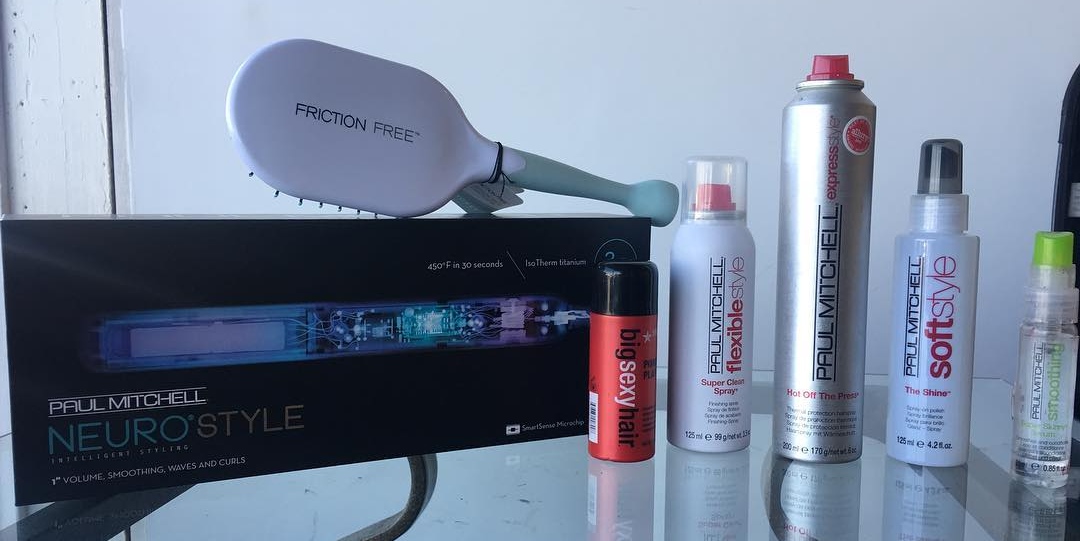 Love these features:
Rounded edges for the perfect curl
Heats up very fast
Auto shut-off function
Could do better:
Heavier and larger than most flat irons
This is a flat iron I would recommend for everyone, no matter what type of hair you have. It produces a very smooth look and gives you the perfect wave texture. If you have flat hair and struggle with creating volume, this flat iron will help solve that issue. Your desired voluminous waves are easy to create with this styling tool.
7. INFINITI PRO BY CONAIR Tourmaline Ceramic Flat Iron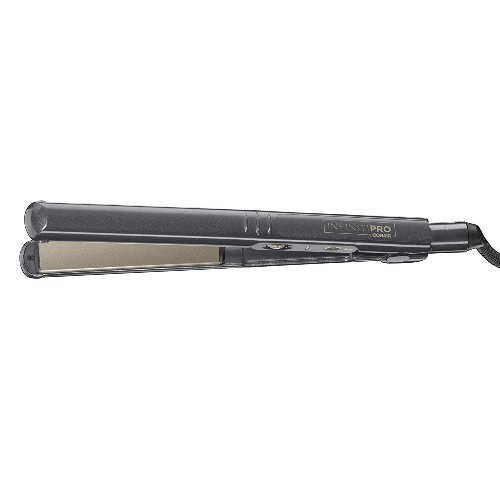 Last but not least on the list of tools for beach waves is this INFINITI PRO flat iron. Conair produces highly affordable products that help you create your dream salon look.
Plate Type: Tourmaline Ceramic
Voltage: Dual Voltage (with adapter)
Weight: 1 Pound
Temperature settings: Up to 455F
Color: Black
The long plates on this flat iron are great for distributing heat all along the hair strand, which also makes creating waves easier. The tourmaline in the plates also ensures there is no frizz in your final look.
If you want to achieve that summery beach wave look on a tight budget, this should be your go-to flat iron.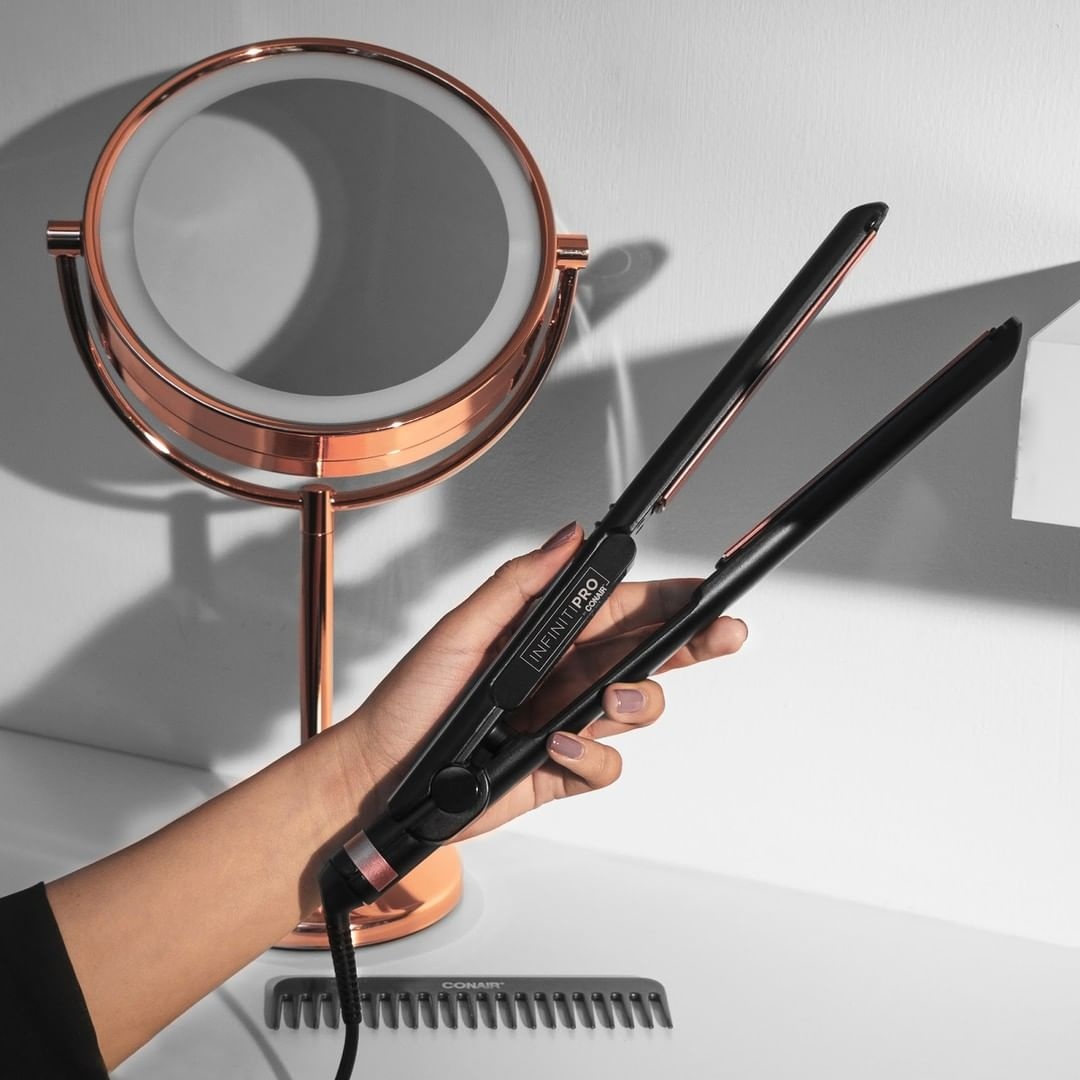 Love these features:
Very affordable
Reduces frizz
Floating plates for flexibility
Could do better:
Heat damage may be visible on the plates
Although it is last on my list, this is no indicator of the quality of this flat iron. It works on all types of hair but is better for finer hair. If you want a high-quality hair tool without breaking the bank, this is what I would recommend to you.
What to look for in a flat iron for waves?
Plate Material
The most common material for flat iron plates is ceramic. It is a great material for even heat distribution and is recommended for thin.
This type of hair is susceptible to heat damage and usually can't handle high temperatures, so ceramic is the perfect material for waves on fine hair. Make sure you are getting a flat iron with full ceramic plates and not a ceramic coating.
Titanium is a more durable and expensive material. It is super lightweight and can maintain high temperatures steadily. I would recommend titanium plates over ceramic for those looking to create waves with thicker hair. These flat irons usually tend to heat up fast as well, so this is an added bonus.
Tourmaline is a stone material that can also be found on many flat iron plates. It releases negative ions which are great for taming frizzy hair and providing shine to dull-looking hair.
If your hair is particularly dry and you wish to achieve the beach wave look, then opt for flat irons with tourmaline plates for added shine.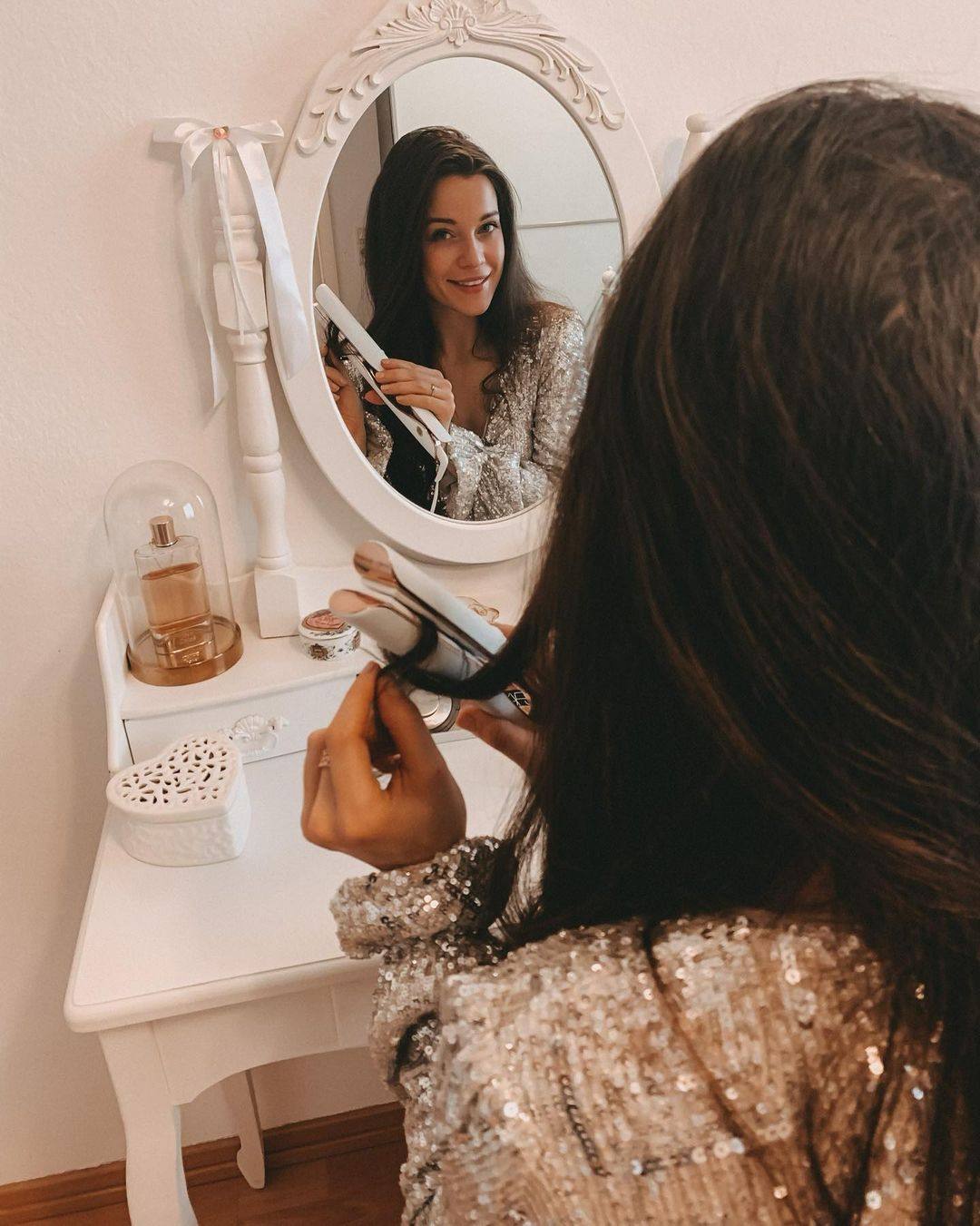 Plate Size
When you are looking for the best flat iron for beach waves the one with the smallest plate is the best option. The ideal size you should be looking for is a width of 1 inch.
Achieving loose waves with a larger plate can be difficult. However, if your hair is very long, then a 1.5-inch plate width will be better for you.
How to make beach waves with a flat iron?
Achieving beach waves with a flat iron is easy, it all comes down to a little twirl. Start off by spraying heat protectant spray onto your hair to avoid damage and heat up your flat iron. Separate your hair into sections, and hold your straightener at an angle parallel to your face.
Then, clamp the hair section with the flat iron and turn it opposite your face for a slight bend. Then, continue to pull the flat iron down your hair while turning it away from your face.
Make sure to do this twirling action slowly until the ends of your hair. Don't twirl it too much, otherwise, you might get tighter curls that aren't so beachy. Just repeat this process until you run out of hair.
If you are barely getting any waves, you might be going too fast and not giving the flat iron enough time to heat up your hair. Remember, be slow and gentle and always twirl away from your hair.
Also read:
FAQ
Can you get beachy waves with a flat iron?
Yes! It is as simple as a turn of the wrist. There is no need to buy a separate hair tool if all you want to achieve is a beachy wave.
What size flat iron is best for waves?
The best size for a flat iron plate for waves is 1 inch. A plate is great for straightening hair but not good for achieving waves, especially if you have shorter hair.
Is it better to use a curling iron or flat iron for beach waves?
To achieve the perfect beach wave, it may take you a few tries with a flat iron. But, once you get the hang of it, you can experiment and find the perfect wave pattern.
A curling iron is fool-proof so you can get waves on the first try however it is limited to a single barrel size, so what you have is what you get.
Conclusion
A hairstyle is a perfect accessory to an outfit, and who doesn't love a nice beachy wave. I guarantee, once you try it, it is going to be your go-to look.
Whether you go for the BaBylissPRO Nano Titanium Prima Ionic straightener or another flat iron from this list, you can achieve the perfect wave from the comfort of your own home.
Have you tried any of the flat irons on this list, or are there any you wish to recommend? Let me and the readers know your top picks down below!
---
References:
How to Get Beach Waves with a Flat Iron – https://www.cosmopolitan.com/style-beauty/beauty/how-to/a52634/flat-iron-hacks/