Been looking for the best curved flat iron? Well, look no more because you will surely find a winner here!
We've rounded up four of the best from across the web to help you decide. We'll feature curved edge flat iron reviews filled with all the details and even share our top pick (it's a good one!).
Plus, to guide you along while you're on the hunt, we've added in a juicy guide to finding your perfect iron complete with expert tips on how to create luscious curls. So, without further ado, let's get on with the show!
Top 4 Best Curved Flat Irons Reviewed
BaByliss Pro Nano Styler –

 Top Pick 

Andis Nano-Ceramic Flat Iron –

  Best of the Budget Curved Hair Straighteners 

T3 Lucea Professional Straightening & Styling Iron
InfinitiPro 2-in-1 Styler –

 Diverse Styling Tool 
1. BaByliss Pro Nano Styler –
 Top Pick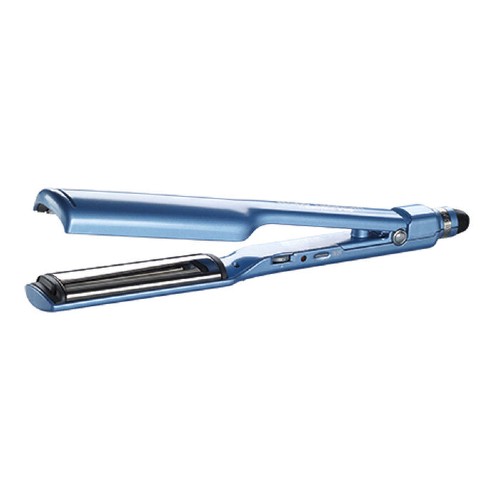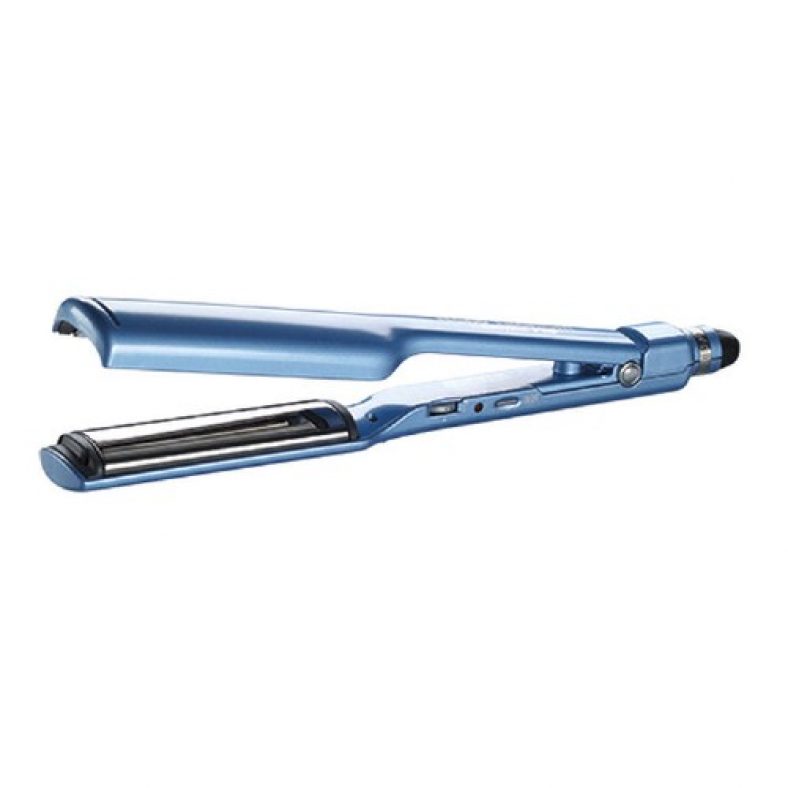 You can also find this product on Walmart.
Plate Width: 1.5 Inch
Plate Type: Titanium
Warranty: 1 year
Voltage: 110V
Temperature settings: 450F
BaByliss Pro is one of the most renowned makers of styling products across the globe. They always hit the ball out of the park with their innovative products and have done it again with one of the best curved plate flat irons.
Its unique curved shape makes it perfect for forming all kinds of hairstyles, including flips, waves, and curls. Two c-shaped titanium plates stretch out to 5-inches to help you style quickly without breakage.
Plates reach up to 450⁰F, with 50 different heat settings in between to find the perfect temperature for holding waves and curls all day. The outside is lightweight for easy styling and sealed with Ryton to keep the surface from overheating to protect the hands.
Plus, the design features an extra-long swivel cord that will glide along as you flick your wrists and twist your hands.
What we love:
The cool blue design is easy on the eyes;
Choose from 50 different heat settings;
Style away without worrying about burns;
C-shape helps create smooth, sultry waves.
What we'd change:
There's no automatic shut-off.
Waves and curls are all the buzz, making the hair voluminous and stunning. With a c-shape iron like the BaByliss Pro Nano Styler, you're getting a stylish tool that will help you achieve all of your favorite hairdos, enjoy hair that's on fleek without breakage, burn, or frizz. When you purchase quality, you notice the difference, and that's what you'll get here with this beautiful and innovative flat iron.
Straightening Performance
9.8
---
2. Andis Nano-Ceramic Flat Iron –
  Best of the Budget Curved Hair Straighteners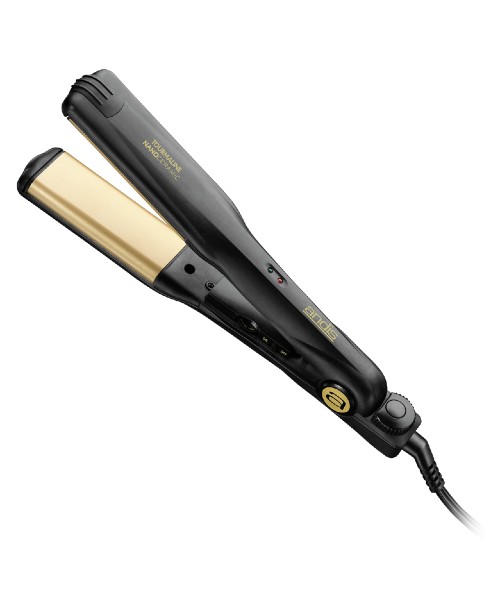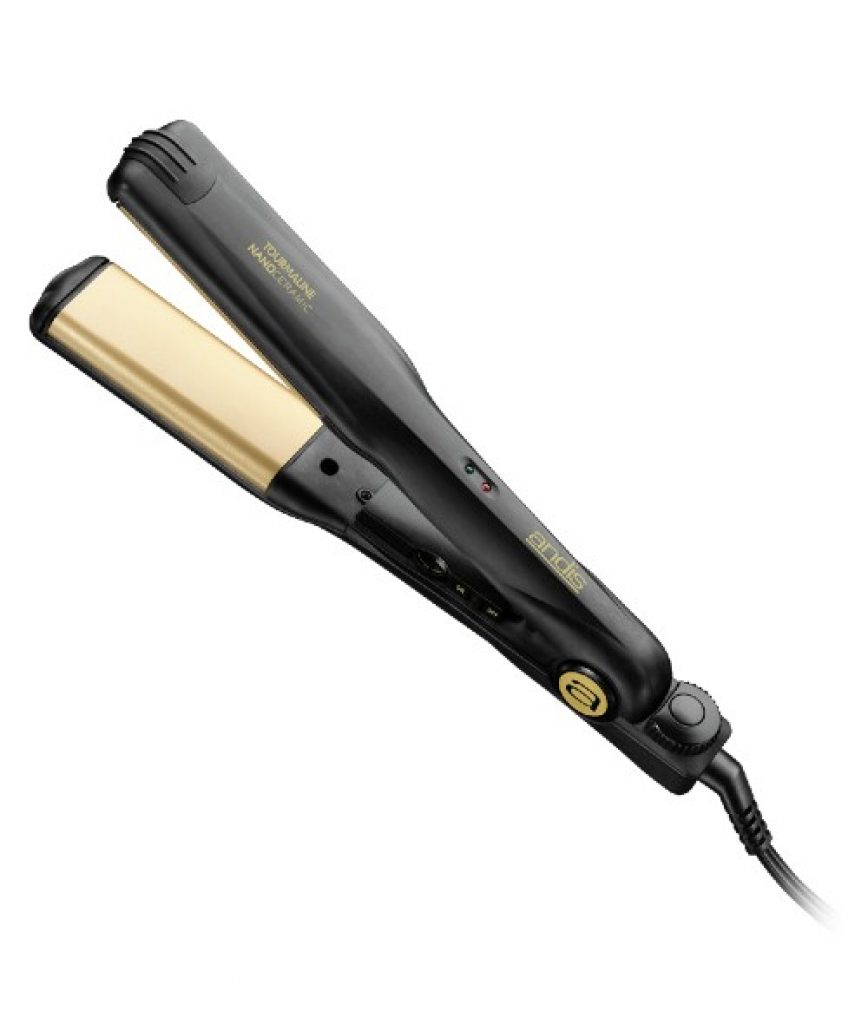 You can also find this product on Walmart.
Plate Width: 1 Inch
Plate Type: Ceramic
Warranty: 1 year
Voltage: 110-220V
Temperature settings: 450F
Andis takes the cake when it comes to creating irons that won't break the bank. This professional-grade flat iron with rounded edges is the perfect tool for smooth hair without any kinks or styling lines.
1-inch plates are made with Tourmaline technology that keeps hair smooth and far away from damage. Enriched with ceramic, your hair will glide through the heated styler, getting a dose of healthy heat along the way.
With this tourmaline flat iron, you can choose from 20 different heat settings, which top out at 450⁰F. In only 30 seconds, the flat iron will reach your desired heat and help you create your preferred style without worrying about frying your hair.
The flat iron includes automatic shut-off after 20 minutes and a worldwide dual voltage to use no matter where you roam and is packaged in a sleek black design with gold-plated plates.
What we love:
It's budget-friendly without sacrificing quality
Comes with an automatic shut off after 20 minutes
Plates sealed with tourmaline technology
Comes with a sleek black design
What we'd change:
There are only 20 heat settings, far less than other irons on the market
If you're a gal that loves beauty on a budget, then this iron is where it's at. It's got everything you need to create smooth styles free of kinks and rests in the hand without adding too much weight. Plus, in case you're always on the run, rest assured that your iron won't stay on all day, shutting off in just 20 minutes. It's a stylish flat iron that's designed with your hair in mind, taking our top pick as the best budget c-shaped flat iron in the town.
Straightening Performance
9.4
---
3. T3 Lucea Professional Straightening & Styling Iron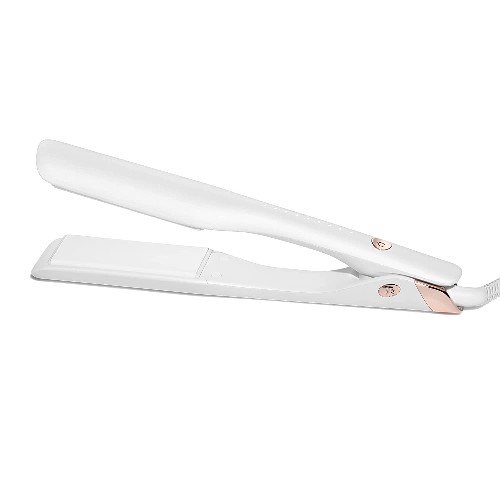 You can also find this product on Ulta, Sephora.
Plate Width: 1.5 Inch
Plate Type: Ceramic
Warranty: 2 year
Voltage: 100-240V
If you have long, thick or coarse hair, the T3 Lucea is the perfect tool for you! It has Rapid Heat IQ technology that evenly distributes heat to minimize frizz and CeraGloss ceramic plates for maximum shine and sleekness.
This tool is sure to give you an enviable mane. The precision control hinge allows optimal arm tension and plate pressure – giving you added control during every session for a flawless finish. This device comes with Style Edge technology for styling hair without snags.
It also has an 8ft., 360° swivel cord to avoid tangles or knots. It is even more versatile than ever before because it includes 9 adjustable temperature settings so users can find the perfect heat level for their particular strands.
Nevertheless, the T3 Lucea is missing a digital display panel which makes it hard to know what temperature you're using. The light animation used for indicating off/lowering heat is also similar and can be perplexing.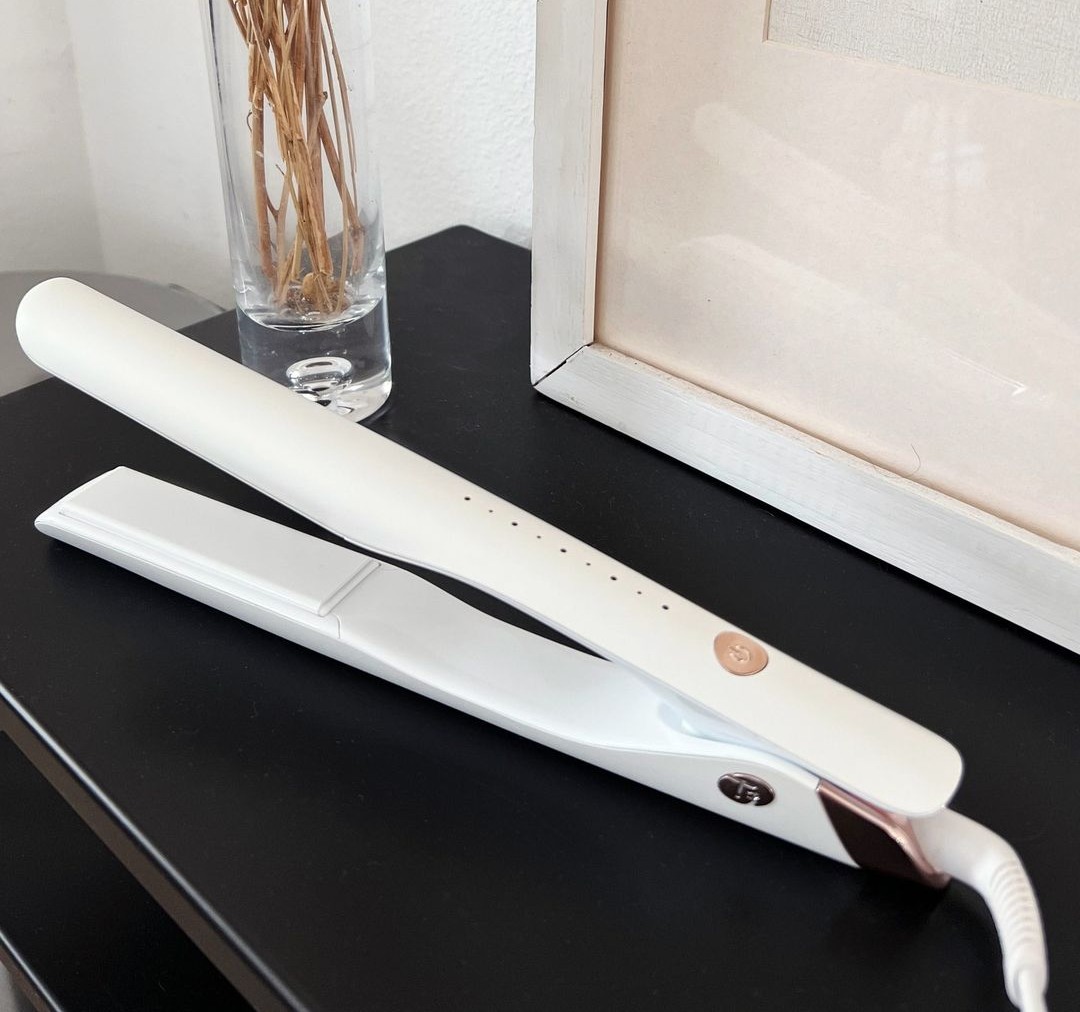 What we love:
Ceramic plates
Precision control hinge
Snag-free glide
8ft., 360° swivel cord
9 adjustable temperature settings
Lightweight design
Auto shutoff
What we'd change:
No digital display screen
Higher price point than comparable flat irons
After carefully researching various models and brands, I decided to invest in the T3 Lucea flat iron. The goal? To achieve a glossy, stylish look without spending too much money on salon visits. After weeks of using this appliance, it's safe to say that it fulfilled my expectations! Not only is its performance impeccable; with some practice and time-saving hair care tips from experts, you can now get salon-worthy results without leaving your home. This hair straightener with curved plates is an absolute must-have – it straightens my hair with ease and always leaves me with a sleek, glossy look. It's definitely worth every penny!
Straightening Performance
9
4. InfinitiPro 2-in-1 Styler –
 Diverse Styling Tool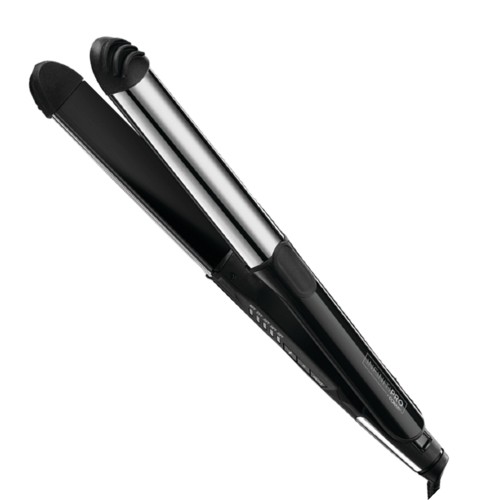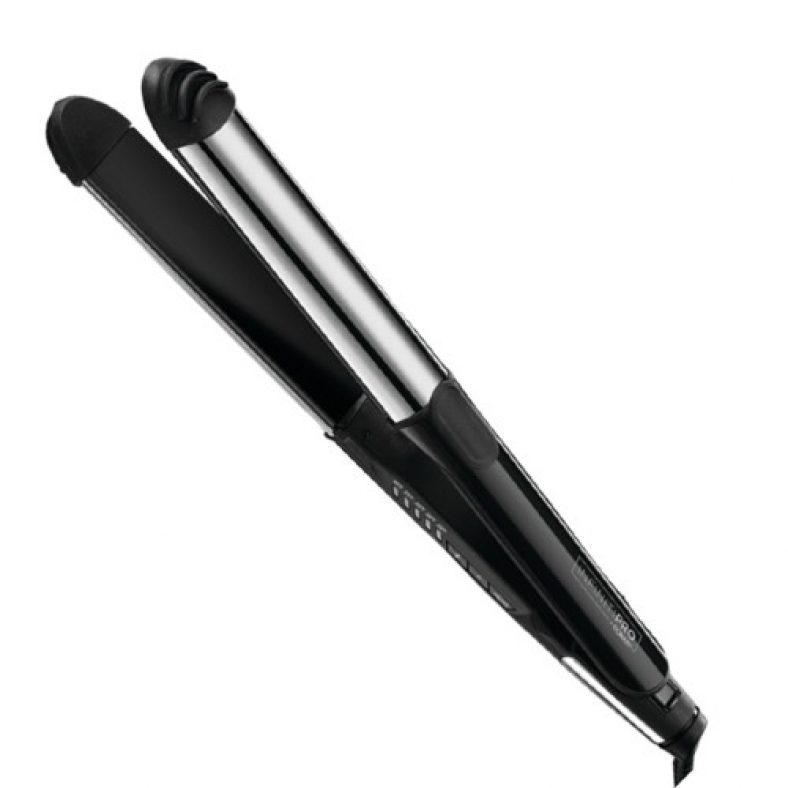 You can also find this product on Bed Bath & Beyond, Walmart.
Plate Width: 1 Inch
Plate Type: Ceramic
Warranty: 2 year
Voltage: 110V
Temperature settings: 265F or 400F
Conair has a long list of styling tools to create every look under the sun. This little gadget switches from straightener to curler in seconds, helping you create straight, wavy, curly, or any other wild style that tickles your fancy.
In one tool, you can have it all, thanks to this beveled edge flat iron. Included in the package, you'll find a barrel attachment that's perfect for curls and curved plates for straight and wavy styles.
Choose from 5 different heat settings that get up to 400⁰F in just 30 seconds. Plates are black and coated with a titanium ceramic and infused with ion generators that cut out frizz, reduce static, and make flyways go away.
On the outside, you'll find cooling tips to protect your fingers plus an auto shut-off function just in case you're prone to leaving your irons on when you're running late.
What we love:
It's an all-in-one styler for everything from straight to curly;
Infused ion generators reduce frizz and static;
Automatic shut off just in case you leave it on;
Heats up to max heat in just 30 seconds.
What we'd change:
There are only 5 heat settings;
Barrel only reaches 265⁰F.
Conair is known for its handy creations just like this all-in-one styler. If you're looking for a tool that you can use every day, InfinitiPro is a killer choice. With ion generation and titanium-coated plates, you can reach your hair goals every single day, no matter what kind of hair mood you're in. Plus, unlike other styling tools you can break apart, this one comes with quality pieces all around. The days are over where you need to buy multiple tools for different days, get an all-in-one quality styler with the InfintiPro.
Straightening Performance
9
---
Curved Flat Iron Buyer's Guide
What is a curved plate flat iron and when it's useful?
A curved flat iron has a curved shape instead of the traditional flat iron. The curve helps eliminate kinks and marks in the hair that flat irons are known for.
It's best used when creating wavy or curly hairstyles, accommodating the twirling and swirling motions. They can also create straight styles, smoothing out locks and locking in moisture and shine thanks to ceramic-coated plates.
What options to look for in a flat iron?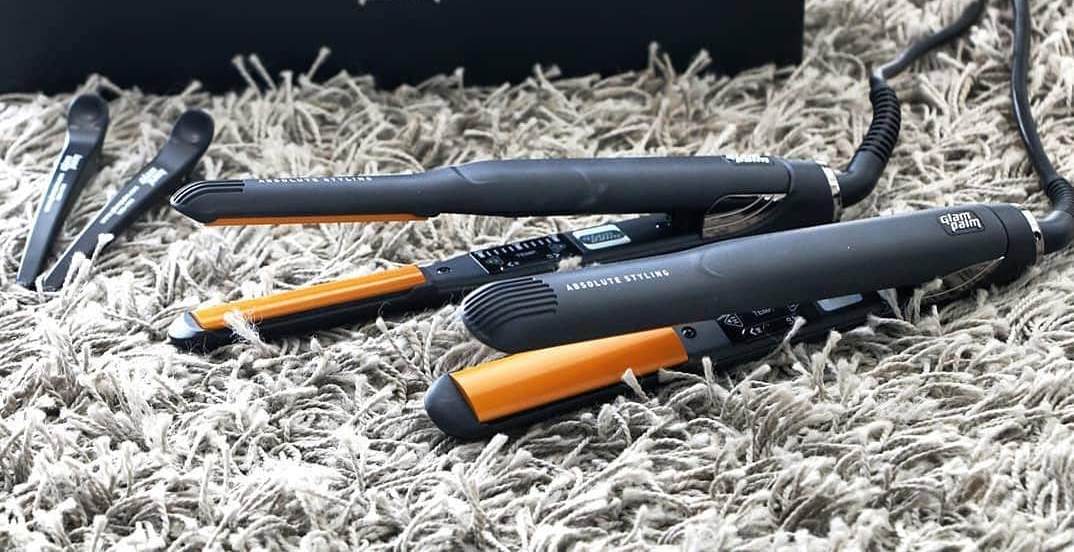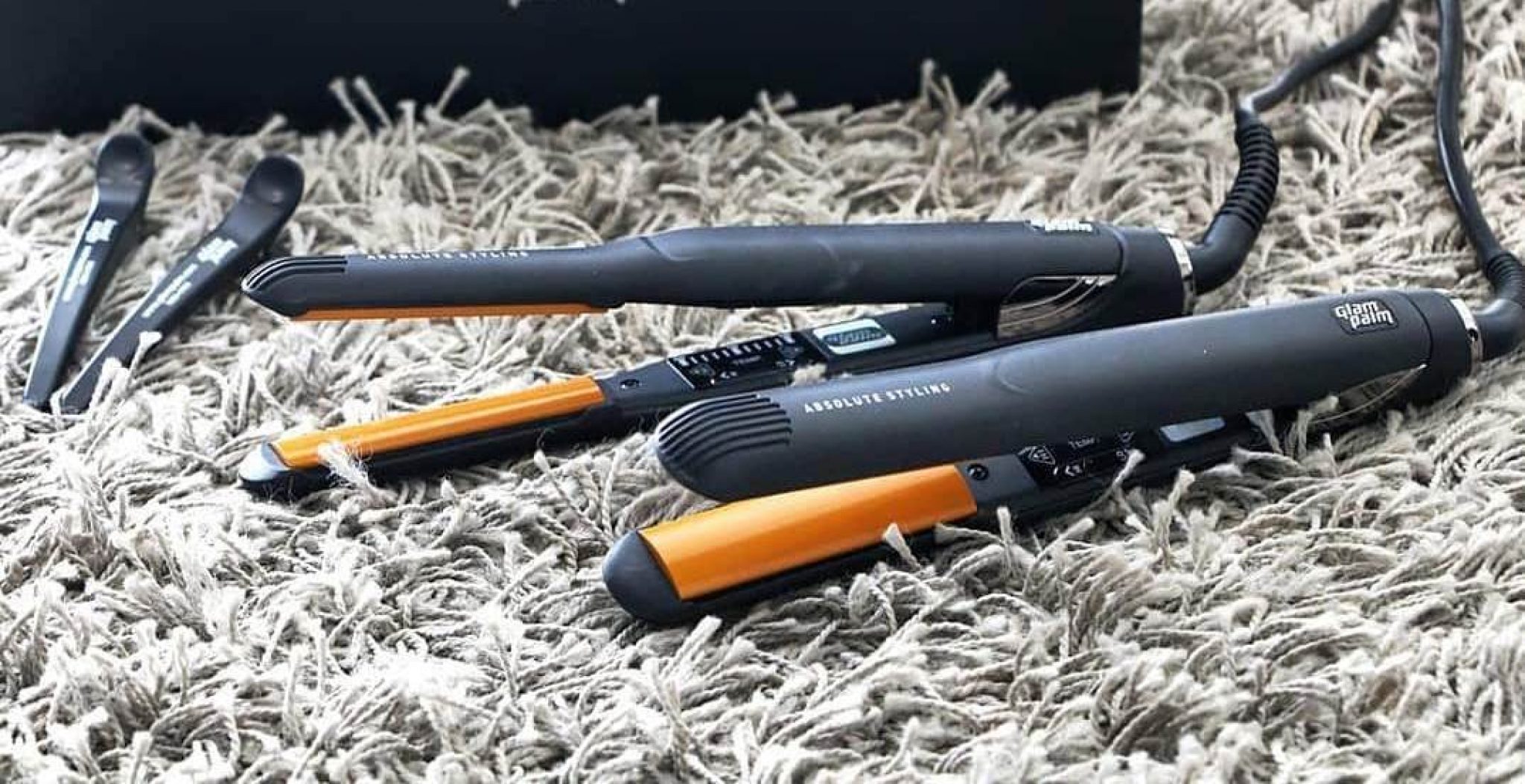 When you start your search for hair straighteners with curved plates, there are a few things that you should keep an eye out for. As you browse for your perfect match, keep these features in mind:
The Plates
One of the most important parts of any flat iron is the plates. Depending on what they're made of, they will better protect your hair and keep hair from frizzing or breaking while styling.
Some of the best plates on the market are coated with ceramic and have materials like tourmaline or ion-generating metals. The better the design and material, the more even heat will distribute and the less risk you'll have of damage due to high heat.
Heat Settings
Speaking of heat, heat settings are another key feature to look for when searching for the perfect flat iron. The highest heat settings reach up to 450⁰F, which can work for courser hair.
Still, some hair types can't handle that kind of heat, causing it to break and take on a dull and brittle appearance. That's why you should search for irons that offer different heat settings, allowing you to choose the one that works best for your hair type and desired style.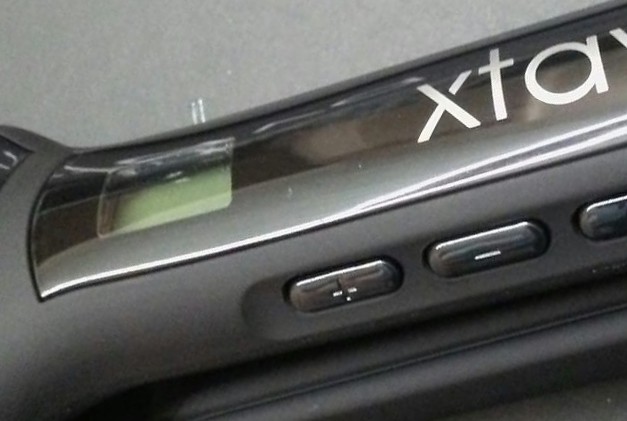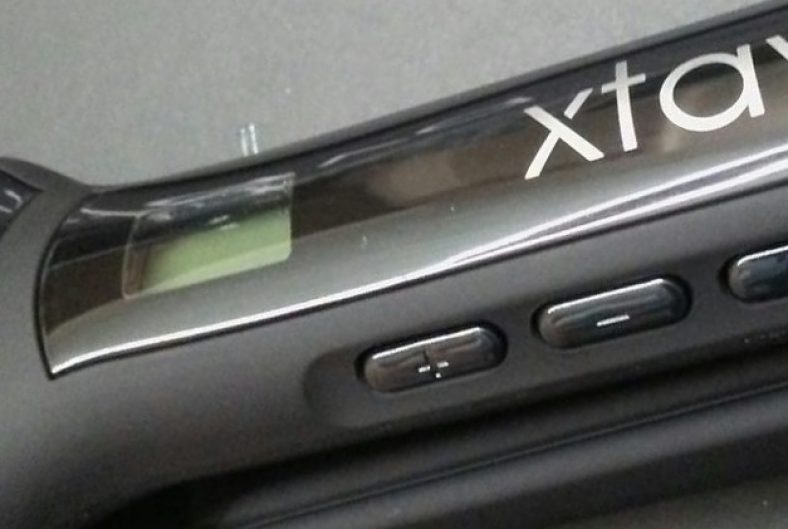 Brand
Now, we're not saying that you should only go for the high-end choices. Sometimes more cost-effective products knock high-end out of the water. The reason we mention brand is that it's important to go with reputable brands that have a history of well-working and long-lasting products. Some of those are Babyliss, Croc, Solano, FHI, etc.
Most of those that stand by their products offer guarantees and warranties, which keep you protected in case there is something wrong with your flat iron.
Extra Features
Not that these are deal breakers but, when you have them, they make life a whole lot easier. A few extra features to keep an eye out for are:
Swivel Cords
Flat irons that have swivel cords are a plus, helping you have full freedom and flexibility as you twist and turn to create curls.
Also read: Best Rusk Hair Straighteners
Automatic Shut Off
Forgetting to shut off your flat iron could be dangerous. Running at high temperatures all day could put your home at risk of a fire or could damage your all or furniture. Automatic shut-offs are an extra perk that helps to keep you safe.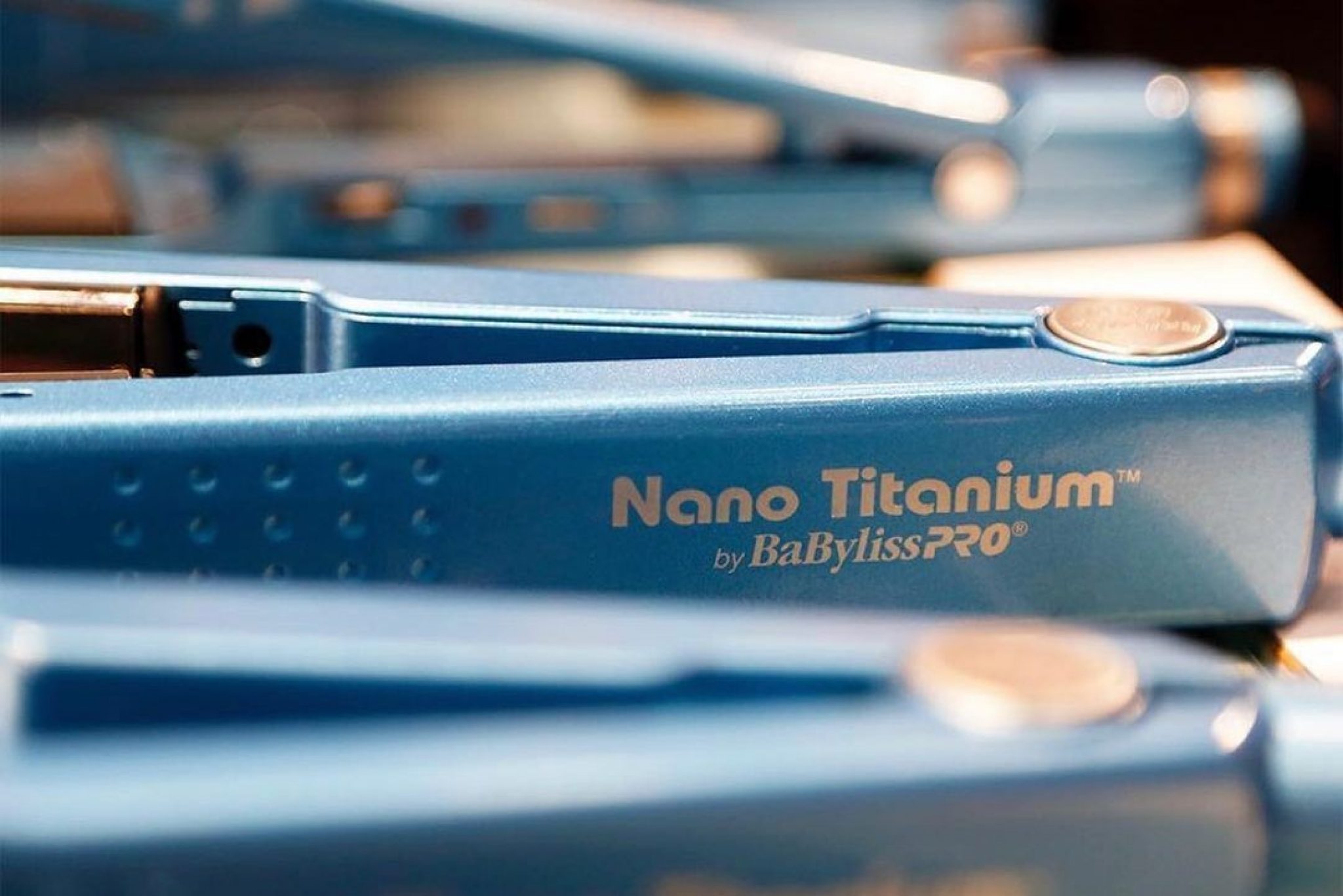 How to curl with a flat iron with curved plates?
A c-shaped flat iron has a curvy shape that works with twirling movements to create curly and wavy styles. The shape helps to create smooth styles without kinks or sharp unwanted styling marks. To curl hair with a c-shaped flat iron, follow the steps below:
1. Prep Hair
Before using heat, always make sure that your hair is dry. Never use heating tools on wet hair to avoid damage and frizz. If working with freshly washed hair, blow dry first and make sure all of your hair is dry from root to tip.
Once hair is completely dry, it's best to add a protectant to seal the hair follicle before you add heat and then, start the process of creating smooth and silky locks.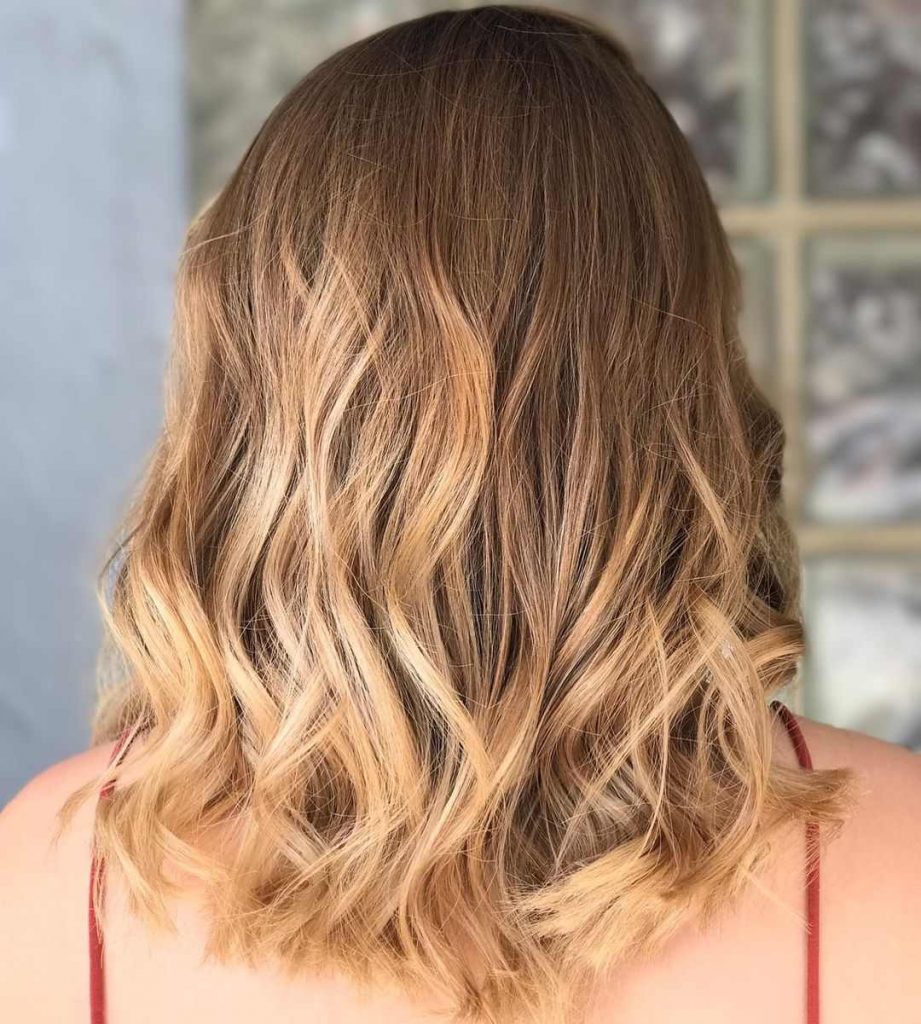 2. Create Sections
Next, part your hair into sections. Try and go for anywhere from three to six sections, making sure that you account for all of the hair on your head. Keep in mind, the smaller the section of hair, the tighter the curl.
You can tie sections up with a hair tie to keep them separate from one another and avoid mixing or just let them hang and grab randomly as you style.
3. Start Curling
Once your hair is prepped and sectioned, it's time to style. Clamp the iron vertically and twist the hair back. Continue all the way down until you reach the ends and release. For a more natural and fuller style, twist strands in different starting directions, pulling some back and around and some forward and around.
Expert tip:
Test a few small strands at the back of the head first to get used to the motion and find the shape you like.

Can a rounded flat iron be used on all hair types?
As a professional hairstylist, I can tell you that a curved plate flat iron can be used on all hair types, but with some variations. Curved plate flat irons have a unique design that allows for more versatility in styling.
The curved plates are great for creating curls and waves, but can also be used for straightening hair. This makes them a great option for those with curly or wavy hair who want more control over their curls, as well as for those with straight hair who want to add some body and movement.
However, when it comes to hair types, it's important to consider the thickness and texture of your hair. If you have thick, coarse hair, you'll want to look for a flat iron with higher heat settings and larger plates to accommodate the thickness of your hair.
On the other hand, if you have fine or thin hair, you'll want to opt for a flat iron with lower heat settings and smaller plates to avoid causing damage to your hair.
It's also important to note that some flat irons have ceramic plates, while others have titanium plates. Ceramic plates are great for all hair types as they heat evenly and prevent frizz, while titanium plates are better suited for thick and coarse hair as they heat up quickly and retain heat longer.
In conclusion, while a curved plate flat iron can be used on all hair types, it's important to consider your own hair's thickness, texture, and the heat settings of the flat iron when purchasing one.
It's always better to consult with a hairstylist before making a purchase to ensure that you're getting a flat iron that will work best for your hair type and styling needs.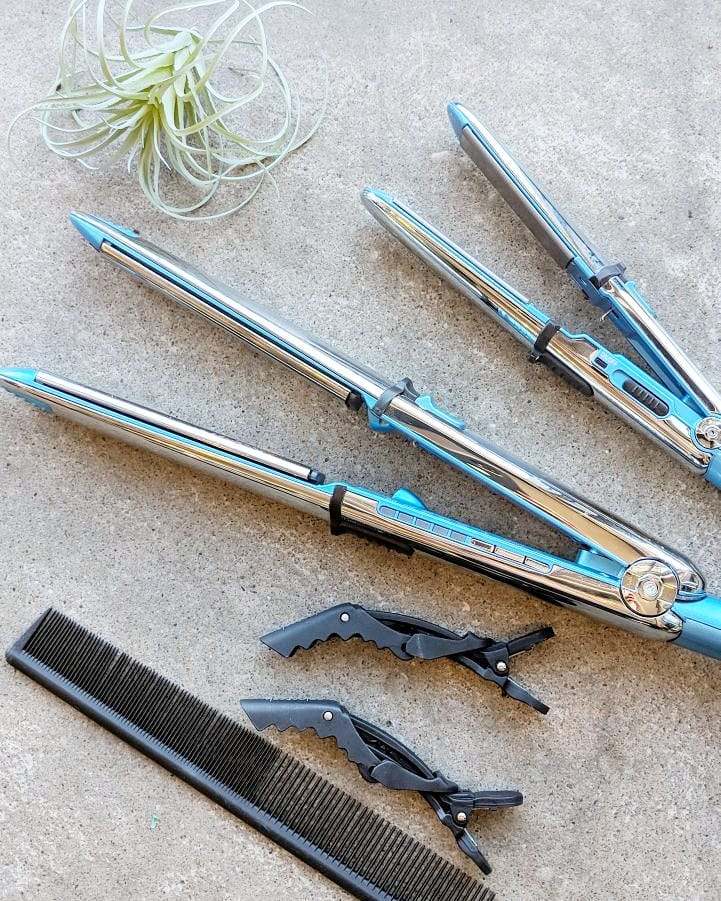 Are curved plate flat irons better than traditional flat irons?
The answer to whether curved plate flat irons are better than traditional flat irons is highly subjective. Both have their advantages and disadvantages, so the best option depends on your hair type, styling needs, and personal preference.
Traditional flat irons heat up quickly and evenly across the whole plate, making them easy to use and great for straightening large sections of hair at once.
The downside is that they can often cause more damage than curved plates due to the high temperature required for straightening. Curved plates offer a gentler approach because they allow you to wrap part of your hair around the iron before clamping down.
This not only reduces damage but also creates softer curls or waves with less effort. However, it takes more time and practice to master the technique, and it is difficult to straighten large sections of hair with a curved plate.
Ultimately, both types of flat irons can be used effectively as long as they are used properly. Whichever type you choose, make sure you're using the correct heat setting for your hair type in order to avoid damage.
Beveled Edge Flat Iron FAQ
Why does my flat iron have one curved plate?
One of the reasons why the curved-shaped flat iron works to create curls and waves is the design. Most irons have one curved plate that pops up and another that caves in, fitting together perfectly.
As you add hair and pull it through the iron, the shape works to bend hair into a "C" shape, making wavy styles possible.
Also read:
Can I curl hair with a rounded edge flat iron?
Yes! As a matter of fact, this iron was made for curling and waving. Its design will allow you to twist and turn without worrying about kinks typical of styling with flat irons.
What should I pick for hair straightening: curved or ordinary iron?
For straightening the hair, a traditional flat iron is best. The flat plates help to smooth out the hair and get it super straight and glossy as you pull strands down.
Conclusion
Now, all that's left for you to do is find your perfect iron. For an all-in-one styler that won't let you down, the BaByliss Pro Nano Titanium flat iron has our hearts. No matter your hair type, length, or your desired twirly style, this iron will be there to help you achieve it.
Remember to keep our tips in mind when searching for your iron and, as always, leave any questions or comments below. I can't wait to see your styles!
---
References:
What Is Ceramic and Tourmaline Technology? – https://www.liveabout.com/ceramic-and-tourmaline-technology-348464
10 Flatiron Mistakes That Are Totally Frying Your Hair – https://www.self.com/story/flatiron-mistakes-frying-your-hair
The Ultimate Guide to Curling Hair With a Straightener – https://www.byrdie.com/how-to-curl-hair-with-straighteners