Are you in the mood for a new Solano flat iron review? This new model has delighted many, but is it really that great? Although it thrilled me at first, there is something that makes me anxious.
Want to know what it's all about? Keep reading.
Solano Sleek heat 450 Professional Iron – Is It Worth The Fame?
In recent years, there has been a major expansion in the production of hair straighteners. So many models have been produced that each of us can find the perfect hair straightener for our hair type.
The variety on offer is certainly good, but the problem arises when we ask ourselves how to choose a good and affordable one.
Does the thought of endlessly browsing the offer of hair irons drive you crazy and are you afraid of making the wrong decision?
I'm here to help you. Just for you, I researched the Solano Sleek heat 450 Professional Iron. Want to know all the (dis)advantages of this popular hair straightener?
Keep reading my Solano flat iron review to find out if this particular iron is ideal just for you.
Detailed Solano Sleek Heat 450 Flat Iron Review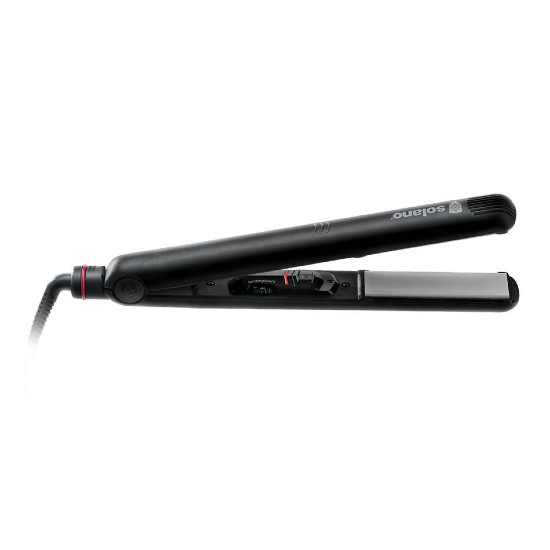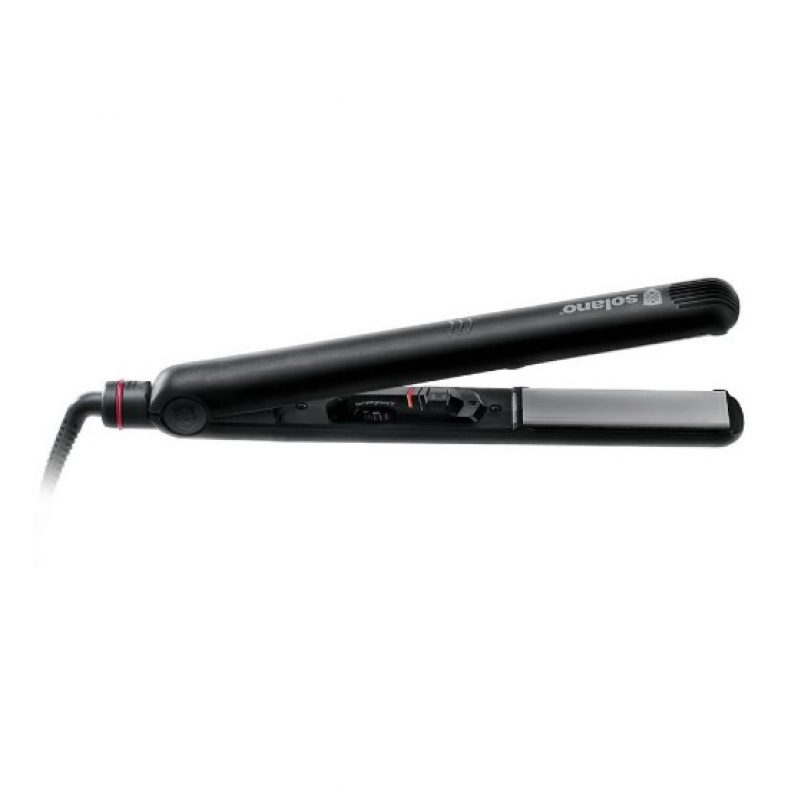 You can also find this product on Walmart.
Plate Width: 1 inch
Plate Type: Ceramic
Warranty: 2 year
Voltage: 110V
Temperature settings: 450°F
Lately this hair straightener has raised a lot of dust. Namely, the internet was flooded with comments from satisfied users who claimed that this salty professional hair straightener helped protect their hair from heat damage. So, because of you, I decided to examine whether this is true.
Solano Professional, which, as usual, is dedicated to the production of the best salon equipment, this time created two models of its professional hair straighteners.
The models come in two different dimensions; we are talking about 1 inch and 1 ¼ inch flat iron models as well. The Solano 1-inch flat iron is designed as a unique tool for different hairstyles.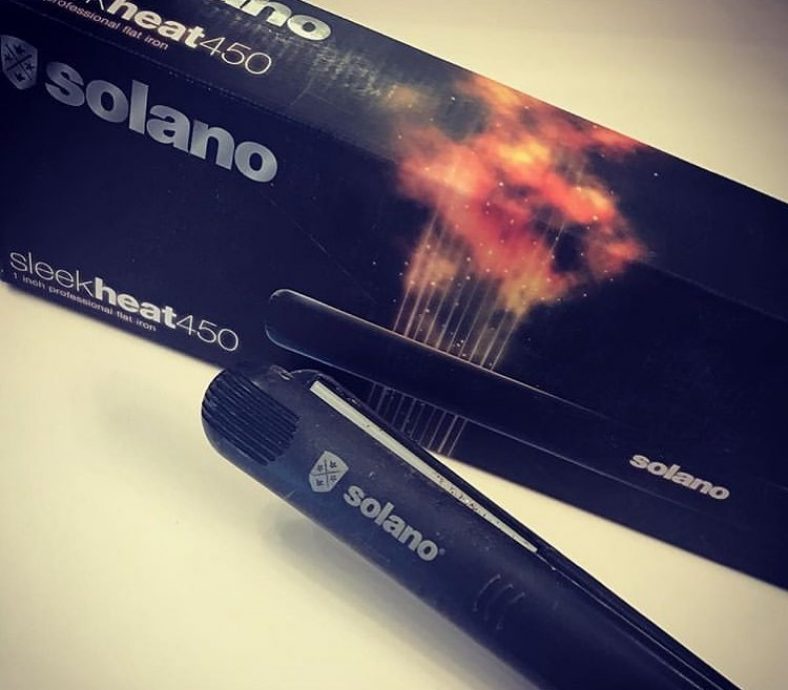 It is intended for shorter hair and due to its shape, it will allow you to style your hair into different shapes of curls, from light beachy waves to straight curls.
On the other hand, the slightly larger 1 ¼ inch model which weighs only 1 pound is intended for longer hair but offers you less choice in creating curls. Therefore, when choosing a model that is perfect for you, keep in mind what your wishes and needs are.
Design and Technologies
This Solano Sleek Heat 450 review will be based on the 1 ¼ inch model. This hair straightener is made of quality ceramics and tourmaline. Such a wise choice of material will allow you to style your hair safely and without fear of ending up with burnt hair ends.
I also find it very important to mention that this Solano straightener features infrared and negative ion technology. They allow us to heat each strand of hair evenly and safely.
This means that only one transition should be enough to achieve the desired result. Like most new models, this model also contains an increased amount of negative ions that help our hair retain natural moisture and reduce static.
One of the curiosities is definitely the long swivel cable. It is as long as 9 feet, which makes it ideal not only for home but also for professional salon use. Unfortunately, the tool is not dual voltage, which makes it inconvenient for travel.
Temperature
This particular model has a wide temperature range that can be easily adjusted from 170 ℉ to 450 ℉, making it an excellent choice for different hair types. I think we can all agree that burnt hair is a big no-no, right?
It reaches its maximum in just 60 seconds, which isn't so bad. Although we must not forget that there are other hair straighteners that can reach their maximum temperature in half the time. So, if the heating time is important to you, maybe this is not the best choice for you.
Burns on your fingers? Ouch! That's why I definitely pay attention to heat-resistant tips when choosing a hair straightener. Since Solano ceramic flat iron has them, I have to admit, it was a big plus for me right away.
This tool also adorns the color-coded feature. As soon as you turn it on, it turns red, and when it reaches the desired temperature, it turns blue. Nice, isn't it?
Also read: Sutra Flat Irons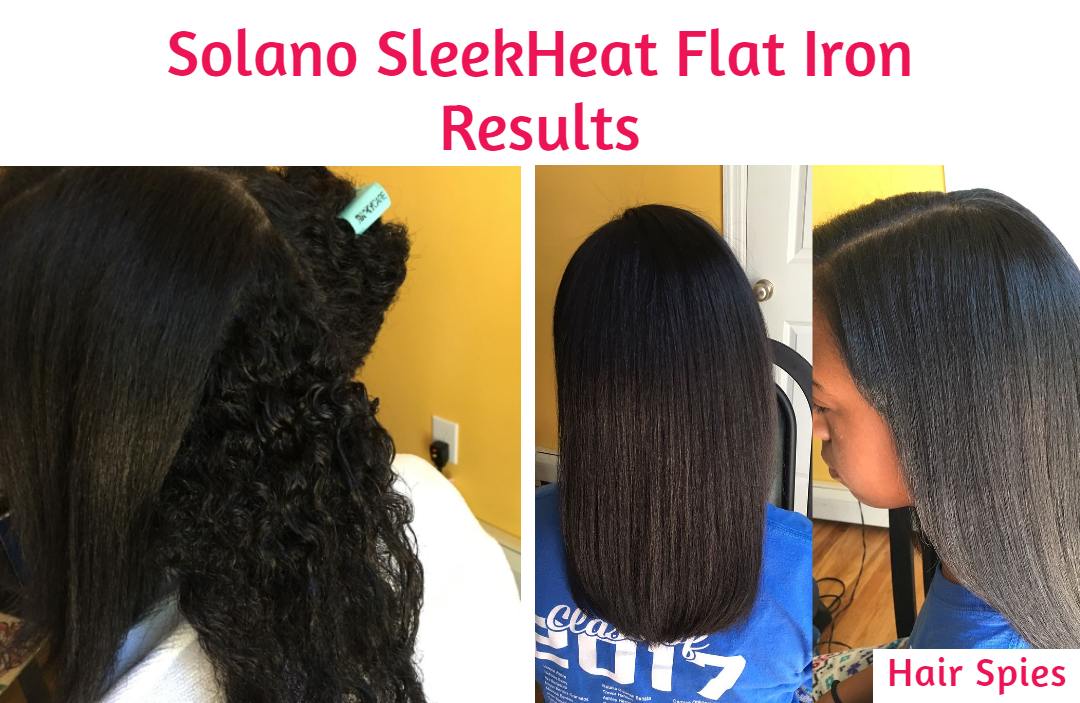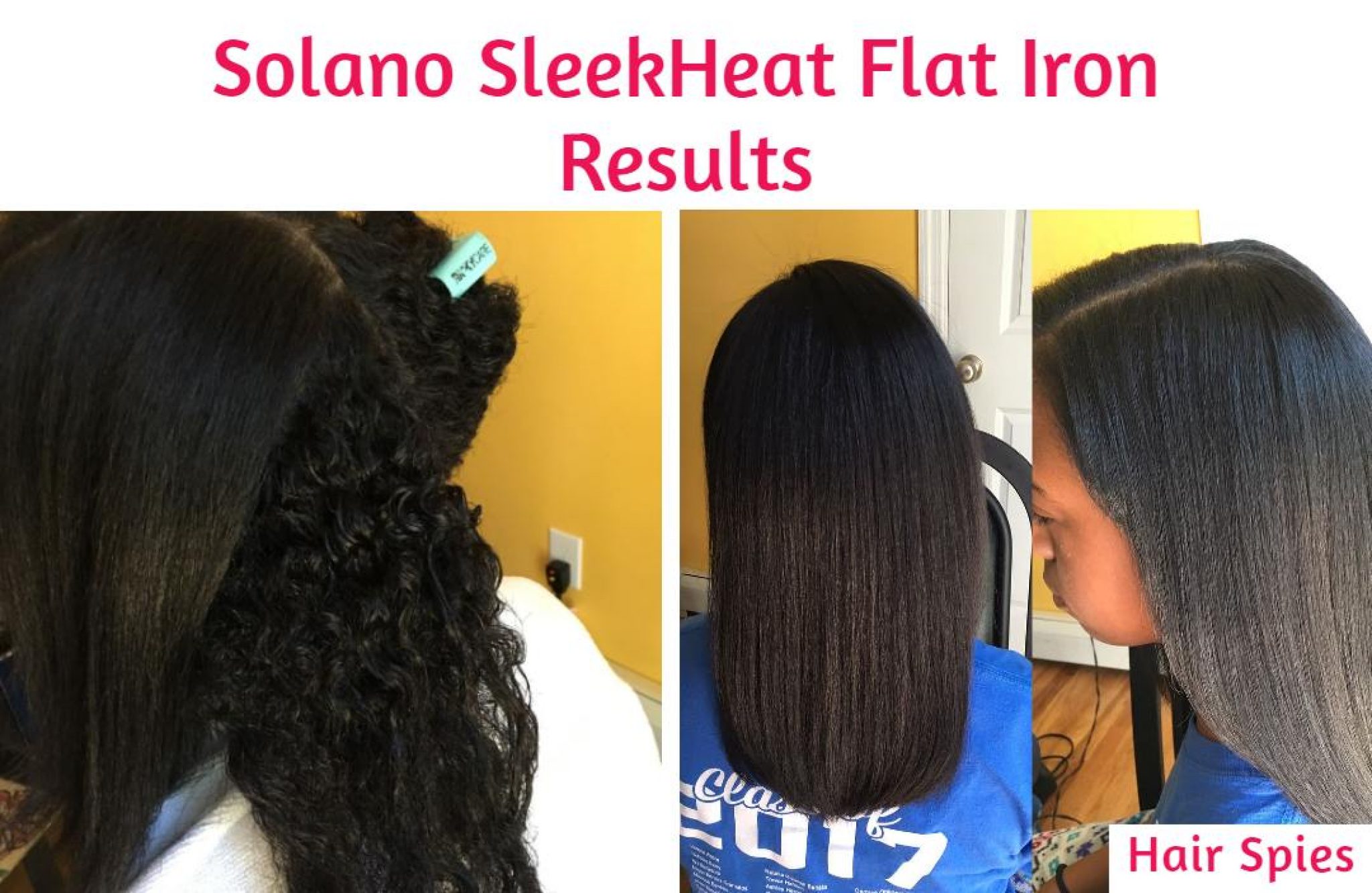 Warranty – what about that?
I also find the long-term warranty to be one of the more important features when buying a new hair straightener. The Solano professional iron comes with a two-year warranty.
Just for you, I researched exactly what it takes to qualify for a two-year limited warranty:
The product must be registered within 30 days of purchase. You can do this by filling out the online registration form or you can return the registration card included in the product packaging.
If something happens to your Solano tool, you can take advantage of a two-year limited warranty as a registered user. You can send the device to a Repair Center where it will be repaired and restored.
If you do not qualify for a warranty repair, you can still repair your Solano tool by paying $ 30.00 a service fee.
All irons will be repaired and delivered within 2 business days, and Solano will also cover the cost of returning the product.
While it may not seem like a long period at first, I think that's quite enough, given that it's primarily a professional iron designed for hair salons.
Also read: Best Croc Flat Irons
Are there any cons regarding this hair straightener?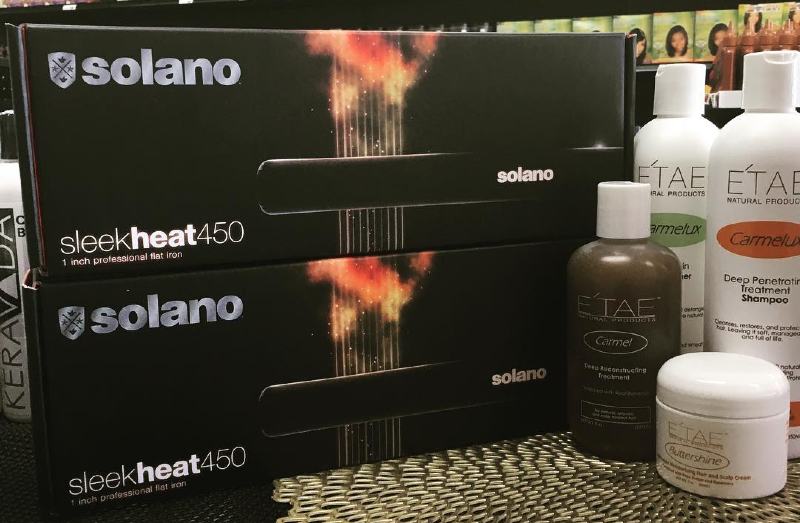 While there are plenty of positive Solano sleekheat 450 reviews, this tool may not be entirely perfect. The tool has a very high price and I think as such it should have an automatic shut-off function as well as the ability to heat up faster.
Personally, I'm in a big panic and the lack of an auto-shut-off feature makes me anxious. How about you?
What I liked most:
Lightweight;
Super long swivel cable;
Suitable for every hair type;
High-quality ceramic, tourmaline plates.
What I'd improve:
No automatic shut-off mechanism;
No power display mechanism;
Adapter required for traveling;
Pretty expensive.
Solano Sleekheat 450 Professional Flat Iron is a ceramic hair straightener ideal for both curly, thick and thin, brittle hair. So, the customers were really right. Thanks to the use of infrared and negative ion technology, with this Solano straightener you do not have to be afraid of heat damage. On the contrary, your hair will be smooth and shiny.
Straightening Performance
9.8
Solano Sleek Heat 450 Flat Iron – FAQ
Where are Solano flat irons made?
Solan flat irons are manufactured in Korea.
Can I get curls with Solano flat iron?
Of course, like most others, Solano professional flat iron will allow you to curl your hair. Indulge your imagination and play with your hair. But don't forget to apply heat protection. Our safety comes first.
What is the warranty on Solano flat irons?
The Solano flat irons come with a two-year warranty. To qualify to repair your favorite tool, just submit an online application or you can return the registration card. Customer service guarantees that your device will be repaired and delivered in just two days.
Also read:
Conclusion
Choosing the ideal hair straightener can sometimes be tedious. I hope this little research of mine will help you discover if the Solano Sleek Heat 450 Professional iron is the right choice for you.
Want to read a few more Solano Sleekheat 450 reviews, let me know in the comments. If you have any other questions or just want to share your thoughts… I'm waiting for you.