If you have read my other posts, you might have noticed that I don't suggest a specific relaxer to be the best. That is because it is nearly impossible to figure out the relaxer that would suit you without knowing your hair type. There are many relaxers out there and the basic purpose of any relaxer is to penetrate into the hair shaft and alter the texture of the hair.
Unbiased Phytorelaxer Review
The ingredients used in the relaxer are aimed at achieving the result desired. Phytospecific is one such relaxer but the key here is it doesn't use the ingredients used in many other relaxers. So, the typical lye ingredient Sodium Hydroxide isn't there.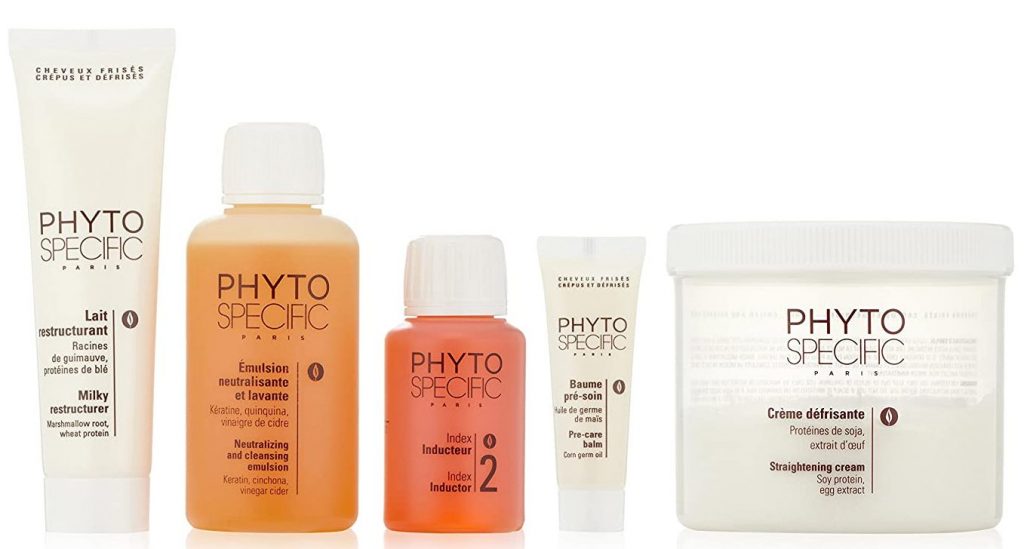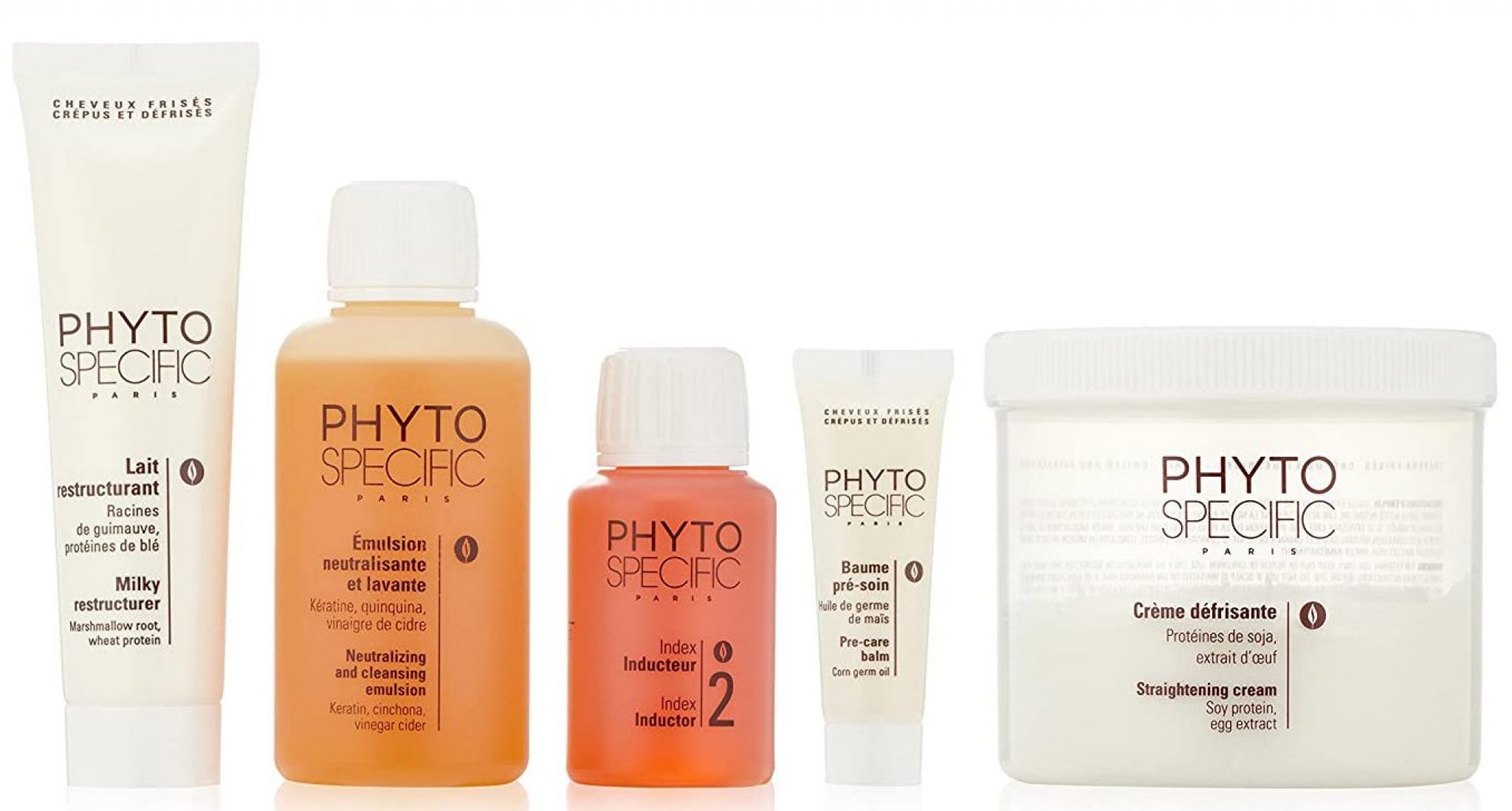 Formula: No-lye
Hair Type: Delicate and Fine hair
Size: 50 Milliliters
It is a no-lye relaxer though they say it's non-chemical and botanical etc. It claims to be chemical-free and made from soy and egg extracts. I had used it on many clients as it has become more popular due to an array of celebrities like Oprah, Vanessa, etc have claimed to be using it.
Phytorelaxer is a bit expensive and if you want to get it done in the salon it can cost you a bit. The good thing about this relaxer is it always leaves your hair soft and silky. The Phyto relaxer cannot be applied on already treated hair and they don't have a product for color-treated hair. I would suggest you read all the instructions before applying the relaxer.
Phytorelaxer comes in 2 different strengths Index 1 and Index 2. Index 1 is for fine delicate hair and Index 2 is for dry resistant hair. The Phyto relaxer just like Mizani and Affirm comes as a kit rather than a standalone product.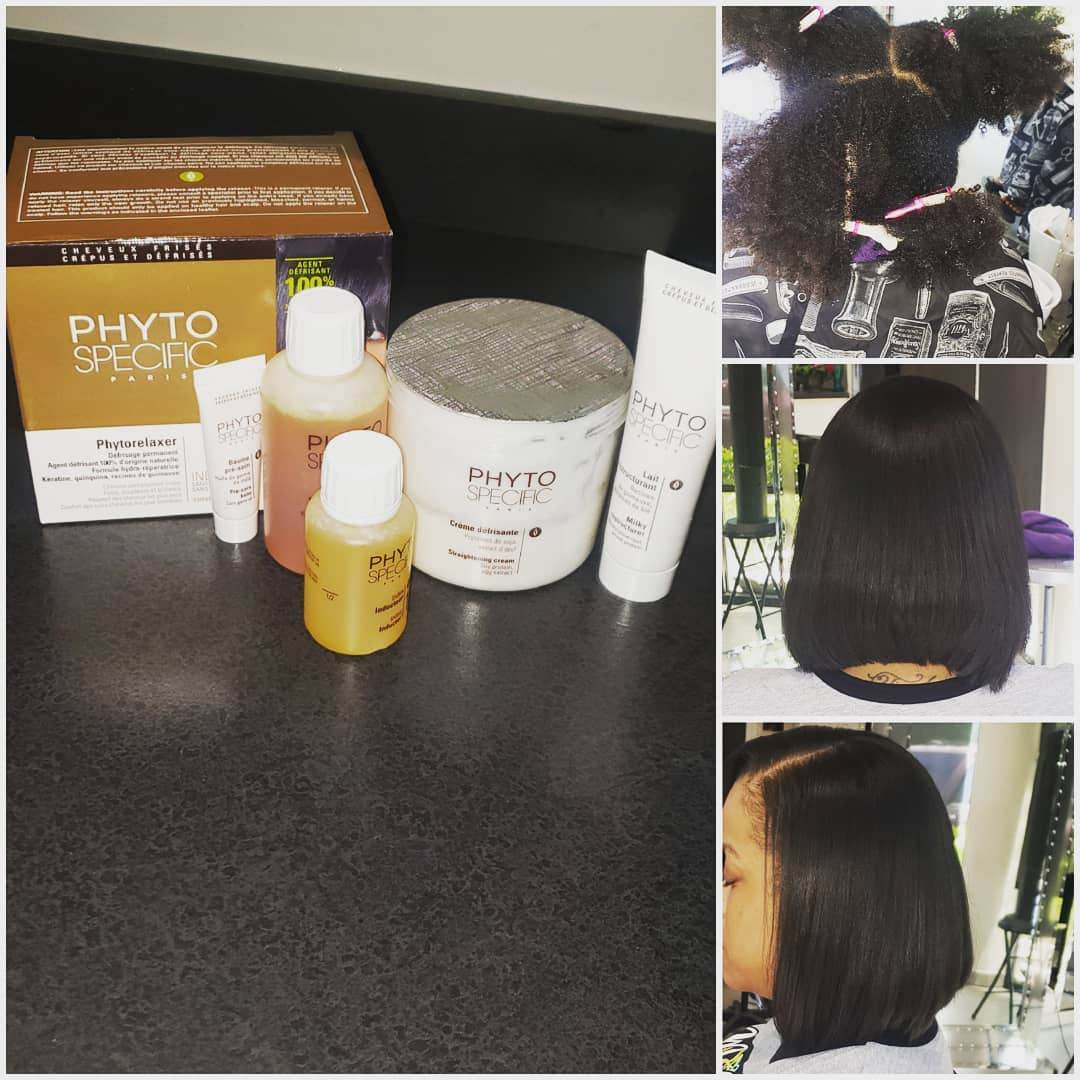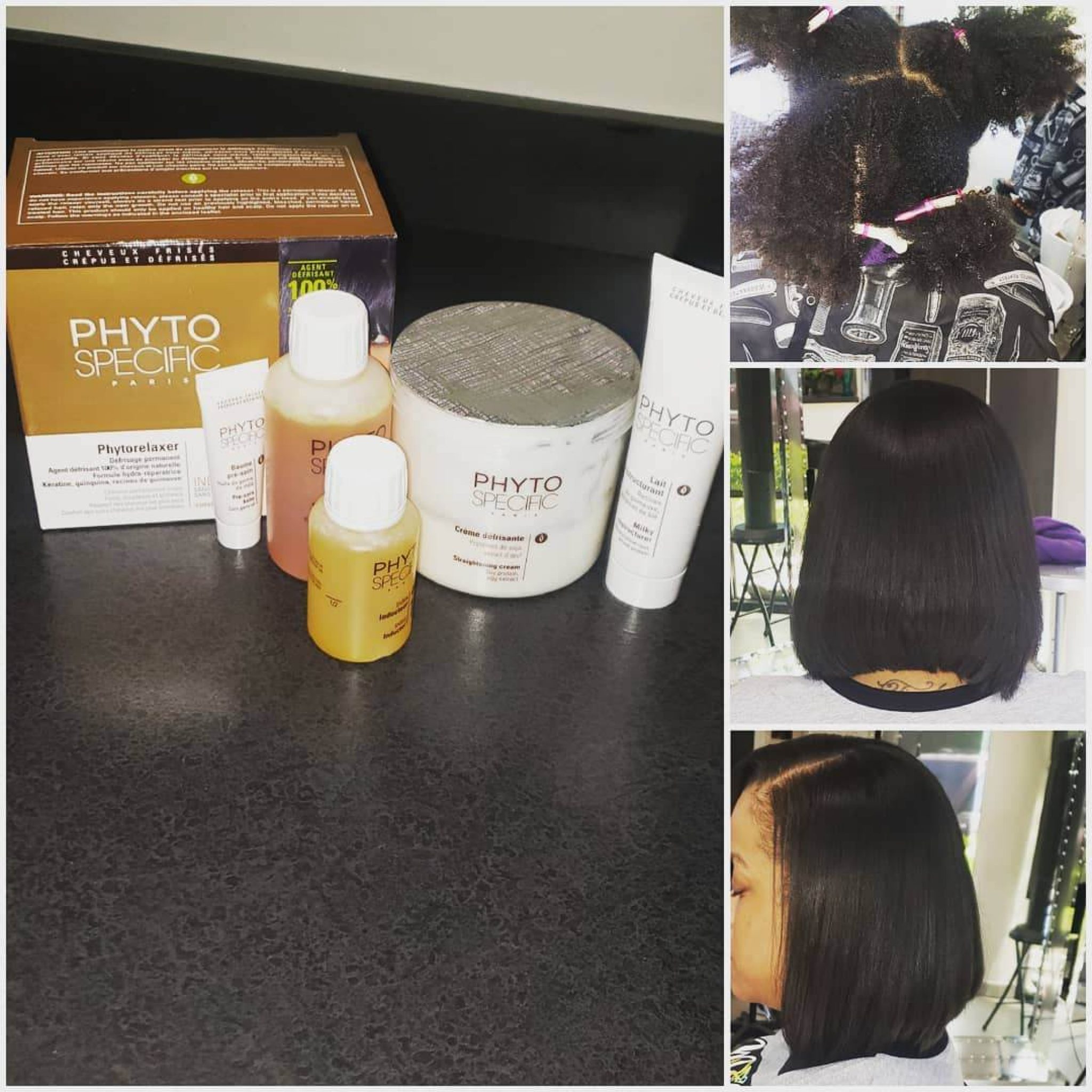 It is important not to wash your hair 3 days prior to and after using the Phyto relaxer kit. Phytorelaxer contains Guanidine Carbonate. This is a chemical just like any other no-lye relaxer and I suggest people not fall for their non-chemical myth.
I am not a great fan of a company that claims to be all botanical when you know for sure there is no magical botanical product that can straighten and alter the texture of the hair. This can only be achieved by a high pH alkaline solution which is bound to have one or other form of chemical.
What Comes In a Phytospecific Relaxer Kit
Ok, let's talk about Phyto Kit now:
Pre-Care Balm
Straightening Cream
Inductor Index 1 and Index 2(actual relaxer)
Neutralizing and Cleansing Emulsion
Milk Reconstructor – Conditioner which acts as a deep treatment
The pre-care balm is full of essential oil to nourish the hair before your relaxing treatment. This is specifically useful if your hair is dry and needs lots of moisture. If you have split ends I would suggest cutting them before applying the relaxer.
The straightening cream just detangles your hair for easy application of relaxers. The Inductor is the actual relaxer that comes in 2 strengths. Its primary ingredient is guanidine carbonate. This is the primary ingredient in many other no-lye relaxers.
The neutralizing and cleansing emulsion is the neutralizer applied to wash away all the relaxers left in your hair. The milk reconstructor is a protein-rich conditioner for relaxed hair that seals and protects your hair. It leaves your hair super silky and it is one of the reasons that women like Phyto.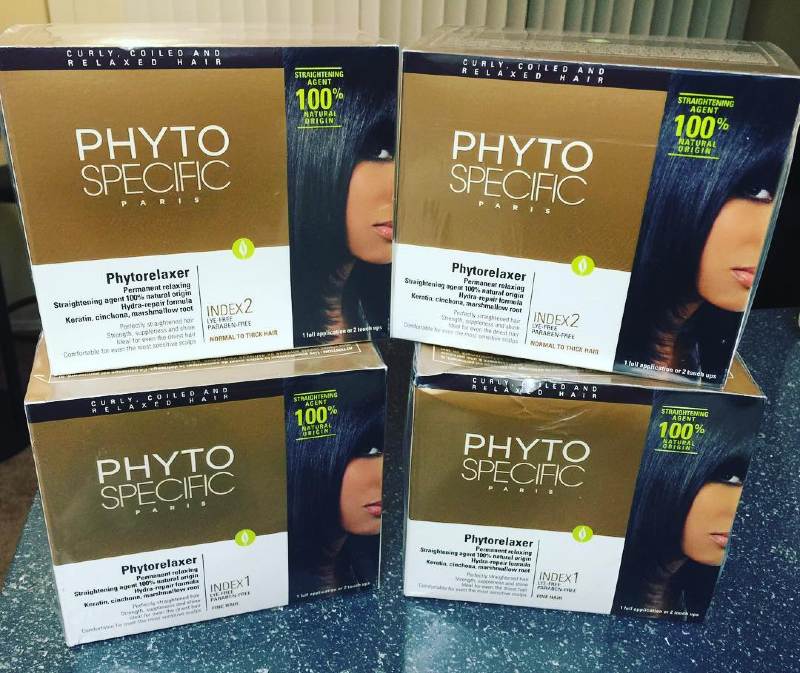 FAQ
Is Phytospecific Relaxer just for African American type hair?
No. Phytospecific Relaxer allows you to choose the appropriate treatment depending on your hair texture and condition, as well as the desired degree of straightening. INDEX #1 is for fine delicate hair you can texturize to loosen curls and waves. Please read all the warnings and follow directions completely. Do perform a strand test before relaxing.
How often should I use the product to relax my hair?
Depends on what type of hair you have. I don't feel this product is for someone who perms often. I only use it 3 times a year for the ease of manageability of my natural hair. It's plant-based so I feel it's a little more gentle for my hair.
Should I color my hair before or after using this Phyto?
Always apply hair color a week or so after, otherwise, your hair color will be lightened by the relaxer.
Is it possible to overprocess your hair with Phyto?
I've never done it. The product tends to irritate the scalp if you have any easily irritated spots already so I imagine that irritation would get worse the longer it was left on, indicating you need to stop the process promptly. Rather than damaging hair, I think the problem would be with the hair follicles and this might lead to hair loss. I have used the product for many years, only straightening roots every 12 weeks or so – I've never experienced any hair damage or loss.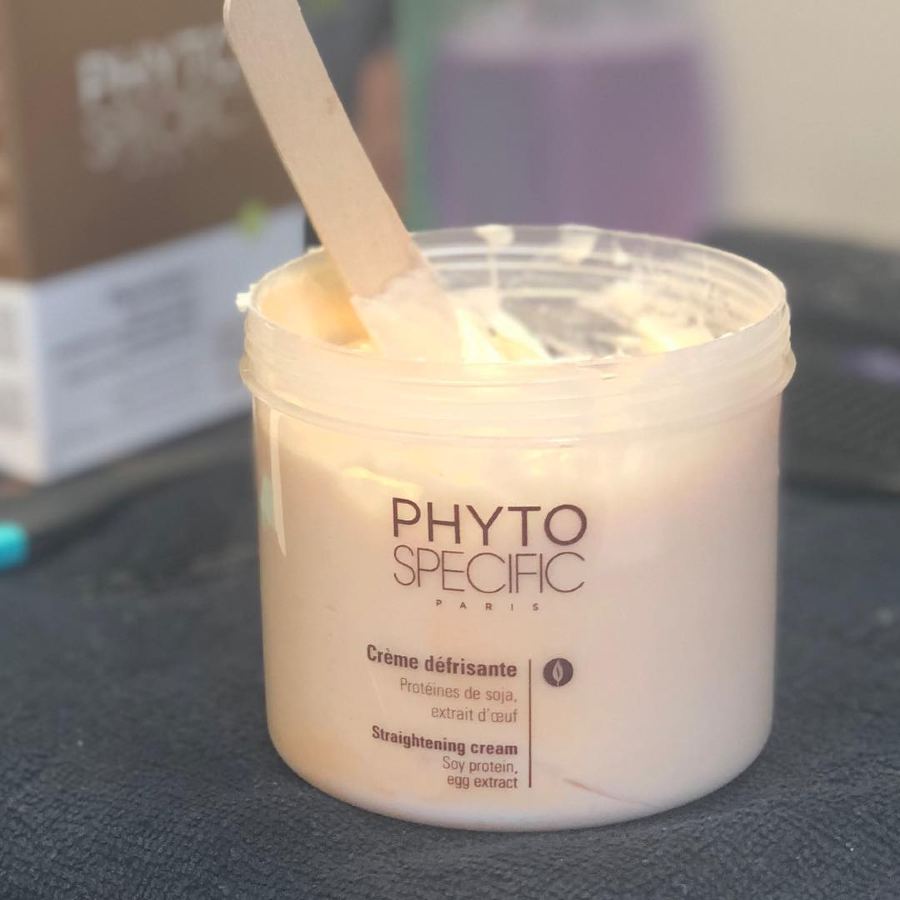 Is Phytospecific a permanent hair relaxer or does hair reverse after the next shampoo?
It permanently straightens the hair. It's like a reverse perm – smoothing rather than curling. After treating the hair the first time, I just straighten the new growth at the roots every 3 months or so This is quite strong stuff so follow the directions very carefully. My hair, however, is in much better condition now than when I heat straightened it on a regular basis – I don't have to do that anymore.
Our Verdict on Phytospecific Relaxer
It is a decent relaxer that works fine and joins the lines of Affirm, Mizani, etc. Though I am a tad bit concerned about the price and the company making false claims that is a non-chemical relaxer. It is definitely misleading to consumers.
Most of the phytorelaxer reviews on the web are positive and I won't be an exception today. Have you used Phytospecific relaxers? Share your experiences below.
Straightening Performance
9.8