Hey, y'all! As a hairstylist with a passion for embracing our gorgeous natural hair textures, I'm here to dish the deets on the best co-wash for natural hair that you've been searching for.
I've spent countless hours testing and experimenting to find the perfect products for our curls, kinks, and coils. Today, we're going to dive deep into the best co-wash for 4c hair and beyond, giving your locks the love they deserve.
So, buckle up, beauties, as we embark on a fabulous journey to find your holy grail co-wash, transforming your tresses from blah to bombshell!
Why Do You Need Co-Wash for Natural Hair?
Let me tell you why co-wash is an absolute game-changer for our natural hair! I've seen the magic that co-washing brings to our curls, coils, and kinks. Now, you might be wondering, "Why do I need a co-wash for my natural hair?" Well, it's time to spill the tea!
Co-washing, short for "conditioner washing," is a gentle cleansing method that uses a creamy, nourishing conditioner to cleanse the hair and scalp, rather than harsh shampoos.
Here's the deal: traditional shampoos can strip our beautiful natural hair of essential oils, leaving it dry, brittle, and prone to breakage. Co-wash, on the other hand, is like a heavenly oasis for our parched tresses, quenching their thirst with a burst of hydration.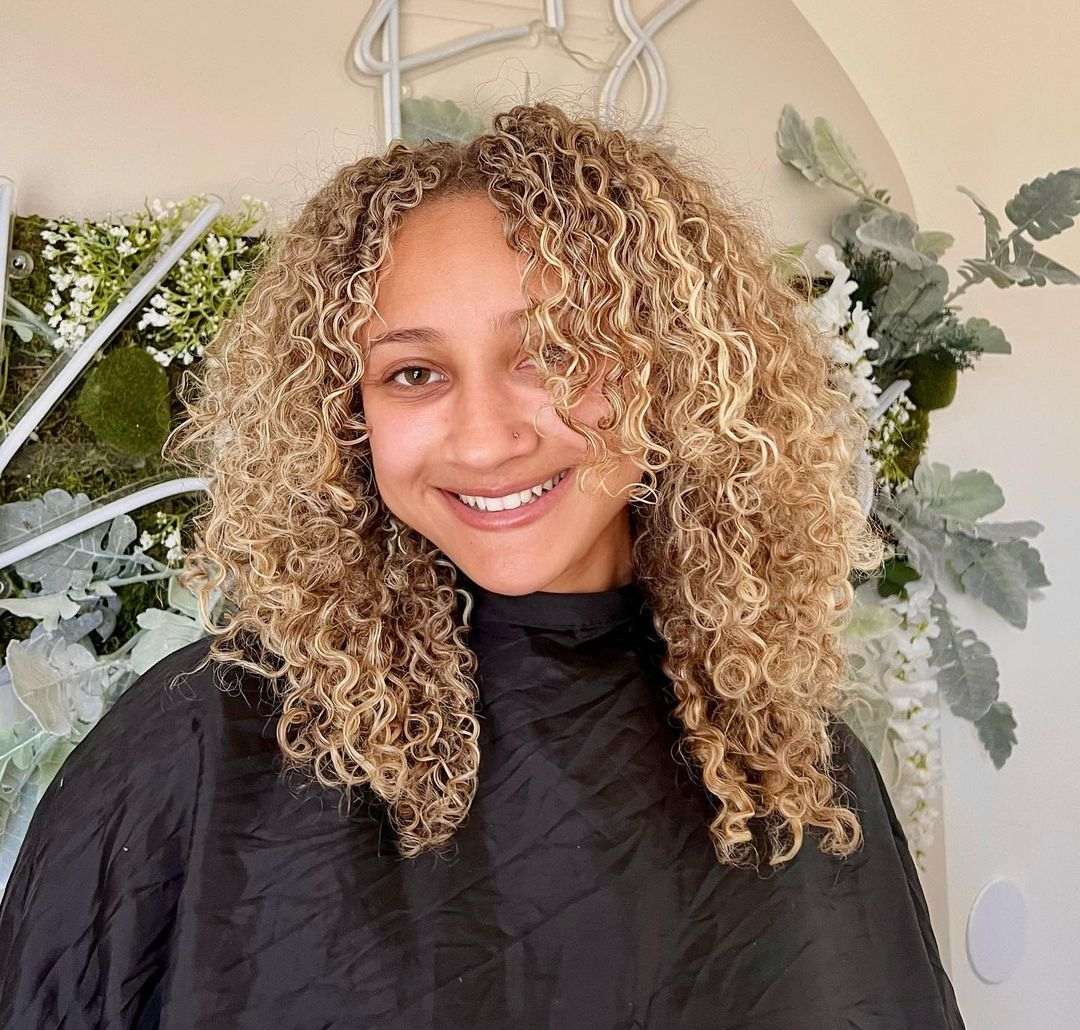 Using a co-wash for natural hair means you're treating your crown to a luxurious spa day, where it's being lavished with all the love and attention it deserves.
By infusing your strands with much-needed moisture and nutrients, co-washing helps to reduce frizz, enhance curl definition, and promote overall hair health.
Plus, it's perfect for our busy bees out there, as co-washing can save you precious time in the shower by combining cleansing and conditioning in one fabulous step.
So, it's time to give your natural hair the royal treatment it deserves. Embrace the power of co-washing, and watch your hair transform from a dry desert to a lush, vibrant paradise.
Top 7 Co-Washing Products for Natural Hair Reviewed
1. Design Essentials Natural Almond & Avocado Nourishing Co-Wash –
Top Pick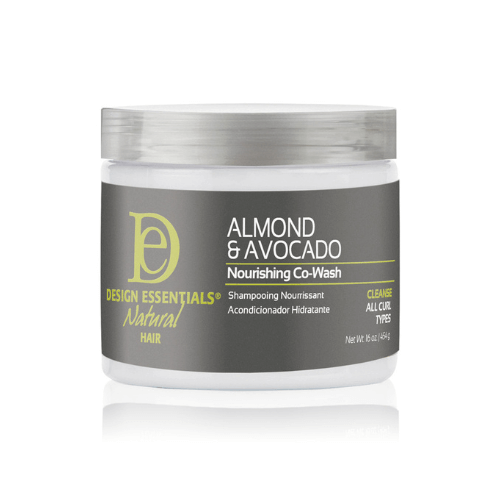 You can also find this product on Amazon.
Active Ingredients: Almond & Avocado oils
Hair Type: Curly, All
Size: 16 Oz
The Design Essentials Natural Almond & Avocado Nourishing Co-Wash is the best co-wash for black hair because it has numerous benefits, but it's essential to consider all aspects before deciding if it's the right choice for you. Here's my balanced review, highlighting both the advantages and potential downsides of this co-wash.
The formula of this co-wash is designed to gently cleanse hair and scalp while maintaining the hair's natural oils. It effectively removes product residue and buildup without causing dryness or brittleness, which is crucial for natural hair care.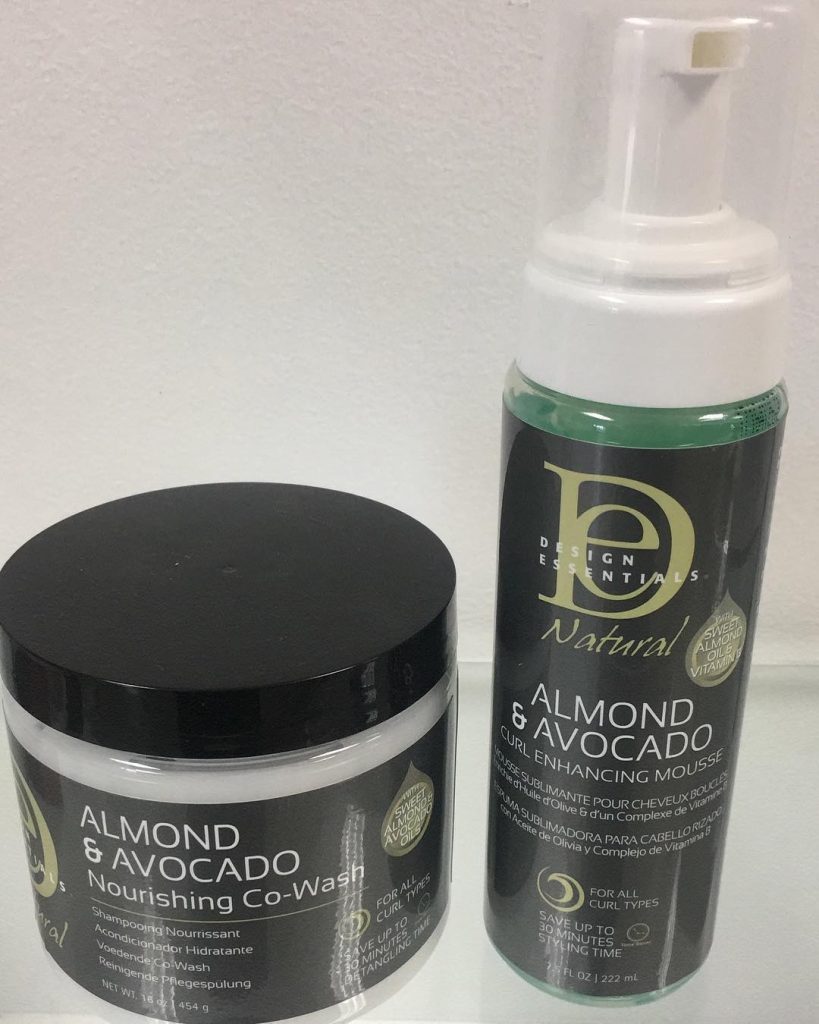 Almond and avocado are the key ingredients, nourishing and strengthening hair while providing moisture. This co-wash is also free from parabens, paraffin, and mineral oil.
Some users have reported that the scent of the product can be overpowering. I'm kinda used to strong smells and I actually like how it smells. However, if you are sensitive to strong fragrances or prefer milder aromas, you might find the smell of this co-wash to be a bit too intense.
Despite these concerns, the Design Essentials Co-Wash offers significant benefits, including a considerable reduction in detangling time. Its velvety texture allows for easy finger detangling, which can save up to 30 minutes during your wash day routine – a huge advantage for those with limited time for hair care.
In conclusion, Design Essentials Co-Wash is a must-have for anyone with natural hair. Its gentle, hydrating formula cleanses without stripping the hair of essential oils, leaving your curls soft, manageable, and beautifully defined. Give it a try, and I'm sure you'll be as impressed as I am!
2. MIZANI True Textures Cream Cleansing Conditioner for Natural Hair –
Runner Up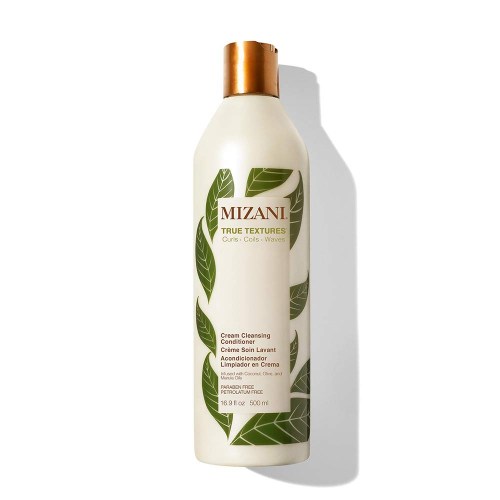 Active Ingredients: Coconut, olive and marula oils
Hair Type: Curly
Size: 16.9 Fl Oz
Among the co-washes I've tried, this luxurious formula of MIZANI Conditioner has undoubtedly made an impression. Though it has some shortcomings, it still deserves the #2 spot on our list of the top 7 co-washes for natural hair.
This co-wash stands out for its unique formula, catering to wavy and tightly coiled hair. It is infused with antioxidants, essential fatty acids, and a blend of nourishing oils (coconut, olive, and marula) that repair damage and restore shine.
The silicone, sulfate, and paraben-free formula ensures a gentle yet effective cleansing experience without causing harm to your hair. The invigorating cooling sensation of MIZANI Conditioner adds a refreshing touch to your wash day, while the low-lather ensures that your hair retains essential moisture.
The product's ability to define natural curl patterns without leaving sticky residue results in soft, bouncy, and well-defined curls. However, no product is without flaws.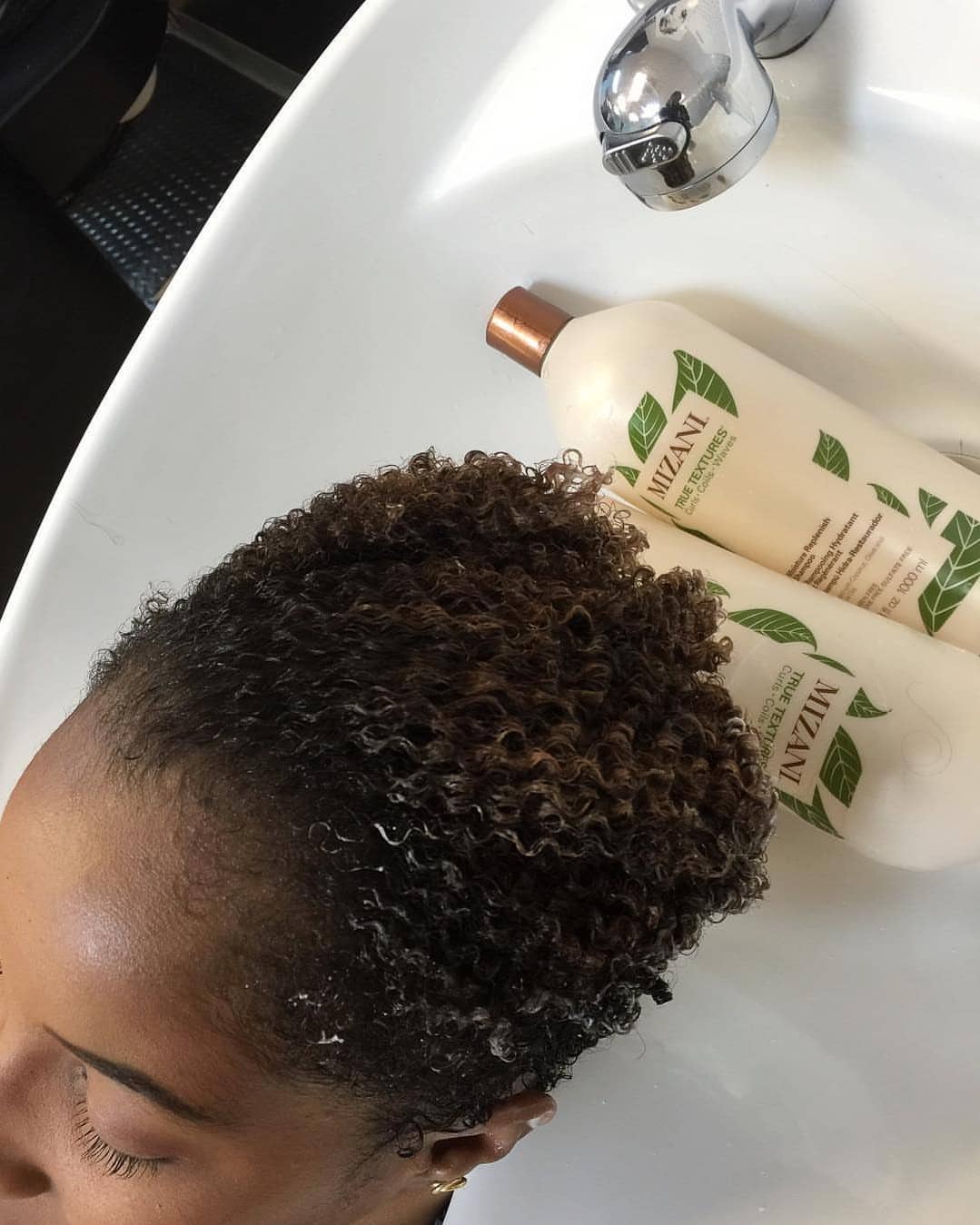 Some users have reported that the co-wash lacks the desired amount of slip, making it difficult to detangle curly hair using a wide-tooth comb. This is an important factor to consider for those who struggle with tangles and knots.
In summary, MIZANI Conditioner provides the ultimate hydration boost for textured hair. Its rich formula, packed with antioxidants and nourishing oils, cleanses and conditions without stripping away essential moisture. The invigorating cooling sensation adds a touch of refreshment, making this co-wash a must-try for those looking to elevate their hair care routine. Remember, healthy curls start with a solid foundation, and this co-wash is the perfect building block for achieving beautiful, moisturized, and defined curls.
3. Creme of Nature Argan Oil Hair Conditioner by Creme of Nature – Great Value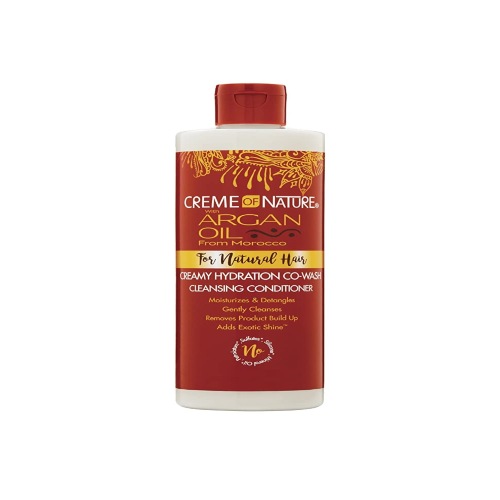 Active Ingredients: Argan oil
Hair Type: Curls, Waves
Size: 12 Fl Oz
The Creme of Nature boasts a dual-action formula that cleanses and provides an intensive deep conditioning treatment. Infused with Argan Oil from Morocco, it is lightweight and color-safe, making it suitable for various curl types.
Moreover, its sulfate-free composition ensures that your hair retains its natural oils and stays moisturized. However, some users have found the product's scent to be odd or unappealing, which may affect the overall experience for those sensitive to smells.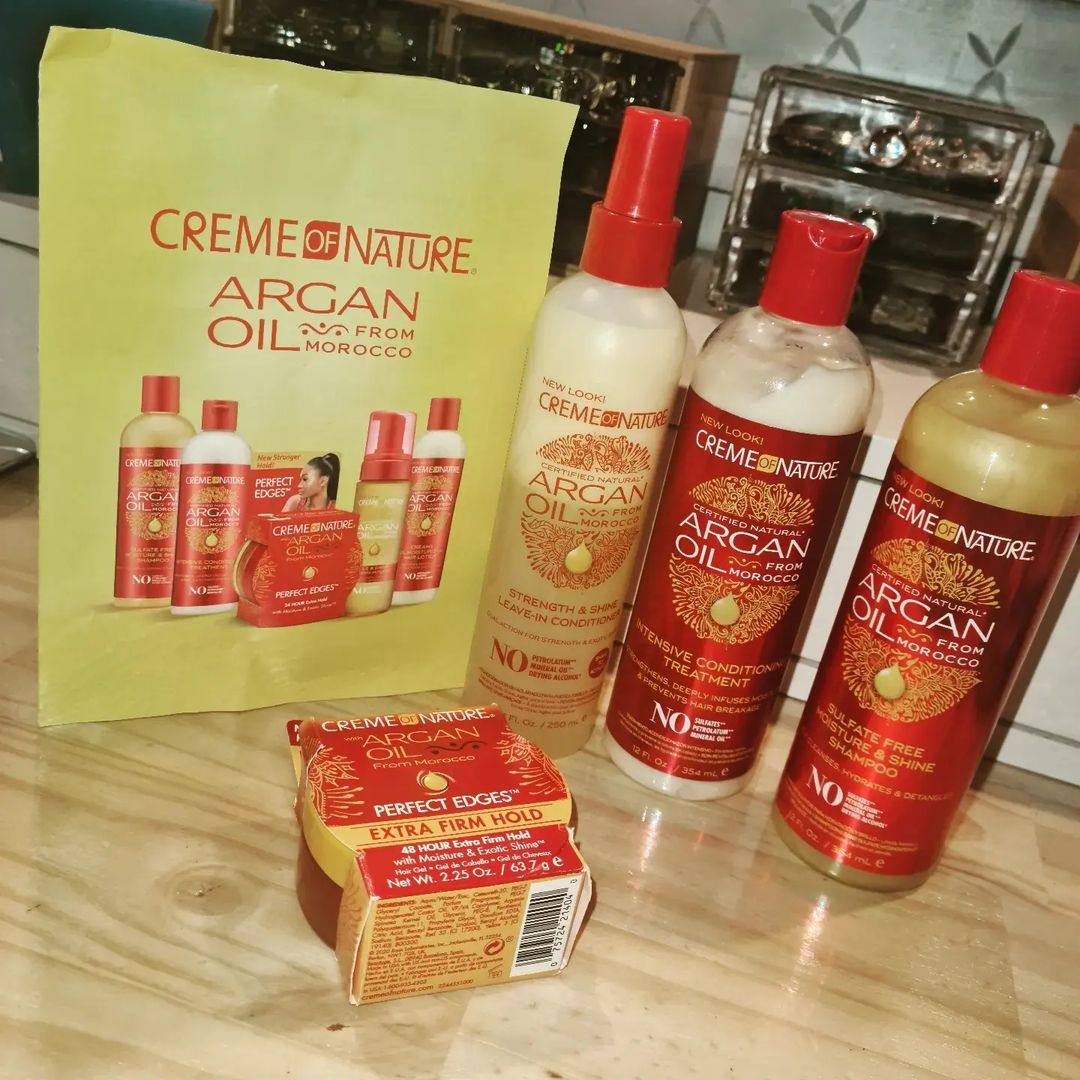 Furthermore, a few users have reported needing to use a large amount of the co-wash to cleanse their hair effectively, which could result in the product being used up quickly.
Despite these drawbacks, the Creme of Nature Co-Wash still offers some notable advantages. It strengthens and prevents breakage, detangles hair effortlessly, and provides an exotic shine. The versatility of this product is also commendable; it can be used as a quick conditioner after every shampoo or as a weekly reconstructor to maintain visibly healthy hair. I really like this product!
4. MATRIX A Curl Can Dream Co-Wash Cleansing Conditioner –
Premium Pick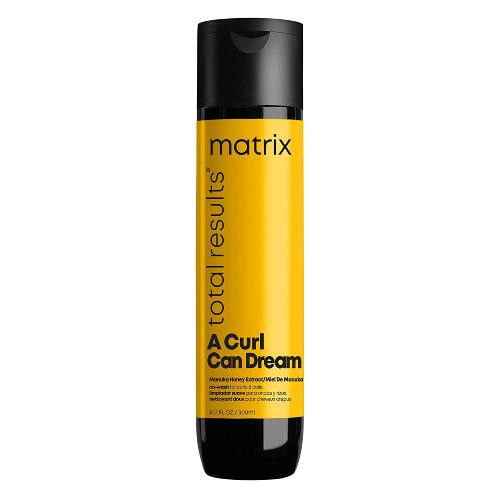 You can also find this product on Bed Bath & Beyond, Ulta.
Active Ingredients: Manuka honey extract
Hair Type: Curly
Size: 10.1 Fl Oz
I'm really excited to share my experience with A Curl Can Dream Co-Wash by Matrix, which has earned a well-deserved spot in our list of the best co-washes for natural hair.
One of the major advantages of Matrix is its gentle cleansing formula, making it perfect for those in-between wash days when you need to revive your curls without stripping away natural oils.
Infused with the goodness of Manuka honey extract, this co-wash not only cleanses but also adds moisture and nourishment to your hair. As a hairstylist, I highly appreciate that this product is formulated without silicones, parabens, mineral oils, petrolatum, and paraffins.
These ingredients, often found in hair care products, can cause build-up and damage to curly and coily hair types. With A Curl Can Dream Co-Wash, you're giving your hair the tender loving care it deserves.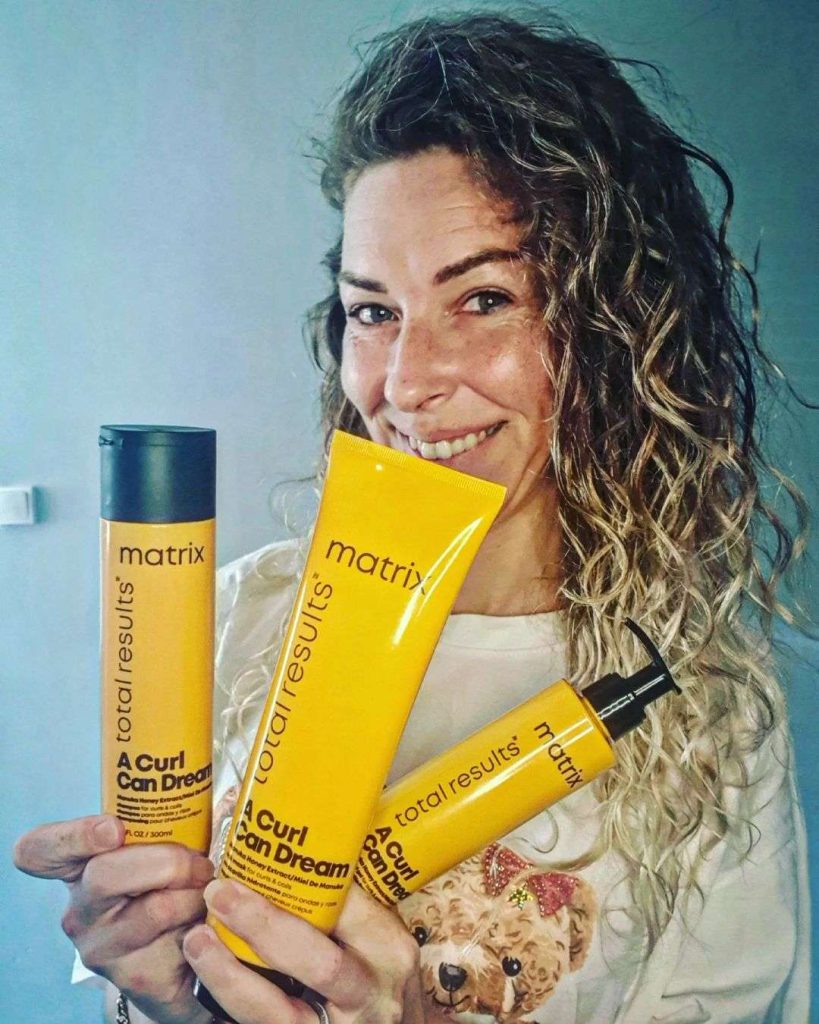 However, there are some downsides to consider. While being gentle, the co-wash may not cleanse your scalp well enough, so if you have oily hair, this might not be the best choice.
Some users have also reported the scent to be quite strong, which might be an issue for those sensitive to smells. Fortunately, the fragrance tends to fade once the hair dries.
In conclusion, Matrix Curl Can Dream Co-Wash is a fantastic addition to your natural hair care routine. As a professional hairstylist, I highly recommend giving it a try. With its gentle cleansing formula and nourishing ingredients, this co-wash is sure to leave your curls and coils looking and feeling their absolute best.
5. EDEN BodyWorks Coconut Shea Cleansing Cowash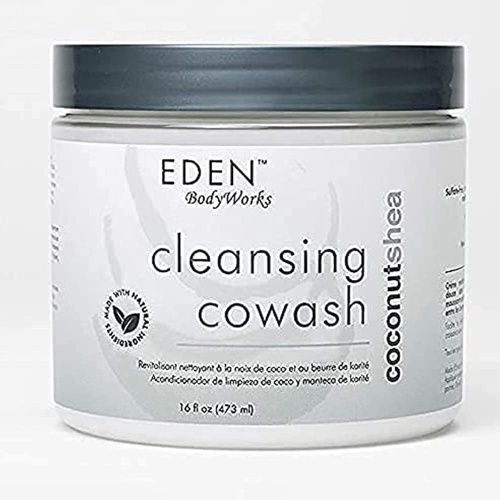 You can also find this product on Amazon, Ulta.
Active Ingredients: Coconut Oil, Shea Butter, Aloe, Avocado Oil
Hair Type: Dry
Size: 16 Fl Oz
EDEN BodyWorks CoWash helps restore moisture to the hair strands, promoting their natural bounce and elasticity. The formula breaks down and cleanses residue, ensuring that your hair and scalp maintain a healthy environment for growth.
Ingredients like coconut oil, shea butter, aloe, and avocado oil provide hydration and seal in moisture.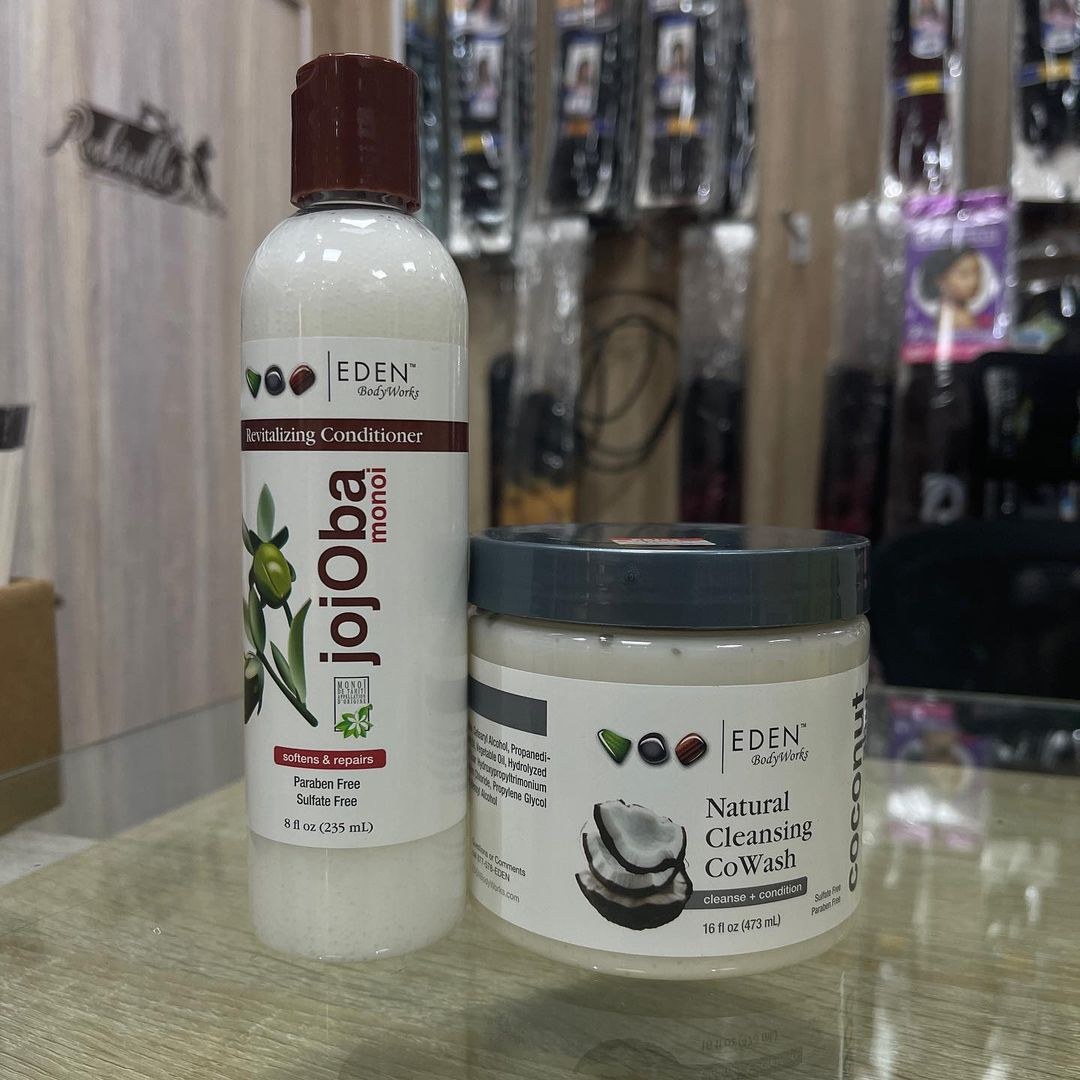 Also, this co-wash facilitates detangling, providing slip and conditioning for more manageable hair. With EDEN, your curls and waves will be more refined and separated, thanks to the medium hold for textured styles.
However, users with extremely dry and brittle hair might find the moisturization provided by this co-wash to be inadequate, requiring the addition of a separate conditioner to the ends of their hair.
A few users have expressed a desire for the co-wash to produce more lather during the cleansing process, which could affect their overall experience.
In conclusion, EDEN CoWash is a versatile and effective product that caters to the unique needs of natural hair. Its ability to restore moisture, remove build-up, and make detangling a hassle-free experience makes it an excellent choice for those looking to give their hair a refreshing reset. With a little creativity and proper application, this CoWash can become an essential part of your natural hair care routine.
6. Curly Hair Products by Carol's Daughter, Hair Milk Sulfate Free Cleansing Conditioner For Curls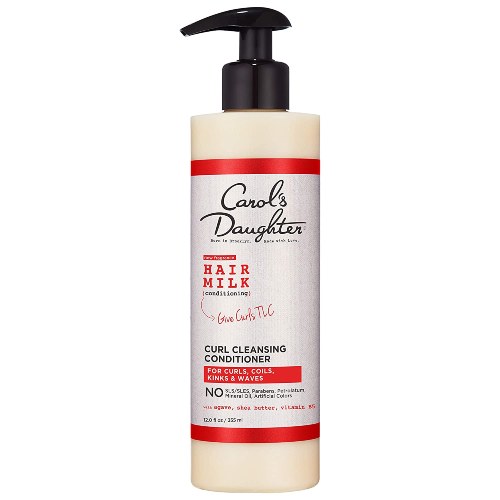 You can also find this product on Bed Bath & Beyond.
Active Ingredients: Agave Nectar, Shea Butter & Oils
Hair Type: Curly & Wavy Hair, Wavy, Curly
Size: 12 Fl Oz
Carol's Daughter Hair Milk Cleansing Conditioner is the product that has landed at position 6 out of 7 in our list of best co-washes for natural hair.
Firstly, let me commend the brand Carol's Daughter for its roots in Brooklyn and a genuine commitment to providing quality hair care solutions for diverse hair types.
Born in a kitchen in 1993, this brand has grown tremendously, and its line of products now caters to curly, coily, and kinky hair textures. The Hair Milk Cleansing Conditioner is a sulfate-free, color-safe, and no-lather co-wash designed to gently cleanse while providing deep moisture from root to tip.
It is particularly effective at detangling curls, coils, kinks, and waves, making hair management easier. One of the key advantages of this product is its formulation, which is free of sulfates, parabens, mineral oil, artificial colors, and petrolatum.
This means you can trust that it won't cause harm or irritation to your hair or scalp. The blend of Agave Nectar, Pro-Vitamin B5, and Biotin works together to detangle, moisturize, and strengthen your hair, giving you a head full of shiny, healthy curls.
However, there are a few downsides to consider. Some users find the scent to be overpowering and long-lasting, which can become tiresome with daily use.
Additionally, while the product is effective for detangling, it may lack slip, making it more challenging to distribute evenly through the hair.
In conclusion, the Carol's Daughter Conditioner is a co-wash option worth considering for those with natural hair. Its gentle cleansing and deep moisturizing properties are commendable, but be mindful of the scent and slip aspects. Give it a try, and remember that individual preferences and results may vary.
7. Aunt Jackie's Flaxseed Recipes Purify Me Frizz-Fighting Moisturizing Co-Wash Hair Cleanser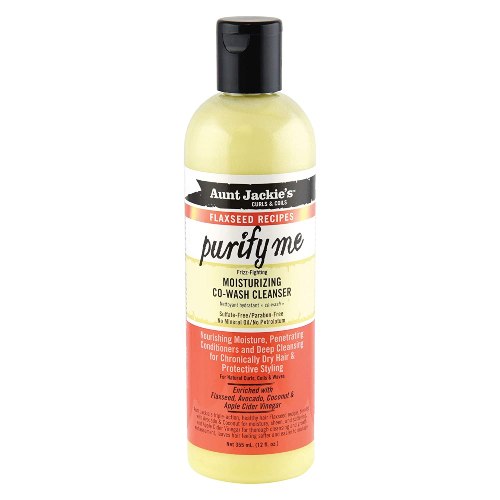 Active Ingredients: Flaxseed, avocado, coconut and apple cider vinegar
Hair Type: All
Size: 12 Fl Oz
After testing Aunt Jackie's Purify Me Moisturizing Co-Wash Cleanser and considering user feedback, I believe that this product is a versatile option for most natural hair types. Here's why it deserves a spot on our list of best co-washes for natural hair.
This co-wash targets the challenges faced by those of us with dry hair or who rely on protective styles. It offers nourishing moisture, penetrating conditioners, and deep cleansing.
Aunt Jackie's Cleanser is enriched with flaxseed, avocado, coconut, and apple cider vinegar. These ingredients work together to promote hair health, prevent thinning and shedding, and provide essential nutrients for healthier, more vibrant locks.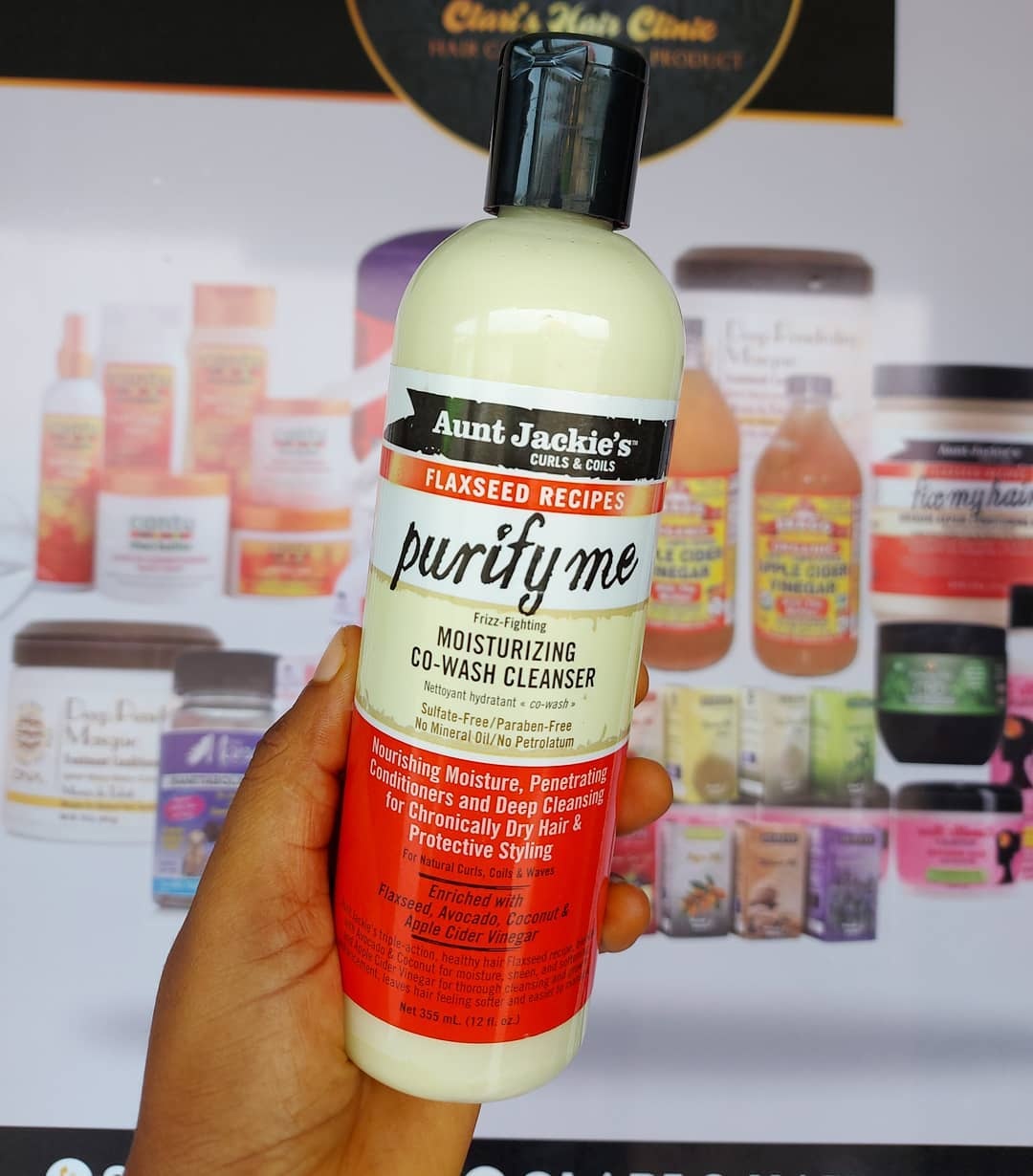 This co-wash is gentle enough to be used daily, even on delicate hair textures. It's a versatile addition to your haircare routine, regardless of your hair type.
While Aunt Jackie's works well for many natural hair types, some users with chronically dry hair have reported that it may not provide the desired level of moisture or softness.
In such cases, additional conditioning treatments or alternative products may be necessary to achieve optimal results.
In conclusion, Aunt Jackie's Cleanser is a versatile option for most natural hair types, although it may not be the perfect fit for everyone. Its unique blend of nourishing ingredients and gentle formula make it a reliable choice for those seeking to improve the overall health and appearance of their hair.
How to Choose the Best Cowash for Natural Black Hair?
I understand that finding the right products for your curls can be a daunting task. One of the essential steps in any natural hair care routine is the co-washing process.
Co-washing, or "conditioner washing," is the practice of using a cleansing conditioner to gently cleanse and hydrate your hair without stripping it of its natural oils.
In this part, we will delve into the world of co-washing and explore the key factors to consider when choosing the best co-wash for your natural hair.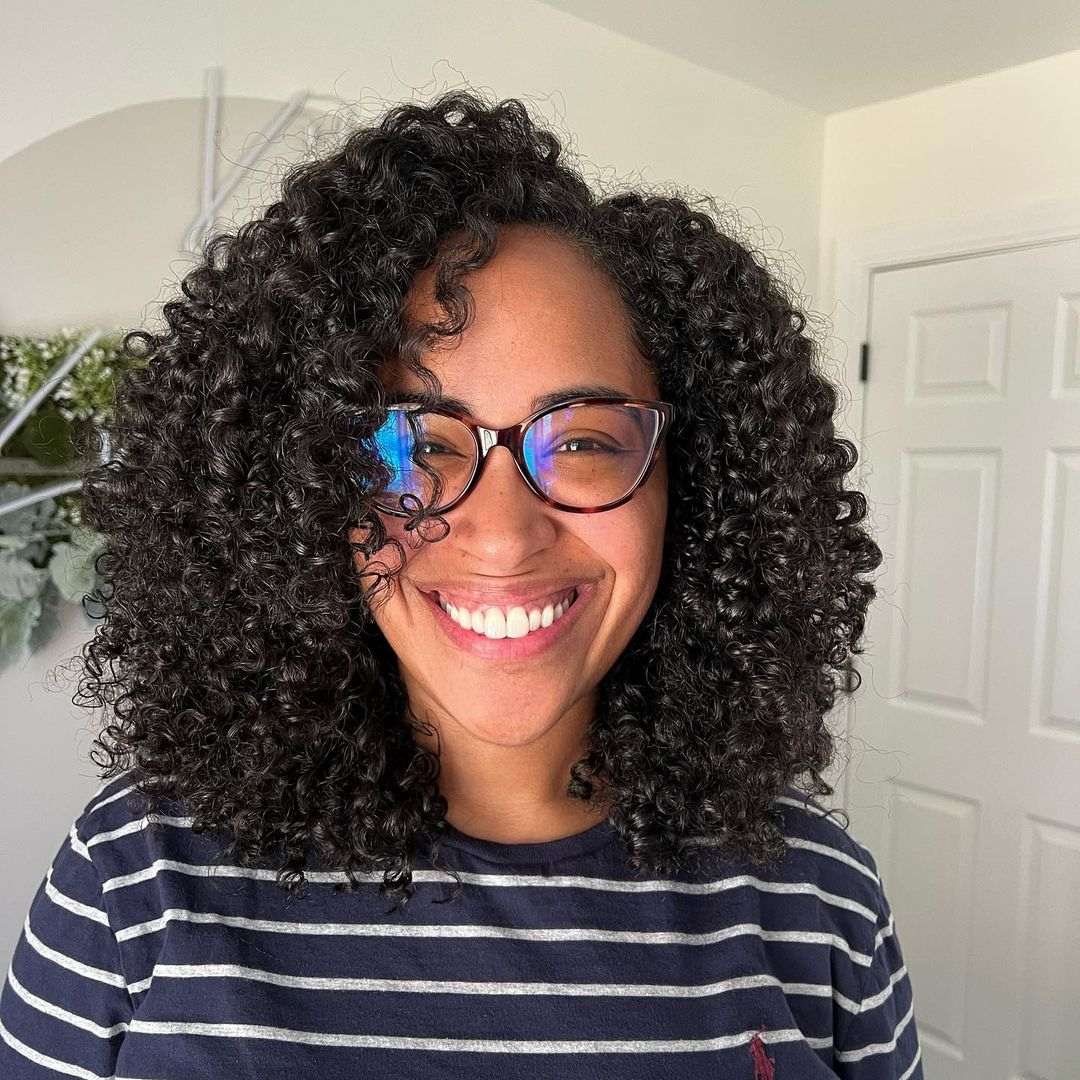 Know Your Hair Type
The first step in choosing the perfect co-wash is understanding your hair type. Natural hair can be classified into four main categories, namely Type 2 (wavy), Type 3 (curly), Type 4 (coily), and Type 5 (kinky).
Each hair type has its unique characteristics and requires specific care. Knowing your hair type will help you select a co-wash that caters to your hair's unique needs.
Consider Your Hair Porosity
Hair porosity refers to your hair's ability to absorb and retain moisture. It can be categorized into low, medium, and high porosity. A co-wash that works for low-porosity hair may not be the best choice for high-porosity hair, and vice versa. To determine your hair's porosity, conduct a simple water test or seek guidance from a professional hairstylist.
Ingredients Matter
When it comes to choosing a co-wash, always read the label! Opt for products with natural, nourishing ingredients that are free from harsh chemicals and sulfates.
Look for ingredients such as aloe vera, shea butter, avocado oil, and coconut oil, which are known for their moisturizing and conditioning properties. Additionally, keep an eye out for gentle cleansing agents like Cocamidopropyl betaine or decyl glucoside.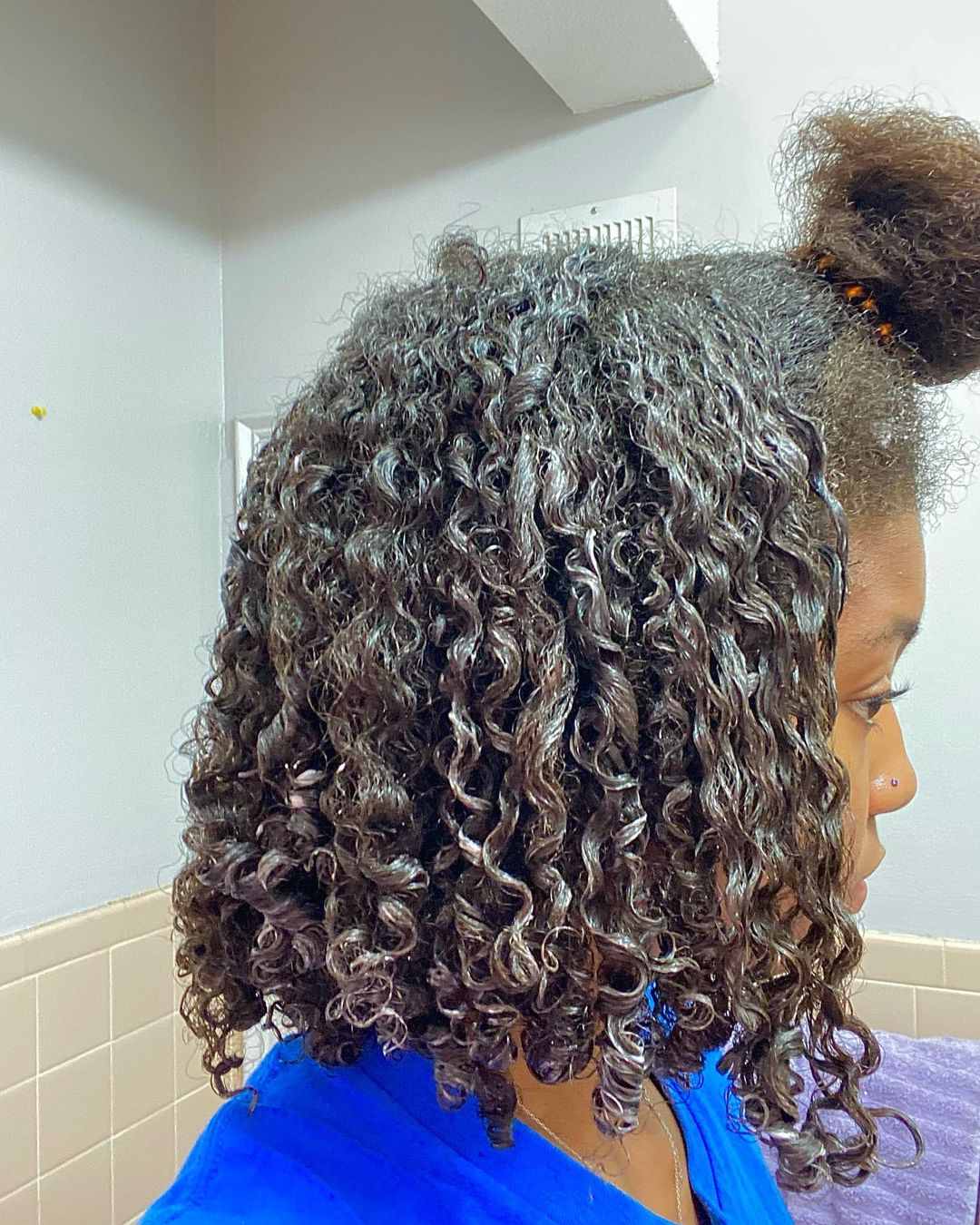 Choose a Co-wash With a Slip
A co-wash with a good amount of slip allows for easy detangling and minimizes breakage. Ingredients such as marshmallow root, slippery elm, and aloe vera gel are known for providing excellent slip and can be beneficial in preventing tangles and knots.
Match Your Co-wash to Your Scalp Needs
If you have a sensitive or dry scalp, choose a co-wash that caters to these specific concerns. Look for soothing ingredients like tea tree oil, chamomile, or calendula, which can help alleviate irritation and promote a healthy scalp environment.
How to Use Co-Wash for African American Hair?
Ready to learn the secrets of co-washing for natural hair? Let's dive in!
Pre-Detangle Your Hair
Before you begin the co-washing process, it's essential to detangle your hair. Use your fingers or a wide-tooth comb to gently work through any knots or tangles. This will help ensure that the co-wash product is distributed evenly and reduce the likelihood of breakage during the process.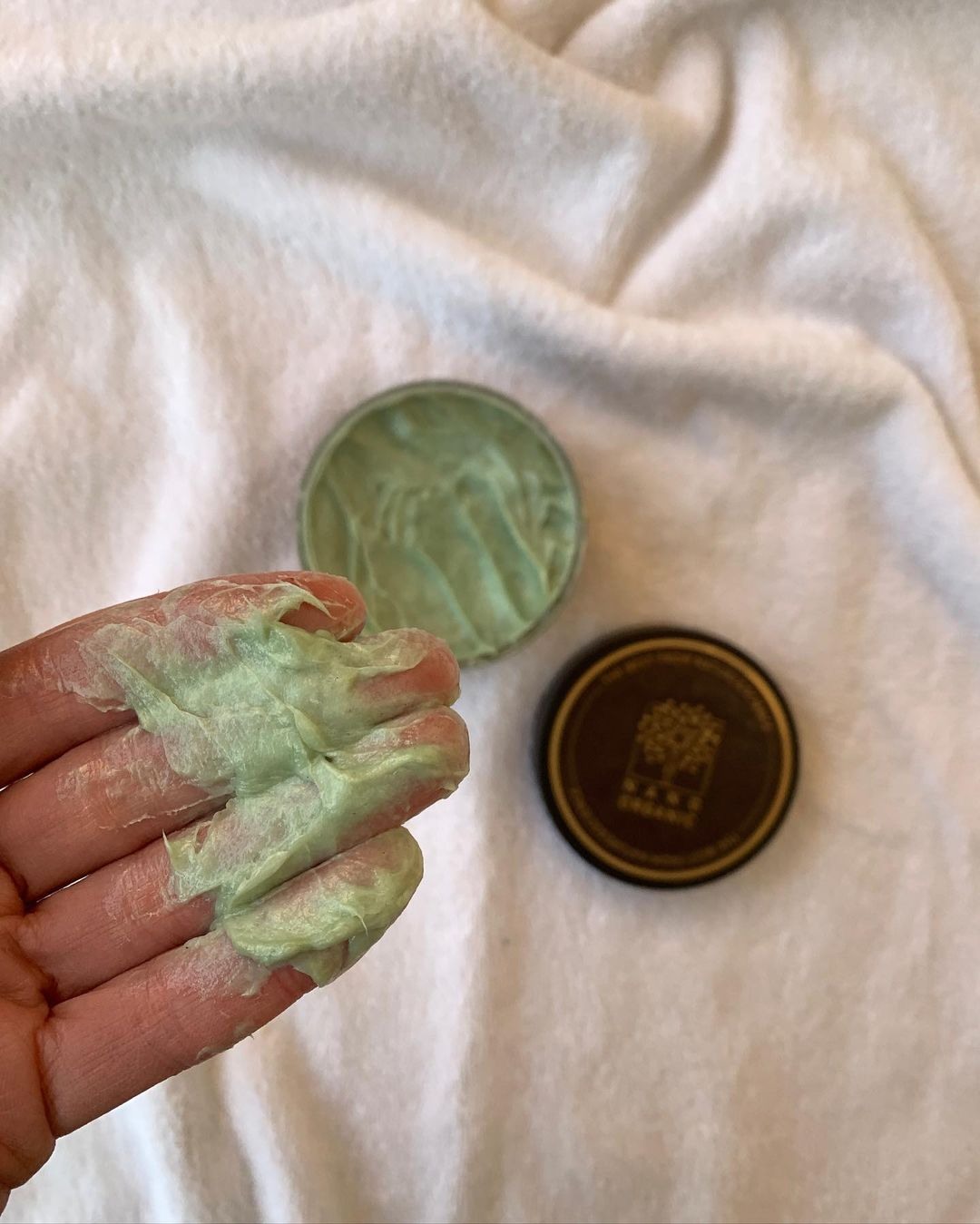 Wet Your Hair
Now it's time to get your hair wet! Thoroughly wet your hair with warm water. This will help to open up the hair cuticles, making it easier for the co-wash product to penetrate your hair and cleanse your scalp.
Apply Your Co-Wash Product
Start by applying a generous amount of co-wash product to your scalp, working it in with your fingertips using a gentle, circular motion. Remember, the goal is to cleanse your scalp without stripping it of its natural oils.
Next, work the product through the lengths of your hair, making sure to cover each section. If you have thicker or longer hair, you may need to use more product to ensure proper coverage.
Massage and Detangle
Take your time massaging the co-wash product into your hair and scalp for a few minutes. This will help to lift away dirt and product buildup while stimulating blood flow to the scalp.
As you massage, use your fingers or a wide-tooth comb to detangle your hair further, if necessary. The co-wash product should provide ample slip, making it easier to work through any remaining tangles.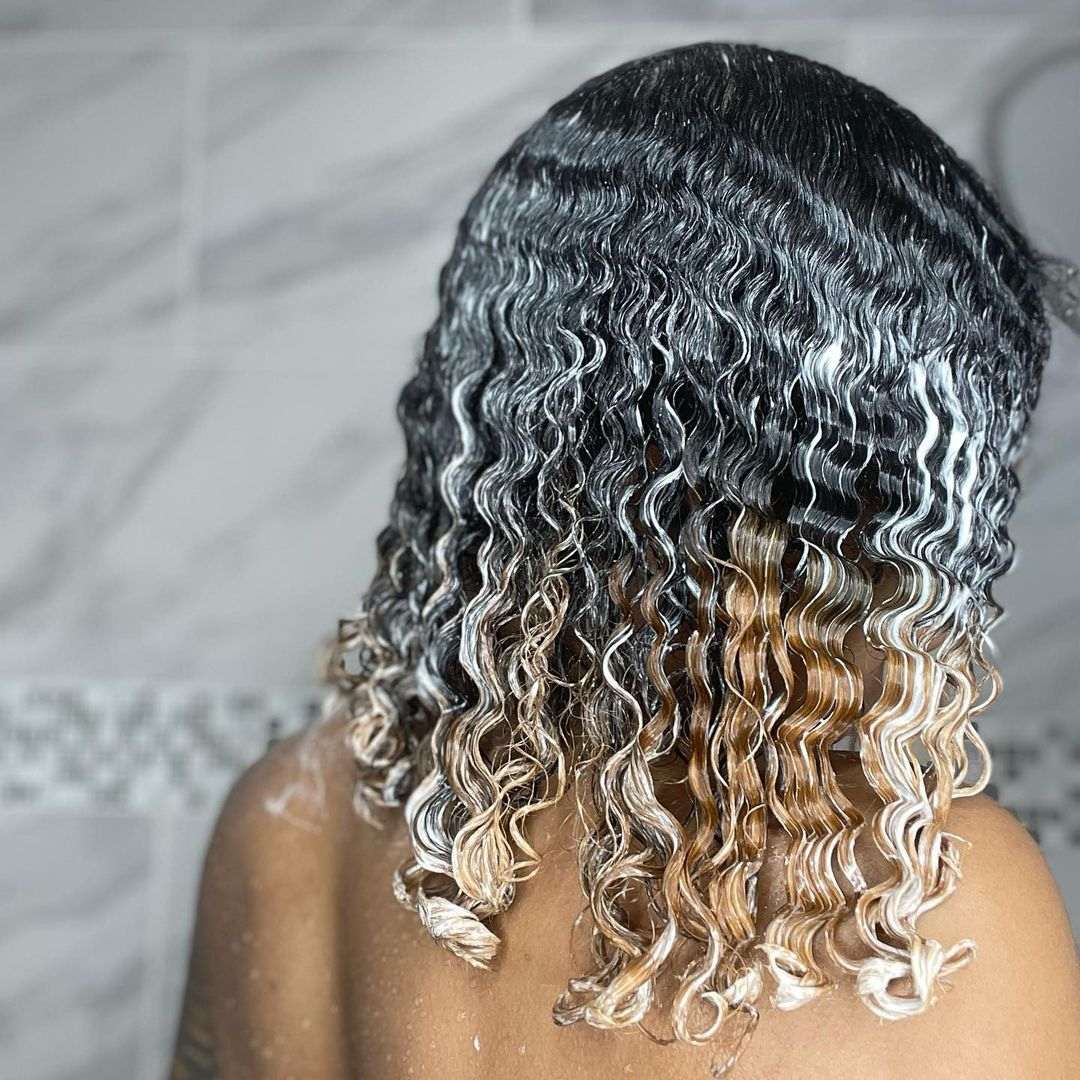 Rinse Thoroughly
Once you have massaged and detangled your hair, it's time to rinse. Use lukewarm water to thoroughly rinse the co-wash product from your hair and scalp, making sure not to leave any residue behind. You should be left with clean, moisturized, and detangled hair.
Co-Wash FAQ
How often should I cowash my natural hair?
Cowashing frequency varies for each individual's natural hair. Embrace your hair's unique curliness and experiment with cowashing. Typically, once or twice a week is a happy medium. Listen to your locks and adjust the routine as needed.
Is Cowash better than shampoo?
Cowash and shampoo serve different purposes in the hair care dance. Shampoo clarifies, stripping away buildup, while cowash hydrates and gently cleanses. Embrace both in a harmonious hair care routine, tailored to your tresses' needs. Let your hair flourish and shine as you find the perfect balance!
Summary
In the beautiful world of natural hair, co-washing stands as an essential step to nourishing and maintaining luscious curls. As a professional hairstylist, I've handpicked the top co-wash products that will make your curls sing with joy.
Finding the best co-wash for your natural hair is a journey that requires patience and a bit of trial and error. By understanding your hair type, porosity, and paying attention to ingredients, you can make informed decisions that will lead to a healthy, hydrated, and flourishing mane.
Remember, every curl is unique, so embrace your hair's individuality and enjoy the process of discovering the perfect co-wash for your natural hair journey.
References:
Cowash vs. shampoo: Which is better? – https://www.medicalnewstoday.com/articles/cowash
Co-Wash: How to Do It, What It Is, and Products to Try – https://www.healthline.com/health/beauty-skin-care/co-wash
Also read: