Hey there, my curly-haired beauties! As a hairstylist with years of experience in the haircare game, I know that finding the best clarifying shampoo for curly hair can be a real struggle.
But worry no more, because I've got your back! Today, I'm going to share my top picks for the ultimate curly hair clarifying shampoo that will leave your locks looking luscious, frizz-free, and oh-so-fresh.
So, buckle up and get ready to dive into a world of bounce and shine as we explore the best options out there to help you achieve those curl goals you've been dreaming of!
Why Do You Need Cleansing Shampoo for Curly Hair?
Honey, let me tell you a little secret from the curl world. The savior of your spirals, the protector of your puffs, and the guardian of your glorious mane might not be what you're expecting.
It's not some fancy, high-priced serum or a miracle cream. It's clarifying shampoo. Yes, darling, that humble bottle sitting on your bathroom shelf that you've been overlooking.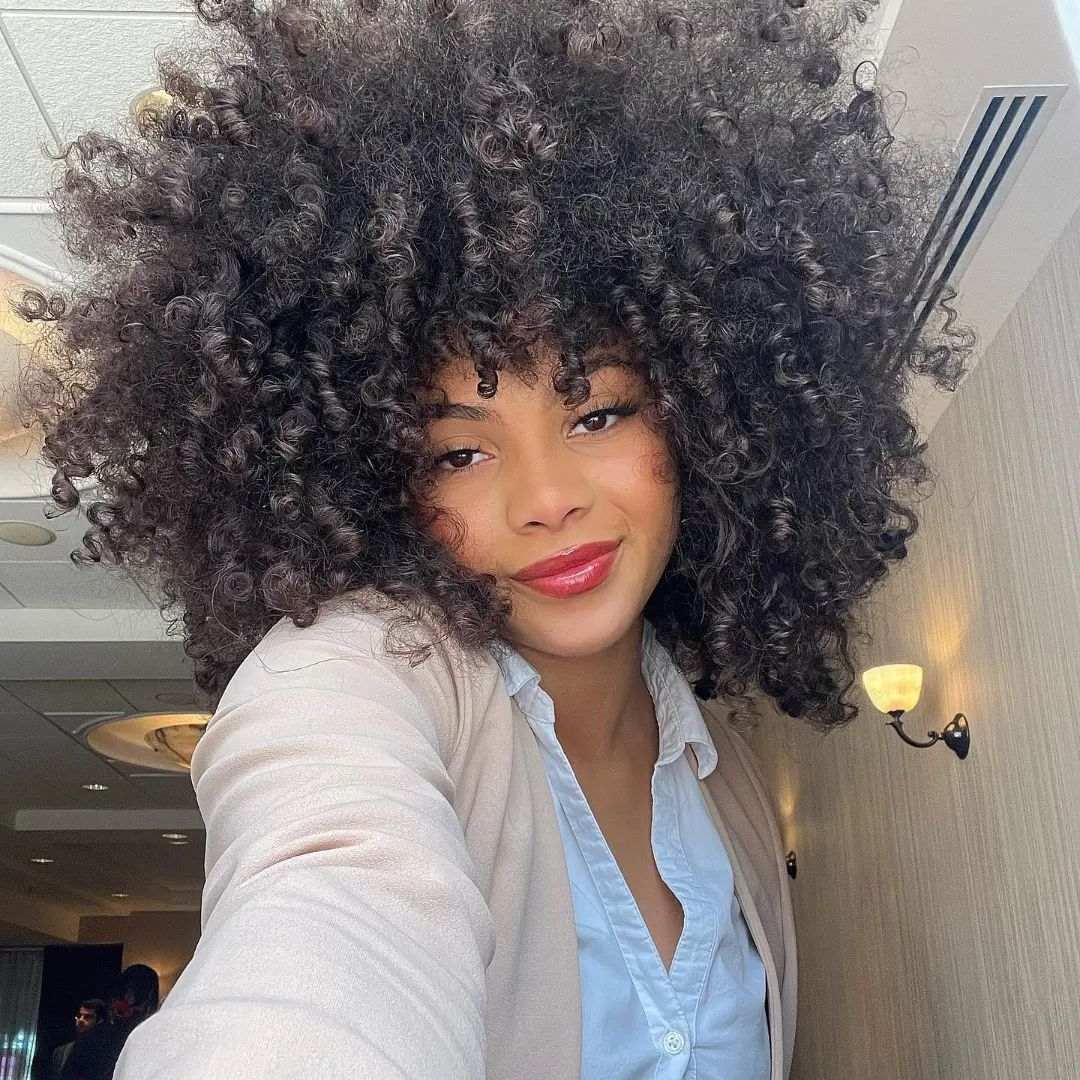 Now, you might be wondering, "Why do I need chelating shampoo for curly hair?" Trust me, the answer will be as enlightening as a summer sunrise.
You see, our beautiful, kinky, coily, curly hair tends to be naturally dry due to its structure. The oils from our scalp have a harder time traveling down the hair shaft, compared to our straight-haired sisters.
This can lead to some serious thirst at those ends. And what do we do when our curls cry out for hydration? We moisturize, moisturize, and moisturize some more!
But here's the catch: all that moisturizing, while necessary, also means product build-up. Hair creams, butters, oils, stylers, you name it. They can all linger on your hair and scalp, creating a layer that's harder for your regular shampoo to cut through.
That's like having a party where the guests refuse to leave—fun for a while, but eventually, you need to clean up! That's where our hero, the clarifying shampoo, steps in.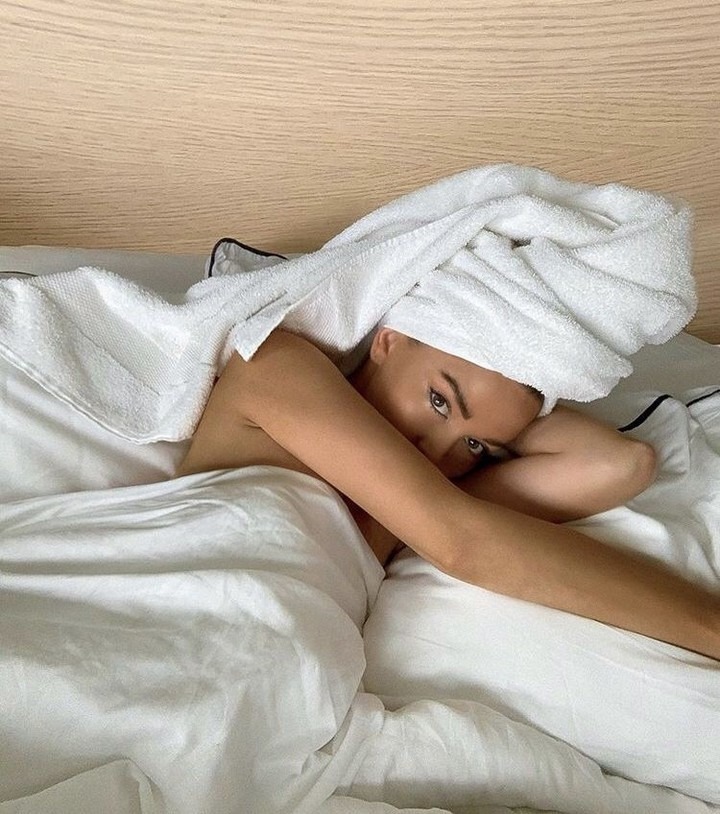 It's like the bouncer at the club, saying "party's over, y'all!" It deep cleans, removing all that stubborn residue and build-up that's been holding your curls hostage.
It leaves your hair and scalp squeaky clean, creating the perfect canvas for your favorite products to come back in and do their thing effectively.
But remember, with great power comes great responsibility. While clarifying shampoos are fantastic, they can be a bit too good at their job if used too frequently, potentially stripping your hair of its natural oils.
So, consider it a monthly treat or use it when your hair starts feeling weighed down or unresponsive to your regular products.
Top 5 Best Clarifying Shampoo for Wavy Hair Reviewed
Moroccanoil Clarifying Shampoo –

 Top Pick 

Malibu C Un-Do-Goo > pH 9 Shampoo –

 Runner Up 

Redken Detox Hair Cleansing Cream Clarifying Shampoo
Davines SOLU Shampoo
Paul Mitchell Shampoo Two
1. Moroccanoil Clarifying Shampoo –
 Top Pick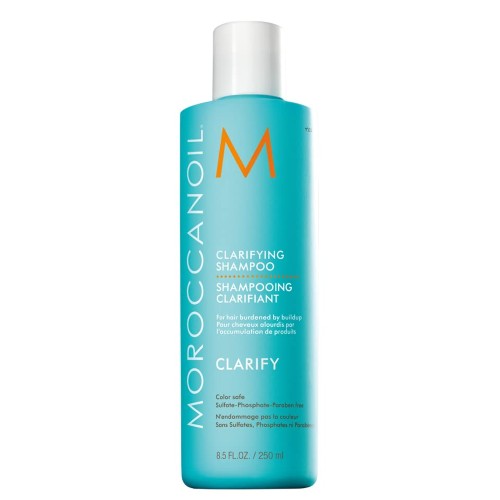 You can also find this product on Sephora.
Active Ingredients: Argan and avocado oils
Hair Type: Buildup Prone
Size: 8.5 Fl Oz
Form: Creams
Scent: Spicy amber and musk with sweet florals.
Moroccanoil as a brand has made its mark with an unwavering commitment to quality, sustainability, and hair health. Their journey began with their transformative Moroccanoil Treatment, which paved the way for an array of argan oil-infused products.
The Moroccanoil Clarifying Shampoo is a high-performing cleanser designed to lift away everyday buildup that can leave hair looking lifeless and dull.
The real magic lies in its ability to cleanse without overly stripping the hair of its natural oils, which is a common issue with many clarifying shampoos.
However, this shampoo comes with a higher price tag compared to many other options in the market. It's an investment, but the quality of the ingredients and the results they deliver justify the cost for many users.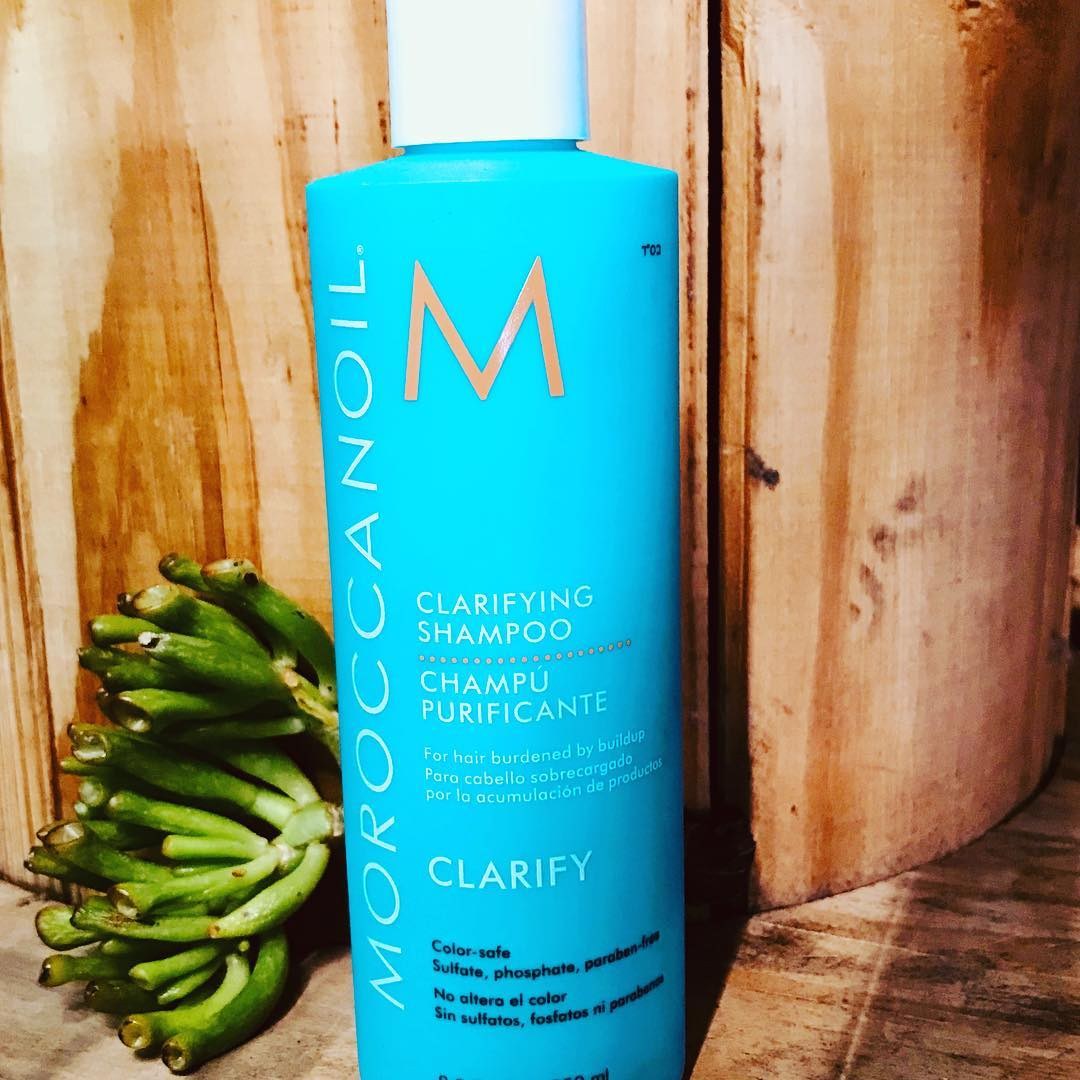 The shampoo is enriched with argan and avocado oils, known for their restorative and moisturizing properties. It's also infused with lavender, chamomile, and jojoba plant extracts for a gentle touch.
The signature Moroccanoil scent – a mix of spicy amber and musk with sweet florals – adds a sensory delight to the experience. For optimal results, wet your hair thoroughly, then apply a generous amount of the shampoo.
Massage it into a rich lather, ensuring it reaches from your scalp to the ends of your hair. Allow it to sit for a few minutes before rinsing thoroughly. Follow up with a deep conditioner to lock in moisture.
Why we love it:
Deeply cleanses
Nourishes and hydrates
Gentle yet effective
Pleasing scent
What we'd change:
In conclusion, when it comes to a curly girl approved clarifying shampoo, the Moroccanoil Clarifying Shampoo emerges as a worthy contender. Despite its slightly higher price point, this remarkable product goes above and beyond to fulfill its commitment of thoroughly cleansing and nourishing your precious curls. If you seek a deep cleansing experience for your curly crown without sacrificing hydration, the Moroccanoil Clarifying Shampoo is definitely a choice worth contemplating. It's an investment that will leave your curls feeling refreshed, revitalized, and ready to conquer the world.
2. Malibu C Un-Do-Goo > pH 9 Shampoo –
 Runner Up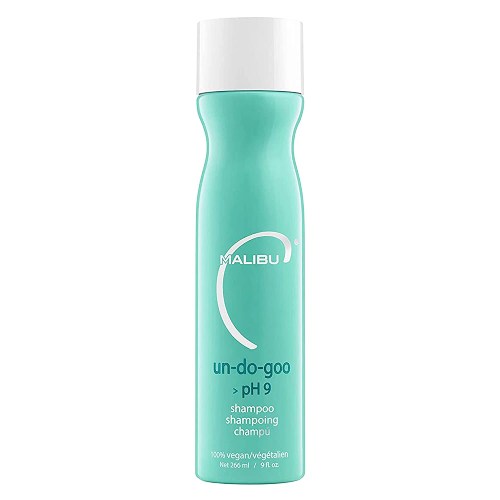 Active Ingredients: Vitamin C
Hair Type: Chemically-treated-hair, Dry, Fine, Normal, Thick
Size: 9 Fl Oz
Form: Liquid
Sulfate Free: Yes
Scent: Malibu Fusion
Malibu C, as a brand, has always prioritized creating hair products that are effective and conscious of the environment and your hair's health. Their commitment is visible in their line of products, which are 100% vegan, cruelty-free, and devoid of sulfates, parabens, and gluten.
The Un-Do-Goo pH >9 Shampoo is a testament to their dedication to quality and care. What makes the this shampoo stand out is its ability to cleanse deeply without stripping hair completely of its natural moisture.
For those with curly hair, particularly prone to dryness, this balance is essential. The shampoo incorporates a superior, multifunctional surfactant technology that gently removes resin buildup from styling products, leaving your hair feeling revitalized and refreshed.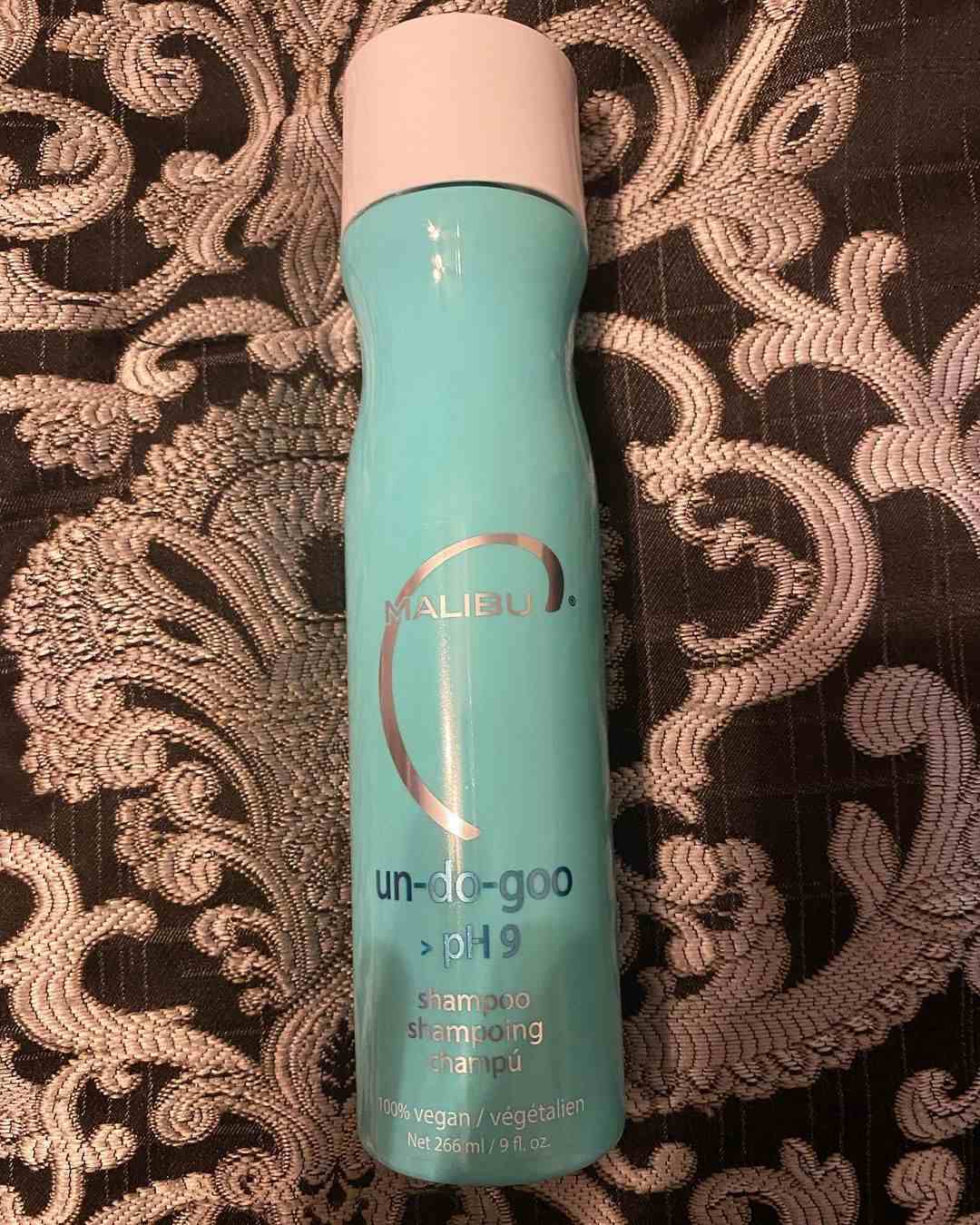 It does all this without causing discoloration, a concern often associated with deep cleansing shampoos. Enriched with moisture-boosting vitamins, this shampoo ensures that your curls retain their vitality and bounce.
The result is hair that is not just clean, but also soft, manageable, and shiny. However, no product is without its quirks. Some users, particularly those with 3b/c, fine, low porosity hair types, have noticed a slight drying effect after use.
The shampoo, while excellent at cleansing and renewing the hair, may remove a bit more moisture than desirable for certain hair types. Therefore, it's crucial to follow up with a hydrating conditioner or a deep conditioning mask to restore any lost moisture and keep your curls in their prime.
And to top it all off, the scent of orange zest and vanilla bean is the perfect complement to this high-quality, curl-friendly product. It's a sensory delight that pairs perfectly with the soft, manageable, and rejuvenated curls you'll have after use.
Why we love it:
Effectively eliminates styling product buildup
Color-safe formula
Rich in moisture-boosting vitamins
100% vegan, cruelty-free, and free from sulfates, parabens, and gluten.
Infused with an enticing scent of orange zest and vanilla bean
What we'd change:
Can be slightly drying for certain hair types
In the realm of clarifying shampoos, Un-Do-Goo pH >9 Shampoo is an exceptional product. It provides a deep cleanse without the harshness, making it ideal for curly hair. Despite its potential for causing slight dryness, it's a top-tier product that deserves recognition in your curly hair care regimen.
3. Redken Detox Hair Cleansing Cream Clarifying Shampoo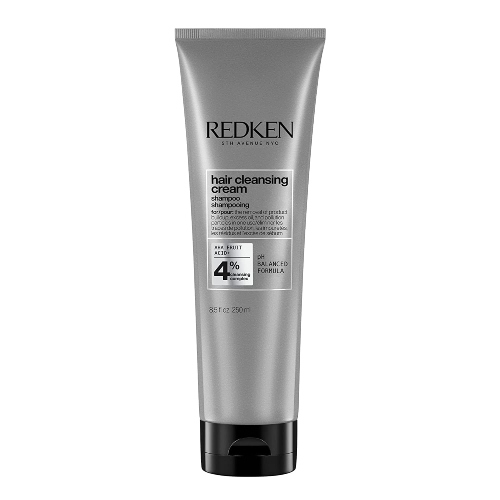 You can also find this product on Ulta.
Active Ingredients: AHA Fruit Acid
Hair Type: All
Size: 8.5 Fl Oz
Form: Cream, Liquid
Let's take a moment to appreciate Redken – a brand that has been delivering high-quality, professional-grade hair care products since the 1960s. They stand out in the industry due to their commitment to sustainable manufacturing and inclusivity.
Now, let's dig deeper into why the Redken Detox Hair Cleansing Cream is so impressive. This clarifying shampoo is a gem when it comes to deep cleaning.
It eliminates the grime our curls can accumulate, without leaving them dry and brittle. The problem with many clarifying shampoos is they often strip away the natural oils, but Redken's formula works diligently to fortify the hair cuticle, leaving your curls rejuvenated and gleaming.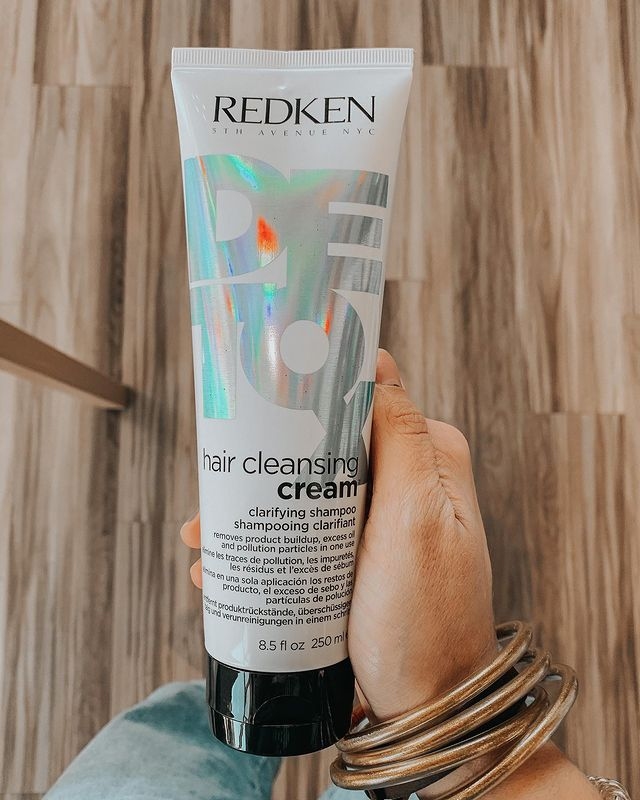 An exceptional feature of this shampoo is its ability to tackle not just product build-up and surplus oil, but also hard water minerals and pollution residue.
This is a life-saver for those of us living in bustling cities, where your curls act as a pollutant magnet, and this shampoo assists in cleansing and detoxifying them in just one wash.
Moreover, it accommodates all hair types and textures – whether you're flaunting a 3A or 4C curl pattern, color-treated or virgin hair. As a professional hairstylist, I'm thrilled to see a product that caters to such a diverse range of hair needs.
Here's a gentle reminder for you, though. This shampoo has a distinctive citrus scent. While it gives a refreshing twist for some, it might not sit well with those who prefer a more subtle or different fragrance in their hair products.
But remember, scents are a personal preference, and what might not appeal to one person could be another's favorite.
Why we love it:
Deeply cleanses without stripping hair of its natural oils
Removes not just product build-up and excess oil
Strengthens the hair cuticle and leaves curls refreshed and shiny
Suitable for all hair types and textures, including color-treated hair
Part of Redken's conscious manufacturing initiative, promoting environmental sustainability
What we'd change:
To wrap it up, the Redken Clarifying Shampoo is a potent addition to your curl care routine. It delivers a comprehensive cleanse without robbing your hair of its natural moisture, and it plays a significant role in maintaining the health and bounce of your curls. If you can embrace its aroma, then it's worth giving a shot, and let your curls shine as they were meant to!
4. Davines SOLU Shampoo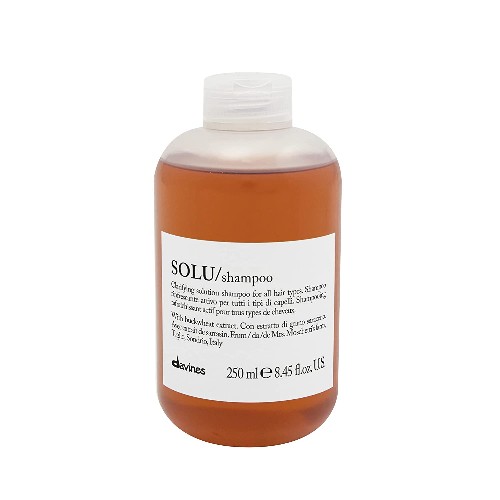 Hair Type: All
Size: 8.45 Fl Oz
Form: Liquid
Paraben Free: Yes
In my pursuit of the perfect hair care products, I discovered Davines, an Italian brand that has crafted a distinct reputation in the industry. Their SOLU Shampoo, in particular, caught my attention.
Born in Parma, Italy, Davines began as a research laboratory, supplying high-end hair care products to renowned cosmetic companies globally.
After a decade, they decided to create their own brand, offering products exclusively for salons. What sets Davines apart is their heartfelt commitment to beauty, ethics, and sustainability, which permeates every aspect of their work, from formulation to design.
Now, let's delve into the SOLU Shampoo. Ranking fourth in my top five clarifying shampoos for curly hair, this product has a lot to offer. It's not merely a shampoo, but a deep cleansing treatment for your hair.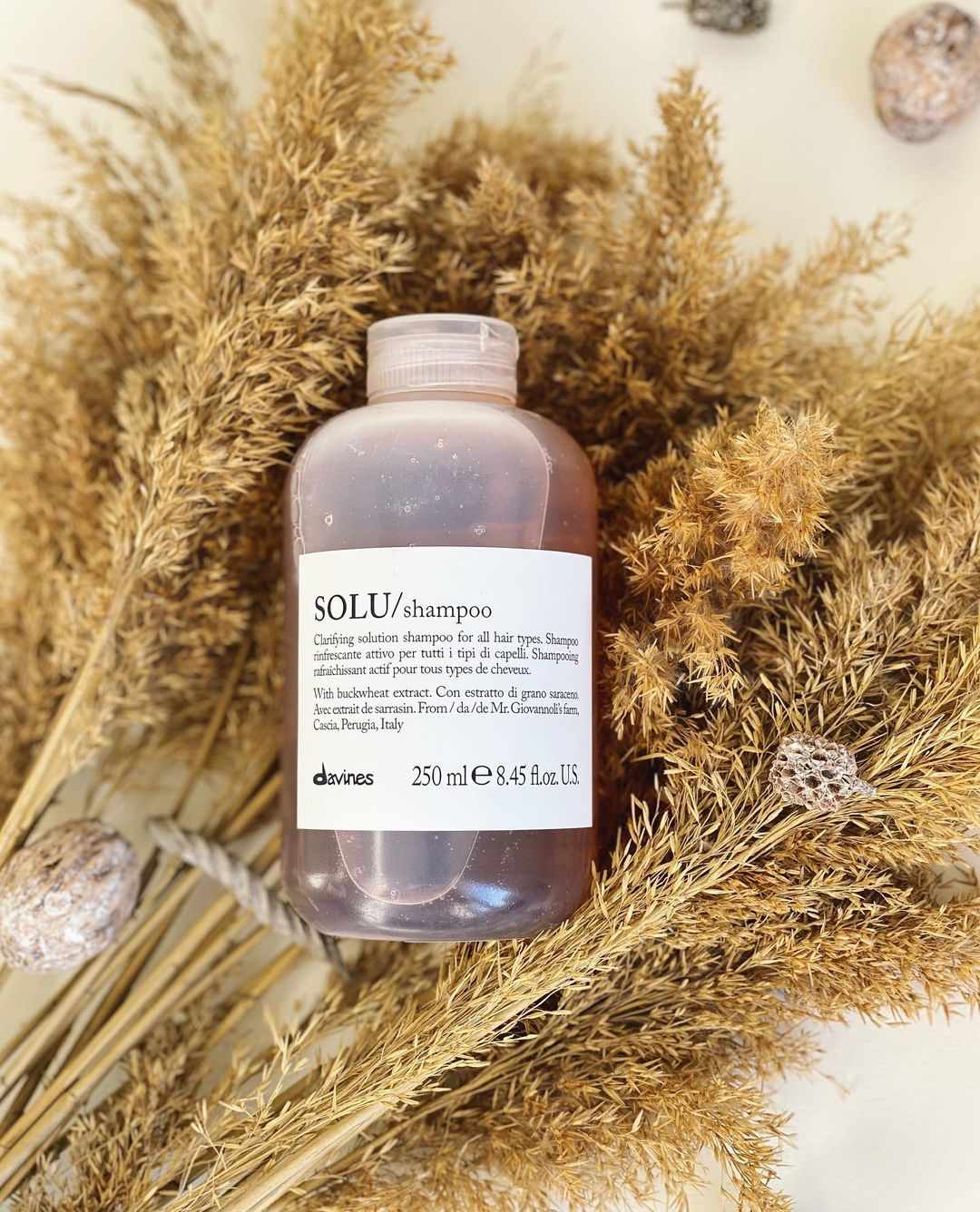 SOLU shampoo is specifically designed to remove residues of styling products, leaving your hair thoroughly clean. This kind of deep cleansing can make your curls feel revitalized and rejuvenated.
The result is a refreshed scalp and hair that's soft, shiny, and ready to dazzle. However, it's essential to consider a couple of factors that may impact your decision.
While the SOLU Shampoo offers remarkable benefits, its high price tag may not be feasible for everyone. The cost reflects the brand's commitment to using high-quality, natural ingredients and sustainable practices, but it may not align with everyone's budget.
Additionally, although the SOLU shampoo is highly effective, the quantity provided in each bottle may not meet the expectations of some users, especially those with a heavy hair care routine.
This could mean running out of the product sooner than anticipated, which coupled with the higher price point, could be a significant consideration.
Why we love it:
Deep Cleansing
Enhanced Hair Health
Sustainability
High-quality Brand
What we'd change:
In conclusion, If you're looking for a deep cleansing experience and don't mind investing a bit more in your hair care routine, SOLU shampoo could be a game-changer for your curls. Remember, every hair journey is unique, so it's all about finding the balance that works best for you.
5. Paul Mitchell Shampoo Two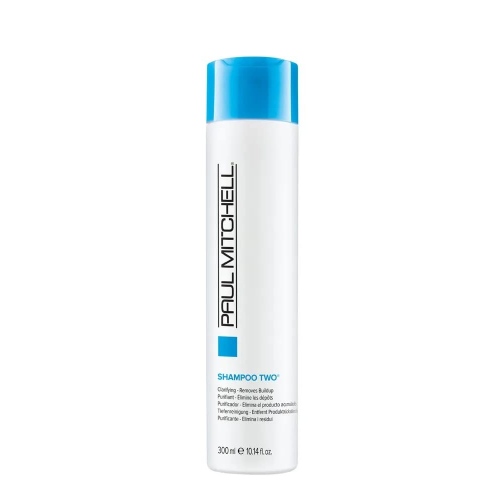 You can also find this product on Ulta.
Active Ingredients: Chamomile, henna, rosemary, lemon
Hair Type: Oily
Size: 10.14 Fl Oz
Form: Liquid
Paraben Free: Yes
Scent: Sharp, crisp, energizing lemon scent
Paul Mitchell, the brand behind this shampoo, is a renowned name in the haircare industry. The company has been providing quality hair products since the early 1980s and continues to innovate and cater to diverse hair needs.
Shampoo Two, one of their creations, has made it to my top five list of clarifying shampoos for curly hair. Shampoo Two is a potent clarifying shampoo designed to deep clean your hair, tackling oiliness, product buildup, and dullness, which are common concerns for those with curly hair.
Its unique formulation, enriched with wheat-derived conditioners and extracts of chamomile, henna, rosemary, aloe vera, and jojoba, not only cleanses but also adds body, fullness, and shine. It's also safe for chemically treated hair.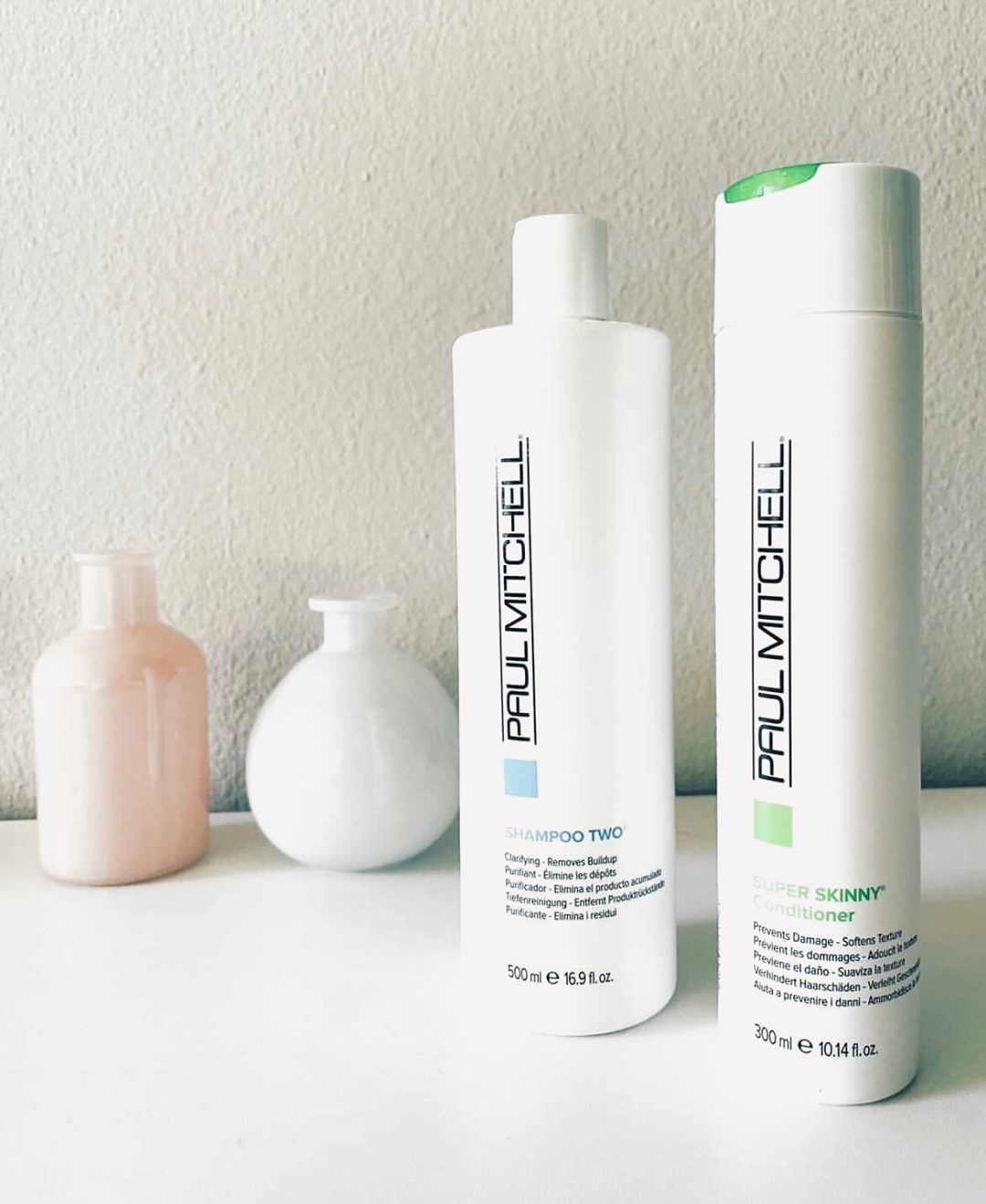 However, there are a couple of aspects that might not appeal to everyone. First, the consistency of the shampoo is somewhat watery, which might lead to unintentional overuse.
A more viscous formula could potentially provide a more controlled application, ensuring the product lasts longer. Despite these shortcomings, the shampoo shines in its primary role.
To use it, wet your hair and apply a reasonable amount to the palms of your hands. Massage it into your hair and scalp, ensuring it reaches every curl and crevice. Then, rinse completely. You'll find your hair squeaky clean, shiny, and full-bodied.
Remember, this clarifying shampoo is potent, so it's best used once or twice a week, interspersed with your regular shampoo routine. This way, you can prevent your hair from becoming overly dry.
Why we love it:
Deeply Cleanses
Minimizes Oil Production
Enriched Formula
Safe for Treated Hair
What we'd change:
In conclusion, Paul Mitchell's Shampoo Two is a remarkable product that does its job of deep cleansing extremely well. However, it's important to consider its watery consistency which might affect its ease of use. Nevertheless, if you're battling oiliness or product buildup, this shampoo could be a game-changer. After all, good hair doesn't always come from magic; sometimes, it's the result of a great product.
How to Choose the Best Detox Shampoo for Curly Hair?
Choosing the right clarifying shampoo for curly hair, especially for the rich, textured, and beautiful hair of African Americans, can be quite the task. It's not just about clearing out the build-up; it's about selecting the right product that compliments the unique needs of your curls.
I'm here to share my pearls of wisdom and help you make the best choice. Let's dive in, shall we?
Understand Your Hair Type
Understanding your hair type is the first step towards choosing the best clarifying shampoo. Are your curls loose, tight, or somewhere in-between?
Do you have low or high porosity hair? These factors play a crucial role in how much product build-up you'll likely have and how much moisture your hair needs.
Identify Your Hair Needs
Clarifying shampoos are primarily designed to remove product build-up and excess oil. However, they can also help tackle other issues like flaky scalp, dull hair, or slow hair growth. Identify your hair's specific needs, and look for clarifying shampoos that promise to address them.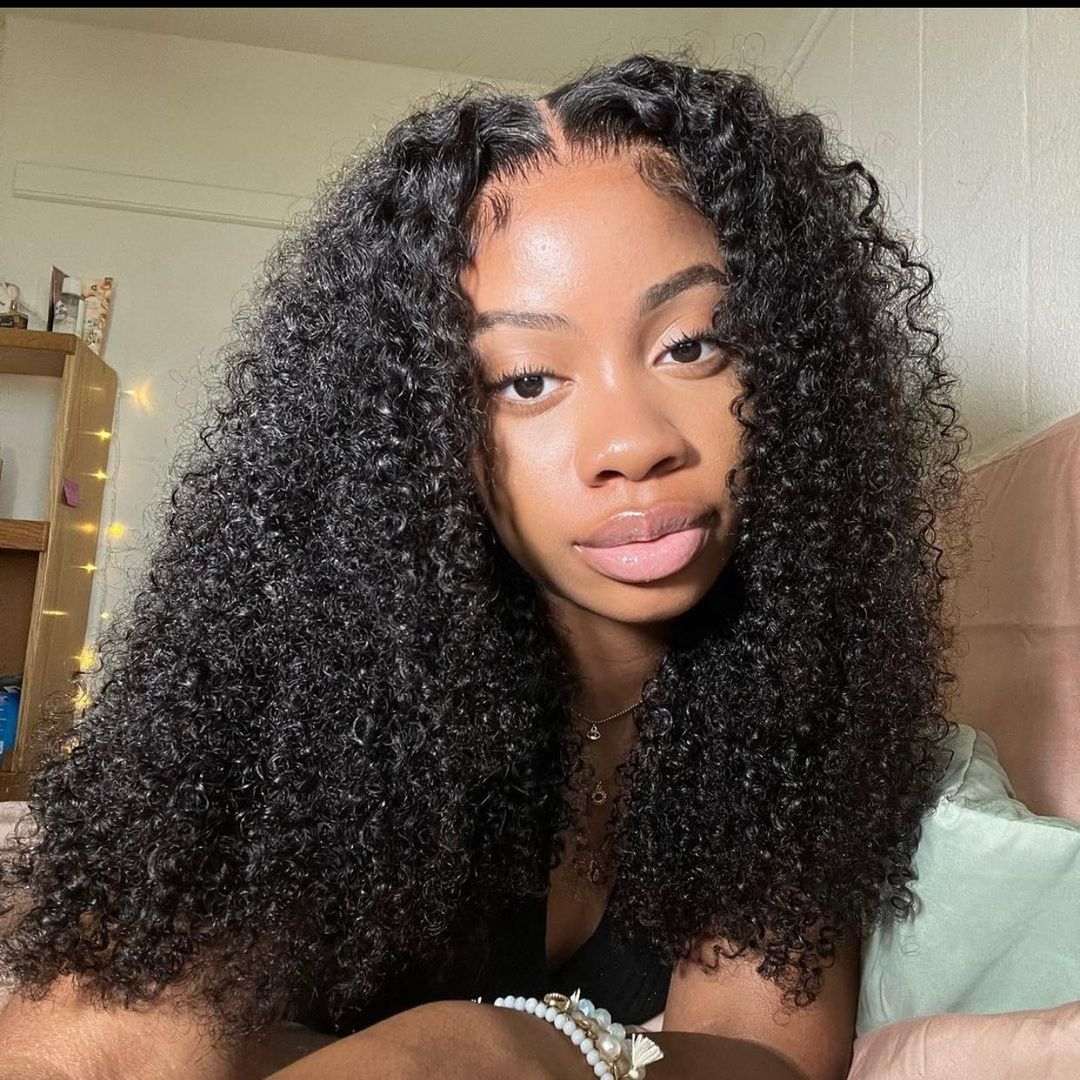 Opt For Sulfate-Free
Sulfates, while effective at removing dirt and oil, can be a bit too harsh for curly hair, stripping it of necessary moisture. Go for sulfate-free clarifying shampoos to clean your hair without over-drying it.
Look for Protein-Enriched Formula
Curly hair can benefit from protein-enriched formulas as they help to strengthen the hair strands and prevent breakage. If your hair feels weak or brittle, consider a clarifying shampoo with hydrolyzed proteins like keratin or silk.
Be Mindful of the pH Level
A healthy scalp has a pH level between 4.5 and 5.5. A clarifying shampoo with a pH level closer to this range can help maintain your scalp's health and balance.
Check Reviews and Get Samples
Reviews can give you an insight into how a product works for others with similar hair types and needs. Sampling is also a great way to try a product before investing in it fully.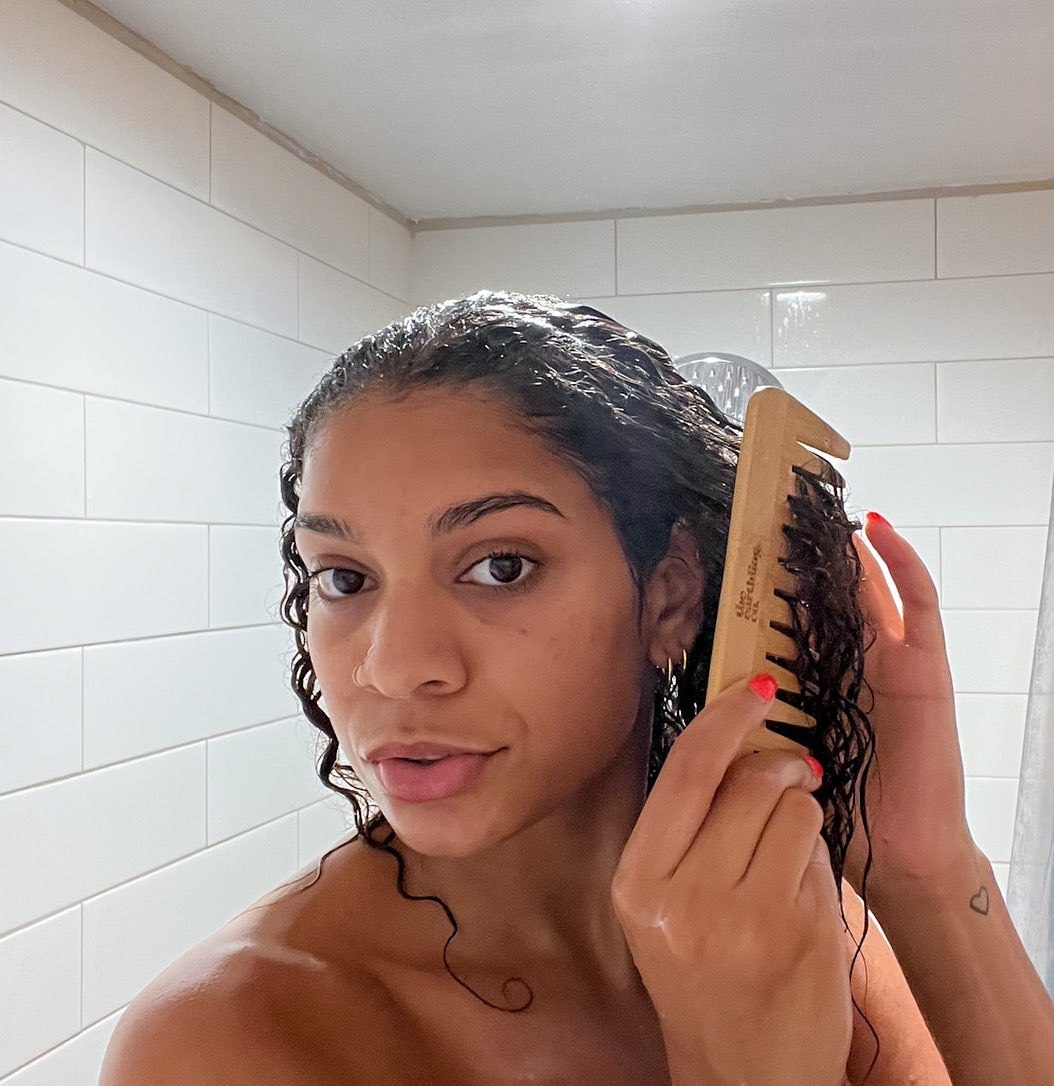 Frequency of Use
Even the best clarifying shampoo shouldn't be used too frequently. For most, once or twice a month is sufficient. Overuse can lead to dryness and potential damage.
Remember, the journey to finding the perfect clarifying shampoo might involve some trial and error. However, with patience and persistence, you'll find the product that makes your curls bounce with joy and shine with health!
How to Use Clarifying Shampoo for Curly Hair?
Here's how to unleash the magic of a clarifying shampoo on your divine curls:
First, thoroughly wet your hair. Pour a quarter-sized amount of your chosen clarifying shampoo into your palm. Remember, a little goes a long way!
Next, massage the shampoo into your scalp with your fingertips. This is where most build-up happens. Don't forget the nape!
Now, let the suds slide down the strands as you rinse. Avoid piling your hair on top of your head – we're not in a shampoo commercial, and it can lead to tangles!
Rinse thoroughly. And then rinse some more. You want to ensure all the shampoo is out.
Follow up with a deep conditioner or a hydrating mask. Clarifying shampoos can be drying, so it's essential to infuse your curls with moisture afterward.
Remember, limit clarifying shampoos to once or twice a month. They're like a reset button for your hair, not an everyday tune-up. Now go rock those cleansed, bouncy curls, honey!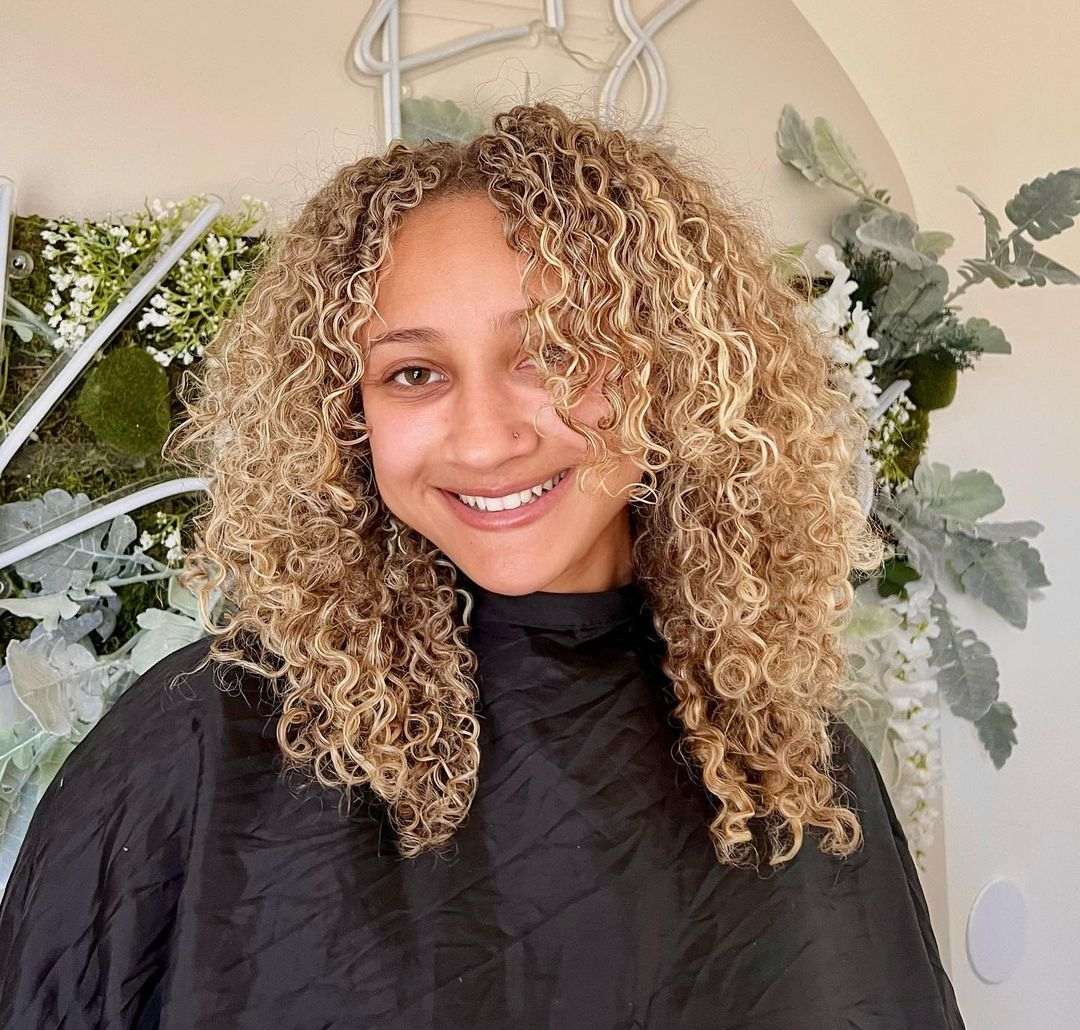 FAQ
Is clarifying curly hair necessary?
Absolutely! Clarifying curly hair is essential to remove product buildup, excess oils, and environmental impurities. It restores bounce and shine, enhancing the natural beauty of your curls. Embrace the clarifying power and let your curls dance with freedom and radiance!
How many times a month should you clarify curly hair?
Curly queens, aim to clarify your fabulous tresses once every 2-4 weeks. Striking the perfect balance between keeping those curls clean and preserving moisture is key. Let your curls revel in the clarifying goodness, but remember to always follow up with hydration for hair that's truly head-turning!
Summary
In conclusion, when it comes to finding the best clarifying shampoo for curly hair, it is essential to understand the unique needs and characteristics of African American hair.
Throughout this article, we have explored a range of exceptional clarifying shampoos specifically formulated for curly hair. These products have been carefully selected based on their ability to cleanse without stripping natural oils, maintain moisture balance, and enhance the natural texture of curls.
Remember to follow up your clarifying shampoo with a hydrating conditioner and a leave-in treatment to restore moisture and maintain the health of your curls.