Hey beautiful people! If you've been on the hunt for moisturizing oils for 4c hair that will have your tresses singing praises, you've come to the right place. I've got the 5 best oils for 4c hair that will make your coils flourish like never before!
With creativity and love, I've curated a list that will provide you with the perfect balance of moisture and style. So, buckle up, my friends, as we embark on this journey to reveal the secret elixir that will have your 4c hair thriving.
Why Do You Need Oil for 4C Hair?
Let me break it down for you why oil is a must-have for that fabulous 4c hair of yours. Now, 4c hair is truly unique and beautiful in its own right, but it also comes with some special needs.
First and foremost, let's talk about moisture. 4c hair is naturally dry, and without proper hydration, it can become brittle and prone to breakage.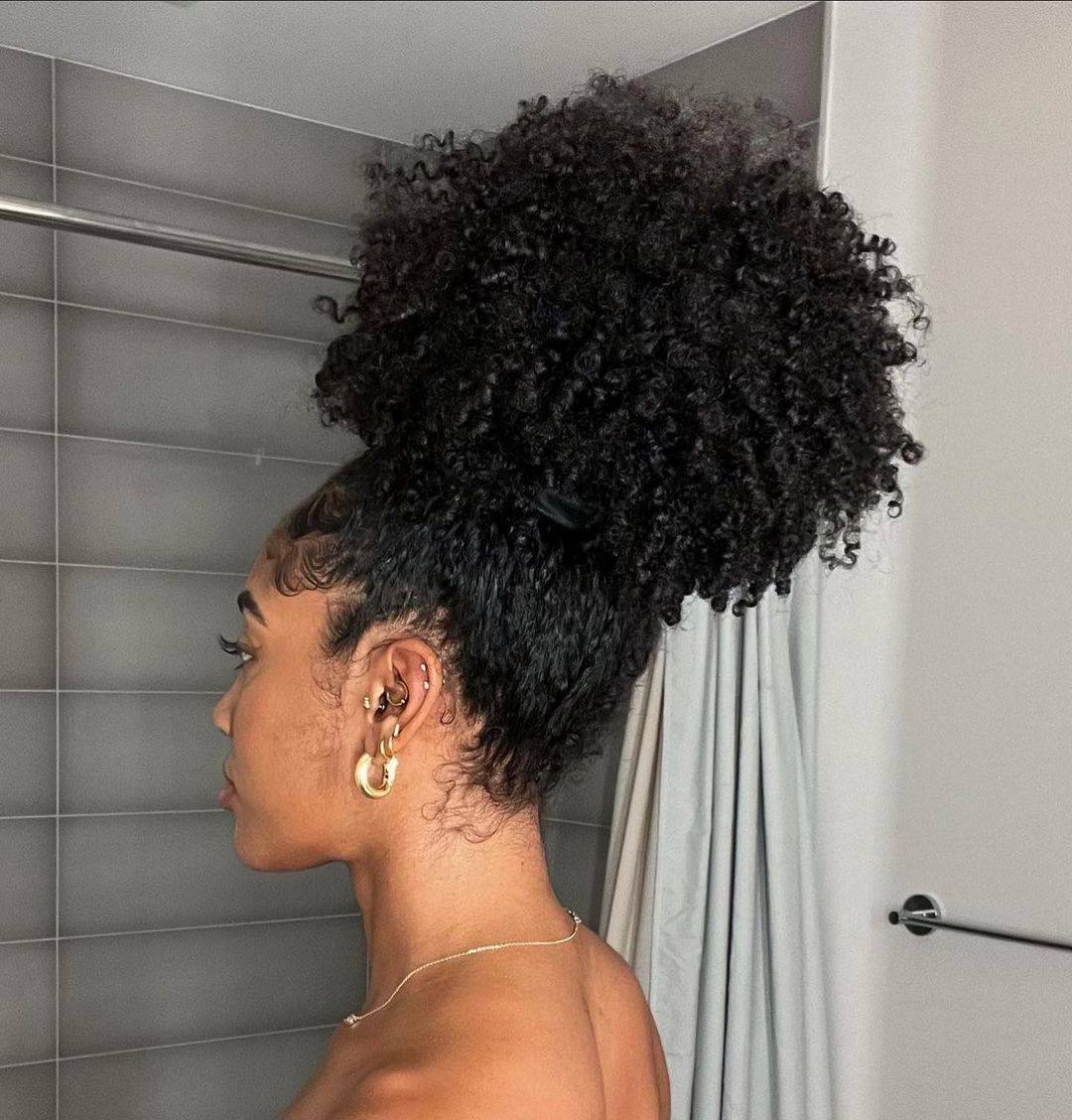 Oils play a crucial role in locking in that much-needed moisture. They create a protective barrier around the hair shaft, sealing in hydration and preventing your tresses from losing their well-deserved moisture.
Now, as we all know, 4c hair has a stunning, tightly coiled texture. But these tight coils can be both a blessing and a curse.
While they give your hair its remarkable volume and versatility, they can also make it more susceptible to tangling and knotting. Oils are your secret weapon in the battle against tangles.
They provide lubrication, making it easier to detangle and style your hair without causing unnecessary damage. Another fabulous benefit of oils is their ability to nourish and strengthen your hair.
4c hair is no stranger to the effects of harsh environmental factors, heat styling, and chemical treatments. Quality oils are chock-full of vitamins, antioxidants, and fatty acids that help revitalize and fortify your strands, promoting healthy growth and reducing the risk of breakage.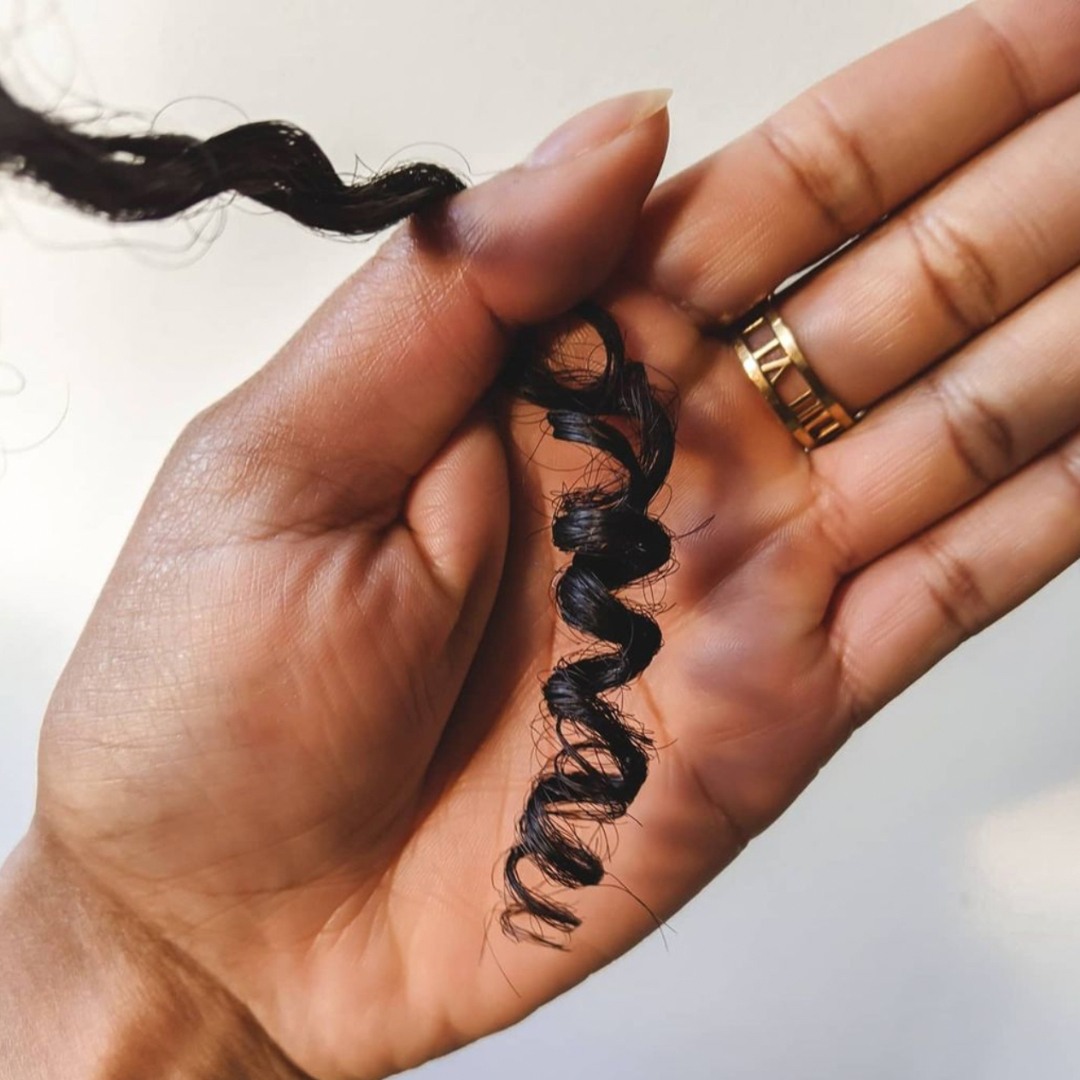 Let's not forget that oils can also be your personal glam squad! They add a touch of shine and smoothness to your tresses, giving them that envious, healthy glow.
It's important to remember that not all oils are created equal. You've got to find the perfect match for your fabulous 4c hair. Some top choices include:
Coconut Oil
Jamaican Black Castor Oil
Argan Oil
Jojoba Oil
Sweet Almond Oil
Marula Oil
Rosemary Oil
Olive Oil
Avocado Oil
Oils are the key to unlocking the full potential of your beautiful 4c hair. They provide hydration, protection, nourishment, and shine, ensuring your crown stays vibrant, healthy, and oh-so-gorgeous!
Top 5 Best Oils for 4C Hair Reviewed
MIZANI 25 Miracle Nourishing Oil –

Top Pick
1. MIZANI 25 Miracle Nourishing Oil –
Top Pick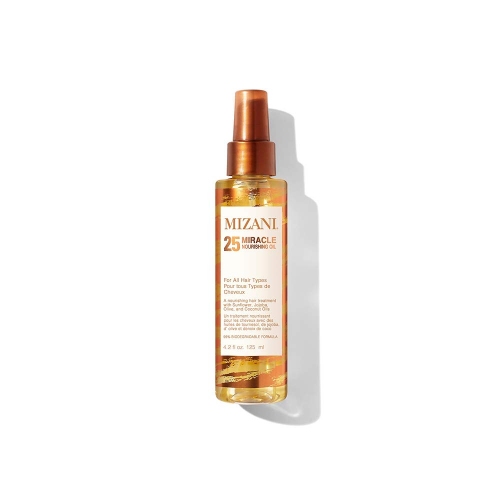 You can also find this product on Sephora.
Active Ingredients: Coconut Oil, Sunflower Seed Oil, Jojoba Oil, Olive Oil
Hair Type: All
Size: 4.2 Fl Oz
As a professional hairstylist, I have worked with numerous hair products to help my clients achieve healthy, manageable, and beautiful locks. Recently, I discovered the Mizani 25 Miracle Nourishing Oil, a multitasking gem that I'm ranking as the top (#1) choice for 4C hair out of 5 contenders.
However, there are a few aspects to consider before incorporating this oil into your hair care routine. The blend of coconut, olive, sunflower, and jojoba oils in this lightweight formula is a game-changer for 4C hair, which is notorious for its dryness and frizz.
These natural oils are known for their moisturizing and nourishing properties, and the fact that this product is 99% biodegradable makes it even more appealing. One significant advantage of Mizani Oil is its ability to provide 25 benefits in a single drop.
It penetrates deeply and absorbs instantly, restoring vibrancy to dull hair and leaving every strand manageable, shiny, and free of flyaways.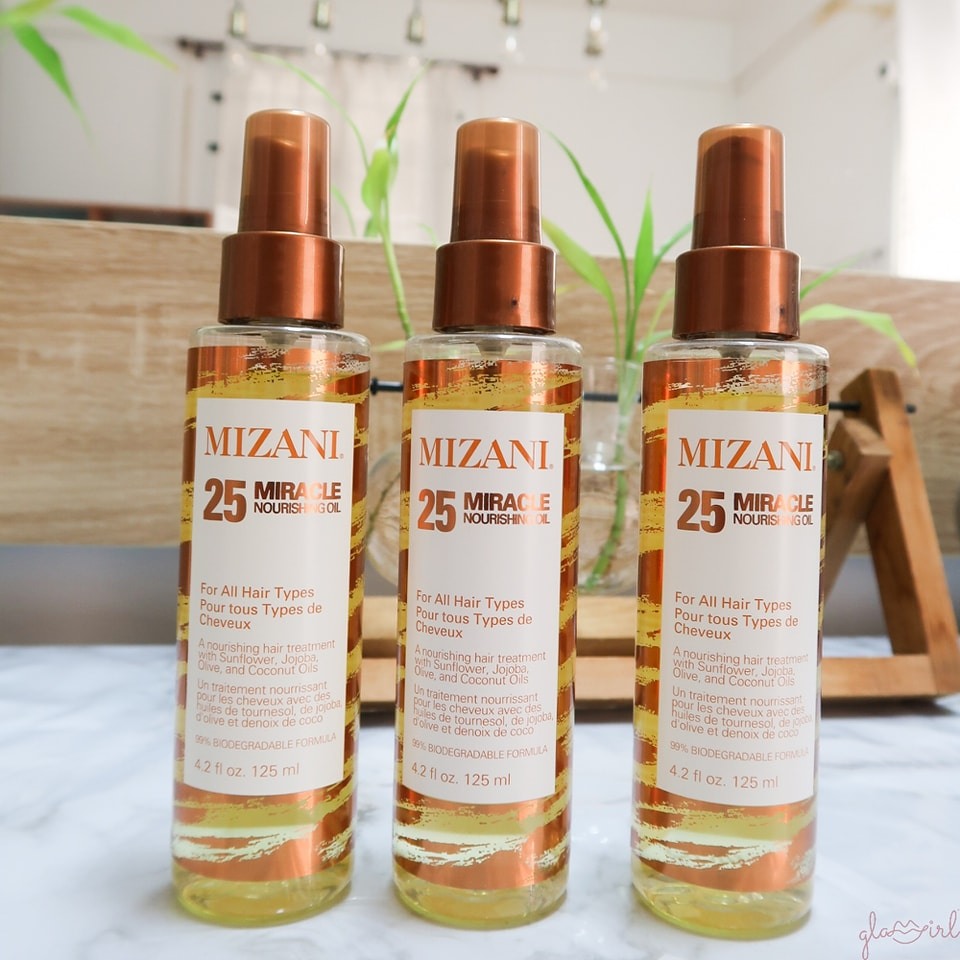 However, some users have found that the oil can take a while to absorb fully, which may require adapting your hair care routine, such as applying the product before braiding to allow sufficient time for absorption.
A notable downside to consider is the scent of the oil. While some may enjoy the sweet fragrance, others may find it overpowering and overwhelming. This may limit the amount of oil that can be comfortably applied, and it's worth keeping this in mind when making your decision.
The Mizani Oil truly lives up to its name. It adds weightless shine and nourishment to dull, dry hair, making it a must-have for those with 4C hair. As a professional hairstylist, I have seen firsthand the transformative power of this product, and I wholeheartedly recommend it to anyone looking to breathe new life into their 4C tresses.
2. Design Essentials Scalp & Skin Care Moisturizing Oil Treatment –
Runner Up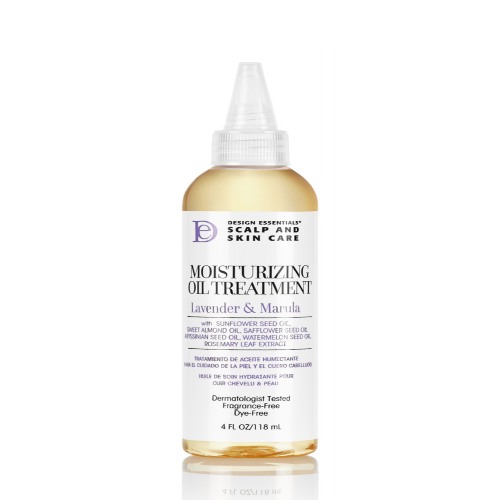 You can also find this product on Amazon, Ulta.
Active Ingredients: Marula and lavender oils
Hair Type: All
Size: 4 Fl Oz
I was excited to try Design Essentials Oil Treatment featuring marula & lavender, and I have some thoughts to share about its pros and cons. One of the most significant advantages of this oil treatment is its potent combination of marula and lavender oils.
Marula oil is a natural antioxidant and an excellent source of Vitamin E, providing deep hydration without clogging your scalp's pores. Lavender oil not only moisturizes and nourishes but also improves blood circulation and promotes hair growth.
These two ingredients work in tandem to create a nourishing, lightweight formula that is free of artificial fragrances, dyes, and mineral oil. However, it's worth noting that some users have found the product to be a bit greasy.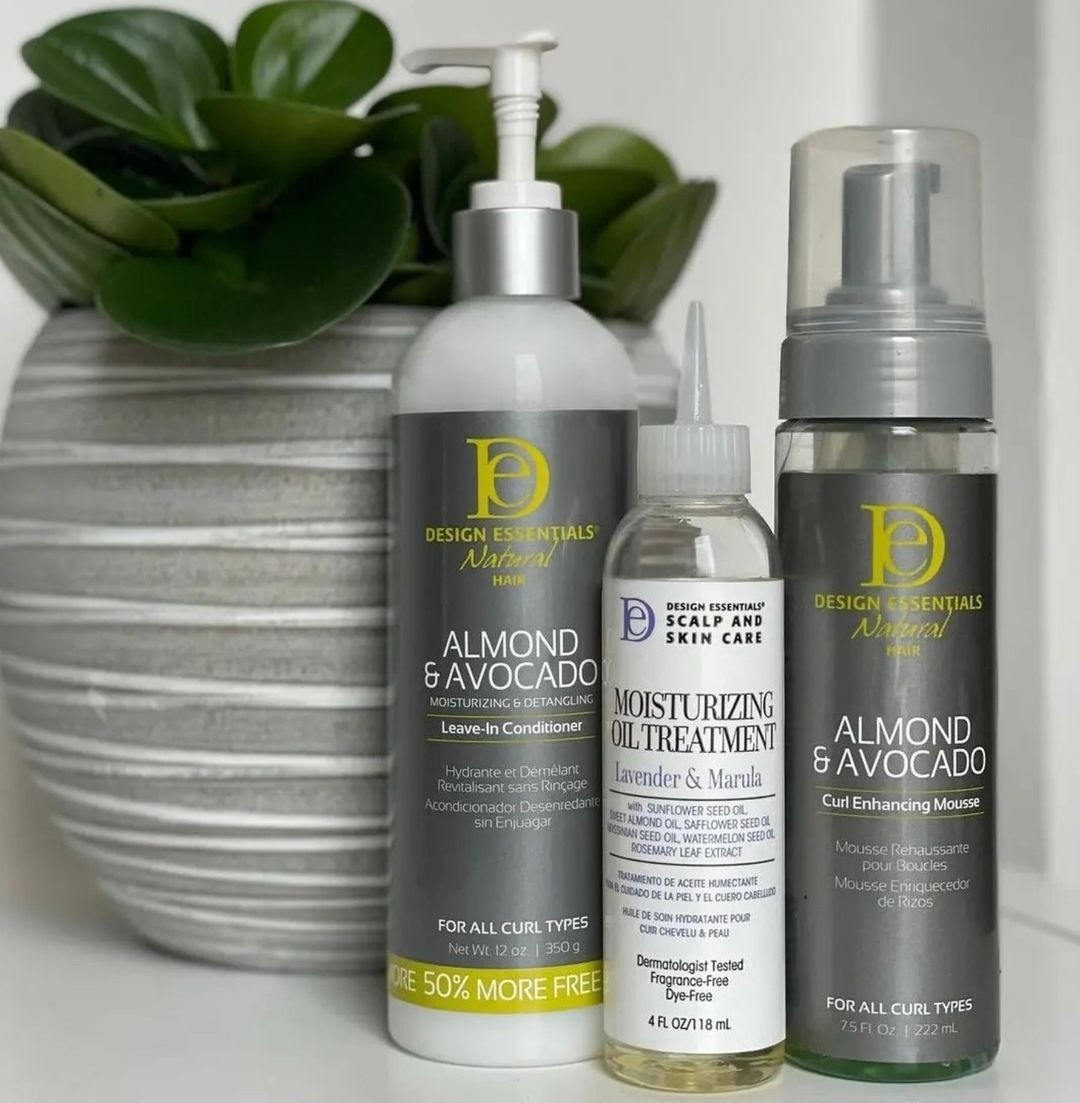 This may lead to a slightly oily sensation on the scalp or skin for certain individuals, which could detract from the otherwise positive experience of using the treatment.
It's essential to consider this factor when deciding if this product is the right fit for you. Despite this downside, the product's versatility remains impressive.
While it primarily targets the scalp, it can also be applied to the skin to treat affected areas. This oil treatment is dermatologist-tested, making it a safe and gentle option for those with sensitive skin.
In conclusion, Design Essentials Oil Treatment is a versatile, lightweight, and effective solution for those looking to nourish and hydrate their 4C hair. Its powerful blend of marula and lavender oils offers a range of benefits, from promoting hair growth to protecting your hair from environmental damage.
3. Carol's Daughter Goddess Strength 7 Oil Blend Hair & Scalp Oil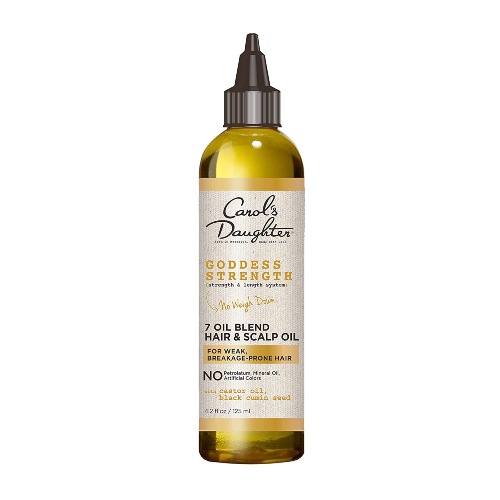 You can also find this product on Ulta.
Active Ingredients: Castor oil, oilve oil, vitamin e, jojoba oil
Hair Type: Curly
Size: 4.2 Fl Oz
Carol's Daughter Hair & Scalp Oil is a product that has earned a place in my recommendations.
The Goddess Oil boasts a blend of nourishing ingredients, such as castor oil, olive oil, vitamin E, and jojoba oil, which work in tandem to hydrate and repair dry, damaged, and frizzy hair.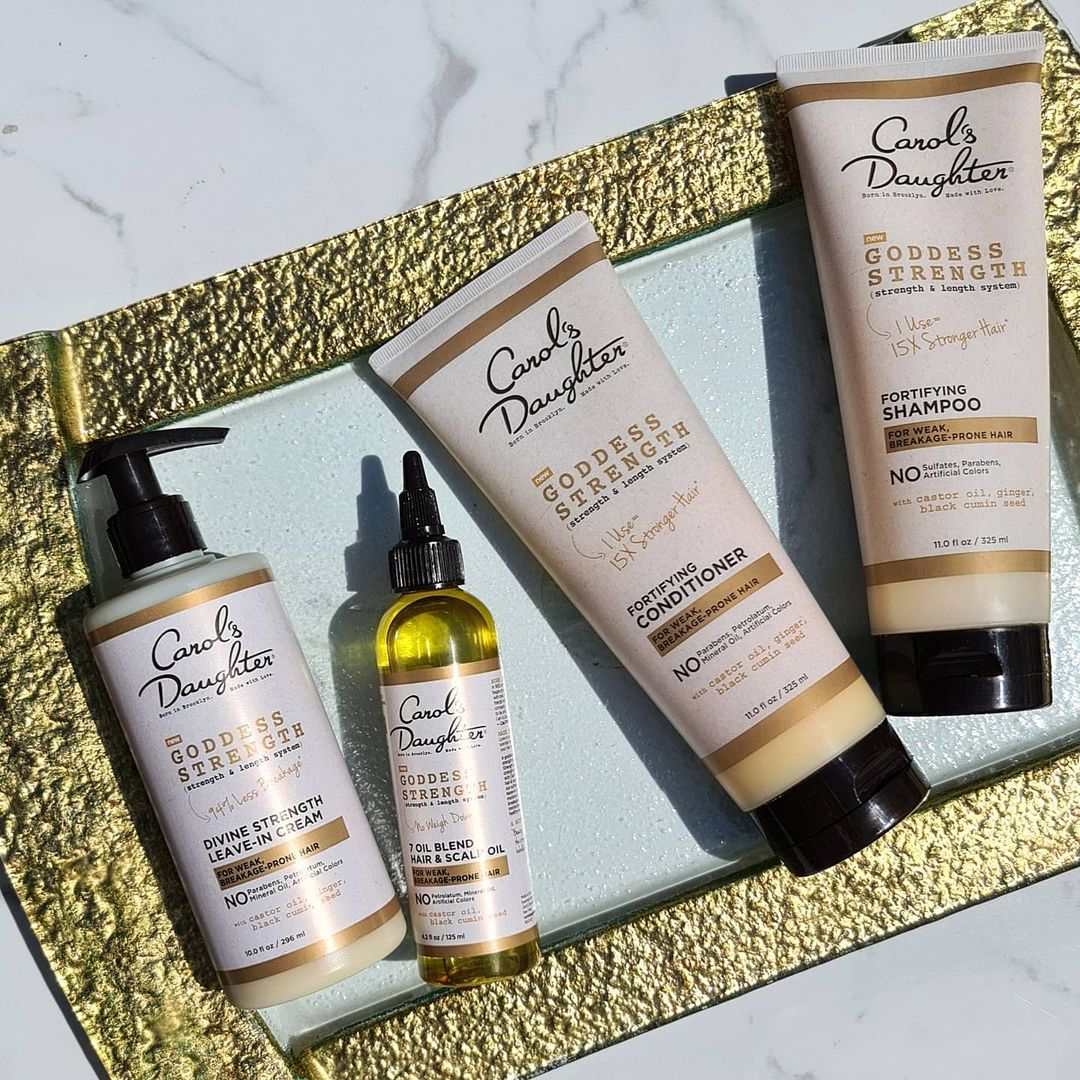 With black cumin seed added to the mix, this oil strengthens hair and prevents breakage, making it ideal for weak or breakage-prone hair. One of the key advantages of this product is its compatibility with various curl types, including 4C hair.
However, it's crucial to consider some of the downsides reported by users. While the scent is sweet and pleasant for some, others may find it overpowering or prefer milder fragrances.
In conclusion, Carol's Daughter Oil is a reliable and effective option for those with 4C hair seeking a solution to dryness, breakage, and lack of strength. It is a testament to the brand's commitment to catering to the needs of women with textured hair, and I am confident in recommending it to my clients.
4. Mielle Organics Rosemary Mint Scalp & Hair Strengthening Oil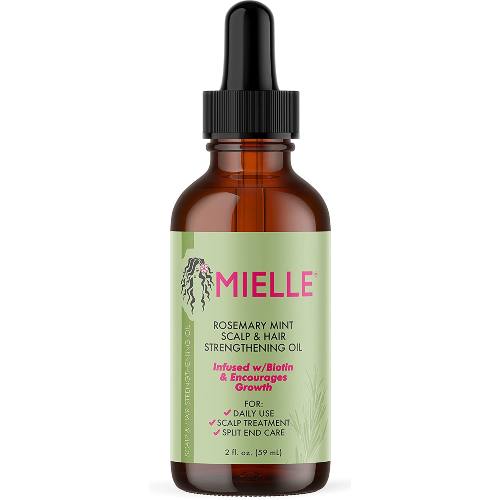 You can also find this product on Ulta.
Active Ingredients: Mint, Rosemary oils
Hair Type: All
Size: 2 Fl Oz
Mielle Organics Oil has been a product I've tried and recommended, and in this review, I will share my experience with you.
The nutrient-rich, biotin-infused formula of this oil is impressive and shows promise for preventing damage and promoting strong, healthy hair.
The lightweight formula easily penetrates the hair shaft and nourishes split ends, leaving hair sleek and smooth. The invigorating scent of rosemary and mint is a refreshing bonus.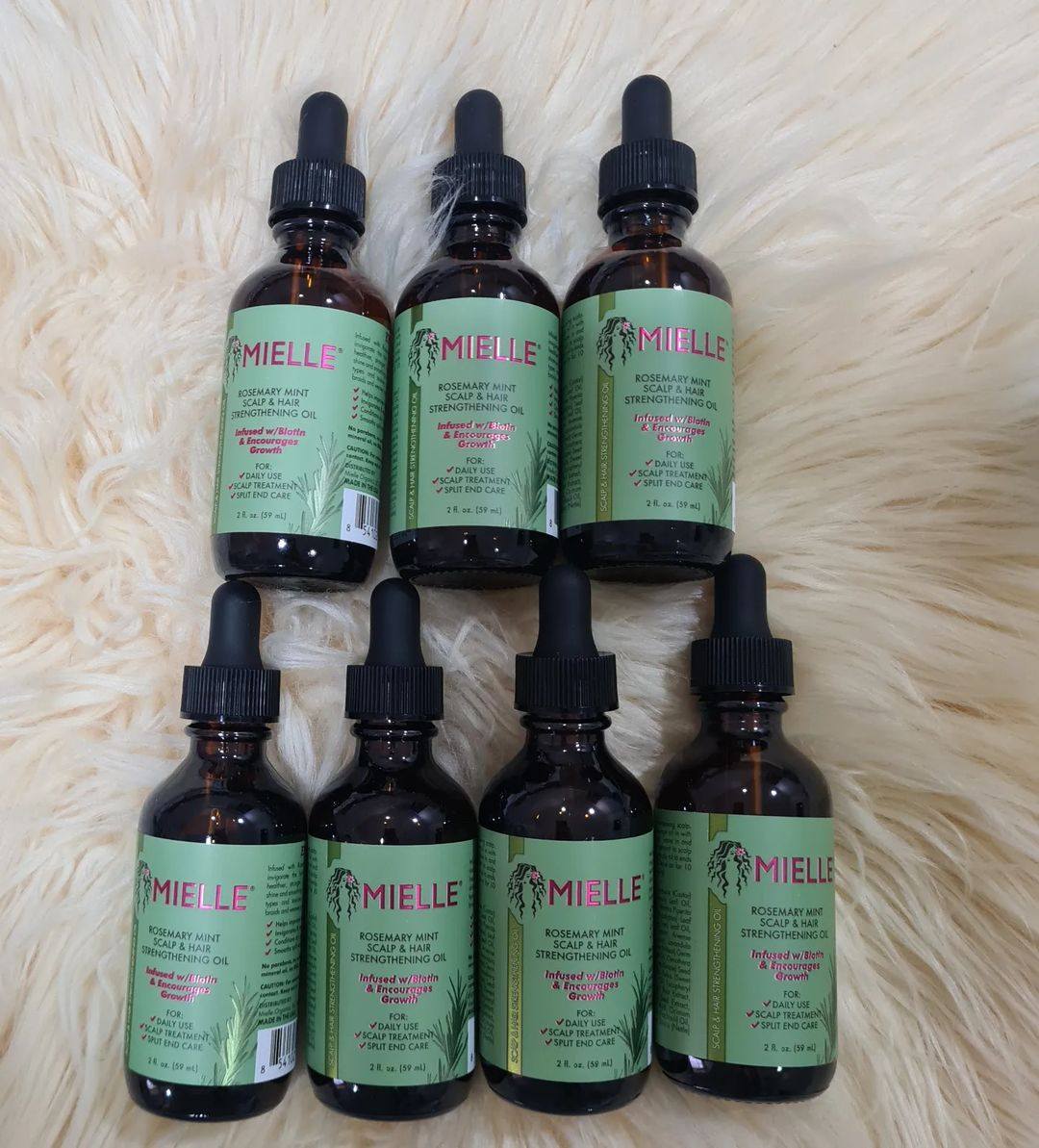 One of the great aspects of this product is its suitability for all hair types, including 4C hair. The blend of over 30 essential oils and nutrients is designed to nourish chemically-treated hair, braids, weaves, and both low and high-porosity-level hair.
However, there are a few concerns to be aware of when using this product. Some users have reported that the oil can make hair appear greasy if not washed out properly.
To avoid this, I recommend shampooing your hair thoroughly to ensure the oil is rinsed out completely. Additionally, it's important to use the oil sparingly and limit applications to 2-3 times per week to prevent excessive oiliness.
Mielle Organics Oil has quickly become one of my go-to products for 4C hair. The combination of nourishing ingredients and versatile usage makes it a standout product in the haircare industry. If you're looking for a solution to promote healthier, stronger, and more radiant 4C hair, I highly recommend giving this oil a try.
5. Aunt Jackie's Natural Growth Oil Blends Repair My Hair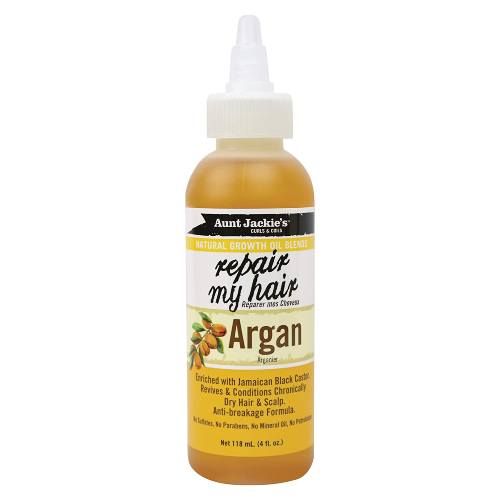 Active Ingredients: Argan Oil, Jamaican black castor
Hair Type: Dry, Thin
Size: 4 Fl Oz
Aunt Jackie's Repair My Hair Oil hair growth oil for 4c hair, distinguishes itself as a valuable solution for those looking to enhance the health and appearance of their 4c hair.
Aunt Jackie's is specifically designed to revive and condition dry hair and scalp, which are often issues for 4c hair textures. Its anti-breakage formula is enriched with Jamaican black castor oil, which is known for its hair growth benefits.
The blend of essential and penetrating oils in this product helps prevent and correct damage and breakage, making it an ideal solution for those experiencing hair loss or thinning.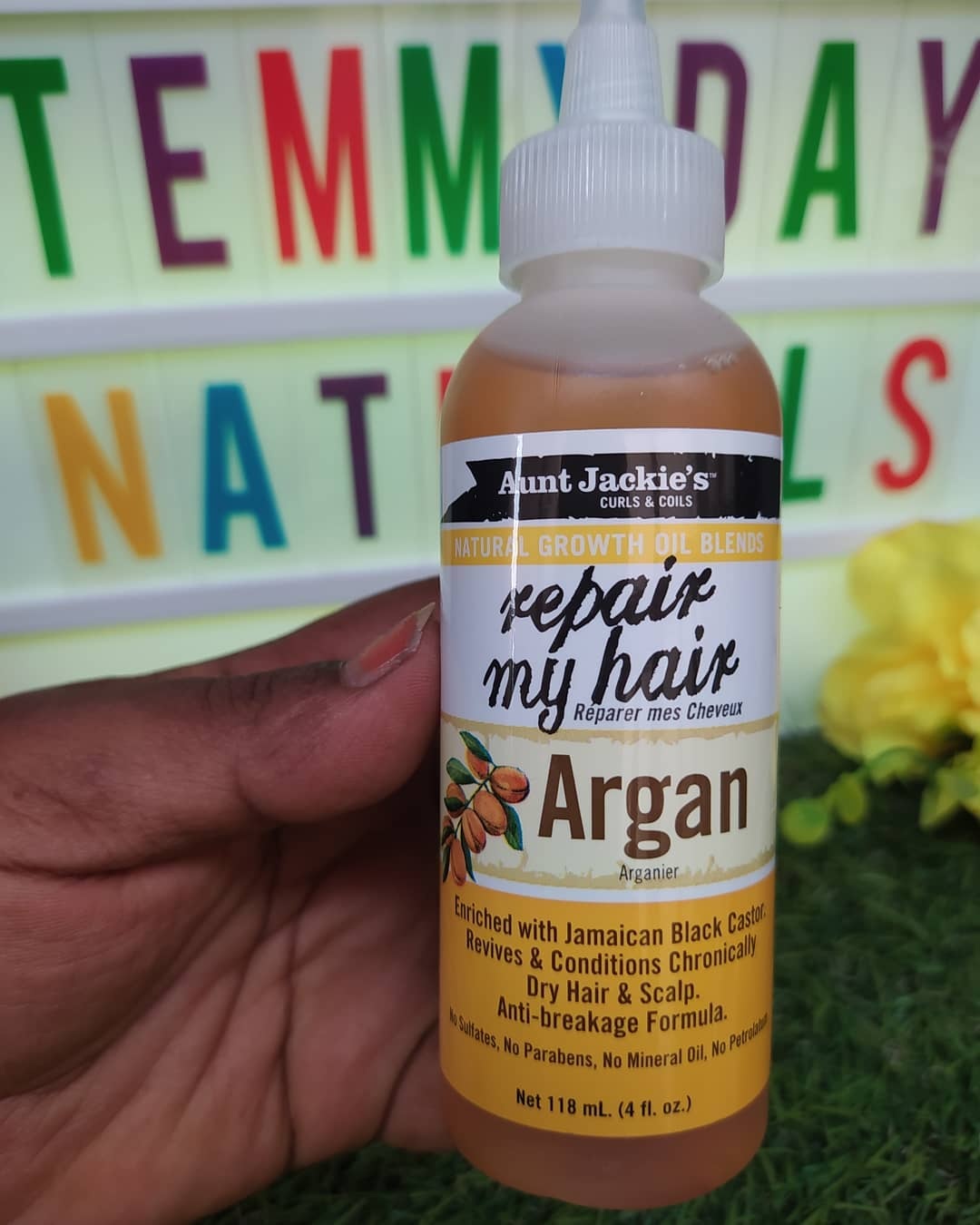 However, it's essential to consider some of the downsides mentioned by users. The oil is thicker than some might expect, which could make it slightly more challenging to work with.
While the scent is generally well-received, the product's moisturizing properties might not be immediately apparent, as it may take some time for users to experience the full benefits.
In conclusion, Aunt Jackie's Repair My Hair - Argan has its pros and cons, but it remains a worthwhile option for those with 4c hair seeking to improve their hair's overall health and appearance. Its natural ingredients, anti-breakage formula, and versatility in usage make it a valuable product for anyone looking to revitalize their 4c hair, as long as they are willing to work with its unique texture.
How to Choose the Best Oil for 4C Hair Growth?
Hope you understand the importance of keeping that 4c hair hydrated, moisturized, and looking fabulous. Your hair is a reflection of your personality, and I'm here to help you make the best choice for your crown.
Selecting the perfect oil for your 4c hair type can be a game-changer, so let's dive in and explore how to choose the best oil that'll have your tresses singing praises.
Know your hair's needs: First, you must understand your hair's specific requirements. Do you struggle with dryness, breakage, or a lack of shine? Determining your hair's needs will help you select an oil that targets those issues.
Pay attention to porosity: The ability of your hair to absorb and retain moisture is crucial when choosing an oil. Low porosity hair has tightly closed cuticles, making it challenging for moisture to penetrate.
Also read: Best Oils for Low Porosity Hair
On the other hand, high-porosity hair absorbs moisture quickly but struggles to retain it. Choose oils that are suitable for your hair's porosity level for optimal results.
Listen to your hair: Your hair will tell you what it loves and what it doesn't. Pay attention to how your hair responds to different oils, and adjust your choices accordingly.
Remember, choosing the best oil for your 4c hair is all about understanding your hair's unique needs and preferences.
Most Popular Oil Types for 4c Hair
1. Coconut Oil
This tropical paradise in a jar is a powerhouse for your 4c tresses! Rich in vitamins, minerals, and fatty acids, it nourishes your hair from root to tip. Not only does it seal in moisture, but it also strengthens those beautiful coils, preventing breakage and split ends. Say hello to bouncier, shinier curls!
2. Jamaican Black Castor Oil
This rich, velvety elixir is an undeniable game-changer for 4c hair. Its high levels of ricinoleic acid help increase blood circulation to the scalp, promoting hair growth and thickness. It also moisturizes, strengthens, and reduces frizz, giving your hair the royal treatment it deserves!
3. Argan Oil
Often called "liquid gold," argan oil is a nutrient-rich gift from the Moroccan deserts. This lightweight, non-greasy oil is packed with antioxidants, vitamins, and fatty acids that work together to hydrate, protect, and add shine to your luscious locks. Embrace the enchantment of healthy, frizz-free hair!
4. Jojoba Oil
This golden wonder closely resembles our scalp's natural sebum, making it a perfect choice for 4c hair. Its moisturizing properties help regulate the scalp's oil production, preventing dryness and flakiness. Jojoba oil also smooths and softens your curls, making them more manageable and oh-so-touchable.
5. Sweet Almond Oil
This sweet, nutty oil is an absolute dream for your 4c hair! Rich in vitamins A, B, D, and E, it provides deep nourishment and strengthens your hair from within. Plus, it promotes hair growth and helps reduce hair loss, so you can rock those long, luscious locks with confidence.
6. Olive Oil
Straight from the Mediterranean, olive oil is a staple for 4c haircare. It's packed with antioxidants, vitamins, and essential fatty acids that work together to moisturize and protect your hair. It also helps combat dandruff and adds a beautiful shine, giving your curls that much-needed glow up.
7. Avocado Oil
This creamy, green goodness is a true superfood for your 4c curls. Its high levels of monounsaturated fats and vitamins penetrate deep into the hair shaft, providing intense hydration and promoting hair growth. Plus, its natural humectant properties help lock in moisture, keeping your coils happy and healthy!
How to Use 4C Hair Growth Oil?
Here's how to paint your masterpiece with elegance and flair:
Prep your hair: Begin by washing and conditioning your hair with products that cater to the unique needs of 4c hair. This sets the stage for your oil-infused masterpiece, ensuring it is free of buildup and ready to absorb the nourishing goodness.
Section and conquer: Divide your hair into four to six manageable sections. This allows you to evenly distribute the oil and ensures that no strand is left behind. Remember, every curl is a star in your hair's grand production!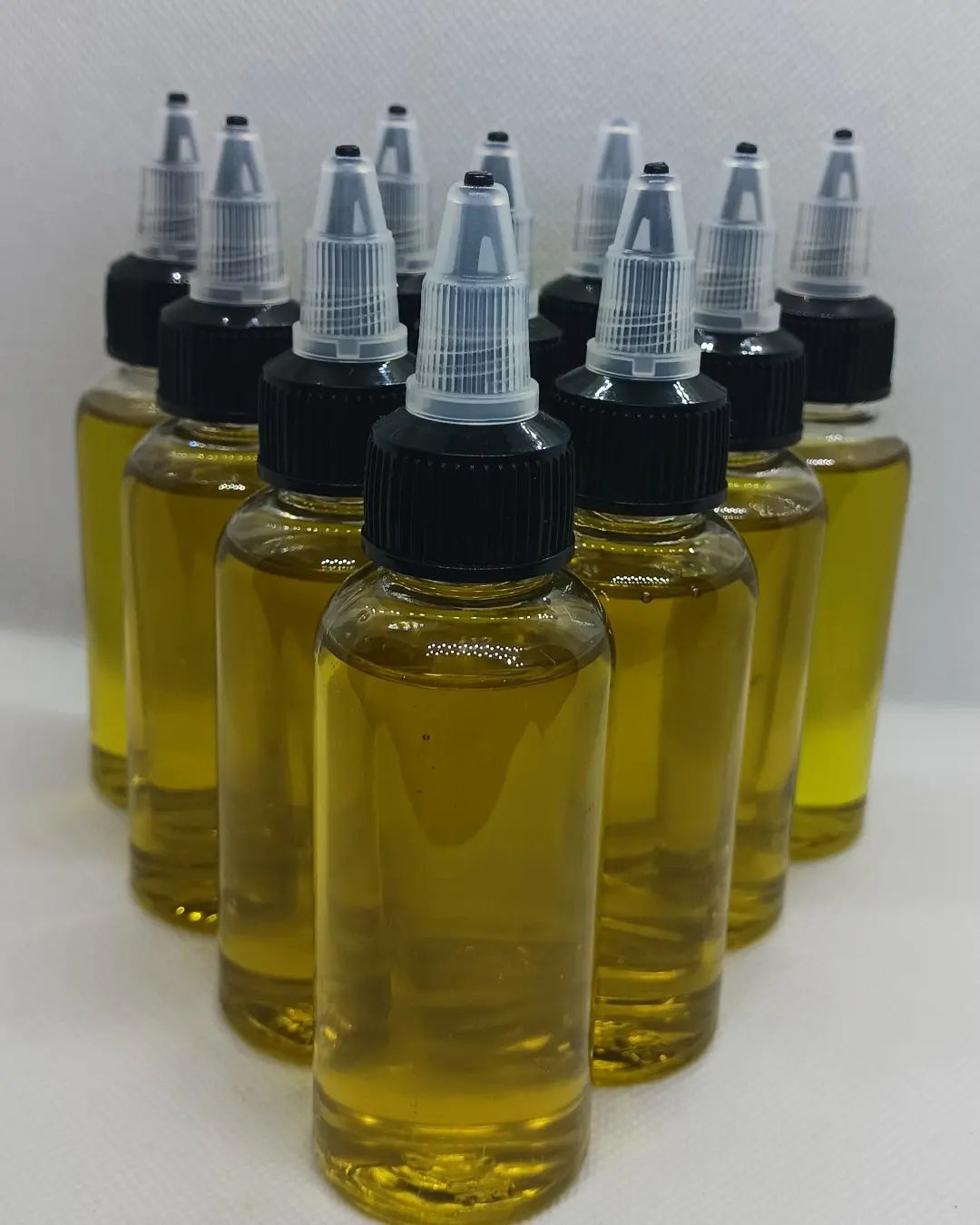 Warm it up: Pour a dime-sized amount of your chosen oil or blend into the palm of your hand. Rub your hands together to create a warm, loving embrace for your hair. The warmth will open the hair's cuticle, allowing for deeper penetration and absorption.
Massage with love: Gently massage the oil into your hair, starting at the scalp and working your way down to the ends. Use the pads of your fingers to stimulate circulation and promote healthy hair growth. Imagine you're a skilled pianist, playing a symphony of love and care on the keys of your hair.
Show your ends some TLC: Pay special attention to your ends, the oldest and most fragile part of your hair. Apply a little extra oil here to seal in moisture, reduce breakage, and maintain a healthy, well-moisturized mane.
Seal the deal: For an encore of hydration, follow up with a leave-in conditioner or cream to lock in moisture and give your curls the bounce and vivacity they deserve. Your hair is a dynamic duet between oil and conditioner, singing in perfect harmony.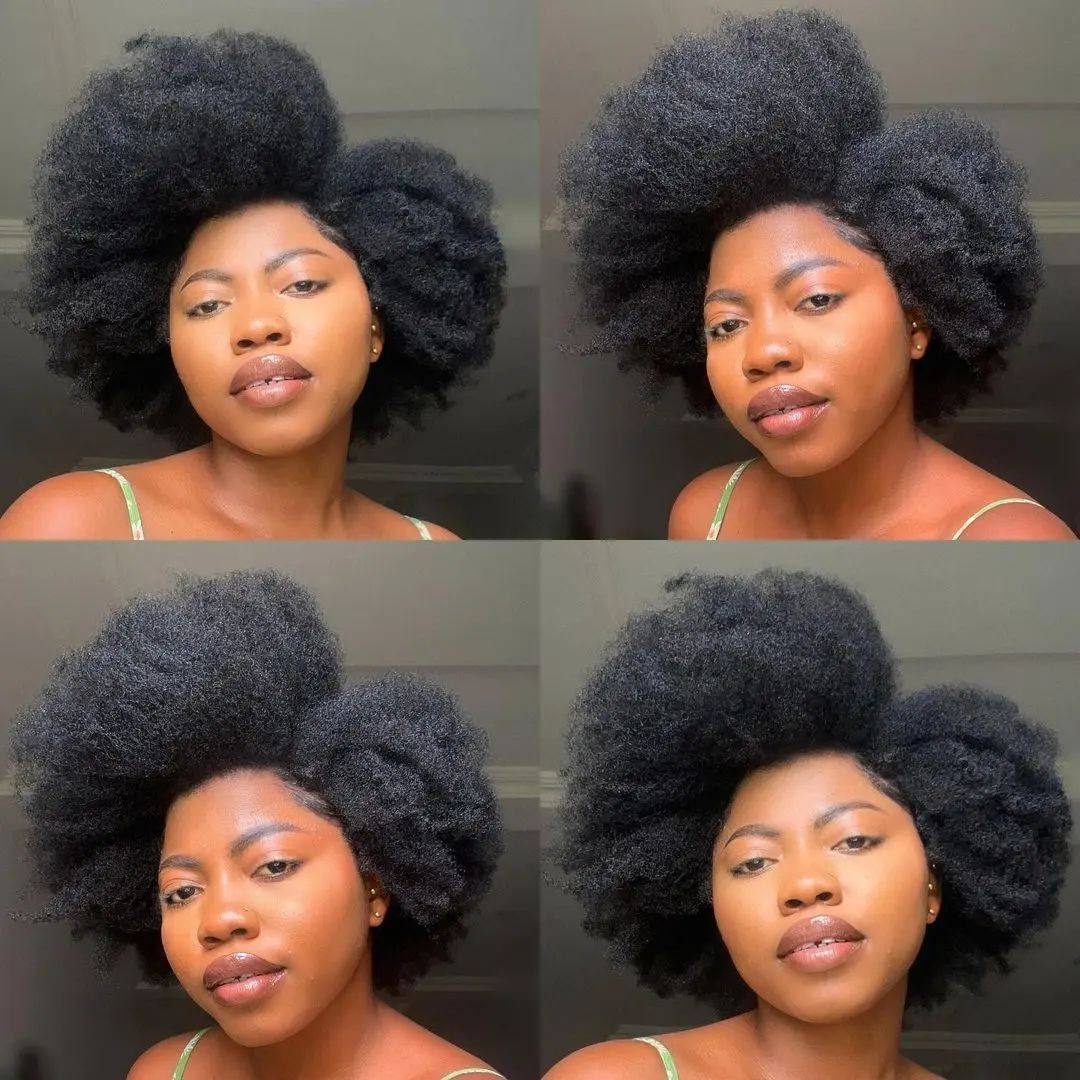 And there you have it, my fabulous friend! You've unlocked the secrets of using oil for your 4c hair, creating a masterpiece that will make heads turn and hearts swoon. Strut your stuff, and let your hair be the vibrant expression of your inner beauty.
4C Hair Oil FAQ
What oils make 4C hair grow?
There isn't a single oil that guarantees 4C hair growth, but some beneficial oils include castor oil, jojoba oil, coconut oil, peppermint oil, and rosemary oil.
These oils help promote a healthy scalp, moisturize hair, and stimulate circulation, potentially encouraging growth. However, it's essential to maintain a consistent hair care routine, including a healthy diet, for optimal results.
Should I oil my 4C hair everyday?
Oiling 4C hair every day is not necessary and may lead to product build-up. Instead, focus on a consistent hair care routine, including moisturizing and sealing 2-3 times per week. Adjust the frequency based on your hair's needs, but be cautious not to overdo it, as this can cause greasiness and weigh your hair down.
Top Oils to Nourish and Maintain 4C Hair – Summary
In conclusion, my radiant friends, the quest for the perfect oil for your divine 4c hair is a personal and fulfilling journey. As we've explored the lush landscape of natural oils and their remarkable benefits, we've discovered that the key lies in understanding your hair's unique needs and desires.
Whether you're seeking moisture, strength, or shine, there is an oil or blend that will elevate your hair to new heights of beauty and vitality.
References:
Hair Oils: Indigenous Knowledge Revisited – https://www.ncbi.nlm.nih.gov/pmc/articles/PMC9231528/
HOW TO TAKE CARE OF 4C HAIR – https://www.johnfrieda.com/en-us/blog/curly-hair/how-to-care-for-4c-hair/
Coconut, Castor, and Argan Oil for Hair in Skin of Color Patients: A Systematic Review – https://pubmed.ncbi.nlm.nih.gov/35816075/
Peppermint Oil Promotes Hair Growth without Toxic Signs – https://www.ncbi.nlm.nih.gov/pmc/articles/PMC4289931/
Also read: