Relaxing the hair is a great way to enjoy sleek and shiny styles. They look great after the first day and those to follow but need a lot of TLC to keep them healthy and looking fresh.
Part of the process is shampooing, but relaxed hair needs a little more than some ordinary shampoo. That's why we're here with relaxed hair shampoo reviews of some of the best out on the shelves.
If you have relaxer-treated hair, you know that it requires special care. The good news is that there are plenty of great shampoos out there specifically designed for relaxed hair.
In this blog post, we'll share our top picks for the best shampoos for relaxed hair. Whether you're looking for a gentle cleanser or something to help with damaged hair, we've got you covered.
So read on to find the best shampoo for your relaxed tresses!
Picking Shampoo for Relaxed Hair: What to Look For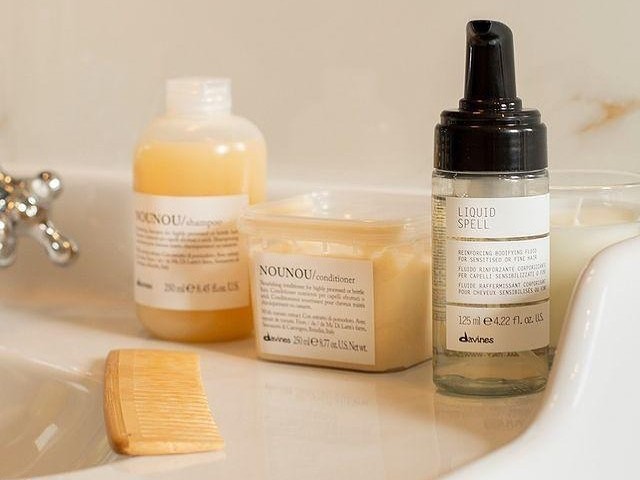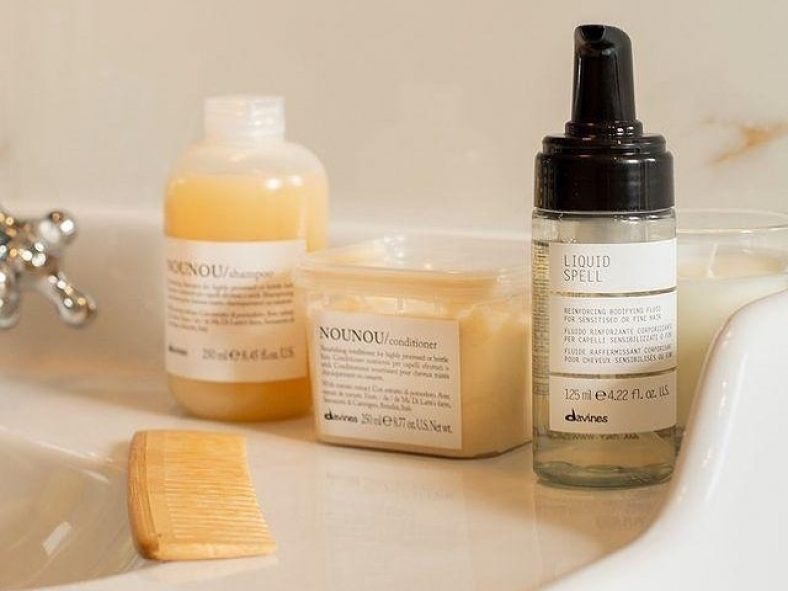 Before you take off on your own on the hunt for the best shampoo for black relaxed hair, check out our buyer's guide for tips and suggestions.
When you walk down the shampoo aisle, you probably get overwhelmed with shelve after shelve of shampoo, all promising to be the best for your relaxed hair. While you might take a lucky pick, there are a few things to look out for to give your locks the love they need. So, when starting your search, check for these few things.
Type of Shampoo
The types of shampoo are endless, with a little bit of everything for everyone. For relaxed hair, you want to make sure and look out for those specific for your type. These include shampoos that are for:
• Chemically treated;
• Dry and damaged;
• Moisture thirsty.
On top of these essential things, try and stay away from shampoos that have too many chemicals. Look for those that are free from sulfates.
When searching for a shampoo for relaxed hair, the key is to clean without over-drying in the process.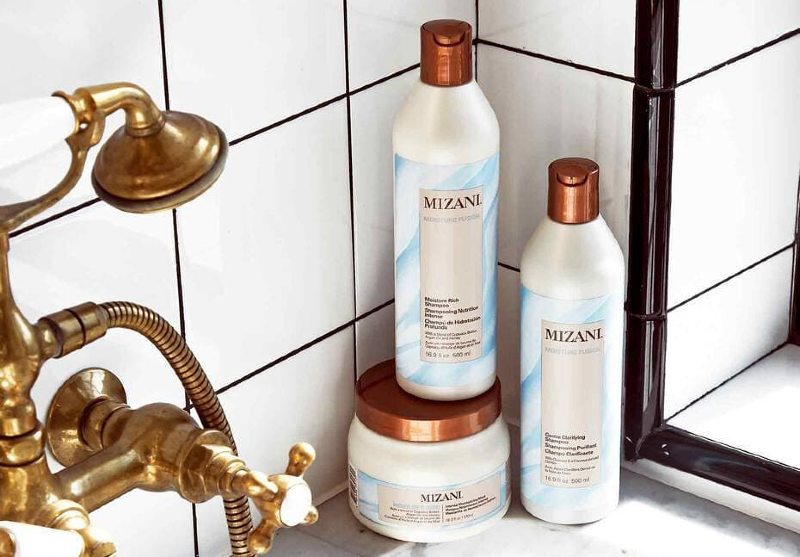 Ingredients
Ingredients are a big deal when looking for shampoos. When you pick up a bottle, look at the label and concentrate on the first three ingredients.
The rule of thumb is that the first three ingredients hold the highest concentration within the product. For relaxed hair, go for a product with:
• Soothing oils like jojoba, avocado, and argan;
• Natural soothers like honey, coconut, and keratin;
• Innovated ingredients that add moisture and repair damage.
The key ingredients should be those that work to protect and nourish hair. Relaxed hair needs all of the moisture that it can get, using the help of these key ingredients to quench its thirst and come back to life!
Brand Exclusives
Some brands have patented ingredients specifically targeted toward relaxed hair. For example, Redken has a bonding agent that's a mixture of acids that work to seal the ends and protect the hair from frizz and dryness.
Other brands do their own thing when it comes to taking care of relaxed hair. Don't always believe everything you read on the bottle, do a bit of your own brand research and see what they're working with.
Top 9 Best Shampoos for Relaxed Hair Reviewed
Davines Nounou Shampoo –

 Top Pick 

MIZANI Moisture Fusion Shampoo –

 Moisturizing Shampoo 

Redken Bonding Shampoo –

 Sulfate Free Shampoo 

Moroccanoil Shampoo –

 Clarifying Shampoo 

PHYTO Moisturizing Shampoo –

 Botanical Blend 

Better Natured Damage Repair Shampoo and Conditioner
1. Davines Nounou Shampoo –
 Top Pick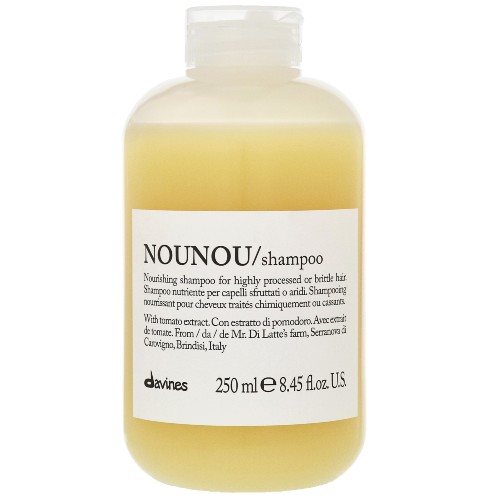 You can also find this product on Walmart.
Active Ingredients: Fiaschetto Tomato extract
Hair Type: Damaged
Size: 8.45 fl oz
Scent: Citrus
Haircare products from Davines are produced in Italy using only the most carefully picked ingredients. This shampoo was voted the best shampoo for relaxed hair and won Allure's 2015 Best of Beauty Awards.
With this Nounou shampoo from the international brand, hair that is damaged, dry, or frizzy will get a complete makeover. The formula comes infused with Fiaschetto tomato, a claiming and nourishing ingredient that works wonders on the hair.
Also included is a list of ingredients that promote shiny and healthy hair plus, those that add strength to relaxed hair.
Why we love it:
The citrus smell is to die for;
Ingredients are bomb;
Works wonders for relaxed and damaged hair;
Made with sustainability in mind.
What we'd change:
Shampoo only comes in 8.45 oz size.
For women with relaxed hair, shampoos and conditioners that add moisture, shine, and strength are essential. This shampoo hits the jackpot, giving hair the boost of energy that it needs to look alive.
---
2. MIZANI Moisture Fusion Shampoo –
 Moisturizing Shampoo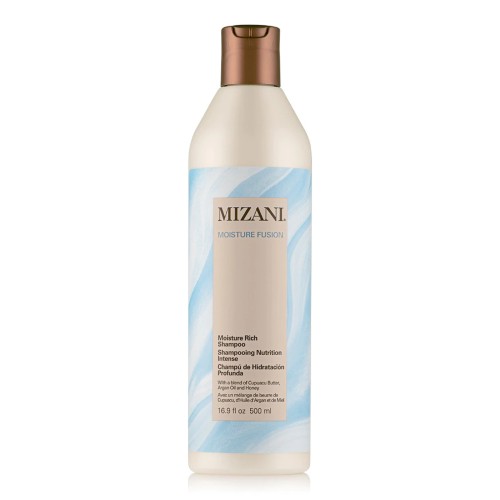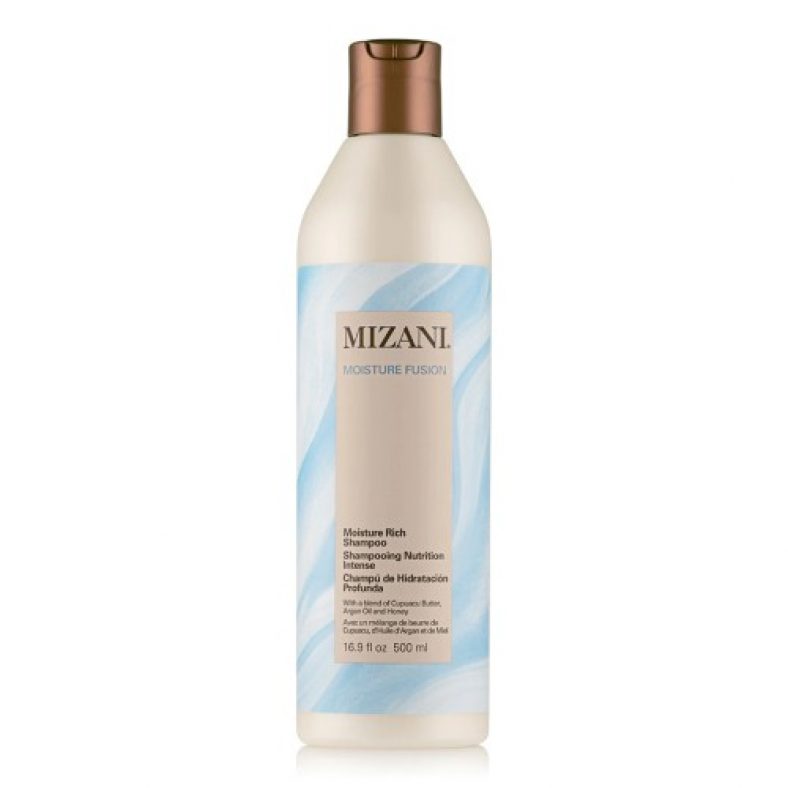 You can also find this product on Sephora, Walmart.
Active Ingredients: Argan Oil, capuaca butter, honey
Hair Type: Dry
Size: 16.9 fl oz
Scent: Honey
Mizani products are all about balance, helping gals with all hair types reach their hair goals. Their salon-grade products are accessible to everyone and shipped all around the world.
For the best shampoo for African American relaxed hair, the Moisture Fusion Moisture Rich shampoo takes the cake. Argan oil, Capuaca Butter, and honey help to fuse hydration into the hair.
It's great for all textures and helps keep relaxed styles looking fresh and hydrated throughout the day. This product is perfect for product gunk prevention, washing away dirt, oil, and other debris while gently soaking into locks for radiant shine.
Why we love it:
Formulated with argan oil, Capuaca butter, and honey;
Filled with healthy vitamins and minerals for all hair textures;
Made by internationally recognized hair product company MIZANI.
What we'd change:
The smell is not our favorite.
For relaxed hair that needs a little extra love, this shampoo is a godsend. Filled with nourishing ingredients that help soothe the hair back to health, you'll notice a difference even after your first shampoo.
---
3. Redken Bonding Shampoo –
 Sulfate Free Shampoo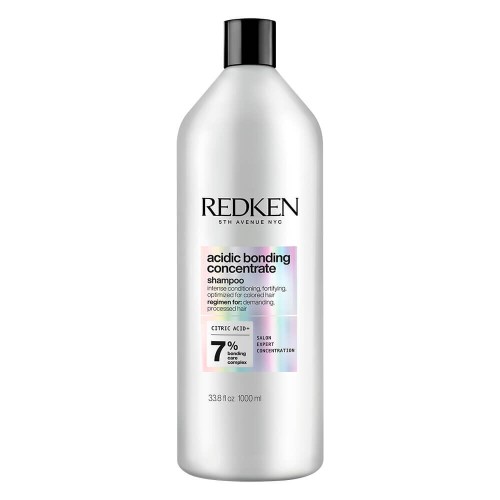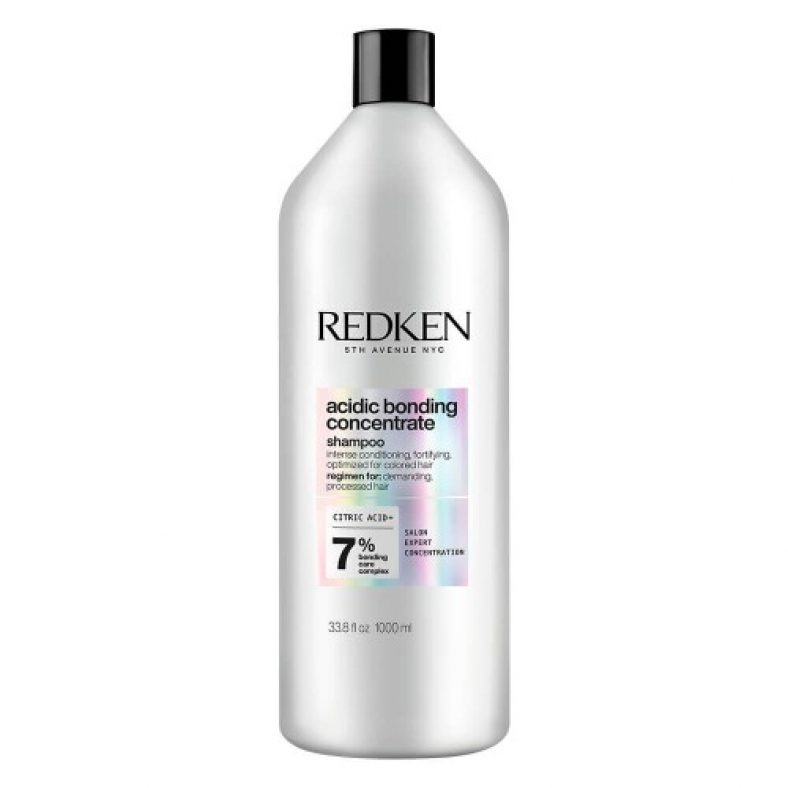 You can also find this product on Walmart.
Active Ingredients: Acidic bonding concentrate
Hair Type: All
Free Of: Free of sulfate
Size: 10.1 fl oz
Redken is a salon favorite, used in several of the hottest spots around the world. They are known for their use of natural and chemical ingredients, meant to bring out the best of every single strand.
This Redken Shampoo is the perfect product for damaged hair, repairing with help from an acidic bonding concentrate. It's great for all hair types from thick Asian hair to dehydrated relaxed hair to give it a little extra moisture after styling.
It's free of sulfate and filled with citric acid that helps repair damaged strands and protect them from breakage.
Why we love it:
Redken's bonding formula comes with citric acid;
Works great to repair dry or damaged hair;
Protects from color fade and provides a lustrous shine.
What we'd change:
The floral fragrance gets masked by the other products.
Redken is a well-known name in the hair business, used in some of the world's hottest spots. Their Bonding shampoo is a sure fit for relaxed hair that's been through it all, giving it a chance to relax and restore.
---
4. Moroccanoil Shampoo –
 Clarifying Shampoo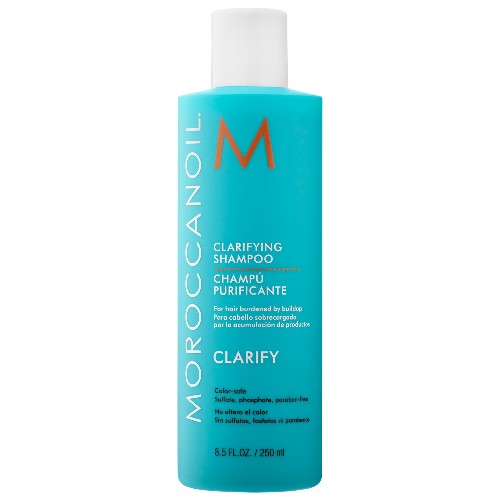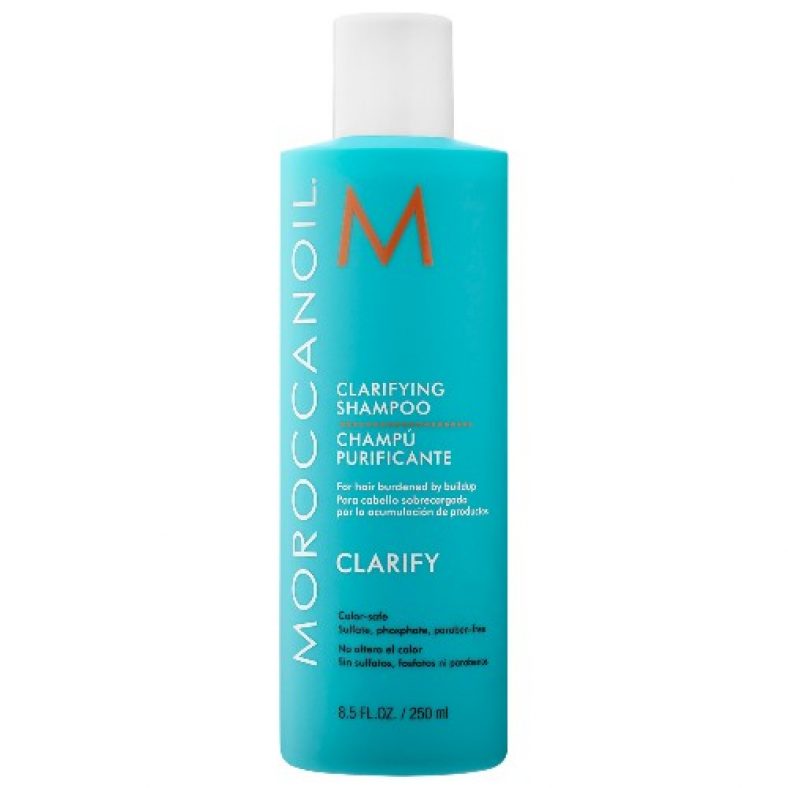 You can also find this product on Sephora, Walmart.
Active Ingredients: Argan and avocado oils
Hair Type: All
Size: 33.8 fl oz
Scent: Fragrance Originale
Argan oil has been around for ages, known for its properties to restore, protect, and heal. When creating this brand, makers looked to keeping the purity of oils, letting them work their magic to create a strong head of hair.
Their Clarifying shampoo is one of their most sought-after products, filled with healthy ingredients like argan, avocado, lavender, and keratin.
For relaxed hair, this shampoo not only washes away impurities and oils but also quenches dry hair. Everything from normal hair to oily to damaged hair works well with the formula, and it's perfect to use for every wash.
Why we love it:
We love the formula, packed with all the feel-good ingredients;
The smell is heavenly;
Removes impurities that can buildup in the hair;
Perfect for all hair types.
What we'd change:
Targeted more on washing away buildup than hydration.
The Moroccanoil Clarifying shampoo is a super pick for cleaning up the hair and freeing it up from gunk. Not only does it clean away residues but nourishes strands with the help of several ingredients, including jojoba, avocado, argan, and more.
---
5. PHYTO Moisturizing Shampoo –
 Botanical Blend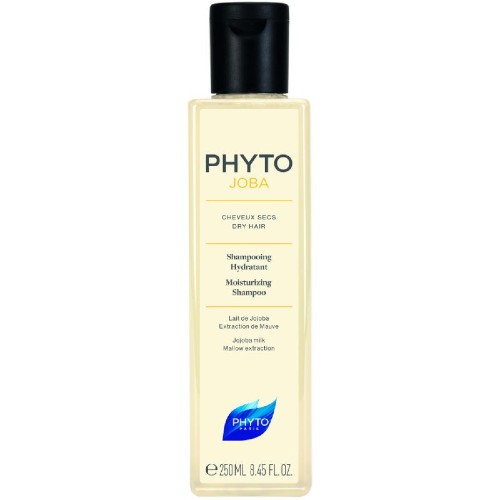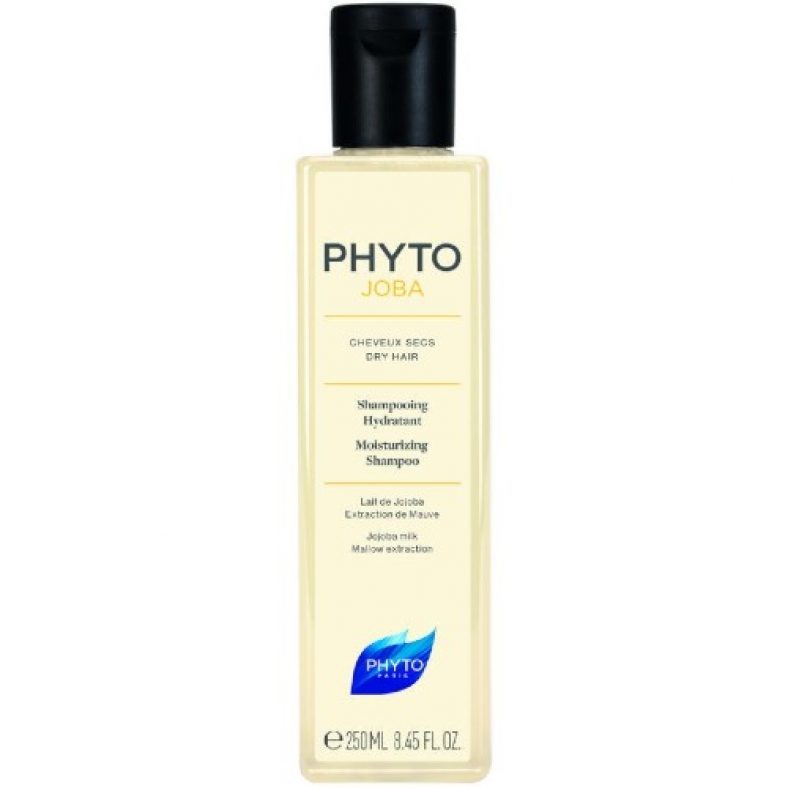 You can also find this product on Walmart.
Active Ingredients: Jojoba milk, mallow extract, and pea proteins
Hair Type: Dry
Free Of: Sulfate-free
Size: 8.45 fl oz
Scent: Coconut
PHYTO is all about using nature's greens to treat hair. In all of their products, you'll find green ingredients that are gentle on the environment yet effective on the hair.
In this PHYTO Moisturizing shampoo, you'll find jojoba milk, mallow extract, and pea proteins. All of these natural ingredients fuse to create a super hydrating shampoo that will make the hair rejoice!
It cleanses thoroughly without stripping the hair and gives the scalp extra love to prevent dry out or dandruff. It's sulfate-free, environmentally friendly, and helps keep relaxed styles from drying out. After one wash, you'll have super strong and healthy locks that shine.
Why we love it:
Filled with all-natural goodies;
Works with all hair textures;
The shampoo has a yummy coconut scent;
Hydrates and strengthens relaxed hair.
What we'd change:
Could it come in a bigger size?!
PHYTO's botanical power motto shows itself off in this shampoo. Hair that's been through it all is no match for this formula, which helps to breathe life back into hair and make it shine like never before.
---
6. Better Natured Damage Repair Shampoo and Conditioner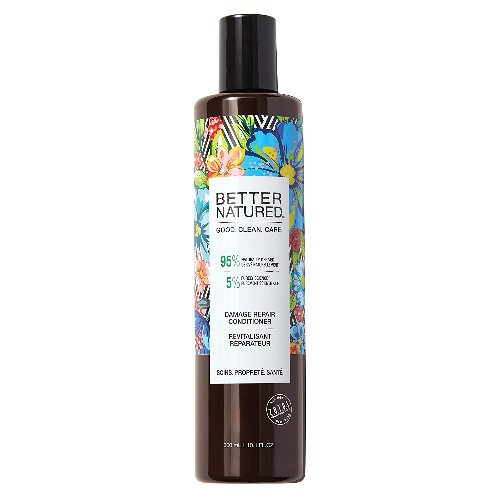 Active Ingredients: Coconut milk, tahitian palm milk and orchid milk
Hair Type: Damage
Free Of: Sulfate-free and parabens
Size: 10.01 fl oz
Scent: Coconut
Embrace the power of nature with Better Natured Damage Repair Shampoo. This sulfate-free and paraben-free formula uses natural ingredients like Coconut Milk, Tahitian Palm Milk, and Orchid Milk to make your hair look better than ever before!
Not only does it reduce breakage by up to 40%, but its organic components will leave you feeling hydrated and strong. Best of all? It won't damage colored tresses.
For the best results with Better Natured Shampoo, start by wetting your hair with warm water. Gently massage a good amount of shampoo onto your scalp, making sure that it is spread out evenly.
Lather the shampoo to form foam and let it sit for several minutes so it can nourish each strand's follicles. Finally, rinse away any extra product using warm water for lusciously healthy-looking locks! Use this formula regularly to strengthen and boost the vitality of your mane!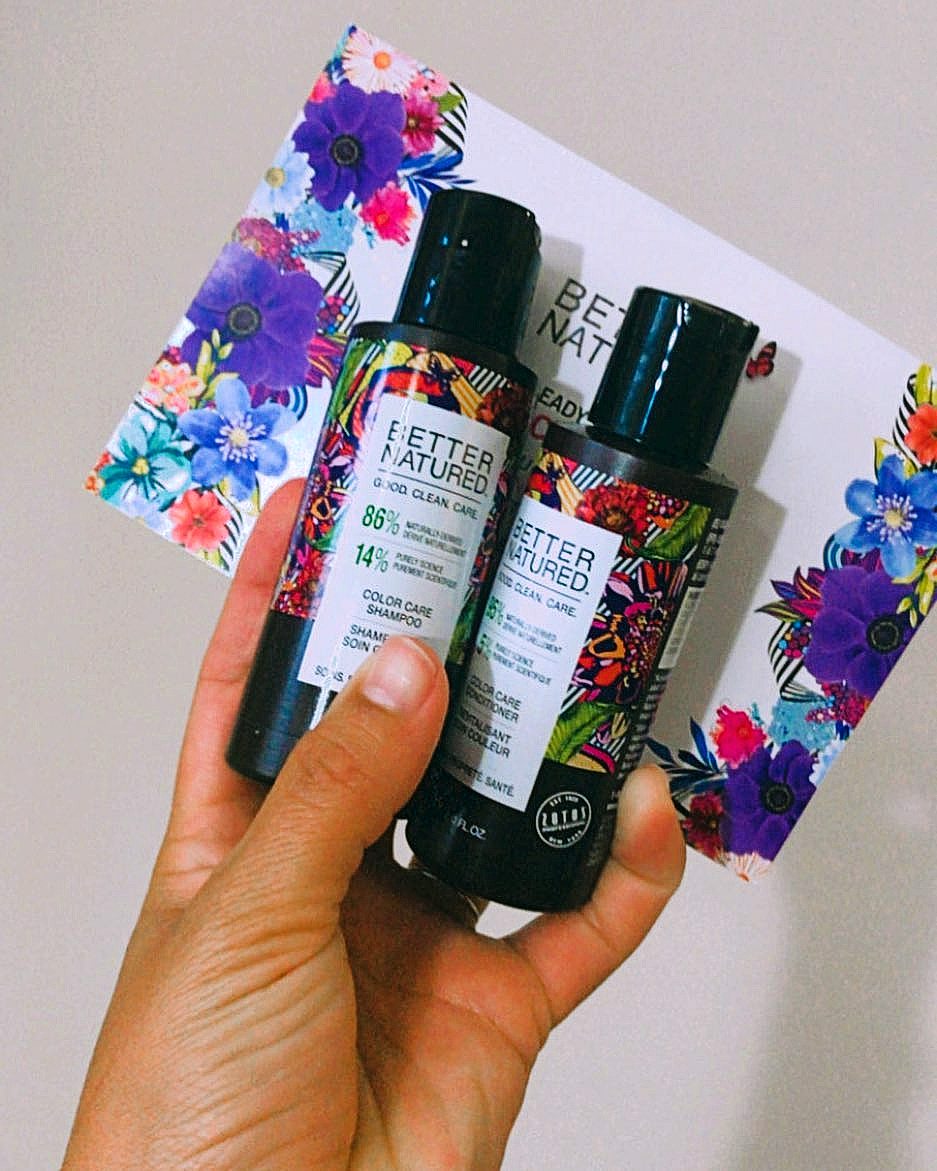 On the other hand, this shampoo may not be suitable for those looking for a more intense cleanse as it does not contain any sulfates or parabens. Moreover, its price tag could also be too high for some pockets.
Why we love it:
Formulated with 86% naturally ingredients
Helps reduce breakage
Free of sulfates and parabens
Fresh fruity-floral scent
Cruelty-free and vegan friendly.
What we'd change:
Not suitable for those who prefer a more cleansing shampoo
Expensive
Not suitable for those with sensitive scalps.
I had been on the lookout for a shampoo that could revitalize my dull locks, so when I heard about Better Natured Damage Repair Shampoo, I thought it was worthy of exploration. After all, what did I have to lose? After just a few weeks of continual use, I could tell that my hair was stronger and more voluminous. Breakage had decreased drastically resulting in healthier looking locks than before. Not only this, but the fact that it's free from sulfates and parabens gave me peace of mind knowing it wouldn't harm my colored hair either! I'm a big fan of this moisturizing shampoo for relaxed hair – its swift and remarkable results, combined with natural ingredients make it the best option for getting your hair back to life!
7. Pantene Pro-V Shampoo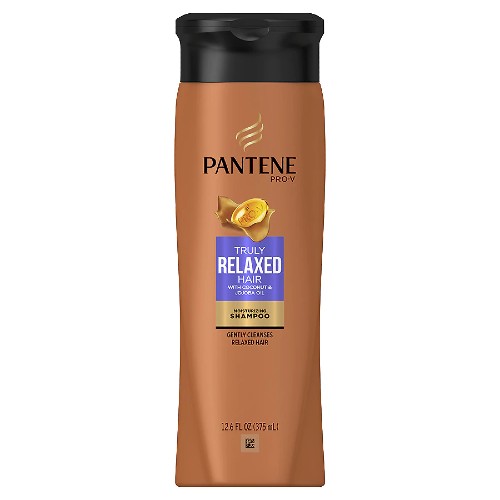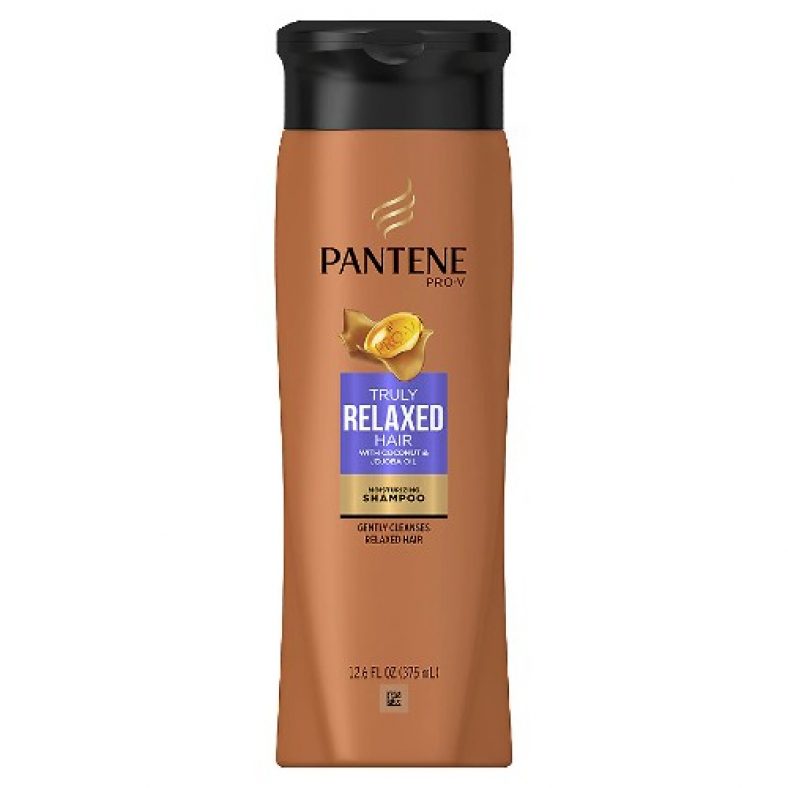 You can also find this product on Walmart.
Active Ingredients: Jojoba, dimethicone
Hair Type: Dry, Color Treated, Chemically Treated
Size: 25.4 fl oz
Pantene is probably one of the most recognized brands in the world. Each product has a little something to offer hair infused with vitamins and helping create healthy brag-worthy locks.
Their Truly Relaxed Moisturizing shampoo has a blend of coconut and jojoba that work together to protect against harsh environmental factors.
It washes away all of the gunk and leaves relaxed hair filled with hydration and moisture. This shampoo offers a little bit of everything for all hair types, coming with a patented blend of vitamins and minerals.
Why we love it:
Enriched with vitamins and minerals;
Ingredients include coconut and jojoba oil;
Repairs and restores relaxed hair;
Created by world-renowned brand Pantene Pro-V.
What we'd change:
Not recommended for oily hair.
Pantene Pro-V has been in the hair game for years, known for its innovative products and superstar ingredients. This shampoo is great for relaxed hair that's worn-out, restoring to its natural luster and shine. Prevent breakage and infuse hair with moisture with help from Pantene's patented mixture.
---
8. Tea Tree Shampoo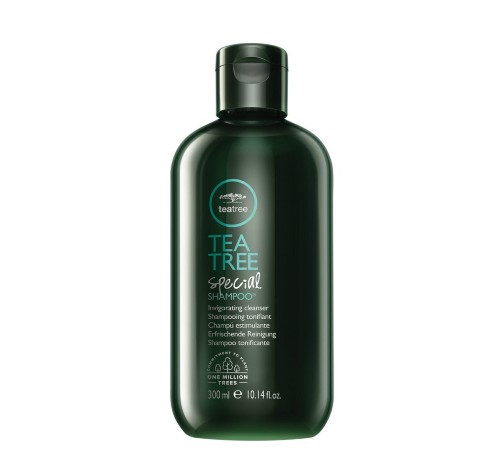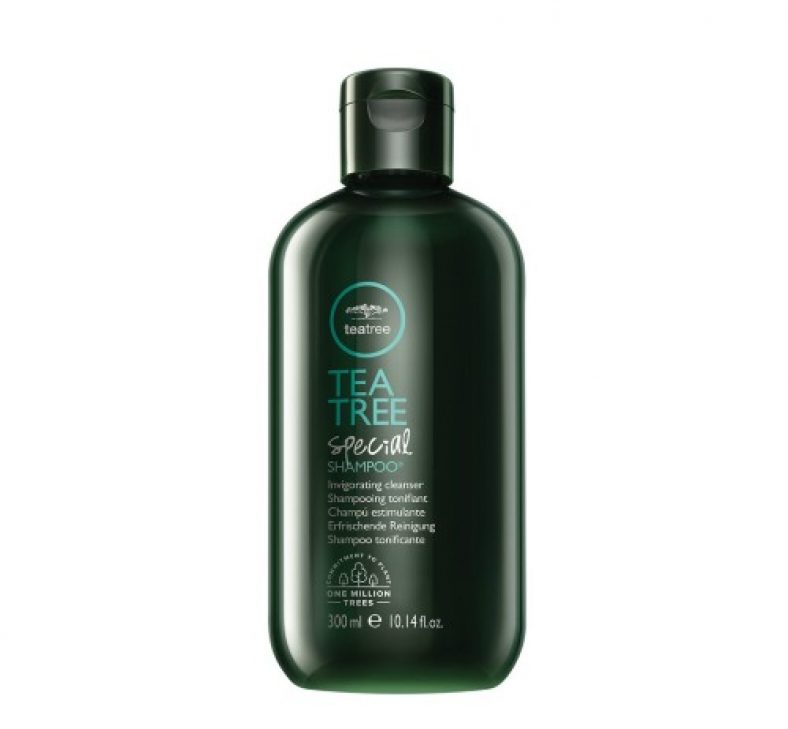 You can also find this product on Ulta, Bed Bath & Beyond.
Active Ingredients: Tea tree oil, peppermint and lavender
Hair Type: All
Free Of: Paraben Free
Size: 16.9 fl oz
Scent: Tea Tree, peppermint and lavender
From one of the most well-known stylists, Paul Mitchell, comes Tea Tree, the brand's plant-infused natural line, filled with natural ingredients that help to soothe and repair hair.
This Tea Tree Shampoo leaves the scalp tingling thanks to tea tree oil, peppermint, and lavender. While strong enough to wash away any debris, the gentle formula is powerful enough to repair and reverse the damage done to relaxed hair.
The smell is invigorating, the texture is soothing, and the results are jaw-dropping, making it one of our favorites for sure.
Why we love it:
Infused with peppermint for a tingling sensation right out of the shower;
The smell is relaxing and soothing;
Gentle on the scalp and strands but tough on dirt;
Created by mastermind Paul Mitchell.
What we'd change:
---
9. SheaMoisture Intense Hydration Shampoo – Best Shampoo and Conditioner for Relaxed Hair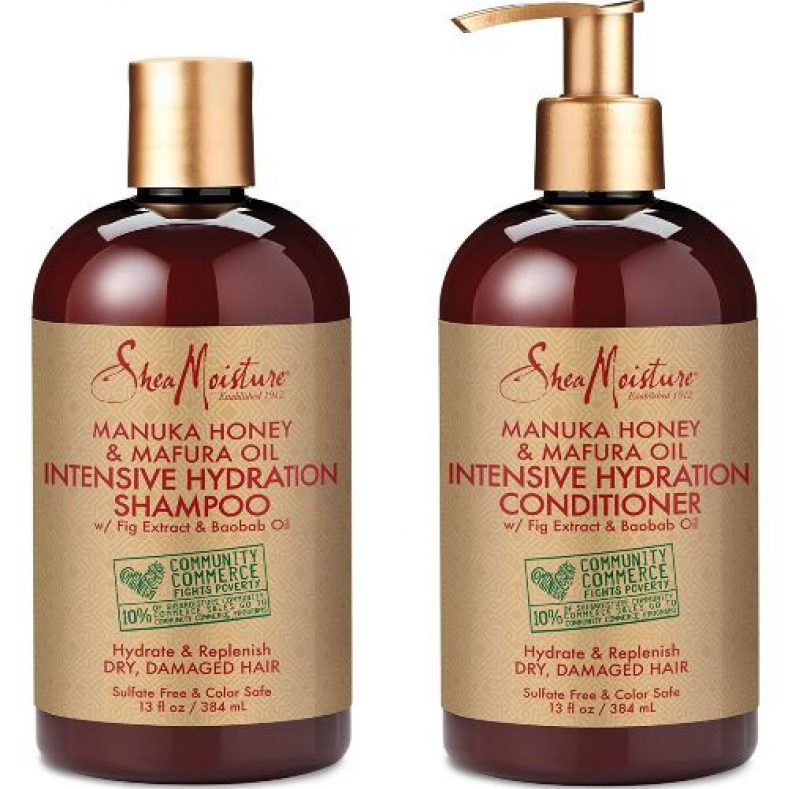 You can also find this product on Walmart.
Active Ingredients: Manuka honey, mafura oil
Hair Type: All, Dull, Color Treated, Dry, Damaged
Free Of: Mineral oil free,phthalate free,sulfate free
Size: 13 fl oz
Scent: Honey
SheaMoisture is all about using the best that nature has to offer to create its powerful haircare products. With this shampoo and conditioner combo, you'll find manuka honey, the star ingredient that helps lock in moisture while protecting from other damage.
It also has African Rock Fig, which strengthens hair while protecting it from environmental damage. No matter your hair type, you can use this product if your relaxed hair needs some TLC.
From washing away buildup, restoring strands, and protecting it from damage, this shampoo does it all; and smells great too!
Why we love it:
Infused with organic shea butter, honey, and baobab;
Smells stunning and relaxes the senses;
Cleans away buildup and product gunk;
Perfect for use with all hair types.
What we'd change:
The texture is a bit thick.
A mixture of Manuka honey and Mafura oil works to give thirsty and tired hair the pick-up that it needs. It helps wash away all of the buildups and leaves the hair feeling fresh and hydrated, full of shiny and strength.
---
What is Relaxed Hair
Relaxed hair is a great choice if you're looking to switch up your look or just want a break from curly or kinky hair textures.
Say goodbye to detangling and difficulty styling, as relaxed hair is easier to manage and style into different looks – all while maintaining its straightness! This type of hair has been chemically altered to loosen tight coils, resulting in a buttery soft, smoother look.
It can be quite versatile, since you can manipulate it into various styles with less friction than ever before. It's worth considering if you're in the market for a more manageable mane!
Why You Should Use a Shampoo for Relaxed Hair
If you have relaxed hair, using the right shampoo is a must. A shampoo specifically formulated for relaxed hair can be incredibly beneficial in maintaining the integrity of your locks.
It will provide hydration while also protecting your hair from dryness and breakage. Such shampoos typically contain proteins, amino acids and conditioners to increase strength and volume, giving your hair a vibrant look that lasts.
Free of sulfates and other harsh chemicals, a shampoo designed for relaxed hair allows you to keep your locks healthy without leaving them feeling weighed down or greasy.
How to Use Shampoos with Relaxed Hair: Useful Tips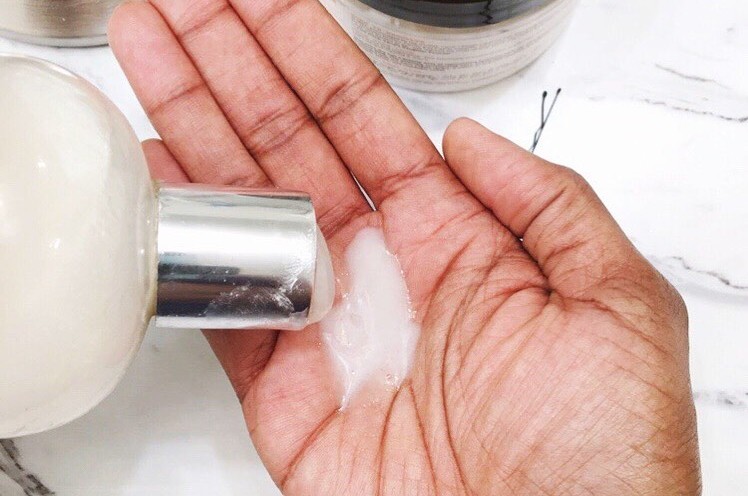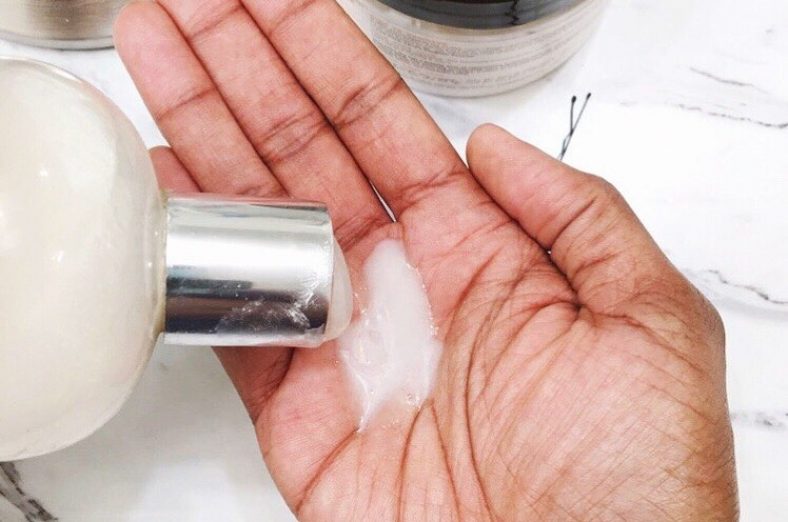 When shampooing relaxed hair, you have to take extra care and precaution to maintain your style and protect your hair. Below are a few suggestions when shampooing your hair after a relaxing treatment.
Go Sulfate-Free
Because of the chemicals involved in relaxing the hair, we suggest using shampoos free from sulfates. Keep from adding more chemicals and give your relaxed locks a break and skip the sulfates.
Don't Wash Every Day
Washing every day, you run the risk of drying out the scalp and the hair. Shoot for two times a week, letting your natural oils come in to play to nourish the scalp before giving hair a good wash.
Work from Root to Tip
The ends of the hair are the driest and oldest parts of the hair. That's why you should concentrate most of the product at the roots, working it in the most and then dragging the product to ends before rinsing.
Don't Skip the Moisture!
Always follow up with a condition and seal. Moisture is key to keeping hair healthy, shiny and making styles last long.
How to Read Hair Product Labels
Reading hair product labels can be a bit overwhelming, especially with all the technical terms and unfamiliar ingredients. I want to share some tips on how to read hair product labels so you can make informed decisions about the products you use on your hair.
The first thing to look for when reading hair product labels is the list of ingredients. Ingredients are listed in order of concentration, with the most abundant ingredient listed first.
It's important to pay attention to the first few ingredients as they make up the majority of the product. If you see ingredients that you are not familiar with or are known to be harsh or damaging, it's best to avoid that product.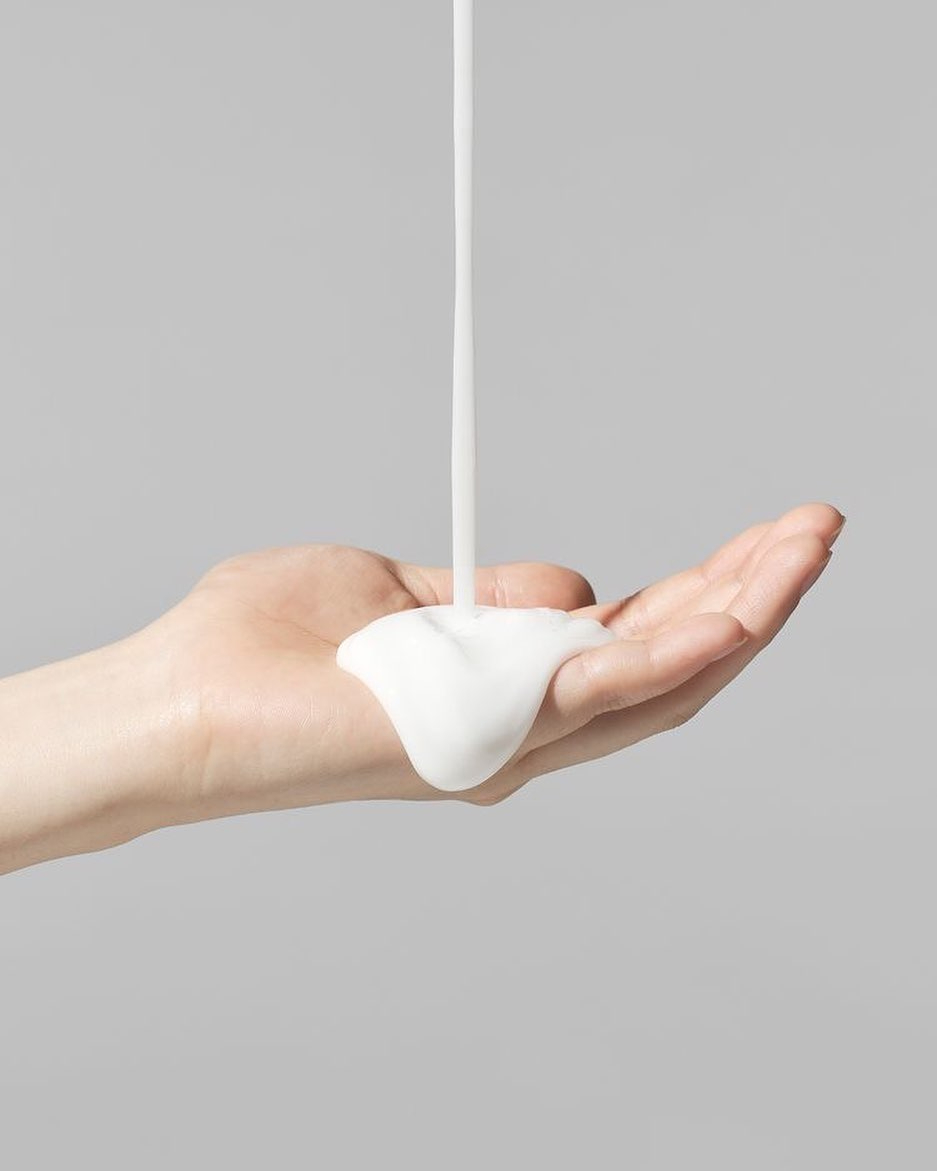 Another important thing to look for on hair product labels is the pH level. The pH level of a product can have a big impact on the health of your hair. A pH level of 7 is neutral, while anything above 7 is alkaline and anything below 7 is acidic.
Relaxed hair should be maintained at a pH of 4.5 – 5.5 which is considered to be acidic. You should also look for hair product labels that contain ingredients such as natural oils, butters, and proteins.
These ingredients will help to moisturize and strengthen your hair. Some of the most beneficial ingredients to look for include coconut oil, shea butter, and keratin.
By knowing what to look for, you can make informed decisions about the products you use on your hair, and ensure you choose the best products for your hair type.
Shampoos for Relaxed Hair FAQ
Why not wash relaxed hair with shampoos with sulfates?
Sulfates are salts that are chemically enhanced. Because relaxed hair has already had a dose of chemicals, it's recommended to leave them out, not overdosing the hair with chemicals.
How often to shampoo and condition over-processed relaxed hair?
If hair is over-processed, it needs time to heal. Try to shampoo and condition no more than twice a week, avoiding any heat or styling products as hair is repairing. Focus on condition and seal, giving the hair the moisture it needs to heal.
When to use a clarifying shampoo on relaxed hair?
Clarifying shampoos for relaxed hair are great for strands that need a good wash. It's gentle and will get rid of gunk and debris that build up in the hair after days of not washing.
Conclusion
Relaxed hair requires a lot of care to keep it strong, healthy, and shiny. Using any one of these products, you'll restore hair and keep it from drying out. If you're still having a hard time deciding, go with our top pick, Davines Nounou Shampoo.
Plus, don't forget to moisturize, adding hydration back in after washing and styling. For any questions, concerns, or comments, give us a shout! You know we'll hit you back soon!
Also read: