Hey there, beautiful people! As a hairstylist with years of experience under my belt, I'm here to share my expertise and help you find the best co-wash for relaxed hair.
Co-washing relaxed hair is an essential step in maintaining the strength, health, and fabulousness of your mane. So, if you've been on the lookout for that perfect product that'll not only cleanse but also rejuvenate your tresses, you've come to the right place.
Let's dive into the world of co-washes and discover some game-changing gems that'll transform your hair care routine and have you turning heads wherever you go.
Why Do You Need Cowash for Relaxed Hair?
Let me tell you why co-washing is an absolute must for your relaxed hair! I've seen the magic of co-washing work wonders on my clients' locks.
It's all about keeping your hair healthy, hydrated, and looking fly, even when you're rocking that chemically relaxed style. When you relax your hair, it goes through a chemical process that can weaken its structure and strip away natural oils.
Co-washing, which is short for "conditioner washing," is a gentle and nourishing alternative to using harsh shampoos. It helps retain your hair's natural moisture, preventing breakage and leaving your strands feeling oh-so-soft and manageable.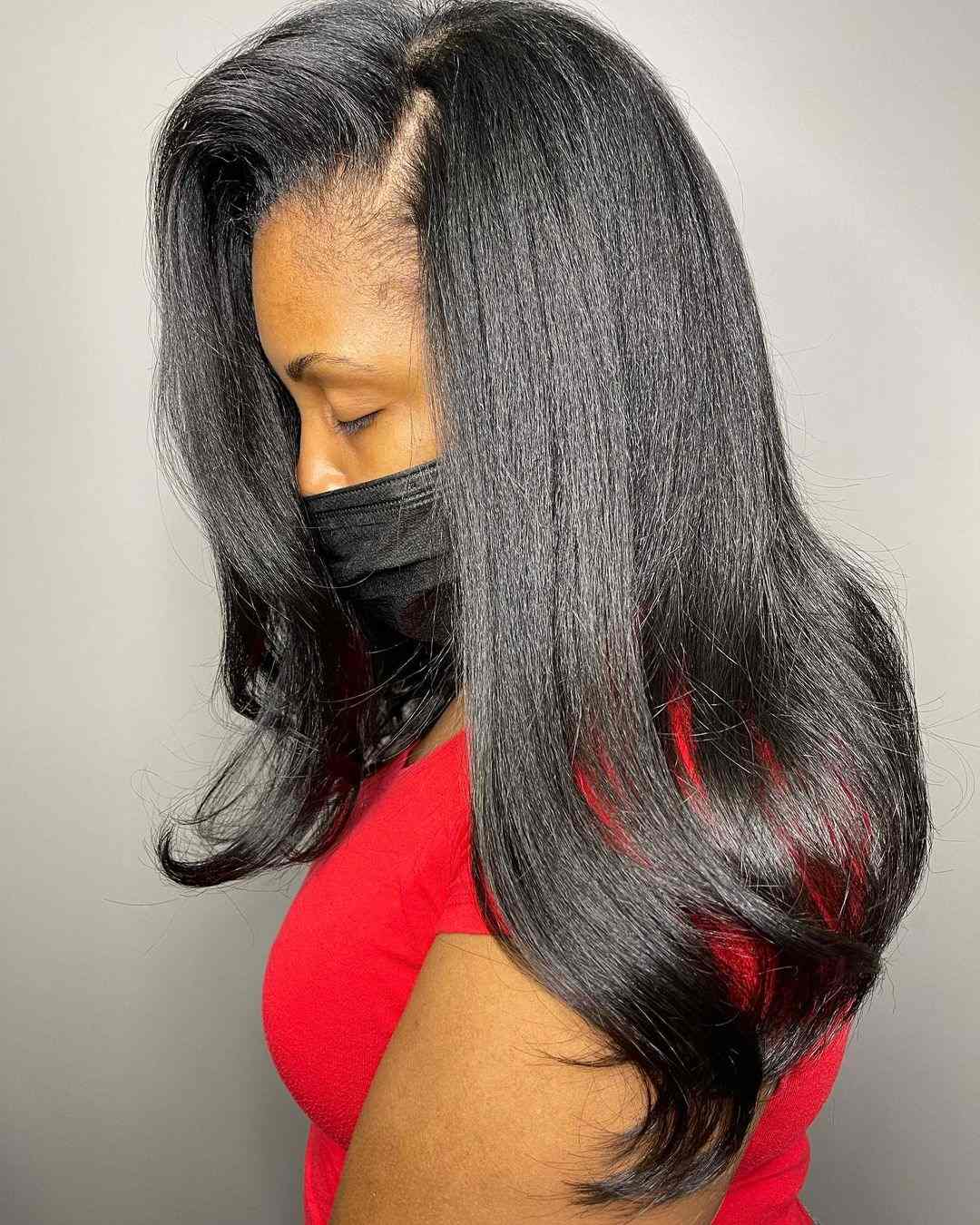 But wait, there's more! Co-washing relaxed hair is also a lifesaver when it comes to detangling those stubborn knots. A good co-wash has plenty of slip, making it easier to glide your fingers or a wide-toothed comb through your tresses without causing breakage.
Plus, let's not forget that co-washes are often infused with nourishing ingredients like oils and botanical extracts, providing your hair with an extra dose of TLC.
Don't get me wrong — I'm not saying you should ditch shampoo altogether. But incorporating co-washing into your relaxed hair routine can help maintain a healthy balance between cleansing and hydration.
Think of it like a spa day for your hair — every once in a while, it needs some pampering to stay looking and feeling its best.
Top 3 Co-Wash Conditioners for Relaxed Hair Reviewed
Design Essentials Natural Almond & Avocado Nourishing Co-Wash –

 Top Pick 

MIZANI True Textures Cream Cleansing Conditioner –

 Runner Up 

Argan Oil Hair Conditioner by Creme of Nature –

 Great Value 
1. Design Essentials Natural Almond & Avocado Nourishing Co-Wash –
 Top Pick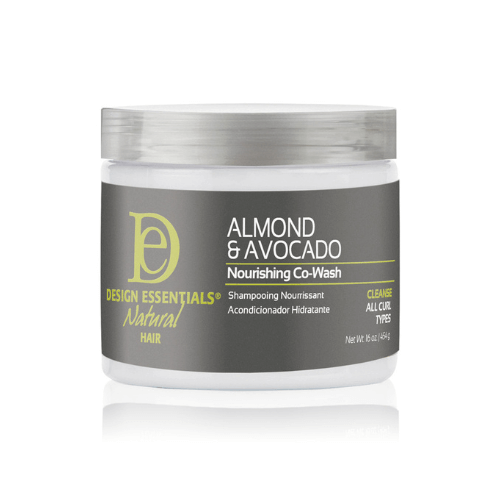 You can also find this product on Amazon.
Active Ingredients: Almond & Avocado oils
Hair Type: Curly, All
Size: 16 Oz
I've had the pleasure of working with numerous products, but one that consistently stands out for my clients with relaxed hair is Design Essentials Co-Wash.
This luxurious co-wash has earned the top spot out of three contenders for good reason. It offers a unique combination of nourishing ingredients that gently cleanse and hydrate the hair, without feeling heavy or greasy.
Allow me to share my insights on this fantastic product. The creamy, lightweight formula of this co-wash effortlessly cleanses the hair without stripping it of its natural oils.
For those of us with relaxed hair, this means preserving much-needed moisture and preventing dryness. The co-wash also offers an impressive detangling action, saving you up to 30 minutes of precious time.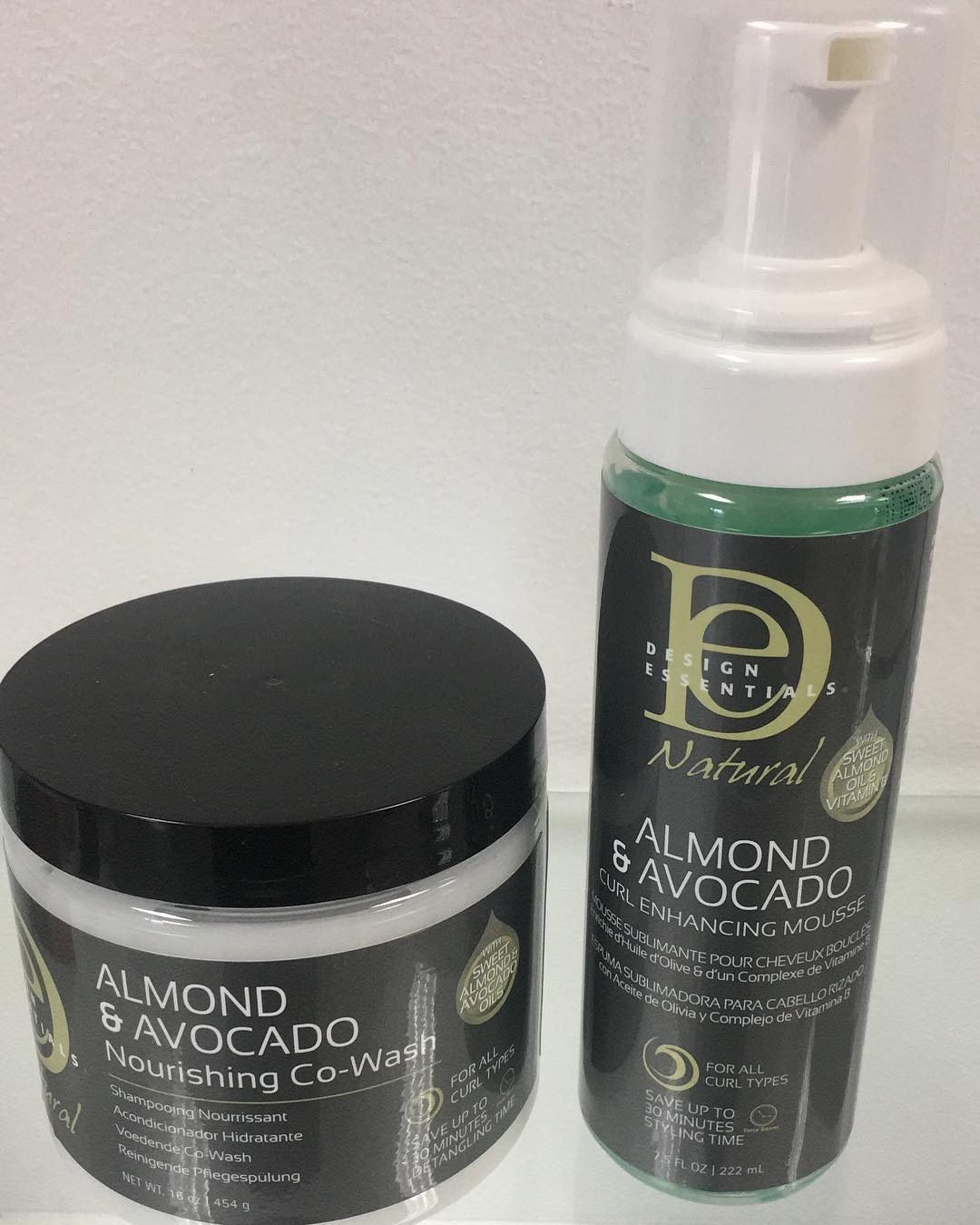 The result? Soft, manageable, and noticeably hydrated curls that are easy to style and maintain. However, some users find that the scent of this product might be a bit too strong for their liking.
With Design Essentials Co-Wash, you can enjoy a pampering wash day experience that leaves your relaxed hair looking and feeling its best. Say goodbye to dry, unmanageable hair, and embrace the magic of this nourishing co-wash for a healthy, vibrant, and frizz-free mane.
2. MIZANI True Textures Cream Cleansing Conditioner –
 Runner Up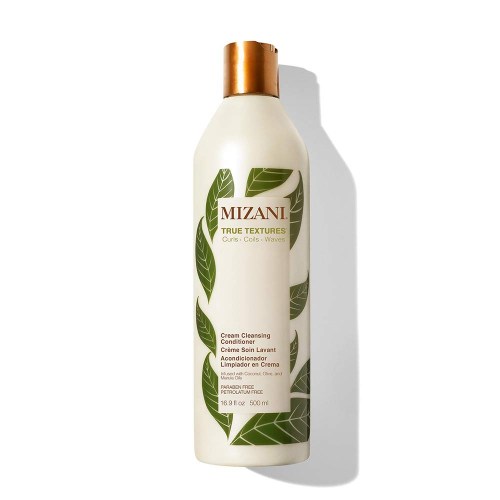 Active Ingredients: Coconut, olive and marula oils
Hair Type: Curly
Size: 16.9 Fl Oz
I'm excited to share my experience with a Mizani cleansing conditioner that has quickly become my go-to recommendation for clients with wavy to tightly coiled hair.
This luxurious, non-stripping co-wash is loaded with natural ingredients and is free of silicones, sulfates, and parabens. Let me tell you why it deserves a place on our list of the best co-washes for relaxed hair.
The Mizani product's nutrient-rich formula, containing antioxidants and essential fatty acids, works wonders in repairing damage and restoring shine.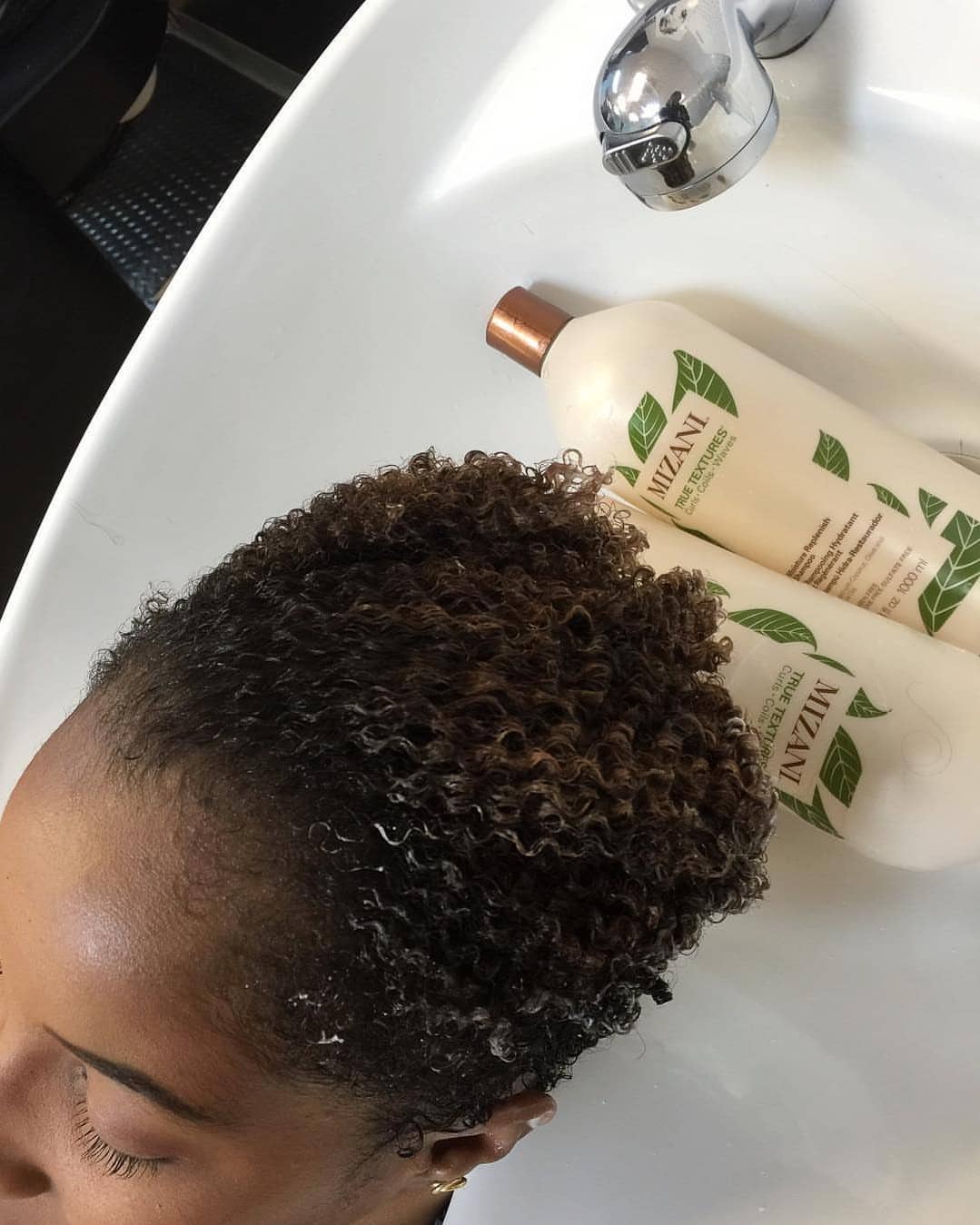 Coconut, olive, and marula oils ensure that your hair is cleansed while retaining its essential moisture, leading to silky softness. Moreover, the low-lather formula ensures that the co-wash won't strip your hair of its natural oils, leaving it refreshed and hydrated.
However, some users have found that it lacks the desired amount of slip for easy detangling. This can make combing through curly hair with a wide-tooth comb slightly more challenging.
Despite this minor drawback, many users still consider the Mizani cleansing conditioner to be an excellent choice and are likely to repurchase it.
In conclusion, Mizani cleansing conditioner is a game-changer for anyone with relaxed hair looking for a gentle yet effective way to cleanse, condition, and maintain the health of their tresses. Its nutrient-rich formula and moisturizing properties make it a must-have in your hair care arsenal. Give it a try and experience the difference for yourself, keeping in mind the slight lack of slip for detangling purposes.
3. Argan Oil Hair Conditioner by Creme of Nature –
 Great Value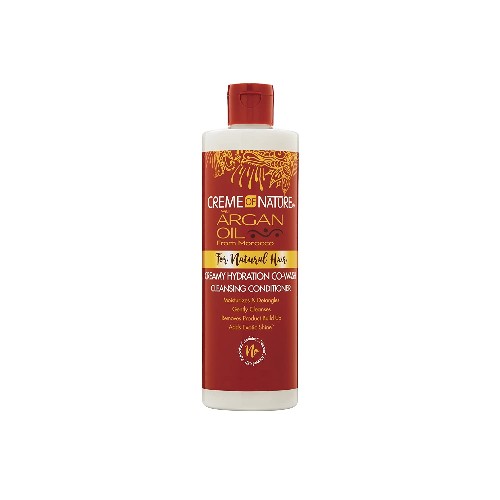 Active Ingredients: Argan oil
Hair Type: Curls, Waves
Size: 12 Fl Oz
I'd like to discuss Creme of Nature Co-Wash, a product that is perfect for those with relaxed hair. Infused with nourishing Argan Oil from Morocco, this lightweight, color-safe formula gently cleanses and removes product residue while maintaining essential moisture.
Ideal for all hair types, it provides a deep conditioning treatment that strengthens, helps prevent breakage, and detangles, making it a popular choice for those with kinks, coils, and waves.
Now, let's talk about the shine. Creme of Nature Co-Wash has a unique Exotic Shine feature that leaves your hair looking healthy and radiant. You can use it after every shampoo as a quick conditioner or as a weekly reconstructor for a more intensive treatment.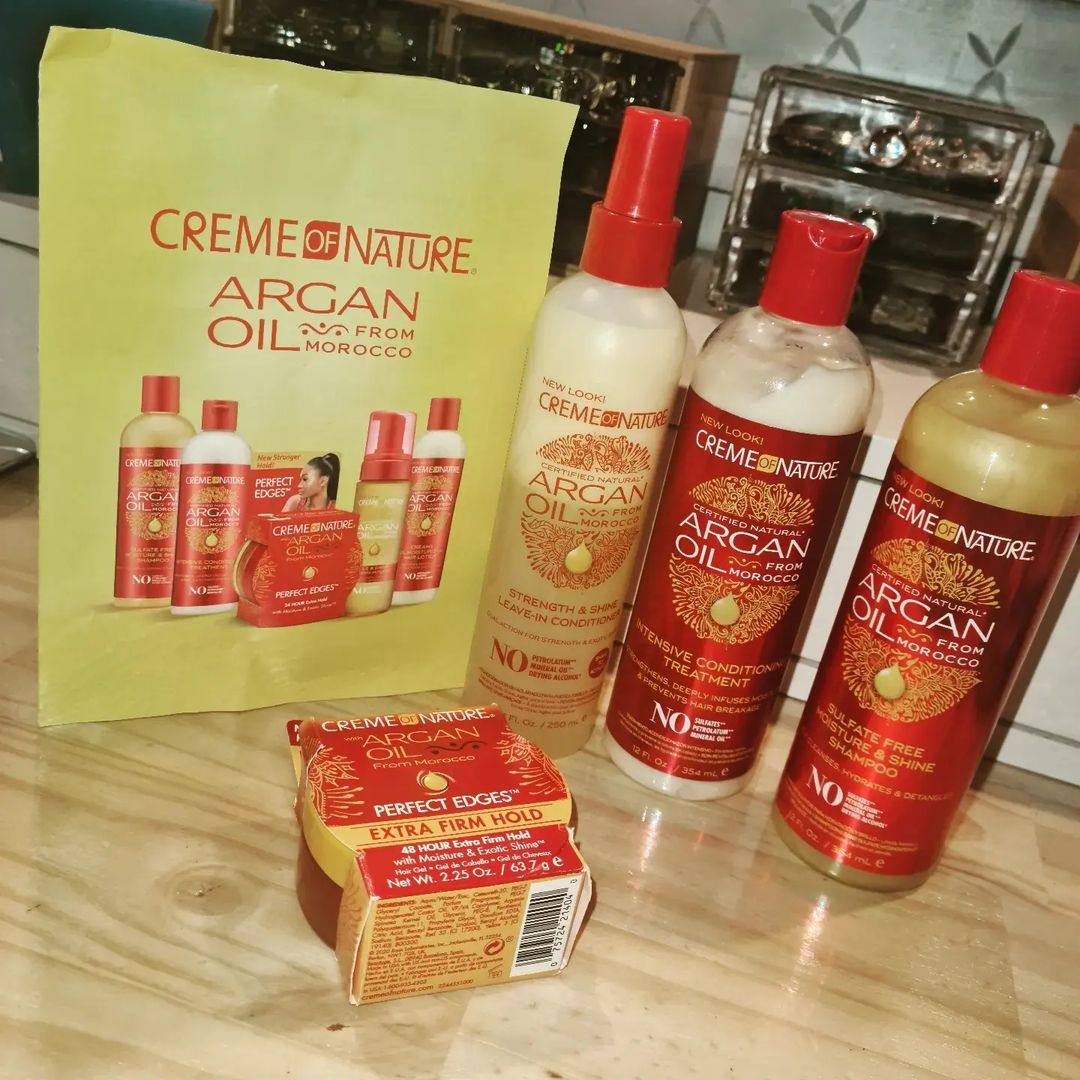 Either way, you're left with hair that not only feels amazing but looks fantastic too. However, it's important to address some concerns I have with this product.
From my experience, to ensure effective cleansing, a generous amount of the co-wash is required, which can result in product residue if not rinsed thoroughly.
In conclusion, Creme of Nature Co-Wash is an exceptional product for relaxed hair, delivering hydration, strength, and shine all in one go. If you haven't tried it yet, it's time to give your tresses the care they deserve.
How to Choose the Best Cleansing Conditioners for Relaxed Hair?
Co-washing, or conditioner washing, is an essential technique for preserving moisture and preventing damage. Selecting the best co-wash for your relaxed hair is a journey that should be approached with creativity, detailed research, and, most importantly, an understanding of your unique hair needs.
Let's dive into the steps for choosing the perfect co-wash.
Assess your hair type and needs: Relaxed hair can be fine, medium, or coarse, and may have varying levels of porosity (Audrey Davis-Sivasothy 2011). Pay close attention to your hair's specific needs, like moisture, protein balance, or detangling, and prioritize a co-wash that caters to these concerns.
Look for nourishing ingredients: The best co-washes for relaxed hair are infused with nutrient-rich ingredients like shea butter, avocado oil, and honey. These natural powerhouses work wonders in restoring hydration, strength, and elasticity to your tresses.
Avoid harsh chemicals: Keep an eye out for sulfates, silicones, and parabens that can strip your hair of its natural oils and further weaken your strands. Opt for a co-wash with a gentle, sulfate-free formula for a luxurious, safe cleanse.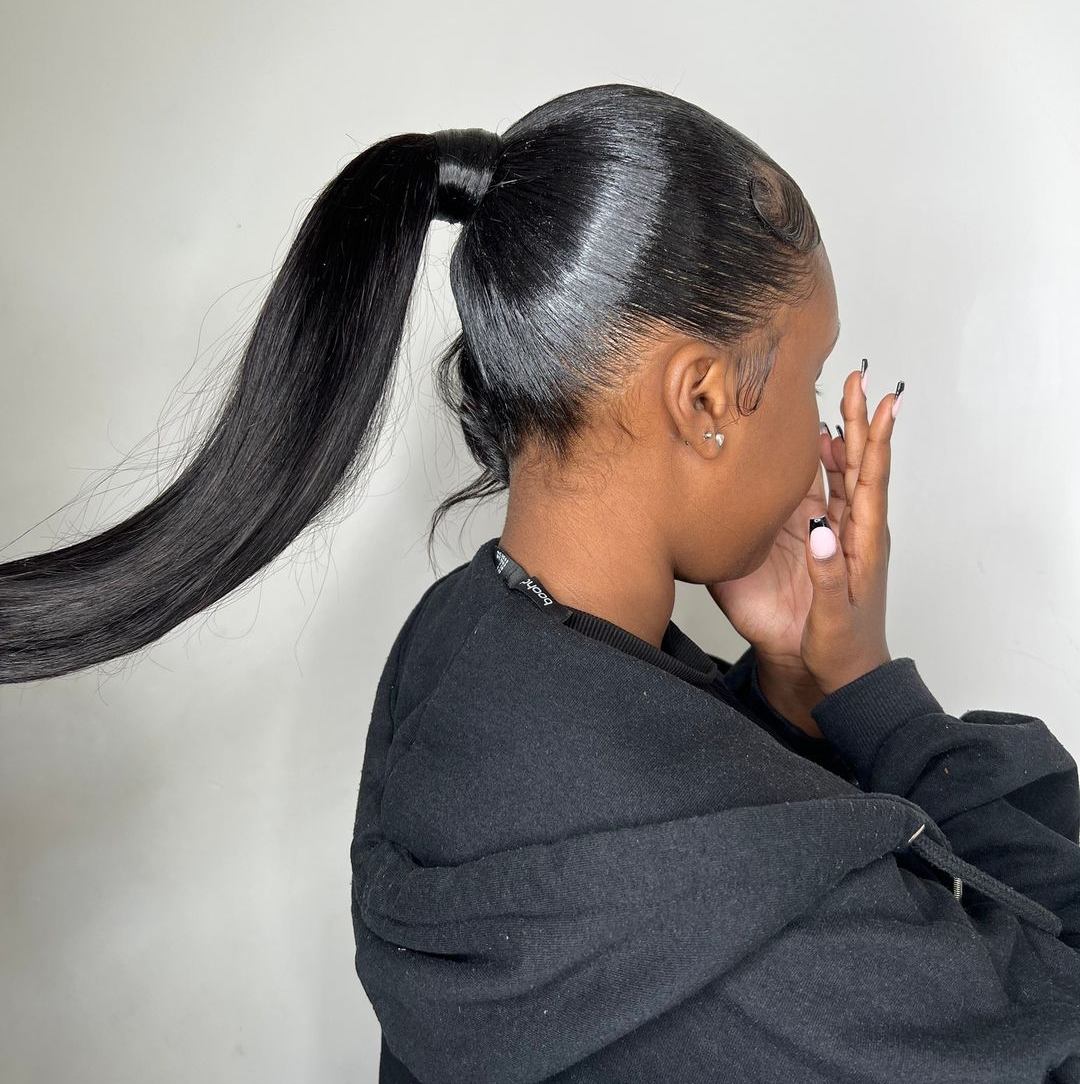 Read reviews and consult with a professional: Turn to your fellow queens and kings with relaxed hair, read reviews, and discuss with your hairstylist to gain insight into the co-washes that have worked well for others with similar hair types.
Experiment and embrace the journey: Your hair is unique, and it may take a bit of trial and error to find the best co-wash for your relaxed hair. Embrace this process and celebrate the joy of discovering the product that makes your hair thrive.
Remember, the perfect co-wash is one that nourishes your hair, keeps it moisturized, and enhances its natural beauty. Choose wisely and unlock the magic that awaits in your luscious, relaxed locks!
How to Co-Wash Relaxed Hair?
Let's delve into the step-by-step co-washing process to unlock the full potential of your beautiful relaxed hair.
Prep your hair: Begin by gently detangling your hair with a wide-tooth comb or your fingers. This crucial step will help minimize breakage during the co-washing process.
Thoroughly wet your hair: Saturate your hair with lukewarm water, allowing the cuticles to open and prepare your strands to receive the nourishing benefits of your chosen co-wash.
Apply the co-wash: Dispense a generous amount of your co-wash into your palm, and emulsify it between your hands. Starting at the scalp, massage the product using circular motions, ensuring every inch of your scalp is cleansed and invigorated.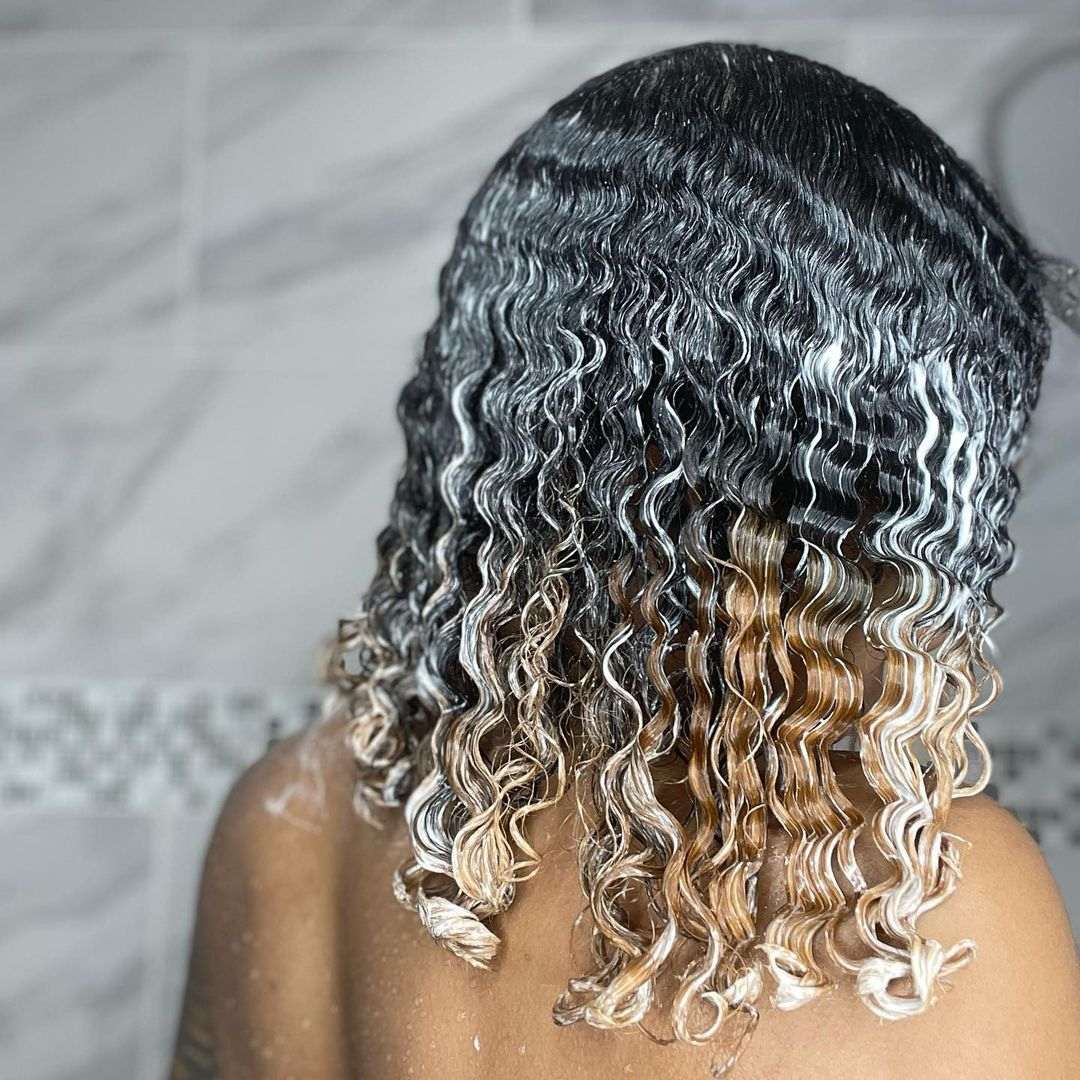 Let it marinate: Allow the co-wash to sit for 3-5 minutes, giving your hair the opportunity to absorb its nourishing ingredients. This is the perfect moment to sing your heart out, visualize your dreams, or practice your best dance moves.
Rinse and rejoice: Using lukewarm water, gently rinse the co-wash from your hair, ensuring all product is removed. As you rinse, envision your hair absorbing the love and care you've just provided.
Seal the deal: Complete your co-washing session by applying a leave-in conditioner or oil to lock in moisture, enhance shine, and leave your hair feeling as if it were kissed by the sun.
Remember, co-washing is a celebration of your relaxed hair's beauty and resilience. Embrace the process with creativity, burstiness, and love, and watch as your hair flourishes like never before
FAQ
Can co wash be used on relaxed hair?
Yes, co-wash can be used on relaxed hair. It is a gentle cleansing method that uses a moisturizing conditioner to clean and hydrate the hair without stripping its natural oils. Since relaxed hair is often more fragile and prone to dryness, co-washing can help maintain its health and manageability.
How often should you co-wash?
How often you should co-wash depends on your hair type and individual needs. Generally, it's recommended to co-wash 1-2 times a week for most hair types. If you have particularly dry, curly, or textured hair, you may benefit from more frequent co-washing. Adjust the frequency based on your hair's response and personal preferences.
Summary
In conclusion, discovering the best co-wash for your relaxed hair is a journey of self-love, empowerment, and hair-care enlightenment. As a hairstylist, I encourage you to embrace this adventure with open arms, a creative spirit, and a burst of enthusiasm.
Remember to consider your hair's unique needs, seek out nourishing ingredients, avoid harsh chemicals, and consult with fellow hair enthusiasts and professionals.
Trial and error are part of the process, but once you find that perfect co-wash, your relaxed hair will thank you with bountiful hydration, softness, and undeniable radiance.
Also read:
References:
Maria Fernanda Reis Gavazzoni Dias (2019). Pro and Contra of Cleansing Conditioners. https://karger.com/sad/article/5/3/131/291523
Audrey Davis-Sivasothy (2011). The Science of Black Hair: A Comprehensive Guide to Textured Hair. https://books.google.bg/books?hl=uk&lr=&id=WQAZAgAAQBAJ
Annyella Douglas, MD; Amanda A. Onalaja, BA; Susan C. Taylor, MD (2020). Hair Care Products Used by Women of African Descent: Review of Ingredients. https://cdn.mdedge.com/files/s3fs-public/DouglasCT105004183.PDF