The ever-evolving world of hair tools is here to make your life easier! As the technology advances, so do flat irons, which now include attachments that will minimize your hand efforts and speed up your styling time!
Yes, we're talking about finding the best flat iron with comb attachment that will make you jump up in joy, thanks to the beautiful frizz-free results.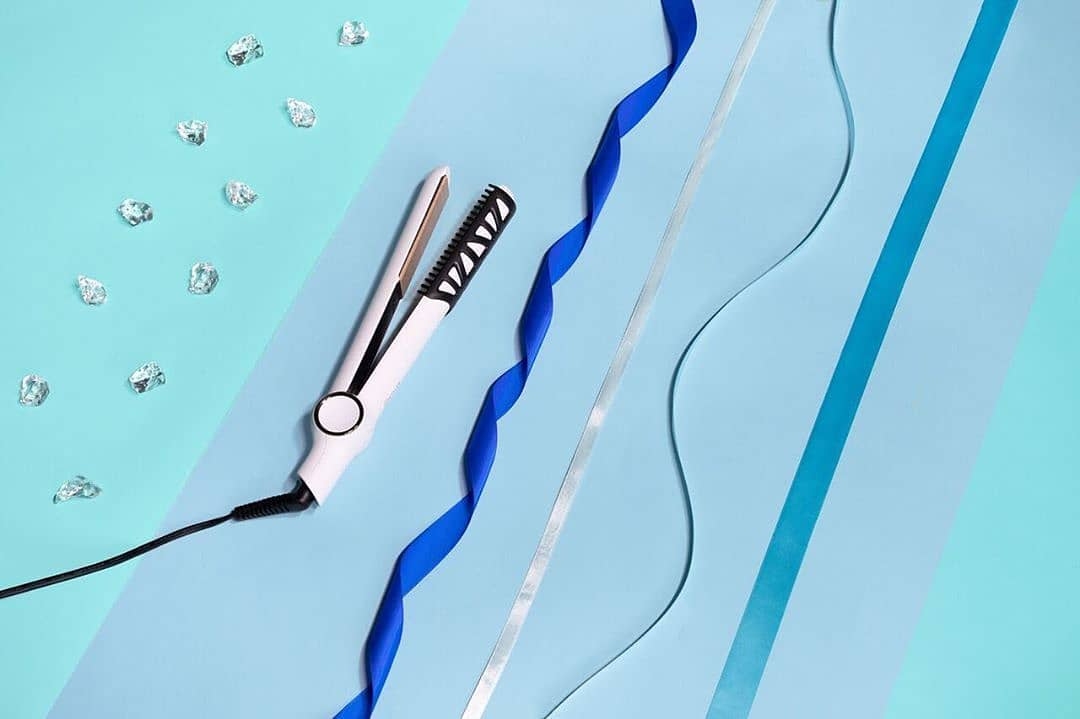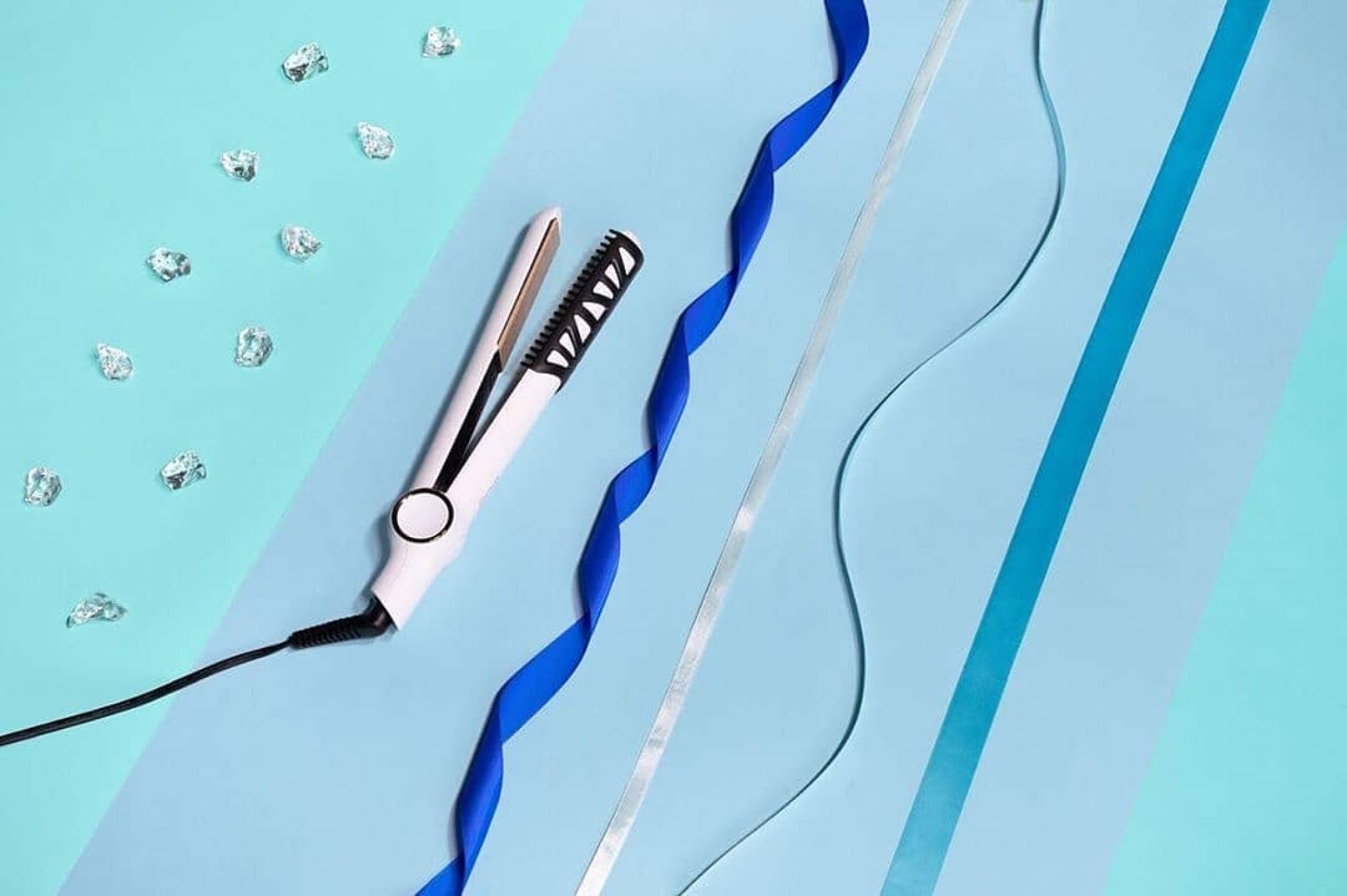 Top 4 Hair Straighteners With Comb Attachment Reviewed
Are you ready for the flat iron with teeth reviews? Before we dive into the details, take a quick look at the top 4 products you'll be reading about:
1. InStyler Professional Styling Flat Iron —
 Top Pick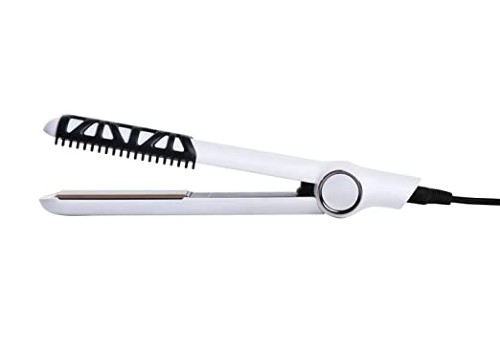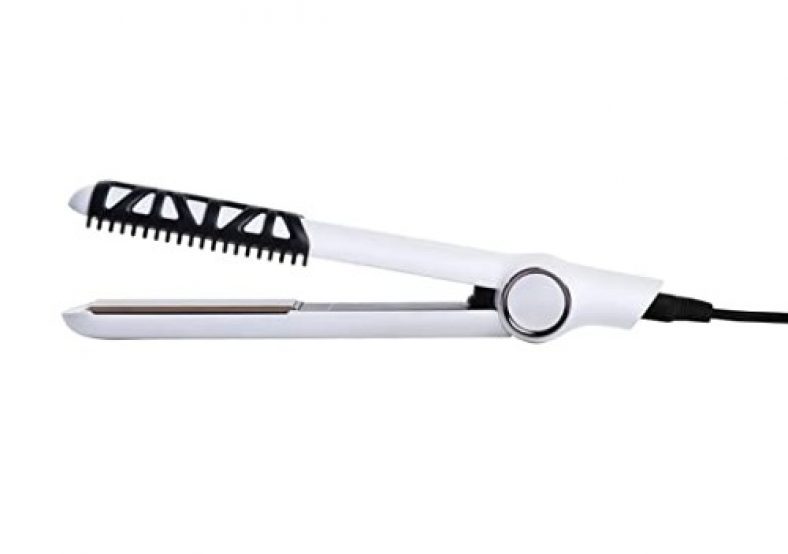 Plate Width: 1 Inch
Plate Type: Ceramic
Warranty: 1 year
Voltage: 110V
Temperature settings: 440F
Founded in 2008, InStyler is a well-respected brand in the hairstyling industry. The brand's founders have over 50 years of experience in the innovation of hair tools and more than 4 decades of experience in hair styling.
If your goal is to find the best hair straightener with comb attachment, this is one of the tools that you have to check out. First of all, it has 4 different heat settings which you can read on a digital monitor. Second, it makes it an excellent choice for women of all hair types and lengths.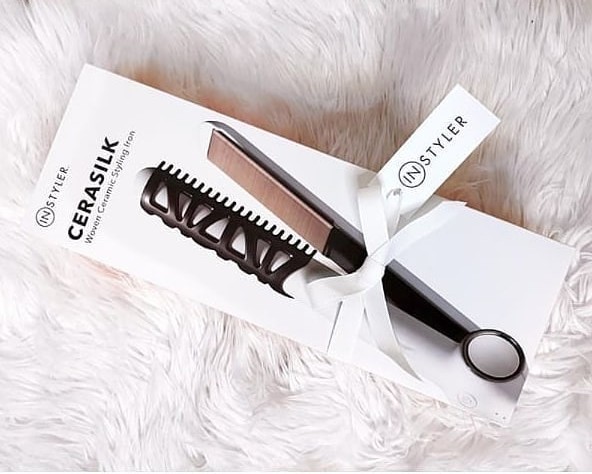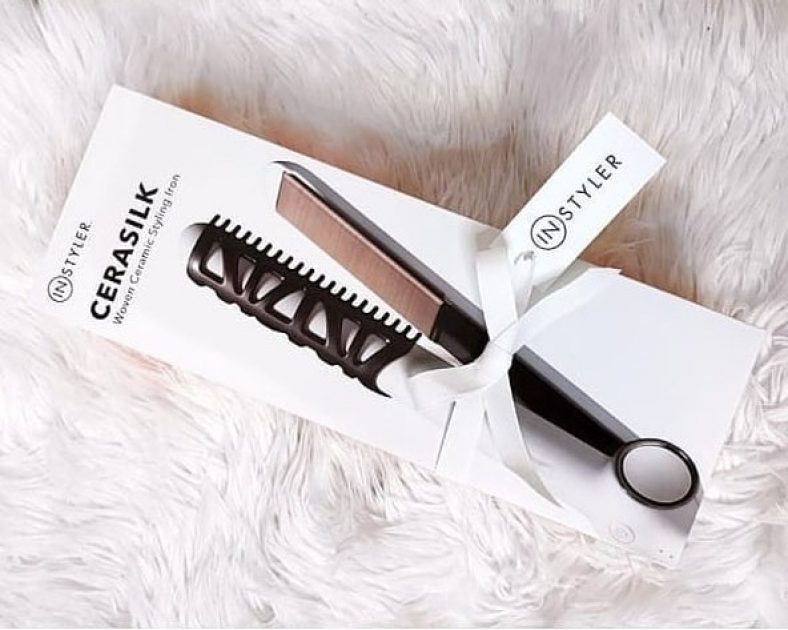 Cerasilk's 1-inch woven ceramic covered plates employ a technology that ensures they're always heated equally. So, even if you have thick, coarse hair that's hard to deal with, it won't be a problem with this tool.
Since the plates feature a floating design, they get even the tiniest hairs, straighten them, and leave the hair surface frizz-free.
The thing we love the most is that the comb attachment is detachable, making it easy for users to decide when they need it and when they want to remove it. Also, thanks to the auto shut-off feature, you can leave your house without worrying that you'll burn it down.
What We Love:
Comes with a removable comb attachment so you can use the tool with or without it;
You can use the flat iron to straighten your hair, curl it, create beachy waves;
Has an automatic shut-off feature;
Equipped with 4 different heat options that go up to 440 F degrees.
What We'd Change:
You have to be very careful with the high-temperature setting.
InStyler's Cerasilk Styling iron is our top pick because it has impressive features that come at an affordable price. It's an excellent tool meant for all hair types, has an auto shut-off feature, 4 heat settings, an 8-foot long swivel cord, and a detachable comb extension.
Straightening Performance
9.7
2. BaBylissPRO Straightening Iron —
 Great Value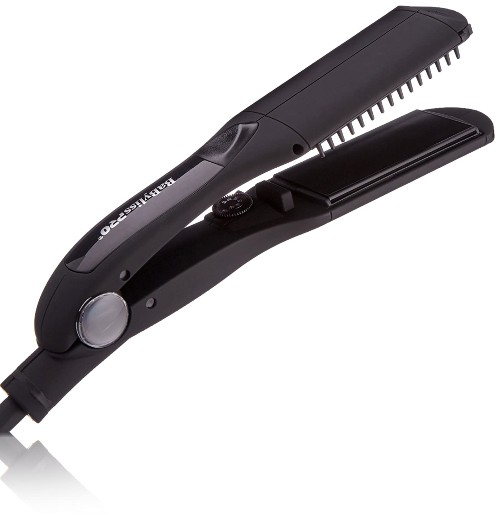 Plate Width: 1-1/2″ Inch
Plate Type: Ceramic
Warranty: 4 year
Voltage: 110V
Temperature settings: 420F
BaByliss Pro is another iconic hair tool brand that's been serving high-quality straighteners, rollers, dryers, curlers for over 50 years. One of their releases that we fell in love with is the porcelain ceramic iron with an added comb.
The size of the plates is 1 ½-inches which makes them ideal for medium and long hair. Thanks to the advanced infrared technology that the porcelain ceramic plates use, you can style your hair without worrying about the damage. It distributes the heat evenly, so all parts of your hair will be equally exposed to it.
We were very eager to try the antistatic comb and see if it lived up to the hype. It's safe to say that it leaves the hair so smooth that even those short stubborn hairs that are hard to deal with will be in place.
What We Love:
The antistatic comb extension is removable;
The iron's handle is ergonomically designed;
Various temperature settings that go up to 420 F degrees;
Heats up very fast;
An affordable tool with high quality.
What We'd Change:
No auto shut-off feature.
BaByliss is a trusted brand that never disappoints. The same thing applies to their straightening iron with a comb attachment that comes at a very affordable price. This tool is perfect for everyone on a budget. It has various temperature settings, the handle is ergonomically designed, and the tool is lightweight.
Straightening Performance
9.6
3. L'Oreal Steampod Hair Straightener With Comb —
 Premium Choice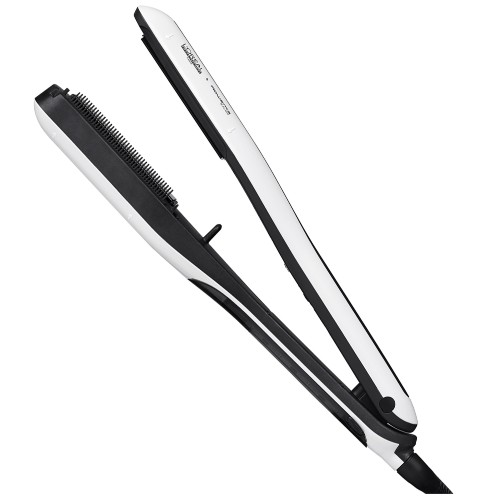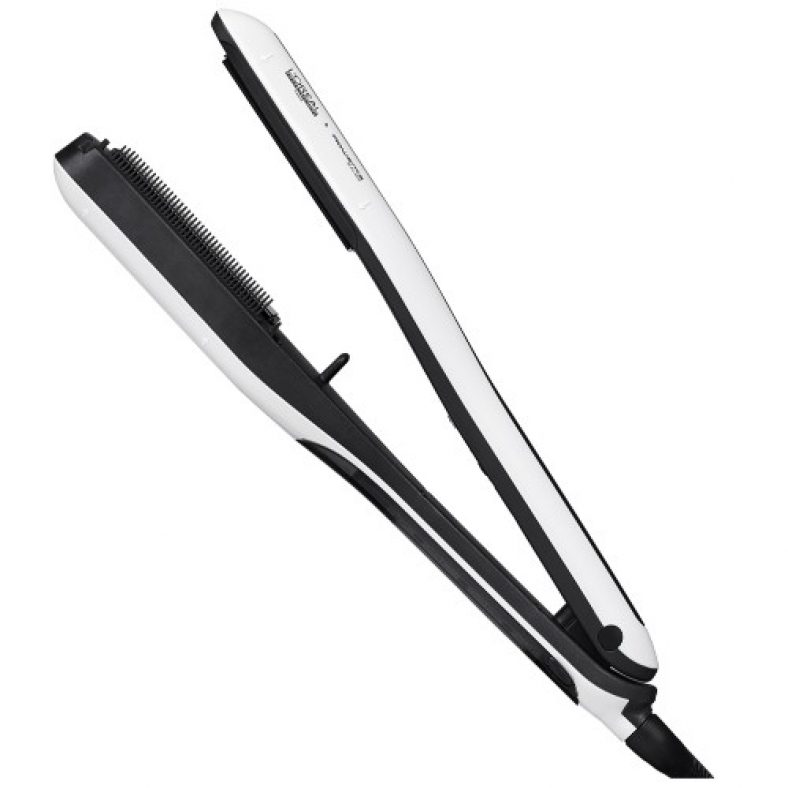 You can also find this product on Ulta, Sephora.
Plate Width: 1 Inch
Plate Type: Aluminum
Warranty: 1 year
Voltage: 120V
Temperature settings: 410F
Is there any need for us to introduce L'Oreal as a brand? This company has been present on the market since 1909 and has been defying all the rules since then. Their products are well-known as revolutionary and super-innovative.
The Steampod is definitely a premium choice, but it will also become one of the most reliable tools you've ever had. Unlike the other picks on the list, this one heats up water to release steam and straighten or curl your hair with almost no damage.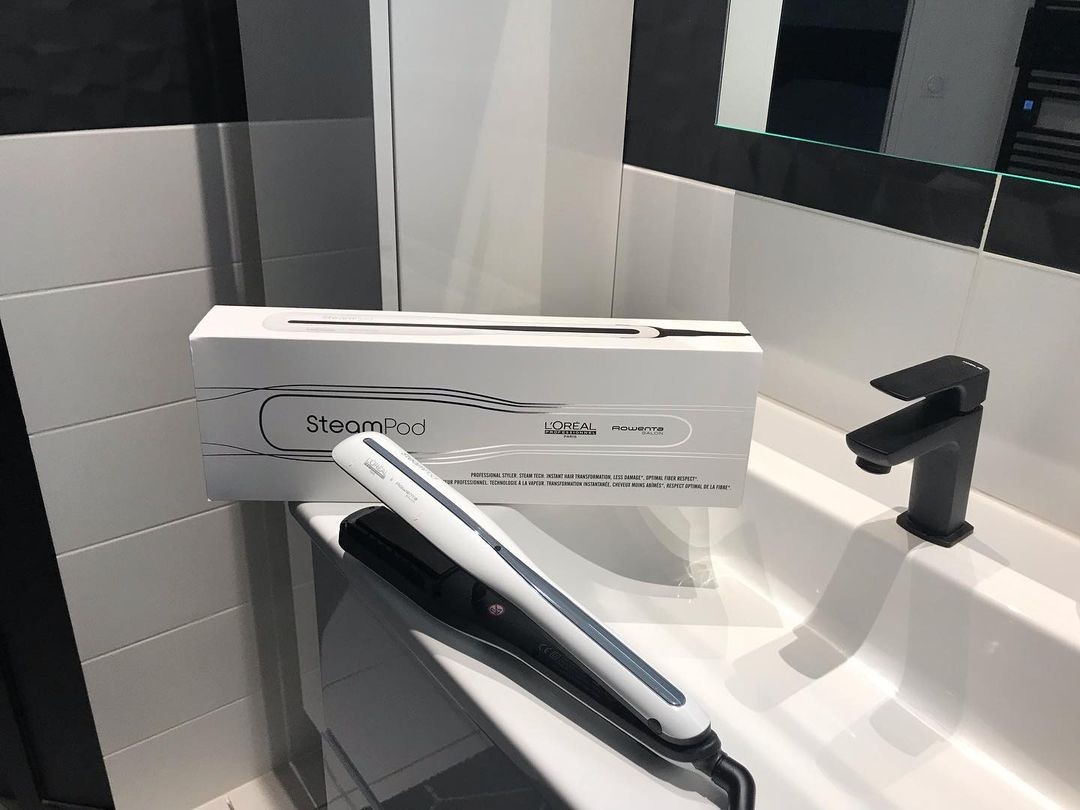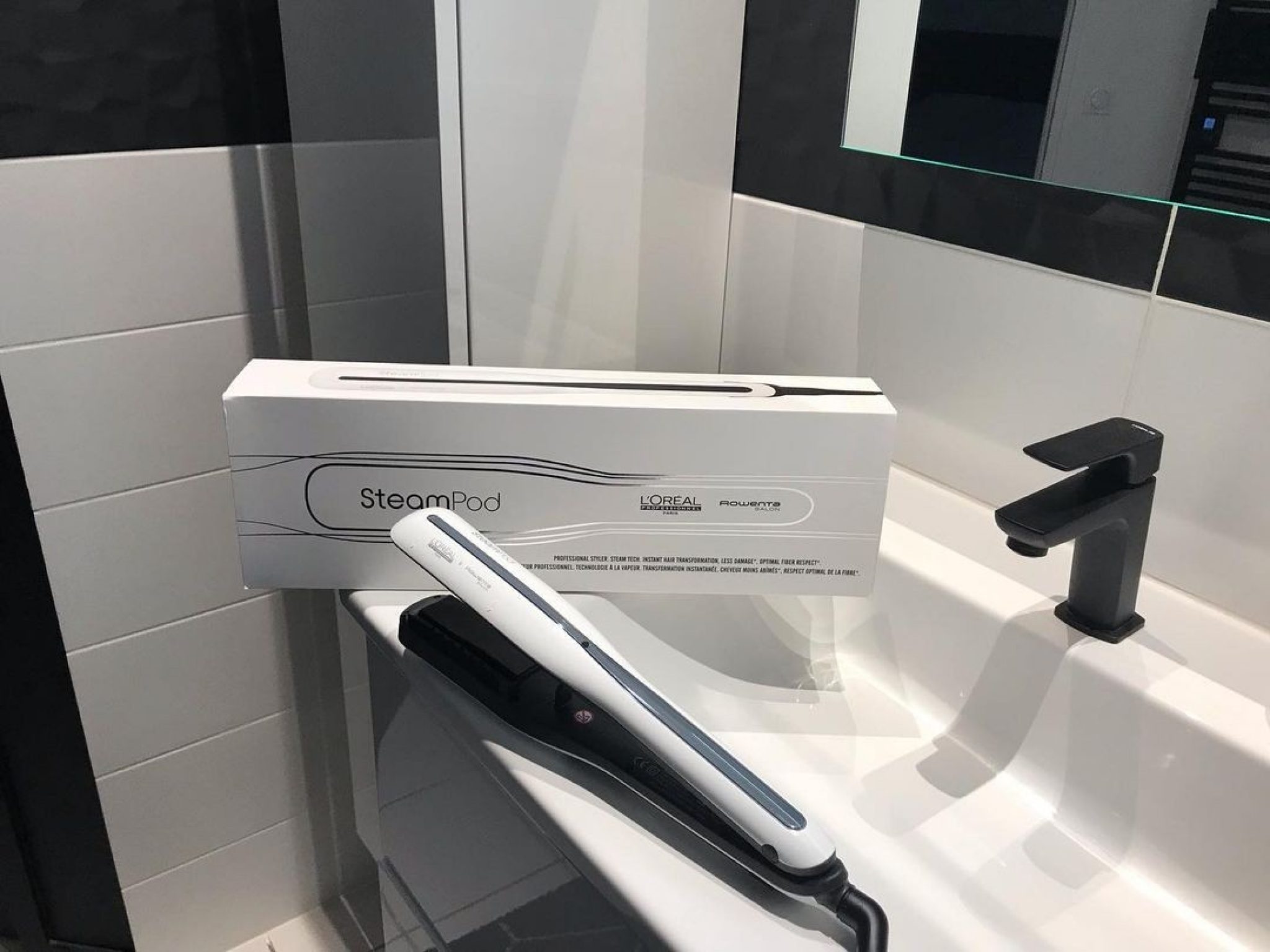 To start curling or straightening your hair, all you have to do is fill the water tank and set your preferred temperature. The comb attachment is removable, so you can use it only when you need to. Steamod's plates are 1 inch in size, but that doesn't prevent the iron from taking care of long, thick hairstyles with ease.
What We Love:
Has 3 temperature settings that go up to 410 F degrees;
It's perfect for all naturally curly hair patterns, especially 4C and 4B;
Comes with a removable comb attachment;
Has a large water tank that can straighten a full head of long hair without refills.
What We'd Change:
The premium pick on our list is a fantastic tool that will straighten or curl your hair using steam. It's the best alternative for ladies with naturally curly hair and can create a smooth look with ease, even for 4C curls.
Straightening Performance
9.8
4. REVLON Salon Hair Straightener With Teeth & High Heat Setting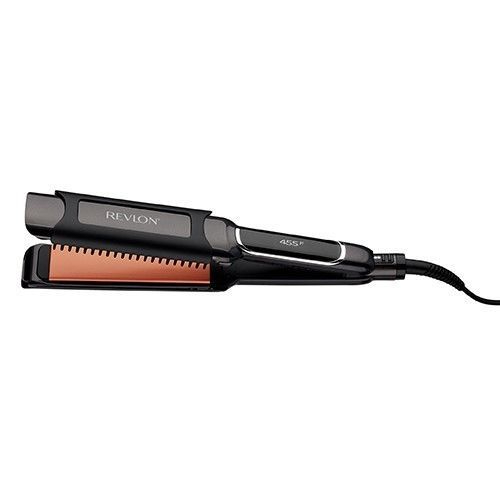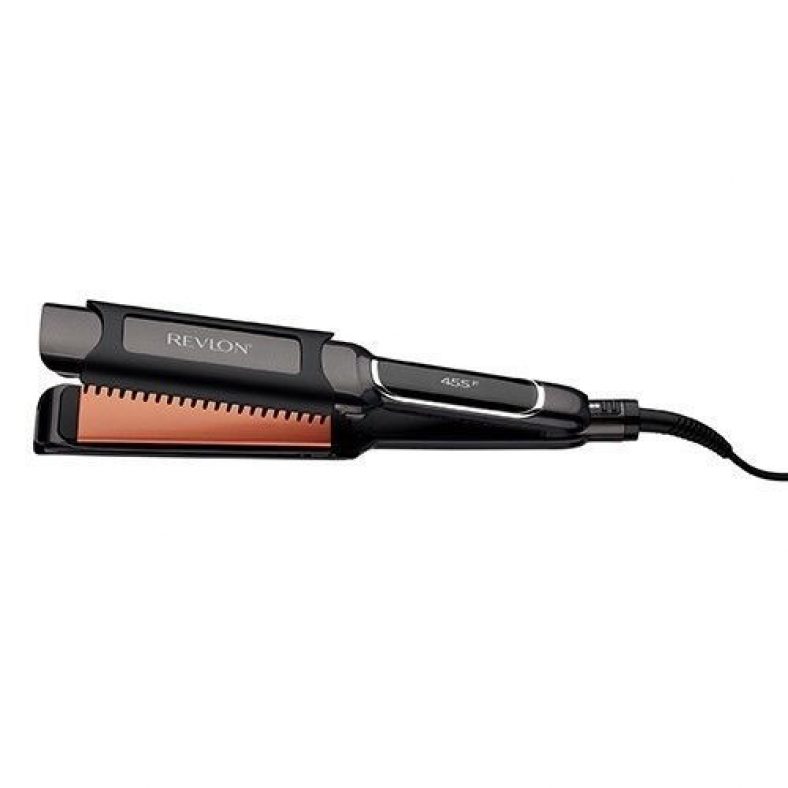 You can also find this product on Walmart.
Plate Width: 1.5 Inch
Plate Type: Ceramic
Warranty: 3 year
Voltage: 110-240V
Temperature settings: 455F
Just like L'Oreal, Revlon has been around for almost a century. Founded in 1932, the brand is a global leader in the makeup and hair industries. After seeing this affordable find, we wanted to try it and share if it's worth your money.
This is the hair straightener with the highest heat settings. Its plates can warm up to 455 F degrees, making it perfect for stubborn, thick curls. Thanks to the high heat, you'll be done styling your hair much faster, and you won't have to damage it by straightening each strand multiple times.
The device memorizes the latest temperature you used, and when you turn it on again, it will show the same temperature.
Another excellent feature is the auto shut-off that turns the flat iron off after 60 minutes. Since this is a dual voltage device, you can take it with you wherever you travel. It also has a plate-locking feature for simple storage.
What We Love:
An affordable purchase;
Is available in two plate sizes: 1 ½-inch and 2 inches;
Auto dual voltage so you can use it everywhere;
Auto shut-off feature;
Instant heat up.
What We'd Change:
You have to be very careful with the temperature because it gets very hot very fast.
This Revlon straightener might be affordable, but it's equipped with so many features and worth every single dollar. The temperature of 455 F degrees makes it the best purchase for women with long, thick, coarse hair and curls that require extra work.
Straightening Performance
9.4
Benefits Of Using Flat Irons With Comb Attachments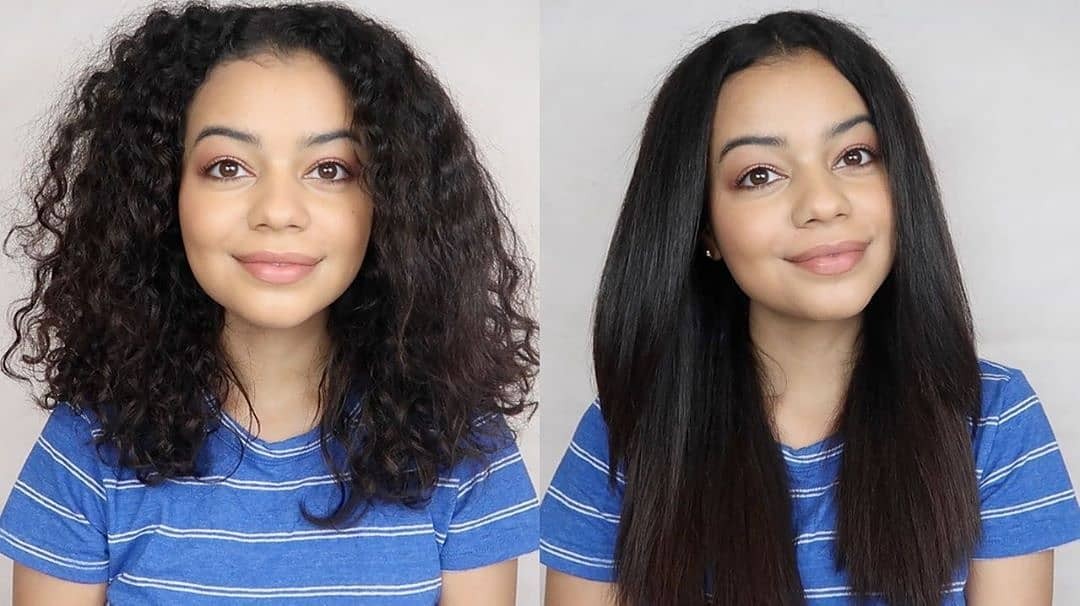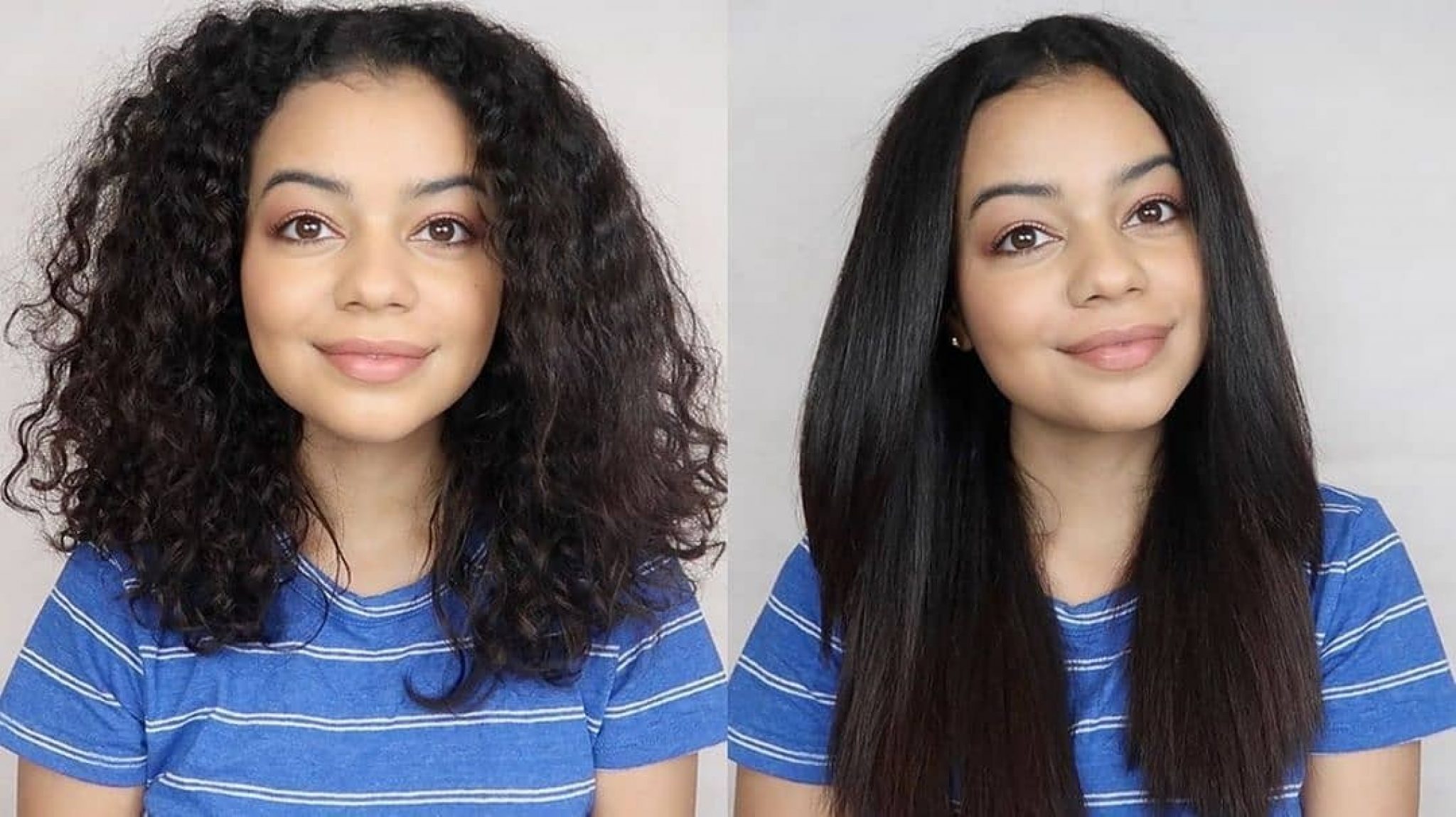 Why should you use a flat iron with comb teeth? Here are some of the major benefits you can expect from this tool:
Hair Detangling
Messy hair is a thing of the past! These days there are so many factors that can cause frizzy hair and even more solutions to the problem.
If you've been dreaming of a silky, smooth hairdo without any stubborn flyaways, flat iron with teeth will comb your hair while straightening it. The comb is a fantastic addition that takes care of all the tangles, knots and will leave your hair so smooth.
Evenly Straighten Hair
When this iron glides through each hair strand, it heats the hair evenly, ensuring that all parts are straight without exceptions. In addition, the comb helps distribute the hair evenly to the plate, so the result is even more appealing.
Two In One
Are you tired of having to comb each hair strand before straightening it? Well, the solution to your problems might be this tool since it's an iron and a comb- all in one.
Having a flat iron with this attachment will save you time and reward you with the sleekest hairdo.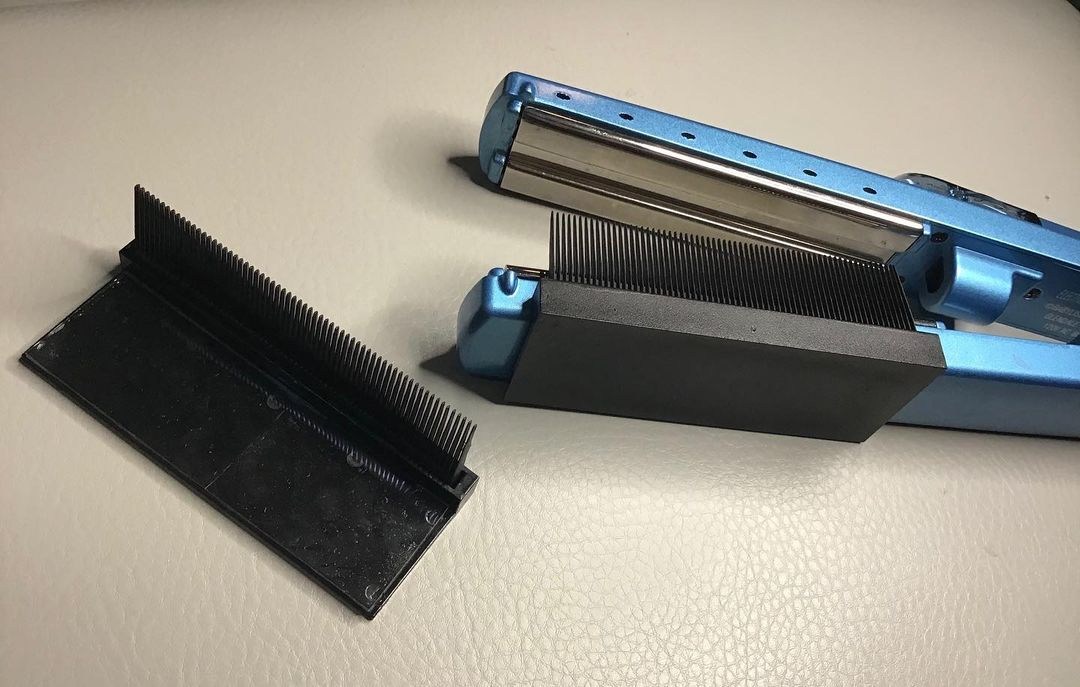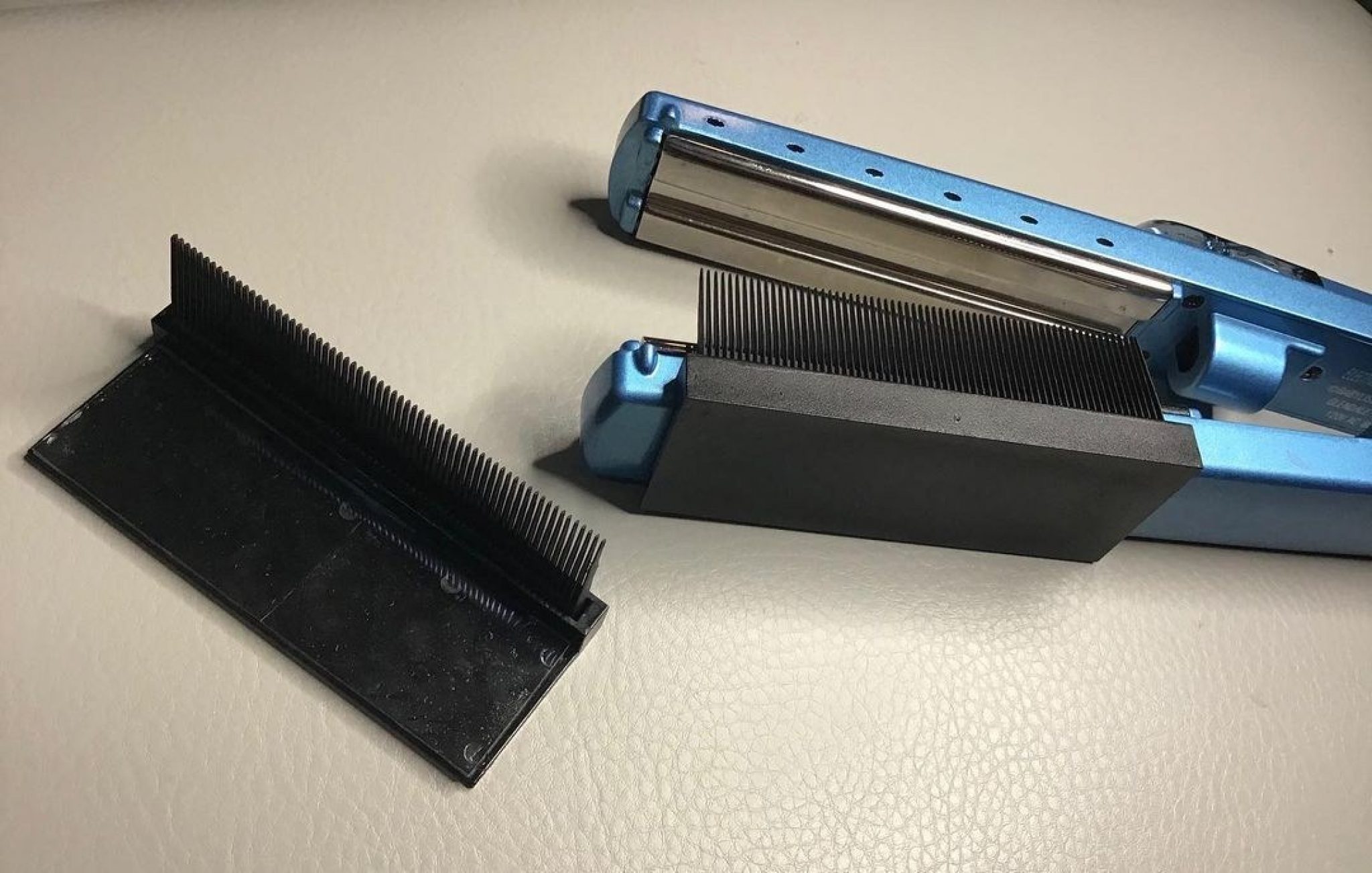 Gentle Approach
In general, these flat irons work at slightly lower temperatures, don't pull on your hair, remove knots and tangles, therefore use a much gentler approach.
If you've been looking for a tool to minimize hair damage, but you're not a fan of steam straighteners, then an iron with a comb is your best bet.
Easy To Use
If you've ever used a traditional flat iron, you'll notice that these tools with a comb are more straightforward to use. They not only cut your combing time but also glide through the hair without a problem.
These flat irons are equipped with on/off buttons; most have an auto shut-off feature, long cords; the plates heat up very fast, so you can expect top performance even from affordable purchases. In addition, they're faster to use and will leave you more free time to get ready for your day.
What To Look For When Buying A Flat Iron?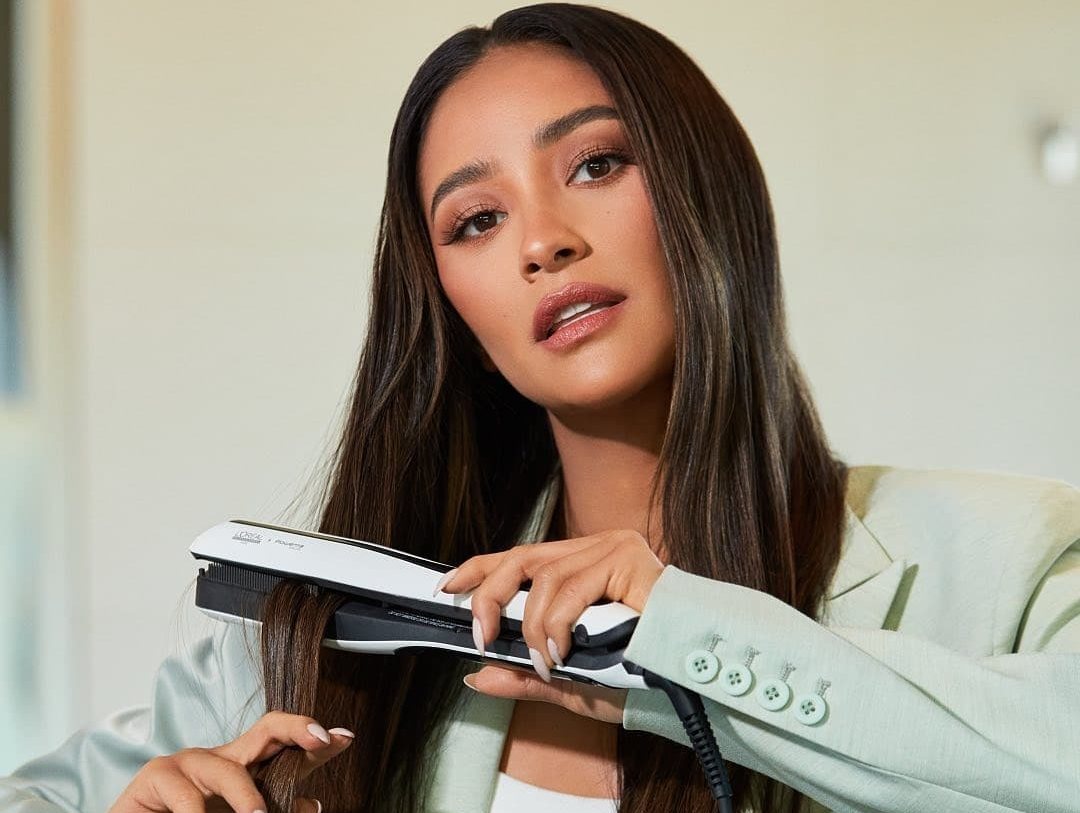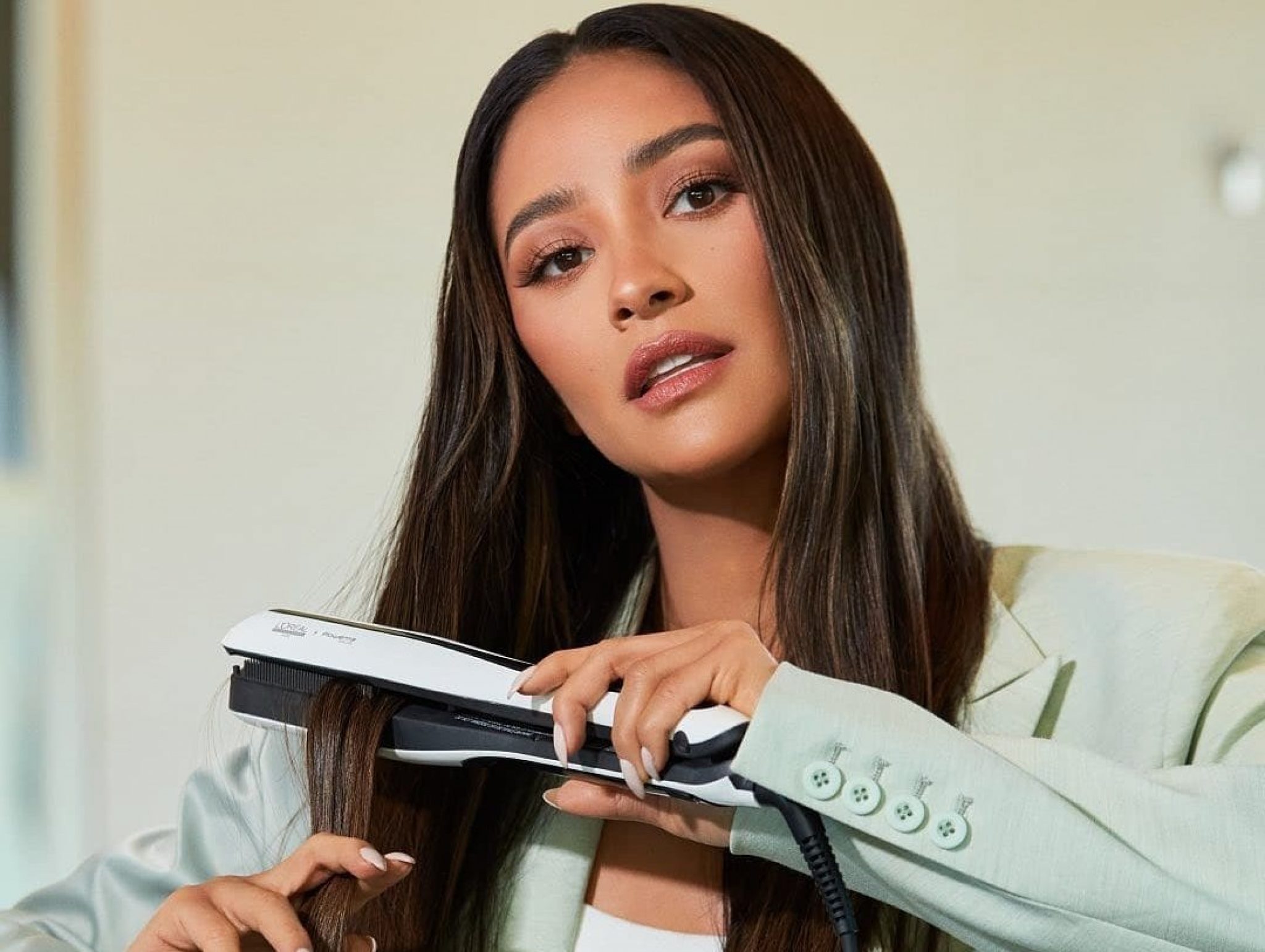 Styling your hair is much more than grabbing the first straightener and going over it quickly to make it look presentable. Hair professionals advise that you invest in the right tool for your hair type and needs, and with this guide, it will be much easier for you to pick the ideal iron with teeth.
Material
Which plate material is most suitable for your hair type? Should you go for ceramic or titanium? Ceramic plate irons are widespread and are the best option for people with thin, fine hair.
Titanium heats up very fast; therefore, it can be more damaging for gentle hair. If you've been blessed with a thick, coarse, you can feel free to shop for a flat iron made with titanium plates.
Size
Whether you'll go for a 1-inch, 1 ½ inch, or 2-inch plate size depends on your hair length. Smaller plate sizes are more suitable for short hairdos, while large plates will improve the hair styling experience for people with long hair.
Temperature Settings
Determining the right temperature for flat ironing your hair can save you from so much damage. People with fine hair should avoid high temperatures and should opt for straighteners with at least two heat settings. That way, they'll be able to adapt the temperature and prevent high heat damage.
Thick hair can withstand high temperatures, so getting a flat iron with low-temperature settings shouldn't be an option. The best way to go is to find a tool that has multiple settings, that way you can adjust it to your needs.
FAQ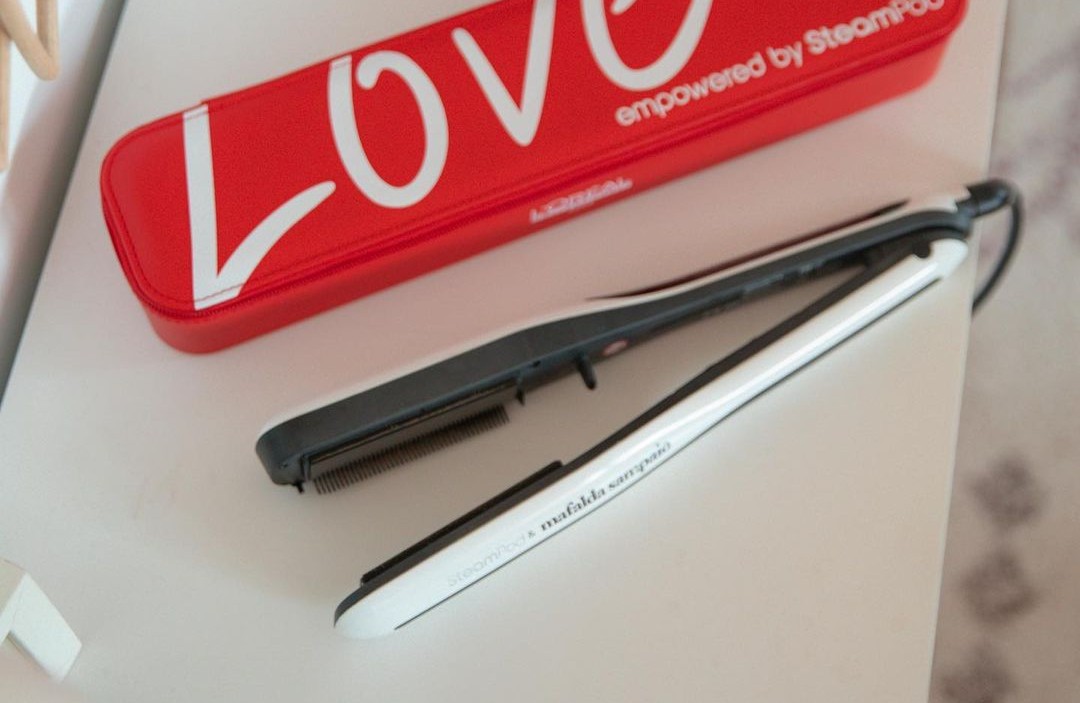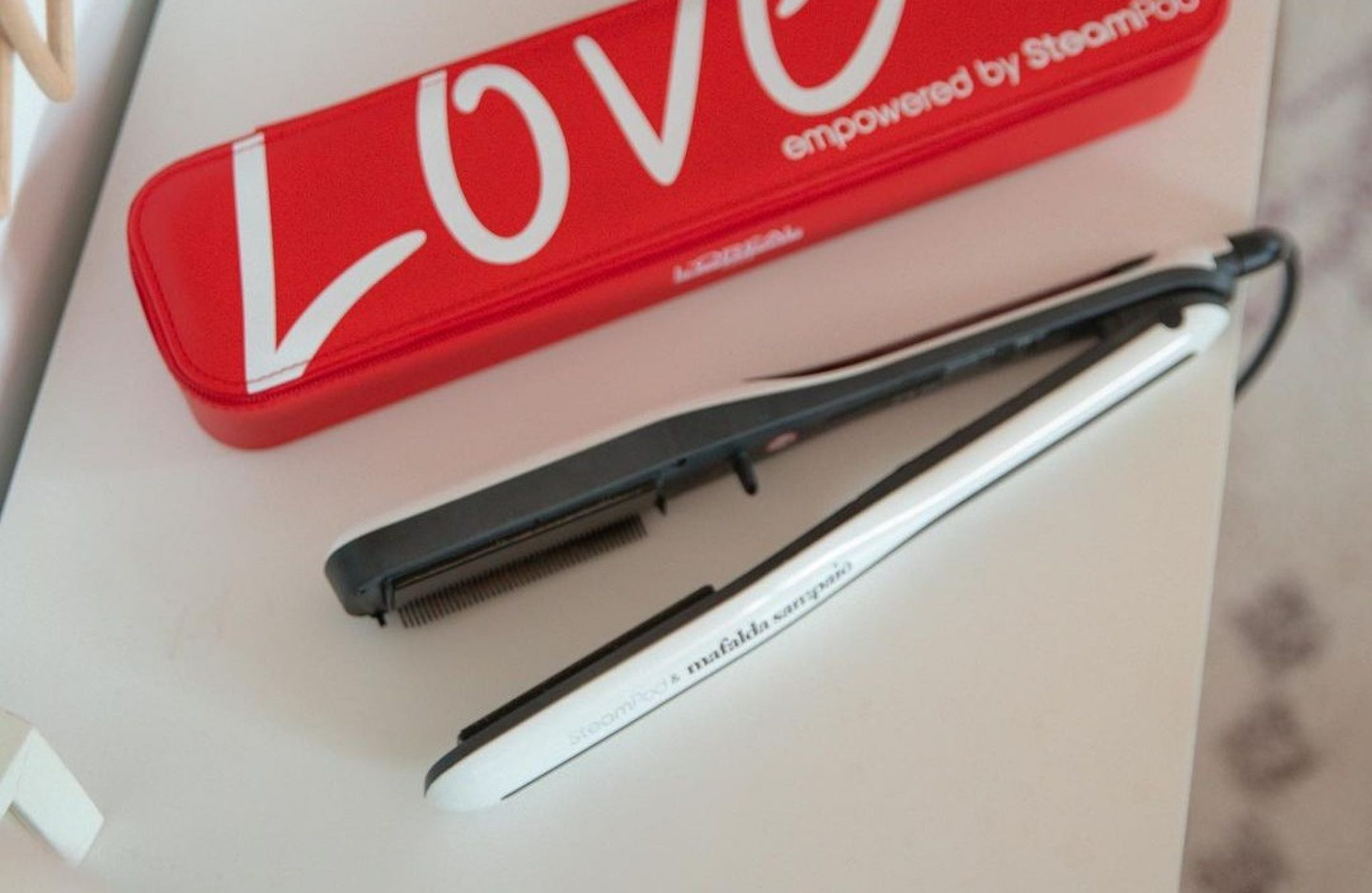 Why use a comb with a flat iron?
The comb attachment to a flat iron detangles your hair, removes all the knots while straightening it. It will save you time and provide a silky, smooth finish. Most flat irons with teeth come with removable attachments, so you can decide when you want to put it on and when to remove it.
Which straightener is best: hot comb or flat iron?
Which hair tool you'll purchase depends mainly on your hair type. A hot comb is best for thinner, shorter hairdos, while a flat iron is more appropriate for thicker, medium to long hairstyles.
You can check our detailed hot comb vs flat iron comparison.
What's the difference between a flat iron and a brush straightener?
These tools fall into two different categories. Flat irons have two plates that release heat and help you straighten or curl the hair. Brush straighteners are brushes that also heat up and can only straighten the hair.
Flat irons are better for a smoother look, while brushes add more volume and are more suitable for everyday use.
Conclusion
Are you already obsessed with the thought of having a flat iron with a comb attachment? Owning one of these tools will turn hair straightening or curling into a fast, but fun activity that yields smooth, frizz-free results.
The InStyler Professional Styling Flat Iron has all the essential features a fantastic iron with teeth should have! The comb attachment is removable, the tool is straightforward to use, has an auto shut-off feature, and works for all hair types and lengths!
We'll be waiting for your pictures of the hairstyles you'll create with your favorite iron with teeth!
Also read:
---
References:
6 Surprising Causes of Frizzy Hair – and 8 Ways to Combat It – https://www.healthline.com/health/beauty-skin-care/what-causes-frizzy-hair
How to Figure Out Your Curl Type – https://www.allure.com/gallery/curl-hair-type-guide