The search for the perfect flat iron is complicated. Sifting through reviews and trying to dig through descriptions takes a lot of work and patience. Instead of racking your brain to find the best 2-inch flat iron, we'll make it easy on you with a look at the best of the best for 2022.
Top 4 Best 2-Inch Flat Irons Reviewed
Make sure to read all of the 2-inch flat iron reviews I've compiles below and read through the detailed guide on features to look for in a flat iron.
1. BaBylissPro Titanium –
Best 2 Inch Flat Iron Overall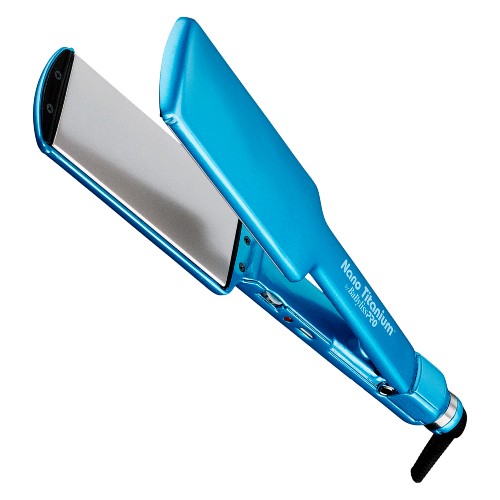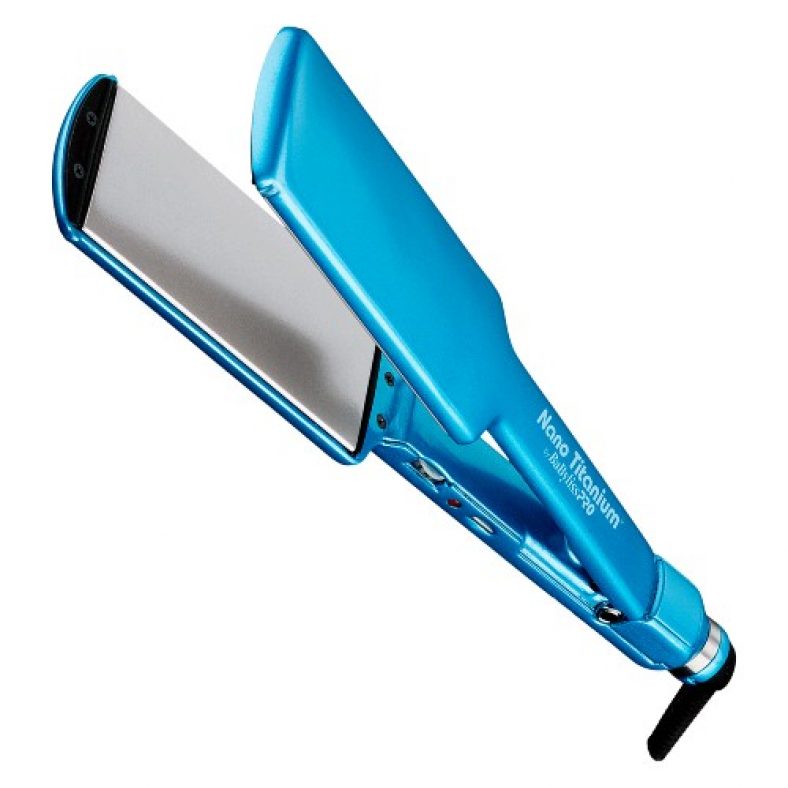 Plate Width: 2 inches
Plate Type: Titanium, Ceramic
Warranty: 1 year
Voltage: 110V
Temperature settings: 450F
BaBylissPro is one of the top names in styling tools, with a large variety of salon-worthy products. The plates are of corrosion and heat-resistant titanium for frizz-free strands.
No matter what kind of hairstyle you're going for, you can choose from 50 different heat settings that go all the way up to 450⁰. It's small in size and weighs in at just one pound, keeping the hands free to twist and turn to create beachy waves.
Things we love:
• Adjustable heat setting;
• The lightweight feel;
• The smoothing effect of the titanium plates.
Things that could improve:
• Could use an automatic shut off;
• No comfort grips for hands.
Though this iron is not perfect, it comes pretty close. This 2" flat iron is perfect for daily hairstyling, working well with all hair types and lengths. The best feature is that you can use it for hours to create stunning curls and waves without wearing out your arms and hands, getting the look you want with no hassle.
Straightening Performance
9.8
---
2. BaBylissPro Porcelain Ceramic – Best 2 Inch Straightener on A Budget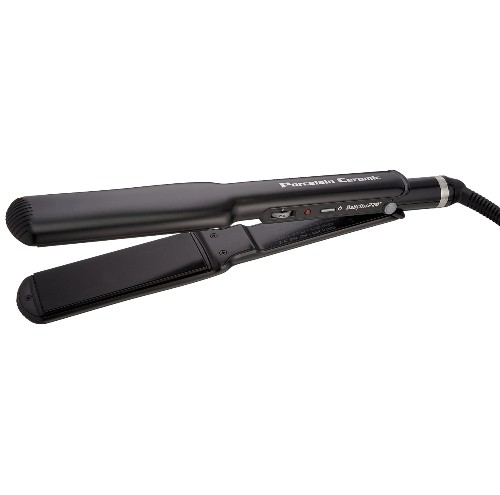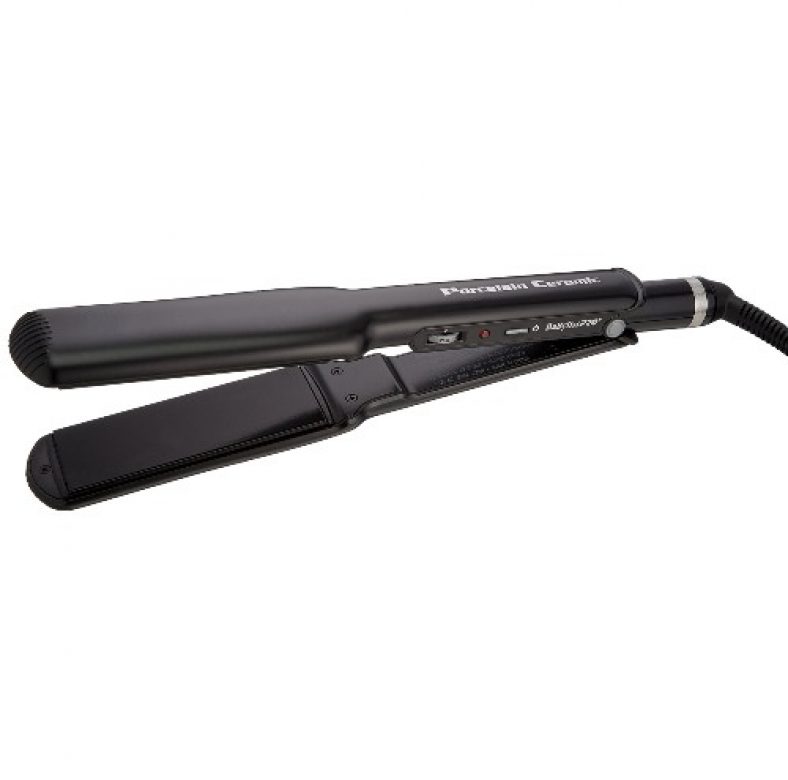 Plate Width: 2 inches
Plate Type: Ceramic
Warranty: 1 year
Voltage: 110V
Temperature settings: 450F
Next on the list is another one from BaBylissPro. This one is more economical but doesn't lack in quality. It's got porcelain ceramic plates that heat up fast while keeping the hair protected. Around the surface, a coating of heat-resistance durable plastic helps to keep hands from feeling the heat.
Temperatures go up to 450⁰, adjustable with the turn of a knob. The total weight of the iron is only 1.1 pounds. It's easy to glide through hair without hands feeling the pressure or weight.
Things we love:
• The porcelain ceramic plates that create shiny locks;
• The lightness that doesn't weigh hands down;
• The sleek look with black accents and pieces.
Things that could improve:
• Heat adjusts with a knob;
• Could use an automatic shut-off.
This iron is great for those who want a quality flat iron that won't break the bank. The porcelain ceramic plates have been on the market for a while now, known for their ability to create smooth and silky styled hair. Created by a well-known name in styling tools makes Babyliss Porcelain Ceramic flat iron a popular pick for anyone looking to take their hair game to the next level.
Straightening Performance
9.7
---
3. ghd Gold – Premium 2 In Flat Iron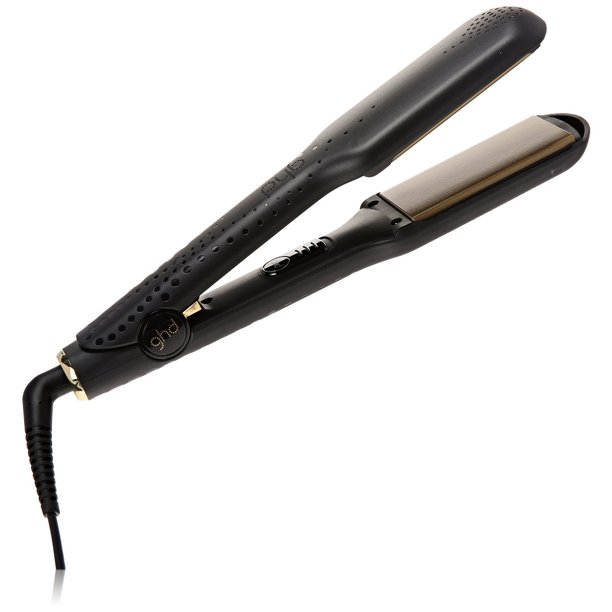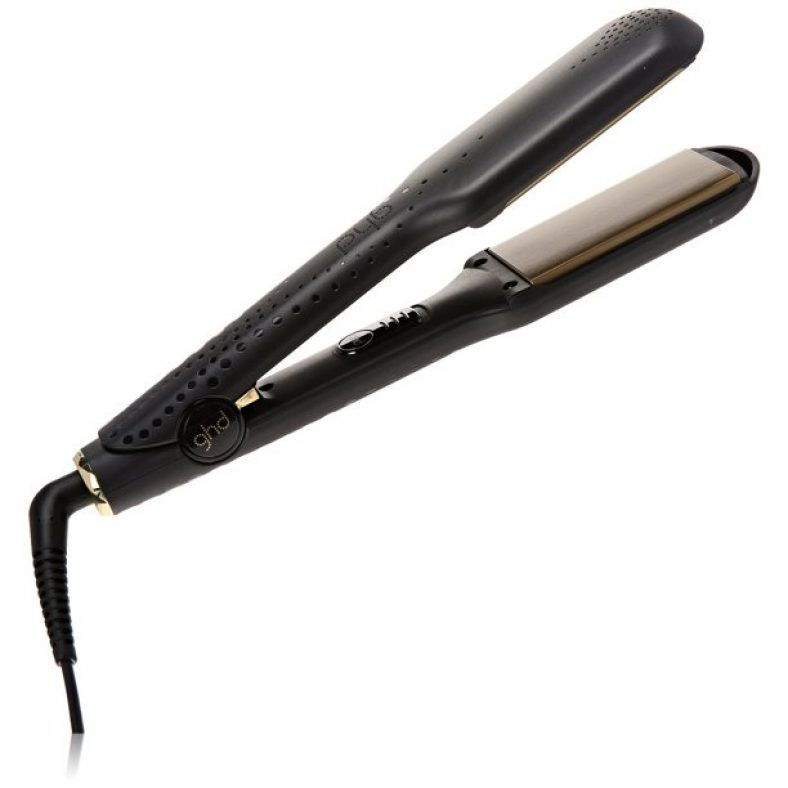 Plate Width: 2 inches
Plate Type: Ceramic
Warranty: 2 year
Voltage: 110V
Temperature settings: 365°F
ghd hair styling tools are known around the world, gripping attention for their revolutionary materials and designs. The ghd Gold has two ceramic plates on the inside that help to distribute heat evenly. The base and grip consist of a sturdy reinforced plastic that keeps from heating up too hot and protects the hands and fingers.
Heating temperatures cap off at 365⁰, which helps to reduce damage or breakage of the hair. The iron weighs only one pound and comes with a long swivel cord intact to help create twisting styles and waves. Additional features include 25-second heat up, automatic sleep mode, and a 2-year manufacturer's warranty to guarantee quality.
Things we love:
• High-quality materials;
• Caps off at optimal hair temperature to reduce damage;
• Automatically turns off after 30 minutes of inactivity.
Things that could improve:
• Temperatures are not as high as other irons;
• No adjustable controls for heat.
Overall, the ghd Gold is a top-of-the-line straightener aimed at protecting hair and keeping it from damage. The quality is high and, the warranty makes the offer even sweeter. No matter what your hair type, this styling tool is a great fit for you.
Straightening Performance
9.7
---
4. FHI Tourmaline – Among Best 2 Inch Hair Straighteners that Boost Shine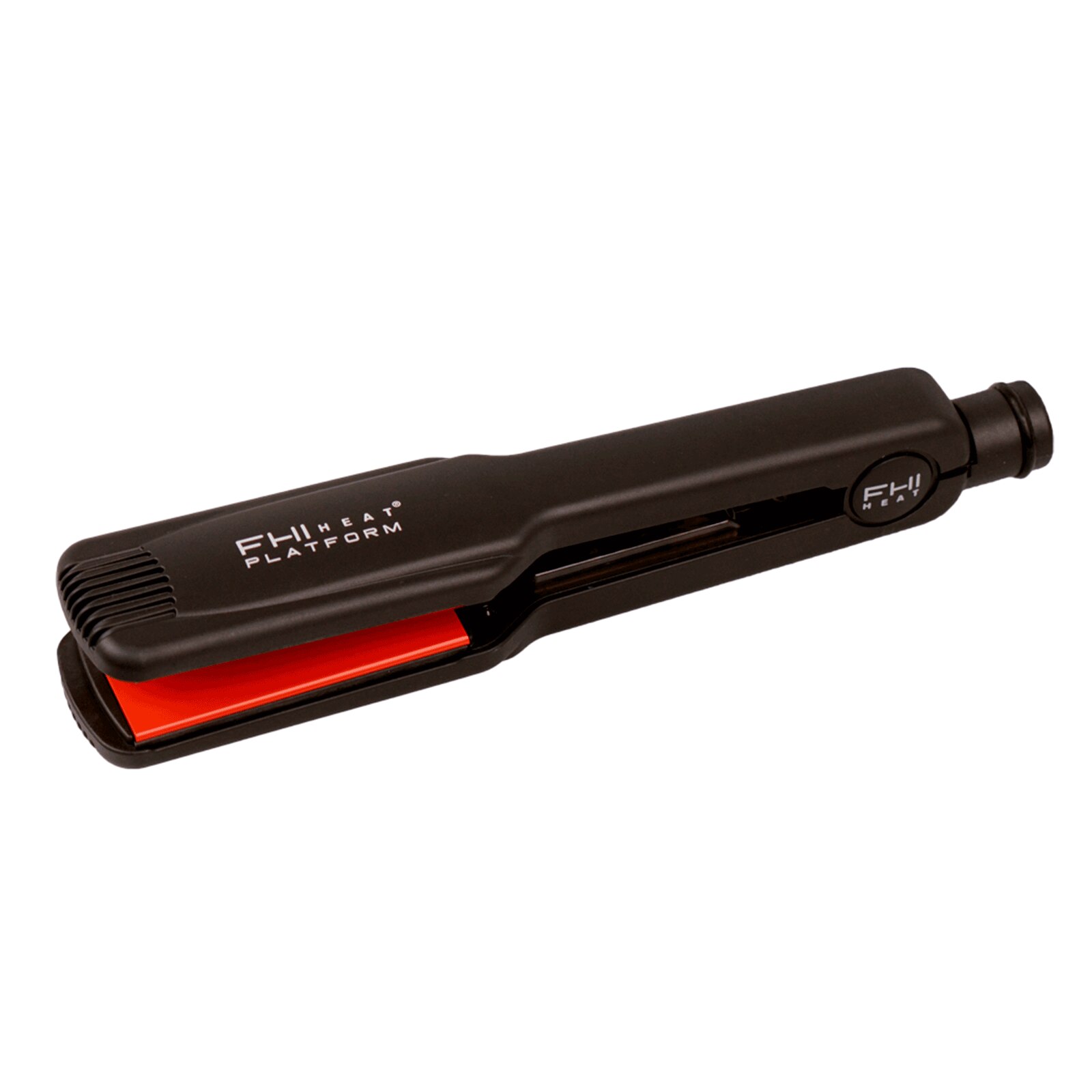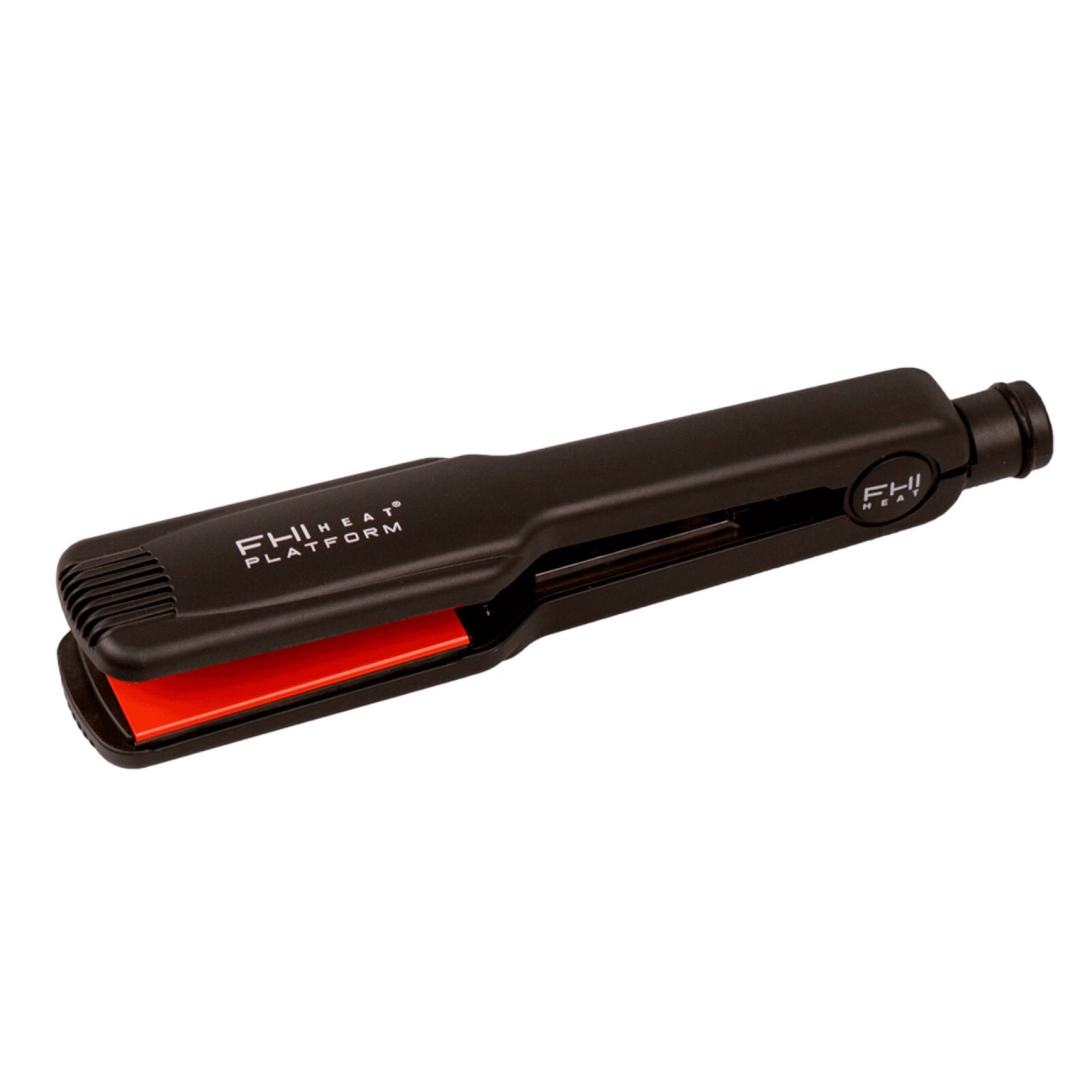 Plate Width: 2 inches
Plate Type: Ceramic
Warranty: 1 year
Voltage: 110V
Temperature settings: 450F
FHI flat irons are top of the line and designed to perfection, much like this tourmaline-infused straightener. The red ceramic plates help to style hair without any damage, drawing in hydration and locking in moisture. Its chemical composition helps to prevent humidity from frizzing the hair, creating smooth and shiny strands for every type.
Heat adjustments go from 145⁰ to 450⁰, so you can pick your preferred temperature for your style. It weighs only one pound, even with its hook to hang on the wall when done using and the 12ft swivel cord that rotates a full 360⁰.
Things we love:
• The look is chic and sophisticated, enhanced with red plates;
• Temperatures adjust to your preferred temperature;
• Attached wall grip.
Things that could improve:
• Shuts off after an hour.
FHI is a styling tool loved by professionals for its adjustable heat and sleek look. Its additional features set it apart from other irons, including the longer swivel cord, wide temperature adjustment range, and tourmaline-infused ceramic plates.
Straightening Performance
9.4
---
2 Inch Flat Iron Buyer's Guide
Features to Look for in a Flat Iron
When you start your search for the perfect flat iron, you need to consider what's best for you and your hair. These include:
Heat Settings
Most of the time, irons come with adjustable heat. To get a good idea of what's best for your hair and the styles you want to create, the optimal hair temperature to prevent burning is 365⁰.
However, many irons out there go up to the 400s and beyond. Look for an iron that will allow you to adjust temperatures to select when you need to turn up the heat and when you do not.
Materials
You can find plates of all kinds nowadays, as companies rush toward finding the most effective material. Go with ceramic or titanium flat irons, as they are said to evenly distribute heat and create a smooth style that doesn't break the hair.
Some irons come enhanced with ions and other chemicals that take hair protection to the max. So, always look at the material before you buy.
Size
Flat irons come with different plate sizes for a reason. For the most part, it has to do with the way you'd like to style your hair. Smaller plates are great for making curls and large flat irons are for straight styles.
Extra Features
After you check out the technical stuff, keep an eye out for extra features. Most of the time, these include automatic shut-offs, speedy heat-up times, and extra-long and moveable cords that move along with styles that require a bit of looping and swooping. These are best for curls, waves, and other popular hairdos of today.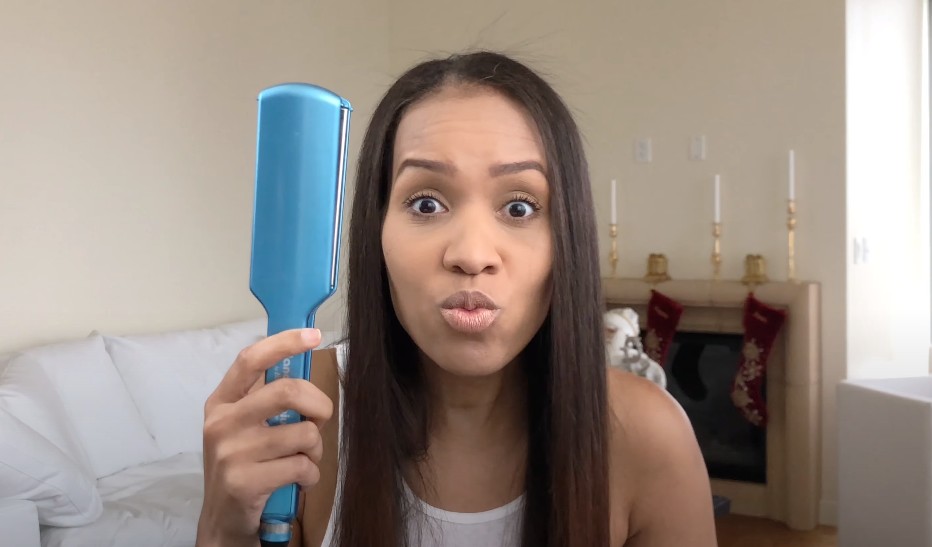 When Do you Need a 2 Inch Flat Iron?
With more surface area to work with, a 2-inch flat iron allows you to gather more hair at a time. Most of the time, irons with bigger plates work for straight styles or long and thick hair.
You can still create moveable curls and flowing waves with a 2-inch iron though they will be larger than those with 1- or 1.5-inch plates.
Those with shorter hair might not create curls with ease with a 2-inch flat iron but can still get sleek, straight looks.
Also read:
2″ Flat Iron FAQ
Which is better? 1- or 2-inch flat iron?
As we said, it depends on the style you hope to create. Both the 1 inch and the 2-inch irons are good for hair; however, one creates better curls and the other better straight looks.
Can I curl hair with a 2-inch flat iron?
Yes, you can. When using a 2-inch iron to curl your hair, you'll get larger curls than you would if using a 1-inch. While it is mostly with preference and the style you hope to create, it also depends on your hair length. Shorter hair might not curl well with wider plates. With little length to play with, curls will come out bigger.
Can I use 2-inch flat iron on short hair?
Of course, you can! The key when using a 2-inch flat iron on short hair is to twist the iron early on. Curls with a 2-inch iron turn out bigger and, if your hair is short, might not take.
Conclusion
When hunting for a flat iron, things can get confusing. With so many great brands and styles to choose from, you may be wondering, how do I choose? That's why we outlined the best of 2022, including a look at their features. For a no-fail pick that lasts, go with the BaBylissPro Titanium, taking away any doubt as to whether you're choosing a good product or not.
If you have any questions about flat irons or would like to share your thoughts, don't hesitate to hit us up. We'll be waiting!