In the 21st century, you shouldn't have to sacrifice quality for safety. With a flat iron, you should be able to enjoy high heat that smooths hair without worrying about your house burning down if you're running late.
That's why we're here to help you find the best flat iron with auto shut-off, comparing three of the best ones on the market in 2023.
Top 4 Best Flat Irons with Auto Shut Off Reviewed
1. CROC Titanium Flat Iron –
 Top Pick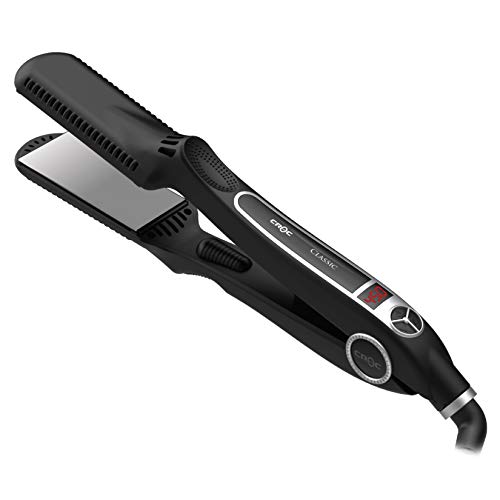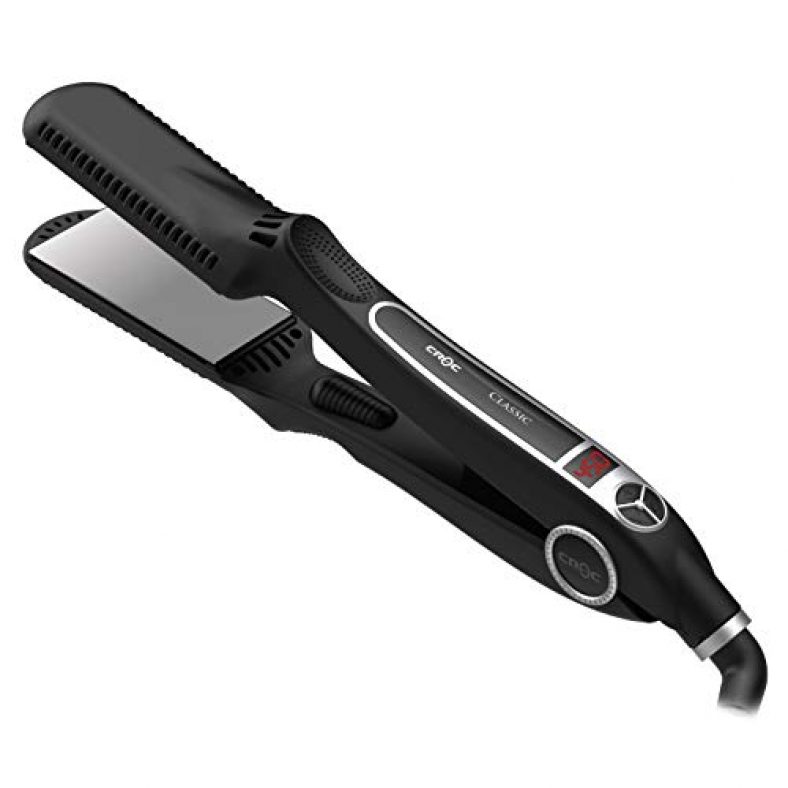 You can also find this product on Ulta, Walmart.
Plate Width: 1.5 Inch
Plate Type: Titanium
Warranty: 1 year
Voltage: 110V
Temperature settings: 450°F
CROC is known to push the boundaries of haircare, using some of the most innovative materials to construct highly sophisticated tools. Its ergonomic signature design grips each strand, smoothing them into beautiful, silky tresses.
Their classic Nano-Titanium flat iron comes with 1.5-inch floating plates and ceramic heaters that work to evenly distribute heat. Heat settings range from 280⁰F to 450⁰F, allowing you to select your preferred temperature on the digital display.
If left on, the CROC automatic shut-off flat iron will first lower in temperature if not in use and then, shut off to prevent the risk of fire. Extra features include a long swivel cord, dual-voltage, and a ceramic coating across plates that infuses moisture into the hair.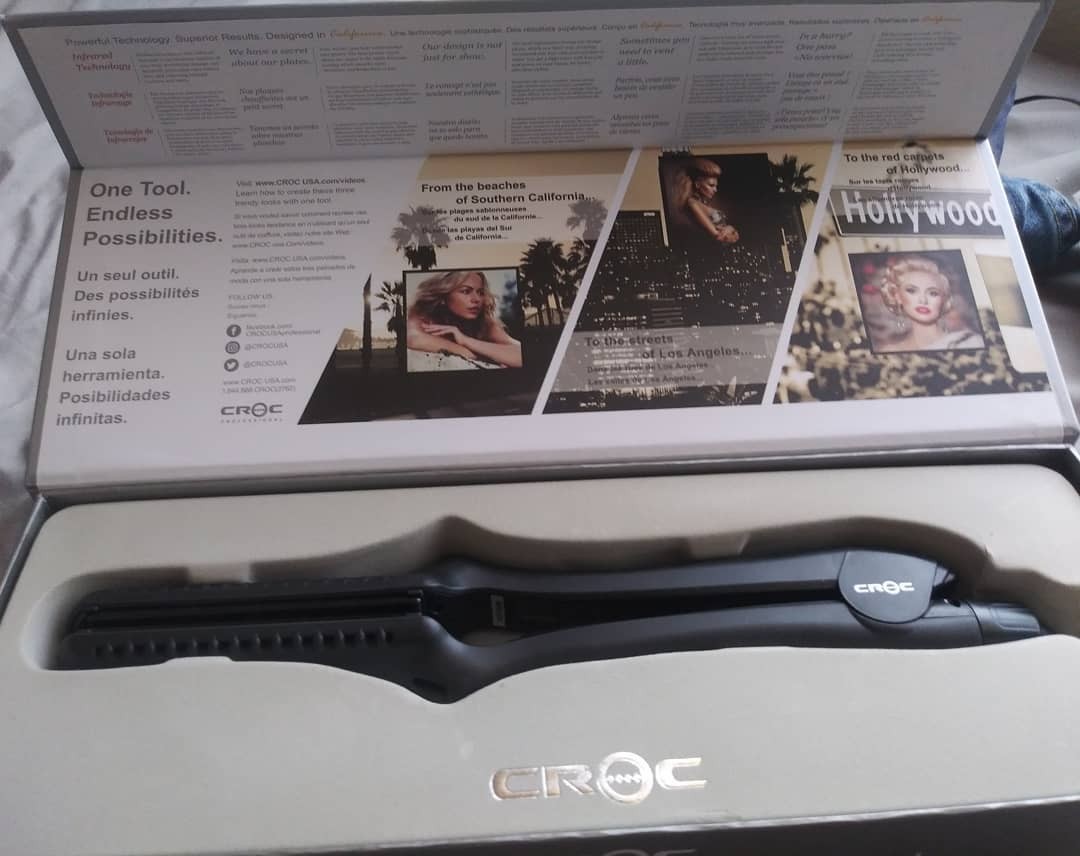 What we love:
The ergonomic design grips hair;
Nano-titanium ceramic coated plates help to seal moisture in;
Digital temperature selection;
Sleek black design with comfort grip.
What we'd change:
Takes time to find the optimal temperature for your hair.
CROC straighteners are known for their unique designs and this nano titanium iron is just that. It smooths out hair and fuses it with moisture that creates lasting shine. With a wide range of temperatures to choose from, this iron has everything you need to take your hair from drab to fab without worrying about frizz, damage, or overheating thanks to automatic shut-off.
Straightening Performance
9.7
---
2. Paul Mitchell Neuro Smooth Titanium Hair Straightener With Auto Shut-off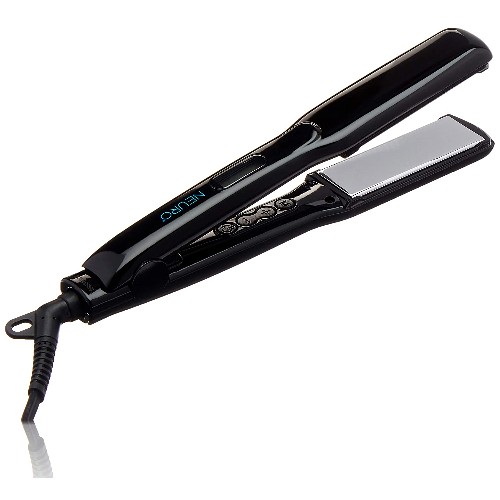 You can also find this product on Ulta.
Plate Width: 1.25 Inch
Plate Type: Titanium
Voltage: Dual Voltage
Temperature settings: 450°F
With premium IsoTherm titanium plates, the Paul Mitchell Flat Iron heats up to a sizzling 450°F in only 45 seconds. Its curved edge plates make it effortless for you to create beautiful waves, curls or bends without snags and kinks – plus its Optimized Hidden Hinge Design ensures exact styling with just the right tension!
Despite its many benefits, the Paul Mitchell's smaller size compared to other models may make styling difficult for individuals with thick and long hair.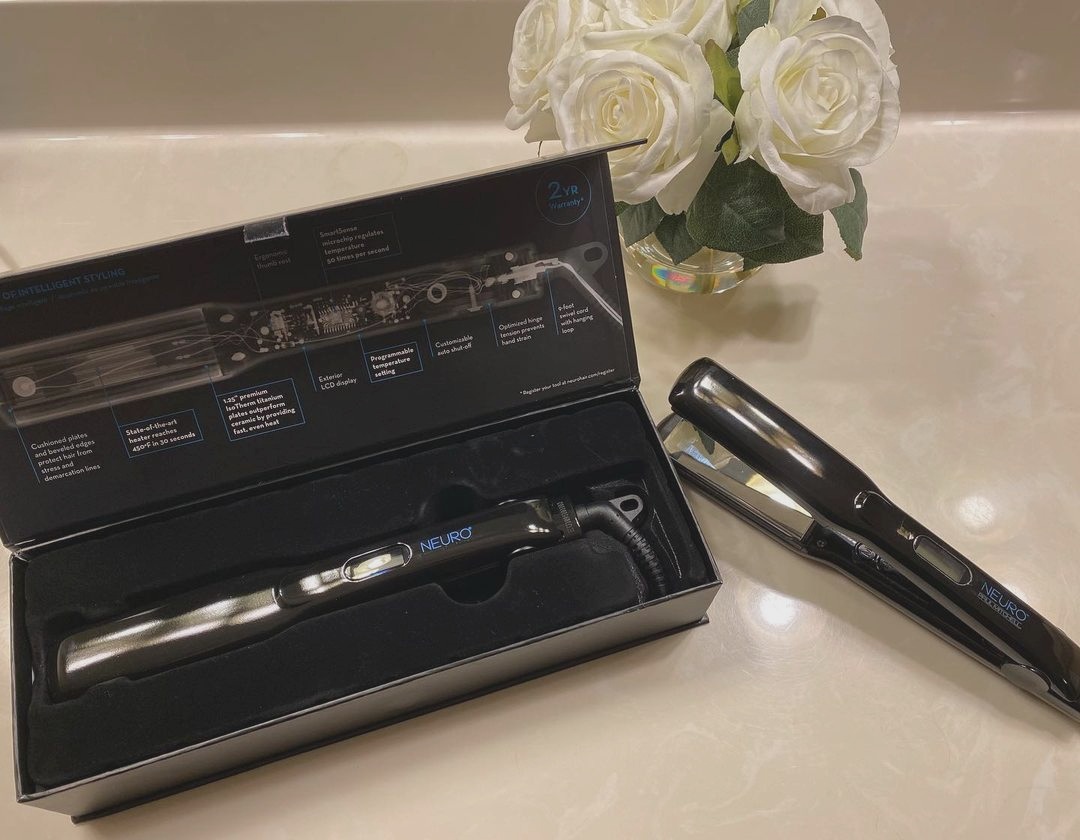 What we love:
Heats up quickly
Dual voltage
Auto shut-off
Great heat control that prevents any damage due to overheating
What we'd change:
I had been using the same flat iron for a long time, but I wanted to try something new. I wanted to find a tool that would give me the style I wanted without damaging my hair or taking too long. After doing some research, I decided to buy the Paul Mitchell Flat Iron. It is a great choice compared to other flat irons! It is worth the money, and if you take care of it and keep it clean, it will last for many years.
Straightening Performance
9.5
3. CHI Ceramic + Titanium Flat Iron –
 Best Budget Choice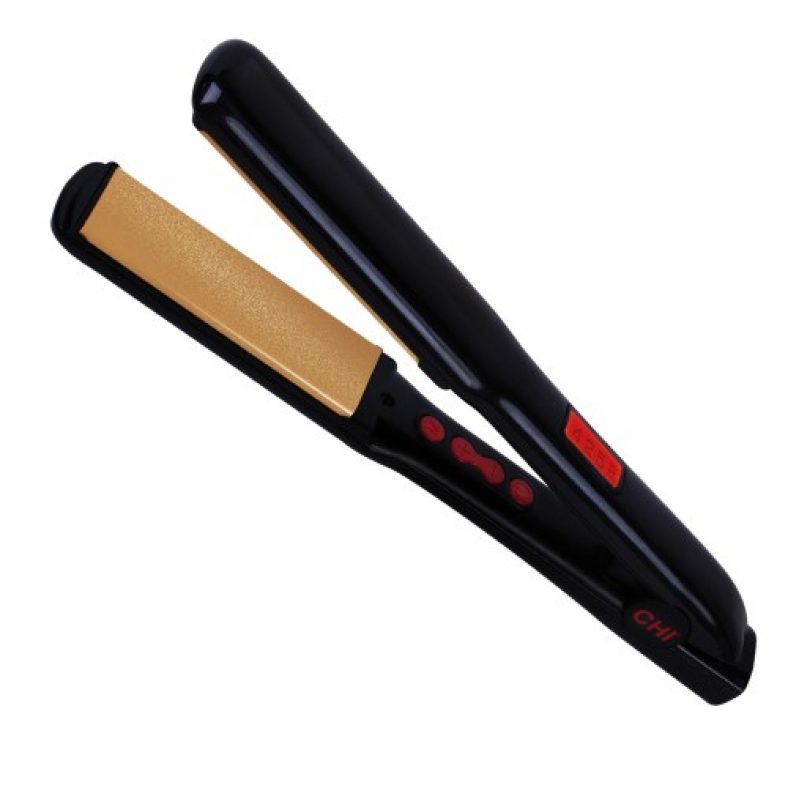 You can also find this product on Ulta, Bed Bath & Beyond.
Plate Width: 1 1/4″ Inch
Plate Type: Titanium, Ceramic
Warranty: 2 year
Voltage: 110-220V
Temperature settings: 425°F
CHI has been in the flat iron game for decades. They focus on material and build, using patented metals that even out heat distribution. The CHI G2 takes our pick for best budget auto shut-off flat irons, with quality that won't break the bank.
The iron has an ergonomic design with a silky black finish. Two golden floating plates made of high-grade titanium help to smooth out styles and prevent snags, tearing, and burning while you style your hair.
A color-coded digital temperature setting allows you to choose the optimal temperature for styling, ranging between 218⁰F and 425⁰F. Apart from the major stuff, you can enjoy extras like the dual voltage, 40-second heat up, and elongated swivel cord.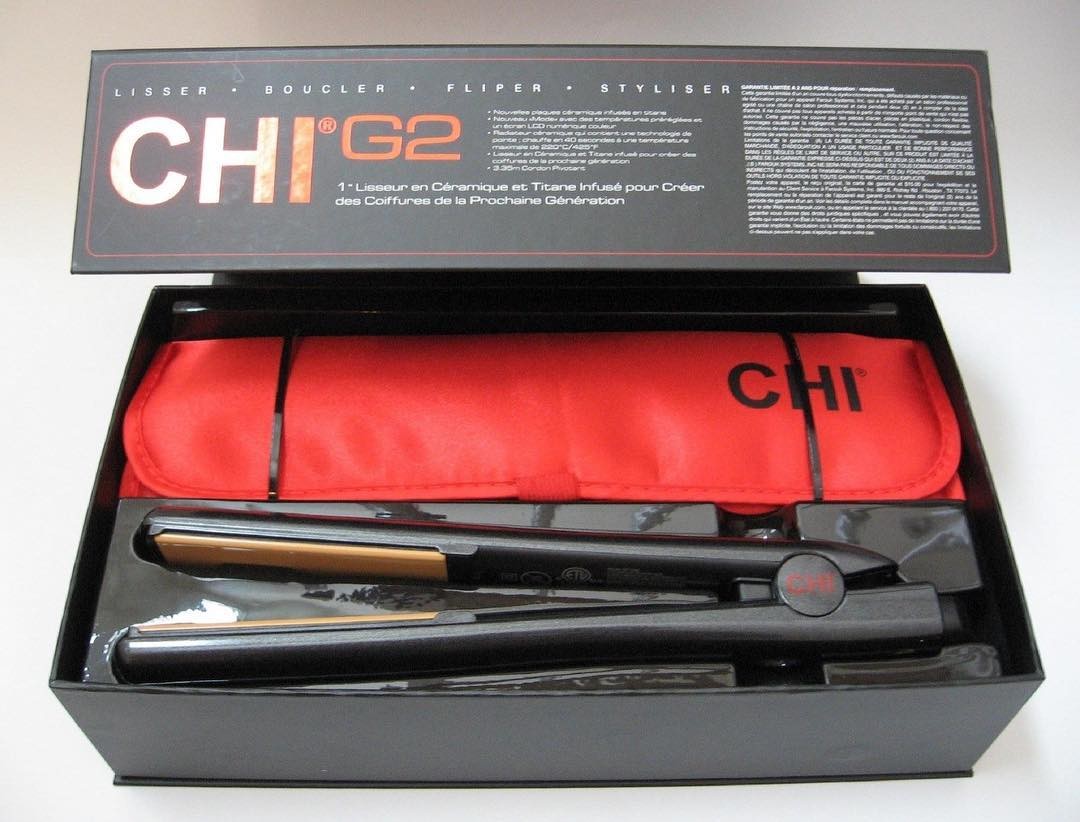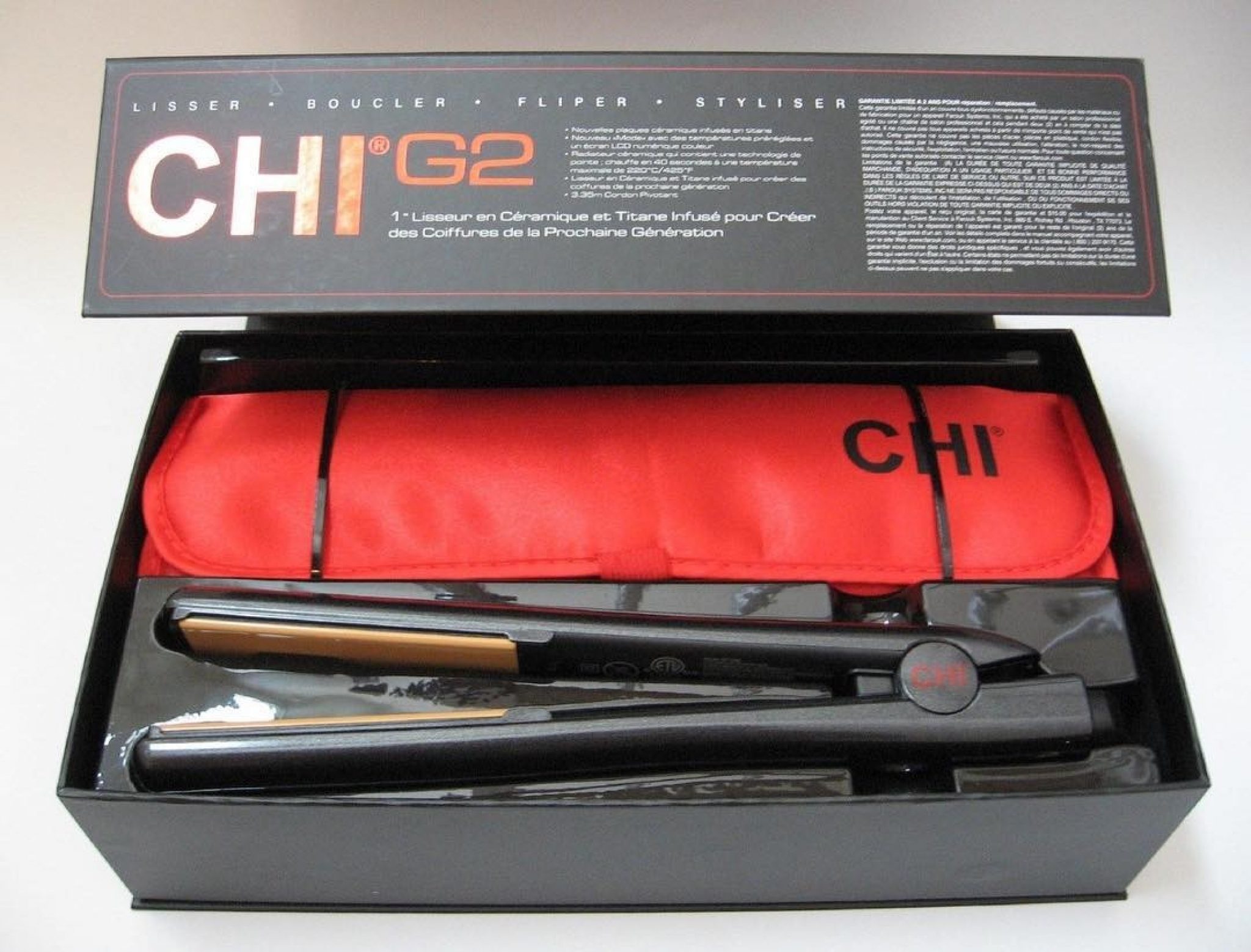 What we love:
The simple and sleek design;
Titanium infused plates;
Color-coded digital display;
40-second heat-up.
What we'd change:
When you purchase a CHI, you're guaranteed to get a quality flat iron. With the ceramic G2, you can enjoy all of the most loved CHI features at a steal. With 1.25-inch plates, 40-second heat up, and a two-year warranty, what more could a girl ask for? It's sleek, lightweight, and has the perfect setup to style any hair type any way you like.
Straightening Performance
9.3
---
4. ghd Ceramic Flat Iron –
 Premium Pick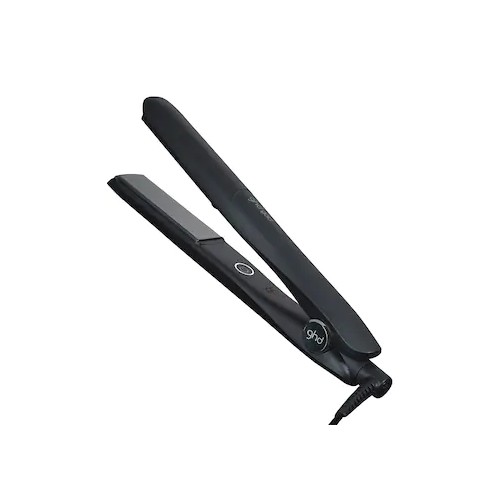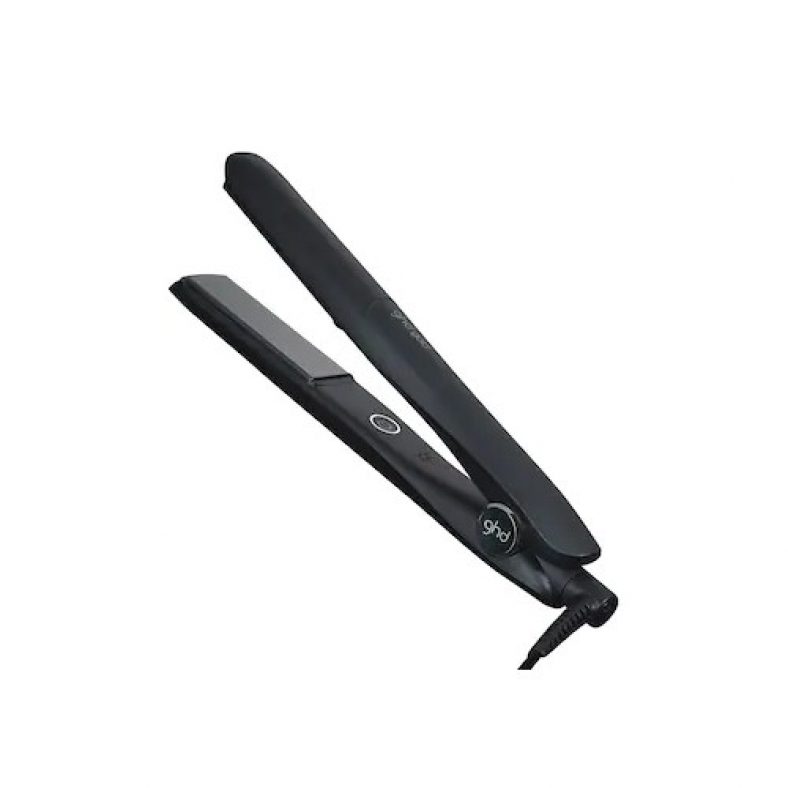 You can also find this product on Ulta, Sephora.
Plate Width: 1 Inch
Plate Type: Ceramic
Warranty: 3 year
Voltage: 110-220V
Temperature settings: 365°F
ghd is an award-winning hair styling brand known to break the mold. Before taking to the most stylish salons, scientists start in the laboratory, developing new and improved technology and material for their next big product.
Among other hair straighteners with auto shut-off, the ghd gold ceramic flat iron takes our premium pick. The 1-inch plates come with heat sensors across each plate to ensure even heat distribution throughout styling and protective plates to smooth out hair as your style.
Heat gets up to 365⁰F, said to the optimum temperature for all hair types, promoting damage-free and stronger hair. In addition to all the goodies, this iron has 20-second heat up, universal voltage, a 9ft swivel cord, and a 3-year ghd manufacturer's guarantee.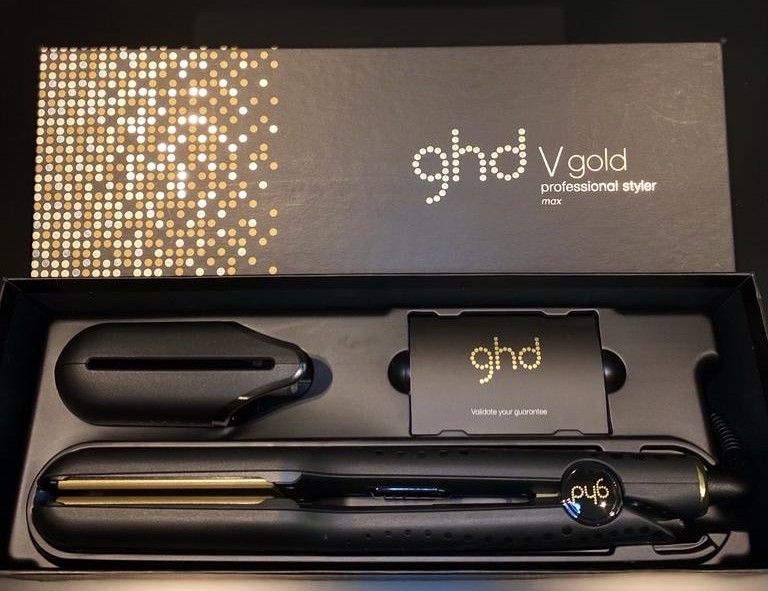 What we love:
Renowned quality of ghd products;
Optimal heating to protect hair;
3-year ghd guarantee;
Sleek black on black design.
What we'd change:
Only one heat setting (365⁰F).
If you're looking for a flat iron for the long run, the ghd gold could be the one. It's not only stylish on the outside but has a ton of features that make it stand out above the rest. Smooth black plates that won't snag hair with built-in sensors make this iron a good fit for all hair. Plus, with 20-second heat up, it will be ready for you to use any time you need it. This straightening tool strengthens hair as you use it and decreases the risk of damage, all with help from ground-breaking technology developed in ghd labs.
Straightening Performance
9
---
Flat Iron Buyer's Guide
How does auto shut-off work in flat irons?
With hair straighteners that turn off automatically, there are heat and motion sensors embedded within plates. Once you're done with your straightener and leave it unattended, the motion sensors will trigger auto shut off.
Some flat irons automatically shut down in as little as 15 minutes without activity, working to help keep your items and house safe. Once the iron shuts off, it will start to cool down and not turn back on until you're ready to use it again.
Why is the auto shut-off feature essential?
Flat irons can reach temperatures as high as 450⁰F. When left unattended, the surface or items that are nearby are exposed to these high temperatures, potentially causing them to burn or catch on fire.
With automatic shut-off, flat irons automatically start to cool down until they are completely turned off when not in use. Automatic shut-off is perfect for those who are always on the go and in a hurry, maybe accidentally leaving their iron on as they rush to school, work, or play.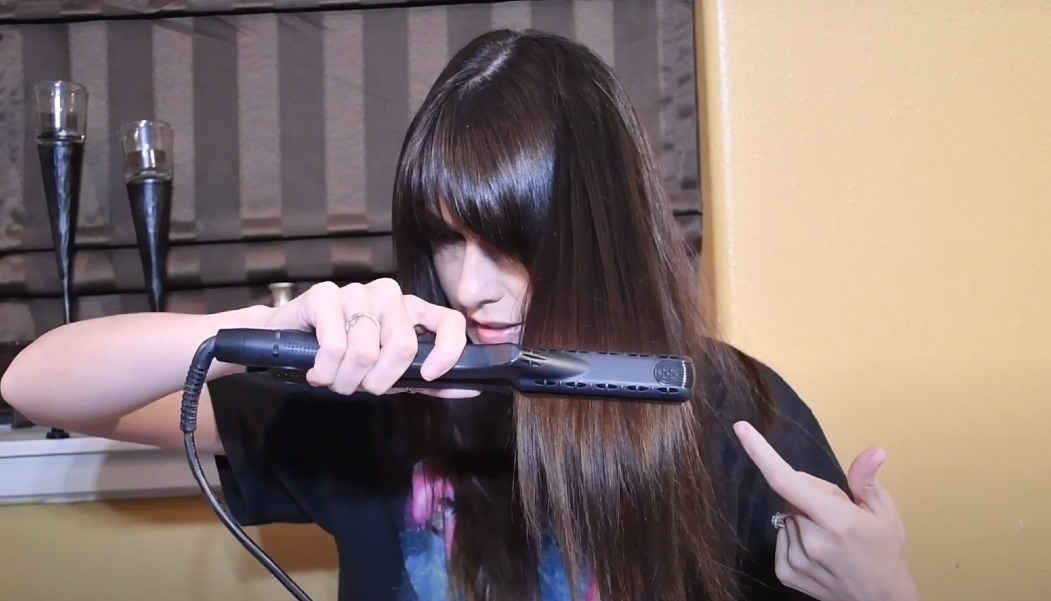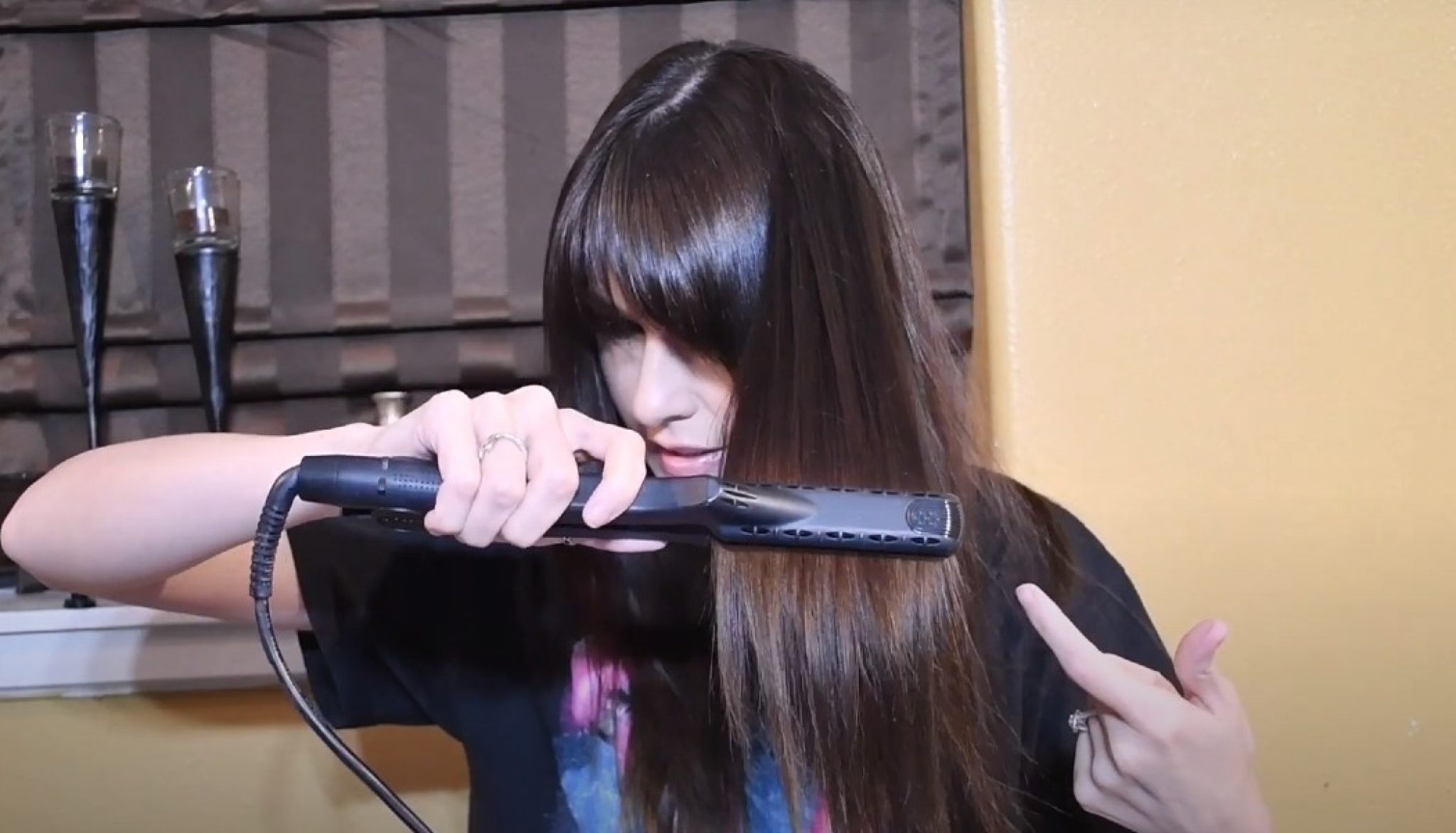 Features to Consider When Buying Flat Irons That Turn off Automatically
When purchasing a flat iron, there are several features to consider to ensure you're getting a high-quality tool that will work well for your specific hair type and needs. Here are some key features to look for:
Temperature Control
The ability to adjust the temperature of the flat iron is important because different hair types require different heat levels. For example, fine or damaged hair should be styled at a lower temperature than thick or coarse hair. Look for a flat iron with a wide temperature range, ideally between 200-450 degrees Fahrenheit.
Plate Size and Shape
The size and shape of the plates can also affect how well the flat iron works for your hair. If you have short hair, a smaller plate size may be more suitable. For longer hair or to create larger curls, a larger plate size may be better. Additionally, plates that are curved or have rounded edges can make it easier to create curls and waves.
Plate Material
The material of the plates can also have an impact on the performance of the flat iron. Ceramic plates are a popular choice because they heat evenly and are gentle on the hair. Tourmaline plates are also a great option as they emit negative ions that can help to reduce frizz and static. Titanium plates are also durable and heat quickly, but they can be harsh on the hair.
Additional Features
Some flat irons come with additional features that can make styling your hair easier and more convenient. For example, dual voltage flat irons can be used internationally without the need for a converter, and flat irons with a quick heating time can save you time when getting ready in the morning.
Overall, when shopping for a flat iron, it's important to consider your individual hair type and needs, and to choose a flat iron with features that will work well for you. It's also worth investing in a high-quality tool that is durable and long-lasting.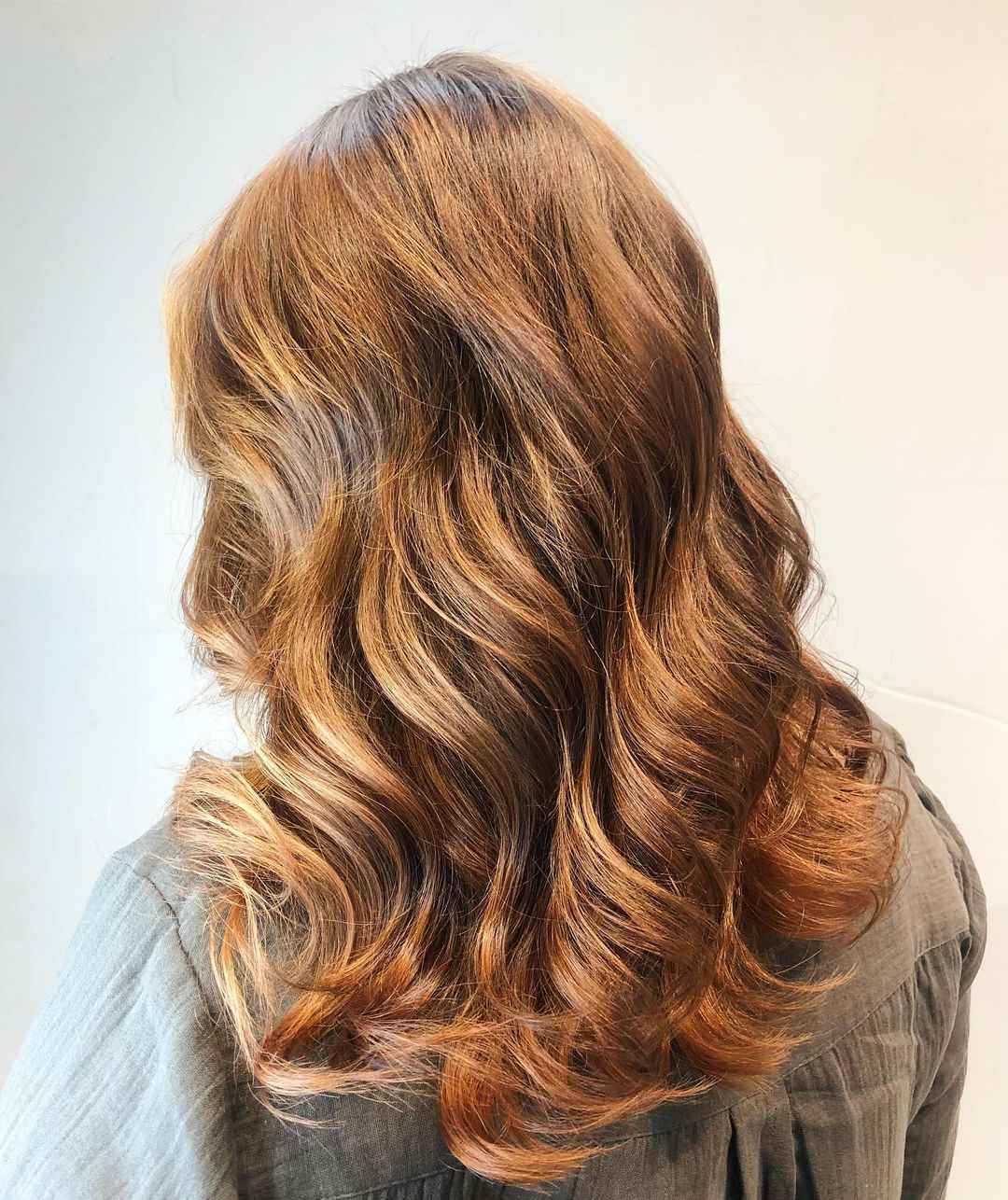 How to Properly Use a Flat Iron
Properly using a flat iron can make a big difference in the final result and the health of your hair. Here are some tips on how to use a flat iron correctly:
Preparing Your Hair
Before using a flat iron, it's important to make sure your hair is properly prepared. Start by washing and conditioning your hair, and then towel dry it until it's damp. Comb through your hair to remove any tangles, and then apply a heat protectant product to help protect your hair from the heat of the flat iron.
Applying Heat Protectant
To apply heat protectant, take a small amount of product and evenly distribute it through your hair, focusing on the mid-lengths and ends. It's important to not use too much product as it can weigh the hair down.
Ironing Techniques
Once your hair is protected and ready to go, it's time to start styling. Take small sections of hair, no more than 1-2 inches wide, and place the flat iron as close to the roots as possible. Slowly glide the flat iron down the length of your hair, making sure to hold it steady and straight. Repeat this process until you've styled all of your hair.
By following these tips and using your flat iron correctly, you can enjoy beautiful, smooth, and healthy-looking hair. Remember to always use a heat protectant and to take your time while styling to avoid any mistakes.
Auto Shut-Off Flat Iron FAQ
Do BaByliss flat irons have auto shut off?
While many of the straighteners from BaByliss come with auto shut-off, not all of them do. Before purchasing, you can check the extra features to find out if there is an auto shut-off.
Do all flat irons have auto shut off?
Unfortunately, no. While some irons have them, others do not. There are not too many brands out there that make them a standard feature. To make sure that your iron flat has an auto shut off, check for extra features.
After what time do flat irons shut off automatically?
Flat irons have different shut-off times. On average, flat irons shut off after 15 to 20 minutes without activity, preventing surfaces and objects exposed from overheating.
Also Read:
Conclusion
Flat irons are a hairstyling essential, helping create sleek and stylish hairdos with loads of shine. Still, working with heat that high could damage items if left on.
That's why finding an iron with auto shut-off is key to being stylish and safe, helping you out if you forget to shut your iron off when you're on the run. Out of our top three, the CROC Titanium takes our top pick, built beautifully and filled with extra features we love.
As always, let us know your questions and hit us up if you have concerns.
---
References:
Fire service backing for hair straighteners safety drive – http://www.syfire.gov.uk/beauty-buffs-risk-fire-and-burns-with-hair-straighteners/
Firefighters issue safety warning after posting this shocking photo of a fire caused by hair straighteners – https://www.housebeautiful.com/uk/lifestyle/a22585694/fire-safety-warning-hair-straighteners/