Are you on the market for the best vibrating hair straighteners? Then, you'll be excited to read the honest reviews on the three top-performing irons and learn more about their features.
What Is a Vibrating Flat Iron and How It Works?
Vibrating flat irons are built with plates that vibrate, which minimizes the direct contact between the hair and the plate.
This technology reduces the friction, allowing the tool to successfully straighten or curl the hair without damaging it as much as regular flat iron plates.
The final result is sleek, smooth hair, no frizz, and lower friction.
Even recent studies from the University of Washington confirm that this technology is beneficial and it can significantly reduce friction. So, there's no need to be skeptical about vibrating irons since scientists already approve of them.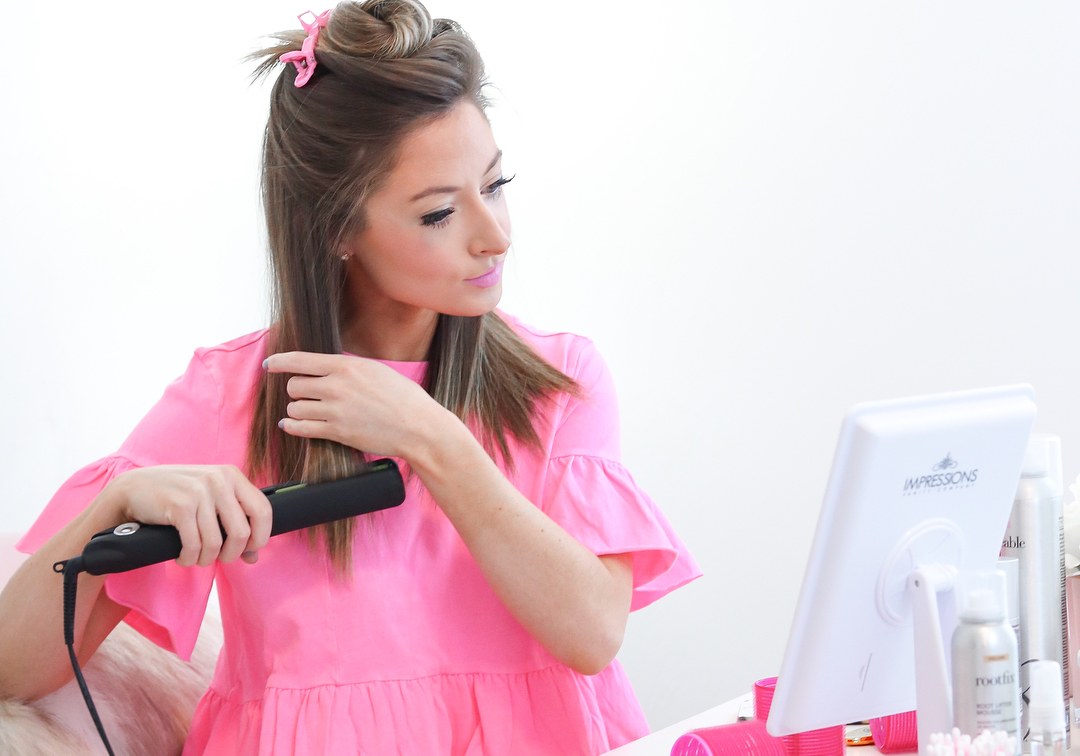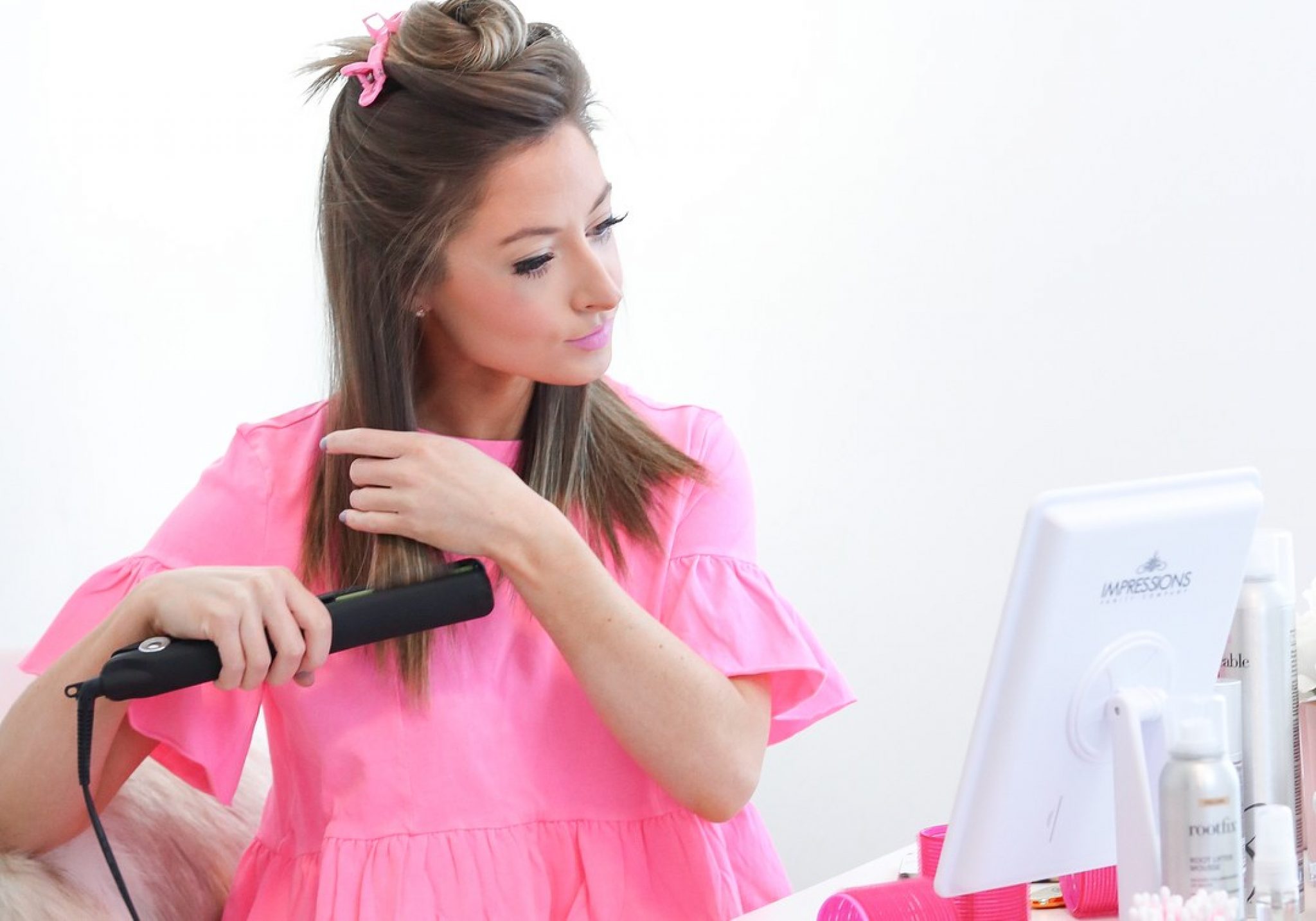 Advantages over an ordinary flat iron?
Some of the most significant advantages of vibrating straighteners over ordinary flat irons include:
Equal heat exposure to the entire hair;
Less damaging to the hair because the vibrating plates move the hair strands constantly without continuous heat exposure;
No friction, pulling, or tugging;
No damage to the cuticles, so the hair is smooth and shiny;
No more frizzy hair.
If you're not convinced in the technology but still need an excellent tool to straighten and curl your hair, you can always find the best classic 1" flat iron and play it the safe way.
Top 4 Vibrating Hair Straighteners Reviewed
1. Drybar Reserve Vibrating Styling Flat Iron
You can also find this product on Ulta.
Plate Width: 1 Inch
Plate Type: Ceramic
Warranty: 2 year
Temperature settings: 450°F/230°C
The Drybar Reserve Flat Iron will simplify styling your hair, no matter the texture. Its 1-inch ceramic plates and five adjustable heat settings ranging from 250°F/120°C to 450°F/230°C make it suitable for all types of hairdos.
Plus, its anatomically-engineered means you won't tire easily while styling! This hair styling tool is good for international travel because it can be used with any type of outlet.
It also has a cord that is 9 feet long, so you can move around while you are using it. Plus, the innovative vibration technology provides even tension for a perfect finish quickly.
The Drybar Reserve Flat Iron has a few key disadvantages. The heat settings are not shown in degrees, instead they are indicated by bars, which may make it hard to tell what temperature you're using.
Additionally, the 1-inch ceramic plates may be too narrow for some types of hair.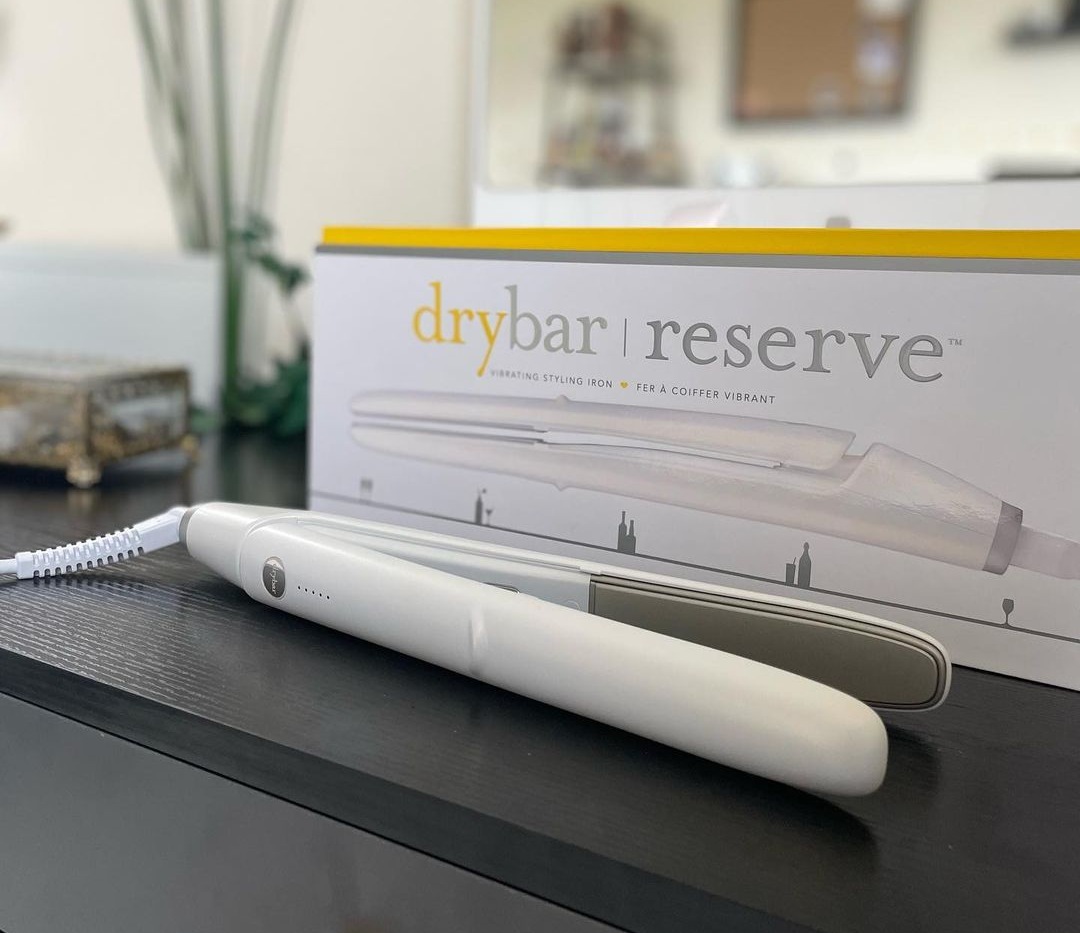 What We Love:
Adjustable heat settings
Universal voltage
Extra long cord
Vibrating technology
2 year limited warranty
Suitable for straightening and curling hair
What We'd Change:
Temperatures are not displayed in degrees
Expensive
After meticulous research, I decided to purchase the Drybar Reserve Flat Iron and it was not disappointing. Not only is this tool comfortable to use for long periods of time - a must when straightening hair - but in just weeks my locks became softer than ever! Ultimately, its cost is higher than other flat irons available on the market, making it a costly purchase for many customers. However, if you are searching for an outstanding product that won't let you down - this one is worth contemplating investing in since premium products come with a price tag.
Straightening Performance
9.8
2. Vibrastrait Pro Vibrating Flat Iron –
 Top Pick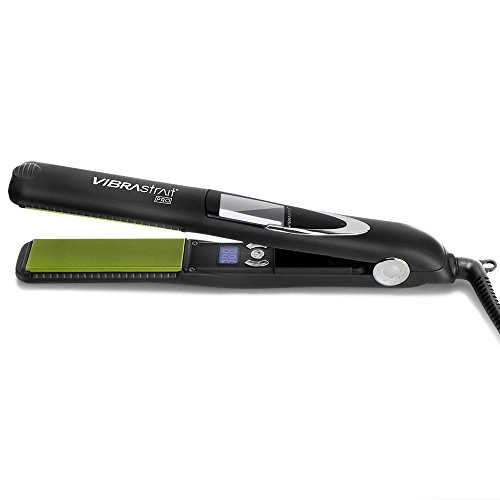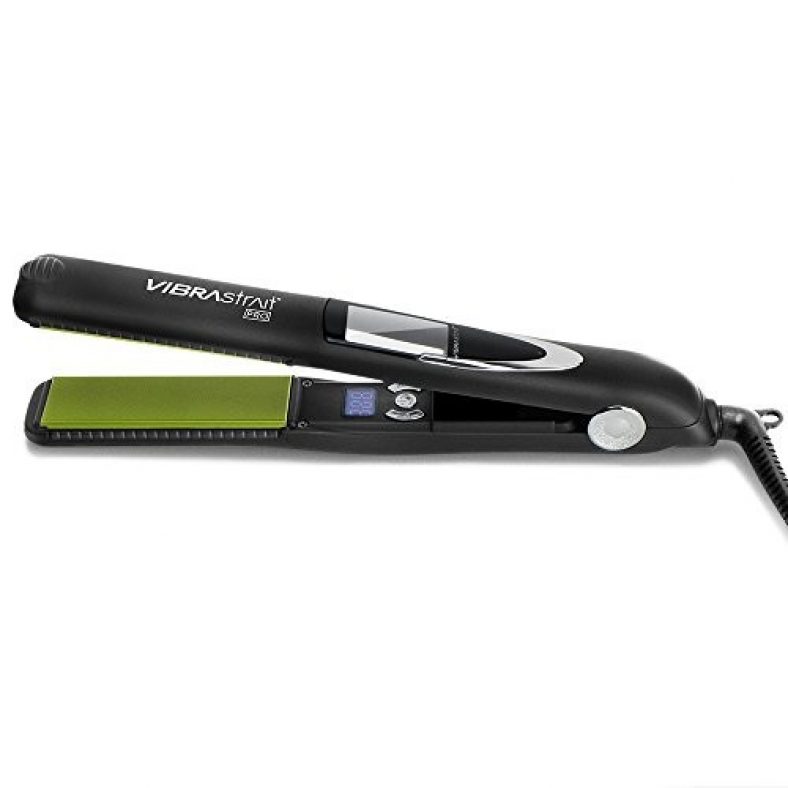 You can also find this product on Walmart.
Plate Width: 1 Inch
Plate Type: Ceramic
Warranty: 3 year
Voltage: 110V
Temperature settings: 450F
Beautopia Hair is the brand behind this top-selling Vibrastrait Pro iron with a 25-year history in the haircare industry. It's a globally famous company, praised by some of the most popular hairstylists in the world.
If you're looking for a top-notch vibrating hair straightener, look no further than the Vibrastrait Pro. The 1-inch tourmaline ceramic vibrating plates glide with ease through the hair, leaving every strand straight, frizz-free, and silky smooth.
The plates vibrate 7500 times a minute. This technology prevents applying too much heat to your hair, tugging the hair, and leaving it dry. Thanks to the innovative approach, the Vibrastrait Pro locks in moisture and allows you to create various hairstyles.
This hair tool has various temperature settings so that you can adapt the heat to your hair type. You can start from 190 and go up to 450 F degrees, following the setting on the digital screen on the tool.
What We Love:
Heats up in only 8 seconds;
Can use it to create multiple hairstyles including straight, curly, beach waves;
Auto shut-off feature after 50 minutes;
Various temperature settings;
Comes with a 3-year warranty.
What We'd Change:
Slightly heavier than the budget option.
The Vibrastrait Pro is the best vibrating flat iron because it's an effective hair tool that avoids damage thanks to the vibrating plates. In addition, it comes with a 3-year warranty, several heat adjustments, an auto shut-off feature, and ultra-fast heat-up.
Straightening Performance
9.5
3. Vibrastrait Essential Vibrating Flat Iron –
 Best Value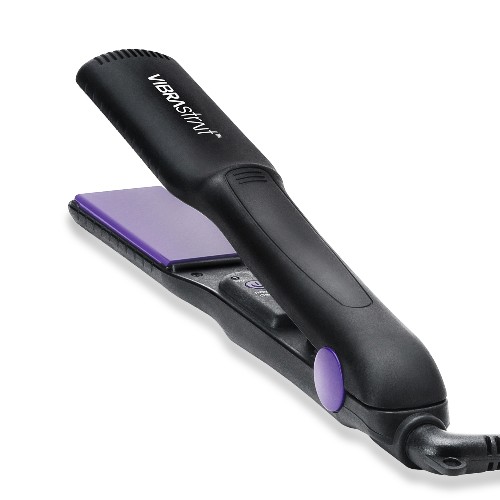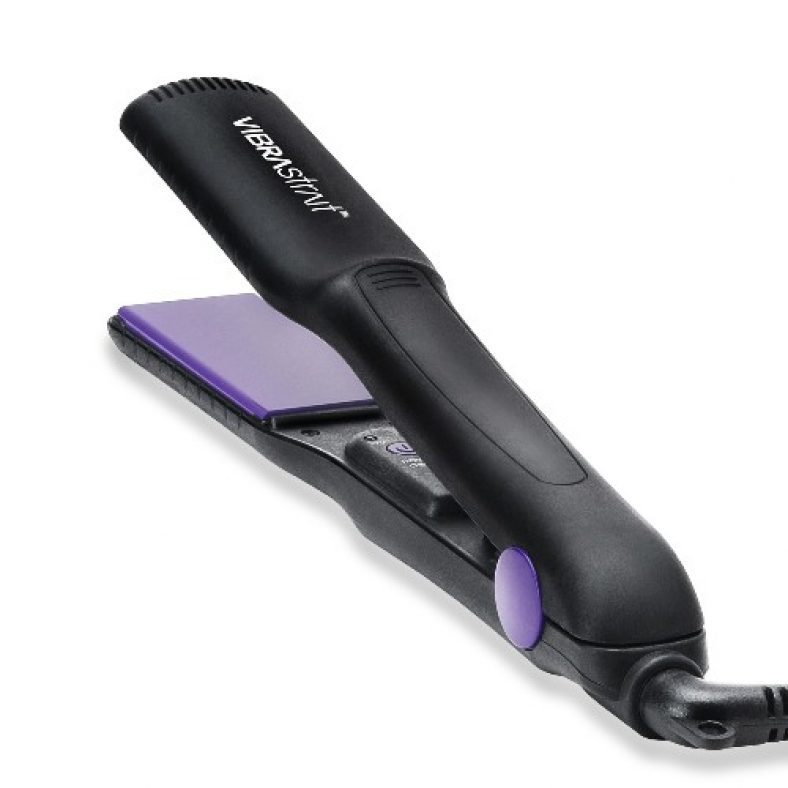 You can also find this product on Walmart.
Plate Width: 1 Inch
Plate Type: Ceramic
Warranty: 1 year
Voltage: 110V
Temperature settings: 410F
This is another fantastic vibrating hair tool produced by Beautopia Hair. As you can see, this brand is quite innovative with their products, creating a broad range to satisfy the needs of all their customers.
The Pro flat iron is the more expensive, salon-worthy tool, while the Essential vibrating iron is more affordable and the best value product on the list.
This tool has only two temperature settings: 370 F and 410 F degrees. The one-inch tourmaline ceramic plates also oscillate 7500 a minute, just like the previous flat iron, reducing friction and damage and leaving the hair smooth.
According to the Vibrastrait flat iron reviews, this is the perfect vibrating hair tool for everyone on a budget. It's a great affordable purchase because it has all the essential features, including high-quality ceramic vibrating plates, auto shut-off, rapid heat-up, and two temperature settings.
What We Love:
Rapid heat-up feature within 8 seconds;
Auto shut-off feature after 50 minutes;
Ergonomic design;
Comes with a 1-year warranty.
What We'd Change:
Only two temperature settings;
No digital screen.
If you're eager to try a vibrating flat iron to reduce damage and friction to your hair, you might want to look at the Vibrastrait Essential iron because of its affordable character. It has a 1-year warranty with an ergonomic design that's easy to use.
Straightening Performance
9.8
4. BIO IONIC Magical Stone Iron –
 Premium Choise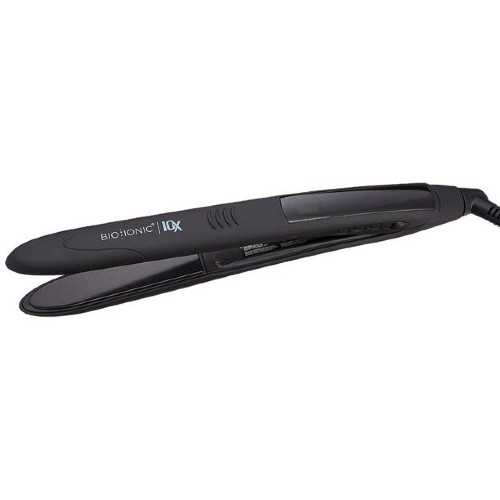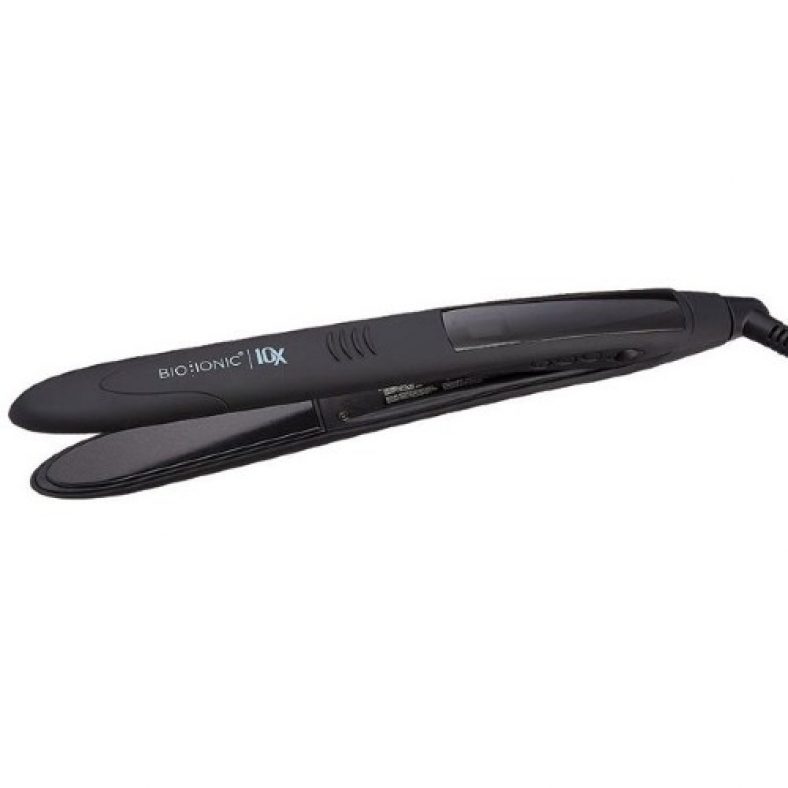 You can also find this product on Sephora, Walmart.
Plate Width: 1 Inch
Plate Type: Ceramic
Warranty: 5 year
Voltage: 110V
Temperature settings: 450F
Bio Ionic is a renowned brand in the world of hairstyling. A hairstylist founded it, and it's responsible for introducing a new moisturizing heat technology. The company's tools are all amazing and made with professionals in mind. So if you decide to purchase something from Bio Ionic, you'll know that you'll be getting that salon-like treatment.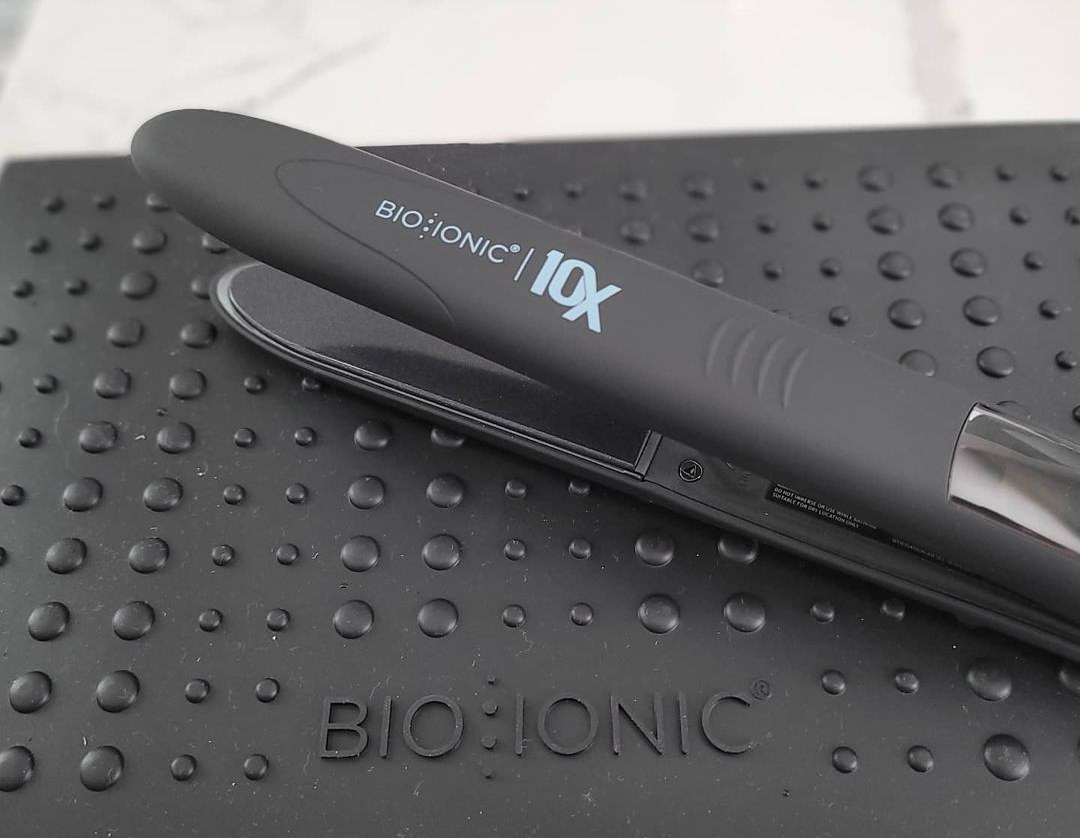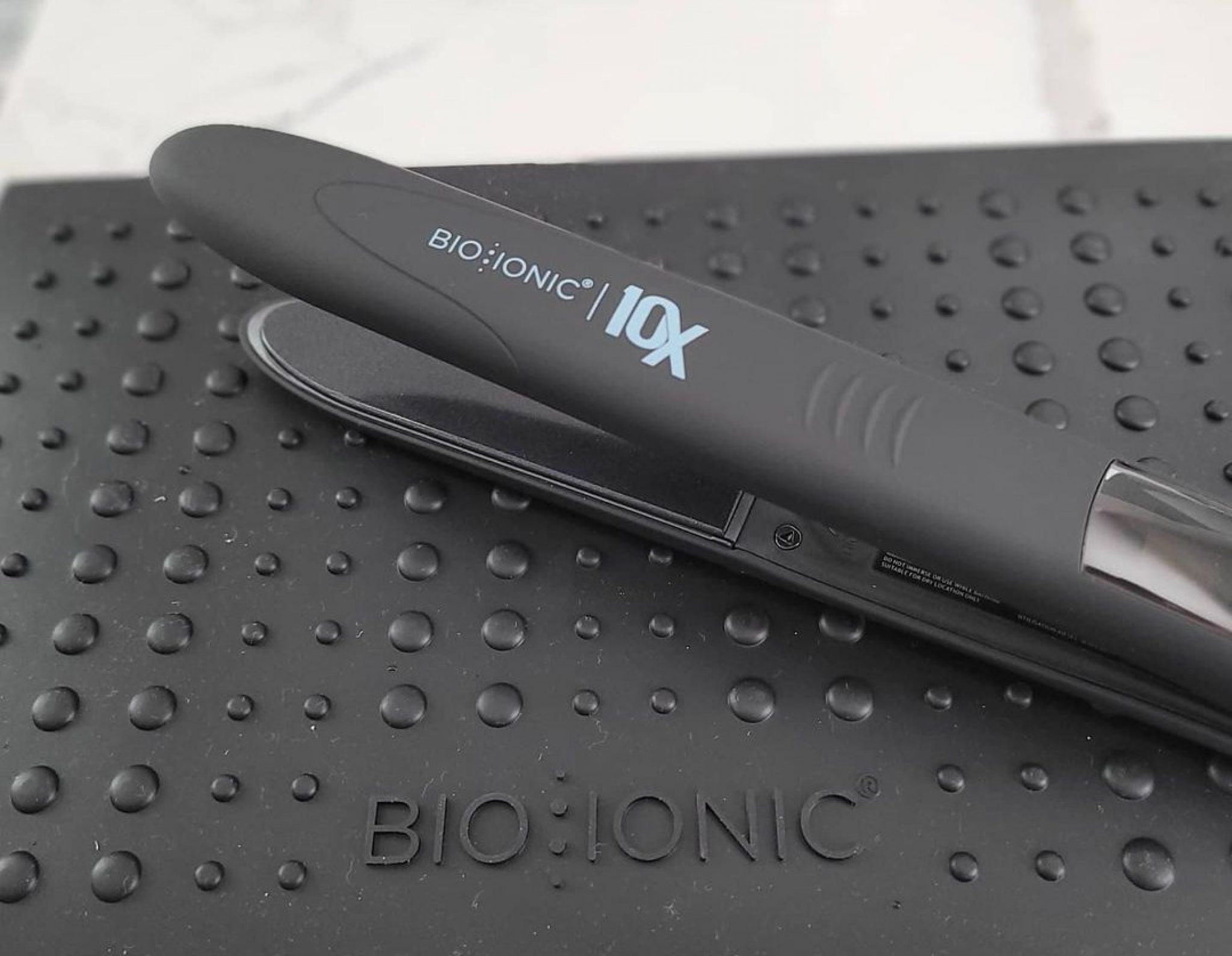 The gorgeous Magical Stone iron is equipped with sonic vibrating plates that are infused with Volcanic MX. You can use this tool to straighten your hair, create waves or curls, and you can do that in less than 10 minutes.
The tool offers various heat settings that go up to 450 F degrees, and you can check the setting by looking at the digital screen. In addition, the auto shut-off feature will turn off the iron in case you forget it.
What We Love:
Gorgeous design;
Auto shut-off feature after one hour;
Several heat settings that go up to 450 F degrees;
Digital screen that shows the temperature;
Rounded tip plate for easier reach, especially around the hairline.
What We'd Change:
It's a premium product with a high price.
Premium products such as the Bio Ionic Magical Stone iron are the best choice for everyone that wants a salon experience at home. This flat iron can help you create a hairstyle in 10 minutes, and you'll only pay once to use it for years.
Straightening Performance
9.6
How to choose the right vibrating flat iron for your hair type
Choosing the right vibrating flat iron for your hair type is important to ensure that you achieve the best results, while also preventing damage to your hair.
The first thing to consider is the type of plates that the flat iron has. Different plates are made for different hair types, for example, ceramic plates work well for all hair types but are especially good for fine, damaged hair.
Tourmaline plates are great for color-treated hair, and titanium plates are best for thick, coarse hair. Another important factor to consider is the plate size.
If you have short hair, a narrower plate size will work better, while if you have long or thick hair, a wider plate size will be more efficient.
The temperature setting is also an important factor to consider. Some flat irons have adjustable temperature settings, while others have a set temperature. It's important to choose a flat iron that has a temperature range that is appropriate for your hair type.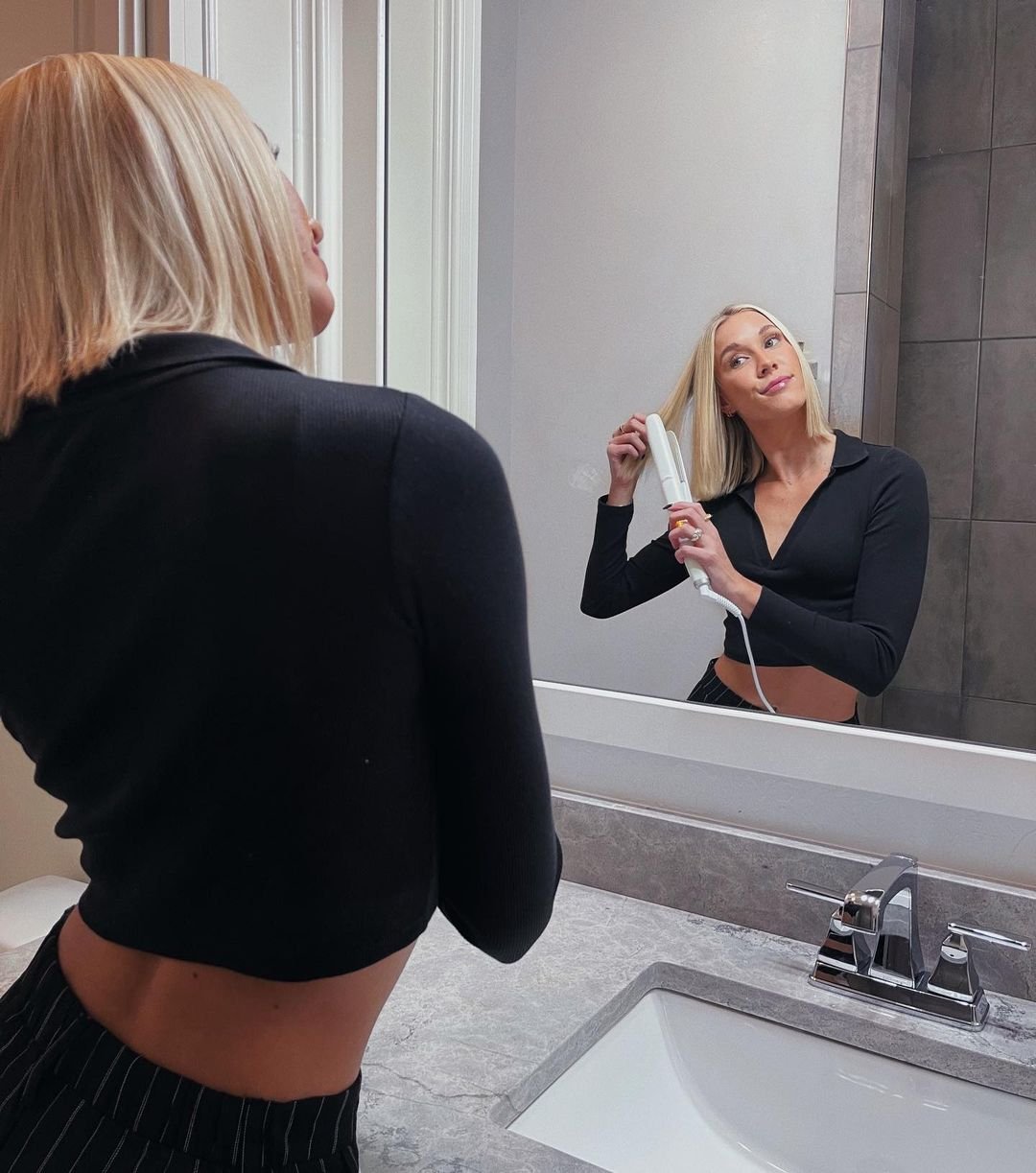 If your hair is fine or damaged, you'll want to choose a flat iron with a lower temperature range, while if your hair is thick or coarse, you'll need a flat iron with a higher temperature range.
You should also consider the weight and design of the flat iron. Some flat irons are heavier than others, and if you plan on using the flat iron for a long period of time, you'll want to choose one that is lightweight and easy to hold.
A flat iron with an ergonomic design can also help reduce hand fatigue. Lastly, you should read some reviews from customers who have used the product before and check for any complaints or issues.
This will give you a general idea of how well the product works and if it's suitable for your hair type.By taking these factors into account, you can ensure that you choose a flat iron that will give you the best results while also protecting your hair from damage.
Maintenance and cleaning tips for a hair straightener with vibrating plates
Proper maintenance and cleaning of your vibrating flat iron is crucial to ensure that it lasts for a long time, and also to ensure that your hair is not damaged when you use it.
The first step in maintaining your vibrating flat iron is to unplug it and let it cool down completely before cleaning it. Once it's cool, you can use a soft cloth or brush to remove any hair or debris from the plates.
You can also use a small amount of mild shampoo mixed with water to clean the plates. Be sure to wipe the plates dry thoroughly before using the flat iron again.
It's also important to clean the body of the flat iron, including the handle and the cord, with a damp cloth or brush. Be sure to unplug the flat iron before cleaning it, and avoid using any abrasive cleaning products that could scratch the surface of the flat iron.
Lastly, it's important to check for any damage to the cord or the plug, and if you notice any fraying or damage, it's best to stop using the flat iron and get it repaired or replaced.
Conclusion
Are you ready to test this fantastic technology after getting familiar with vibrating hair tools and reading the vibrating flat iron reviews?
The top pick on our list, the Vibrastrait Pro iron is the best on the market because it comes at an affordable price and has all the essential features such as auto shut-off, rapid heat-up, warranty, long cord, and it's straightforward to use.
We can't wait to hear your opinion on the best vibrating hair straighteners and get pictures from your silky smooth and frizz-free mane created with one of these tools.
Also Read:
---
References:
7th American Conference on Human Vibration Proceedings – https://osha.washington.edu/sites/default/files/documents/7th%20ACHV%20Proceeding%20book_V7_0.pdf