Instead of flipping through magazines and scouring pages of 1/2-inch flat iron reviews, I'd like to make your hunt easy. I have searched far and wide, narrowing down the list to the four best 1/2-inch flat irons out there for all hair types.
Below, you'll find a review of each, a buyer's guide to pick your perfect match, and answers to the most asked questions when searching for a new straightener.
Top 4 Best 1/2 Inch Flat Irons Reviewed
back to menu ↑
1. FHI Tourmaline – Best 1/2″ Flat Iron Overall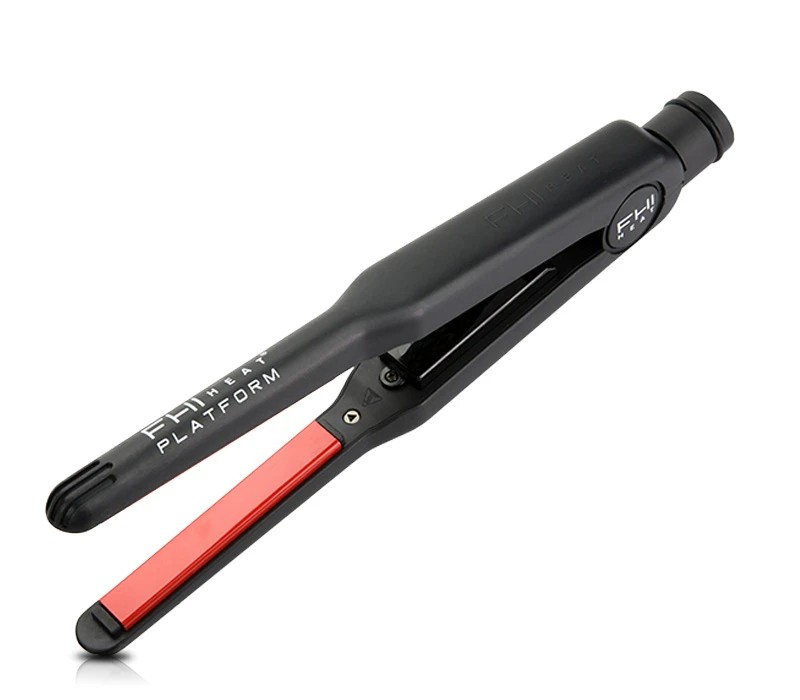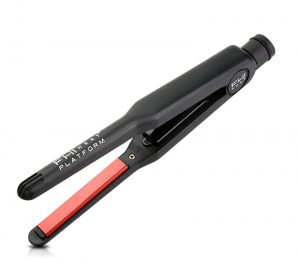 FHI is one of the largest producers of the hottest styling tools. Their innovative technology paired with stylish designs is dripping with quality, making them the perfect fit for all hair types. This FHI 1/2-inch straightener features heat-resistant material that's easy to grip and smooth on the hands.
Ceramic plates come infused with tourmaline, which helps lock in moisture and hydration while keeping damage and humidity at a minimum. Heat settings are adjustable, ranging from 140⁰F to 450⁰F. Design features an elongated cord that swivels, automatic shut-off after one hour, and a lightweight feel that won't wear the hands out.
What we like:
The cool design;
The elongated cord;
The tourmaline-infused ceramic plates.
What could improve:
Automatic shut off could be shorter (1hr);
Short return policy (30 days).
Summary
When it comes to half-inch flat irons, the FHI Tourmaline sets the bar high. No matter what type of hair you have or style you prefer, this iron can do the trick plus prevent damage to your locks.
back to menu ↑
2. BaByliss Pro Nano – Best Budget ½ Inch Flat Iron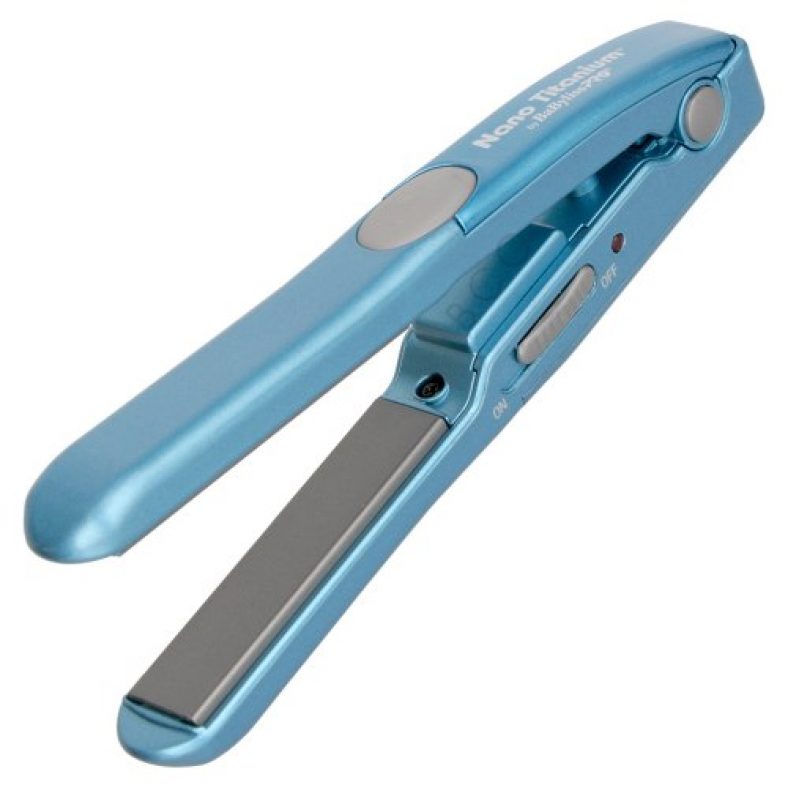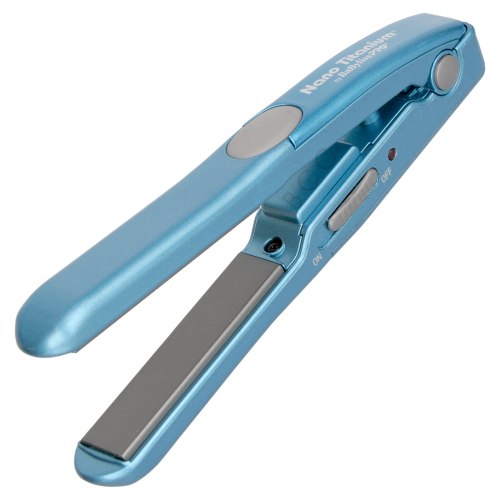 BaByliss Pro is all about high-performance professional hair tools. The BaByliss Pro Nano iron comes with titanium plates coated with a ceramic material, creating smooth and glossy strands from root to tip.
The cobalt-blue finished design is compact, with a total length of 6", perfect for taking on the go. Temperatures get up to 440⁰F, reaching max temps in just a few seconds. It's small, lightweight, and comes with the perfect sized plates to style all kinds of hair.
What we like:
The bold blue color is eye-catching;
It's great for all budgets and all hair types;
The titanium plates come coated with ceramic.
What could improve:
There is no automatic shut off.
Summary
When looking for an iron that will do the trick without breaking the bank, this one is a winner. It'll fit anywhere and works heats up quickly so you can get your day started with fabulous hair.
back to menu ↑
3. ghd Gold – Professional-Grade Flat Iron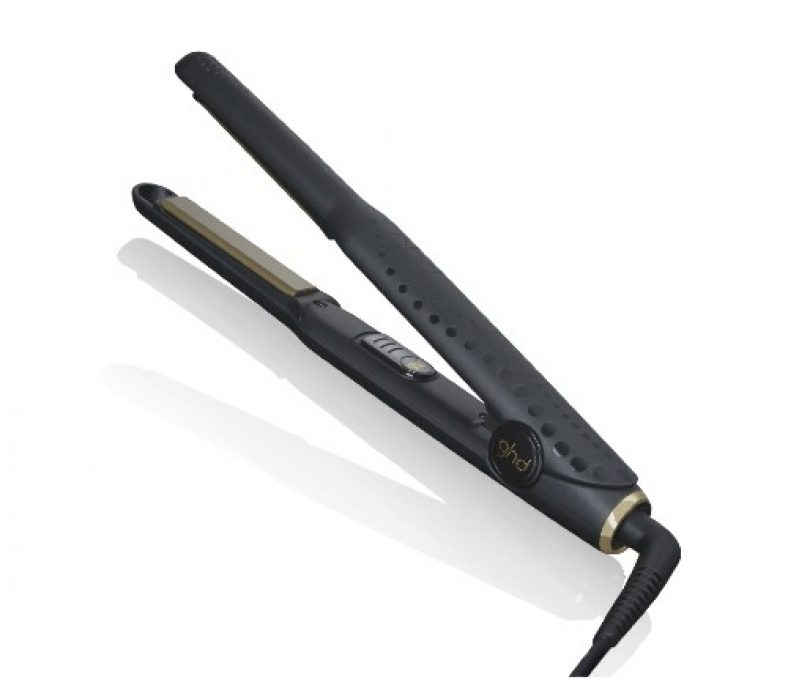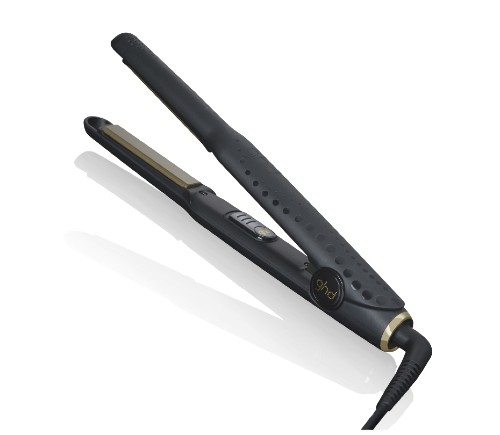 Scientists at ghd are recognized time and time again for their cutting-edge designs and fresh-off-the-press technology. With the ghd Gold, they decided to go with narrow ceramic plates encased by enforced-plastic covering.
The small weight and rotational design help you create any hairstyle you want while avoiding damage to the hair. With each style, the temperature heats to 365⁰F-the optimal hair temperature for safe styling.
With a 9-ft cord that swivels and narrow ceramic plates, this iron is suitable for all hair types and lengths. It can create any style under the sun.
What we like:
Temperature enforced to protect hair;
Chic design;
Long swivel cord for flipping and twirling.
What could improve:
High heat is not an option.
Summary
ghd is always on the map for a reason, coming with brag-worthy designs and materials that can up anyone's hair game. This flat iron is no different, giving ladies a luxury hair tool they can take on the go.
back to menu ↑
4. BaByliss Pro Nano – Decent 1/2 Iron for Short Hair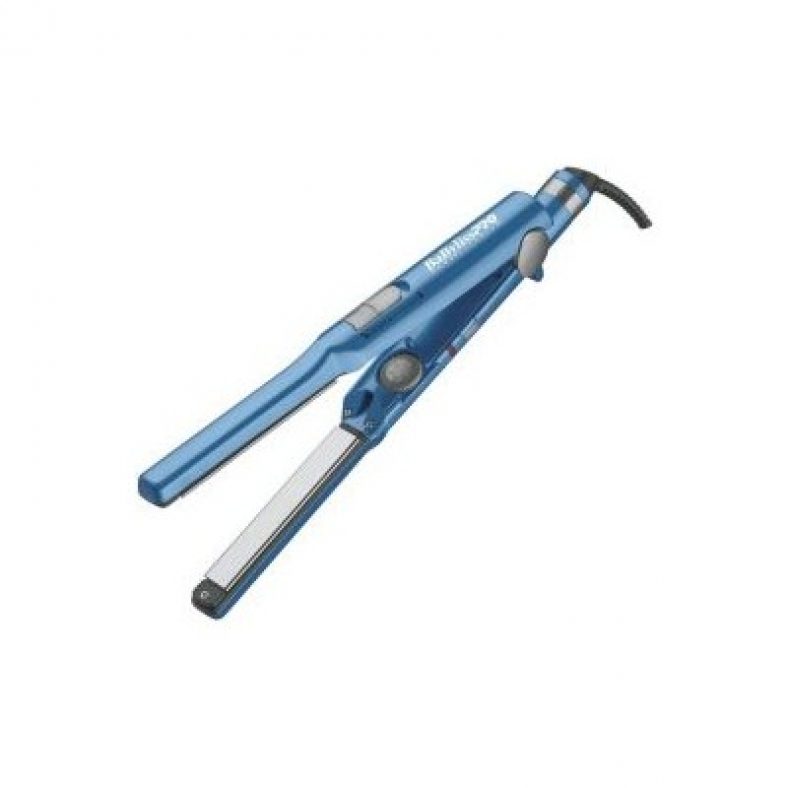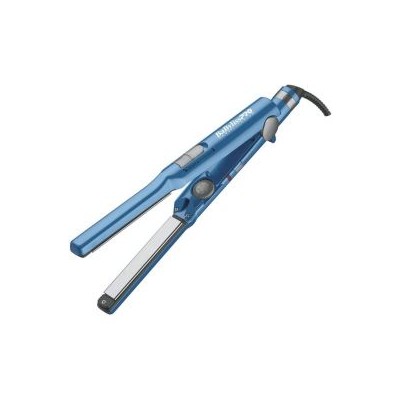 It should come as no surprise that BaByliss flat irons are on the list more than once, known as one of the top hair tool sellers around the world. This time, it's the Babyliss Pro Nano, with its thin plates perfect for working with short hair.
The titanium-infused plates help to keep the heat evenly distributed and lock in shine. Heat settings are adjustable, going up to 450⁰. It weighs just over 1 pound and comes with a long swivel cord, soft-grip, and 50 heat settings to find your preferred angle and temperature for a style you'll love.
What we like:
50 heat settings for styles of all types;
Slim design to get close to the scalp;
Titanium plates for even heat distribution.
What could improve:
Summary
When it comes to half-inch
hair straighteners for shorter hair
, the BaByliss Pro Nano is where it's at. It's slim, lightweight, and will keep locks shiny and smooth with each stroke.
back to menu ↑
What are the main features to look for in a flat iron?
A flat iron is the perfect styling tool for straight tresses, bold curls, or beachy waves. When looking for a flat iron, you should consider:
back to menu ↑
Plates
Plates are perhaps the most important, as they come in direct contact with the hair. You want to go with iron plates that keep heat distributed evenly and come with ion-boosting chemicals packed in to keep hair smooth and hydrated.
back to menu ↑
Heat Settings
In addition to the plates, the heat is also a key factor when choosing your iron, helping you achieve your desired look. Try and go with irons that allow you to adjust heat, going up to temperatures as high as 500⁰F. You'll learn to find the setting you like that works for your hair, taking care to treat it before pressing it with heat.
back to menu ↑
Overall Quality
Last but not least, you need to take a look at the quality. Go with irons made by trusted styling brands that stand by their products. Most of the top styling tools brands are behind the release of heating tools that care for the hair and avoid damage.
Also read: Best Curved Edge Flat Irons
back to menu ↑
When you need a 1/2-inch flat iron?
Flat irons are not just for straight looks. With a twisting motion, you can create curls, waves, and much more. So, when should you consider purchasing a flat iron? They are perfect for:
Ladies that love sleek looks;
On the go gals that want chic hairstyles quick;
Fashionistas that like to play up their look and rock new hair here and there.
back to menu ↑
Flat Iron FAQ
back to menu ↑
Can you curl hair with 1/2 flat iron?
Of course! To create curls with a flat iron, you need to make a twirling motion with the wrist, moving down as you curl the strand.
back to menu ↑
When should I choose bigger options?
½ inch flat irons are great for all hair types and lengths. You should consider moving up if you've got thick hair or you want to keep hair straight or with larger curls. In such case, a 2-inch straightener will be more effective.
back to menu ↑
Are 1/2-inch flat irons more compact than those with bigger plates?
Not necessarily. Some bigger plates come with the same compact size but, ½ inch is always a good bet for beauty on the go.
Also read: Solano Sleekheat450 Flat Iron Review
back to menu ↑
Conclusion
Now, you are off to choose the best half-inch flat iron for you and your hair; you got this! If you have any questions or comments, feel free to leave them below; you know I'll get them answered for you. Best of luck, and get to styling!