Many women and men only starting their way in DIY hairstyling want to know the difference between a hot comb and flat iron.
The flat iron is a perfect tool for creating sleek, shiny straight hair that's perfect for any event or occasion.
Hot combs on the other hand are more like old-school straightening irons and can be used with most types of hair.
Some people swear by them as an inexpensive alternative to a flat iron, but most stylists say there is no competition when it comes to results.
The hot comb is generally used with pressing styles such as waves, curls, kinks, or flicks. It heats up quickly and lasts for a long time before needing to be plugged back in.
There are many pros and cons of using either hot combs or flat irons so you need to think about what kind of hairstyle you want first!
Flat Iron 101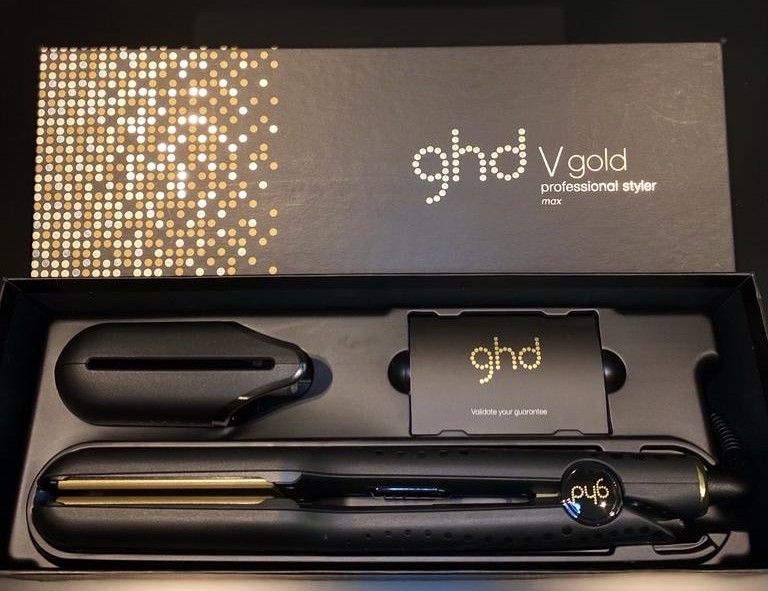 Flat iron straighteners are a common device used to straighten hair. They have been around since the 1800s, but it wasn't until recently that they've achieved cult status thanks to celebrity stylists and beauty bloggers.
Flat irons, as they're often called, have a way of creating sleek, shiny hair that's perfect for any event or occasion from everyday wear for work or school to an evening out with friends or a hot date.
These types of hair straighteners use heat from a heating element underneath the plates on either side of your head to give you a glossy sheen without damaging your natural waves and curls too much.
Also read:
Hot Comb 101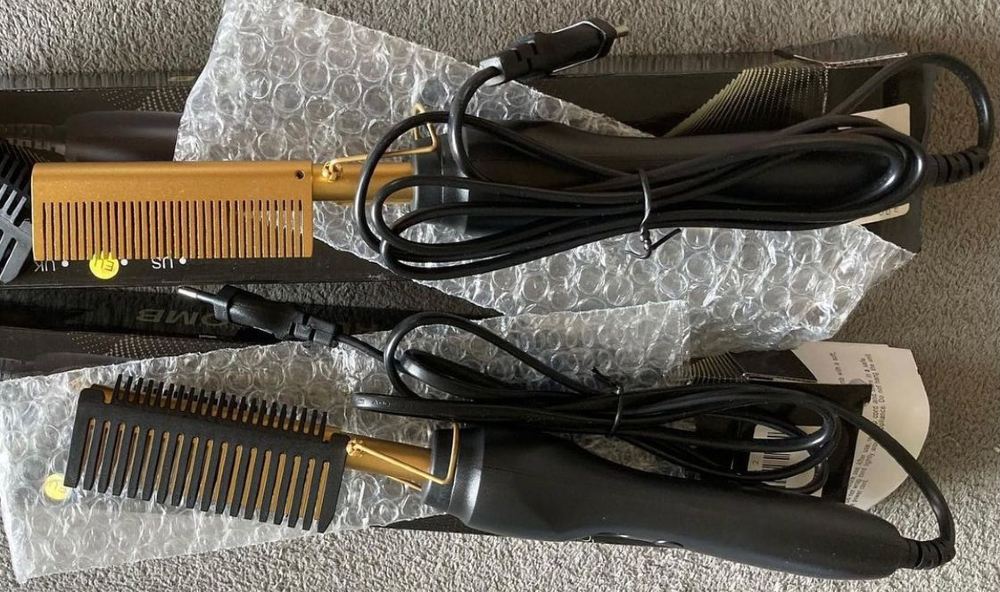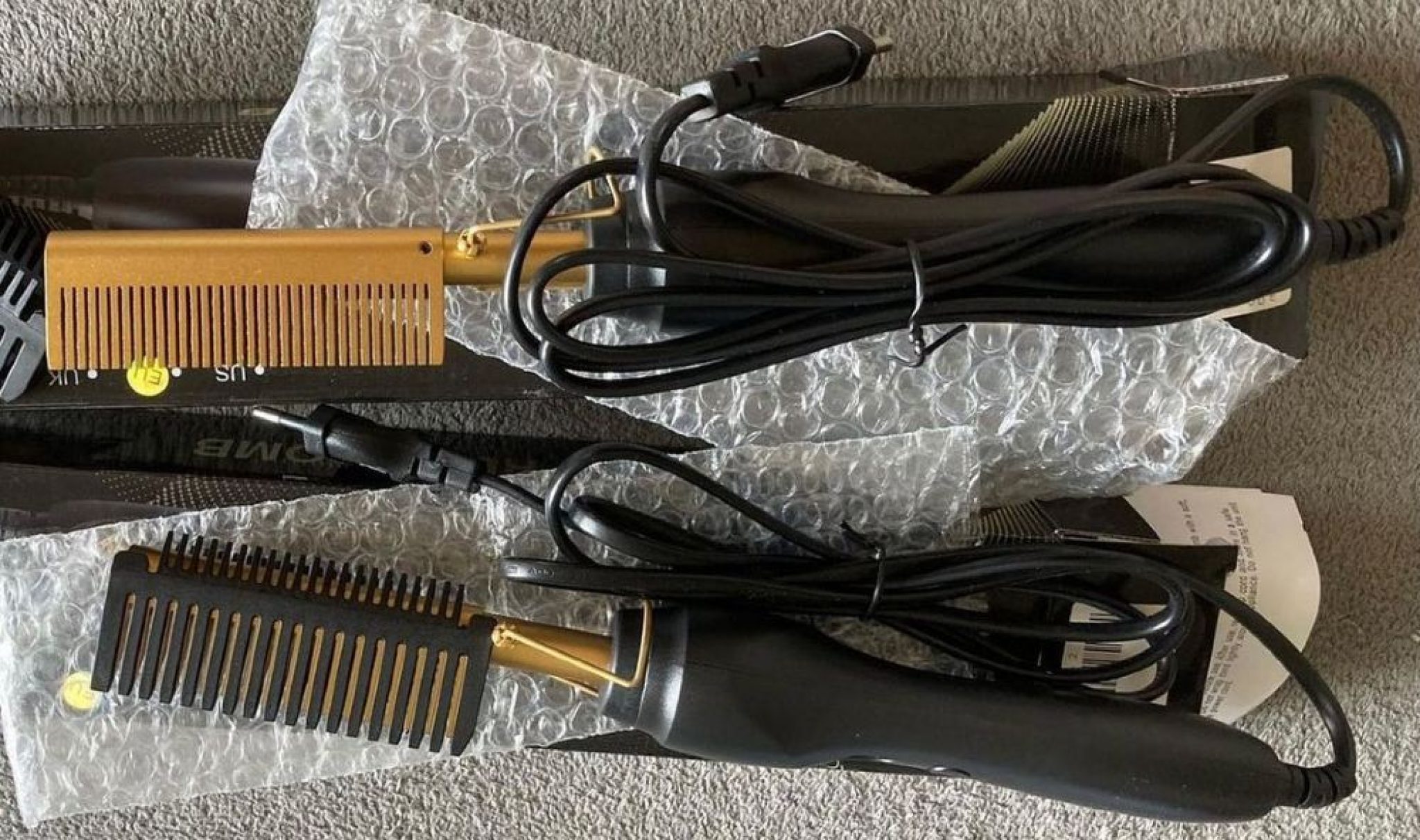 Hot combs have been in use for a long time but they became popular during the civil rights movement when Afro-textured hair was accepted in American culture. They were created by hot combing the afro to make it straighter and more manageable.
A hot comb is a tool that is often confused for an old-school curling iron, but it does something different. While the hot comb straightens hair with heat, it's not flat or sleek like a hot iron.
Instead of using plates to mold your style, hot combs are often used for pressing styles such as waves, curls, and kinks. They can also be useful when it comes to adding flicks in between pour swirls of curl that you might get with hot irons.
The hot comb heats up quickly and doesn't last for very long before needing to be plugged back in, but it's an inexpensive alternative if you're looking to avoid the price of high-quality flat iron straighteners.
Straightening Comb vs Flat Iron Comparison
Ease of use
Flat iron straighteners are fairly easy to use. Some might have a slight learning curve, but the basic controls are generally user-friendly for most people.
Users can press one button to turn on the flat iron and adjust the temperature. They are generally made with buttons that have different shapes so it's hard to mix up what you're pressing. It's also possible to flip back and forth between settings using these buttons.
The hot combs are fairly easy to use as well. Generally, if you can operate a hairbrush, then it should be pretty easy to master the hot comb. One thing that users will want to watch for is overheating because this can burn hair. The combs may also come with different settings including low heat settings.
Styling Time
Depending on how much hair you have, using a hot comb can take up to 40 minutes! Hot irons are much faster because they don't involve extensive preparation.
Hot combing hair also takes longer than hot ironing hair because hot combs don't come with the wide plates that hot irons do. If you're looking for a quick fix, hot ironing will be your best bet.
A hot comb can create any hairstyle you want – from waves to flicks – but it doesn't straighten your hair as well as a flat iron. A hot iron cannot create many types of hairstyles, but it does an excellent job at giving you sleek, shiny straight locks at any time!
Hair type
The hot iron straightener is often recommended for anyone with naturally curly hair because it essentially gets rid of the frizz that's associated with curly hair.
A hot comb can be used on most types of hair, but you'll see better results with hot combs if you have naturally wavy or kinky hair of medium or short length.
Some flat irons are made only to straighten your hair, while there are 2-in-1 hair straighteners and curlers that are more versatile so they can also create curls, waves, or flicks. You need to think about what kind of hairstyles you want before you start shopping for hot irons so you have an idea of what to look for!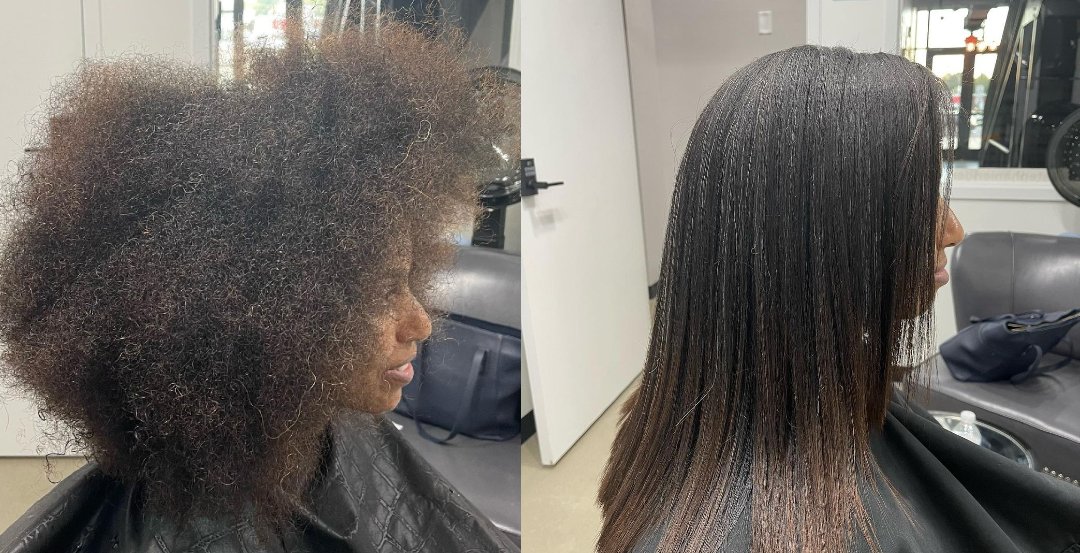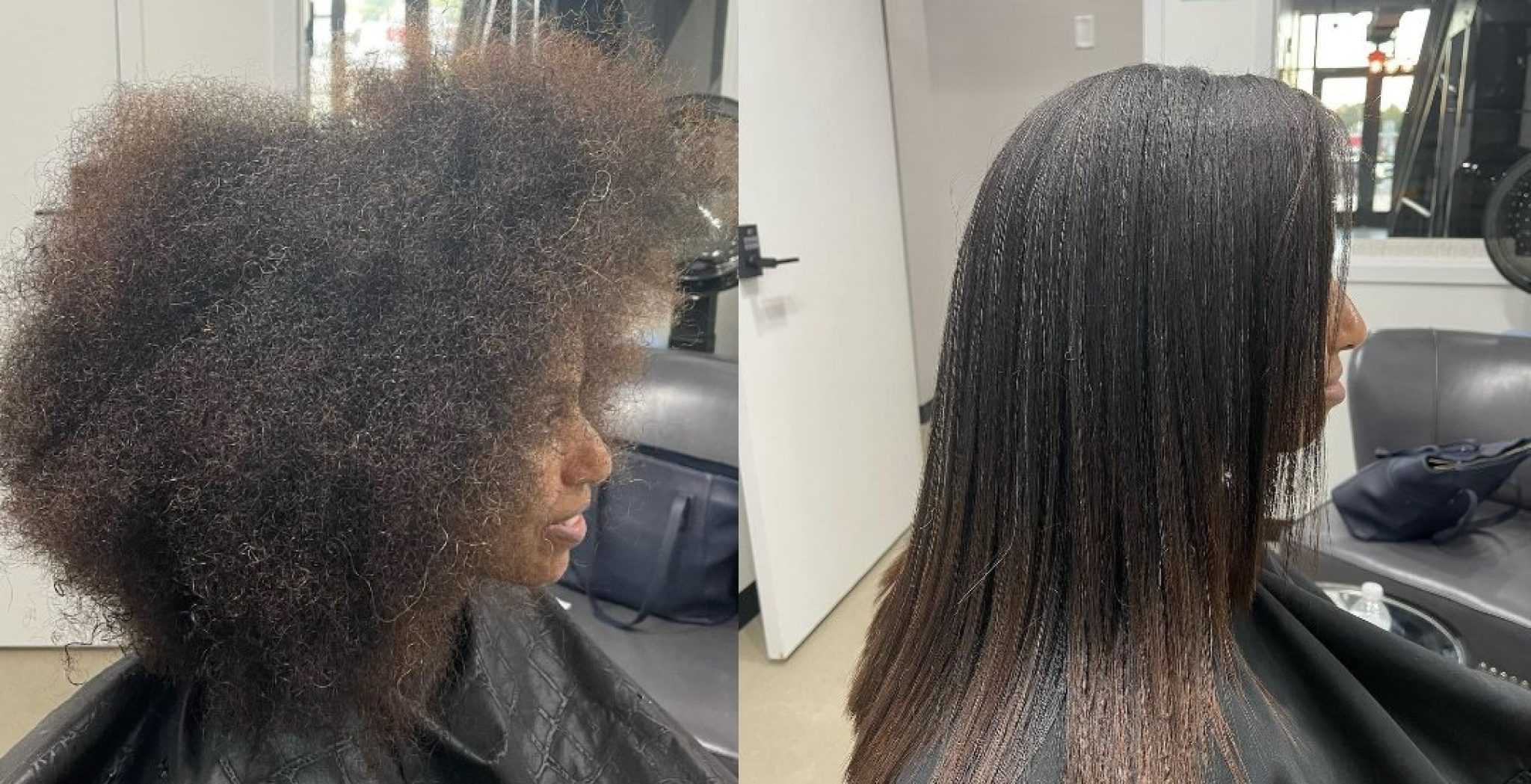 Hairstyles
Using a flat iron can create a variety of different hairstyles. You can create curls, straighten hair, add texture, and curl the ends of your hair with a flat iron.
There are so many different hairstyles you can create using hot irons. Let's start with the classics for some hot iron inspiration.
You can create sleek, shiny hair that's perfect for any event or occasion from everyday wear for work or school to an evening out with friends or a hot date.
You can also use hot irons to create sleek, pin-straight hair that has virtually no frizz! Hot irons are often used on curly hair because it essentially gets rid of the weird texture that's associated with wavy hair.
You can create any hairstyle you want with a hot comb. You can also use it to through in some waves, curls, or kinks in between your swirls of hair. If you are interested in achieving an Afro-textured look, then a hot comb is the one for you!
You can achieve many different hairstyles with a hot comb. It has tines that are not very wide, which means it is easier to create tight curls and waves. You can also use it to straighten hair.
Hot combs can create loose curls or fancy waves. It's easier to use than flat irons because the tines are narrower, meaning you don't need as much hair on each tine for it to work well and the wider teeth in the flat iron make it difficult to see what you're doing.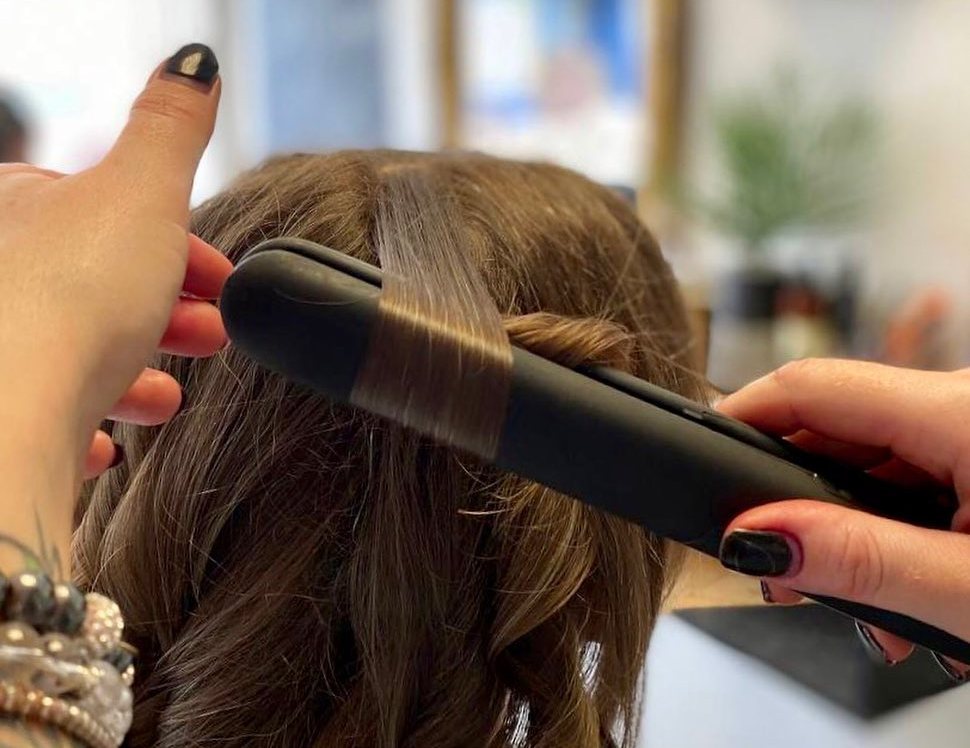 Additional Features
I'll give you one example of what I could find that's important in a flat iron for me. I've found that it's really important for me to have an auto shut-off feature because this could save my life if the appliance catches on fire.
I find it also important to have low heat settings because my hair is easily damaged by heat.
A curved plate design helps me get the cowlick at the back of my head which is usually hard to do with a straight plate.
Vibrating flat irons are what I usually use because my hair is so thick. With this kind, the vibrations help the hair go straight without having to use too much pressure.
Infrared flat irons are a type of styling tool that is used to style hair. It uses infrared energy to heat up the hair – but at a much lower temperature than other styling tools.
An electric hot comb can also have some additional features, though they are definitely not as advanced as in flat irons. It might come with attachments, variable heat settings, cord length, warranty, guard attachment, etc. Each of these features can make a hot comb more useful or versatile.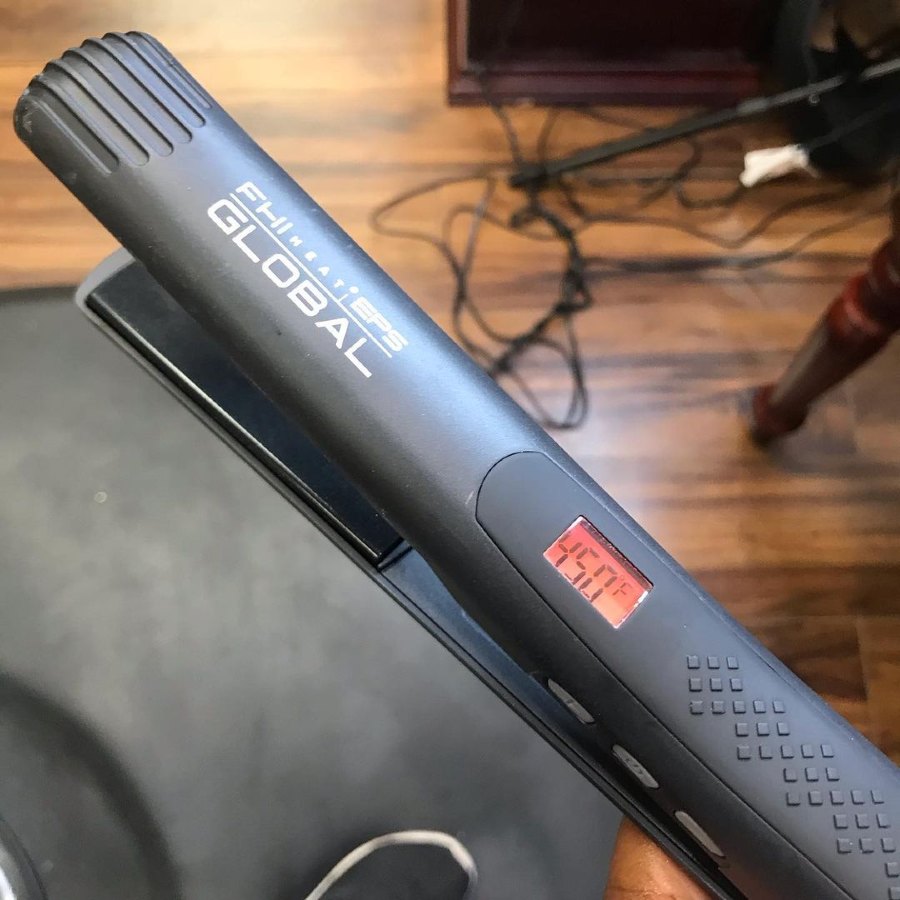 Materials
Flat irons can be made out of a variety of different materials. Some examples of materials that flat iron plates are made from are: ceramic, tourmaline, titanium.
A ceramic plate is the most popular material for flat irons because it heats up quickly and evenly so curls come out uniformly and don't take as much time to style.
Titanium plates also heat up quickly and keep temperatures steady during use so curls won't get frizzy or damaged. They also heat up to a higher temperature than ceramic or tourmaline plates.
Tourmaline plates work by coating the ceramic with a layer of tourmaline, which is a type of semi-precious stone that creates negative ions. The negative ions transfer to the hair and help it retain moisture so it doesn't frizz up or get damaged.
Hot combs are typically made out of metal. The best type of metal to make a hot comb from is usually steel as it's durable and resistant to rusting.
Also read:
Pros of using flat irons over hot combs:
For a flat iron, your hair will maintain a better shape and the frizziness is reduced.
Hair straighteners are available in a wide range of sizes to suit different hair lengths and thicknesses.
The plates on a flat iron are heavily coated with materials that conduct heat evenly throughout the surface of the plates to prevent uneven heating.
A flat iron will be able to curl your hair more finely than using a hot comb
The long handle design of flat irons makes them easy to use for longer hairstyles.
Flat Iron vs Hot Comb – FAQ
What is more damaging, flat iron or hot comb?
I had this question myself, so I did some research on it. As it turns out, the hot comb is the more damaging of the two. Flat irons are more likely to cause breakage and thinning while hot combs are more likely to cause frizziness, dryness, and even tangles.
What is better for thick hair hot comb or flat irons?
If you have thick, coarse or curly hair, then a hot comb does the trick. On the other hand, if you have thin, fine or wavy hair, then a traditional flat iron might just be the better choice.
What straightens faster hot comb or flat iron?
It is closer than you might think. Both flat iron and hot comb usually heat up in less than 1 minute. Depending on how much hair you have, using a hot comb can take up to 40 minutes! Hot irons are much faster because they don't involve extensive preparation.
Also read: Straightener Brush vs Flat Iron
So Which One to Pick – Flat Iron or Hot Comb?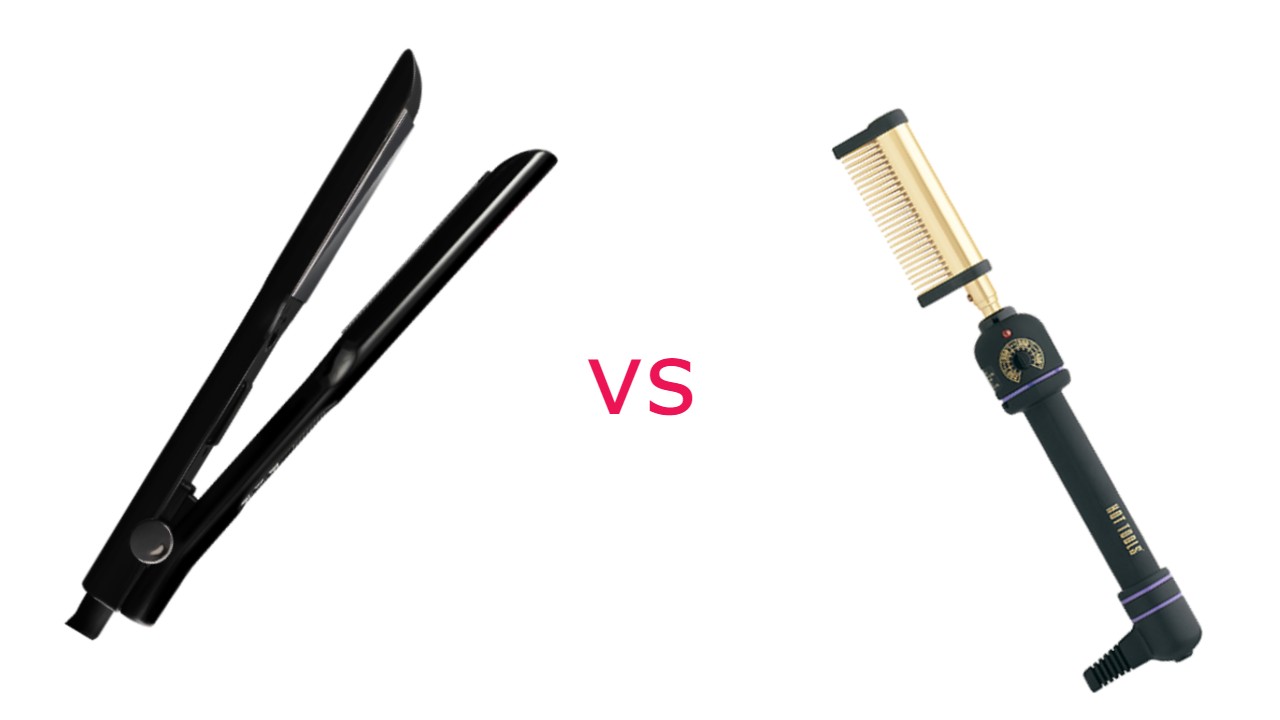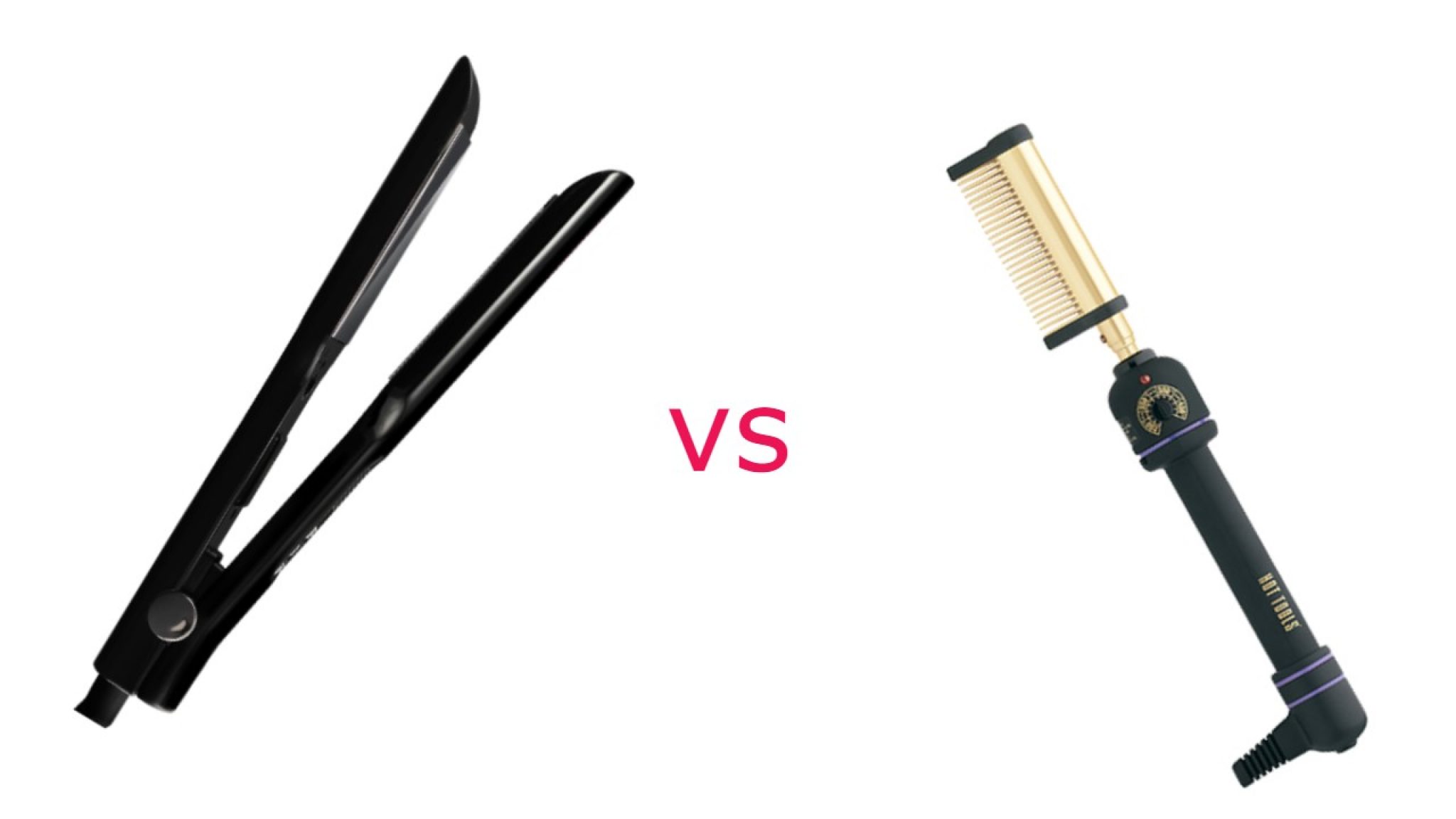 It's time to finish this pressing comb vs flat iron battle.
Both devices are simple to operate and safe for the hair when used appropriately, with pre-treating locks with a protective solution. Depending on your hair type, you may use either a hot comb or a flat iron. The tresses are softer with a hot comb but take longer to straighten.
A flat iron is more adaptable, but without temperature regulation, it makes the strands brittle. Overall, a flat iron is a more advanced tool that offers a wider range of hairstyles you can do.
I think it's really important to find a good quality product that can be reliable and work well for you. There are tons of options on the market now so it's really easy to find one that is perfect for your needs!
What kind of straightener do you use? In the comments, please share your experiences using a straightener.