Many people will agree that chemically straightened hair looks like pin-straight tips. It also looks fake: says Theertha Sasidharan, a beauty expert.
In fact:
To alter your hair type from curly to straight requires heavy chemicals and heat to break the hair bonds and re-shape them.
Common treatments used to chemically straighten hair:
Blow drying;
Flat ironing;
Brazilian hair straightening;
Japanese hair straightening;
But these permanent solutions for highly unmanageable and unruly hair come at a cost. They require a lot of maintenance afterwards.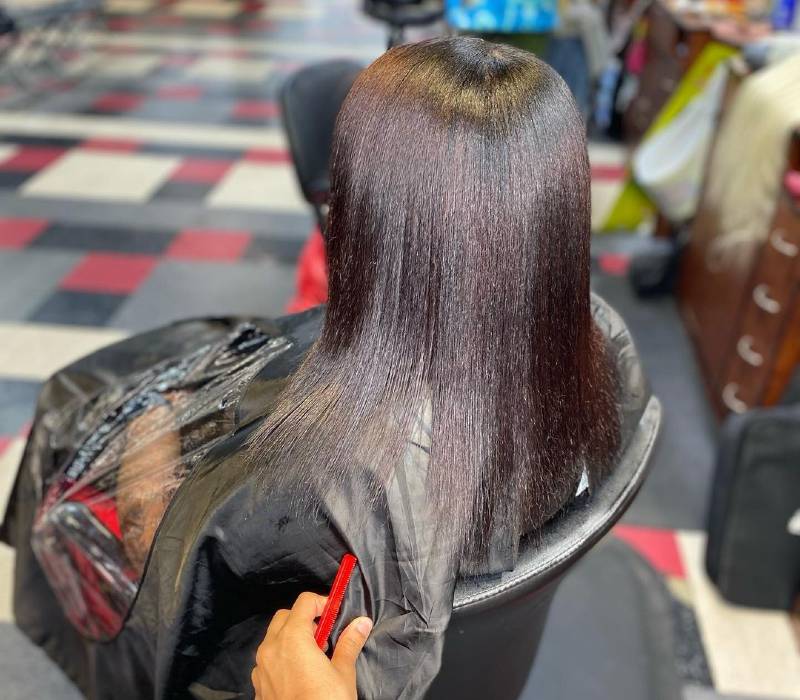 Botox for hair straightening gives you silky smooth hair that is easy to style every day without any hassle. Having manageable hair is one less problem solved every morning.
I've written a step-by-step actionable guide to help you understand your hair and the effects of the straightening.
Knowing your hair and what type of treatment suits you is important.
I'll tell you about the products and tools you need. Changing your hairstyle effortlessly every day will wow your friends.
But wait. There's more …
Styling and straightening also give your hair the perfect symmetric look.
You won't have to:
Play with your angles in front of the mirror;
Adjust your elbows to awkward positions to flat iron;
Roll forward or backward with your wand to get the balance right.
You get to appreciate your hair in a unique way with the many varieties of hairstyles.
When your hair is frizzy and in a mess, you won't see how bad your split ends are.
Smooth, straight, and lustrous hair saves you from the hassle of having a thorough weekly detangling. You can forget the dreaded knots, and burgeoning dreadlocks and focus on styling your hair to look good.
So, what is the secret for transforming weak, dull hair to silky smooth?
Botox Hair Smoothing System
This is a Brazilian Keratin therapy that repairs your hair with intense moisture and keratin replenishment.
Brazilian hair straightening treatments work on all types of hair.
It is the ultimate therapy for damaged hair as it contains the liquid form of hair named Keratin. Natural hair straightening products and smoothing systems restructure your damaged hair.
With a combination of Keratin, Argan Oil, and Collagen, Botox Hair Smoothing delivers the punch your hair needs.
And your hair needs deep conditioning that keeps the frizz away and brings back its natural elasticity.
The main reason your hair looks a mess is due to a lack of moisture and keratin.
Is Botox Hair Straightening Right For You?
Brazilian Botox Hair straightening is not a one-size-fits-all. Because everyone's hair is different. You have to consider texture, thickness, and your hair type before choosing one.
Hair Without Curls
If your hair is:
Coarse;
Thick;
Frizzy;
And not curly.
Keratin straightening is your best friend. You'll love the immediate smoothness and shine. You'll only need a light treatment to fix your hair.
Curly And Wavy Hair
For curly hair, it depends on what you want. To get rid of frizz and still keep your curls, go for a weaker formulation. To transition from curly, wavy hair to straight hair, you'll need regular straightening.
But, this is time-consuming and tiring.
My recommendation for straightening curly hair:
Use thermal hair straightening also called the Brazilian Blowout.
It's done in multi-steps, but definitely worth your time and efforts.
Fine Hair
Do not use a strong Keratin treatment.
Check your hair straightening product label. It needs to specify fine hair.
Why?
Because a strong formula not designed for fine hair will make your hair flat. Flat fine hair will stick to your scalp and not look good at all.
Dyed And Bleached Hair
The first piece of advice:
Avoid excessive flat ironing, relaxers, and Japanese straightening.
Keratin treatment to straighten dyed and bleached hair works well. It enhances the hair color.
I usually recommend coloring your hair before a keratin treatment and not after.
The reason for this:
Keratin intense moisturizing bonds the color to your hair. It makes your hair color look more natural.
Doing it after the treatment will prevent your hair from absorbing color and dye. The keratin layer on top of your hair shafts will act as a barrier to protect your hair.
But remember:
Avoid using high temperatures during the treatment.
Bleached hair will literally fry and break easily when exposed to heat.
Keratin Permanent Hair Straightening
Permanent hair straightening is a personal decision. It's a commitment you'll have to live with.
If you're thinking about a permanent option to keep your hair straight, I suggest you weigh up the options carefully.
Consult with your hair stylist, tell him or her about your hair history and seek professional advice before doing so.
Remember:
Not all straighteners are equal.
It's a gamble. Hair may take too well or not at all. It just depends on the actual chemical and the history of your hair.
Does Brazilian Keratin Hair Straightening Damage Your Hair?
Brazilian and Latino variations of hair straightening do a good job targeting the external layers of your hair.
Thus, it works more like a semi-permanent straightening solution which wears off after 3 months.
But:
Japanese straightening targets the deeper layers of your hair to alter the structure.
Personally, I will refrain from doing such a change to my hair. I'll stick to a semi-permanent option.
A change in structure can permanently damage your hair forcing you to go for the chop. So stick to semi-permanent.
Brazilian products are reliable and trustworthy. You just have to buy the right variation for your hair. Look for Keratin products that contain less than 0.2% Formaldehyde or even Formaldehyde-Free. Combined with Argan Oil, will do a lot of good to your hair.
To be safe, here's what you should do:
Speak to your stylist to get a recommendation;
Read product reviews;
Do not get cheap Groupon deals.
Brazilian And Latino Hair Straightening Side Effects
While keratin itself is not harmful to your hair. I have to warn you. These products also contain other ingredients. Another active ingredient in Keratin straightening products is Formaldehyde.
And here's the kicker…
In 2010, the Occupational Safety & Health Administration (OSHA) warned hair salons about Formaldehyde.
They highlight the dangers of this chemical which causes toxic fumes.
Known side effects from this:
Itchy eyes;
Allergies;
Skin redness;
Skin Irritations;
Breathing difficulties.
This was a big blow for Brazilian Blowout products…
But:
It served as a lesson for other manufacturers. This prompted the rise of Formaldehyde-Free hair straightening alternatives. Hair Botox is the new generation of keratin treatments with zero formaldehyde. But, I'll still recommend you to pay close attention to the labels.
Important Tip here:
Check for less than 0.2% Formaldehyde when you buy your product. The Cosmetic Ingredient Review (CIR), recommends that 0.2% formaldehyde is safe to use.
So, do your homework, read the reviews and check your product labels thoroughly to avoid any side effects.
What You Need For A Botox Hair Treatment
Pre-Treatment Clarifying Shampoo
Keratin Product
Flat-Iron
Post Treatment Sulfate-Free Shampoo
Optional Deep Conditioning Masque
Blow, Gloves, Application Brushes and well ventilated space
Easy Steps To Healthy Manageable Hair
Step 1. The Pre-Treatment Stage
Start by detoxifying tresses of dirt and impurities by washing with a clarifying shampoo. Wet hair and lather leave for five to seven minutes.
Rinse thoroughly with warm water This initial process creates a protein bridge. This prepares tresses for to fully absorb keratin treatment enhancing and maintaining hair.
Blow-dry hair as straight as possible
Comb hair thoroughly
Part hair into manageable sections using hair clips
Brush keratin treatment onto sections of hair and comb out the excess
After 20 minutes blow-dry hair until completely dry (in a well-ventilated room)
Straighten hair with hot hair straighteners up to 5 times to seal in the treatment
Wash Hair with sulfate-free keratin aftercare shampoo
The treatment has essential Keratin amino acids with the repairing qualities of ceramides for healthy, smooth, and age-defying results. It is effective against environmental stressors like UV exposure.
Also helps healing of chemically treated hair due to color, daily hair fixes, and heat styling. It diminishes hair frizz.
Botox hair treatment helps in total hair repair. Giving your locks and scalp the necessary nutrients to keep it healthy and manageable. This resolves the hair issue women of all ages commonly face every day.
Hair Botox vs Keratin (Complementing Each Other)
Don't be confused with Hair Botox vs Keratin.
Hair Botox treatment is a complete treatment package. It includes Keratin serum or Ampoules as well as pre-treatment and post-treatment care.
The deep conditioning treatment helps you get the best possible results from a keratin smoothing system. Follow the instructions to prepare and maintain your treated hair for long-lasting results.
The Botox Hair system will also smooth away tears effortlessly in 1 treatment. Products like Inoar give a 95% smoothing effect by reducing frizz without the use of any harsh chemicals.
Does Keratin Make Your Hair Straight?
The answer is: No.
As mentioned above, rebonding and hair straightening systems can be very harsh.
Keratin proteins work on the conditioning stages of the straightening treatment. It makes your hair recover fast from the damage.
Keratin allows damaged hair to recover faster by filling the gaps and holes in your hair structure.
So while keratin is essential for straightening, it is important to remember that it is not a straightening agent. It conditions your hair and reverses damage to make your hair beautiful and smooth.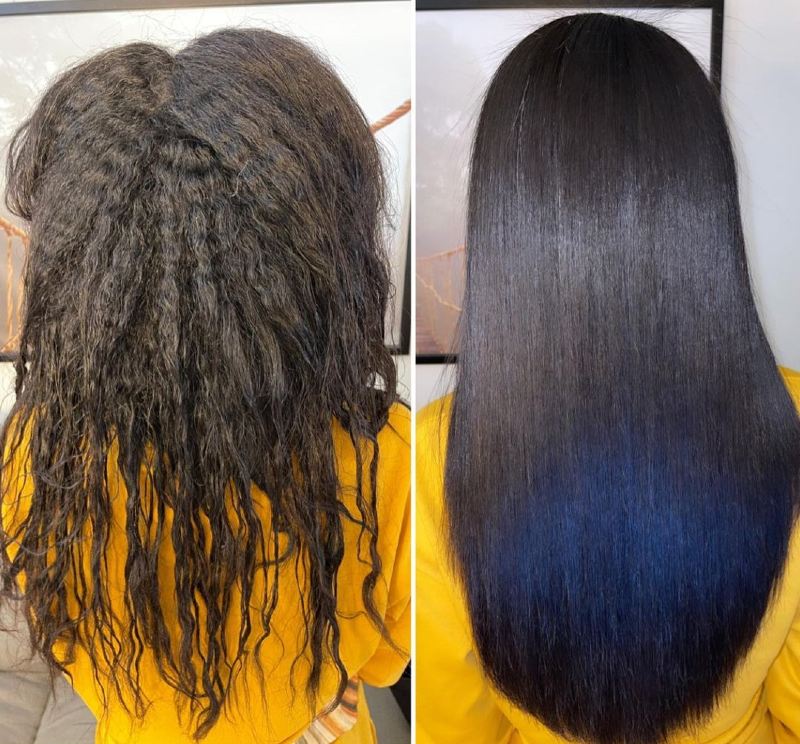 Rebonding vs Keratin
First of all, the entire procedure for straightening can take up to 6 hours. The chemicals need to penetrate the various layers of your hair to work.
This process is called re-bonding.
To maintain your hair, you will need to add more aftercare products to your routine.
During a rebonding treatment, your natural hair bonds are relaxed and broken down. To transition curly hair into straight hair, new bonds are re-shaped to make your hair look straight.
The problem:
As time goes on, you will notice the bonds become weak and break. You will need a good after-care regime to keep your hair in good shape, otherwise, your hair will become lifeless.
And the only way to save your curls, will be to regrow them again.
Hair straightening is not that bad if you choose the right products that aren't too harsh for your hair.
I will recommend you to stay away from treatments such as:
Brazilian Blowouts
Japanese straightening
Instead:
Go for the more versatile Botox for hair straightening products. They are formaldehyde-free and don't break your hair bonds during straightening.
It's true, the results are not permanent.
But if you top up your treatment every 3 months, you'll need less and less of it to maintain your hair straight.
You should avoid rebonding treatments that break hair bonds. Use Keratin treatments that are non-permanent for the long-term benefit of your hair.
Also read:
Summing Up: What to Pick Hair Botox or Keratin
If you're looking for a complete hair makeover, then using a keratin system for straightening is fine.
But you'll have to be prepared for the aftercare and provide a lot of TLC to keep your hair in shape. If you don't like the end results, then the only way to reverse this will be to wait for your new hair to grow out completely.
We recommend the non-permanent Hair Botox straightening system. No harsh chemicals, no formaldehyde, and better results.
If you want to keep your natural hair, but make it more manageable…
Then use a Hair Botox smoothing system.