Straightening natural black hair is much more than just turning on your flat iron. Yes, we've been blessed with the most beautiful curls, but all of us enjoy a change once in a while.
That's why today you'll read about the best products to straighten natural black hair, common methods, their pros, cons, and how to prevent hair damage while achieving a straight, glossy look.
Top 8 Products to Straighten Natural Hair Reviewed
MIZANI Style Shifter Society –

 Best Heat Protectant Spray 

PHYTO PARIS Phytorelaxer –

 Best Relaxing Treatment 

Gold Label Brazilian Keratin Treatment –

 Best Keratin Treatment 

BRAZILIAN BLOWOUT –

 Best Blow Drying Straightening Balm 

BabylissPRO Nano Titanium
Are you ready to go through the black hair straightening product reviews? Flaunting your beautiful curls is the way to go; however, you have to be familiar with the right straightening products when you want a change in your life.
No matter which method you'll choose, we have you covered.
1. MIZANI Heat Protectant Spray –
 Best Heat Protectant Spray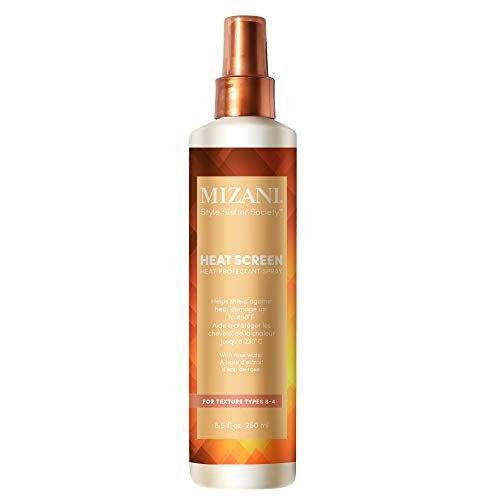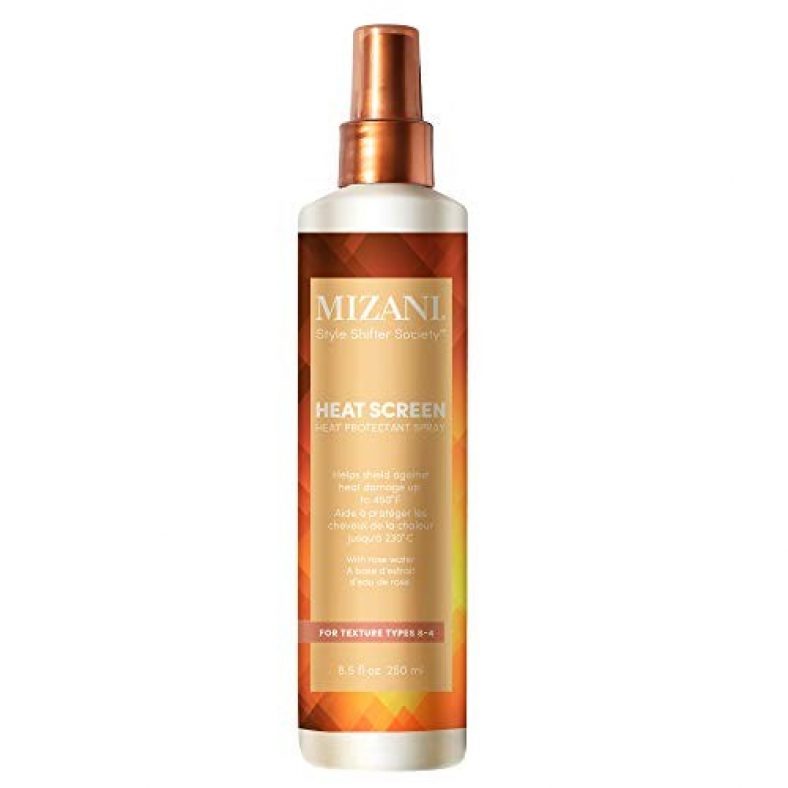 You can also find this product on Sephora, Walmart.
Hair Type: All
Size: 8.5 Fl
Mizani is a fantastic Chicago-born brand founded by Terri Gardner. Terri's father, Edward, was the first-ever black mayor of Chicago after starting a campaign that helped over 120,000 African American people register to vote.
Mizani is dedicated to all the ladies who sport gorgeous curls, no matter their hair length or texture.
The brand's heat protectant spray is terrific and beloved by thousands of women online. If you want to use products to flat iron natural hair safely, this is the one to reach out for.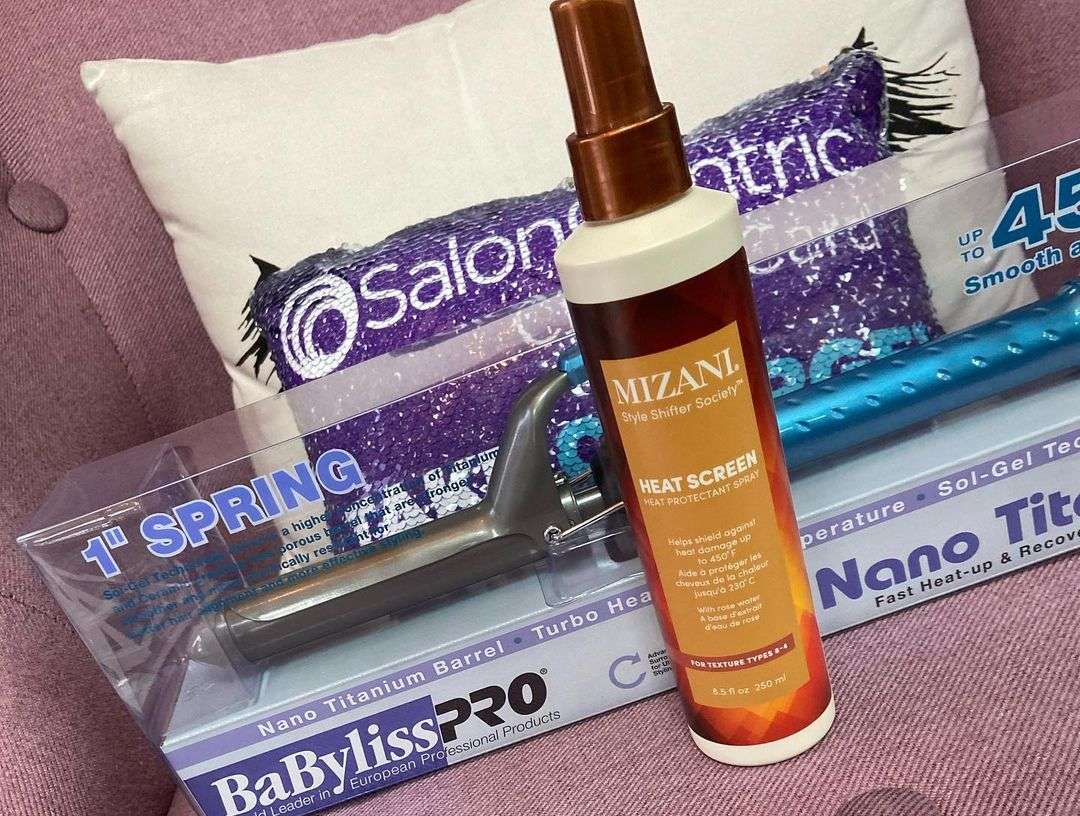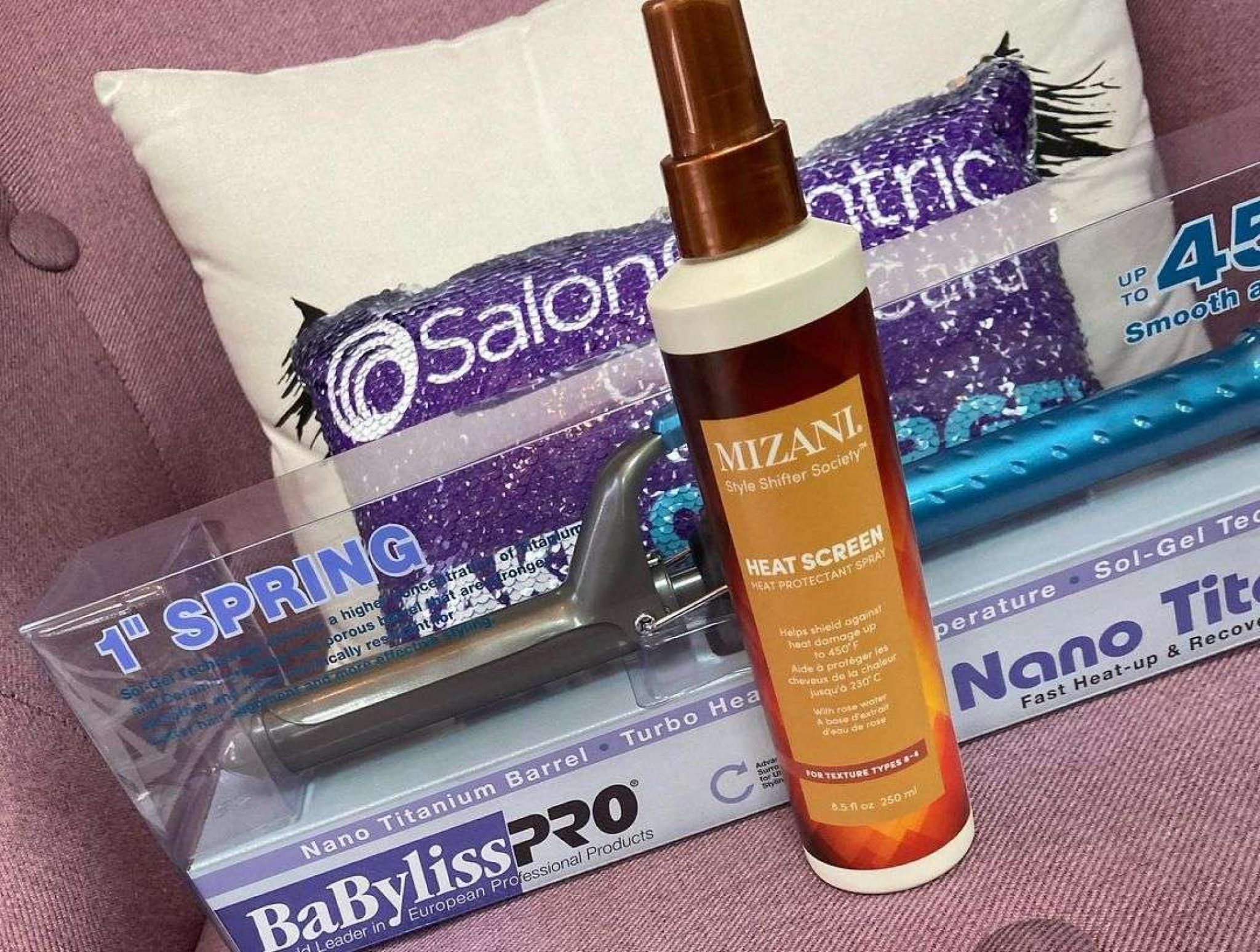 The basic rule of having healthy hair is applying products to protect it from heat because they really do the job.
Aside from protecting your mane, the spray will ensure that it stays straight much longer. Since it's lightweight, you won't lose volume, and your hair won't be greasy.
Thanks to the UV filter in the spray, you can feel free to add hot tools with a temperature that goes up to 450 F degrees.
What We Love:
Adds a beautiful glowy finish;
Protects against heat tools that go up to 450 F degrees;
Leaves the hair silky smooth;
It's lightweight and won't make your hair greasy.
What We'd Change:
It's a little on the high end of heat protecting sprays.
If you're one of the ladies who loves straightening her natural curls with a flat iron, using blow dryers or any other hot tool, then this product should become your go-to.
2. PHYTO PARIS Phytorelaxer –
 Best Relaxing Treatment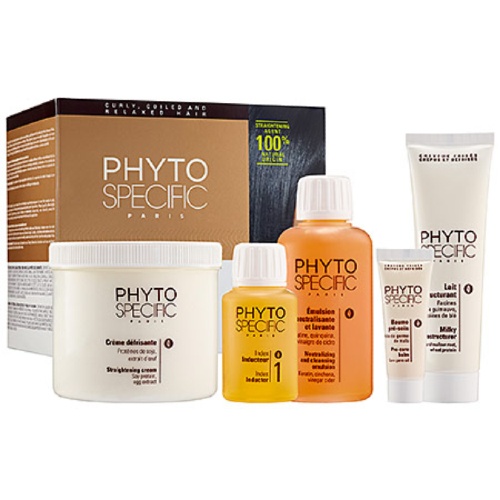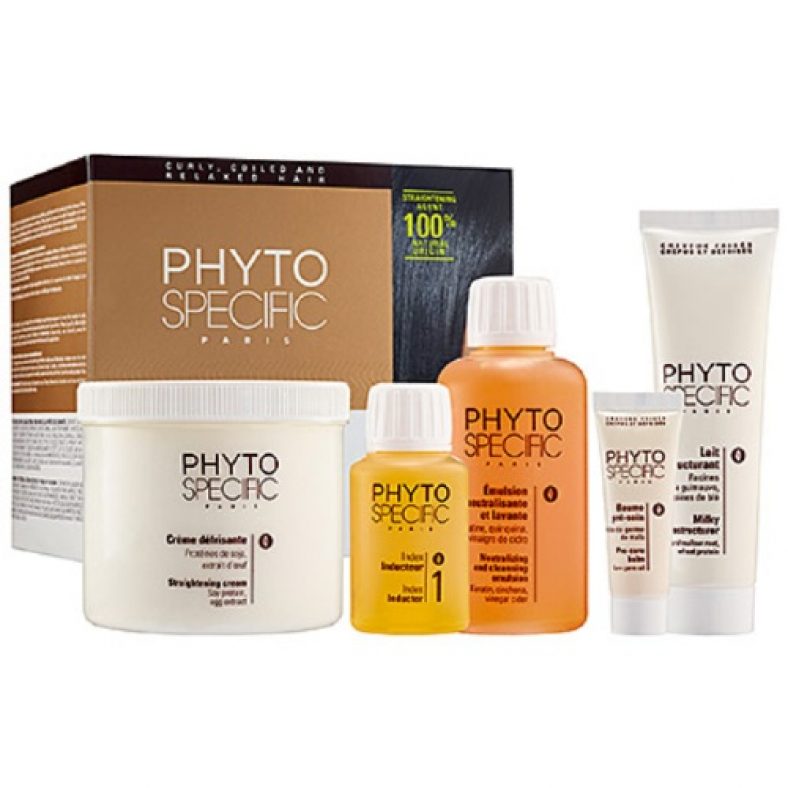 You can also find this product on Walmart.
Hair Type: Delicate and fine hair
Size: 50 Milliliters
PHYTO is the child of an iconic celebrity hairdresser Patrick Ales. This brand's story began in 1965 when the passionate founder decided to start releasing products that would benefit the environment and would be based on natural ingredients.
PHYTO's Index 1 Phytorelaxer is an excellent purchase for people with natural curls who don't want to pay for an expensive salon treatment.
This affordable package is gentle enough even for the ladies who suffer from sensitive skin, and can be applied on all types of curls, even color-treated hair. However, it's not meant for hair that's been bleached, permed, highlighted, or treated with henna.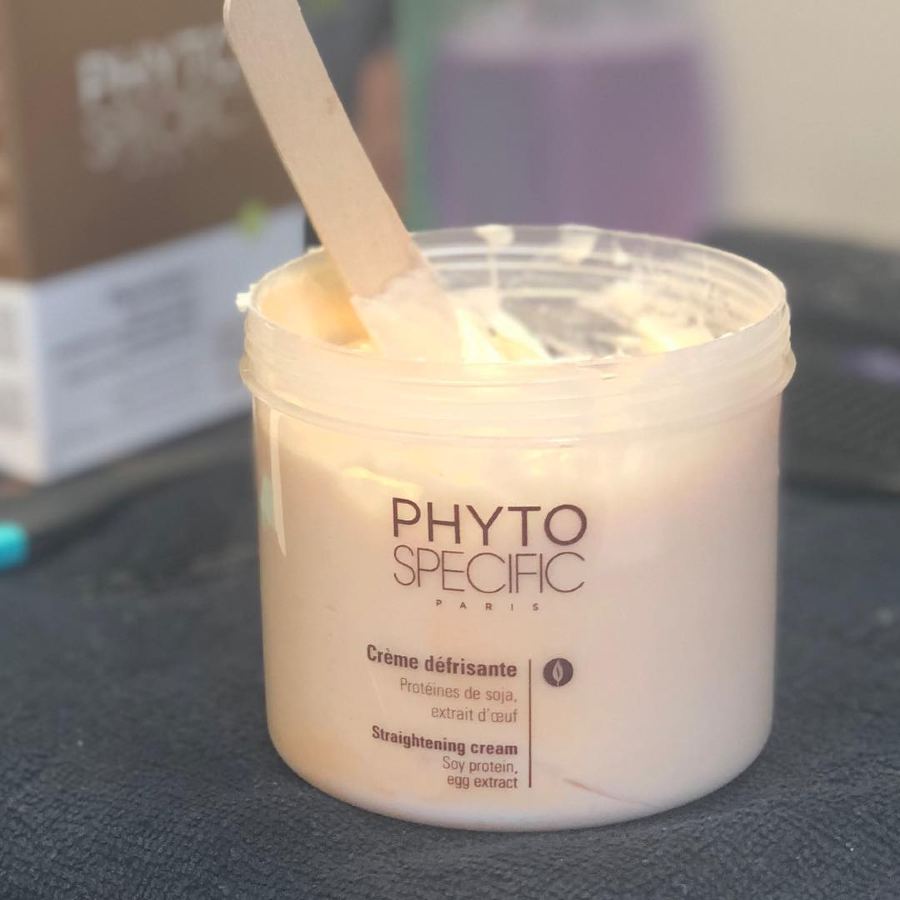 This treatment is all about ingredients of natural origin. The brand uses a specialized complex called botanical keratin that includes pea plant proteins, quinoa, lupin.
These ingredients moisturize, soften the skin, and speed up the repair process. On the other hand, the mallow extract attracts water in the hair, leaving it silky smooth and fresh-looking.
PHYTO's at-home relaxer can straighten up to 95% of the natural texture. Keep in mind that this is a treatment with permanent results, and there is no turning back until your hair grows out of it.
What We Love:
A gentle formula created with 100% natural ingredients;
A good option for ladies with sensitive skin and scalp;
Free of silicones, phthalates, parabens;
Will straighten all curl types, colored hair, waves.
What We'd Change:
If this is your first time using a relaxer, you have to read the instructions carefully.
Is this one of the best natural hair straightening products? If you're looking for the gentlest, safest option that's also free of parabens, silicones, glute, hydroxide, and phthalates, then this is an excellent alternative.
3. Gold Label Brazilian Keratin Treatment –
 Best Keratin Treatment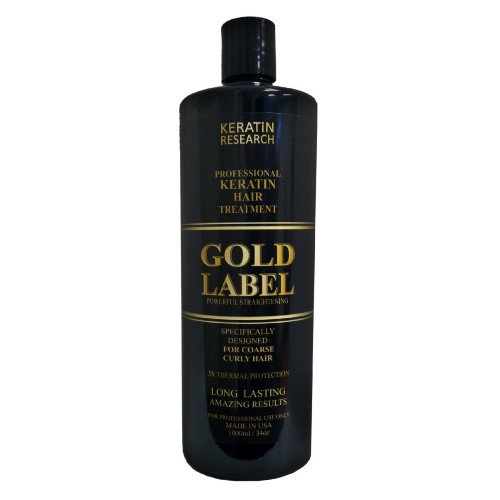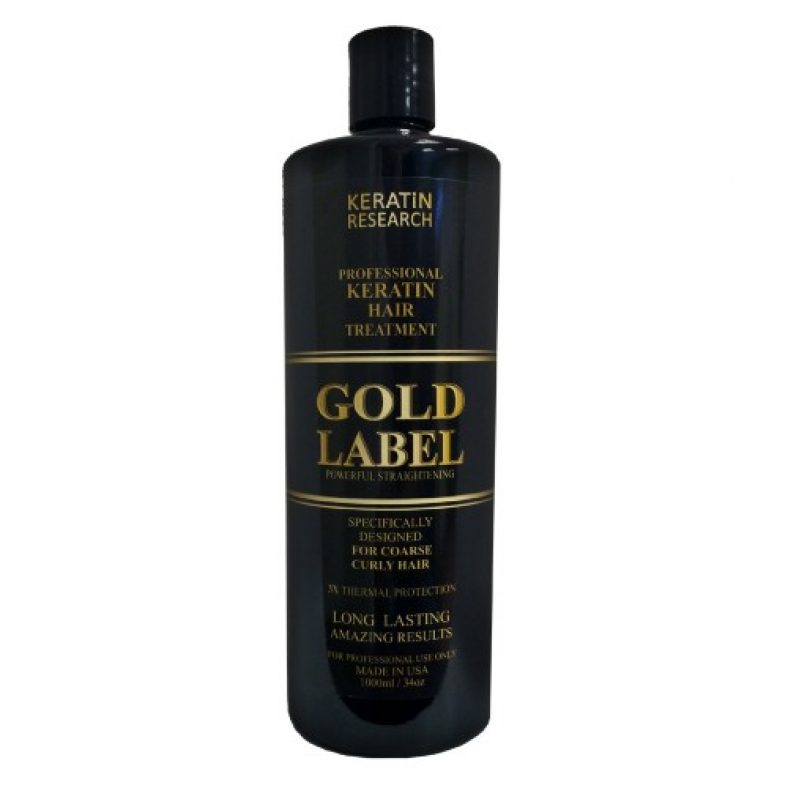 You can also find this product on Walmart.
Hair Type: Bleached, Dry, Curly, Normal, Damaged
Size: 240ml
Keratin Research is a go-to brand for people looking for keratin products to straighten natural hair at home.
Aside from its wide selection of keratin treatments, the company also offers hot tools, shampoos, etc. Their Gold Label Brazilian treatment is a popular choice for hundreds of thousands of women globally.
The ingredient list of this treatment is quite impressive. First of all, it won't leave your hair dry because of the rich oil blend made of argan, jojoba seed, grape, and avocado oil. This blend also makes the hairdo shinier and healthier looking.
This is one of the best solutions for black, Dominican, and Brazilian hair types that require constant straightening with a hot tool.
Instead of damaging your hair like that, you can try a more permanent alternative such as this treatment. The results usually last between 5 and 6 months.
After reading the instructions, you should leave the product for 90 to 150 minutes, then enjoy your new straight hair.
What We Love:
Contains nourishing ingredients such as jojoba seed, avocado, argan, grape oil;
It works great on very curly, thick hair types;
Leaves the hair smooth and frizz-free;
Lasts a few weeks.
What We'd Change:
It's most suitable for thick, coarse hair.
This keratin treatment is an excellent choice for all ladies with thick, coarse hair who want a semi-permanent effect. It does a great job at straightening the do, leaving it smooth, shiny, and hydrated.
4. Moroccanoil Perfect Defense Lightweight Spray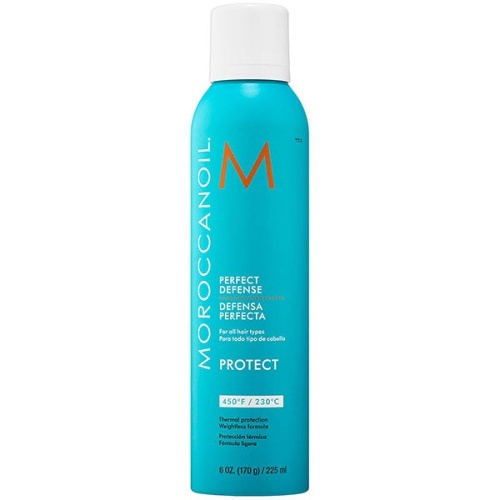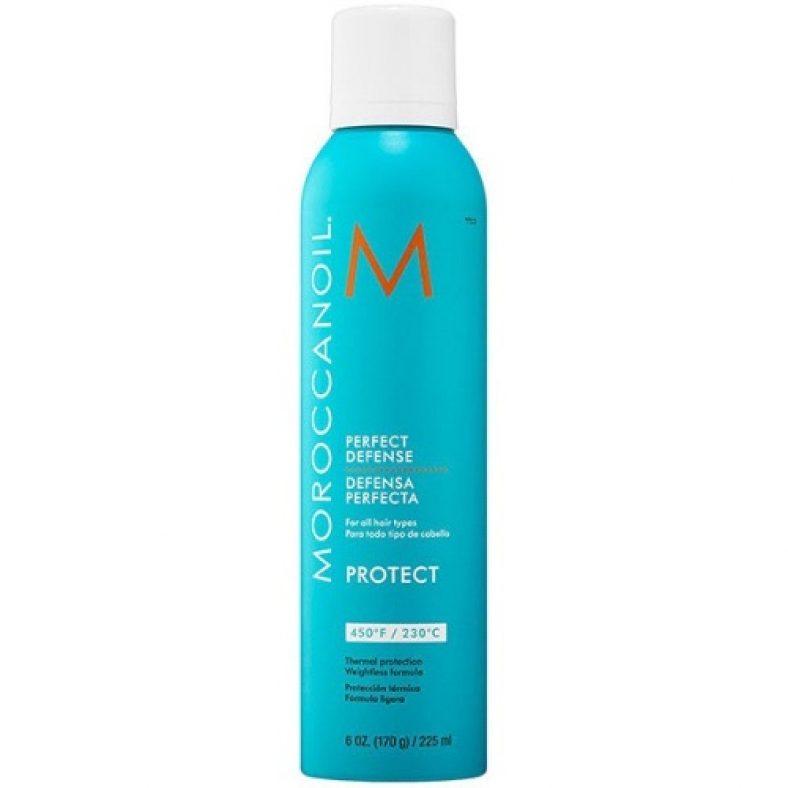 You can also find this product on Sephora.
Hair Type: All
Size: 6 Fl
Moroccanoil is a decade-old brand that has revolutionized the hair industry with its first product and has never stopped delivering since then.
Of course, the infamous Moroccanoil treatment is where it all started! Ten years later, the company has a whole range of products, all of which are based on their signature ingredient- argan oil.
The Moroccanoil Perfect Defense spray is an award-winning aerosol product that's meant to protect your hot hair tools before it starts showing heat damage signs. The protection goes up to 450 F degrees, usually the highest setting for most hair straighteners.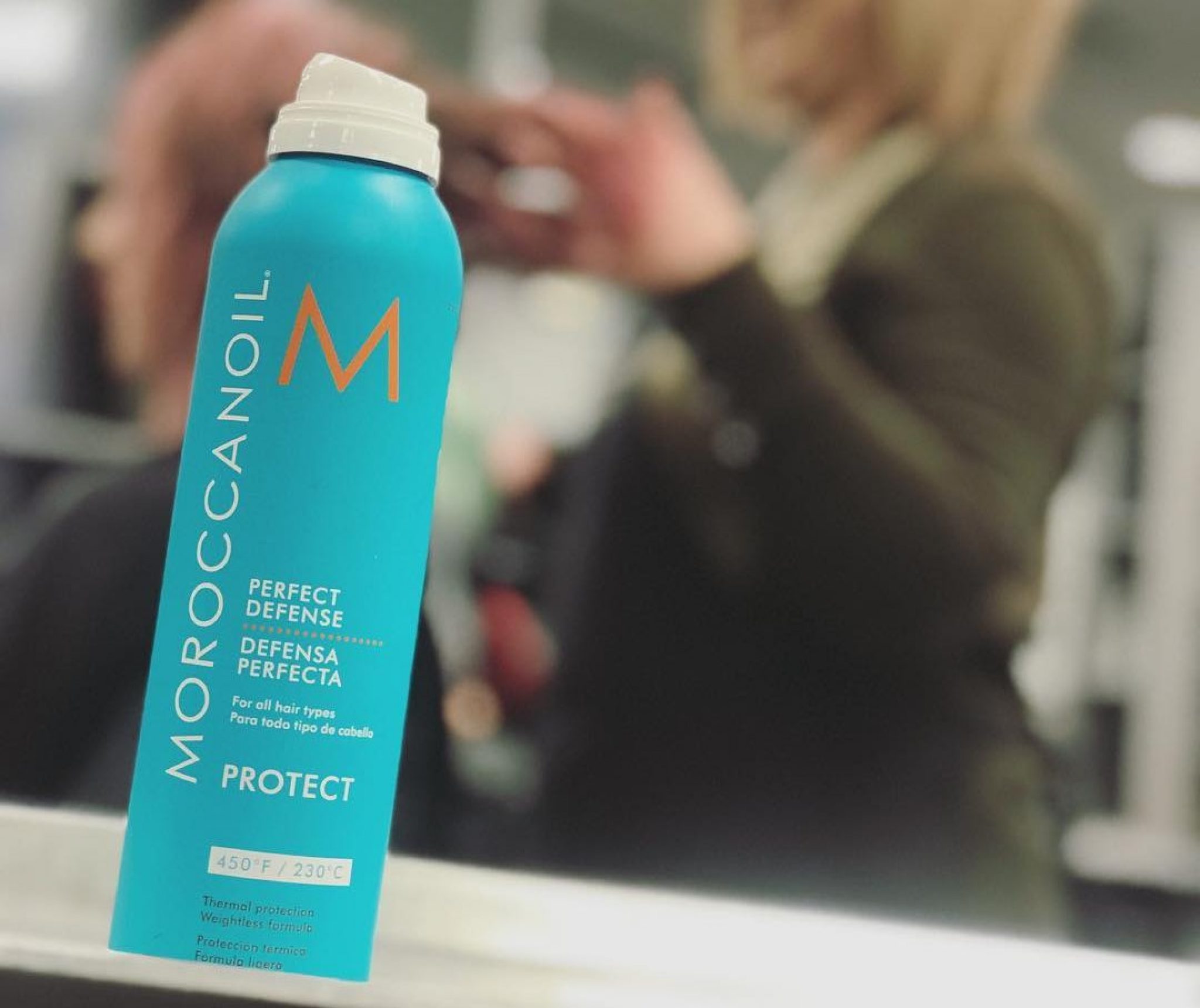 Thankfully, the spray is lightweight and perfect for any season of the year. After spraying it generously to each hair strand, your hair won't feel sticky, and it won't get greasy.
However, you have to learn how to use it properly to get the best of it. Place the bottle 6 inches away from the hair; they start spraying. Before spraying, it's recommended that you brush your hair.
The ingredient list of this spray is made of argan oil, vitamins, essential fatty acids, and antioxidants. All together prevent damage, boost moisture, and provide a healthy glow.
What We Love:
It's a lightweight texture that works for all hair types;
Protects from heat damage while leaving the hair nourished;
Can be applied to wet and dry hair;
Contains argan oil, antioxidants, vitamins that keep the hair healthy.
What We'd Change:
If you're obsessed with your hair straightener, and you often enjoy sporting a sleek, straight look, using a heat protectant is a must! The Moroccanoil Perfect Defense product is so lightweight that it will be your go-to spray for summer.
5. Oribe Smoothing Blowout Straightening Cream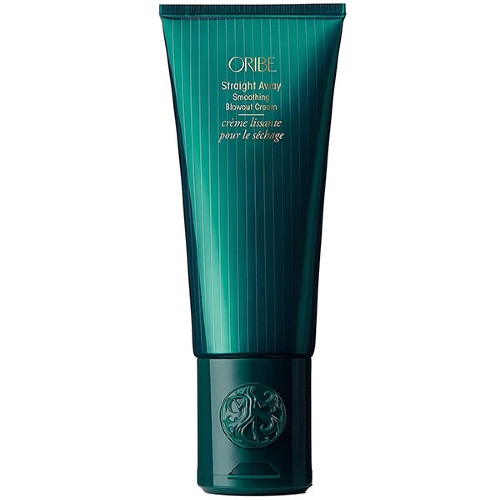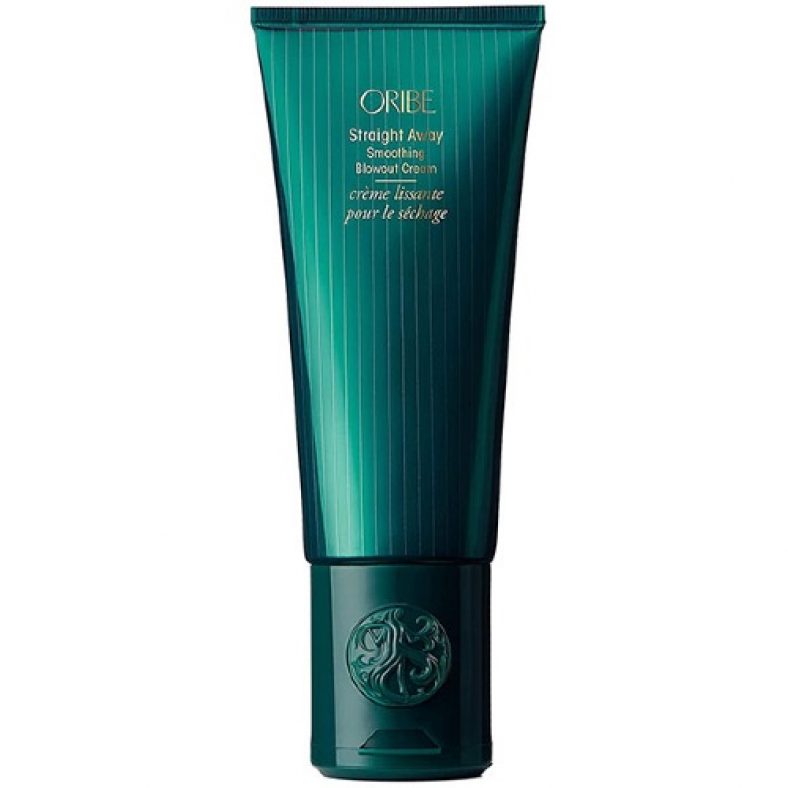 You can also find this product on Sephora, Walmart.
Hair Type: Straight
Size: 5 Fl
UV protection
Oribe is one of the first luxury haircare brands on the market, founded by the mega-famous celebrity hairstylist Oribe Canales. After being in the industry for a while, the iconic Canales decided to start his own company and create all the products women couldn't find and buy.
If your go-to hair straightening method is a blowout, then this cream is a product that might make your life easier.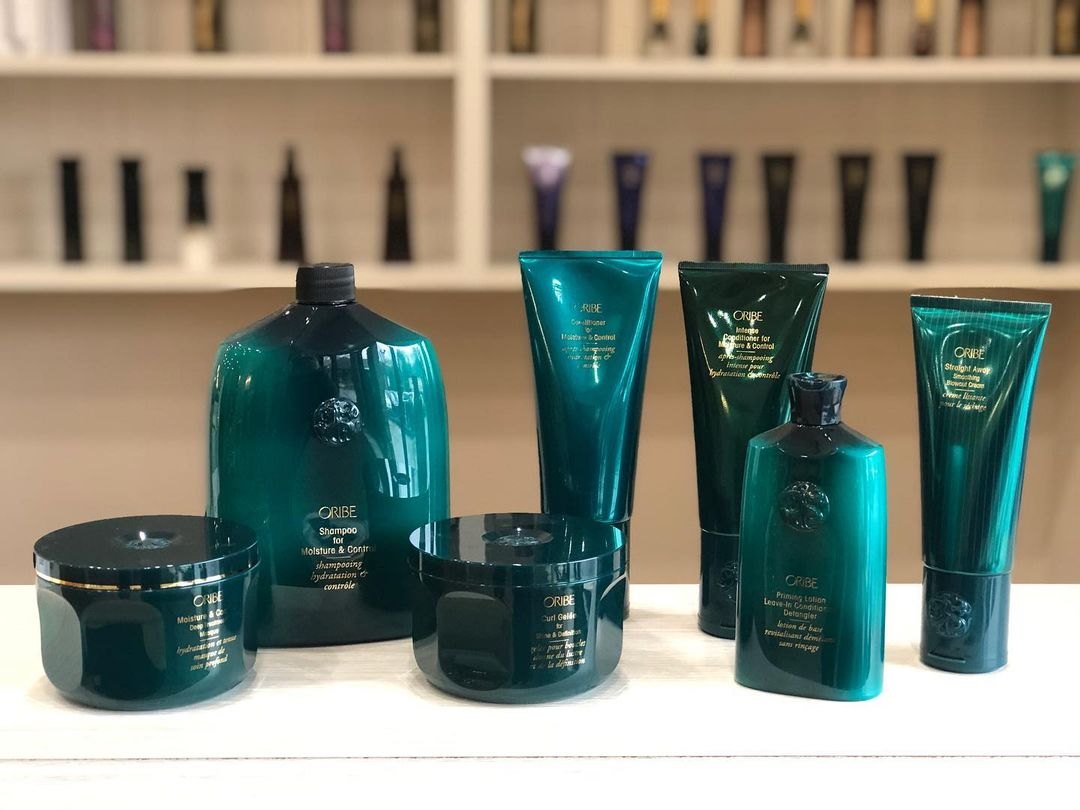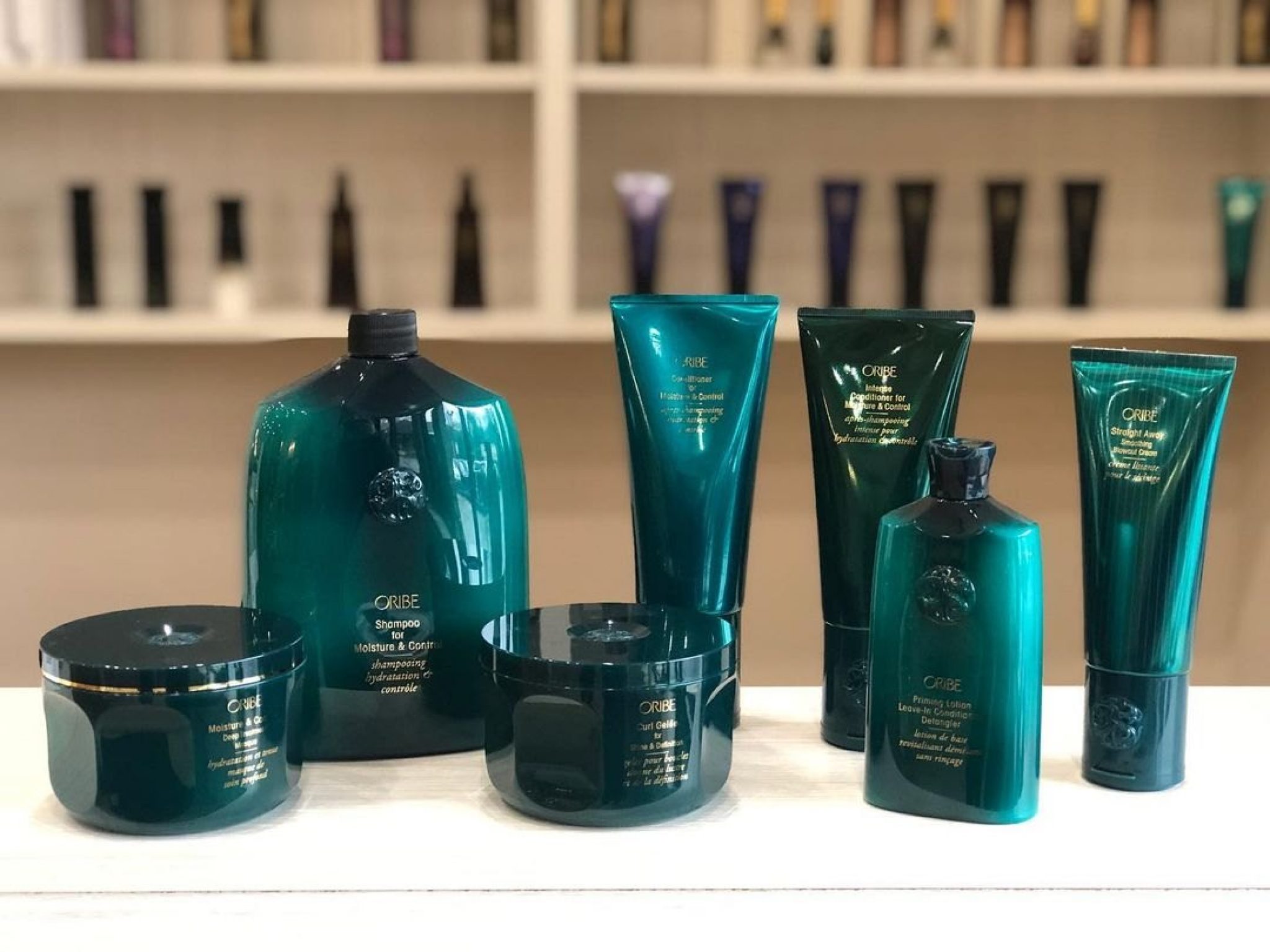 To get the best out of it, you should apply it to damp hair before you start blowing it with the hairdryer. Then, you can finish off with a flat iron for an even smoother look.
The benefits you'll enjoy are simpler styling, faster drying time, a smooth finish, no flyaways, and a longer-lasting hairstyle. It's a product formulated without parabens, sulfates, gluten, sodium chloride.
The star ingredients include a special Straightening Copolymer Blend, lychee, watermelon, and edelweiss flower extracts.
What We Love:
It protects your hair from heat damage up to 450 F degrees;
Helps you style even the most stubborn, thick hair;
Smooths hair, removing frizz completely;
Reduces the drying time.
What We'd Change:
The Oribe Blowout Cream is one of the smoothing products for natural hair you have to try. It tends to make the blowouts faster, smoother, more voluminous, and shinier. Although its primary use is before a blowout, you can also apply it if you use a straightener, flat iron, or a hair straightening brush.
6. BRAZILIAN BLOWOUT Long-Lasting Straightening Balm –
 Best Blow Drying Straightening Balm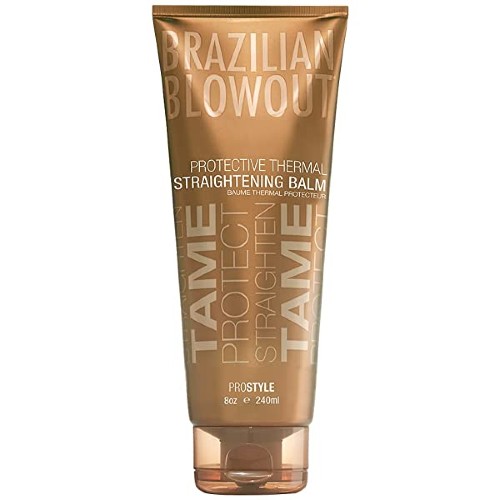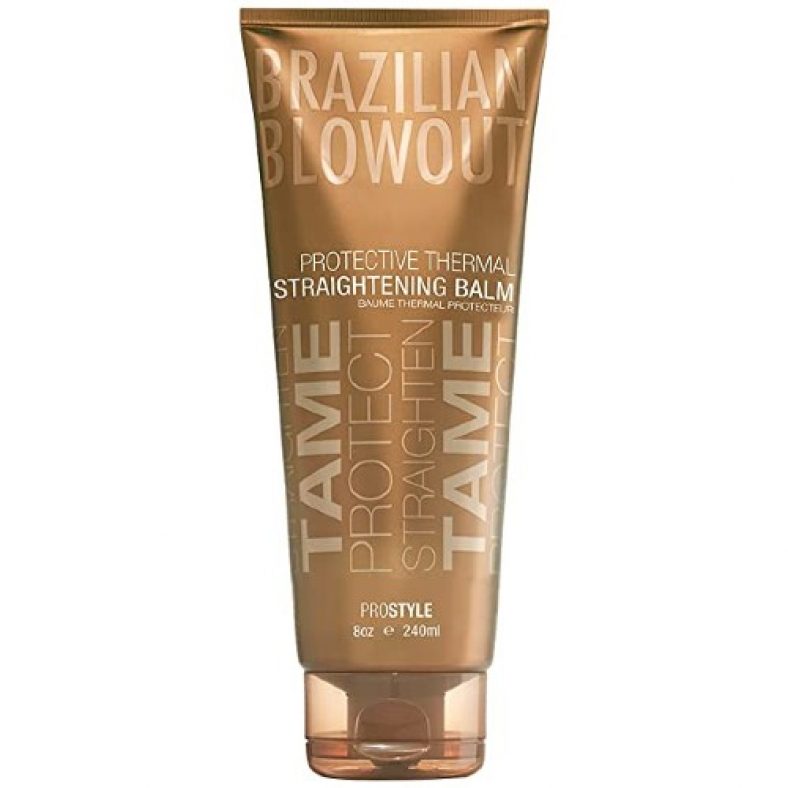 You can also find this product on Bed Bath & Beyond, Walmart.
Hair Type: Frizzy
Size: 8 Fl
First things first! Although Brazilian Blowout is a company that produces at-home Brazilian keratin treatments, you shouldn't mix this product up with the actual Brazilian blowout that people get in salons.
Actually, this is a straightening balm that protects the hair against heat and straightens it simultaneously.
The innovative formula activates the balm when you apply heat to the hair, plus it's resistant to humidity. Apply it to towel-dried hair, and continue styling it the way you usually do.
Once you start straightening your hair with the iron, the complex will create a protein protective layer on your hair, taking care of the frizz and fighting damage.
Since it's resistant to humidity, you can feel safe flaunting your straight hairdo everywhere without fearing that it will go back to curly.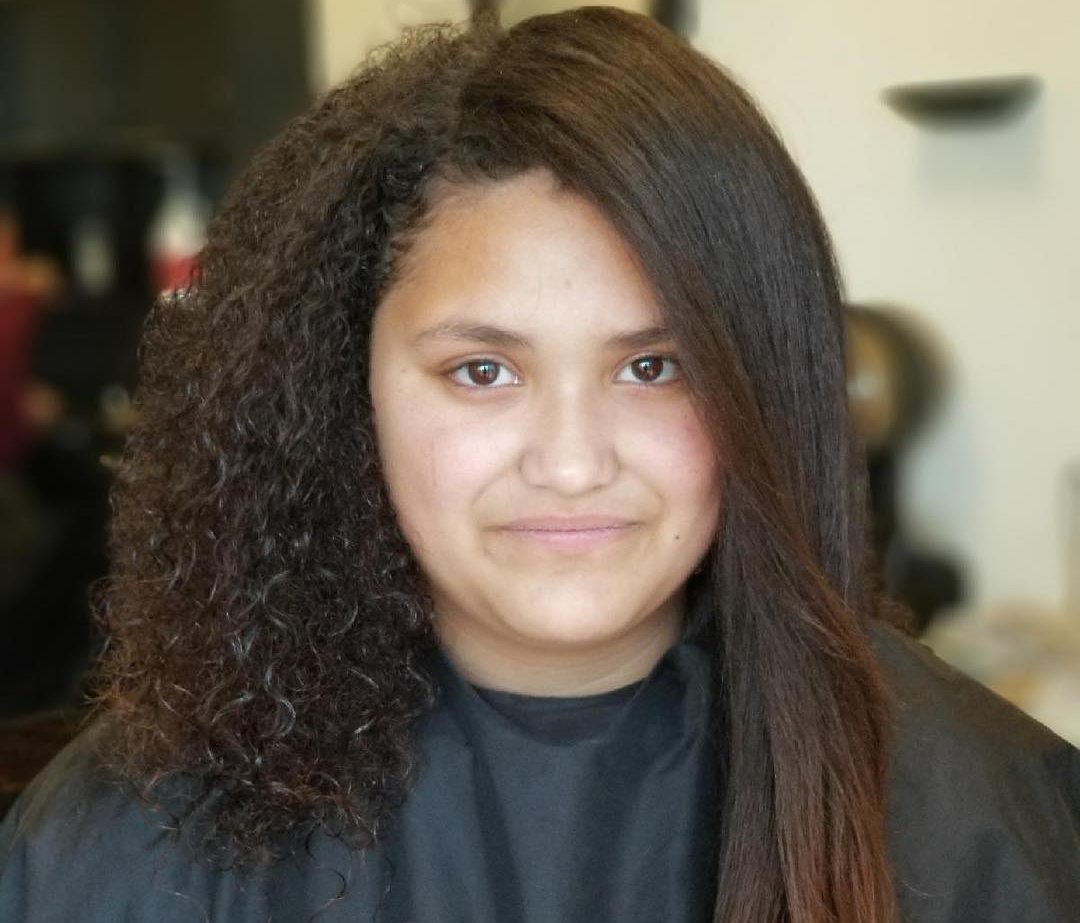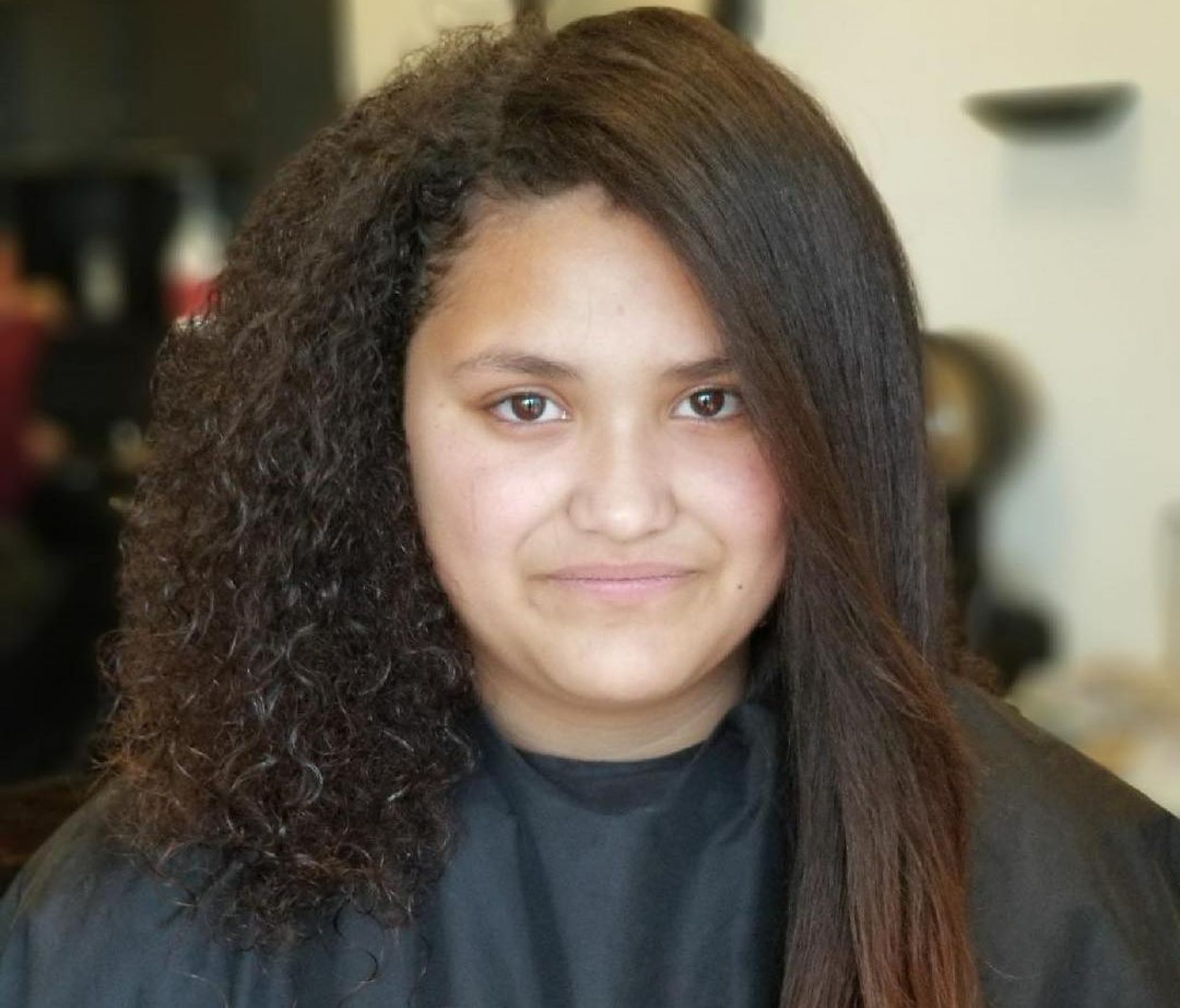 What We Love:
Creates a protective layer on your hair, preventing damage from heat
100% resistant to humidity
Straightens the hair and leaves a smooth finish
What We'd Change:
If you're looking for African American hair straightening products that protect your hair and fight against humidity, we suggest you try the Brazilian Blowout Thermal Straightening Balm.
7. Design Essentials Strengthening Serum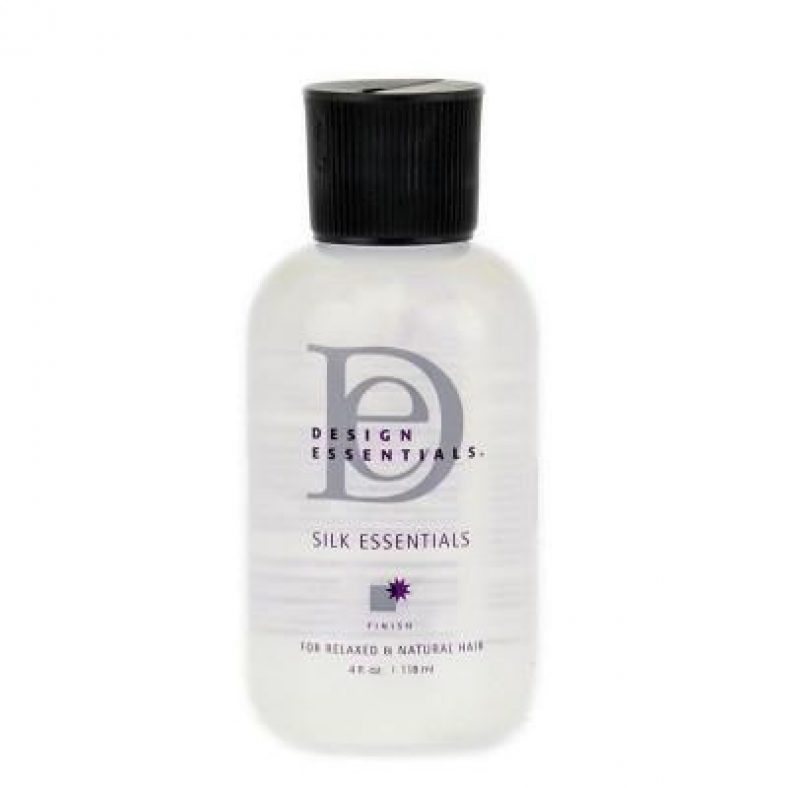 You can also find this product on Walmart.
Hair Type: Damaged
Size: 4 Fl
Design Essentials' story begins in 1990 with two co-workers with previous experience in the field.
One of their popular releases is this straightening thermal serum that fights against heat damage, boosts moisture, shine, and helps you achieve a salon-like hairstyle.
The serum is made with a powerful blend of 17 amino acids that wrap the hair shaft, repair damage, and leave a glossy finish.
In addition, the formula is lightweight, doesn't make your hair oily, and absorbs within seconds.
The Design Essentials Straightening Thermal Serum is suitable for all hair types, curl, textures, colored hair, etc.
What We Love:
It's lightweight and absorbs fast;
Doesn't leave a greasy residue;
It's made with 17 amino acids that nourish the hair;
A little goes a long way.
What We'd Change:
The smell is a little strong.
This is our suggestion when you want to add a serum to your routine that will protect you from heat damage of tools and won't leave your hair greasy.
8. BabylissPRO Nano Titanium
You can also find this product on Ulta, Bed Bath & Beyond.
The BabylissPRO Nano Titanium Digital Straightener is the ideal solution for creating glossy, soft hair. Titanium plates conduct and preserve heat rapidly, while a memory function remembers your favorite settings.
With digital temperature control from 0-450°F in seconds, you have more power over achieving the perfect look! The all-directional floating plates of this flat iron will help you style your hair faster because it covers more area.
The ceramic heater warms up quickly and does a good job of holding heat. This flat iron can also withstand high temperatures. While the BabylissPRO Nano Titanium does have its advantages, there are two notable disadvantages.
Firstly, it is equipped with a lengthy 9ft cord that can be cumbersome when styling your hair. Secondly, this device lacks an automatic shut-off function which might not make it ideal for those who frequently forget to unplug their tools after use.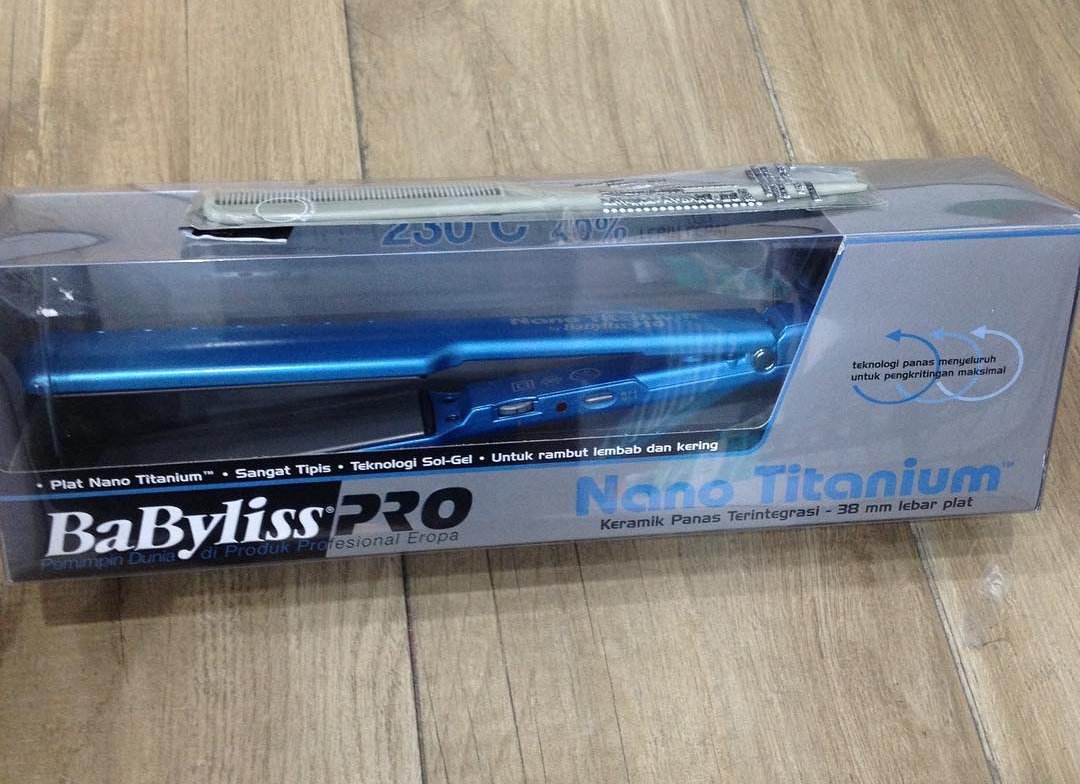 What We Love:
Ultra-smooth titanium plates
Memory function
Digital temperature adjustment
Heat up to 450°F
Housing resists ultra high temperatures
Limited 4 year manufacturer warranty
What We'd Change:
Long cord
Quality does not match some users' expectations for the price
I bought the BabylissPRO Nano Titanium and it is a really good product. The titanium plates conduct heat quickly and they don't corrode because they are so smooth. You can also use the digital temperature adjustment to get the perfect style. If you want to get salon-level results at home, this is the perfect product for you.
Natural Hair Straightening Products Buyer's Guide
How do you choose the best straightening products for natural black hair? You start by determining the straightening method you'll use, then find a suitable product for the procedure.
Applying a heat resistant spray and a hair relaxer is entirely different, so let's get familiar with the most frequent straightening procedures for natural hair:
Heat Straightening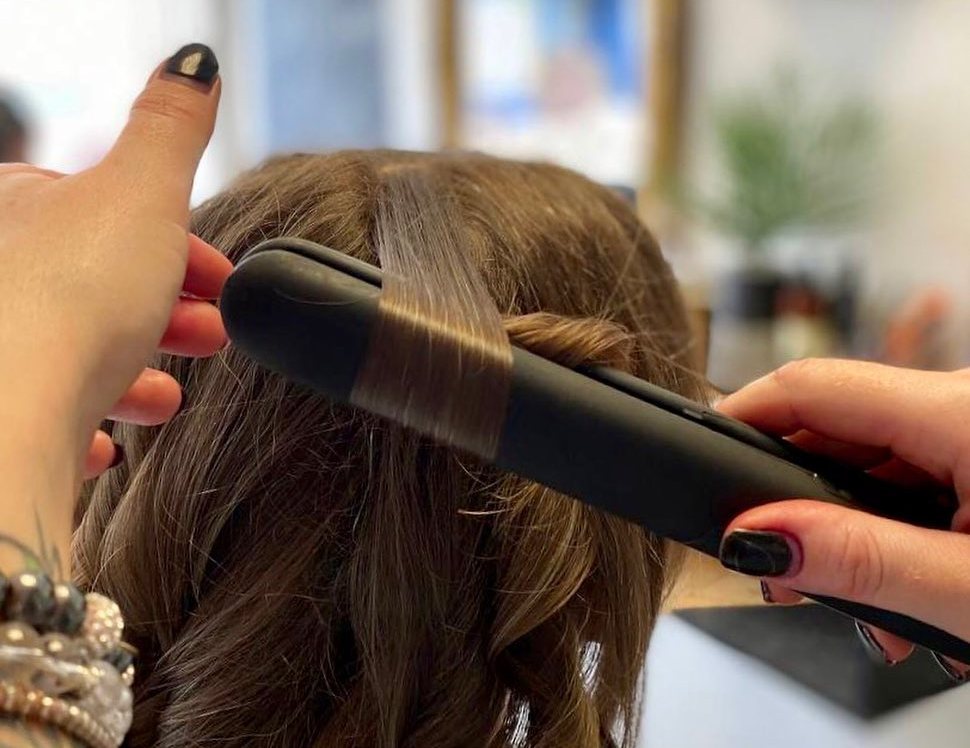 Everyone knows the most common straightening method: a flat iron or hair straightener. Even ladies with straight hair own these tools because the final result is so alluring.
It's hard to stay away from hot tools because they give you the liberty to straighten hair, create beach waves and voluminous curls. All you need to do is spray a heat protectant and start going over each strand.
Straighteners and irons are straightforward to use, the latest releases cause minimum damage, and can be very affordable purchases.
The downside is that this isn't a permanent result. Each time you wash your hair, you'll have to straighten it all over again. This means more extensive damage in the long term.
The hair straighteners and irons with the most advanced features are usually more expensive but cause less damage because of their innovative technologies.
Also read:
Relaxing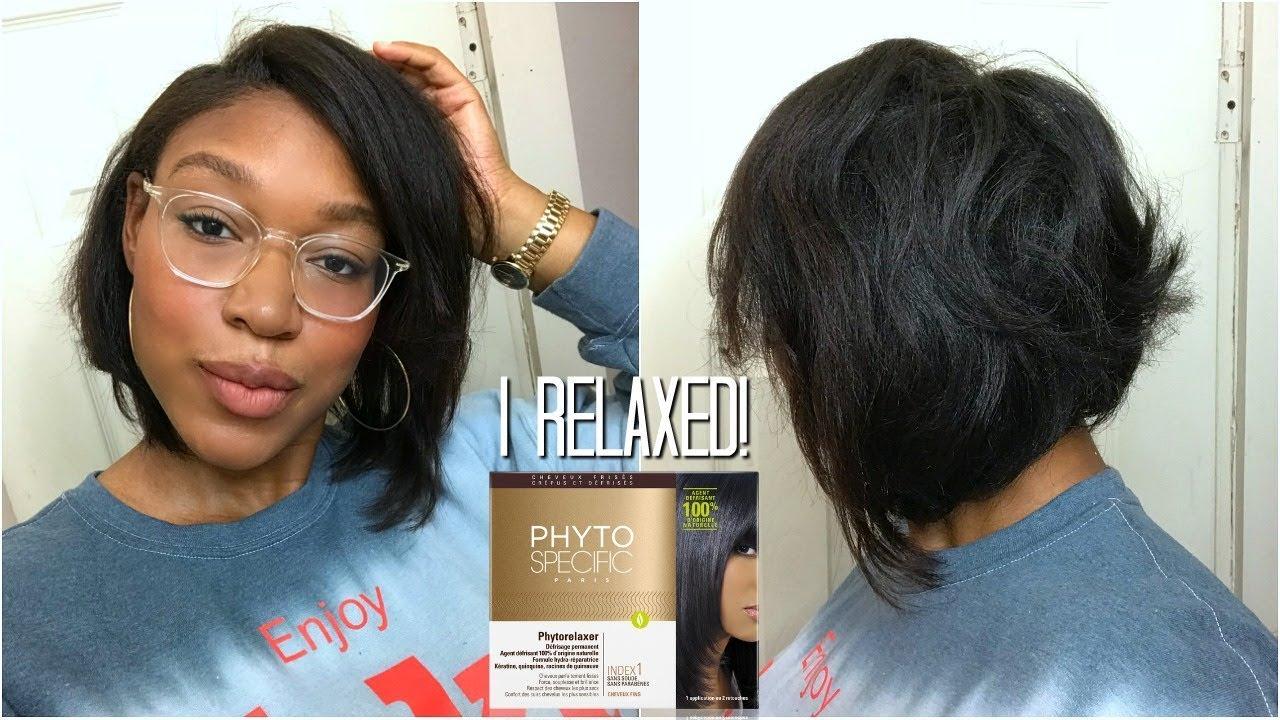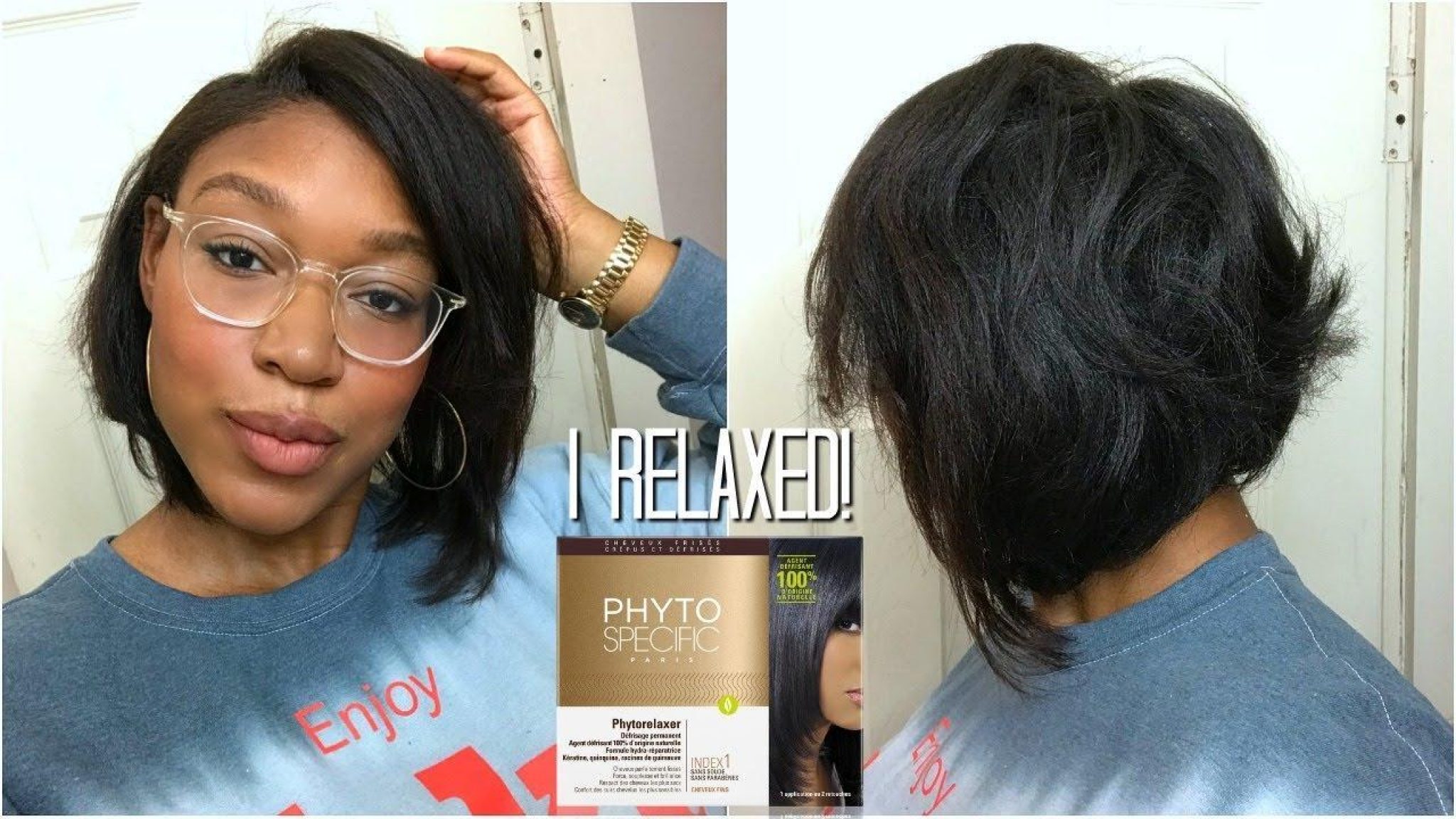 Getting a relaxing hair treatment is a popular option among ladies with curly hair. It includes applying chemicals that act on the hair follicle and make your hair straighter.
The results are permanent and last until your hair grows out. This is definitely a great solution for curly-haired women who want straight hair, and it makes it easier for them to experiment with various hairstyles.
One of the biggest cons of relaxing treatments is that they use chemicals that cause hair damage. Yes, you'll enjoy your relaxed hair for quite a while, but at one point, you might need to cut it shorter to deal with the damage.
Another thing to know is that these procedures tend to be costly. If you still decide to try hair relaxers, ensure that you find a skilled professional who knows what they're doing.
Keratin
Keratin treatments are growing more popular by the hour. They are currently highly requested and come in several versions. Getting a keratin treatment means that a hairdresser will apply chemicals on your hair that will straighten it, make it glossy and smooth.
These chemicals aren't the same used like the ones in the process of relaxing. Keratin treatments last up to six months.
Some salons use keratin formulas that contain formaldehyde which is a potential carcinogen chemical. Another con of this method is the costly nature and that you'll have to stay away from chlorinated water, including pools.
Hot Comb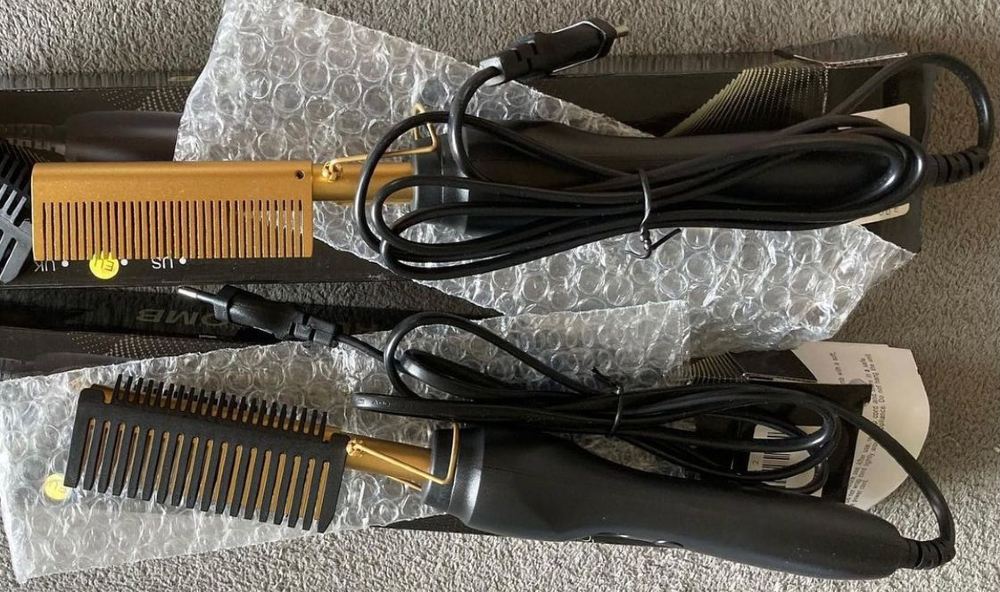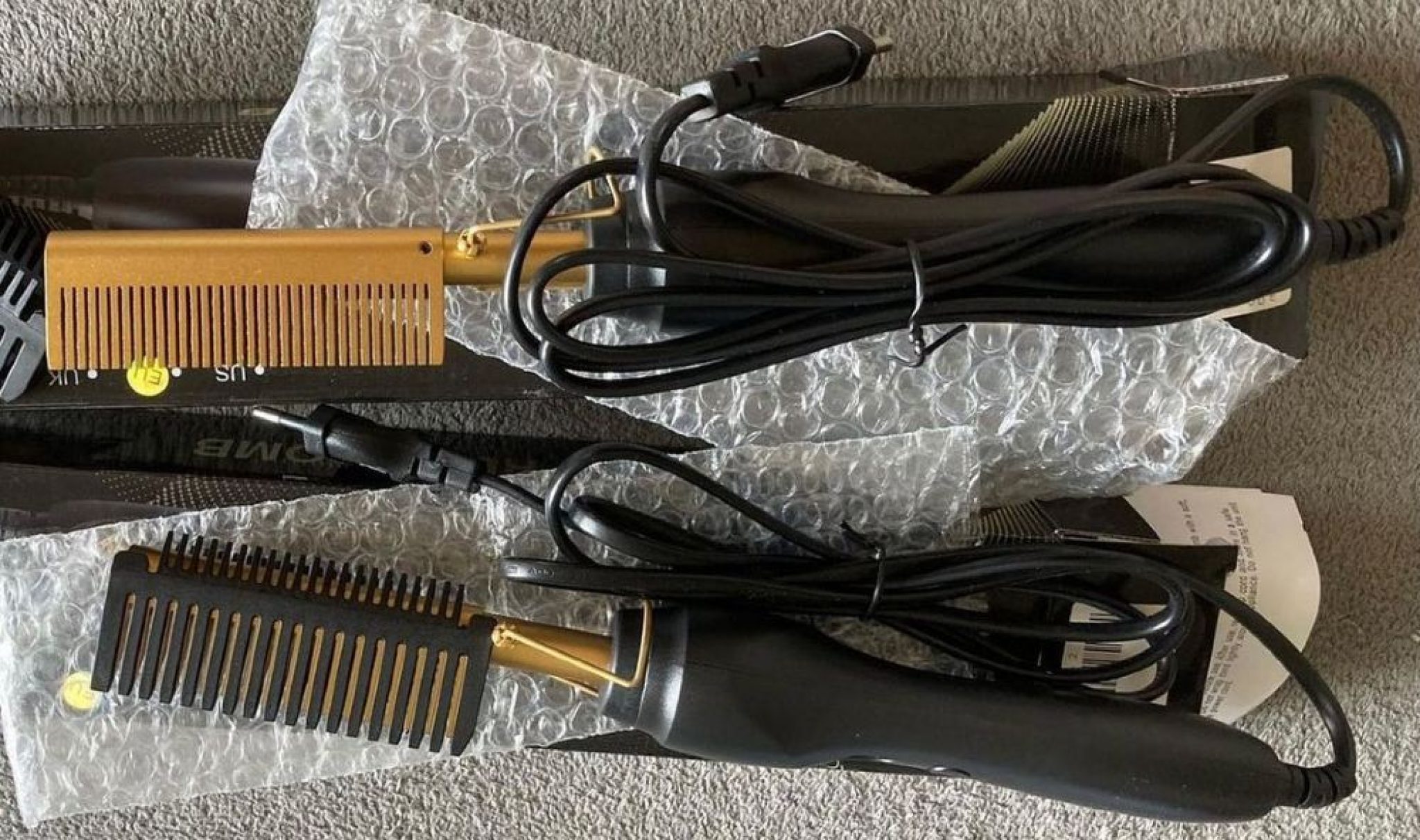 Hot combs look like regular combs, with the only difference being that they release heat and can straighten your hair. These tools are convenient to use and can be beneficial for ladies with natural short to medium hair.
However, a hot comb can sometimes be dangerous because you can burn yourself if you don't pay attention. One downside you need to know about is that this tool isn't the best choice for very long, coarse hair.
Blow Drying
Straightening your hair with a blow dryer is a time-consuming task; however, it yields gorgeous results. When paired together with a great straightening blowout cream, this method can give you a silky-smooth hairdo with a stunning shiny finish.
If you want to achieve that polished look, you need to get a high-quality blow dryer and a brush. Ensure that your hair is damp, divided into sections, and start blow-drying small strands of each section until your hair is straight.
Although the final result is gorgeous and lasts a few days, doing this takes a lot of time. It's a less damaging alternative than chemical treatments, but you can end up with dry, lifeless hair if you do it often.
Tips for achieving optimal results with straightening products
When it comes to achieving optimal results with hair straightening products for black hair, there are a few key tips to keep in mind. First and foremost, it's important to select the right product for your hair type and condition.
For example, if you have extremely curly or coily hair, a relaxer may be a better option than a keratin treatment. Next, it's important to properly prepare your hair before using any straightening product.
This means washing and conditioning your hair, and thoroughly detangling it. This will help ensure that the product is evenly distributed throughout your hair, and that the straightening process goes as smoothly as possible.
When using the product, be sure to follow the instructions carefully, and pay attention to the recommended processing time. Some products may require you to leave them in your hair for a certain amount of time, while others may need to be rinsed out immediately after application.
After the product has been applied, it's important to use heat to activate it. This can be done with a flat iron, a blow dryer, or a hooded dryer, depending on the product you're using.
Be sure to use the appropriate heat setting for your hair type, and work in small sections to ensure that each strand is straightened evenly. Finally, it's important to maintain and care for your newly straightened hair.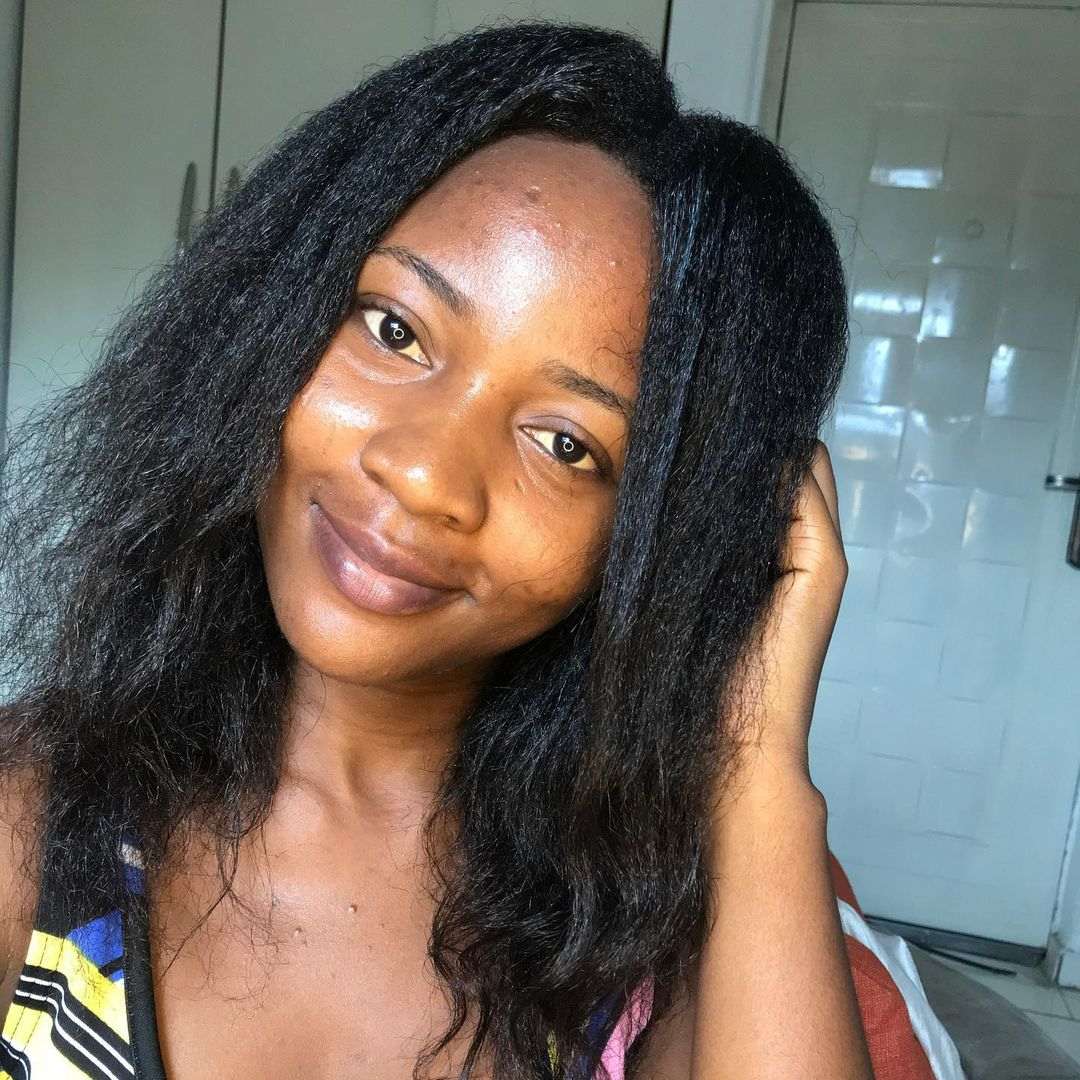 This may include using a sulfate-free shampoo and conditioner, and avoiding heat styling tools as much as possible. With proper care and maintenance, your straightened hair can last for weeks, if not months.
How to maintain and prolong the life of straightened hair
Maintaining and prolonging the life of straightened hair is all about proper care and protection. The first step is to use the right hair care products, such as sulfate-free shampoo and conditioner, which are less harsh on your hair and scalp.
It's also important to use a heat protectant before using any heat styling tools, like flat irons or blow dryers, to protect your hair from damage.
Another key aspect of maintaining straightened hair is keeping it moisturized. This can be done by using a leave-in conditioner or hair oil, which will help to keep your hair from becoming dry and brittle.
Additionally, using a deep conditioning treatment on a regular basis can help to nourish and strengthen your hair, prolonging the life of your straightening treatment.
You should also avoid using hair ties or elastics on your hair as much as possible, as they can cause damage and breakage. Instead, opt for hair clips or pins to keep your hair in place.
Another important aspect is to avoid over-washing your hair. Over washing can strip the hair of its natural oils and make it dry, brittle and more prone to frizziness.
It is suggested to wash your hair every 2-3 days and to use dry shampoo in between washes to keep the hair looking fresh. With proper care and maintenance, your straightened hair can last for weeks, if not months.
FAQ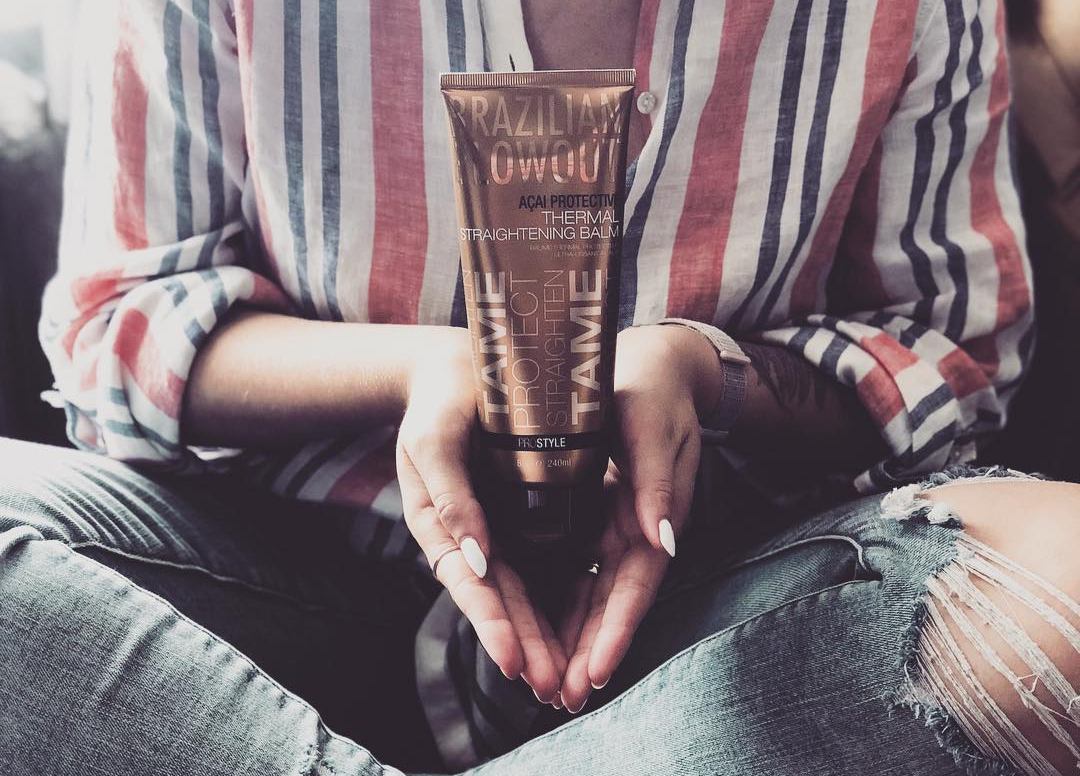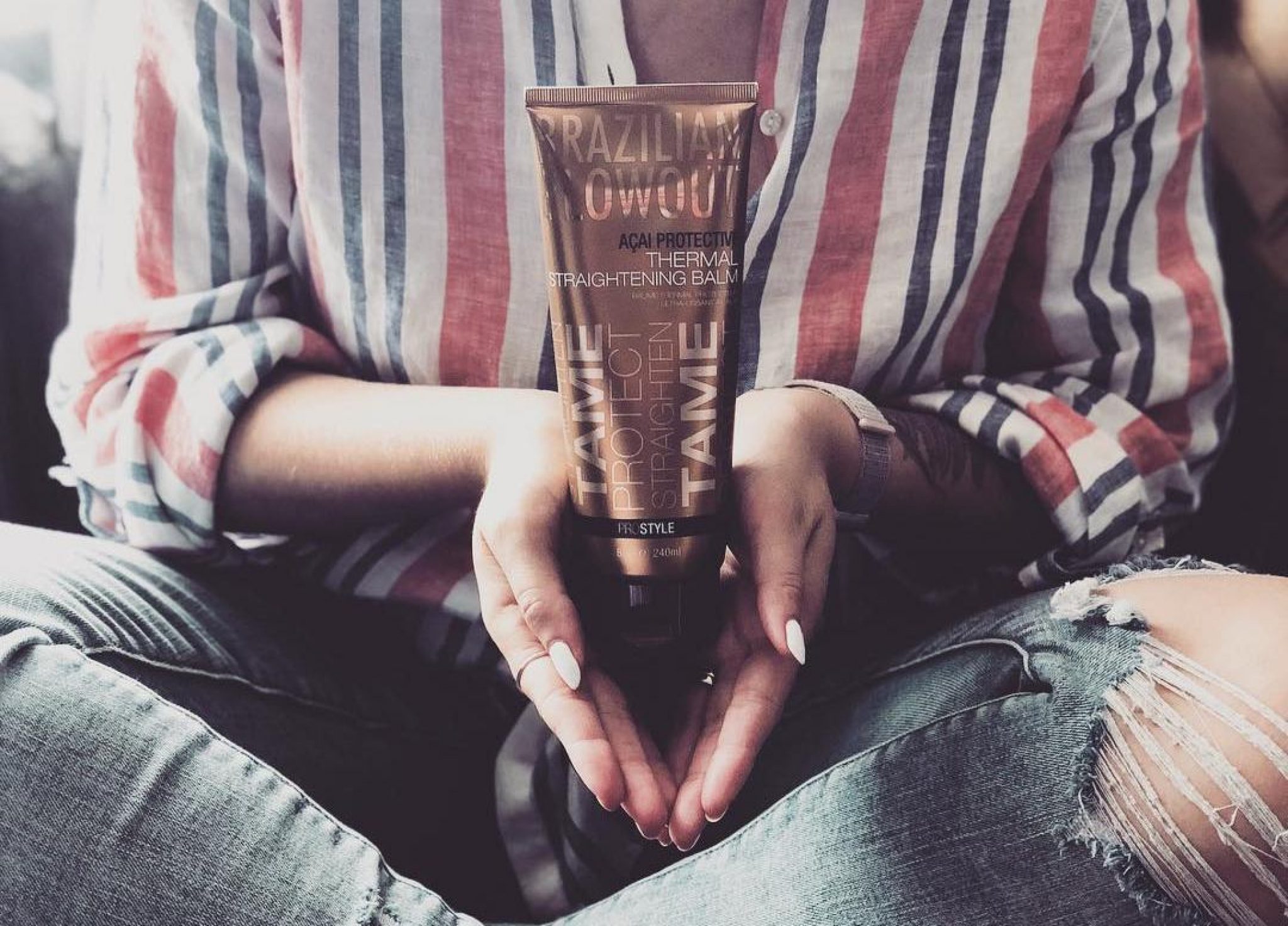 How do you permanently straighten African American hair?
The relaxing treatment we mentioned before is an excellent way to straighten African American hair permanently. Although it uses chemicals because of its convenience, it's still a popular treatment among ladies with curly hair.
Can a black man straighten his natural hair?
There are many black men who prefer to straighten natural black hair. It is a personal choice and there is no correct answer. Some people feel that it makes them look more professional or presentable, while others see it as a form of self-expression. Straightening hair can be expensive and time-consuming, so it's important to do what makes you feel comfortable and confident.
How can I straighten my black hair without chemicals?
Straightening black hair without chemicals is an option; however, it won't be a permanent solution. You can either use a straightening iron, hot comb, or a blow-dyer.
What do you put on black hair before flat ironing?
If you want to minimize the damage that a flat iron can cause to your curly hair, you must protect it with a great heat protectant. Even if you use the lowest temperature setting, you still need to cover your basis. Although human hair starts burning at 450 F degrees, specific structural changes happen even when exposed to lower temperatures.
What is the safest natural hair straightening treatment?
Why would you want to straighten your stunning hair when you can sport those luscious curls? If you've set your mind on getting the safest treatment, one of the options is keratin, but a salon that doesn't use formaldehyde.
Conclusion
Now that you know all about different hair straightening products for your bouncy curls and the common straightening methods, which way will you go?
The MIZANI Heat Protectant Spray is a fantastic heat protectant that lasts for a very long time, protects the hair, leaves it smooth, shiny, and straight. If you're more of a blowout girl, we recommend the Oribe Smoothing Blowout Cream.
For the ladies who want to try a relaxing treatment at home, our go-to is the PHYTO PARIS Phytorelaxer, and an excellent keratin alternative is the Gold Label Brazilian Keratin Treatment.
We can't wait to get your pictures of the final result!
---
References:
How Long a Brazilian Blowout Lasts — Plus, Everything Else You Need to Know About the Treatment – and 8 Ways to Combat It – https://www.instyle.com/hair/brazilian-blowouts-guides-tips
9 Signs of heat damaged hair – https://www.dyson.com/knowledge/hair-care/9-signs-of-heat-damaged-hair
Does Heat Protectant Work? – https://www.hairstory.com/blog/does-heat-protectant-work/