Going from wet hair to dry and silky locks sounds like science fiction. Though it's traditionally a big no-no, now it's a reality thanks to wet to dry straighteners.
Below, we have three of the best on the market along with our top pick for the best wet to dry hair straightener. We'll also guide you on how to use it plus, share things to look for when you're on the hunt for your perfect match.
What Are Wet to Dry Flat Irons and How Do They Work?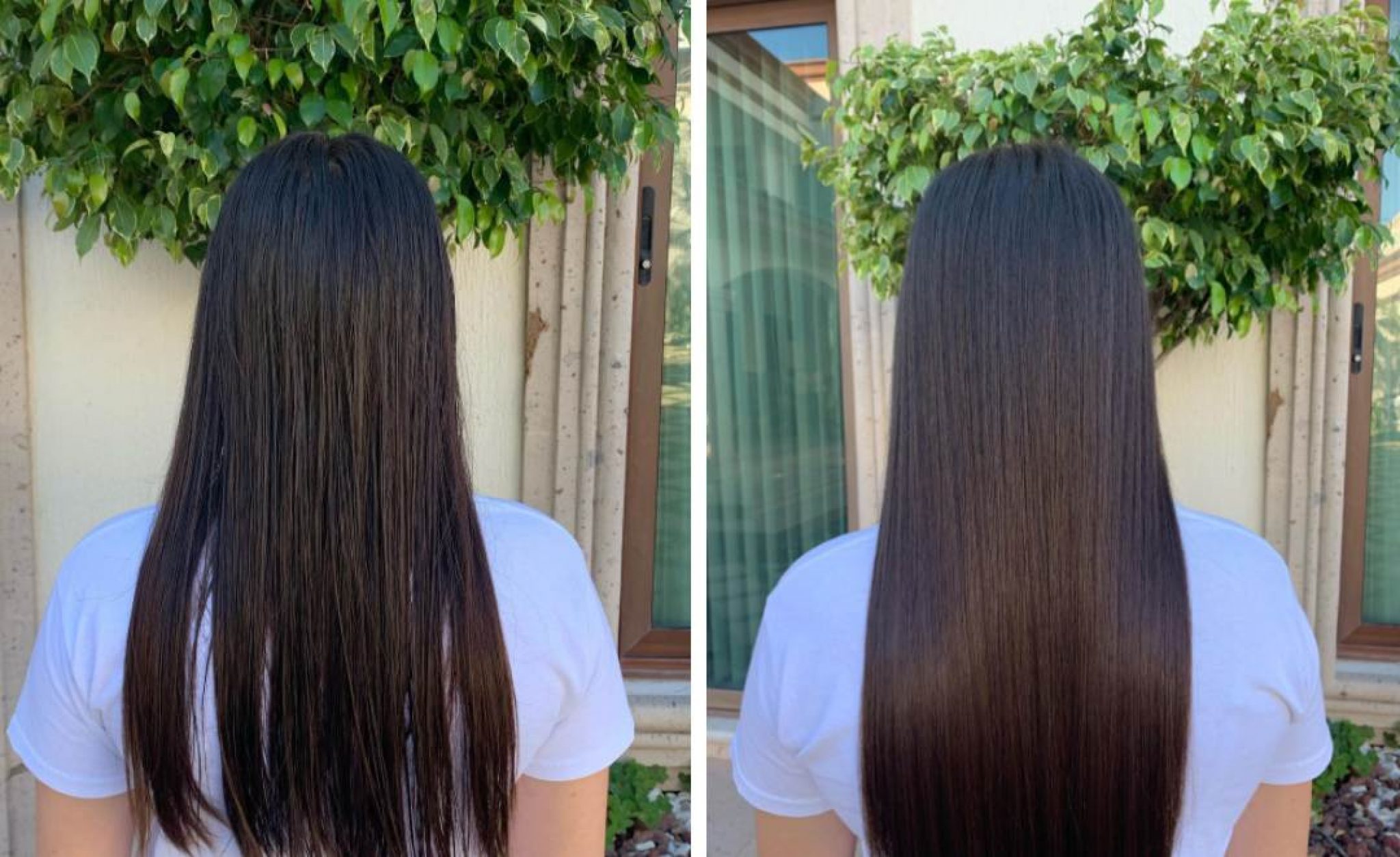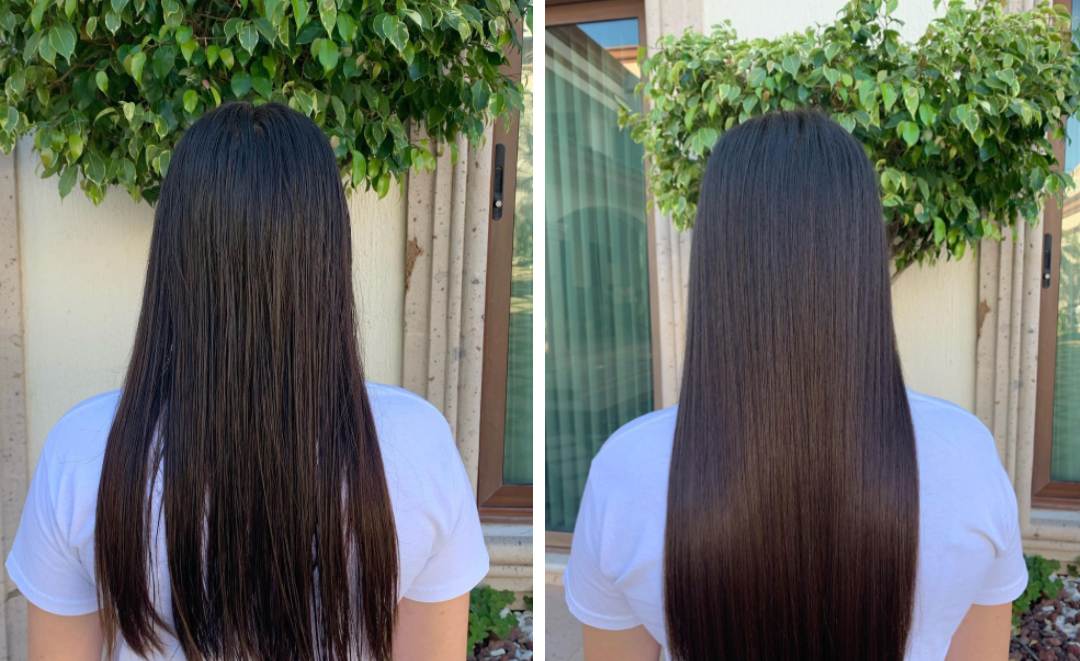 Like the name implies, a wet to dry flat iron is meant to take your hair from wet to styled. You won't have to blow dry and can start styling your hair straight out of the shower.
While that sounds like a frizz nightmare, these wet to straight straighteners work thanks to an embedded venting system that works to quickly extract excess water from hair.
It's essentially like skipping a step and enjoying smooth styles without the risk of damage.
Pros
Saves time on hair styling;
Won't burn or damage wet hair;
Works on all kinds of styles including straight, curly, and wavy;
Uses venting to extract water.
Cons
Might not be the best option for thin hair;
Could take some getting used to when switching from a traditional flat iron;
Some irons only steam with no options for dry hair.
back to menu ↑
Top 4 Best Wet to Dry Flat Irons Reviewed
back to menu ↑
1. BaByliss Pro Nano Titanium Flat Iron –
Top Pick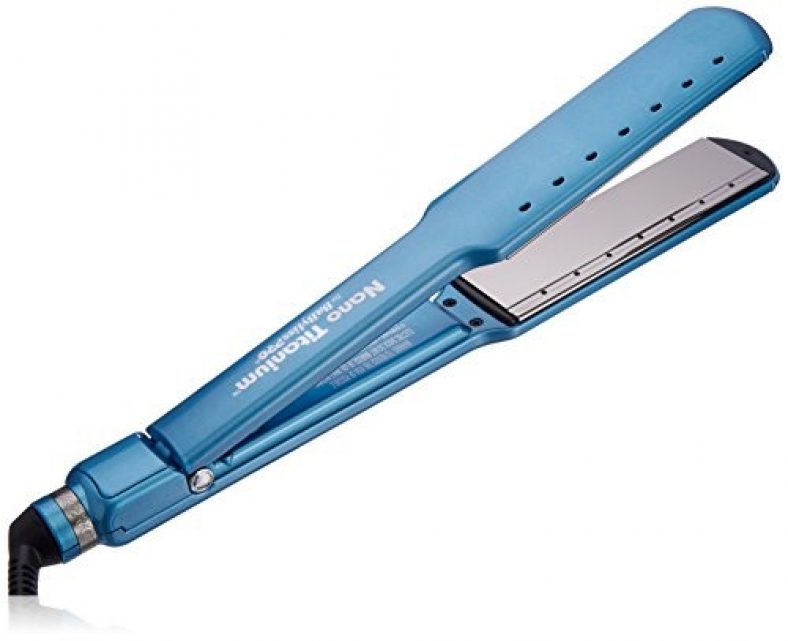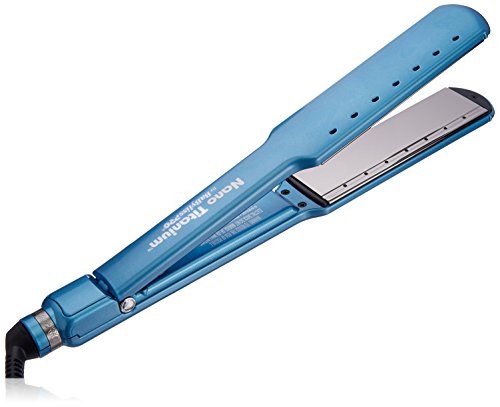 BaByliss is known for its innovative and high-performing tools, with a long list of products that professionals love. With this BaByliss Pro Nano, you'll get a wet to dry tool that takes hair from damp to style in no time.
Plates are coated with a titanium material that glides over hair and creates smooth locks. Titanium is a perfect material for flat iron plates that has quick heat-up time and distributes heat evenly. As you glide through hair, steam excretes excess heat and locks moisture into each and every strand.
Choose from 50 heat settings that top out at 450⁰F and grab more hair for quicker styles thanks to the 5-inch plates. The straightener is also extremely lightweight for a professional tool, so you won't have an Arnold Schwarzenegger biceps after styling (keep in mind that flat ironing is not the fastest process if you have a lot of hair).
One feature that almost all Babyliss irons are lacking is an auto shut-off. That means you will need to double-check your tool before leaving.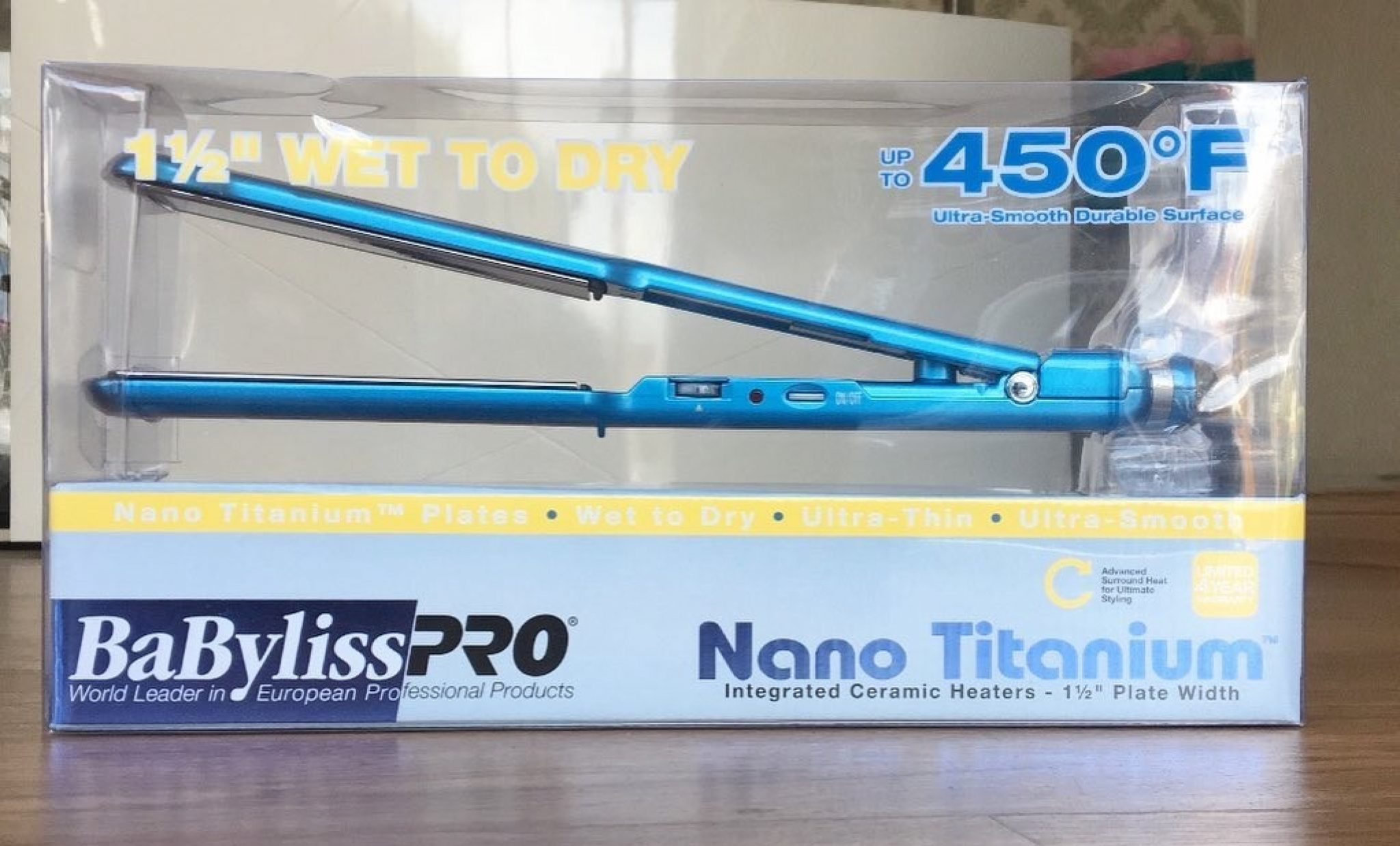 What we love:
Choose from 50 different heat settings;
Straighten hair in seconds from wet to dry;
Titanium plates prevent damage;
The smooth cool blue design is chic.
What we'd change:
Summary
When you buy BaByliss, you're getting a styling tool that's made for professionals with an affordable price tag. With innovative technology and heat-resistant metals, you can power through your styles without having to worry about burning your hair. Steam your way to beautiful styles and style your hair faster than ever before with help from a wet to dry flat iron.
---
back to menu ↑
2. Remington Ceramic Flat Iron – Budget Pick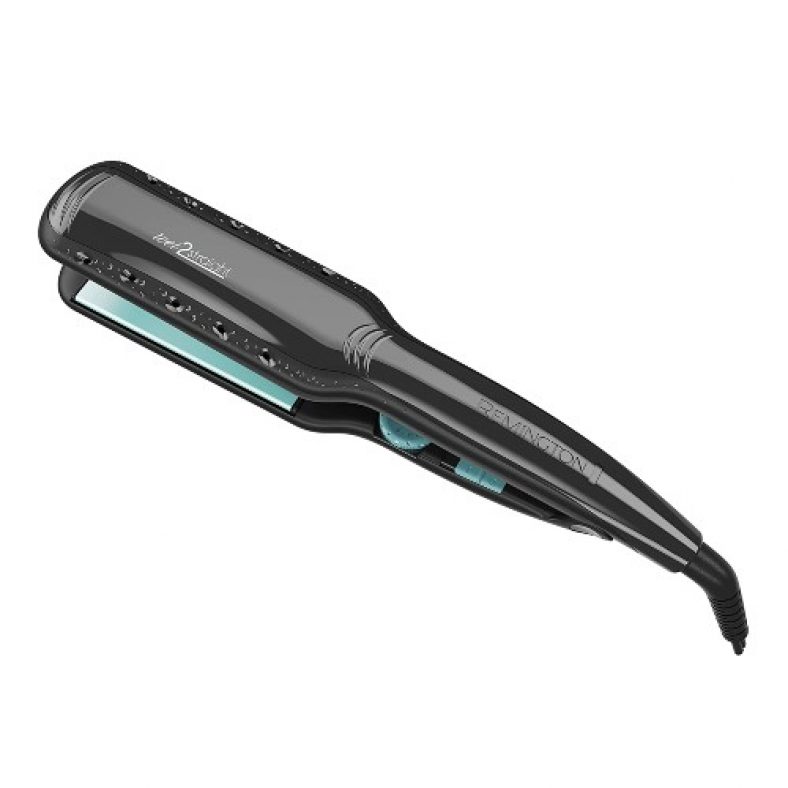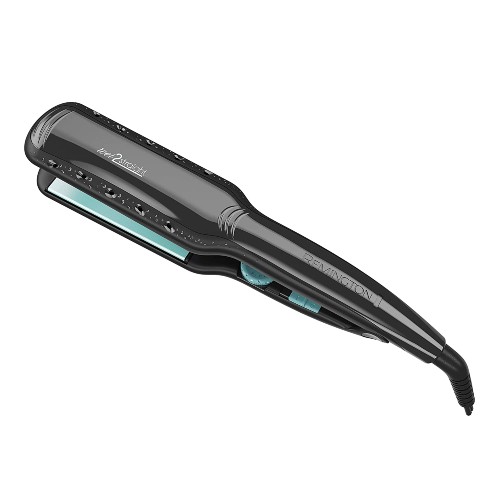 Remington has quality styling tools that won't break the bank, most including extra features that make them shine above the rest. With their Ceramic Flat iron, you can have max heat in 30-seconds flat, getting your styling done and on with your day.
Instead of blow-drying, you can use this straightener right out of the shower, enjoying fast drying with an embedded vent system that helps squeeze excess water out of hair. Heat goes up to 420⁰F, with a total of 30 heat settings to choose from.
You won't have to worry about damage, with Remington's beautiful icy blue plates encrusted with titanium for smooth and moisture-locking straightening.
What we love:
The cool blue titanium plates;
30 different heat settings to find your optimal temperature;
Steam vents that allow you to dry hair straight out of the shower;
2-year warranty.
What we'd change:
Summary
For a quality iron that won't break the bank, this
Wet-2-Straight Flat Iron from Remington
is it. It's got solid extra features and
protects hair
from damage, all while taking hair from wet to straight in seconds. Plus, Remington's 2-year warranty will guarantee that it's there for you when you need it or a quick replacement will be on its way.
---
back to menu ↑
3. CROC Premium Flat Iron – Premium Pick Among Wet 2 Dry Straighteners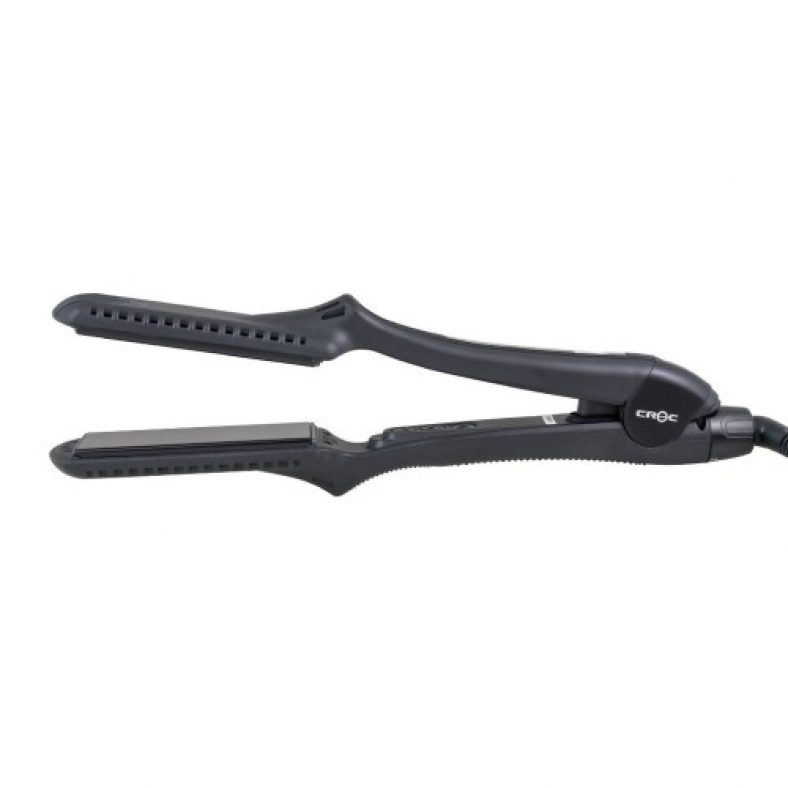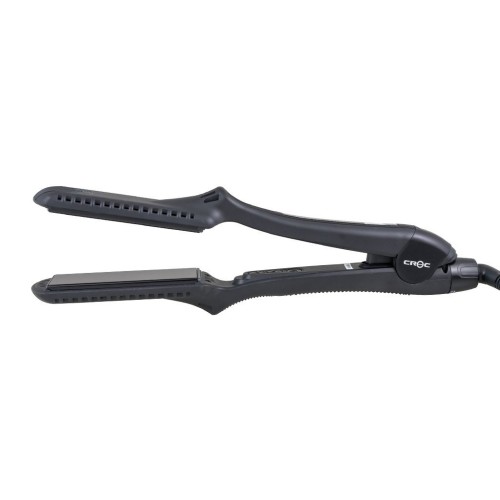 CROC irons not only look stunning but feature innovative designs that make styling hair a breeze. Their Premium Wet and Dry Flat iron features floating plates made from silver titanium embedded with ceramic heaters that help to distribute heat.
Included along the plates is a ventilation system that steams hair dry in seconds, even when just out of the shower. Choose the perfect heat from 18 different heat settings that range from 280⁰F to 450⁰F. As you style, the heat works to release negative ions, smoothing the hair straight and preventing frizz and damage along the way.
Extra features include a 9ft swivel cord, dual voltage for use anywhere, and a digital temperature setting. Plus, just in case you leave it on and running, rest assured with a 30-minute automatic shut-off to keep your home safe.
What we love:
CROC's unmatched quality;
The black titanium plates embedded with ceramic heaters;
Release of negative ions as you style to prevent frizz;
Takes hair from wet to straight in seconds.
What we'd change:
A bit on the pricey side when it comes to wet to dry flat irons.
Summary
CROC has it figured out when it comes to creating straighteners that won't damage the hair. With their Premium flat iron, you can style on wet hair for sleek styles that won't dry out hair. Choose from 18 different heat settings and enjoy all the extras as you style your hair faster than you thought was ever possible.
---
back to menu ↑
4. Remington Pro Wet2style – Best Wide-plated Wet and Dry Flat Iron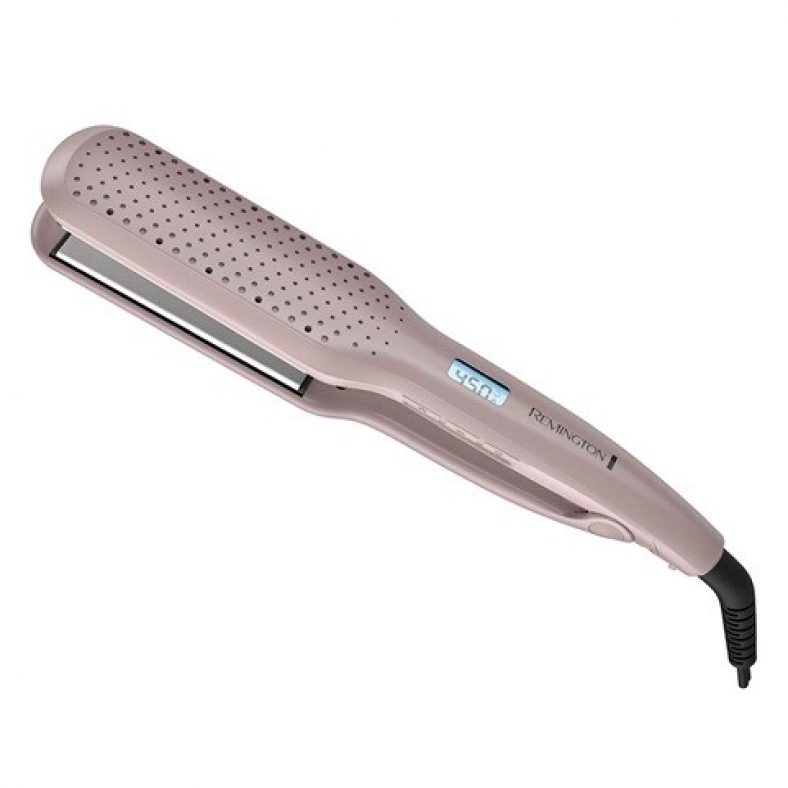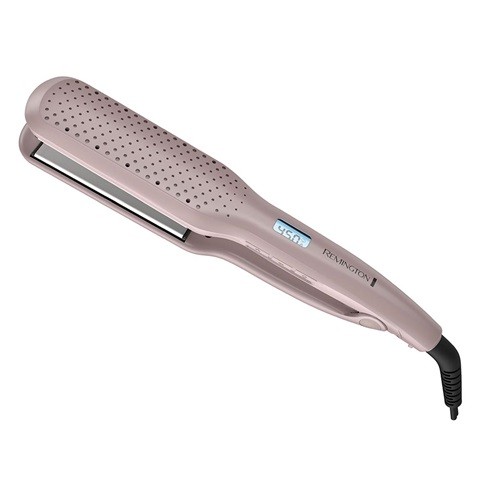 Another Remington is making it on the list, this time with wider plates for easier and faster styling. The Wet2style iron stretches 13.4-inches wide to grip more hair at once, set with beautiful pink color and visually pleasing display.
It's the ultimate time-saver, with heat reaching 450⁰F. Choose from 10 different heat settings to find the best temperature to take your wet hair to dry and straight in one to two strokes. The Pro Flat Iron features a steam feature for wet hair and an iron option for dry hair, allowing you to switch back and forth between the two.
Plates are ceramic with a titanium coating perfect for smoothing out frizz and preventing damage to hair due to overheating. Have your desired heat up and ready to go in just 30-seconds with fast heat up to get on and done with your styles fast.
What we love:
The color is gorgeous;
Switch from wet to dry to style the way you want to;
Plates coated with titanium for smooth styles;
10 heat setting that goes up to 450⁰F.
What we'd change:
Summary
Remington is an all-time favorite that won't leave you broke. With the Wet2style iron, you're getting a styler for every situation, switching from wet to dry at the push of a button. Plates are extra wide and venting presses steam into hair for quick and safe styling for all types of hair. Plus, the beautiful colors and cool design make it easy on the eyes and perfect for any powder room décor.
---
back to menu ↑
How to Pick Wet to Dry Flat Iron (What to Look For)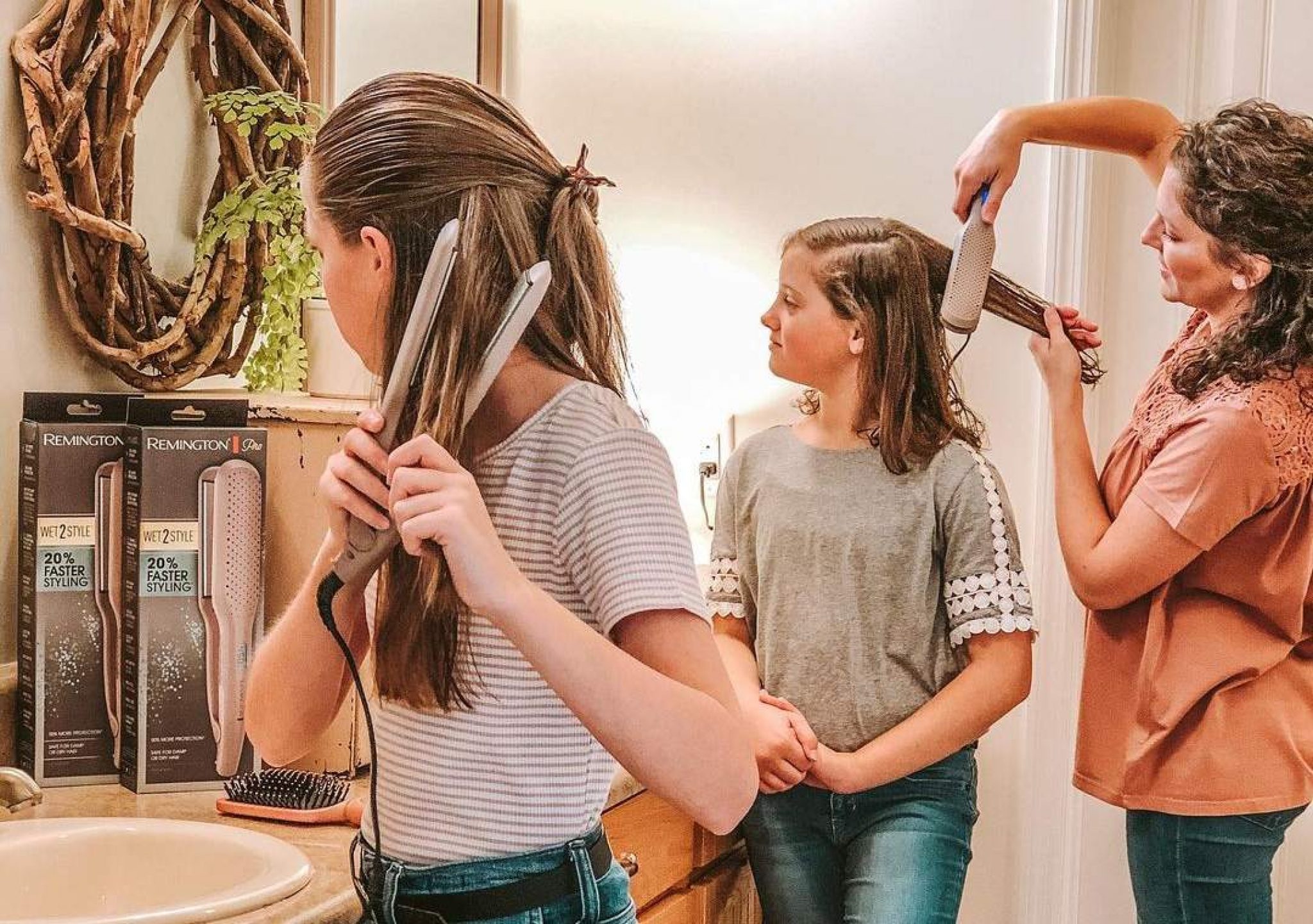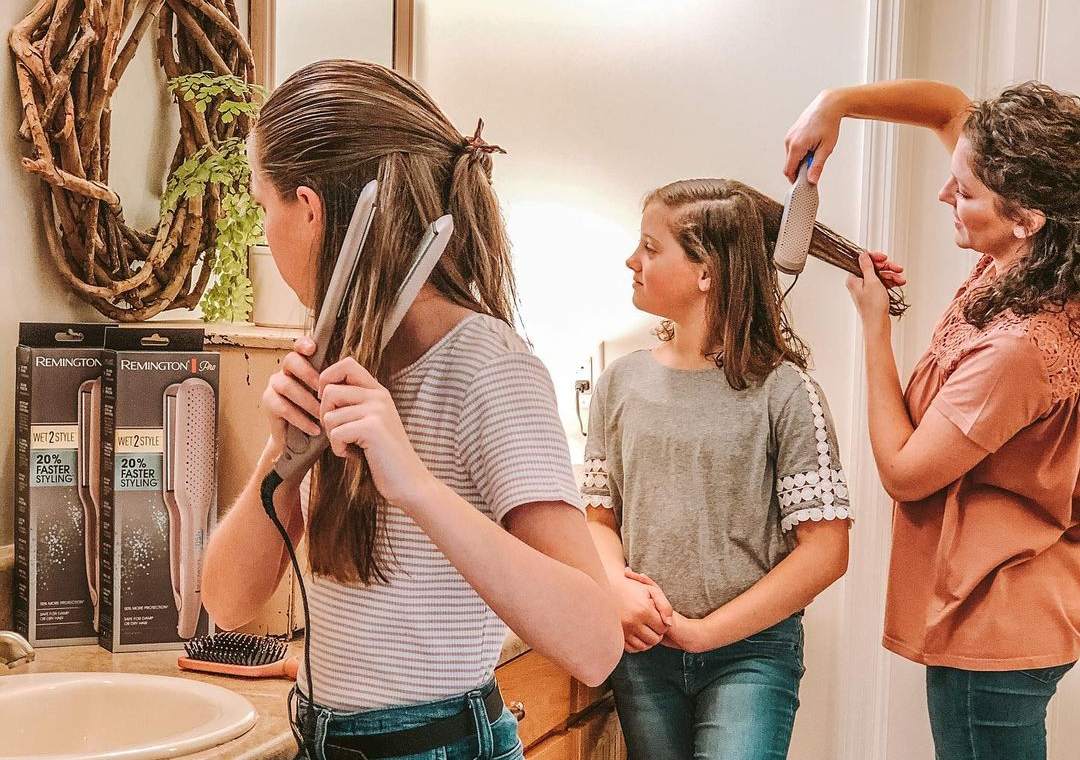 When you think you've found the flat iron for you, you might want to consider a few things before you buy. Some things to keep an eye out for include:
back to menu ↑
The Vents
Because wet to dry straighteners work with venting systems, the first thing you should look out for is the vents. Not only should they be large and evenly distributed but, they should generate healthy steam to get all the excess water out of your hair.
You can find info about the vents in the product description, making sure to read before you buy.
back to menu ↑
The Plates
Just like with any other flat iron, you should pay close attention to the plates. Many flat irons on the market come coated with ceramic to smooth out hair and evenly distribute heat.
Besides ceramic, look for metals like titanium, which helps to reduce frizz and seal moisture into the hair.
back to menu ↑
Extra Features
Besides the technical stuff, look for irons that come equipped with extra features that set them apart. One important one is an automatic shut-off, helping keep your home safe. Another is heat sensors, which help to regulate heat and keep the iron from overheating.
back to menu ↑
How to Use Wet to Dry Flat Iron Correctly?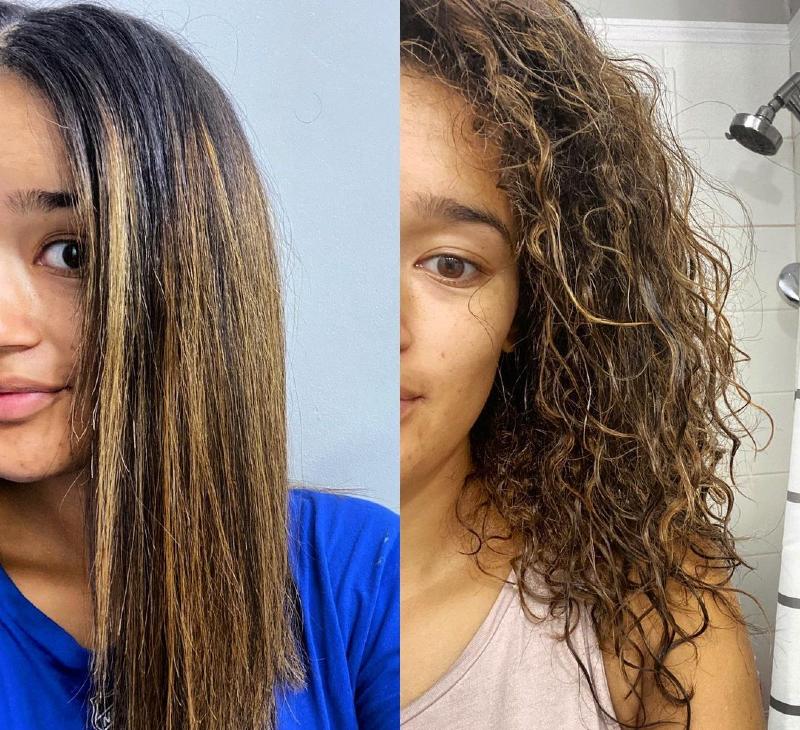 If you've never used a flat iron on wet hair, don't panic. We'll share the tricks of the trade along with a few expert styling tips for silky, smooth hair.
back to menu ↑
Comb Hair
The first thing you want to do is comb out your hair and make sure there are no tangles or knots. Though you can use this type of iron on wet hair, it works best (and fastest) on damp hair. Give your hair time to air dry or take a blow dryer to it until it's damp.
back to menu ↑
Straighten
Wet to dry straighteners work with the help of steam, most of them smoothing hair straight in just one pass. After using yours a few times, you'll get a feel for how many passes you need to achieve the look you want.
Start by taking small to medium sections of hair and clamping the straightener at the root. Then, slowly pull down as the steam straightens and dries your strands.
back to menu ↑
Moisturize
After you're done straightening your hair, add a bit of moisture back in with a hair oil. Add a few drops to palms and rub them together, applying to hair starting at the ends.
Expert Tip
Use a small dollop of
leave-in conditioner
and mix with one drop of your favorite hair oil. Start at the ends and add product, smoothing upward toward the scalp to restore moisture and promote shine.
back to menu ↑
Wet Hair Straightening FAQ
back to menu ↑
Is wet to dry flat iron better for hair than the ordinary one?
There are a lot of wet-to-dry flat iron reviews out there that claim wet irons are better but the truth is it depends. Your hair type has a lot to do with it, as the heat may not be enough to create the styles you want.
back to menu ↑
Can I straighten dry hair with wet to dry flat iron?
Yes! That's exactly what wet to dry flat irons are for, taking damp hair to straight and smooth in just one swipe. You don't want to use the iron on soaked hair, making sure it's damp before running it through hair.
back to menu ↑
What temperature do you put a wet to dry straightener on when hair is wet?
When hair is wet, you can use a ventilated straightener to steam hair and squeeze out water. Optimal temperatures to dry hair and create silky locks tops out at 420⁰F.
*Note that optimal temperatures depend on hair type and texture.
back to menu ↑
Finding Best Wet Straighteners for Your Buck
Taking your hair from wet to dry and straight is now a possibility thanks to wet to dry straighteners. Now you know what to look for and what features make these flat irons different from the rest.
Though all four of our flat irons are solid, our top pick goes to the BaByliss Pro Nano Titanium, suitable for all hair types.
Let us know your favorite choice and send us photos of your new hairstyles using a wet to dry flat iron. We can't wait to see them!