When you have hair that is as long and as thick as mine, the process of getting it ready to straighten is majorly boring.
I have about a thousand things I could be doing during that forever time I spend with a blow-dryer, and the only solution I have been able to come up with is to chop my hair off and just give myself less hair to straighten!
It may seem a bit drastic, but anyone reading this with the same problem will completely understand. Plus, my husband spends days pouting if I do take the step to go "short" for a while!
The only alternative I've found is to try one of the Wet To Dry flat irons, but I was hesitant. The idea of putting hot plates on my wet hair was scary to me, but there were a lot of people who said they work.
Detailed Remington Wet 2 Straight Flat Iron Review
That's why after skimming through hundreds of Remington wet 2 straight reviews (as it's one of the best wet to straight flat irons) I decided to summarize my thoughts and share them with you.


Lets You Vent
The Remington Wet 2 Straight 2″ Plate Wet/Dry Ceramic Hair Straightening Iron with Tourmaline is one of the better options for getting hair dry without blow-drying first, and it has vents throughout the body of the straightener that allow for a blow drying function of sorts.
According to the manufacturer, the hissing sound is actually a good sign, and it means the moisture is escaping through the vents.
One Less Thing To Worry About
While the iron itself is designed to offer convenience, it also has other perks that are (to me), as important. In my world, the auto shut-off is a big deal. The iron shuts off after an hour of not being used, which takes a whole lot of concern off of my mind after I leave the house.
I have said for ten years that I will learn to shut off my straightener, and I am a lot better at it but not good enough for my (or my husband's) liking.
Sizes For Drying
This wet to dry straightener comes in two different sizes, so it really depends on what you're going to use it for. The 1 inch is better for an all-purpose straightener that can do a little bit of everything, but if you have very long or very thick hair you may be more comfortable with the 2-inch version.
Remington Wet to Dry Straightener Prices
This iron is nowhere near as expensive as it should be if the straightening and drying work as they claim. Just thinking about how much time it would save on my daily schedule makes me smile. In fact, I would be quite happy to pay more for the convenience.
Not Actually Ceramic
One thing that makes me question the quality of this model is it's not a ceramic iron, it's a ceramic-"coated" iron. Coated irons are way more likely to chip, and chips can cause rust and hot spots. If there are hot spots throughout the iron you won't get a consistent straighten from it, and that can be a problem in the long run.
Does it Dry Hair?
The manufacturer says this iron is able to straighten wet hair, and most people say it does but it doesn't actually dry your hair. I'd say you have to towel dry your hair to remove excess water, but yes it does and styles it at the same time.
It does take some getting used to if you have never used one before, but I love mine and it cuts my prep time in the morning way down!
The problem we see in all wet-to-dry straighteners, you just can't expect miracles, especially on thick hair. That being said, there are plenty of reports stating this model works very well on damp (not completely wet) hair, so I think it can still save you some time.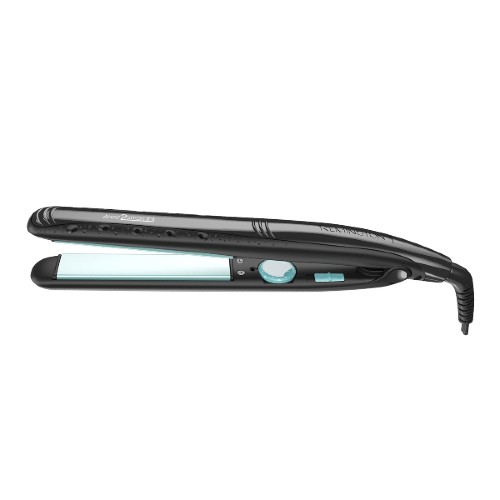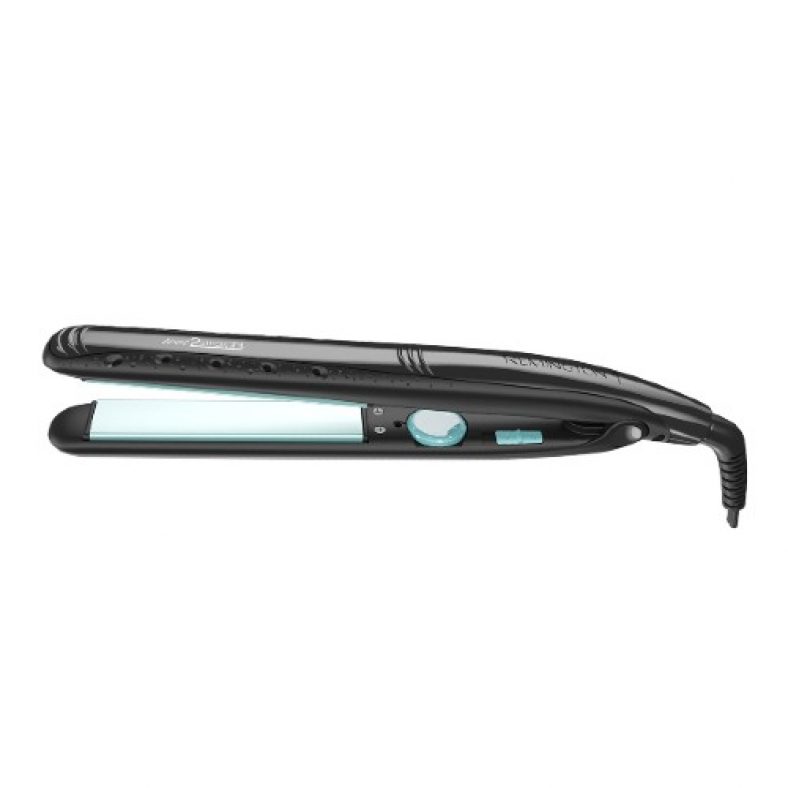 Plate Width: 1 Inch
Plate Type: Ceramic, Titanium
Warranty: 1 year
Voltage: 110V
Temperature settings: 420F
FAQ about Remington Wet to Straight Flat Iron
How long does it take to straighten curly/wavy hair?
It only took me about 30 minutes at most to straighten the hair of my clients who had normal curly hair. There are many factors to straightening hair that I can't possibly give you the answer you need without knowing what texture or condition your hair is in before you begin the straightening process.
I have not seen your hair or felt its texture, so I can only tell you to make sure you use the iron without rushing or using a hot iron on large sections at a time because you may not have a lot of time to straighten it.
Take your time and allow enough time to do a thorough job. Always work with very thin sections of hair, the thinner the sections, the straighter you will be able to get your hair.
The thing about naturally curly, wavy hair is, it reverts to its natural state easily, so don't expect your hair to remain straight for days or weeks on end. Humidity will make your hair revert to its naturally curly wavy state in a few minutes if the weather conditions are right for it. I hope this reply has been helpful to you.
Do I need to put water in it for straightening?
No, it's just you can use it with either wet or dry hair.
Does hair need to be damp to the point where it's almost dry?
It seemed to work best when the hair was slightly damp. Dry your hair with a towel as much as you can and then use the straightener. It works much better that way and causes less damage to your hair. I try to give my hair at least ten minutes after a shower to make it easier.
Does Remington wet to straight iron have dual voltage feature?
Unfortunately, no. You will need to use an adapter if you want to take it to Europe.
Does it have different buttons for straightening when wet or dry?
No, it doesn't. However, I didn't it when my hair is dry. I just like the fact I don't have to blow dry first then straighten. So much faster!
Also read:
Conclusion
While this may actually work as a good straightener for hair that is already dry or damp, I don't think I'm comfortable putting it on completely wet hair. Aside from the fact that it can't really dry because it doesn't blow air, it's also a hot iron that you're putting on wet hair.
If the price is right for you and you're a brave soul who wants to try to get the wet straight benefits, you can double-check all the Remington Wet 2 Straight flat iron reviews and make a final decision!
Straightening Performance
9.6