Tired of spending hours styling your hair? Whether you're looking for very short relaxed hairstyles or something more low maintenance, there is an abundance of options available.
From relaxed pixie cuts that add volume and texture to sleek bobs perfect for the office, there's something for everyone! For black women looking to try something new, there are plenty of relaxed hairstyles for short hair that will make you look amazing without needing a lot of effort.
So if you're ready to take the plunge into a low maintenance short relaxed hairstyle, keep reading for some inspiration!
Best hairstyles for short black relaxed hair
Maintaining short relaxed hair can be a challenge, but it doesn't have to be! With the right styling techniques and products, you can create gorgeous short hairstyles that are sure to turn heads. Here are some of our favorite short relaxed haircuts for black females:
1. Pixie Cut Relaxed Hair
Short hair looks great in a pixie cut, and it's an easy style to maintain. All you need is some styling mousse or gel, a blow dryer with a diffuser attachment, and some bobby pins.
Use the mousse or gel to create texture and definition in your hair before using the blow dryer on low heat with the diffuser attachment. Finish off your look by pinning back any flyaway hairs with bobby pins for extra polish.
2. Curly Bob
A curly bob is another great option for short black relaxed hair. Just like the pixie cut, you'll need some product along with a blowdryer and a diffuser attachment for this look too!
To get curly ringlets that last all day, twirl sections of your hair around your finger as you blow dry. Once it's all dry, use a bit of hairspray to hold the curls in place.
3. The Slicked Back Style
It is characterized by the hair being combed back away from the forehead without any bangs or side-swept fringes. This simple yet classic look can be achieved with various products such as pomades, waxes, creams and gels. Depending on how much hold you want, you can add more products for greater control.
4. Braided Bun
This style involves braiding two or more strands of hair into a single, often intricate braid which is then looped into an up-do at the base of the neck.
The style is perfect for short black relaxed hair because it can easily be styled even with the shortest of lengths. It's also a great way to add texture and interest to your look without having to resort to curling or straightening your hair.
5. Flip Hairstyle
This style has the top layers flipped out and away from the face, creating volume and texture throughout the hair. The flip hairstyle can be achieved with a simple blow-dry using a round brush and creating small curls with a curling iron. You can also use mousse or gel to create more body and hold.
6. Finger Waves
This short relaxed hairstyle is characterized by strong, voluminous S-shaped curves which are created by forming ridges in wet hair before it dries. The finger wave styling can be done on all lengths of hair, but it looks best when worn on shorter crops and bobs.
7. Cornrows
The style consists of having the hair braided close to the scalp in neat rows. This is achieved by having a person divide the hair into sections before beginning to braid each section individually, resulting in tight, even braids running along the head. Cornrows are perfect for short relaxed hair because they're easy to do and require minimal upkeep.
8. Wavy Pixie
This fun and flirty look can be achieved by using a curling iron or wand on dry hair with light heat protection before styling. The key to achieving the wavy pixie look is to keep the curls loose, lightly defined, and tousled as opposed to tight ringlets.
9. Fauxhawk Pixie
The fauxhawk pixie is an edgy and stylish style that is sure to turn heads. The look consists of short, choppy layers which give a fun, feathery texture.
This style also features a longer fringe in the front, with pieces swept back to create a fauxhawk shape. To achieve this look, use light styling mousse or gel and blow-dry with a diffuser attachment.
10. Layered Bob
The style features layers cut at different lengths, creating volume and movement while still keeping the overall length short. It can be worn straight or wavy, giving the wearer plenty of styling options.
It is a short, relaxed style that looks effortless and classy. This versatile look works great on all face shapes and with many different hair textures. Whether you have thick, thin, or wavy hair, the layers can be customized to your own personal style.
11. Short Asymmetrical Bob
With its edgy, angled cut, this look is sure to turn heads wherever you go. The asymmetrical bob is the perfect way to add some drama to your look without sacrificing length.
To recreate the look at home, start by separating the hair into two sections – one side should be slightly longer than the other – and clip them up separately. Create an off-center parting and blow dry or use a round brush to create movement in each section.
12. Bowl Cut
Bowl cut is a classic and timeless hairstyle. It's also known as a mushroom cut and it's been around for decades. This look consists of short layers at the crown which are then blended into the sides and back to create a curved bowl shape.
This style is easy to maintain, requiring just a simple trim every few weeks to keep the ends even. Bowl cuts can be styled in various ways with products such as mousse, waxes, gels, creams and hairsprays.
Applying product at the roots will create lift and volume for a more modern look that is perfect for special occasions. Adding texture with sea salt spray will also give dimension and movement for a more relaxed feel.
13. Bob with Bang
The term "bob with bang" is usually used to describe a short cut that features blunt-cut, chin-length hair with a longer fringe of hair at the front.
This style suits all face shapes and can be customized in many ways such as adding layers, adding highlights, or changing the length of the fringe.
14. Tousled Bob
It features wavy, slightly disheveled layers that give it a relaxed, wind-swept look. The tousled bob is suitable for those with any hair type or length, and can be easily styled to suit both formal and casual occasions.
15. Pinned-Up Curls
This look is easy to achieve with the right styling tools, products, and technique. Start by creating tight curls all over your hair using a curling iron or wand.
Once you've curled each section of your hair, pin it up with bobby pins, creating an updo style that's full of texture. Finish by spraying hairspray for extra hold and volume.
16. Pin Curls
To create pin curls, you'll need some bobby pins, a good hairspray or styling mousse, and a blow dryer if you want to speed up the process. Start off by sectionsing small areas of your hair with an elastic band.
Then twist each section inwards to form a spiral around your finger. Secure each curl with a bobby pin and spray it with hairspray or mousse to set it in place.
Allow the curls to set until they are completely dry before removing the pins. Once all the pins have been removed, you'll be left with a soft curled style!
17. Braided Crown
To get the perfect braided crown look, first use a comb to part your hair in half from ear to ear. Then begin creating two small braids on either side of the part.
Make sure they're tight but not too tight; you don't want them pulling your hair back too much or looking awkward after you've secured them into place.
Next, twist each braid around each other and secure them together with bobby pins at the back of your head. You can also add extra pins and decorative elements like ribbons or small flowers to personalize it further.
18. Fulani Braids
The traditional Fula style involves weaving the hair together into tight braids which are then decorated with colorful jewelry or other adornments.
Modern versions may involve using synthetic hair extensions for added length or color; however, some believe that this takes away from the authentic look of the braids.
19. The Short Sleek Ponytail
It's easy to create and maintain, and offers a chic, sophisticated look that can be dressed up or down depending on the occasion. To achieve the perfect short sleek ponytail, start by sectioning off the crown area of your hair and gathering it in a high ponytail near the top of your head.
Secure with an elastic band that matches your hair color to keep it from slipping out during the day. Once you've created your basic ponytail shape, use hairspray to smooth it down and add shine.
If you want to enhance the sleekness even more, run a few drops of serum through the length of your ponytail for extra hold. If you have shorter hair, you can always incorporate bobby pins into your style for added texture or simply tuck any stray hairs into the base of your style to keep things neat.
20. Low Cut
Low Cut hairstyles are a popular choice for people looking to make a statement with their look. Low cuts feature short lengths that sit just above the nape of the neck, around the ears and often above the brows.
The cuts themselves are usually textured, layered and slightly jagged which helps to give them an effortless and natural-looking finish. With this type of style, you can choose how tight or loose you want it depending on your preference.
21. Beach Waves
The beauty of Beach Waves lies in its simplicity: you don't need to spend hours styling your hair every morning to achieve this look. All you need is a curling iron or wand, some hairspray, and a bit of patience.
First, section off the top half of your hair and secure it with a clip. Then take 1-inch sections of hair and wrap them around the barrel of the curler (or wand).
Hold each section for about 10 seconds before moving onto another one until all your hair is curled. Then use your fingers or a brush to separate the curls and give it that 'undone' beach look.
Finish by spraying some hairspray onto your hands and running them through your curls to tame any flyaways and help keep your style in place throughout the day.
22. Raised Curls
Raised curls is a short, relaxed hairstyle that can offer a fun, flirty look for those with medium length hair. This style features curls that are softly pulled up from the scalp to create an effortless and natural look. The style is versatile in that it can be worn as a casual, day-time look or can be dressed up for a night on the town.
23. Pixie with Bang
The main benefit of the pixie with bangs look is its versatility – you can wear it straight or wavy, sleek and textured, tousled or spiky. Depending on how you style it, this hairstyle can range from playful to sophisticated and look good on almost any face shape.
To get this style, start by having your stylist cut your hair very short around the sides and back while keeping some length on top. Then add face-framing layers around your forehead to create the perfect fringe.
24. Pixie with Highlights
Pixie with Highlights is a great way to add style and texture to a relaxed hairstyle. This low-maintenance look requires minimal styling and upkeep, making it ideal for those who want to keep their hair looking effortlessly chic.
The classic relaxed pixie short black cut is snipped around the ears, with slightly longer pieces in the front that can be swept up or down depending on the desired look.
Adding highlights offers a pop of color without being too overwhelming. The combination of dark roots and light streaks gives an overall dimensional effect that looks stylish yet natural.
No matter what style you choose for your short black relaxed hair, be sure to protect it from heat damage by using quality products designed specifically for relaxed hair.
With these tips in mind, you'll have beautiful, healthy hair that looks great in any style. Try out these short hair relaxed hairstyles today and get ready to rock your new look!
Tips for maintaining healthy relaxed hair
Maintaining healthy and relaxed hair can be a bit of a challenge, but there are some simple tips that you can follow to ensure that your hair stays healthy and looks its best.
Get Regular Trims – Getting regular trims is essential for keeping split ends away and allowing your hair to stay strong and healthy. This should also be done with caution, as over-trimming can cause your hair to become thin or weak.
Use Quality Products – Using quality products on your relaxed hair is key in order to prevent damage caused by chemicals or harsh ingredients. Look for products specifically designed for relaxed hair, such as leave-in conditioners and moisturizers that contain nourishing ingredients like shea butter or coconut oil. Avoid using products with sulfates, parabens, alcohols, and other harsh chemicals which can strip the moisture from your strands.
Protect From Heat Damage – Heat styling tools are great for creating different hairstyles, but they can cause serious damage when used too often or without protection. Before blow drying, flat ironing, or curling your locks make sure to apply a heat protectant product to form a barrier between the tool and your hair. Additionally, reduce the use of these tools as much as possible by air drying whenever possible and reducing how often you heat style in general.
Deep Condition Regularly – Deep conditioning is an important step for keeping relaxed hair hydrated and free of breakage. Invest in good quality deep conditioners that penetrate the hair shaft deeply while providing nourishment at the same time. Use this product weekly or biweekly depending on how dry it gets throughout the week (the drier it gets the more frequent you should deep condition). Leave it on for several minutes before rinsing off with warm water followed by cool water to close up the cuticles of your strands so they don't lose moisture easily afterwards.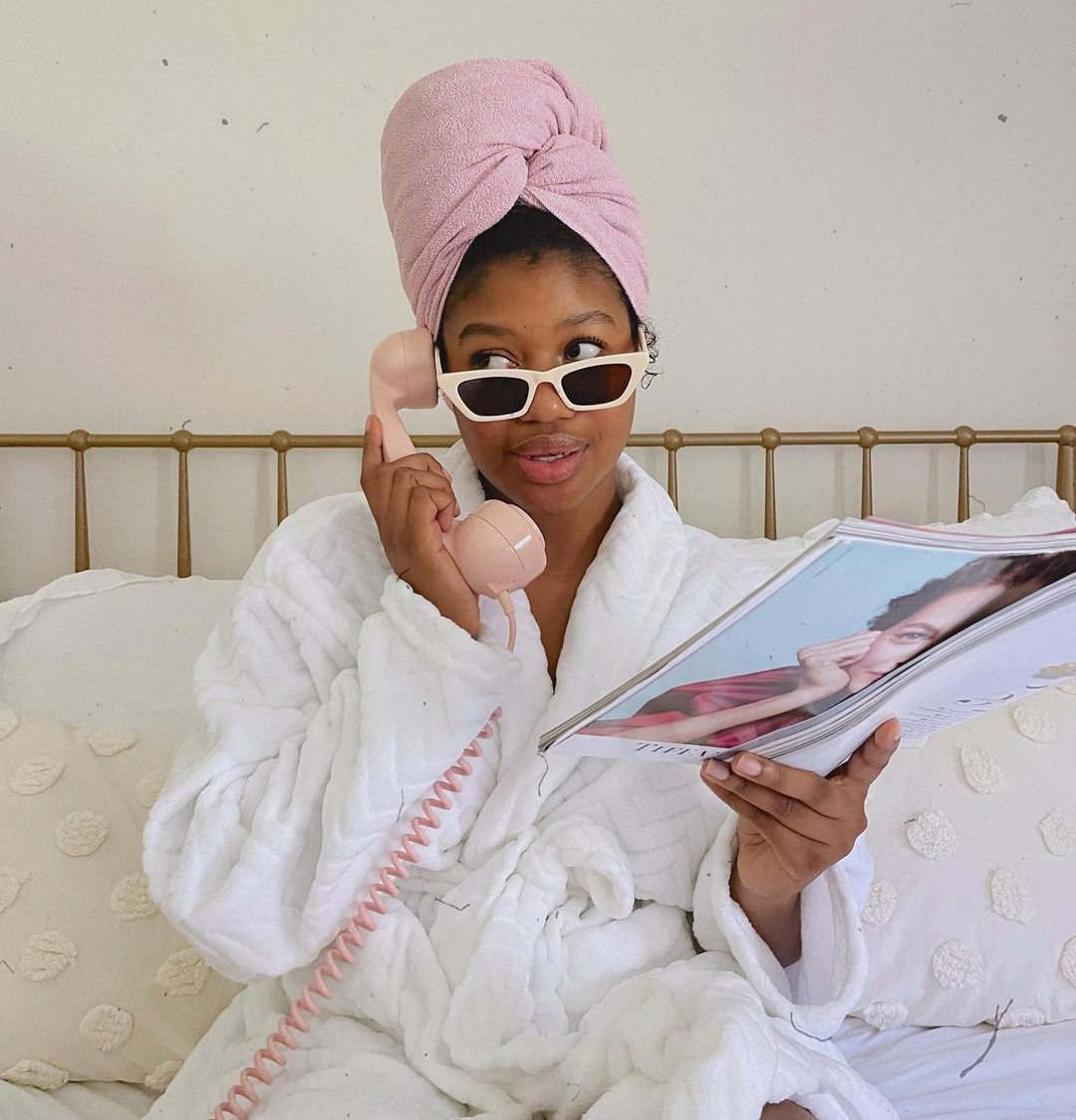 Don't Over Wash – Washing your relaxed hair too often will strip it of its natural oils which lead to dryness and breakage over time so try not to wash more than 3 times per week maximum (if you have very oily scalp then 2 times could work). When washing avoid scrubbing too hard as this will cause scalp irritation which will further damage your tresses in the long run so use gentle strokes when rinsing out shampoo/conditioner from roots down towards ends instead of rubbing aggressively all over head as this breaks apart already fragile strands from excessive chemical treatments in many cases .
Cover Up at Night – Covering up your relaxed hair at night is essential in order to protect it from friction caused by bedding materials such as cotton pillowcases which absorb moisture leaving behind dry brittle strands after continuous use over time (not just one night!). Invest in silk or satin pillowcases/bonnets/scarves to minimize this kind of friction while you sleep during night time hours!
Avoid Tight Styles – Tight updos and ponytails are not your hair's friends! These styles can cause a lot of tension on the scalp leading to breakage, thinning edges, or even bald spots in extreme cases so try to keep tight hairstyles at a minimum and opt for looser options such as buns or braids instead.
By following these simple tips you can keep your relaxed hair looking healthy, shiny, and strong for years to come. With some extra care and attention you will be sure to have beautiful relaxed hair that you can enjoy!
https://youtu.be/CJfoTpnFiws
Short Relaxed Hairstyles – FAQ
How do you keep short relaxed hair healthy?
Keeping short relaxed hair healthy requires regular upkeep and care. The key to maintaining healthy locks is to use the right products and minimize exposure to excessive heat or harsh chemicals.
For starters, it is important to use a gentle shampoo and conditioner formulated specifically for relaxed hair, as these are designed to keep moisture in while removing any product buildup.
Additionally, try using a weekly deep conditioning treatment to help restore strength, shine, and softness to each strand of hair.
What should you not use on relaxed hair?
It is important to avoid using any harsh detergents or sulfates, as well as heat styling tools that are too hot and that do not have proper protection.
Additionally, it is usually not recommended to color relaxed hair, as the chemicals in the dye can be damaging overtime. Lastly, stay away from alcohol-based sprays and gels- these can dry out your hair and strip it of its natural oils.
Short Relaxed Hairstyles – Summary
Short relaxed hairstyles can be a great way to switch up your look without having to commit to something more permanent. From pixie cuts, to bobs, curly styles and braids – there are plenty of options available for anyone with shorter hair.
We have a closer look from neck-length short relaxed hairstyles to ultra-short relaxed hairstyles. Have fun experimenting and finding the style that best suits you!
With the right styling techniques and products, you can create amazing looks that will have heads turning wherever you go. Be sure to keep these tips in mind when caring for your relaxed hair: use gentle products, cover it up at night, avoid tight styles, don't over wash and finish off with cool water.
With a little bit of extra care and attention, your short relaxed hair will look healthy, shiny and strong! We hope this article was helpful to you on your journey towards beautiful hair.
Also read: