Are you looking for a low-maintenance hairstyle that will still make you look stylish and beautiful? Then short pixie haircuts for black women are the perfect choice!
Pixie cuts offer an edgy, modern look while still being easy to maintain. From classic tapered pixie cut styles to daring shaved sides, there is something for everyone.
Whether your hair is natural or relaxed, these short pixie cuts can be tailored to fit your individual style and texture.
In this article, we'll explore the different types of short black pixie cuts available and provide tips on how to style them so that you can rock your new look with confidence!
Best low-maintenance pixie cut styles for black hair
If you're looking for a low-maintenance pixie cut for black hair, you've come to the right place. The pixie cut is an iconic style that has been a favorite of many celebrities and fashion icons, but there are some variations for black women in particular.
Here are some of our favorite pixie cuts for black women:
1. Relaxed pixie short black hairstyles
One popular pixie cut for black women is the relaxed pixie cut. This look is perfect for ladies who want to keep their curls and still have a short hairstyle.
The relaxed pixie cut is similar to the classic pixie but with slightly longer layers that are left to gently frame the face. This style can be styled with product for a sleek finish or left natural for an effortless yet beautiful look.
The relaxed pixie cut also works great on any hair type and texture, making it highly versatile. For those looking for a fun, easy-to-style option, this may be just what you need!
2. Pixie with finger waves
This look is achieved by cutting the hair into a pixie cut and then adding finger waves to create a soft, wavy texture. The waves are created by rolling the hair in alternating directions from the root to the ends of the strands.
The result is an eye-catching style that is both classic and chic. Women with this style often pair it with a deep side part or slicked back look, allowing them to show off their pixie cut while still keeping their curls intact.
Finger waves can be added to any length of pixie cut, creating a unique and personalized style for each individual woman. They can also be styled with product for added definition, shine, and hold.
3. Pixie with bang
Pixie with bangs is a popular hairstyle and it suits a variety of face shapes. With short layers, the pixie cut creates an edgy and stylish look that is easy to style and maintain.
It's also the perfect choice for those who want to keep their hair short but still have the appearance of volume. The addition of bangs makes it even more stylish by adding texture and framing the face.
4. Mohawk pixie
Mohawk pixie haircuts for black women provide an edgy, modern look that is sure to turn heads. This stylish cut is characterized by the hair on the sides of the head shaved close to the scalp and a strip of longer hair running down the center of the head.
Depending on the wearer's preference, this strip of long hair can be styled in various ways, including spiky or flat-ironed for a more polished look. Mohawk pixie cuts are also often paired with bright colors, further accentuating its bold style.
5. Pixie with design
The short cut frames the face, adding definition and highlighting facial features. Adding scalp designs to the pixie cut is a great way to further accentuate the style and give it extra flair.
Scalp designs involve using razors or clippers to create intricate patterns and shapes directly into the hair. This can be done by experienced barbers or stylists, with anything from geometric shapes to quotes and words being able to be added for individualized flair.
Pixie cuts with scalp design can range from bold, edgy looks with sharp angles and edges, or softer, more feminine looks with curved lines and subtle highlights.
6. Asymmetrical pixie cut
The asymmetrical pixie cut is a great style for black women who want to keep their hair short but still stand out from the crowd. This look features one side of the head shaved close to the scalp, while the other is left longer, and can be styled in a wide variety of ways.
The unevenness of this look makes it an intriguing choice that will draw attention wherever you go! Best of all, since it's so short on one side, you won't need to spend too much time styling your hair each morning – saving you precious time in the morning rush!
7. Undercut pixie
This style involves a short, cropped cut on the sides of the head, while the top remains longer. The length of the hair on top can range from a few inches to several inches depending on the desired look.
Additionally, an undercut pixie often features unique designs like shaved shapes or patterns that add more visual interest to the overall style. Commonly seen as a daring and trendsetting style, an undercut pixie is perfect for making a statement and turning heads.
8. Colorful pixie
Pixie cuts are short and sassy, giving the wearer a fun and flirty appeal. Additionally, these short styles can be varied to express individuality and creativity.
For those who like a bit of color, there is the option of adding bold shades of blues, purples, or even bright pinks to create a vibrancy that speaks to personality.
Whether adding highlights for an understated look, or opting for a full-on rainbow effect, a colorful pixie cut is sure to turn heads!
9. Layered pixie
This style is characterized by short, cropped layers that create texture and movement in the hair. It works best on naturally curly or kinky hair textures, but can also be styled on straight hair for an edgy look.
For an extra pop of style, the sides can be shaved shorter and the longer layers can be swept up into fun shapes like pompadours or quiffs. This style is low-maintenance and easy to manage since it doesn't require any blow drying or heat styling tools to maintain its shape.
The layered look also helps frame the face and add volume to otherwise thin strands.
10. Extra short pixie
This hairstyle is characterized by an ultra-short close cropped cut that frames the face and emphasizes facial features. The hair is usually cut very close to the scalp, allowing it to be styled in multiple ways.
It not only gives a modern and edgy look, but also allows accessorizing with hats and headwraps. The versatility of this look makes it popular among women who want to switch up their style without having to do much maintenance or upkeep.
The extra short pixie haircut is extremely low maintenance, as there is no need for regular trims or styling products. The minimal upkeep required for this cut means less time spent on styling and more time spent on enjoying life.
With the extra short pixie cut, women can save time and money while still looking fabulous!
11. Curly pixie
A curly pixie cut is achieved by cutting the hair short and then adding layers throughout. This style works well with all types of curls, from tight coils to loose waves.
For those who have naturally straight hair, this style can be easily achieved through the use of texturizing products such as mousse and curl definers.
The ends should be tapered for a more dramatic effect, as this will help bring out the features of the face. When styled correctly, these cuts can give an edgy and chic look that will turn heads.
No matter which style they choose, black women can find the perfect pixie cut that expresses their personality and suits their face shape. African american pixie cut styles are low maintenance and easy to style, making them the ideal choice for those who want a modern and sleek look without having to spend too much time in front of the mirror.
With so many great options available, there's no reason not to try out this fun and fashionable hairstyle!
Tips to take care of pixie haircut
When it comes to taking care of a short pixie haircut for black women, there are a few tips and tricks that can help keep the style looking fresh and healthy.
Firstly, be sure to use a moisturizing shampoo and conditioner specifically designed for textured hair. While it may be tempting to skip conditioning, doing so will only leave the hair dry and prone to breakage.
For black women who struggle with scalp issues such as dandruff or psoriasis, look for products with a blend of natural ingredients like tea tree oil or aloe vera which can help soothe inflammation and keep the scalp feeling healthy.
Be sure to deep condition on a weekly basis using either store-bought treatments or homemade masks made from ingredients such as honey, avocado, olive oil, coconut milk and banana.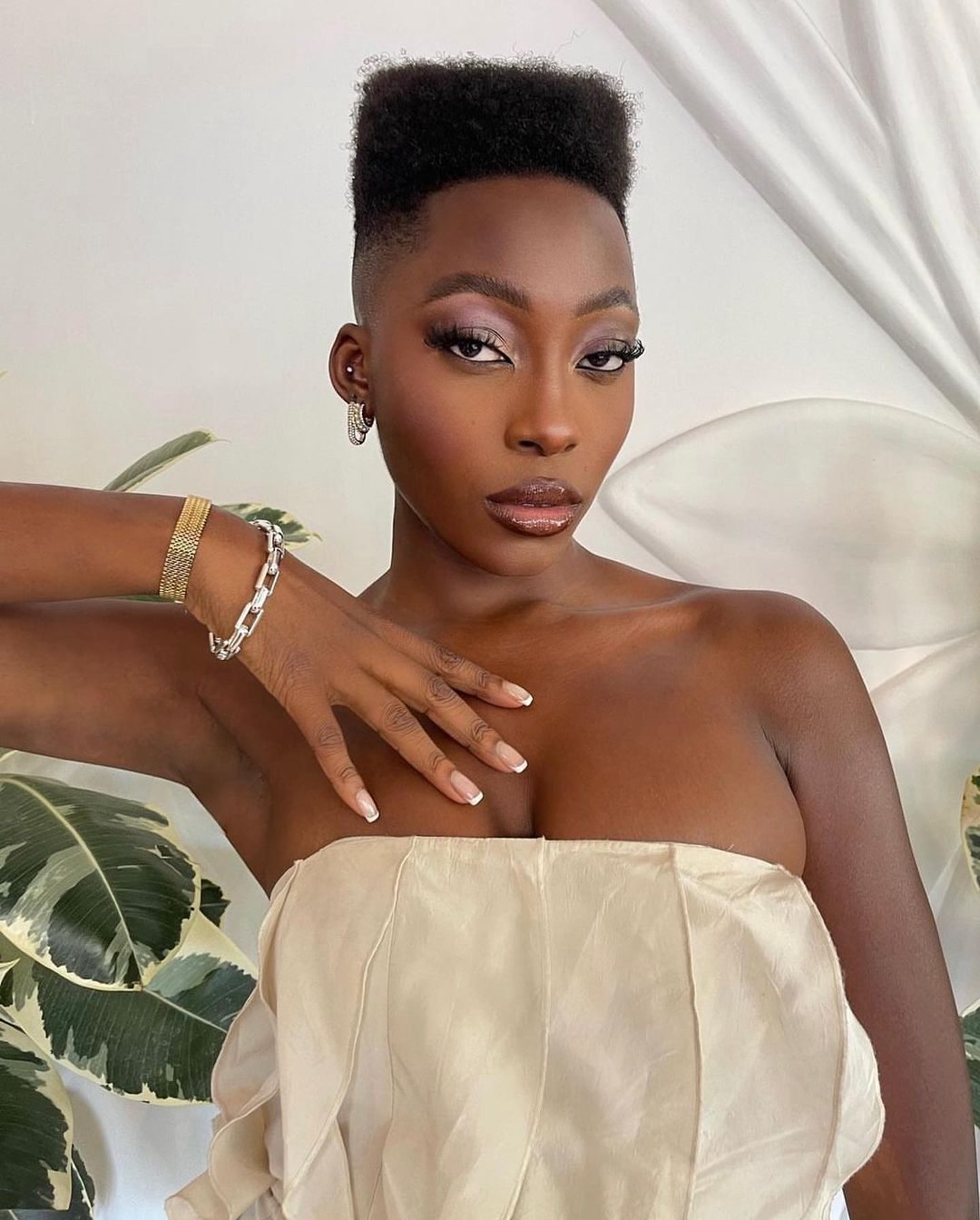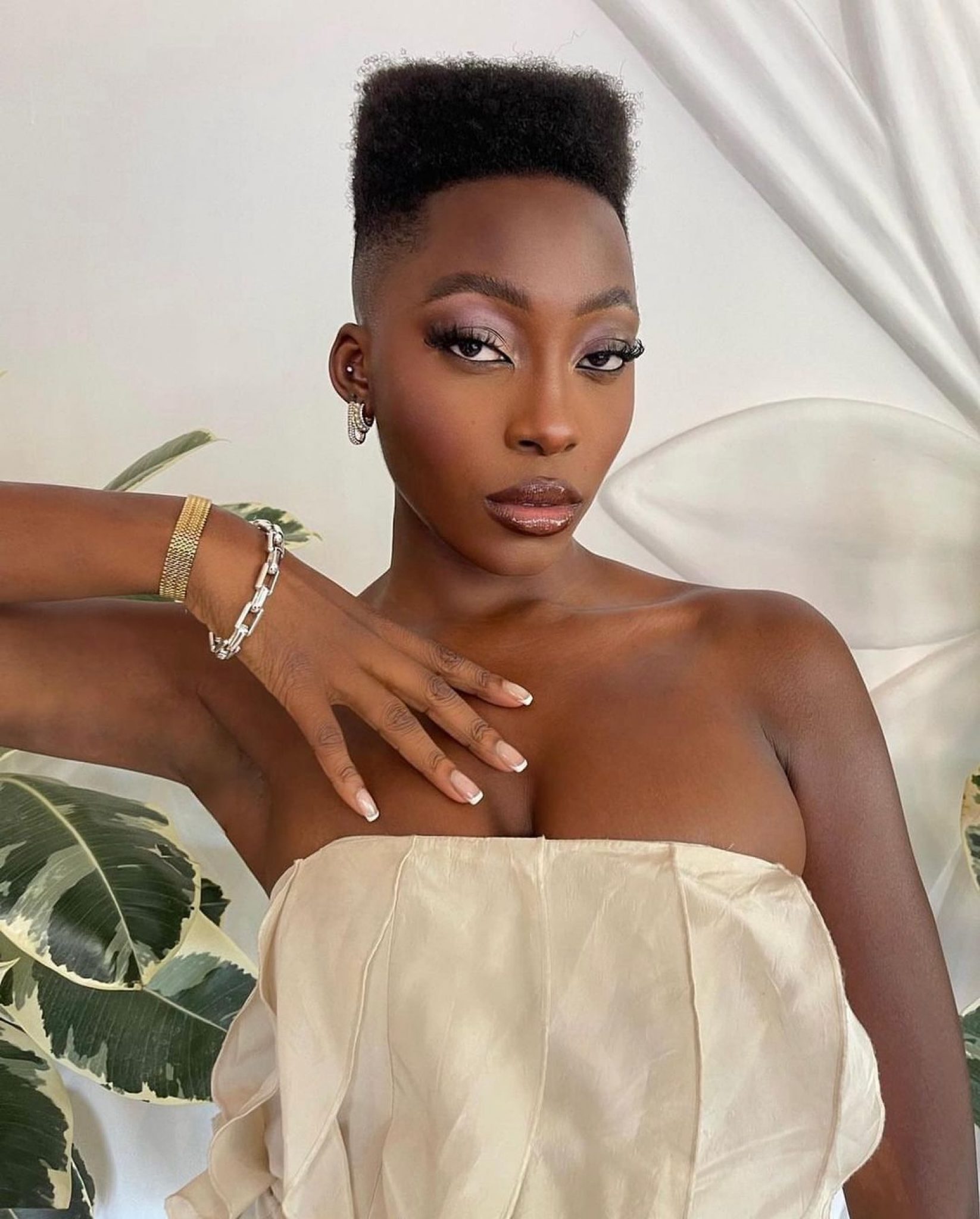 These mixtures help hydrate the hair while strengthening its elasticity to prevent split ends. After applying the treatment leave it in overnight with a shower cap or satin scarf before rinsing out in the morning.
Trim your pixie cut every six weeks to maintain shape and get rid of any split ends that have developed over time. During styling opt for light weight gels and mousses instead of heavy creams which can weigh down the strands and make them look greasy.
When blow drying, use low heat settings paired with an anti-frizz serum that is designed for curly or coily textures—this way you can achieve maximum volume without sacrificing definition or shine!
Finally, make sure to use a scarf or bonnet when sleeping at night. This helps keep the hair in place while protecting it from friction and breakage as you toss and turn.
With these steps, black women can be confident that their pixie cut will look stylish and polished day after day! There you have it! With these simple tips, black women can enjoy a chic and effortless pixie cut that will last for months to come.
It just takes a little bit of extra care and attention to make sure your look is always on point. So get creative, experiment with different products and styles, and flaunt your gorgeous short pixie cut for all to see!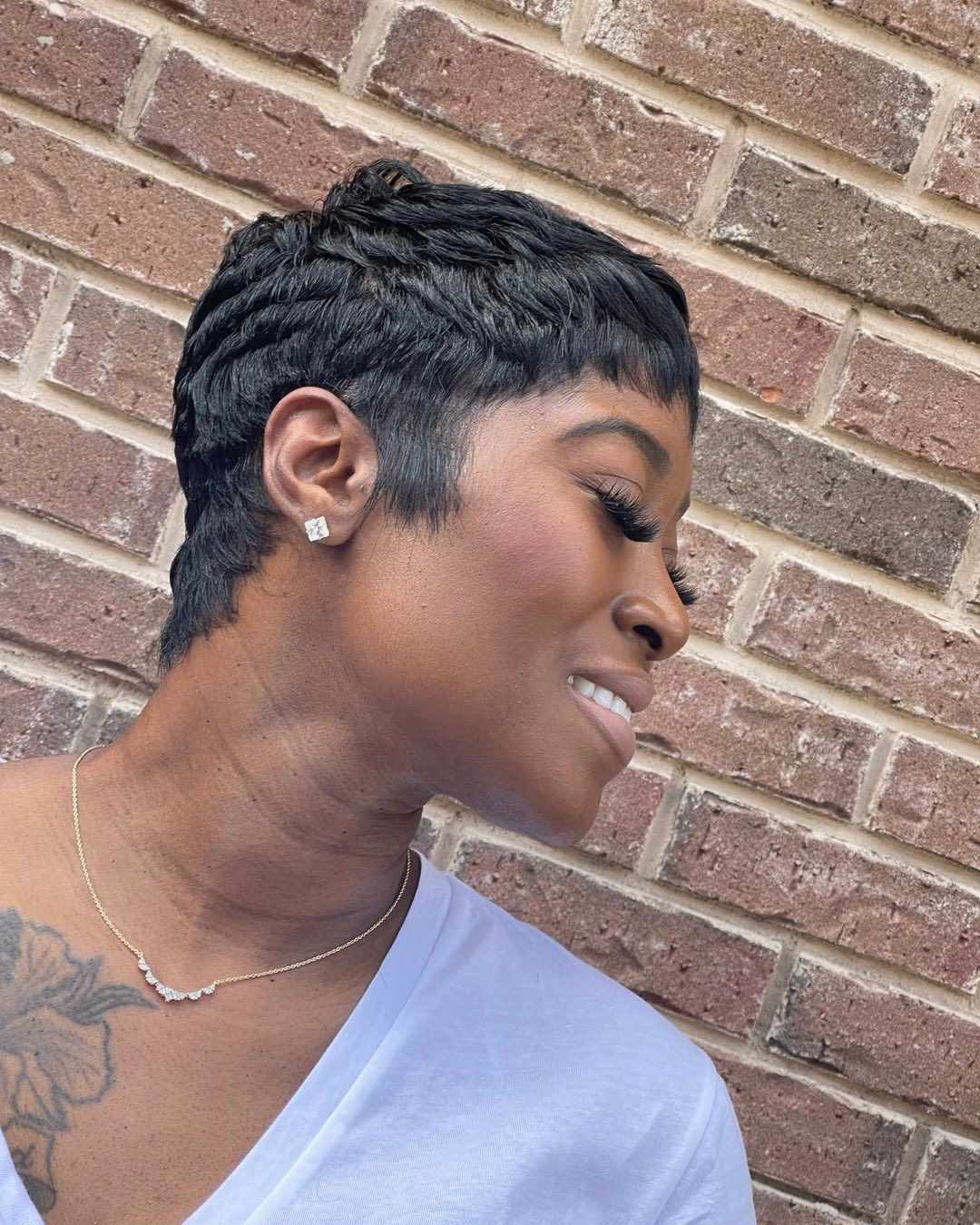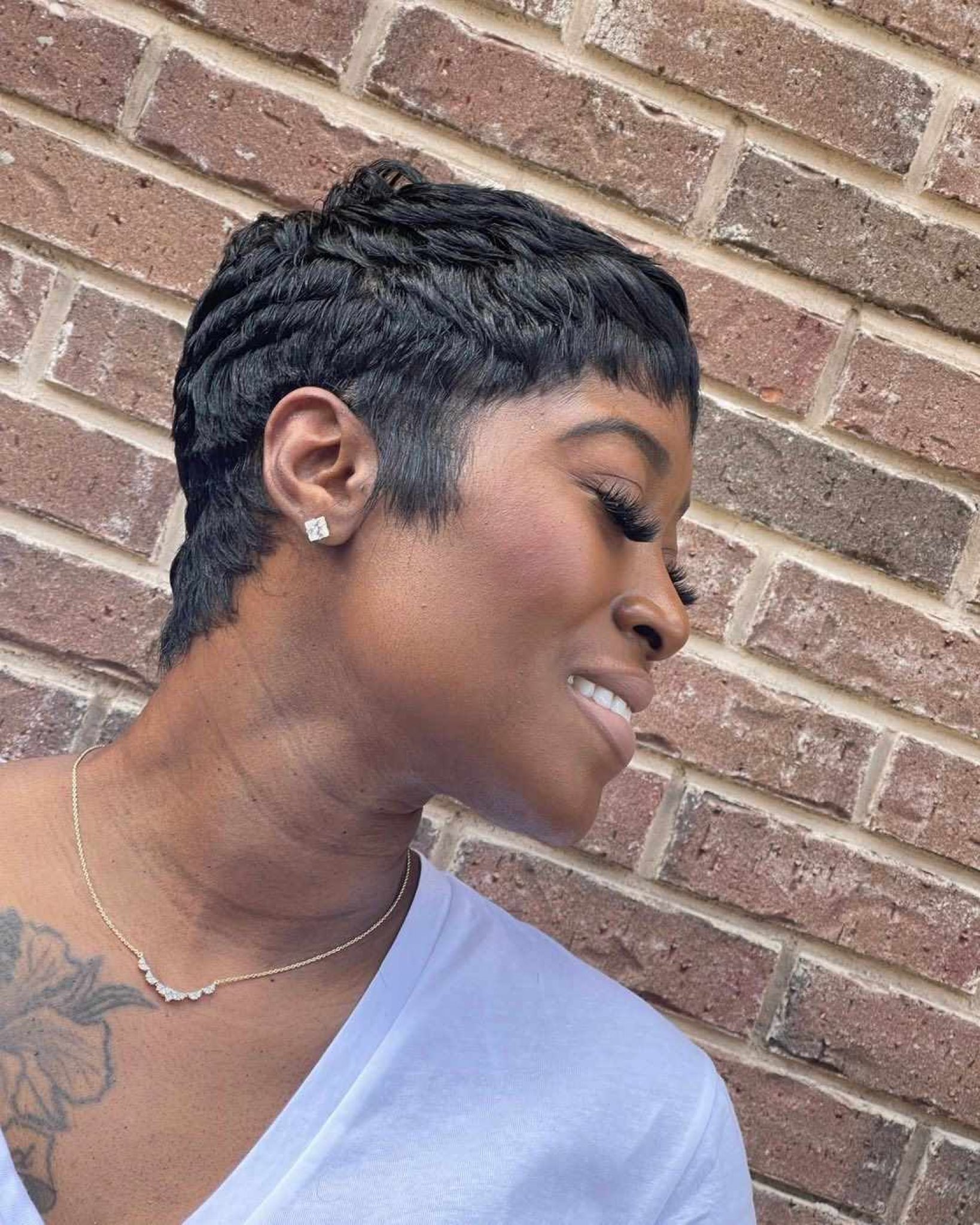 Short Pixie Haircuts for Black Women – FAQ
What face shape suits a pixie?
The pixie cut is a classic hairstyle that flatters a variety of face shapes. This short, cropped style looks especially good on heart-shaped, oval and round faces due to its ability to draw attention to the eyes and cheekbones.
The length of the hair is key for proper styling of the pixie cut; it should be kept around chin-length in order to emphasize features and make facial features look their best.
Hairstylists recommend adding a few long layers around the face for added texture, which helps create a softer overall look that can work with almost any face shape.
Does a pixie cut make you look younger?
Yes, a pixie cut can make you look younger. The short, cropped style helps frame and emphasize the face in a way that brings out its natural beauty and youthfulness.
Adding soft layers around the face creates texture and movement that can help soften features and give off a youthful vibe. The pixie cut also works well with a variety of different colors and highlights; try experimenting with lighter and brighter shades for a youthful look that is sure to turn heads!
Summary
The pixie cut is a timeless style that has been popular for decades, and it's the perfect look for black women looking for a low maintenance yet stylish hairstyle.
With so many variations to choose from, there's something for everyone. Whether you're into relaxed looks with finger waves, mohawk pixies with bold colors and designs, or simply a classic pixie with bangs, these five stylish pixie cuts are sure to make you stand out!
Try one of these sassy pixie cuts for black hair today and show off your unique style.
Also read: