If you're looking for the best caramel hair dye to buy, then you've come to the right place.
In this blog post, we'll be talking about six of the best products on the market today.
We'll be discussing what makes each one unique, as well as who they're best suited for.
So whether you're a first-time dyer or a pro, keep reading to find out which caramel hair dye is right for you!
Top 6 Best Caramel Hair Dyes Reviewed
1. Wella Color Charm Permanent Gel Hair Color –
 Top Pick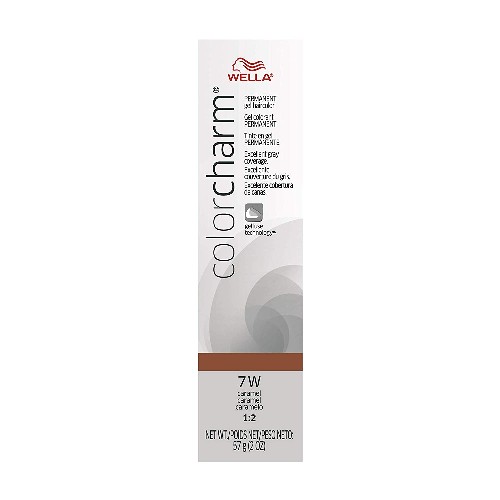 You can also find this product on Sally, Walmart.
The Wella Color Charm Permanent Gel Haircolor, with Gelfuse Technology, saturates, penetrates, and fuses the hair for vibrant, long-lasting, fade-resistant results.
It's available in a variety of hues to allow you to create the effects you desire. The hair dye is also versatile – you can use it with a bowl and brush, or bottle, for example, depending on what level of control you want.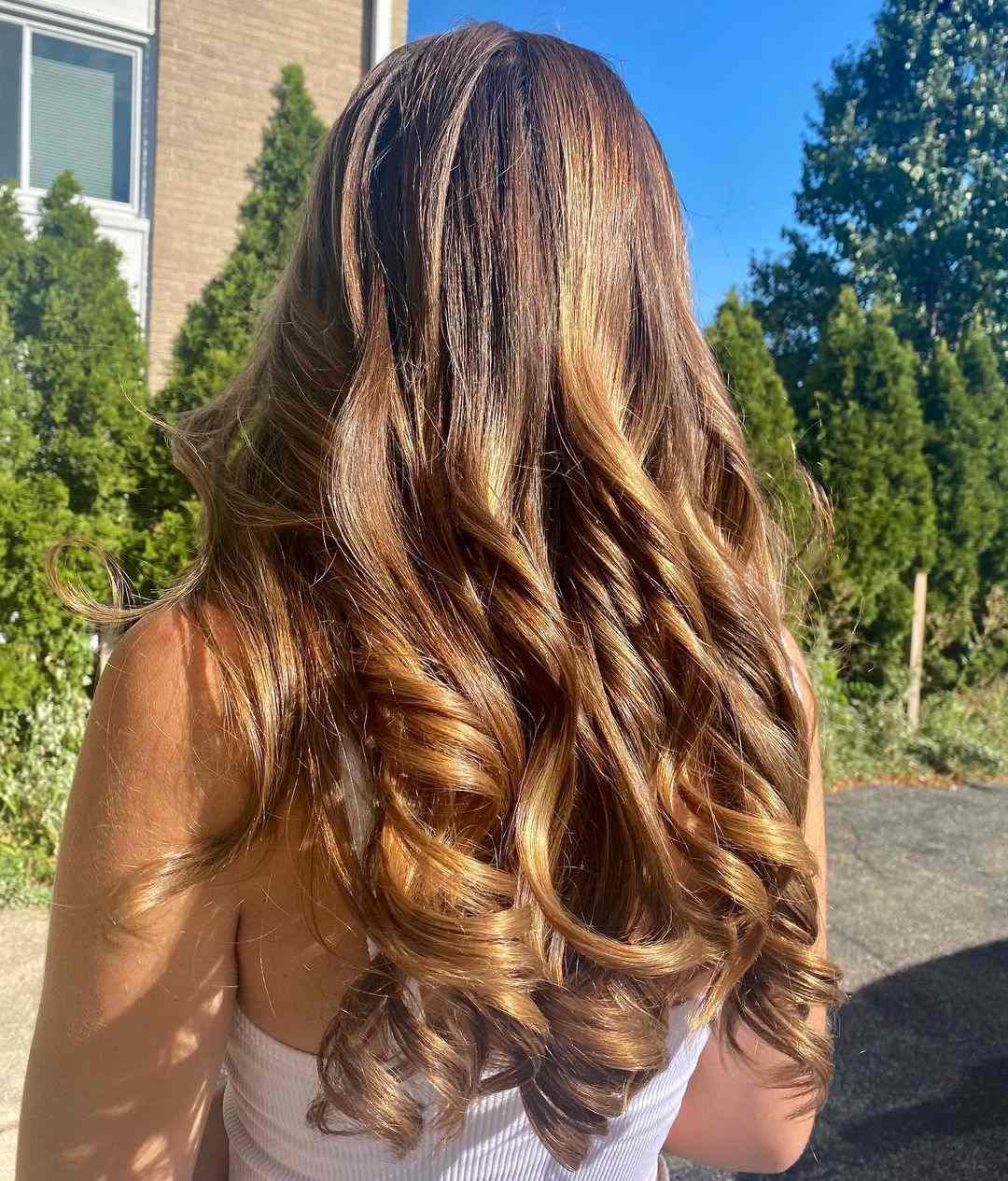 However, because the color is very strong, be sure to ventilate the area well when using this product. Also, keep in mind that the color may turn out darker than you expected but after a few washes it will lighten up.
Pros:
Saturates hair
Long lasting
Fade resistant results
Easy of use
Affordable
Cons:
May not be suitable for all hair types
Strong smell
As a hairstylist, I've used many different color lines over the years. But I have to say that the Wella Color Charm line is one of the best I've ever used. The color is very vibrant and the best part is that it lasts long and doesn't fade quickly. I've used it on my own hair and have been really happy with the results. So if you're looking for a strong, long-lasting hair color, then I would definitely recommend Wella Color Charm, because it is the best caramel hair color. Just be sure to use it in a well-ventilated area and follow the instructions carefully.
2. AGEbeautiful Permanent Liqui-Creme Hair Color Dye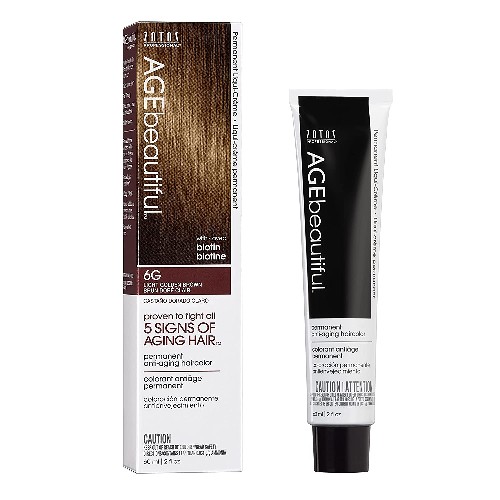 You can also find this product on Sally.
AGEbeautiful is the first permanent liqui-crème color developed to return youthful appearance to hair. With Biotin, melanin, keratin peptide, silk protein and a patented conditioning technology, this color replenishes hair with luster and shine.
The unique formula penetrates deeply and absorbs quickly to cover gray 100% for a beautiful, rich color. With such a broad array of colors, you're sure to find the perfect shade for you.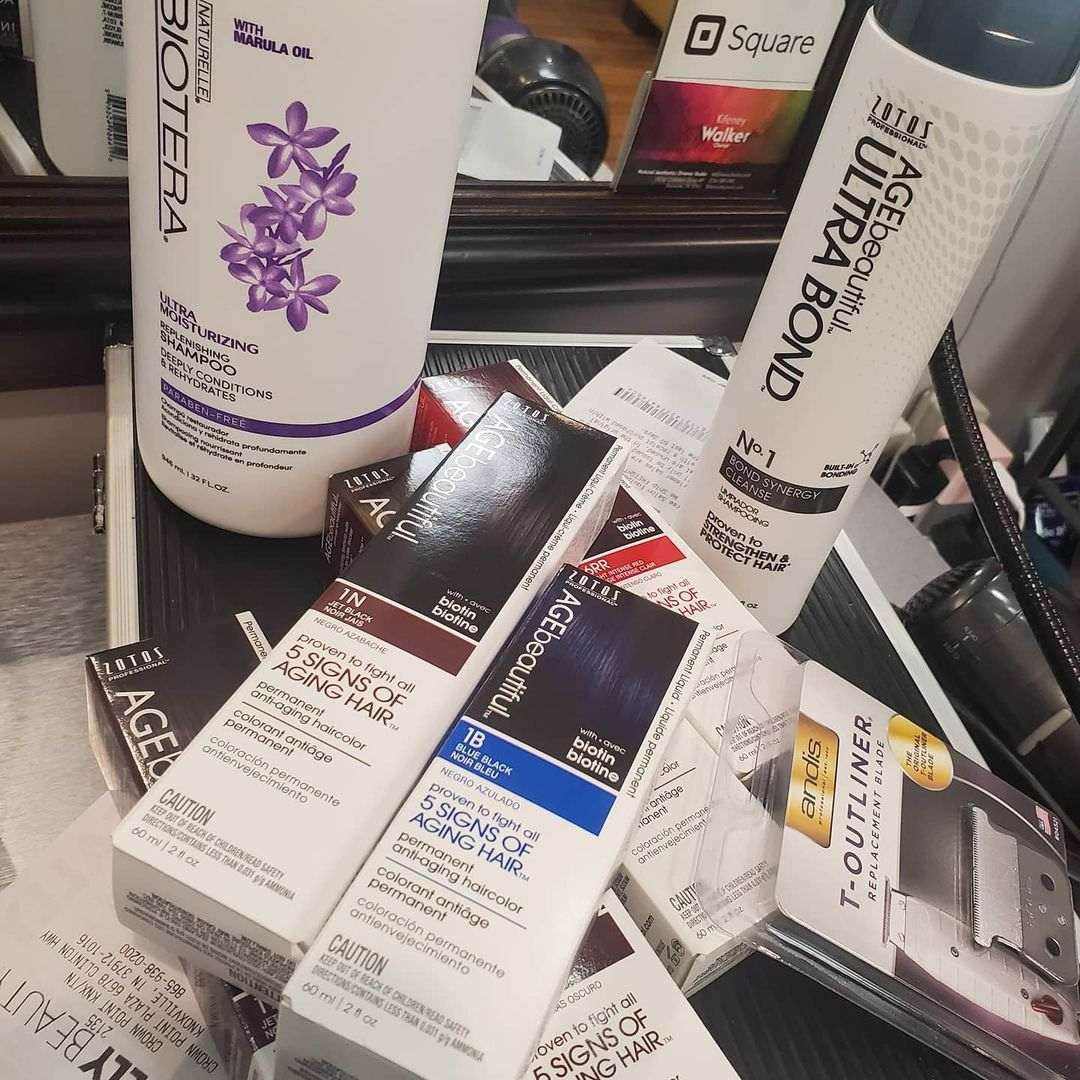 Whether you want to cover gray hair or simply change up your style, AGEbeautiful has got you covered. However, it is important to note that this product may be more costly than others on the market.
Pros:
Covers gray hair completely
Comes in a variety of shades to choose from
Fights all five signs of aging hair
Nourishes and fortifies the fibers
Quick and easy to apply at home
Cons:
As a hairstylist, I've had the chance to try out AGEbeautiful, and I have to say that I'm impressed. I've never seen a product that fights all five signs of aging hair like this one does. My clients love it, and it's quickly become one of my most popular products. One downside, however, is that the color doesn't last as long as other permanent hair dyes on the market. But considering everything else this product has to offer, that's a small price to pay. Overall, I highly recommend AGEbeautiful for anyone looking for an amazing hair color that also helps to nourish and fortify the fibers.
3. Wella Color Fresh Masks –
 Best Caramel Semi Permanent Hair Color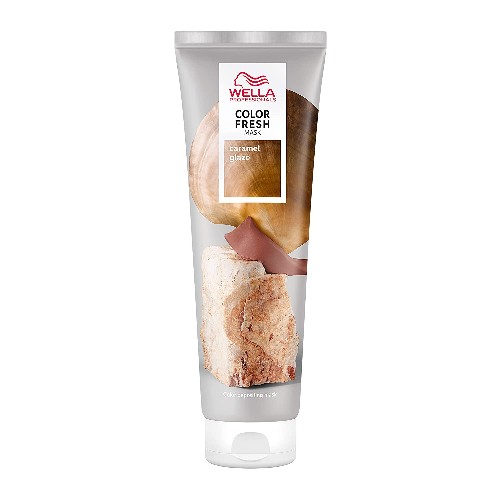 You can also find this product on Ulta, Sally.
Wella Color Fresh Masks give your hair a temporary color refresh while conditioning it with avocado oil. The formula is free from silicones and animal-derived ingredients, and gives your hair a smooth and moisturized feel.
You can use the mask for up to 20 minutes for added intensity, and the color will fade gradually over time. The masks are only available in a limited range of natural shades.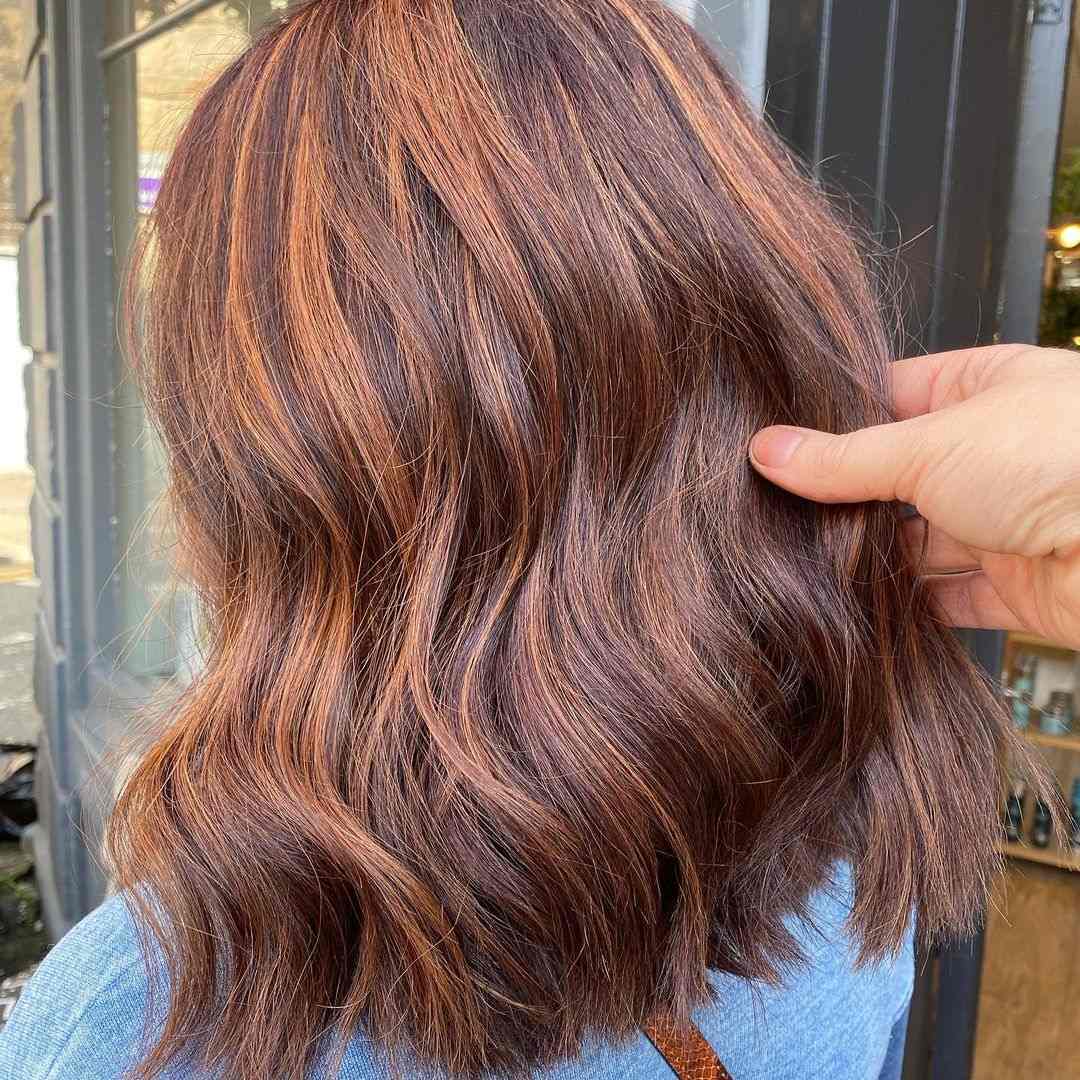 Pros:
Gives your hair a temporary color refresh
Conditions your hair with avocado oil
Free from silicones and animal-derived ingredients
Smooth and moisturized feel
Easy of use
Cons:
Fades quickly
Limited range of natural shades
I was really excited to try the Wella Color Fresh Masks because they sound like a great option for people who want to add a temporary color boost to their hair without any harsh chemicals. I picked up a tube of caramel color and gave it a try. The application process was really easy - I just applied it all over my hair, left it in for 20 minutes, and then rinsed it out. The color was a perfect match for my hair, and it left my hair feeling really smooth and moisturized. I was really happy with the results, and I think the mask is a great option for people who want to add a little bit of color without any long-term commitment.
4. Creme of Nature Moisture Rich Hair Color Kit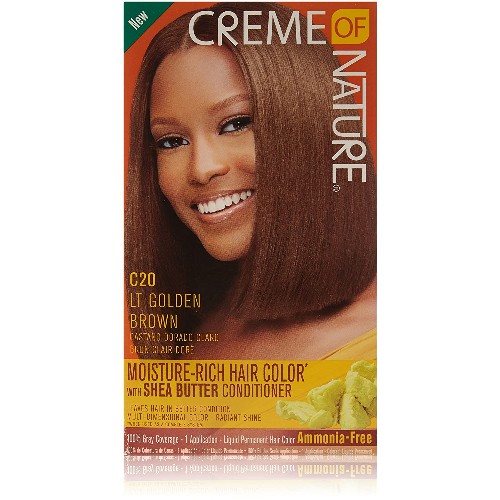 You can also find this product on Walmart.
The Argan Oil from Morocco line includes hair color that revitalizes and adds shine. The Rich Color is formulated with a combination of specially blended dyes, conditioners, and polymers to deliver multi-dimensional color from root to tip.
The Maximum Conditioning is infused with nourishing silk proteins that penetrate every strand so that hair looks healthy and in better condition than before you colored it.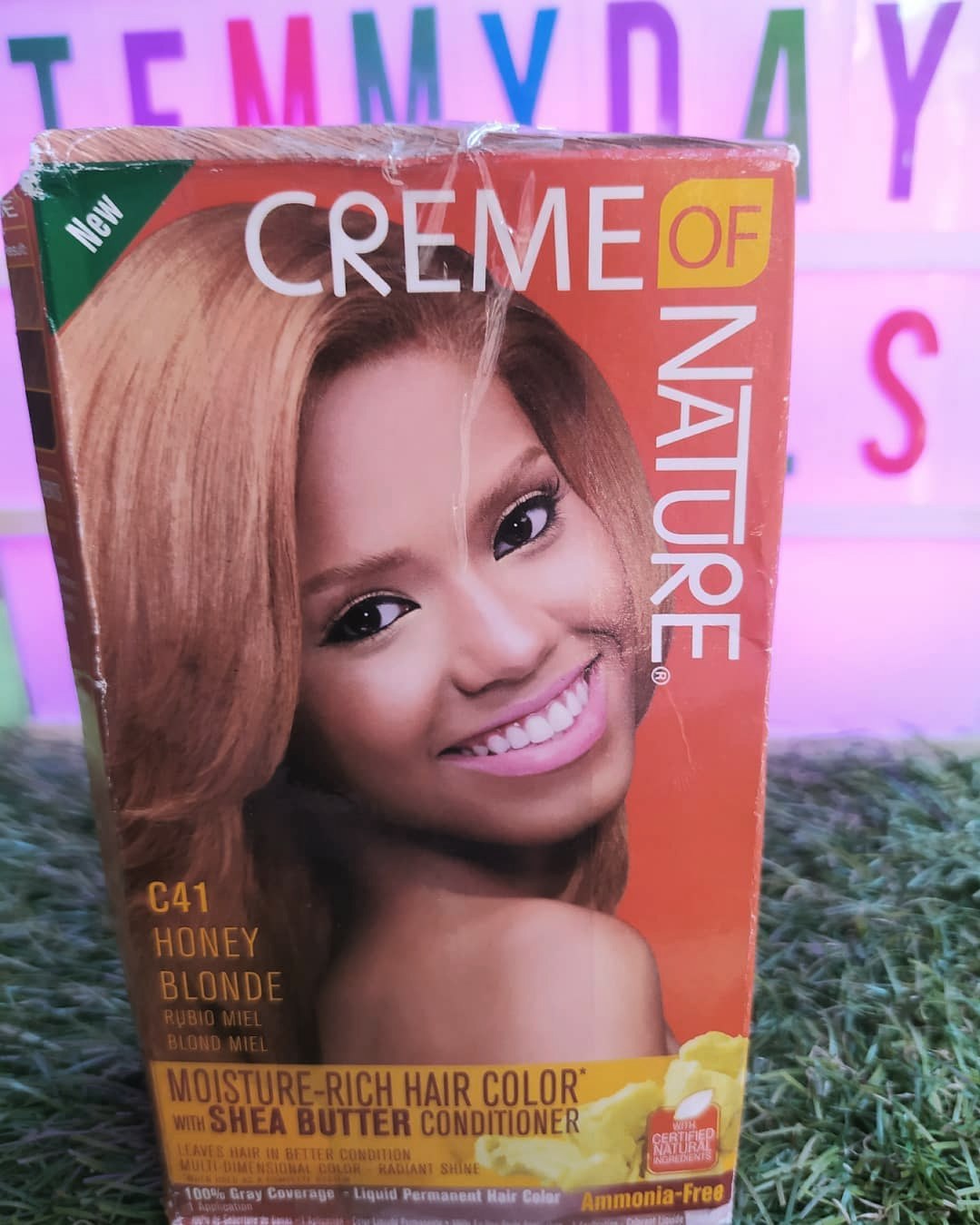 Shea Butter Conditioning Power deeply nourishes hair leaving it soft, smooth, and healthy looking. Though Creme of Nature offers a wide range of high-quality products, some disadvantages include the fact that their hair dye may not come out as light as desired.
Additionally, their hydrogen peroxide-based products may not be ideal for those with sensitive scalps.
Pros:
Rich, vibrant color
Maximum conditioning
Shea Butter Conditioning Power
Wide range of product choices
Ammonia-free color
Cons:
May not come out as light as desired
Contains hydrogen peroxide
Many of my clients of color have been hesitant to try Creme of Nature products in the past, because they've heard that they can be harsh on hair. However, I've found that with the right preparations and adjustments, Creme of Nature can actually be very gentle on hair. In fact, many of my clients have been happily surprised by the results they've achieved with Creme of Nature products. Overall, I've been really impressed with the quality of Creme of Nature products. They offer rich, vibrant color that doesn't damage hair, and leave it looking healthy and conditioned. I would definitely recommend them to anyone looking for a high-quality hair color option.
5. IGK Permanent Color Kit –
 Best Caramel Blonde Hair Dye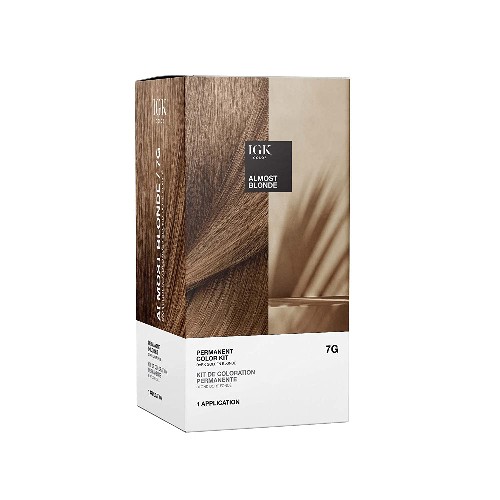 You can also find this product on Ulta, Sally.
The IGK Permanent Color Kit is a professional-grade hair color. It includes everything you need to get vibrant, dimensional color with incredible shine.
The ammonia-free formula is enriched with nourishing ingredients that help keep hair healthy and hydrated while you color. The IGK Permanent Color Kit will give you long-lasting, salon-grade color without having to leave your house.
Although it is more expensive than some other hair coloring kits, it is still a fraction of the cost of going to a professional. Keep in mind that as with any hair color product, there is always a chance that it won't work well on every type of hair.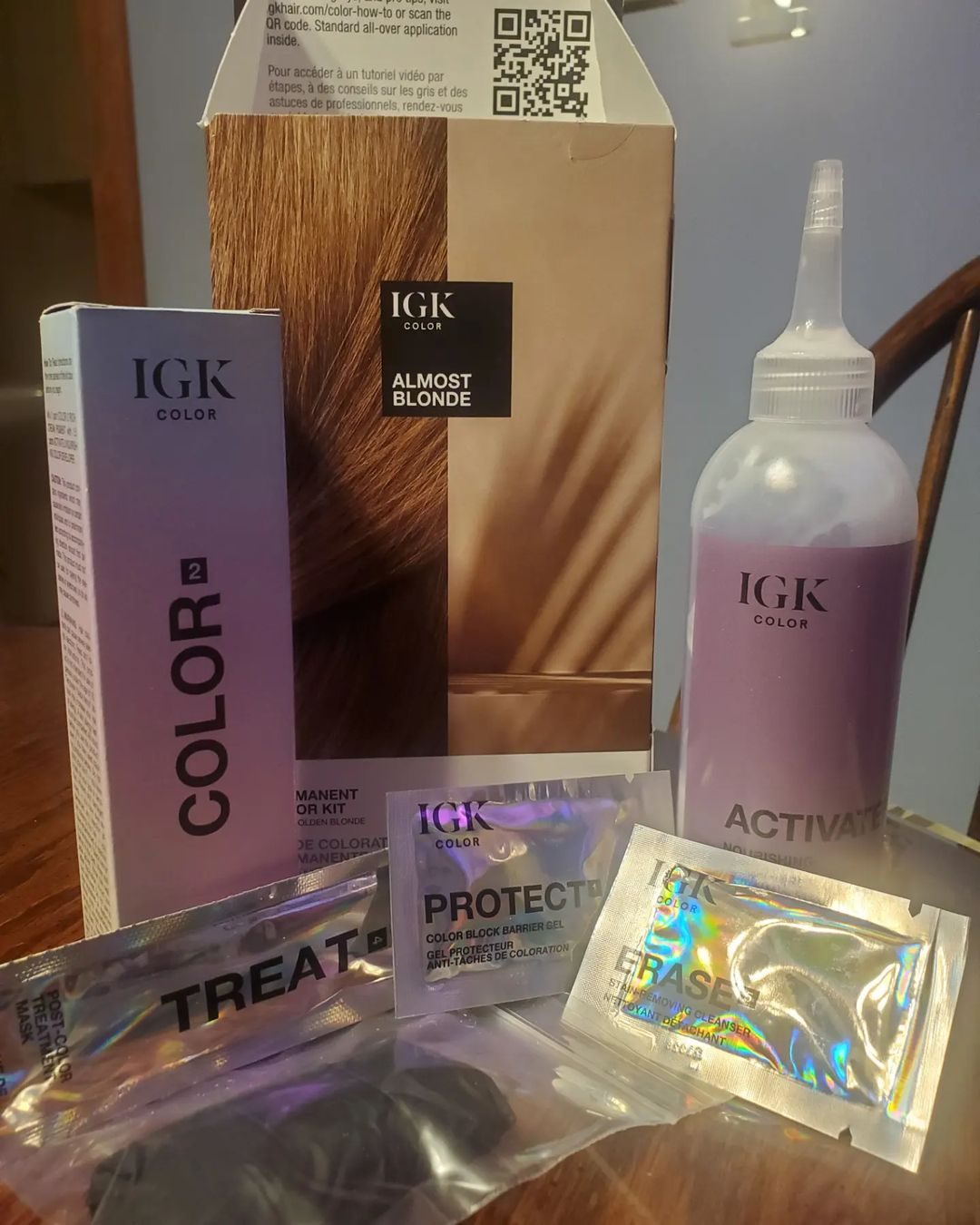 Pros:
Delivers vibrant, dimensional color
Easy to apply
Ammonia free
Enriched with nourishing ingredients
Includes everything you need
Salon-quality color
Lasts long
Cons:
Pricey
May not work well on dark hair
I understand why many people don't want to go to a salon and spend a lot of money. So when I saw that IGK offered a professional-grade hair color kit, I decided to give it a try to see if it was worth it or not. I'm so glad I did! The color is beautiful, and it was really easy to apply. My hair felt healthy and hydrated after coloring, and the color lasted for weeks. I would definitely recommend the IGK Permanent Color Kit to anyone looking for a quality at-home hair coloring experience.
6. Madison Reed Radiant Hair Color Kit, Permanent Hair Dye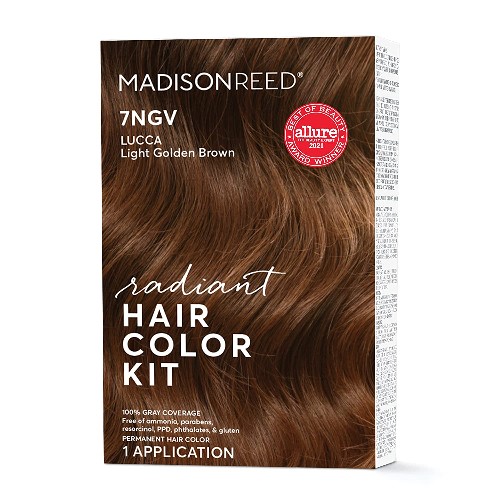 You can also find this product on Ulta, Bed Bath & Beyond.
The Madison Reed is a 100% gray-covering permanent hair dye. It's Smart 8-Free, which means it's free of ammonia, PPD, resorcinol, parabens, phthalates, gluten, SLS, and titanium dioxide.
To promote the health of your hair, it also contains nourishing keratin and argan oil extract. Everything you'll need to color your hair at home is included in the kit.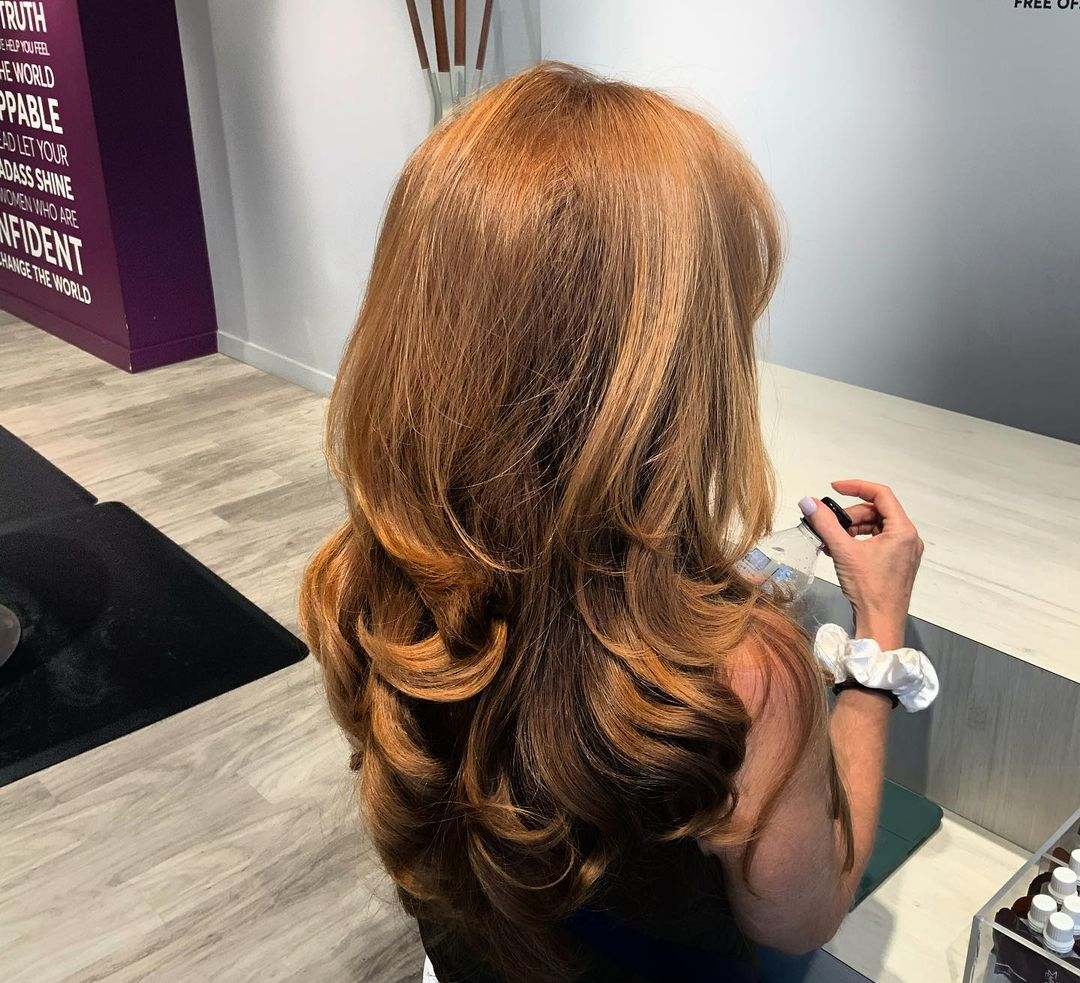 Pros:
Smart 8-Free
Contains nourishing keratin, argan oil and ginseng root extract
Provides 100% gray coverage
Comes with everything you need
Cons:
Very high price
Some find the formula to be drying
I decided to give Madison Reed a try after hearing so many great things about it. I was a little hesitant at first, but I'm glad I gave it a try. The color was amazing. My hair felt incredibly soft after using it and the color lasted for weeks. I would definitely recommend Madison Reed to anyone looking for an amazing at-home hair coloring experience!
How To Choose The Best Caramel Hair Dye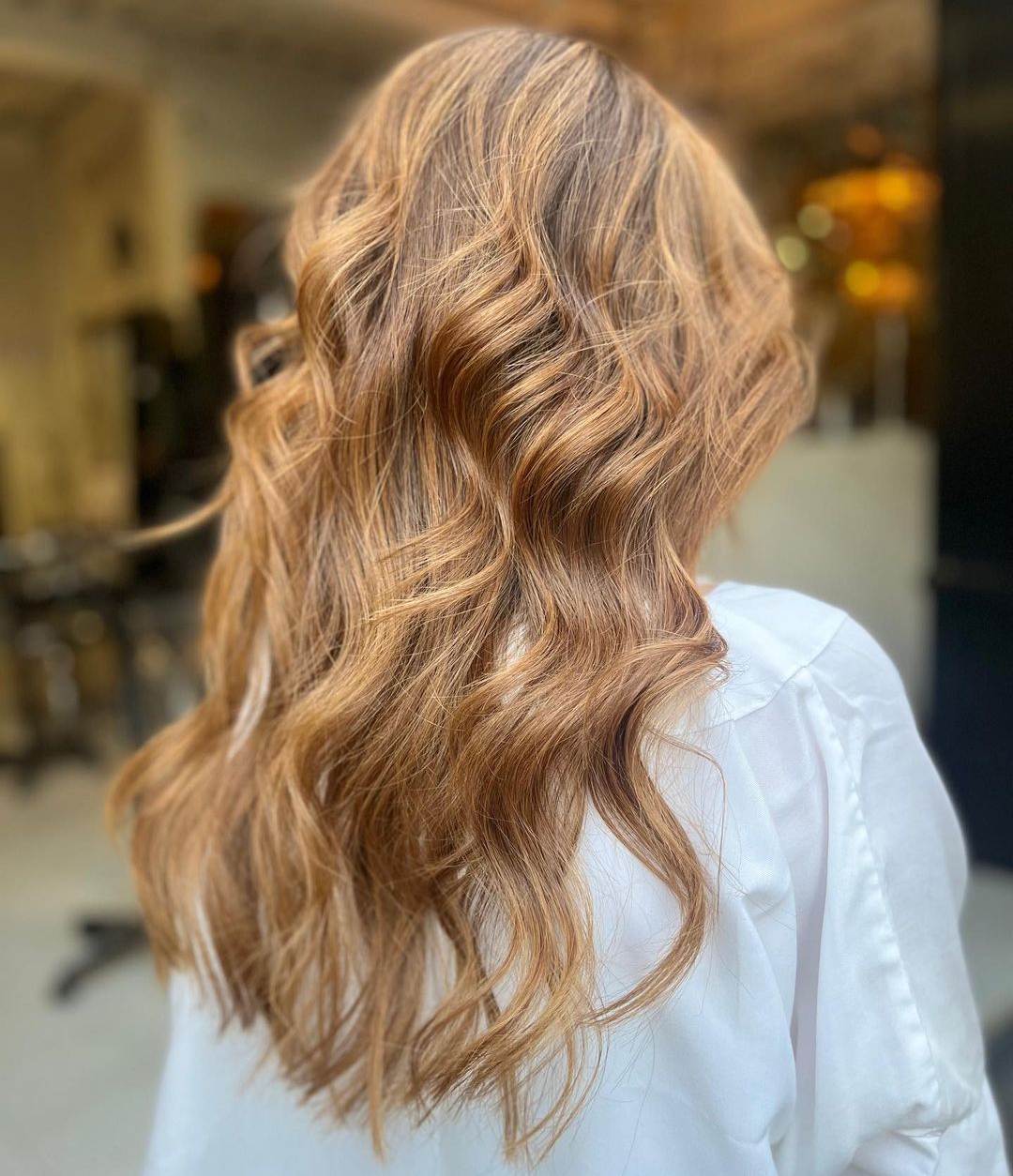 There are many different caramel color hair dyes on the market, so it can be difficult to choose the best one for you. Here are some tips to help you select the right product:
Consider your hair type. Not all caramel hair dyes are created equal – some are designed for thick, curly hair while others are better for fine, straight hair. Choose the dye that is designed for your specific hair type to achieve the best results.
Read the ingredients list. A good caramel hair dye will contain natural ingredients like shea butter and coconut oil that will help to protect and nourish your hair while you color it. Avoid products that contain harsh chemicals like ammonia or peroxide, which can damage your hair.
Choose a shade that matches your natural color. If you want to go lighter, choose a light caramel shade; if you want to go darker, choose a darker shade. Trying to dye your hair a color that is significantly different from your natural color can be difficult and may not produce the desired results.
Choose a type of dye. Caramel hair dyes come in both permanent and semi-permanent varieties. If you are new to dying your hair, or if you are looking for a less drastic change, opt for a semi-permanent dye which will fade over time and won't damage your hair as much as a permanent dye would.
Do a patch test. Before you commit to dying your entire head of hair, do a patch test first to see how your scalp and hair react to the dye. Apply a small amount of the dye to a hidden area of skin, such as behind your ear, and wait 24 hours to see if you experience any irritation or other adverse reaction.
Follow the instructions. Once you've selected the perfect caramel hair dye for you, be sure to follow the instructions on the package carefully to avoid damaging your hair or ending up with an undesirable color.
With these tips in mind, you should be able to find the best caramel hair dye for your needs and achieve beautiful, healthy-looking hair.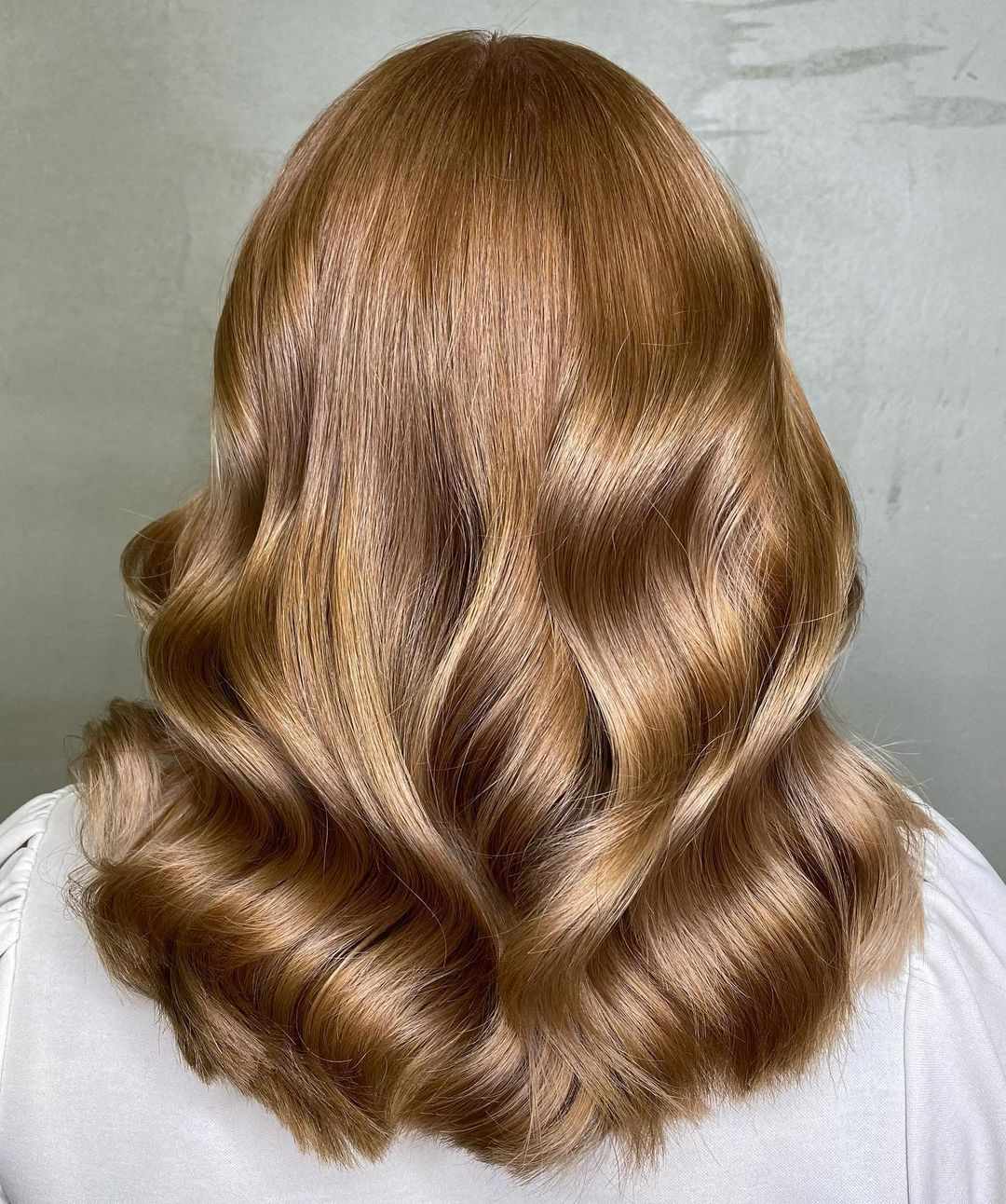 Caramel Hair Color Ideas
Now that you know all of the basics about caramel hair color, it's time to take a look at some ideas! Here are some of the best caramel hair colors to inspire your next dye job.
Caramel Light Brown Hair Color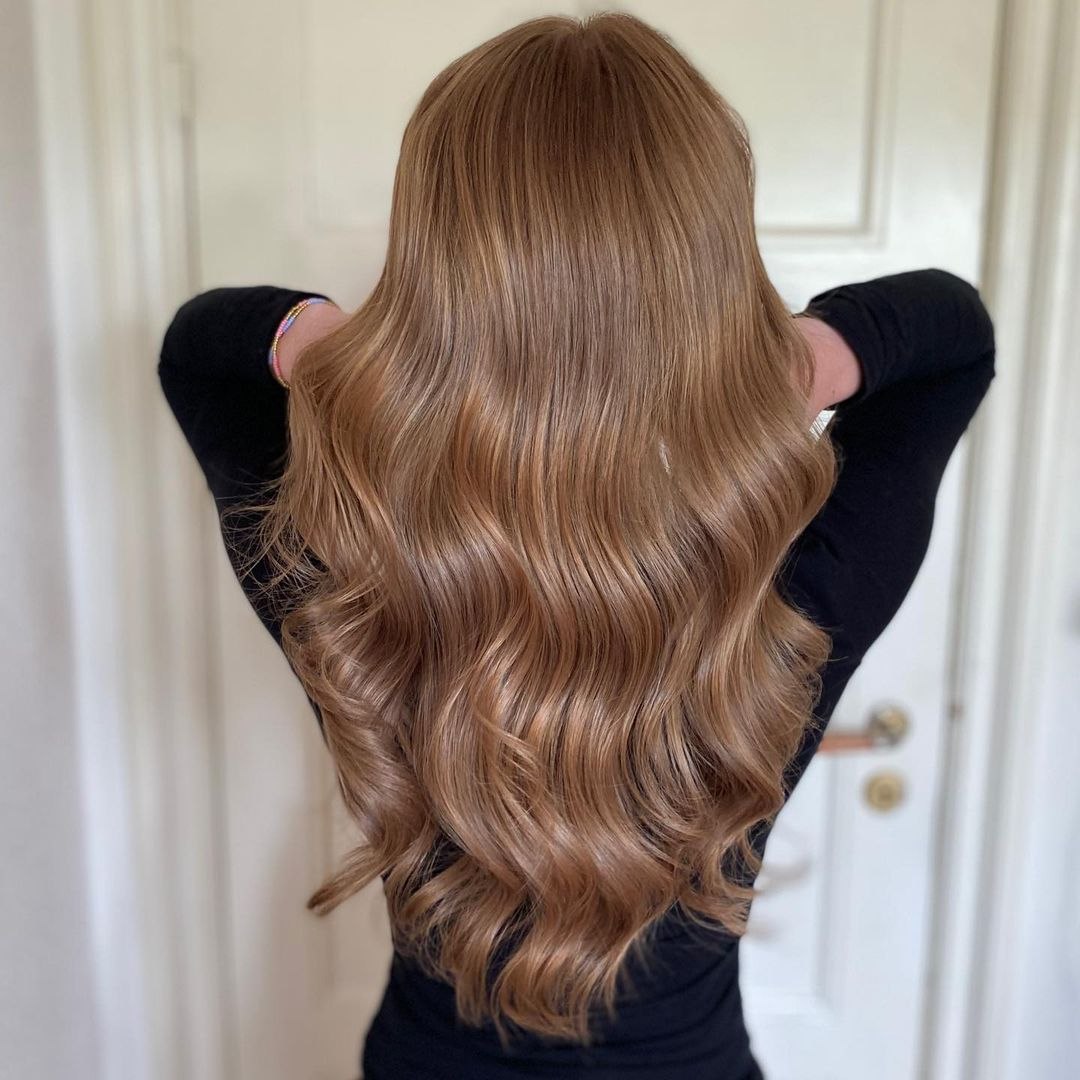 Caramel Golden Brown Hair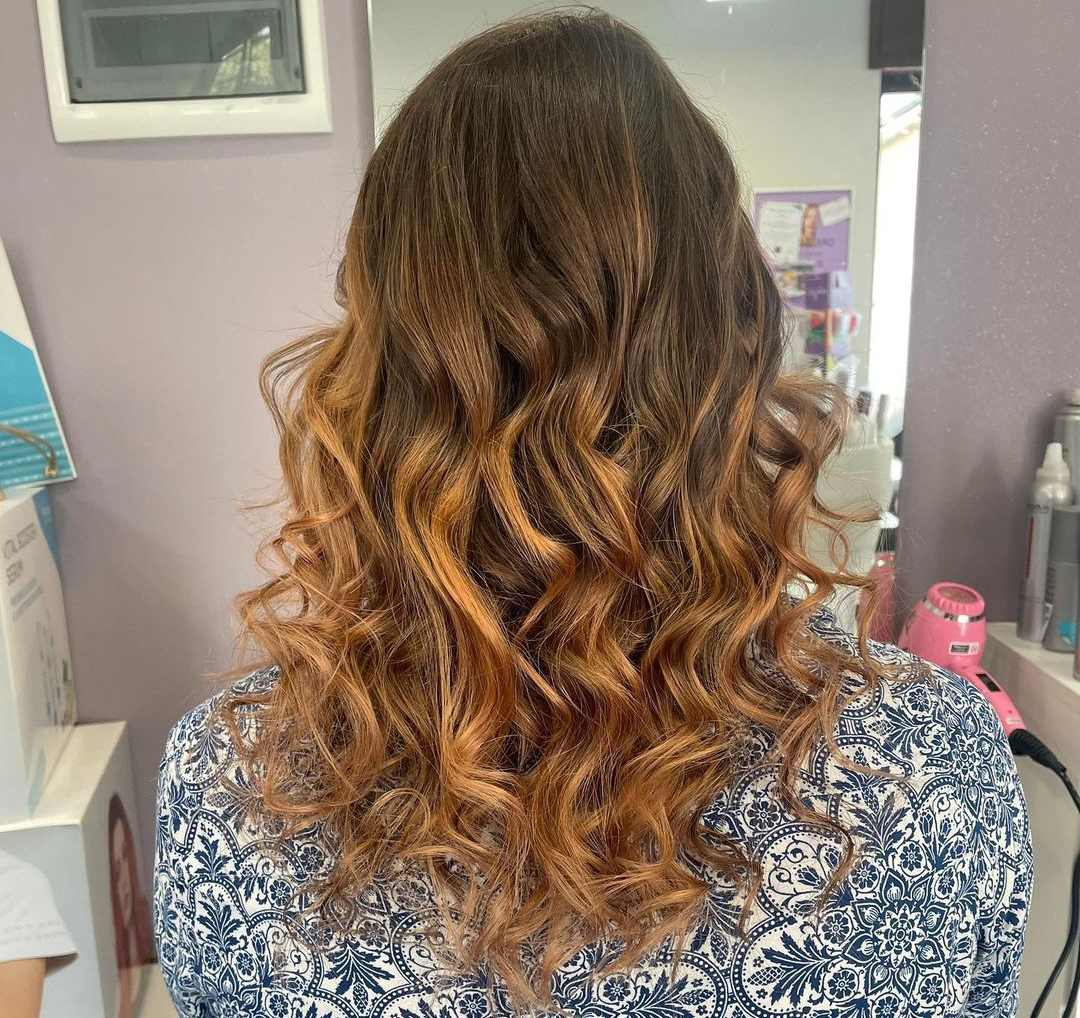 Caramel Honey Brown Hair Color
FAQ
Is caramel brown cool or warm?
Caramel brown is a warm color. It is perfect for those with warm undertones in their skin.
Do you have to bleach your hair to get caramel highlights?
You'll need to lift some of your natural color before the dye is applied, depending on the shade of caramel you choose. Because bleach is required, this is usually better left up to a professional hairstylist.
A salon visit may be ideal if your hair has already been colored in any hue, regardless of what it was previously.
What hair color is considered caramel?
Caramel lies in the perfect balance between blonde and brunette, able to be light or dark depending on how it's done. With so many variations ranging from beachy and sunkissed to deep brown bordering on chestnut, caramel is the ideal way to change up your look without making a drastic commitment. Whether you're transitioning from light to dark or vice versa, caramel should definitely be your go-to hair color.
Summary
Finding the right caramel hair dye can be a daunting task, but we hope that our list has helped make your decision a little bit easier. Each of the six dyes we've featured are high-quality products that will give you beautiful, long-lasting results.
So whether you're looking for a permanent dye or something temporary, we've got you covered. Just keep in mind that not all dyes are created equal and some may be better suited for certain hair types than others.
So take your time reading through each review and find the perfect caramel hair dye for you!
Also read:
---
References:
Hair dye reactions – https://www.nhs.uk/conditions/hair-dye-reactions/
Caramel Hair Color: 25 Looks Celebrity Colorists Love – https://www.byrdie.com/caramel-hair-colors-4784074